Glacier National Park is over 1 million acres and arguably some of the prettiest country in the lower 48! With this much land in one park, It's easy to see why there are several Glacier National Park Lodging options. Be prepared though, rooms here are highly sought after and oftentimes book up months in advance.
There is also a short window to reserve several of these rooms as the hotels are closed seasonally due to the weather. Glacier National Park is also known as the "Crown of the Continent" and receives over 11 feet of snow per year on average with the Continental Divide receiving over 16 feet.
Let's check out our options for Glacier National Park Lodging.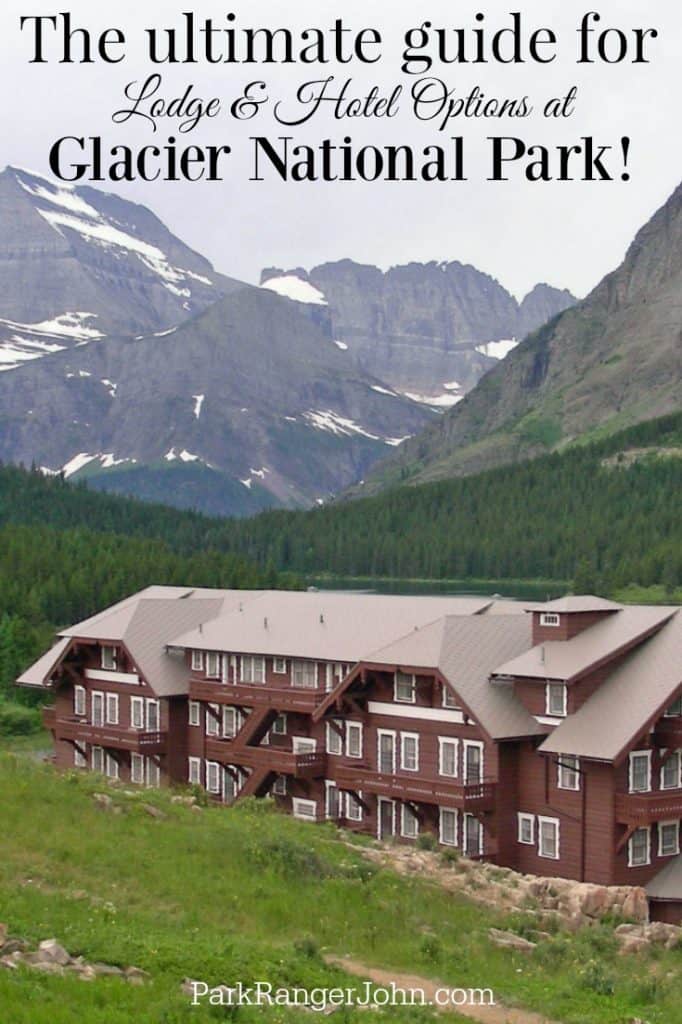 Glacier National Park Lodging
I wanted to start with lodging options just outside Glacier National Park. There are a couple of lodges that you may think are inside the park and have a significant historical history of the area. This is because, in the early 1900s, The Great Northern Railway saw a tremendous opportunity in this area!
They could carry more than just supplies if they were to build several lodges. They could then bring guests to this area in the form of tourism and then rent them a place to stay too! This was quite a vision 100 years ago! What they came up with is something spectacular! They first decided on a Swiss Chalet Style as the surrounding mountains in Glacier reminded them of the peaks in Switzerland.
The first lodge built was the Glacier Park Lodge just outside the park's boundaries and by the train station. Afterward came the Prince of Wales Hotel, the Many Glacier Hotel, and 9 different Swiss Style Chalets. It is worth noting that if it were not for the railroad's riches, these hotels would have most likely never have been more than a dream.
Most of the hotels/lodges in this park match the era they were built and do not have modern-day amenities like TV's, hairdryers, private bathrooms, etc. If you are looking for amenities make sure to check with the Cedar Creek Lodge.
These lodges feel like you are taking a step back in time and can see how the park was over a hundred years ago!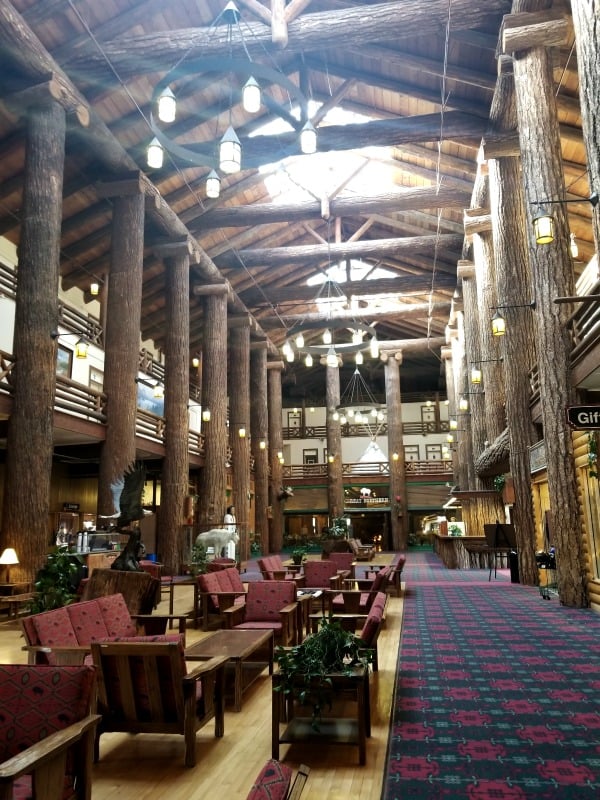 Glacier Park Lodge
Glacier Park Lodge is a spectacular sight to see! The lodge is in the National Park Rustic theme, also known as "Parkitecture". Your first impressions are that the grounds are spectacular and the lodge beckons you to come inside.
Once inside, there is open campfire like fireplace in the lobby along with 60 forty foot tall and 3 foot in diameter unpeeled Douglas Fir Tree trunks for structural beams. The sight is something you just have to see to truly appreciate! It's no surprise that this considered a superior classification 2 lodge by the National Park Lodge classification system.
Check out our stay at Glacier Park Lodge!
Prince of Wales– Waterton Lakes National Park (Canada)
The Prince of Wales Hotel is a stunning hotel with equally stunning views in every direction! You can stare out onto the beauty of Upper Waterton Lake, enjoy incredible mountain views! The Prince of Wales Hotel's website claims that "When you stay at the Prince, you might just find you have a view with a room."
The Prince of Wales is the only railroad lodge built in Canada by a U.S. Railroad. The railroad saw a new tourism opportunity in the 1920s by attracting U.S. Tourists to Canada during the prohibition era.
Park Ranger John Pro Tip: Make sure to stop into the lobby between 1 pm – 5 pm during summer for Afternoon Tea. Here you will get to experience the Waterton Tradition inspired by the Brittish. Expect to have tea, sandwich squares and pastries while starring out one of the most spectacular views around!
You will literally feel the stresses of the world melting away. If you miss afternoon tea while exploring the park then make sure to stop in the lounge in the evening. Here you will find a prohibition inspired the cocktail menu. I am confident that whatever you decide to do, you will have a great time is this amazing hotel.
Cedar Creek Lodge
Cedar Creek Lodge is the only lodge that is open year-round and is located at the parks west entrance at Columbia Falls, Montana. Guests to this hotel can expect a much more modern hotel experience as they offer free breakfast, mini-fridges, microwaves, WIFI, year-round indoor pool, and hot tub, fitness center, business center and shuttles to the park. Cedar Creek Lodge makes a great option for those more interested in modern-day amenities.
West Glacier Motel & Cabins
The West Glacier Motel and Cabins are located just outside the parks West entrance on the famous Going-To-The-Sun Road. They have three different lodging options for guests; Village Motel Rooms, Bluff Motel Rooms, and Bluff Cabins. Each of these options is considered rustic and budget-friendly options. This means not to expect much for amenities with a basic room.
The Village motel rooms are located in West Glacier Village and come with one or two Queen beds. The starting rate is $99/night.
The Bluff Motel Rooms are located on the bluff overlooking the Flathead River. The rooms come with one or two queen beds and start at $109/night.
The Bluff Cabins are stand-alone cabins on a bluff overlooking the Flathead River. They have a fully equipped kitchen, one or two Queen beds and start at $189/night.
St Mary Village
St Mary Village is located just outside the park's east entrance on the corner of Highway 89 and the Going to the Sun Road. This is a great location for those who want to get out and see all the park due to its central location. They have numerous types of lodging options from a basic hotel room to a more luxurious room. They also have cabins, tiny homes, a hiker cabin and even a house to rent. They also have something that many places don't have, A/C. While this is useless for most of the year it can be really nice when it gets hot.
Lodging at Glacier National Park
Lodging at Glacier National Park just keeps getting better! Two of the park's hotels have the distinction of being one of the Historic Hotels of America! To give you an idea, there is only three in all of Montana and several states don't have any. You can expect to have unparalleled views and beautiful lodges to make for a great experience in Glacier National Park.
Originally there was the Snyder Hotel. John Lewis bought it in 1896 and became the Lewis Glacier Hotel. The hotel was rebuilt beginning in the winter of 1914 and was back open in June 1914. The hotel was sold to the Great Northern Railway in 1930 who then renamed the Lodge to Lake McDonald Hotel.
The name was changed again to Lake McDonald Lodge in 1957. Whew, I hope you got all that because it tells the story of how and why the hotel was built. What's important to remember about this hotel is that everyone arrived at this lodge by boat before 1920. The design was to greet guests from the lakeside, not from the road's entrance that you will most likely arrive by today.
This is also one of the Historic Hotels of America and is also a Classification 3 (premium) lodge by the National Park Lodge classification system.
There are hour-long scenic boat tours of Lake McDonald (the largest lake in Glacier) that leaves from the Hotel throughout the summer. This is a great way to experience Glacier National Park and you will also get to experience seeing the Lake McDonald Lodge that way it was originally intended to be seen the first time for guests arriving at this incredible area.
Motel Lake McDonald
Motel Lake McDonald is within walking distance to the Lake McDonald Lodge. Although not as grand as the Lake McDonald Lodge, it does provide an affordable option for staying in this area. Guests are offered a one or two double bed with a private bathroom. There is WIFI available in the main office and rooms start off at $129/night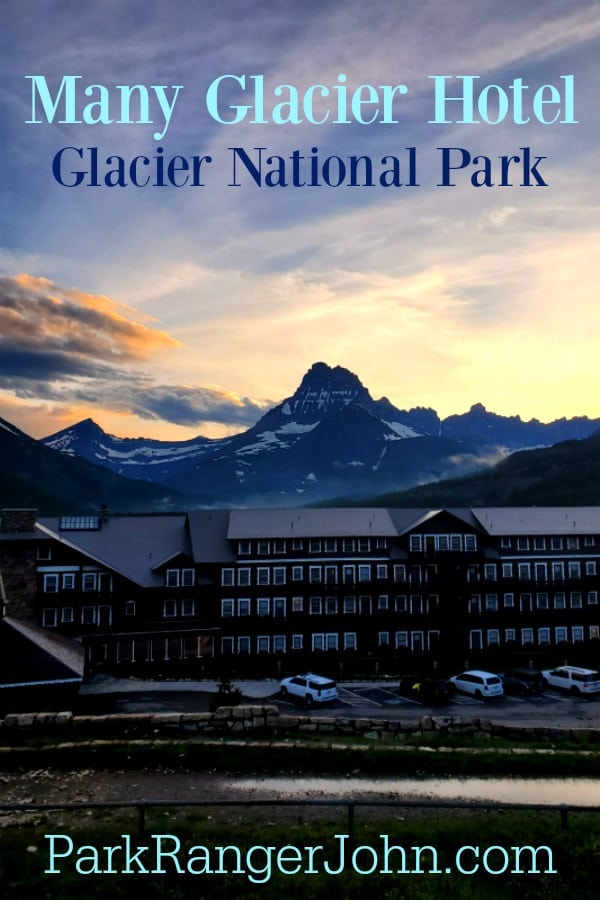 Many Glacier Hotel
The Many Glacier Hotel was planned to be the grand showpiece of lodges created by the Great Northen Railway. The views of the mountains, hotel, and lake are what people dream of for vacation! The Great Northern Railway promoted this hotel as " One of the most noteworthy tourist hotels that have been erected in America."
Its views of the lake itself could only be compared by the likes of the Crater Lake Lodge in Oregon, a Classification 1 "Criterion" level hotel. Although the Many Glacier Hotel is classification 2 "Superior" lodge, many argue the outside is noteworthy of the Classification 1 status.
The Ptarmigan Dining Room serves hot dinner and hot breakfast options. There is also Heidi's cafe in the lower part of the hotel for quick snacks and meals.
Check out our full post on Many Glacier Hotel to see more photos of this gorgeous hotel.
There is a great book titled "Glaciers's Historic Hotels and Chalets; View with a room" and is a great gift for any National Park enthusiast and "parkitecture" geek out there.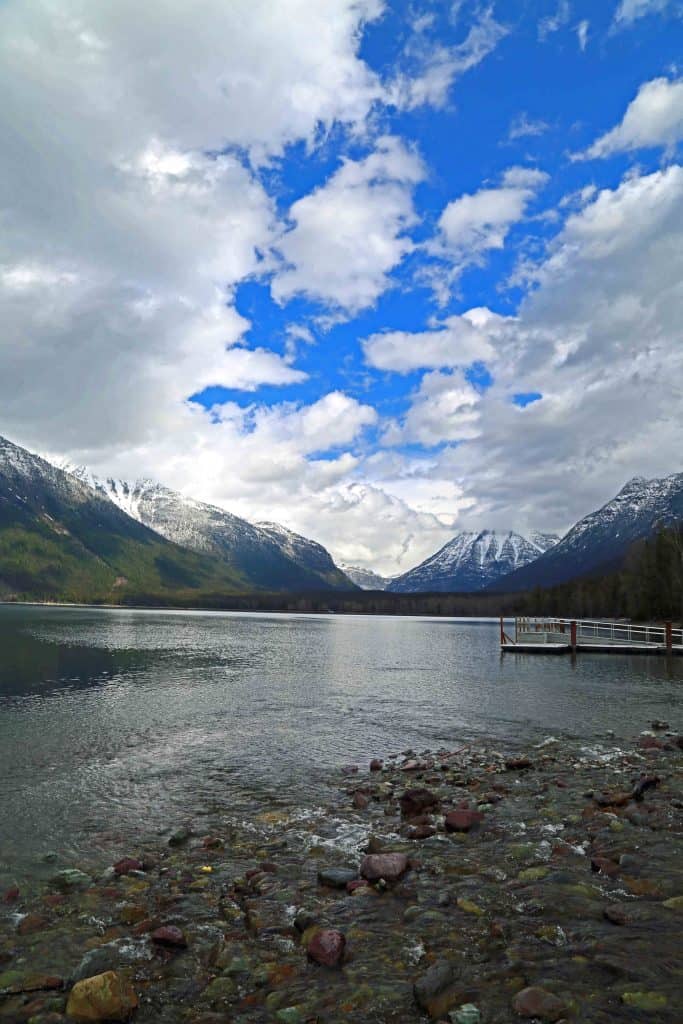 Village Inn at Apgar
The Village Inn at Apgar comes from a different era than many of the grand hotels at Glacier National Park. It was built in the 1950s, an era of "Motor Inn Hotels" where people began using cars to vacation needing room to stay with their "motor vehicle" parked out front.
This means that you are not going to get the grandeur of the historic Swiss Chalet style lodging from the Great Northern Railway era or the modern amenities of today's hotels. What you will get is being 2 miles inside the park's West entrance and right on the shore of Lake McDonald! Make sure to take the time to sit on one of the deck chairs and let time pass by!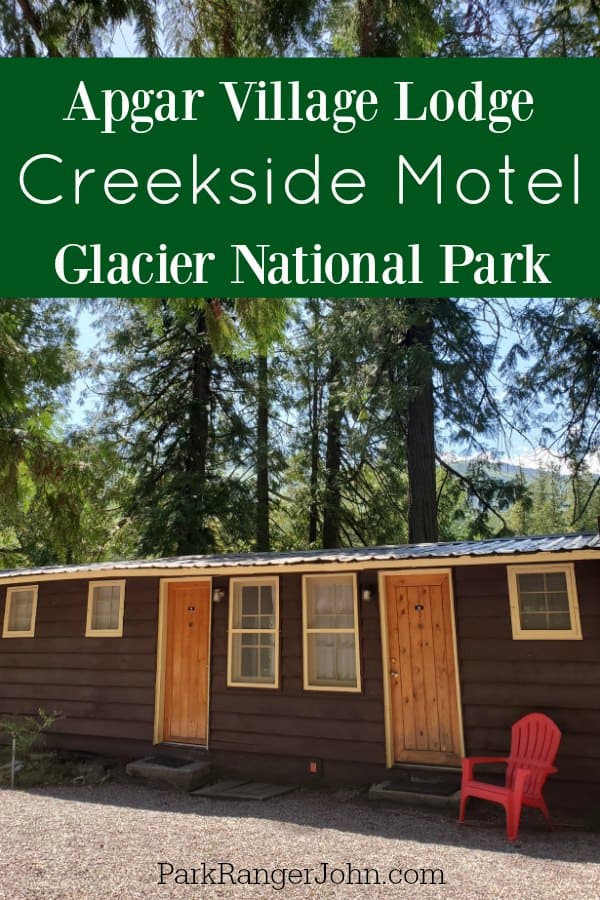 The Apgar Village Lodge and Cabins are located behind the Village Inn in Apgar just past the West entrance of the park. This is a beautiful location sitting on the South end of Lake McDonald and guests to this area rave about its beauty and the lake. As far as the Apgar Village Lodge, their website claims that it is perfect for the budget traveler as rooms begin at $115/night.
They will have 1 or 2 queen beds in a small room with simple amenities. You will not have A/C or a television in the lodge or cabins. They also have three different types of cabins at Apgar; cabins without a kitchen starting at $129/night, cabins with a kitchen starting at $149/night and a family cabin starting at $319/night.
The cabins have a small living and dining areas and several bedding arrangements to fit most guests needs.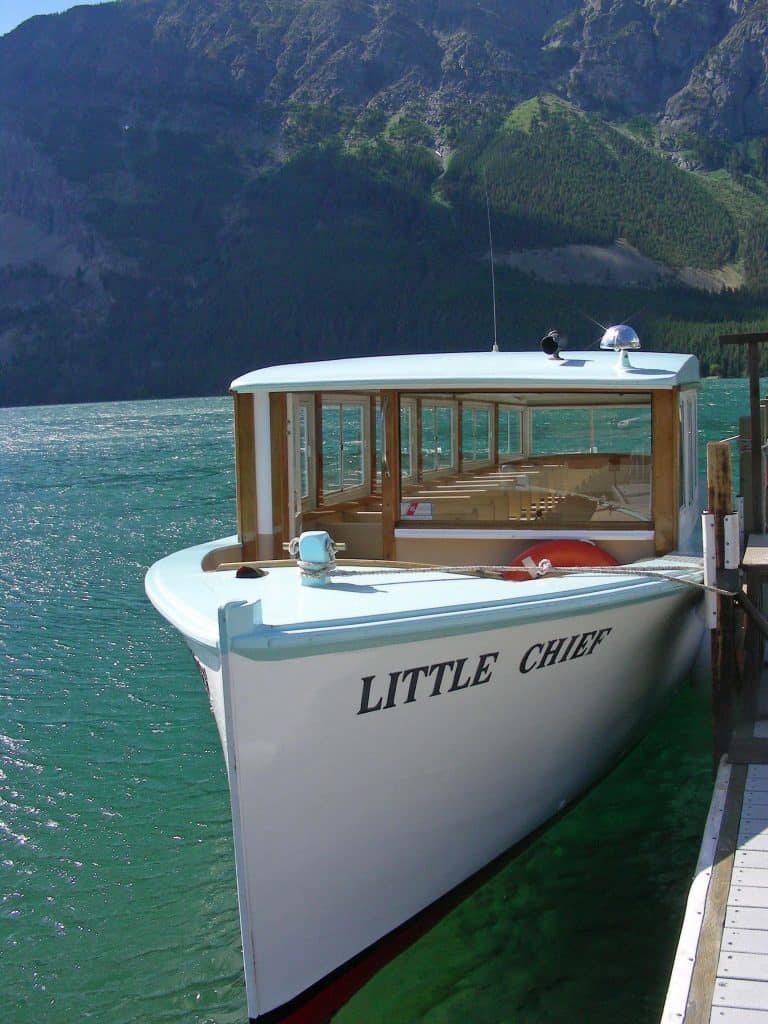 Rising Sun Motor Inn
The Rising Sun Motor Inn is located on the East side of the park on the Going to the Sun Road along Saint Mary Lake. It was built in 1940 and is a nice central location for visiting the park. It is only 12 miles to the summit of the Going to the Sun Road, hiking trails, and can easily catch a boat tour of Saint Mary Lake.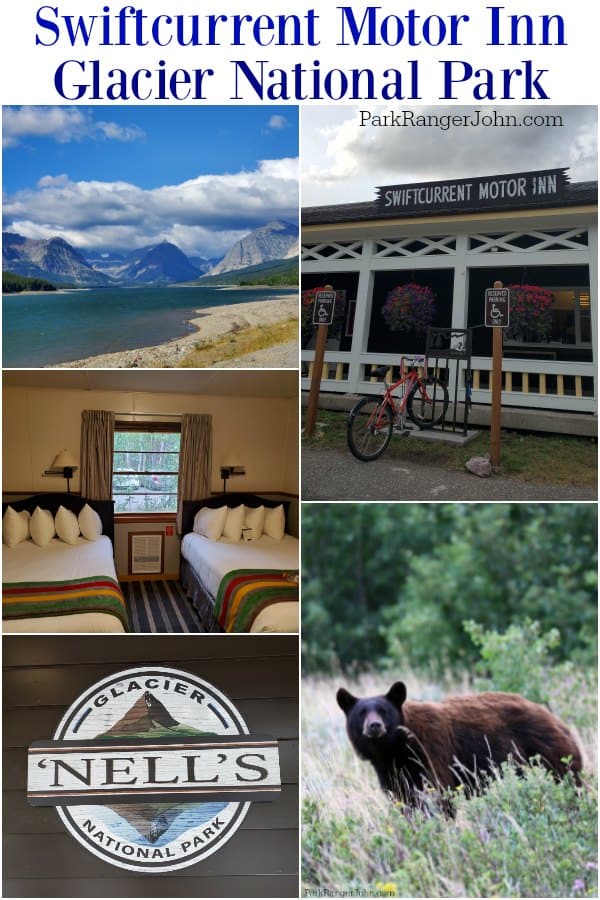 The Swiftcurrent Motor Inn is one mile away from the Many Glacier Hotel and is the gateway to many of Glacier's epic hiking trails! This motor inn is a classification 4 (special merit) hotel and has no real enhancement to a park visitors experience to Glacier, however, it is close to so much that is special to Glacier and more affordable compared to many of the grand lodges like Many Glacier Hotel just down the road.
Granite Park Chalet
The Granite Park Chalet is currently the only remaining Chalet that visitors can hike to and stay the night in Glacier National Park. The most common hike is the Highline Trail that goes past the famous "Garden Wall". The trailhead starts west of the Logan Pass Visitor Center and is an easy to moderate 7.6-mile hike to the Chalet.
The Loop Trail is for those wanting a shorter hike (4 miles each way). Be cautious though as it is a 2300′ climb up to the chalet that will most definitely get the blood pumping. Remember that this is a high elevation park and makes an ordinarily easy hike much more difficult, especially for those living closer to sea level. The good news is that this is a breathtaking trip.
Both the hike and the rugged remoteness of this lodge will give you an experience like no other. Don't expect amenities here, in fact, there is a pit toilet out back but it is pretty luxurious for backcountry hiking! For reservations contact (888)345-2649.
Sperry Chalet
The Sperry Chalet was lost to the Sprague Fire on August 31, 2017. There has been an outcry from the public to repair this historic Chalet. After a couple of years of repair, the Sperry Chalet will re-open in 2020!
Operating dates and fares for the 2020 season are still being determined.
Sperry Chalet will begin accepting reservations for the 2020 season on January 13, 2020.
Glacier National Park Cabins
Are you looking for something other than a lodge? Perhaps you want to rent one of the many Glacier National Park Cabins. If so, you are not alone! The demand for cabin rentals is at an all-time high. Several places can't build cabins fast enough to keep up with consumer demand. This means that you need to be proactive and look early if you want to rent a cabin, especially somewhere like Glacier National Park. Listed below is each location with cabin rentals in Glacier National Park.
Lake McDonald Cabins
There is a limited number of cabins by the Lake McDonald Lodge. Each has a 3/4 bath with a shower only, coffee maker, heat, phone, hair dryer, and an alarm clock. WIFI is VERY limited. The 2018 rates are $163-$290/night.
Rising Sun Motor Inn Cabins
Cabins here are duplex style and are along the roadway that winds through the complex. Each cabin has a Queen or two double beds and a private bathroom. Cooking is not permitted in or around the cabins but there is the Two Dog Flatts Grill nearby. The 2018 rates are $163/night.
Swift Current Cabins
Cabins at Swift Current are arranged in circles. Some have a private bathroom while others have to walk to the bathroom and shower. WIFI is VERY limited. 2018 rates are $102-$163/night.
Glacier National Park Lodging Reservations
Glacier Park Inc. handles reservations for:
Many Glacier Hotel
Rising Sun Motor Inn and Cabins
Cedar Creek Lodge
Swift Current Motor Inn and Cabins
Lake McDonald Lodge
Village Inn at Apgar
Simply click here to make online reservations for any of the above-named hotels/cabins or call (855)733-4522.
Belton Chalets Inc. handles Reservations for:
Granite Park Chalet
Sperry Chalet (Closed due to wildfire damage)
Call (888)345-2649 to make reservations.
Glacier Park Collection handles reservations for:
Glacier Park Lodge
Prince of Wales Hotel
Apgar Village Lodge and Cabins
Motel Lake McDonald
West Glacier Motel and Cabins
St. Mary Village
Simply click here to make online reservations for any of the above-named hotels/cabins or call (884)868-7474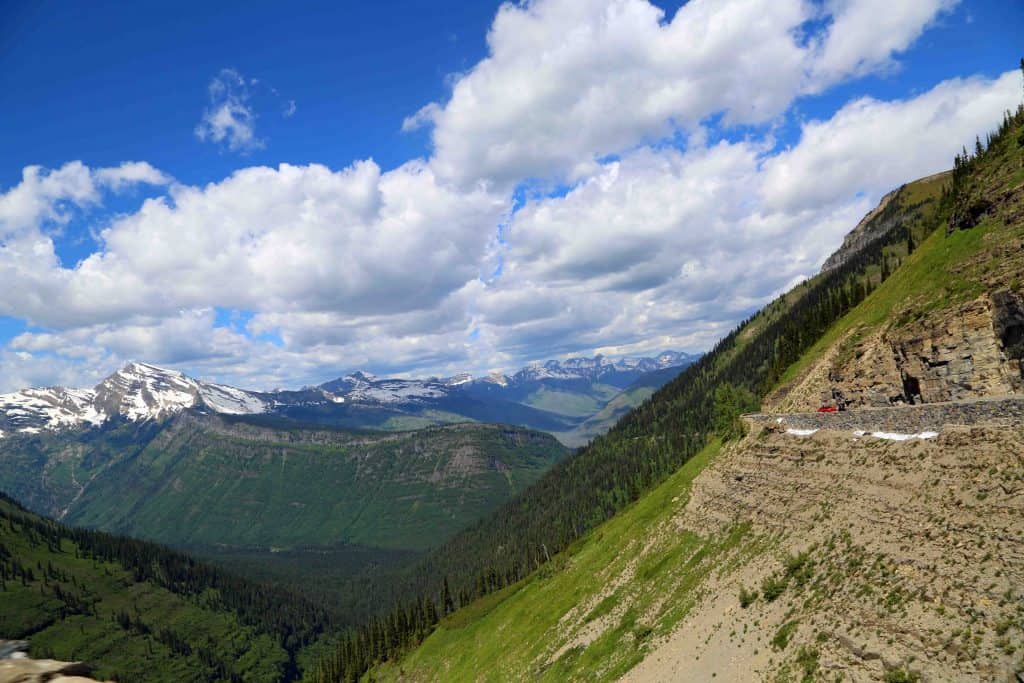 Make sure to also read my article on Glacier National Park Travel Tips