I think Glacier National Park is one of the true gems in the National Park System. Of course, I am a bit biased when it comes to Glacier as it's the closest National Park to me. Have I mentioned that there are so many amazing things to do in Glacier National Park?
It is also the location where I took my first big overnight trip with Tammilee, the woman I married! Leave it to a Park Ranger to take a woman camping for their first big overnight trip somewhere. I should have known it was getting serious when I surprised her with the final night at the Many Glacier Lodge. We now try to get to Glacier at least once a year, if not more as it has special meaning to us.
Did you know that the average visitor to Glacier National Park only spends one day in the park? I highly encourage anyone to stay longer than just one day, the park is massive and you will barely get a taste of Glacier with only one day.
Definitely, plan time to stop in at one of the Glacier National Park visitor centers. They are filled with a ton of information about the park, any road/construction issues, and if there are any areas closed due to bear activity.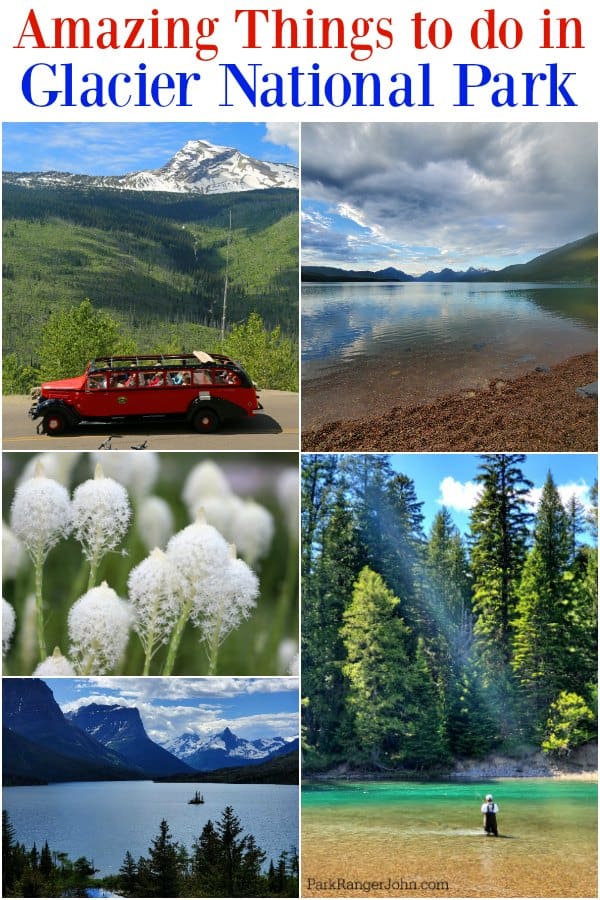 Things to do in Glacier National Park
Glacier National Park was established in 1910. This national park is located in Northwestern Montana and provides over 700 miles of hiking trails which give the avid hiker views of unique ecosystems within one national park. Alpine, aquatic, and a coniferous forest are all three ecosystems that are observed while visiting this awesome national park.
More than 50 glaciers, 70 different animal species, and beautifully carved mountainsides from glaciers that once covered the peaks blanket this park. A must-see while visiting Glacier National Park is a tour of the Going -To -The- Sun -Road.
This road is a 52-mile drive that provides spectacular wildlife and waterfall views that you cannot view elsewhere. During the summer months, visitors can hop on a shuttle to take them through Logan Pass and over to Mary's Lake. Glacier National Park is a must-see when visiting Montana!
In Glacier, breath-taking views appear throughout every acre of this expansive park. The park's Going to the Sun, known for its feats in civil engineering, provides numerous accounts of nature's artistic ability. Without even leaving the car, one can see such beauties as the Weeping Wall, cascades, waterfalls as tall as 450 feet, glacier-carved valleys, and endless views of matured forests.
The list of wonderful views expands exponentially with the list of short jaunts well worth the energy expended on the hike. Of note: Sunrift Gorge (literally shorter than 100 yards) on the east side of Logan Pass and the Avalanche Lake/Trail of the Cedars which sits as one of the milder, shorter hikes available among the list of hundreds of hikes provided.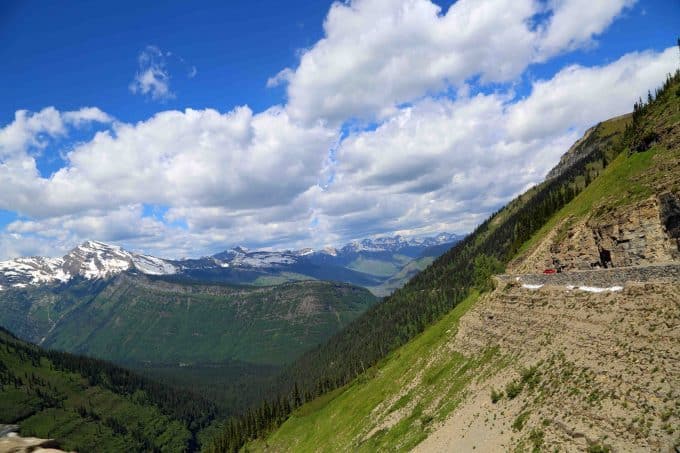 The Going to the Sun Road is the epic jewel of Glacier National Park. It is one of those scenic drives you just have to experience for yourself, one that you will never forget, one you will tell everyone about! There is excitement as the views continue to get more dramatic while the road narrows as it winds its way along Logan Pass.
If you are visiting the park in a large vehicle or RV you will want to check the size restrictions before attempting the Going to the Sun Road.
Don't worry if your vehicle is too big! The park has a shuttle bus and Red Bus Tours that will take you along Going to the Sun Road. You won't miss out on the epic views and waterfalls.
If you can drive up the road DO IT!!! Make sure your passengers have their cameras ready because you are going to want 10 million photos of the epic views and waterfalls along the way.
At the top of Going to the Sun Road is the Logan Pass visitor center. You can either turn around and head back down to stay on the west side of Glacier or continue along the road towards the Eastside and the road to Many Glaciers.
One thing to know is many years the Going to the Sun Road does not open until really late in June or even on the 4th of July. There is a crazy amount of snow each year to plow from the road before they can open it.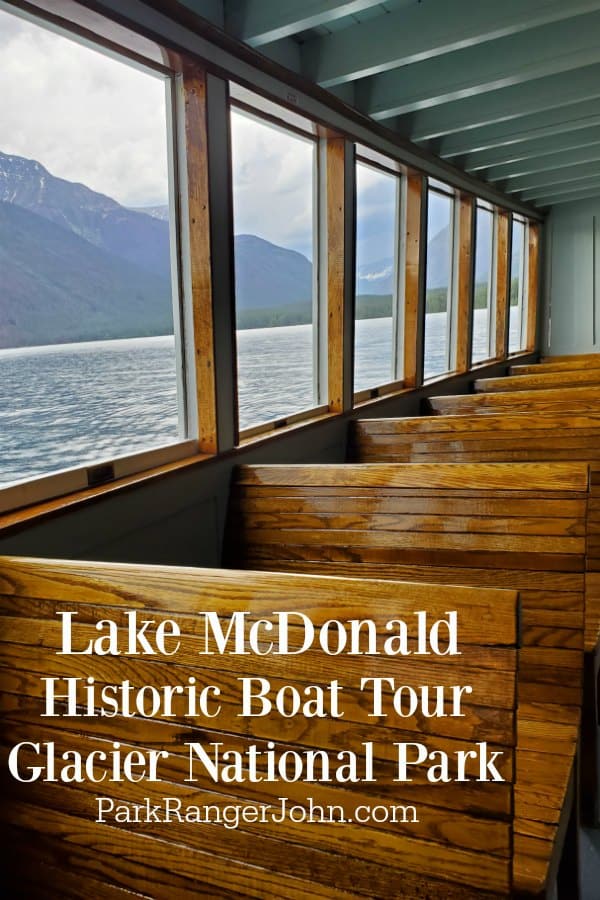 Take a boat tour
Glacier National Park is filled with lakes and there are several boat tours available. You can take a boat tour on St. Mary Lake, Lake McDonald, Two Medicine, and Swiftcurrent Lake in Many Glacier. Some of the boat tours also include a stopping point where you can get out and go for a small hike.
The boat tours are on historic boats and offer an amazing way to see the park.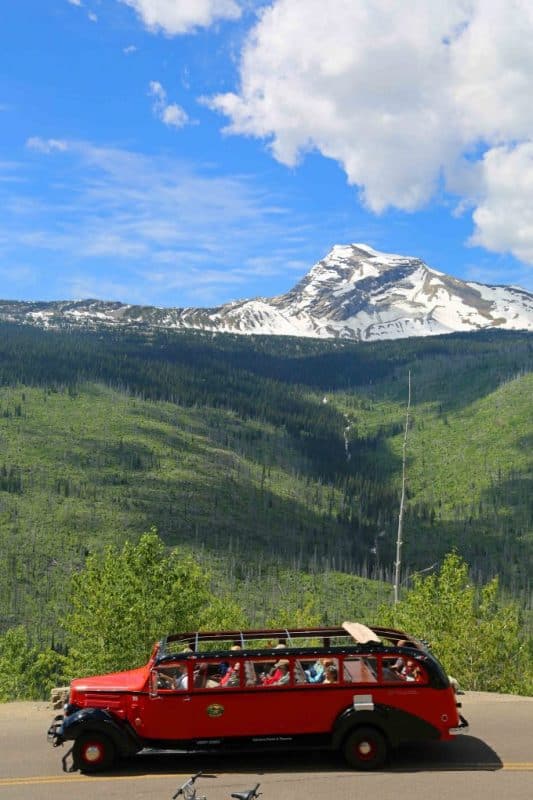 Red Bus Jammer Ride
The vintage 1930's Red Buses are one of the icons of Glacier National Park. I have heard many people calling them jammer tours, the tours are not Jammer tours, the jammer was the driver that was known for jamming the clutch getting these buses into gear going up and down the mountains.
You can take a tour from 3 to 4 hours up to 8 or 9 hours. One thing to know is the buses have 1930's dimensions so they are not as roomy as one might expect today.
The Red Buses fit 17 people across 4 bench seats and 1 front seat. You will want to be prepared to get quite comfortable with your neighbors with you on the bench.
The best part about the Red Bus Tours is that everyone gets to enjoy the views, especially on the Going to the Sun Road. The top can be opened on nice days giving you breathtaking views all around and is great for taking photos.
Red Bus tours pick up on both the West and East side of the park. Make sure and make reservations as soon as you can because these tours sell out quickly!!!!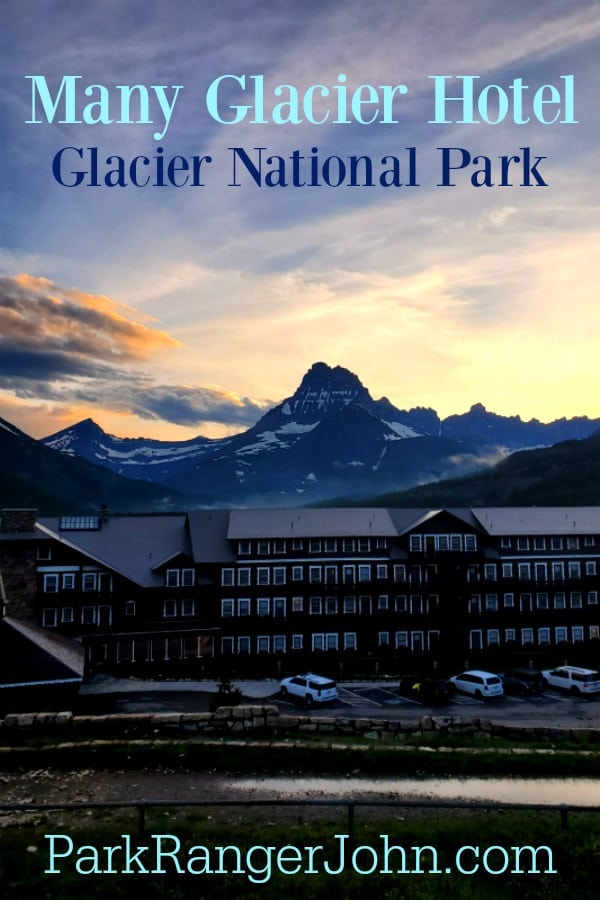 Stay at an Iconic Park Lodge
There is nothing better than waking up in the park and starting your day before the crowds. Glacier National Park Lodging has a wide variety of options from motels to historic lodges to choose from.
It is really up to you what type of lodging works best for you. There is everything from dorm rooms with a bunk bed and bathroom down the hall to king room suites.
We tend to move between hotels so we can stay in both the East and West sides of the park and have easy access.
If you are staying during the heat of the summer and driving to the park you may want to pack a fan or two with you. The rooms do not have air conditioning so you will want to be prepared for potential warm weather.
Iconic lodges include the Lake McDonald Lodge and Cabins, Many Glacier Hotel, and Glacier Park Lodge.
Park Ranger John Pro Tip
Did you know that the first tourists to Glacier National Park arrived by train? The railroads were trying to figure out a way to increase revenue and had a great idea. What if they were to build jaw-dropping lodges at Glacier National Park and provide transportation to these lodges.
This proved very successful and they even built an additional lodge in Canada during Prohibition. Why? Because you could go on a vacation to a magnificent lodge located just north of the U.S. border where alcohol was still legal. Today you can go to the lounge and have prohibition-era drinks that are still on the menu.
Now you know how to get a feel of what it was like to be one of the original tourists to Glacier National Park, stay in one of the iconic lodges built by the railroad like the Glacier Park Lodge, Many Glacier Motel, and the Prince of Wales in Waterton Lakes National Park in Canada.

Lake McDonald is the perfect rock skipping lake. The water is normally really calm and it is just plain beautiful, besides the water is just too darn cold to go swimming in.
There are tons of pullouts along Lake McDonald to take in the views and are great for stopping to enjoy a break from the road. Pack a picnic and spend time on the lakeshore.
Take a hike
Glacier NP is a hikers paradise! There are over 700 miles of trails spread all over the park. From an easy walk along the Trail of the Cedars boardwalk to epic multi-day deep in the mountain adventures.
Popular hikes include the Highline Trail, Grinnell Glacier Hike, Hidden Lake Hike, and Running Eagle Falls near Two Medicine Lake.
There are so many amazing hikes in Glacier to do with kids!
Trail of Cedars
I just love the Trail of Cedars! This is a gorgeous boardwalk hike that leads you through amazing cedar trees and past glacial water. Make sure to stop somewhere along the trail and close your eyes and take your time to soak in everything from the sound of the running water, the smell of the Cedar Trees to feeling your skin cool off from the shade. I feel life's worries just wash away and peace within each time I do this hike.
This trail is accessible and flat the entire way. You can choose to walk the entire loop or just a section of it.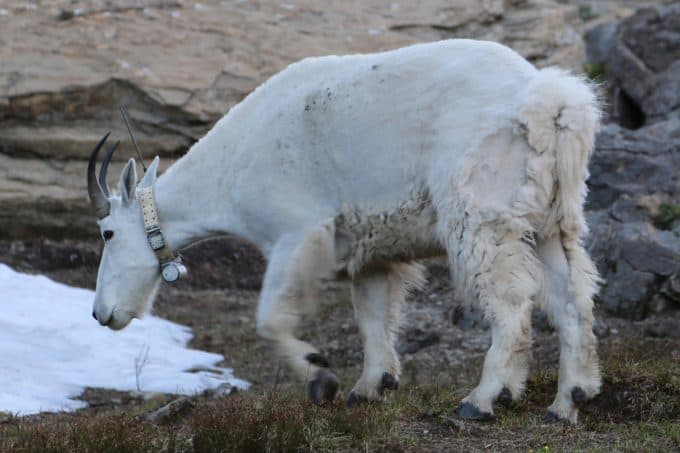 Look for mountain goats at Logan Pass
We love seeing the mountain goats at the top of Logan Pass. For some reason, we always see them in the visitor center parking lot and along the trails near the parking lot.
Make sure to stay a safe distance from them while checking them out.

Wildflowers
Glacier has epic wildflowers once the snow has melted which can be mid to late July. I personally love the Beargrass (pictured above). You can hike/walk out among them from the Logan Pass visitor center.
Head north to Waterton Lakes in Canada
Grab your passport and head North across the border to Waterton Lakes National Park. This gorgeous area is home to the epic Prince of Wales hotel which makes you feel like you are living a fairy tale.
There are tons of hiking trails, bears, and scenic vistas to enjoy.
Try everything Huckleberry
If you are not from the Pacific Northwest, you may not know what Huckleberries are. Well let me tell you they are delicious and you may notice that there are a lot of huckleberry products in the gift stores, at the grocery store, and well everywhere! Trust me when I tell you that you NEED to try at least one thing huckleberry. Whether it be Huckleberry ice cream, Huckleberry Pie or one of the many other Huckleberry products. Just be cautious if you see Huckleberries while hiking in Glacier as you will not be the only ones that love them. Bears love Huckleberries too.
Become a Junior Ranger
The Junior Ranger program is perfect for ALL ages. You can pick up the Junior Ranger program at the visitor center and fill it out during your trip.
When you complete the Junior Ranger program make sure to take it to a visitor center and pick up your Junior Ranger badge.
Download pages from the Junior Ranger booklet below.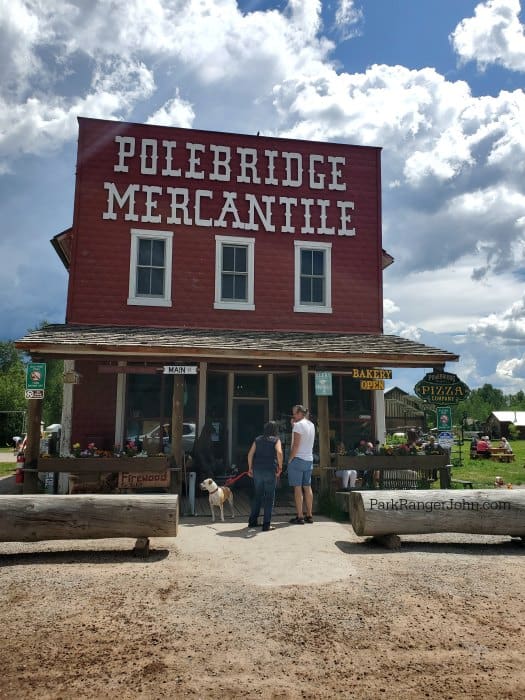 Polebridge, Montana
Located north of Apgar in West Glacier a stop in Polebridge is so worth the time! Make sure to visit the Polebridge Mercantile for a huckleberry bear claw! Hello yum!!!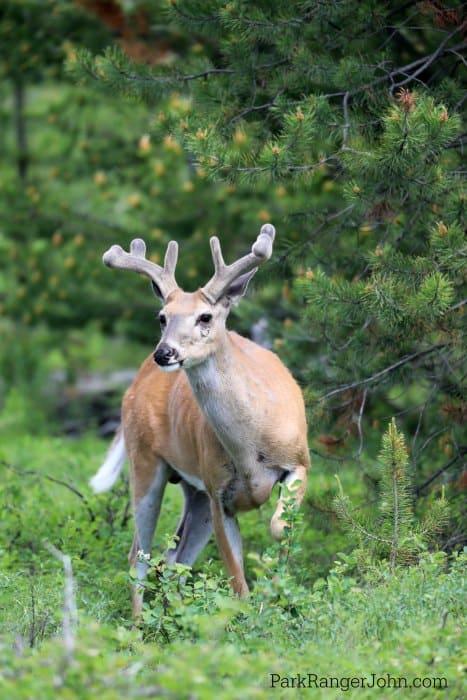 Glacier Wildlife
Glacier National Park's wildlife inventory reads much shorter than that of Yellowstone. Most every visit to Glacier will include an encounter with any number of mountain goats. These are not to be confused with the popular mountain sheep (goats are white with short, straight black horns while sheep are tan in color and the rams have the signature curling horns), which can also be seen regularly from the visitor's vehicle.
Occasionally, moose can be found wallowing through any one of the park's more than 300 lakes. Additionally, deer are likely to be seen anywhere in Montana and rarely draw a crowd from local residents as they're seen regularly prancing through backyards and darting across busy avenues.
For the wildlife enthusiast, Glacier provides a great opportunity to view the largest carnivorous mammal in the lower forty-eight. Less-frequented trails hold the keys to the best Grizzly-viewing opportunities in the park.
Glacier NP is filled with amazing wildlife from mountain goats, moose, marmots, and bears. Please make sure that you give wildlife a ton of room.
Keep an eye out for areas that are closed due to bear activity.
Ranger Programs
Glacier offers some truly amazing Ranger Programs throughout the year!
Most of the ranger programs are free and offered in a variety of locations within the park. You can also enjoy ranger programs on the guided boat tours.
Check the park newsletter for current programs. There are ranger-led hikes, talks, tours and so much more offered within the park.
Native American Speaks
Throughout the summer Blackfeet, Salish, Kootenai, and Pend d'Oreille tribal members share their knowledge of the history and culture of Native America. Programs are offered in campgrounds, lodges, and at St. Mary Visitor Center along with new locations in Browning and Babb, Montana.
Check this page for the current schedule of Native American Speaks events.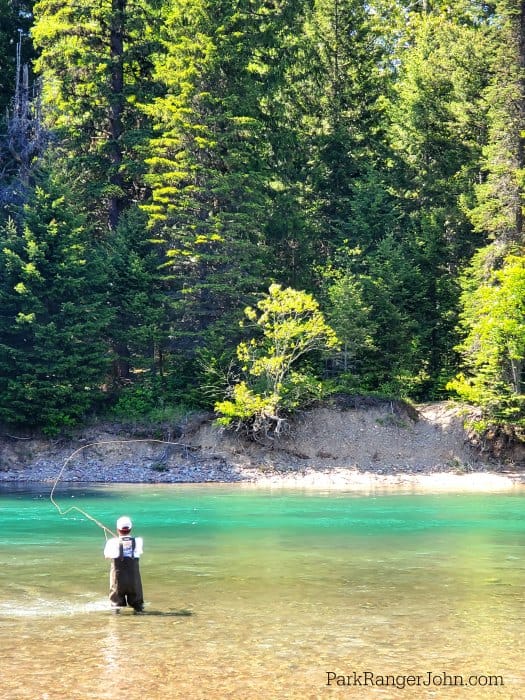 Fishing
You do not need a specific license to enjoy fishing in Glacier National Park but there are very specific regulations.
Check out this page to see what areas are open to fishing and the limits.
Horseback Riding
Swan Mountain Outfitters offers horseback riding excursions within Glacier National Park. They offer everything from one-hour trips to overnight camping trips deep into Glacier National Park.
There are trail rides offered from Many Glacier, Apgar, Lake McDonald, and West Glacier. They also offer packages of horseback riding and whitewater rafting.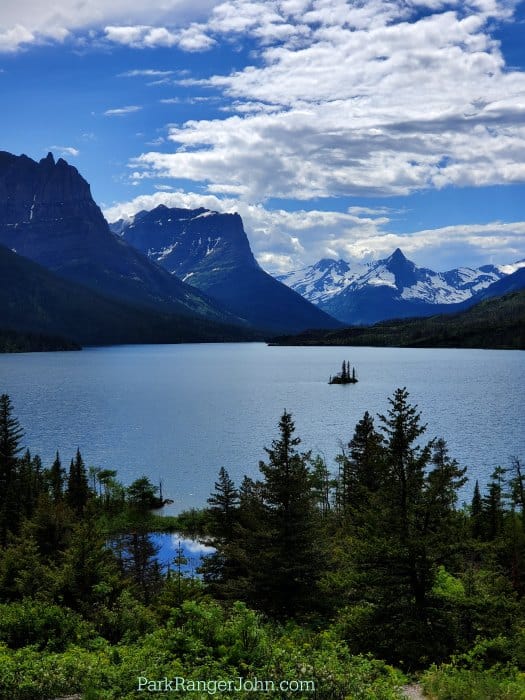 Wild Goose Island Viewpoint
As you come down the Going to the Sun Road heading towards Rising Sun there is a pullout for the Wild Goose Island Viewpoint! Turn in!!!
This viewpoint provides an epic photograph opportunity of St. Mary Lake with Goose Island and the surrounding peaks of Glacier National Park in view!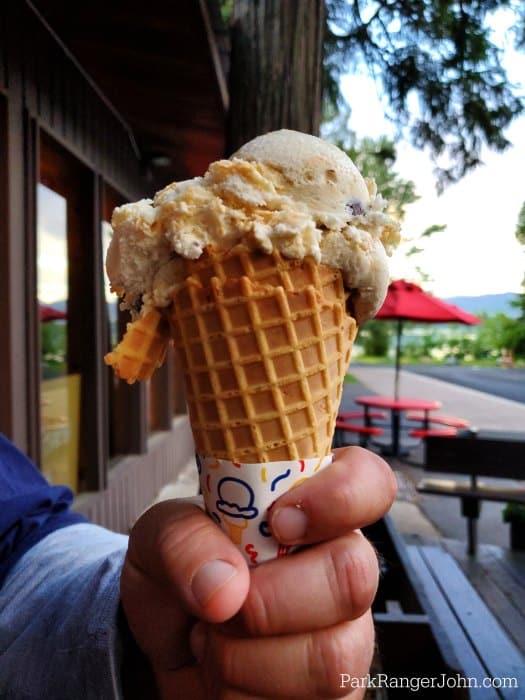 Apgar Village
Apgar Village is located in the heart of West Glacier right on the edge of Lake McDonald. The village has multiple gift shops, restaurants, and boat/bike rental locations. This is the perfect place to relax with an ice cream cone and rest for a few minutes.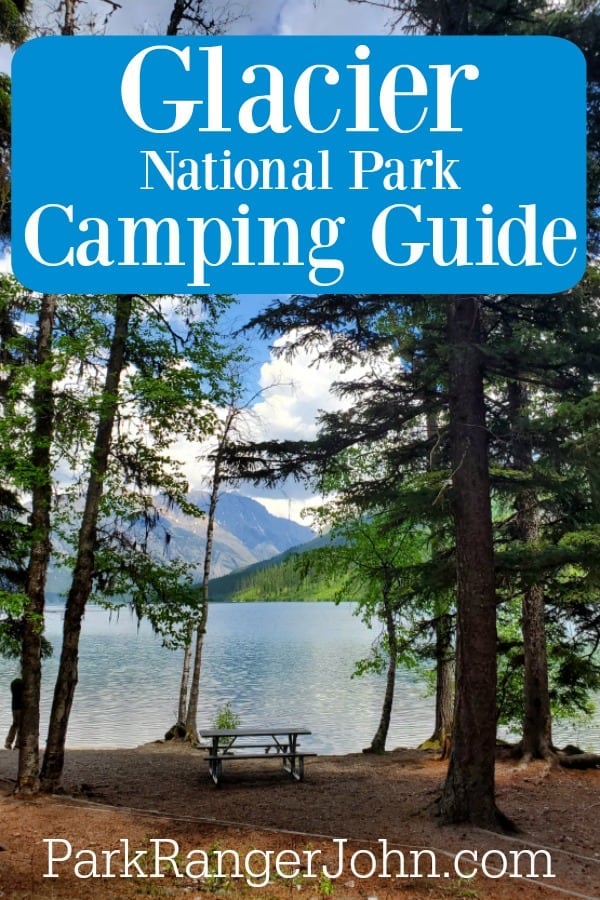 Camping
Camping in Glacier National Park is epic! Waking up to stunning scenery and the smell of campfires and bacon cooking in the morning is one of our favorite things. We love it so much we wrote an entire Glacier National Park Camping Guide to help you plan your trip!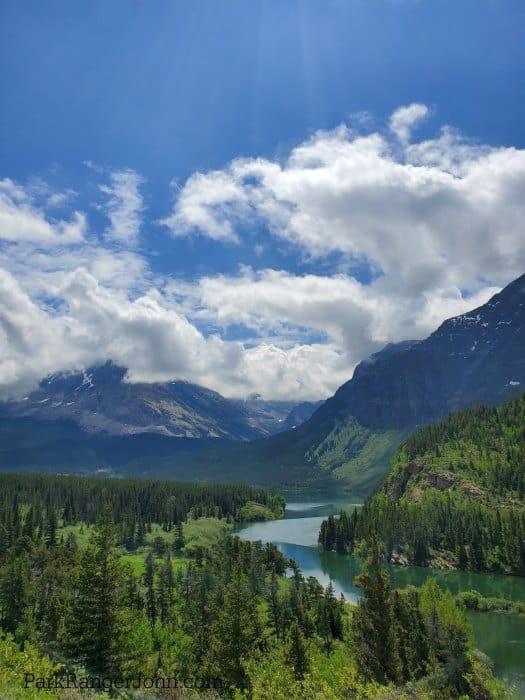 There are truly so many amazing things to do in Glacier National Park that one trip may not be enough to see it all. We try and visit Glacier at least once a year since it is so close to us and we are still finding new things to see and do every visit.