The Prince of Wales Hotel is a stately hotel located high on a bluff overlooking Waterton Lakes National Park in Waterton Alberta, Canada. Its location provides both unparalleled mountain views as well as a tremendous lake view of Upper Waterton Lake.
Prince of Wales Hotel
The hotel was built in 1927 by the Great Northern Railway. The hotel had an ideal location right across the U.S. Canada border and the railroad had already built several iconic hotels in Glacier National Park.
This gave U.S. Citizens an opportunity to cross the Canadian border during Prohibition for a weekend of fun with the freedom to enjoy their favorite spirits they were not able to obtain in the U.S. It was this reason that the Prince of Wales Hotel is the only lodge built by an American Railroad in Canada.
The Prince of Wales Hotel was designated a National Historic Site of Canada on November 6, 1992.
A stay at the Prince of Wales Hotel is truly amazing! When you see the hotel perched over the lake you can't believe that it was built so long ago. It is crazy to know that the hotel had to be structured to hold up against the crazy winds that blow across Waterton Lake.
Prince of Wales Hotel Lakeside 1 King Room
There are five types of guest rooms at the Prince of Wales Hotel: Mountainside Standard, Lakeside Standard, Lakeside King, Fifth and Sixth Floor Standard, and Prince and Princess Suites.
We stayed in a Lakeside king room with a beautiful view of the lake during our stay at the Prince of Wales hotel. The room had a king-size bed, 2 seriously comfortable chairs, a small table, a dresser, and a great bathroom.
One thing to know about this hotel is the wind can gust up the lake and make the rooms really chilly. Being a historic hotel there truly isn't much insulation to stop the wind from getting into the rooms. Make sure and pack warm pajamas if you are planning a stay at the hotel in the Fall, Winter, Spring or any time of the year honestly.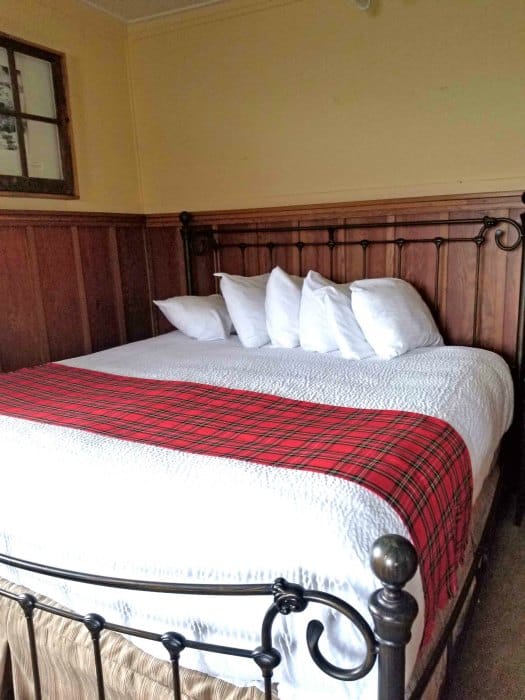 We had access to a shared balcony with a view over the lake. There isn't enough room for chairs but you can stand outside and check out the dramatic amazing view.
One thing to remember is with the shared balconies guests in rooms near yours may be outside enjoying the views. I had an interesting experience when I walked outside to check out our view.
When I turned towards the lake I was a bit shocked to see the guest in the room next to us standing near the window with no clothes on. I don't know which one of us was more shocked at that moment.
That was not quite the view I expected when I walked outside. I quickly turned the other direction and savored the view of the lake and mountains in the other direction.
One thing to know is you will have to use a bellhop to access your room. The elevator can only be run by an employee of the Prince of Wales hotel. Be prepared if you want to give a tip for the service. When you need to leave your room you will need to press the elevator button and wait for an employee to bring the elevator up to you.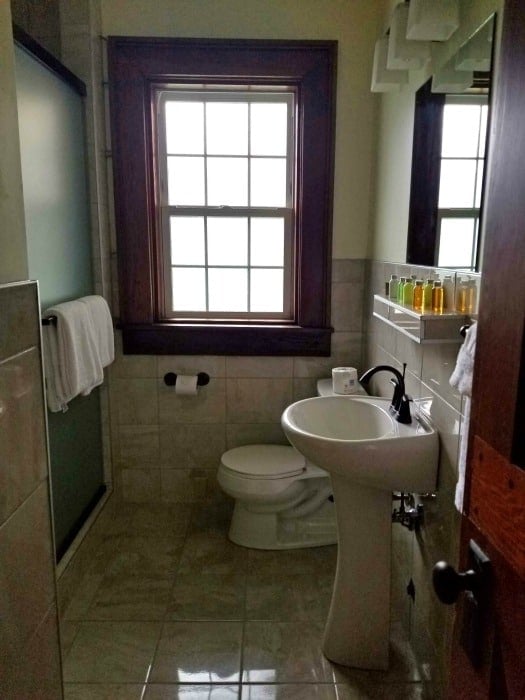 Plan to wait a few minutes depending on when you are calling for the elevator. There are only so many staff members and they have to carry luggage up to the 5th and 6th floor from the 4th floor.
If you have mobility restrictions make sure and tell the hotel so you do not get a room on the 5th or 6th floor that can only be accessed by taking at least one flight of stairs.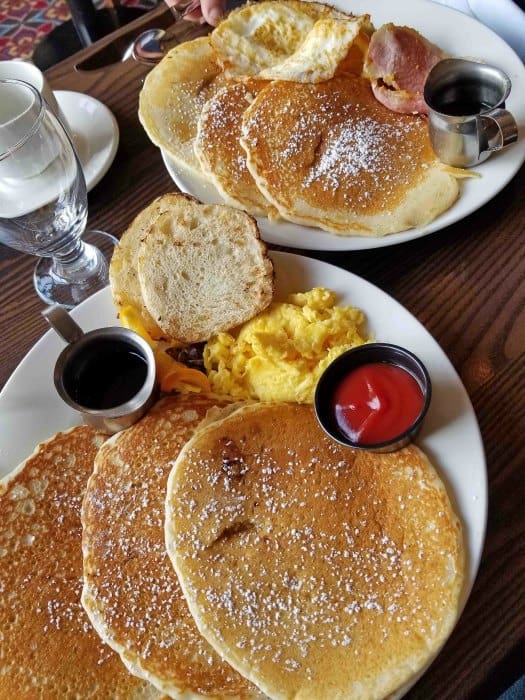 The Royal Stewart Dining Room
The Royal Stewart Dining Room is located right off the lobby of the Prince of Wales Hotel. The restaurant serves authentic Canadian cuisine for breakfast, lunch, and dinner.
Afternoon tea is also served in the lobby of the hotel from 1 pm to 5 pm. If you plan to enjoy tea or dinner at the Royal Stewart Dining Room reservations are highly recommended.
You can call 844-868-7474 to make reservations.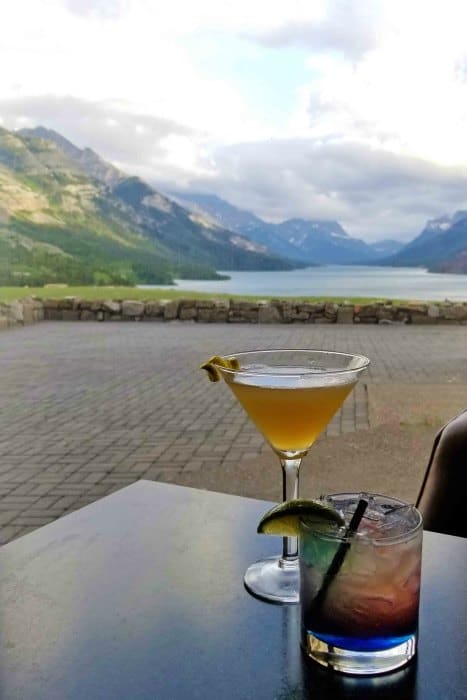 Windsor Lounge
Make sure to spend time in the Windsor Lounge during a visit to the Prince of Wales Hotel. The Windsor Lounge offers prohibition-era cocktails that are delicious!
We were truly impressed with the bartender's skills at making unique and delicious cocktails.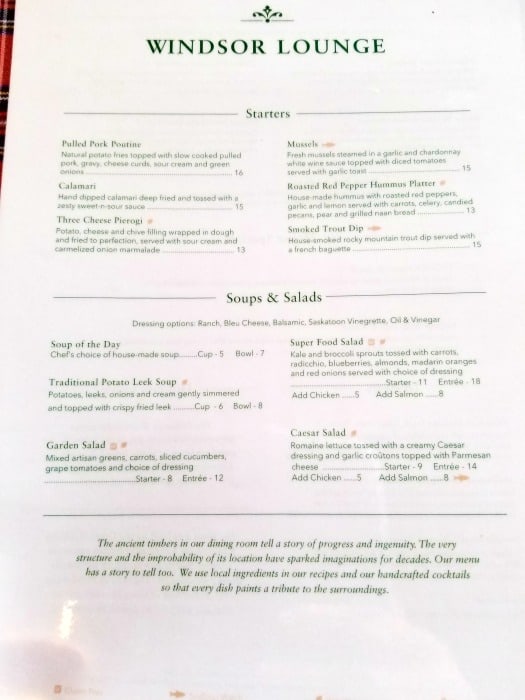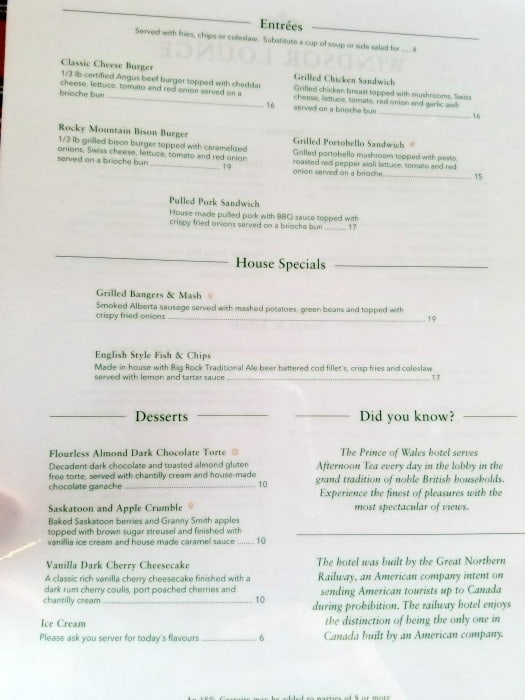 They serve a small menu in the Windsor Lounge that is great. If you want a comfortable relaxing dinner during your stay this is the place to go! They also have a lunch menu!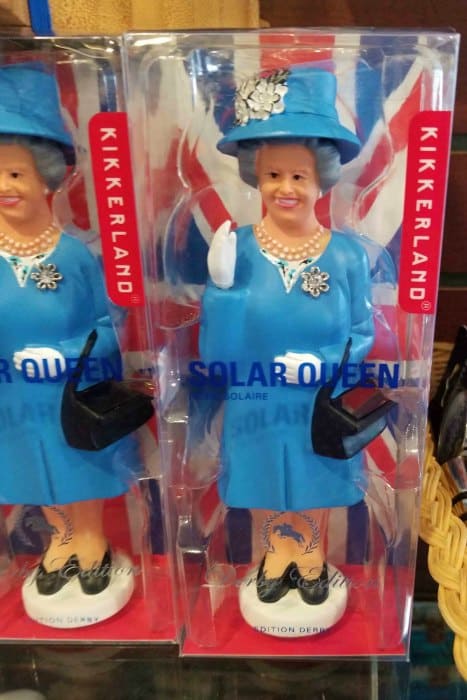 Prince of Wales Gift Store
Are you looking for something British inspired for a gift? Head to the Prince of Wales gift shop. From Queen of England bobbleheads to gorgeous tea sets you can find a little bit of everything at the gift store.
Plus there is a small espresso stand in the back to fill all of your caffeine needs.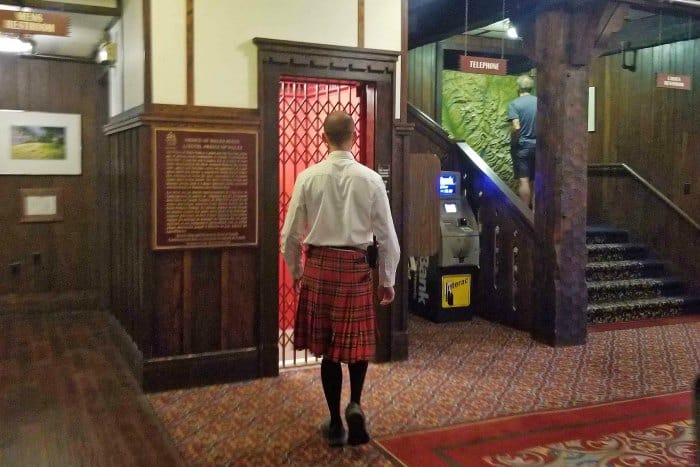 Things to know when planning a trip to Prince of Wales Hotel
You will need your passport to stay at the Prince of Wales Hotel! The hotel is located in Canada and you pass through a border control station on your way to the hotel.
Keep an eye out for wildlife during your stay. We saw a very wet bear as we were leaving the hotel.
Check-in time - 3:00 pm
Check out time - 11:00 am
Prince of Wales Hotel Address - Highway 5, Waterton Park
Prince of Wales Phone Number - 403-859-2231
If you are visiting Glacier National Park, make sure to check out all of the Glacier National Park lodging options. All of these hotels are incredibly popular in the summer months and all of these hotels are generally sold out months in advance.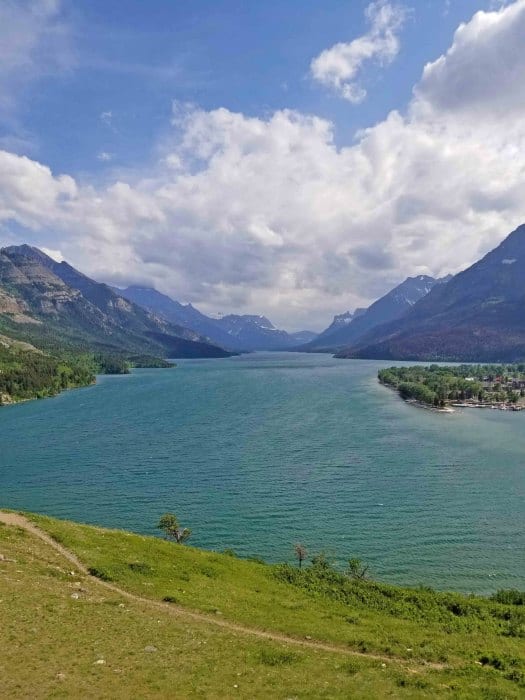 How to Make reservations for the Prince of Wales Hotel
You can make a reservation by calling (844)868-7474. You can also make a reservation for The Prince of Wales Hotel online. Simply know the dates you want to go and have your credit card ready to make your reservation.
Prince of Wales Hotel Amenities
Hotel amenities include complimentary WiFi, Bell Hop service, on-site dining room, on-site lounge, Starbucks Coffee Store, gift shop and interpretative hotel tours.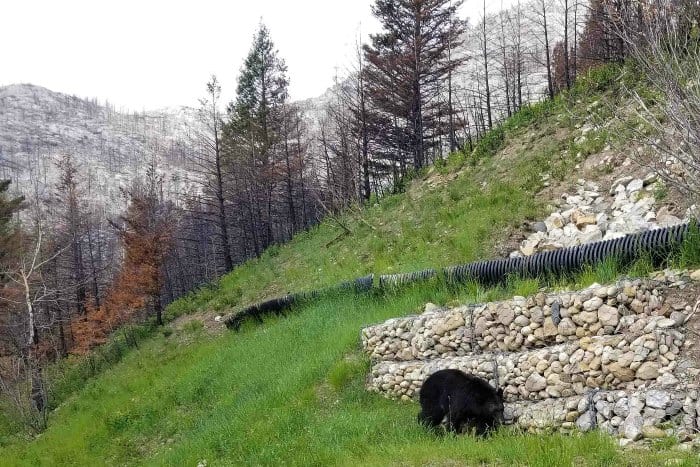 Check out these other great articles
Epic list of National Park Lodges
Things to do in Glacier National Park
Things to do in Yellowstone National Park
Glacier National Park Lodging - Check out all of the options for hotels and lodges within Glacier National Park