The Many Glacier Hotel in Glacier National Park holds a special place in my heart. 13+ years ago I was completely smitten by Tammilee, She is beautiful, smart and just makes me happy! Not only that but she shared my love for America's National Parks!
So here we were at our first big overnight trip together at Glacier National Park. We planned on camping several nights and exploring all that Glacier had to offer. What Tammilee did not know was that I had something special planned for her. I went online and made a reservation at the Many Glacier Hotel.
We had been camping in Glacier for multiple nights and I knew that she would be more than ready for a shower and soft bed. Little did I know that on this particular night there would be thunderstorms and torrential downpour. To say I won major boyfriend points is an understatement. LOL!
Fast forward to the present and 13 years from that first experience, we finally came back and stayed the night at the Many Glacier Hotel. This time was much different as our first trip was in a standard room on the first floor with two tiny beds. We told each other that the next time we would one day stay in a king room together! Finally, we made it happen!
The Many Glacier Lodge is simply beautiful! Having the opportunity to stay overnight here will definitely be one of the highlights of your trip to Glacier National Park and one that you will tell all your friends about!
The Swiss Style exterior of Many Glacier Lodge is one of the prettiest among all the National Park Lodges, let alone within the Glacier National Park Lodges. Many Glacier's windows are perfectly located right on Swift Current Lake giving views only Crater Lake Lodge can match.
Built by the Great Northern Railway in 1914-15 you can expect to stay in a rustic but amazing lodge. One thing to remember about this lodge is that it was built in a time where the focus was on the exterior and the common areas like the lobby.
Do not expect fancy in your rooms. It was very common for hotel rooms to be small and have shared bathroom facilities when the hotel was built. It was not just the Many Glacier Hotel to have shared bathrooms, it was also done in other famous National Park Hotels like the El Tovar at the Grand Canyon and the Paradise Inn at Mount Rainier.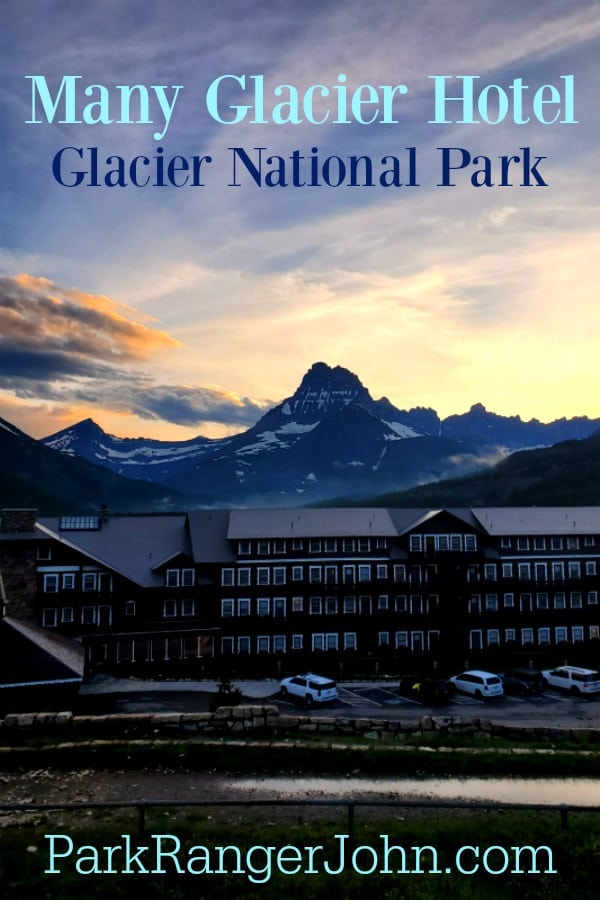 Many Glacier Hotel
The Many Glacier Hotel is located in the heart of eastern Glacier National Park situated on the shores of Swiftcurrent Lake. The hotel was built in 1914-1915 (see more of the hotel history below). This is the closest hotel on the US side to Waterton Glacier International Peace Park.
The Many Glacier Hotel is situated in the perfect location for access to red bus tours, boat cruises, amazing hikes, and bear watching. There are 214 rooms that are available with single, queen beds and king size beds. One thing to know is there is quite a difference in room types depending on the level you reserve.
We love this hotel inside the park and can't wait to return to the St. Mary area. The views of the rocky mountain vistas, the lakes, the bears, and moose is just epic.
One thing to know if you have any mobility restrictions or hate stairs is the parking area is a bit of a hike. The parking lot is above the hotel so you walk down 25+ rock stairs to get to the hotel and then back up them to get to your car. There is no valet service at the hotel.
There is disabled permit parking near the front of the hotel if you have a permit. After two knee surgeries, I know how hard it can be to deal with a ton of stairs and want to make sure everyone is prepared for this walk.
Deluxe Lakeside 1 King
We had a deluxe lakeside king room with a shared balcony on the third floor of the annex. There are no elevators in the annex building so if you have any mobility restrictions you will want to ask for a room in the main building.
The deluxe room was absolutely gorgeous! The balcony looked out over the shores of Swiftcurrent Lake. I do have to tell you a funny story. When we were filming the room walkthrough up above I was standing on the deck while Tammilee walked through the room.
As Tammilee is walking out on the balcony I turn my head and realize that the older woman in the room next to us has just walked out of the shower naked and is clearly seen in the window.
I am waving my hands so Tammilee does not pan the camera in that direction and of course, she thinks I am trying to get her attention. I finally got her to turn around and focus on the lake to keep you guys from having to see a fellow guest just out of the shower.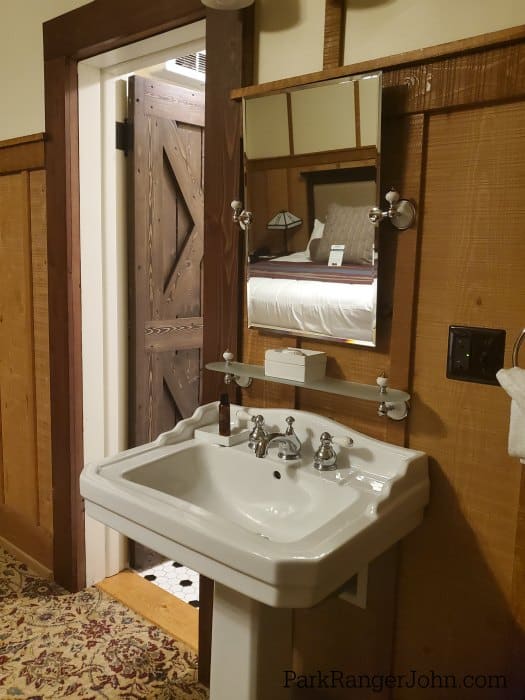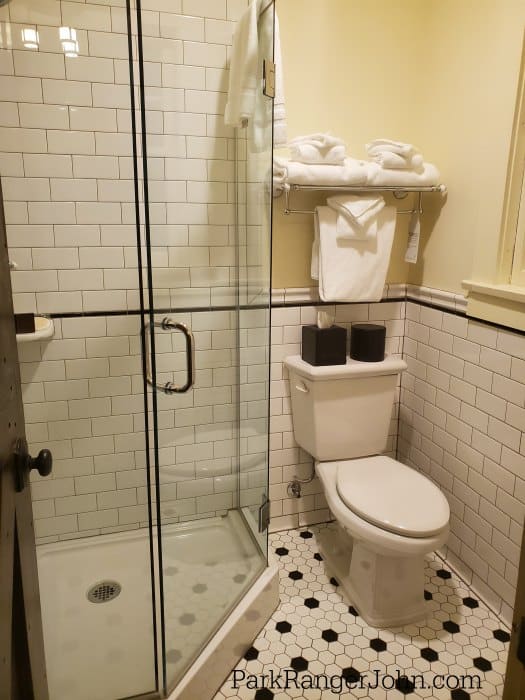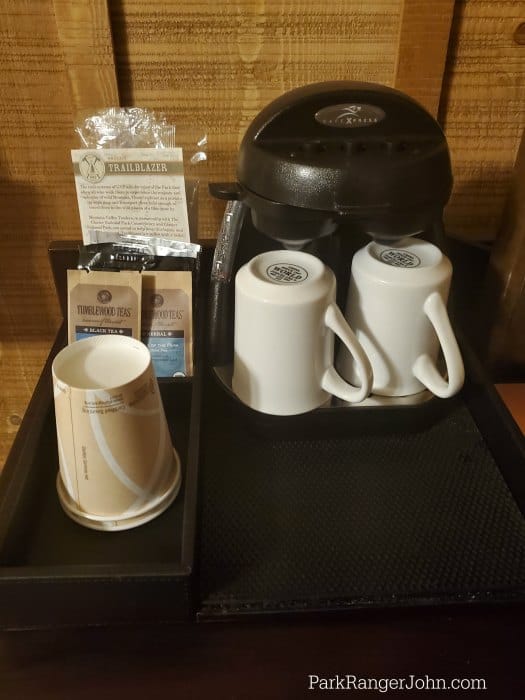 Amenities
There are no televisions or air conditioning.
Guest rooms and hotel facilities are all non-smoking.
Down Alternative, eco-smart pillows
Energy efficient lighting
Recycle bin
Alarm clock
Telephone
Fan
Iron and ironing board
Hair dryer
Wi-Fi hotspot (very very very limited)
Coffee maker
Stationery and envelopes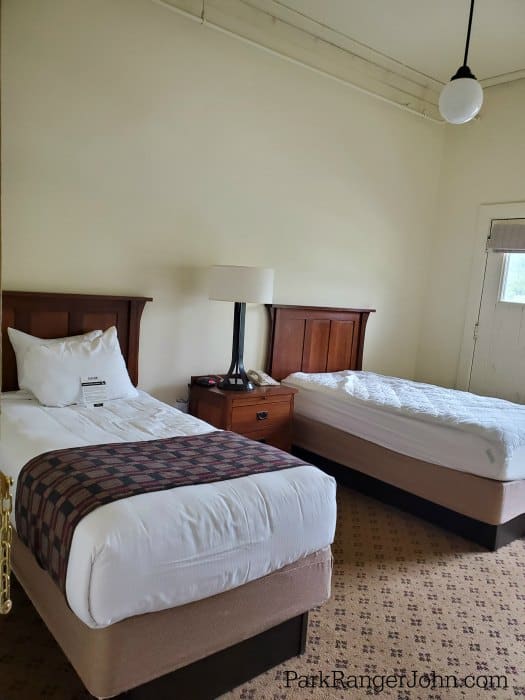 Here is a look into a two twin room on the first floor of the main building. The door was open while it was being cleaned so I quickly took a picture to share. That is why only one of the beds is made.
Ptarmigan Dining Room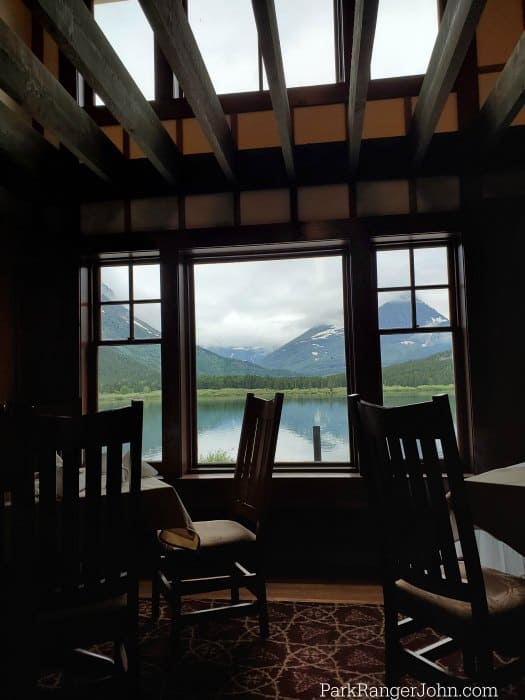 The dining room offers amazing views of Grinnell Point over Swiftcurrent Lake. The restaurant does not take reservations. If you want a window view you may want to show up right when they open for service.
I wish I could say that our meals at the Ptarmigan Dining Room were amazing but sadly I can't! While the view is epic the food and the service were unfortunately pretty lacking. During both dinner and breakfast, the staff was more focused on talking with each other than checking on their tables. The food was ok but honestly not worth the price point.
We were there at the beginning of the summer season so hopefully, this gets worked out and things get better over the summer.
The restaurant seats on a first-come-first-served basis and does not accept reservations
Breakfast: 6:30 a.m. to 10:00 a.m.
Lunch: 11:30 a.m. to 2:30 p.m.
Dinner: 5:00 p.m. to 9:30 p.m.
Swiss Lounge
Food service hours: 11:30 a.m. to 10:00 p.m.
Drinks: 11:30 a.m. to 11:00 p.m.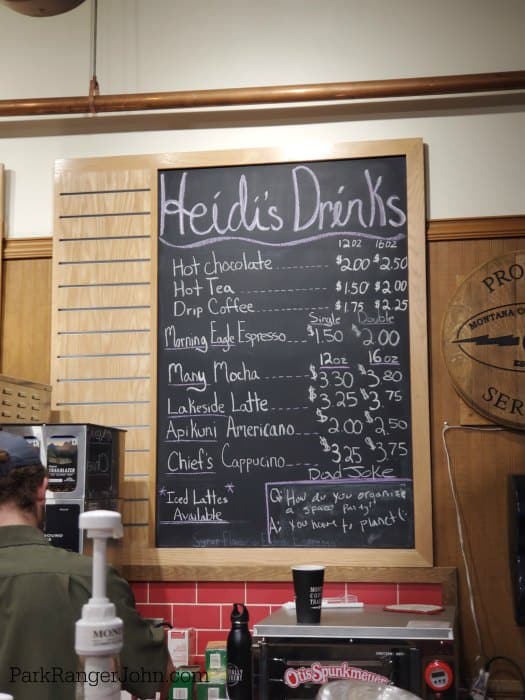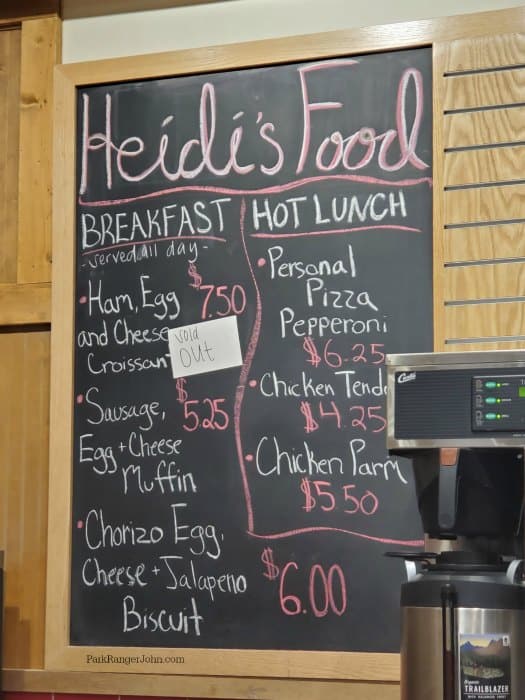 Heidi's
Heidi's is located on the lake level of the hotel. The store serves Montana Coffee Traders hot coffee and espresso drinks. You can also grab hot food items for breakfast, lunch or dinner any time the store is open.
This is the perfect snack shop to grab a few things before heading out into the park.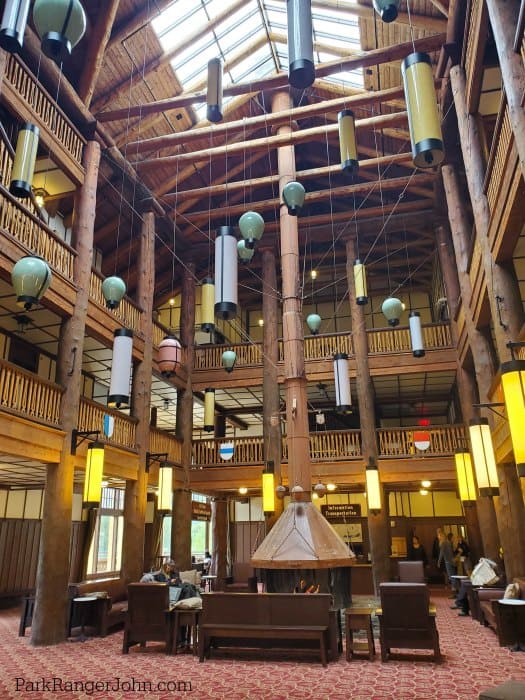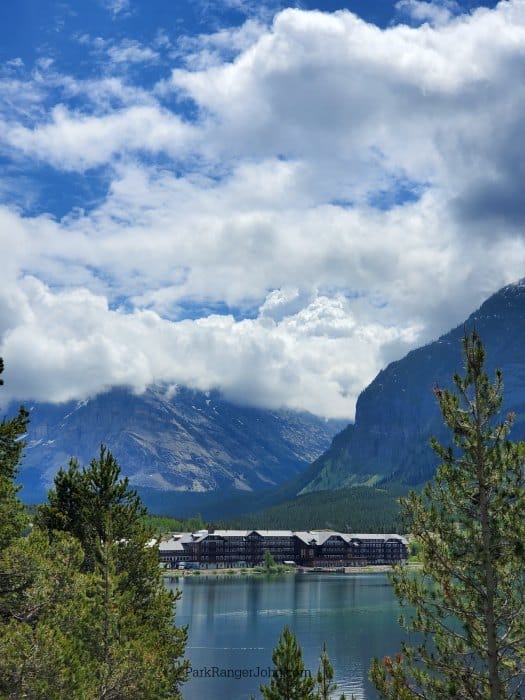 History of Many Glacier Hotel
The Many Glacier Hotel was the inspiration of Louis Warren Hill, Sr who was the president of the Great Northern Railway. Mr. Hill commissioned the hotel as an extension of his other Swiss-style hotels in Glacier National Park.
A Great Northern staff Architect Mr. Thomas McMahon completed the final design of the hotel at 600 feet long. Construction took place over the winter of 1914-1915 using locally cut lumber and quarried rocks for the foundation. The rest of the supplies were brought in by horse and wagon from Browning, Montana.
When the hotel opened on July 4, 1915, it was the largest hotel in Montana. It was an oasis of luxury in the wilderness due to indoor plumbing, steam heating, electrical and telephone service, a barber shop, a gift shop, a full-service dining room, uniformed staff, and a daily bus and saddle horse transportation options.
The room rates were between $4 and $8 per day with meals included. The annex was added on in 1917.
The total cost to build the Many Glacier Hotel was $393,000.
A 1936 forest fire nearly destroyed the hotel but it was saved by having fire-resistant shingles and a staff who hosed down the building.
Swiftcurrent Lake has flooded multiple times including 1964, 1975, and 1995 bringing several feet of water into lake level rooms.
Notable visitors to the hotel include President Franklin D. Roosevelt, First Lady Eleanor, John D. Rockefeller, Simon and Garfunkel, Robin Willaims along with filmmaker Ken Burns and Vice President Al Gore.
The Great Northern Railway sold the hotel to Don Hummel and associates in 1960 who then sold it to the Dial Corporation in 1981.
Since 2014 Many Glacier Hotel has been operated by Glacier National Park Lodges which is a division of Xanterra Parks and Resorts.
In 1976 the hotel was added to the National Register of Historic Places and later recognized as a National Landmark.
In 2001 the National Park Service started a $42 million dollar rehabilitation of the hotel including structural stabilization, restoring the dining room and lobby, and updating all guest rooms.
There is now a copy of the original double helix staircase in the lobby that was financed by a donation from one of Louis Hill's Grandsons and the Glacier Park Conservancy. The completion of the staircase marked the completion of the hotel rehabilitation in 2017

Things to know when planning a stay at Many Glacier Hotel
GPS Coordinates: N 48.7967298, W -113.6577702

2019 Dates – Opens: June 7, 2019, Closes September 17, 2019
2020 Dates – Opens: June 5, 2020, Closes September 15, 2020
Many Glacier Hotel Reservations can be made here.
Many Glacier Hotel Phone: Toll-free within the U.S.: 855-SEEGLACIER (855-733-4522)
Outside the U.S.: +1-303-265-7010
Check in time is after 4 pm
Check out time is 11 am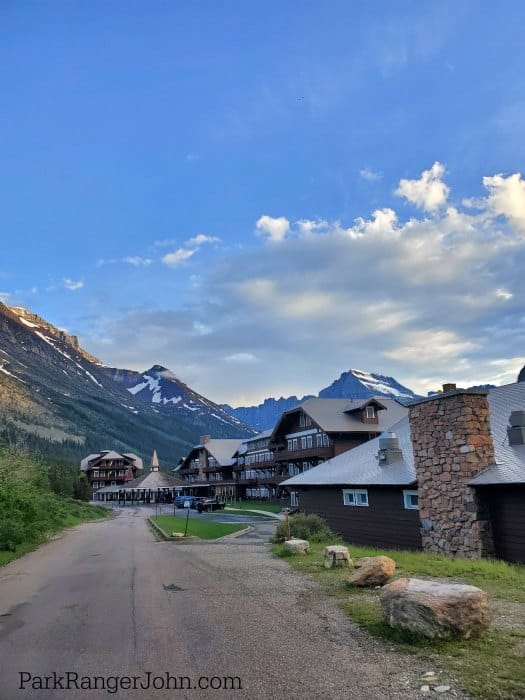 There are 16 stairs per floor
If you are on the 3rd floor you will get to enjoy 32 stairs
There is a bellman available to help with luggage
Smoking and vaping are prohibited in all guest areas.
Service animals are permitted in the hotel. No other animals are permitted
ATM – is located in the lobby of the hotel
Guest Laundry is available at the Swiftcurrent Motor Inn
I hope you have enjoyed reading about the historic Many Glacier Hotel. This lodge has a special meaning to me and my wife and I hope that everyone gets the opportunity to have such a wonderful experience in the parks.
Make sure to check out all of our Glacier National Park posts for more information to help you plan an epic trip to one of our all-time favorite National Parks!