Glacier Park Lodge is a great example of early twentieth-century National Park Rustic Architecture, also known as "Parkitecture". It was also the vision of Louis Hill, President of the Great Northern Railway.

Glacier Park Lodge
Glacier Park Lodge History
Glacier Park Lodge is located just outside Glacier National Park in the village of East Glacier Park, Montana.
When the transcontinental railroad was officially completed in 1896, it was a monumental victory for travel and business in America.
In the years to follow, numerous major railroad companies expanded the tracks and made accessibility around the country possible and accessible.
As these rails sprouted across the nation, so did towns and ranches along the routes.
The Great Northern Railway became successful in stages. It created successful lines in populated areas and then began to build in the mainly unsettled western territories.
Canadian-American James J. Hill was president of the railway in the early 1900s. His rail dominated a substantial area in the upper Midwest and northern Great Plains and he was eager to move into the Pacific Northwest.
His railroad would eventually spur an empire of towns and ranches from St. Paul, Minnesota all the way to Seattle Washington. Hill would later come to be known as the "Empire Builder."
Hill and his son Louis appealed to the wealthy of America. Couples and families who normally vacationed in Europe were drawn to Glacier National Park with Hill's slogan "See America First."
What Hill stood to gain from these trips is that families would need to ride his rails to get there. The Great Northern Railway set out to build lodges, hotels, roads, and trails in the Pacific Northwest to lure the visitors, thereby growing his rail business.
Glacier had been established as a national park in 1910 and by 1912, it was Louis Hill's goal to construct a grand lodge in the area that mimicked the successful lodges which had been built in Yellowstone.
Great Northern hired St. Paul architect Samuel L. Bartlett to design what was originally called the Glacier Hotel and although his ideas and style were prevalent, Louis Hill oversaw every detail of the design and construction.
He had since stepped down from the railway and devoted all his time to building the hotels and lodges in the Glacier area.
Hill bought 160 acres of land belonging to the Blackfeet Indian Reservation, the Native Americans who one freely roamed Montana. Construction began in 1912.
The lodge was later called "big tree lodge" as characterized by the colossal Douglas Fir timbers lining the lobby. 60 trees of Douglas Fir and cedars were brought in by the railroad from Montana, the largest and choice they could obtain.
The lodge resembled some aspects of a Swiss chalet, as was typical of other projects by the Great Northern at the time. It took a construction crew of 100 men about a year to complete the project.
The Blackfeet tribe was paid by Great Northern to play a big part in drawing visitors to the Lodge. When travelers would arrive by rail, members of the tribe would greet them. Blackfeet members would perform ceremonial dances each evening and a teepee village was set up on the grounds which travelers could tour.
In the 1920s and 1930s, travel began to change as automobiles became more accessible to families, thus decreasing usage of passenger railways.
The effect of the Great Depression decreased business at the Glacier Hotel and many others alike all over the west. Great Northern tried to sell many of their lodges to willing buyers. Additionally, the lodges were closed for three summers during World War II.
In 1956, Great Northern hired Knutson Hotel Company to manage and revamp their western hotels. The first order of business for Glacier Hotel was to officially rename it "Glacier Lodge."
Knutson also added a pool and other amenities and cut ties with the Blackfeet, giving the lodge more of a "cowboy" theme. In 1960, the revamped lodge was sold to Glacier Park, Inc.
The 1960s was a disastrous decade for the lodge. There was a boiler explosion in 1962 and in 1964, a historic flood closed the lodge for multiple days.
In 1967, two of the lodge's employees was one of three victims in what was called the "Night of the Grizzlies."
On the night of August 12-13, two separate grizzly attacks killed two woman and severely injured one man. Julie Helgeson and her boyfriend Roy Ducat were both employed at the Glacier Lodge and were camping near Glacier Park Chalet, about 55 miles north of the Glacier Lodge.
The other female victim was killed while camping at Trout Lake in Glacier National Park.
In 1967, a botched robbery at Glacier Lodge was attempted by two men in cowboy hats with bandanas over their faces and shotguns in their hands.
They had come with the intent of obtaining the hotel safe's large sum of payroll cash. A night watchmen was able to scare the robbers away into the night after they had taken 5 individuals hostage. The crime was never solved.
Glacier Park, Inc. still owns and maintains the lodge which has undergone many updates and additions in the last fifty years.
In 1999, USA Today named the lodge one of the top 10 best lodges in the National Park System.
Today it is a gorgeous getaway for families to enjoy with breathtaking views from every building, world class dining, a golf course, along with a rich history to appreciate.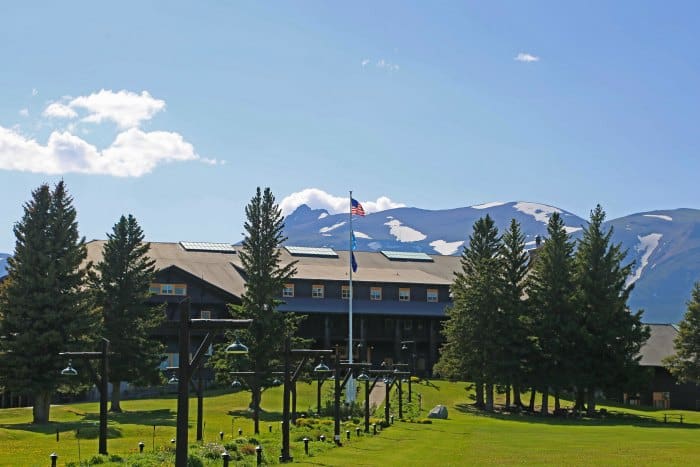 It didn't take long to realize that the original lodge was not going to be big enough for all of the guests that wanted to visit Glacier Lodge. During the winter of 1913 to 1914 the annex building, employee quarters, powerhouse and laundry were built along with expanding the dining room. A crew of 75 men spent over a year and a half constructing the two main buildings.
Where is the Glacier Park Lodge Located?
Glacier Park Lodge is located in the remote Southeastern corner of Glacier National Park in East Glacier Park Village, Montana.
Glacier Park Lodge Address
499 MT-49
East Glacer Park, MT 59434
GPS Coordinates for Glacier Park Lodge
Latitude 48°26'34.3"N and Longitude 113°13'21.1"W.
Glacier Park Lodge Room Types
There are 161 rooms in the Glacier Park Lodge with 28 different room types. You can find anything from suites and family rooms to value rooms. The one thing I have learned from staying in a National Park Lodge is that you get what you pay for.
Value could include having communal restrooms and showers and a very small room with one double bed to a suite with a private bath, king bed and a balcony with sweeping mountain views.
Great Northern Mini-Suite
During our stay at the Glacier Lodge, we booked a Great Northern Mini-Suite with a king-size bed. The room was located on the 2nd floor with a view of the front of the main lodge grounds. There was a ton of room in the main portion of the room.
One thing I have to tell you is the bed was quite firm. If you are not a fan of a firm bed this is definitely something to know when you are booking a place to stay. After a long day of hiking and exploring a park the bed was definitely not as soft as we normally enjoy.
The room was quiet during the night but we were at the lodge before the height of the busy season. The room had a shared balcony with two rocking chairs and a lovely couch.
There was a desk with a wooden chair, two side chairs next to the fireplace. The fireplace did not appear to be functional as there were fake flowers placed inside the fireplace.
The bathroom includes a shower, sink, and toilet. There are two body towels, a couple of hand towels and washcloths. Shampoo, body wash, a bar of soap and a vanity kit with a couple of q-tips, make up remover pad and nail file were in a basket in the bathroom.
In the summer a box fan can be requested to help cool off the room. Being a historic hotel there is no air conditioning. The front desk did tell us that later in the summer the lower floor rooms are cooler than the 3rd and 4th-floor rooms. While the top rooms have the best views they may also be really warm in the heat of the summer.
You can request a small refrigerator if you have medications that need to be kept cool. Rollaway beds are available for $15 a night. The front desk also has infant cribs, three-prong outlet converters and irons/ironing boards.
Free wi-fi is available and was quite strong. The password is written on a board at the front desk. You can also ask them for a piece of paper with the wi-fi code written on it. We had great wi-fi coverage throughout the entire lodge.
How to make Glacier Park Lodge Reservations
You can make reservations to The Glacier Park Lodge by calling (844)868-7474. You can also make your reservations online for the Glacier Park Lodge. The good part about booking online is that you can see the breakdown as to what rooms are available on the dates you want to go.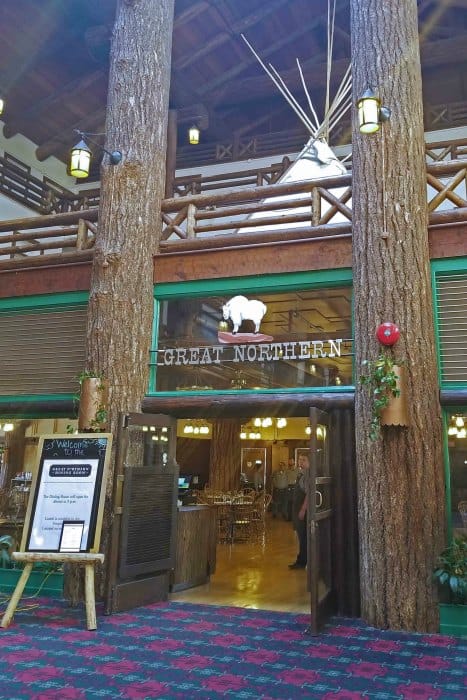 Great Northern Dining Room
The Great Northern Dining Room at Glacier Park Lodge offers farm to table meals that are truly delicious. You can find everything from Huckleberry meatballs to Bison ribs on the menu that focuses on cuisine with a Montana flare.
We had a hard time choosing what to order for dinner because the menu looked so good. The cocktail list is inspired by Glacier and Montana and is well worth pursuing. My wife had the frozen huckleberry margarita and said that it was the perfect blend of tart huckleberries in a sweet margarita. I had the old fashion which was well balanced and tasted amazing.
Our dinner started with a nice portion of fried ravioli. The ravioli was crisp and the cheese melted in the middle perfectly. I am not sure what happened but all of a sudden the plate was empty and we were looking at each other wondering if we could make more ravioli appear.
For dinner, I went with the bison ribs served with summer vegetables and mashed potatoes. The summer vegetables were fantastic. The bison ribs fell off the bone and you could tell they had been cooked low and slow to truly make them fall off the bone.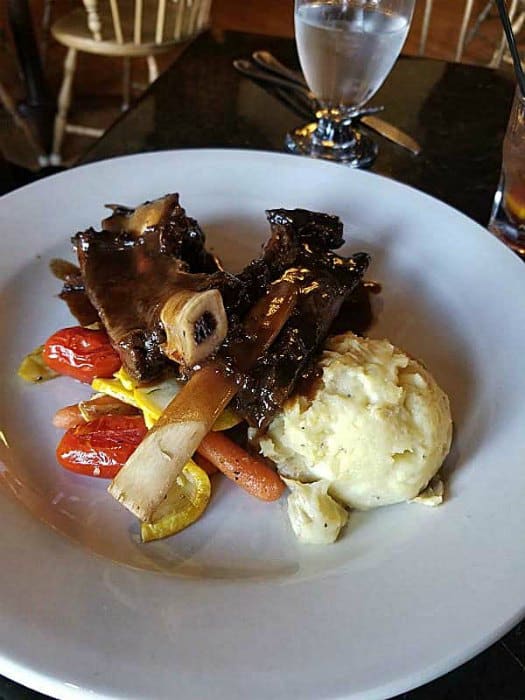 My wife had the classic mac and cheese and it was a huge portion. Even with both of us enjoying it there was well over half the dish left when we were done.
Their dessert menu looked amazing and included huckleberry bread pudding, berry crisp, and ice cream. We passed on dessert as we were full from dinner.
The Great Northern Dining Room does not take reservations and is first come first served.
Breakfast is served from 6:30 am to 10 am
There is no lunch service at the Great Northern Dining Room but the Empire Lounge is open for lunch.
Dinner is served from 5 pm - 9:30 pm
Empire Lounge
The Empire Lounge is located in the main lobby and offers a well-stocked bar with Montana microbrews and classic Jammer soda. The Empire Lounge also offers a stunning view from the back porch. This is the place to relax and enjoy a delicious cocktail after spending the day in the park. The Empire Lounge also offers lunch and dinner with a menu focused on appetizers, sandwiches, and burgers.
The Empire Bar serves food from 11:30 am to 10 pm. Cocktails are served until 11 pm.
Empire Cafe
The Empire Cafe is an espresso bar located in the lobby of the Glacier Park Lodge. This was my first stop in the morning so I could get fueled up on caffeine before hitting the park. Starting at 6 am they serve a selection of Montana Coffee Trader's brewed coffee, espresso, steamers, teas and hot chocolate along with iced coffees and Italian sodas.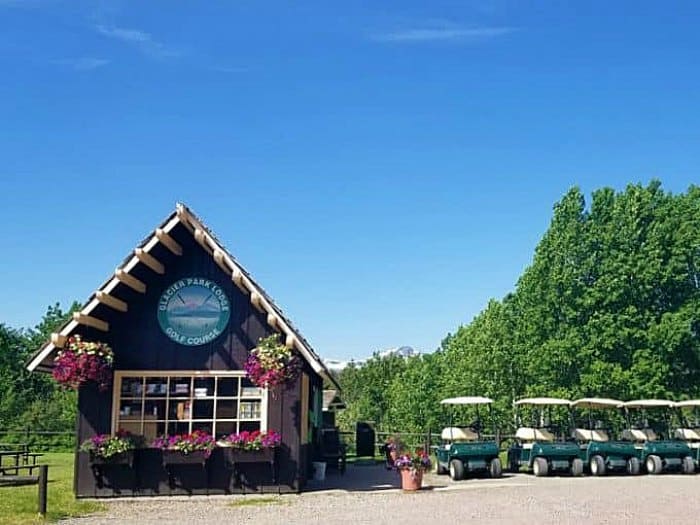 Glacier Park Lodge Golf Course
Phone: (406)226-5642
The historic Glacier Park Lodge 9 hole golf course was built by the Great Northern Railway in 1928. The Blackfeet Indians named the course "Oom-c00-ska-pes-che" or Big Green Blanket by Chief Earl Old Person.
The Clubhouse has both club and cart rentals available on site. The entire family can enjoy the pitch n' putt course with the par 27 course located on the front lawn of the Glacier Park Hotel offers fun for everyone. You can rent equipment to play at the Concierge desk.
Glacier Park Lodge Golf Course is open late May-September. Club and cart rentals are both available.
Gift shops at the Glacier Park Lodge
There are a couple of gift shops located within the lobby of the Glacier Park Lodge. They offer great souvenir and gift items along with practical items needed for visiting Glacier National Park.
The Native American Trading Post
This gift shop offers souvenirs including a large selection of huckleberry items, Pendelton blankets and more from the Pendleton National Park Collections. The gift store also features local Blackfeet Native American crafts and gifts.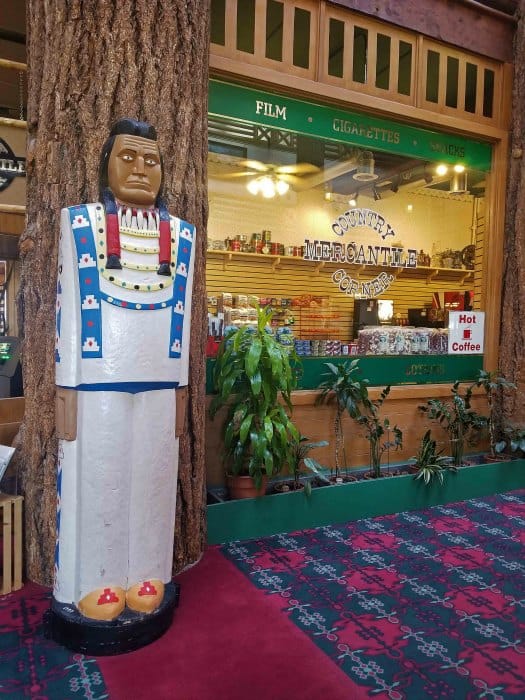 Country Corner Mercantile
The Country Corner Mercantile offers snacks, coffee, books, magazine, digital camera supplies, along with health and beauty supplies.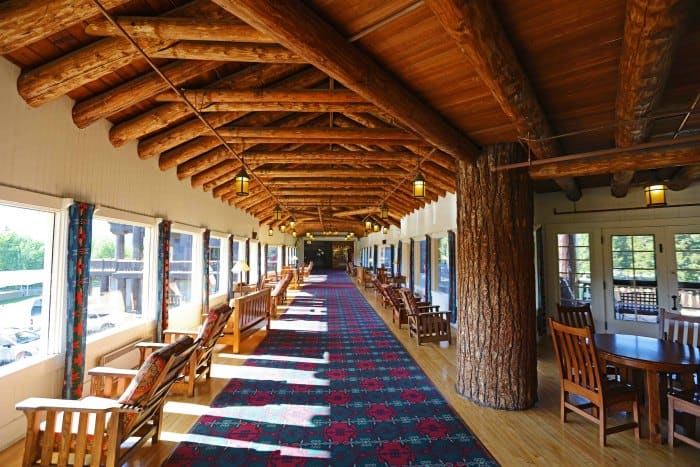 Things to know when planning a trip to Glacier Park Lodge
Glacier Park Lodge address - 499 T-49, East Glacier Park
Glacier Park Lodge phone number - 406 226 5600
Check-in time is 3:00 pm
Check out time is 11:00 am
An advance deposit equal to one night stay and tax less surcharges is due when you make your reservation. If you book excursions/activities through the Glacier Park Lodge you will need to pre-pay for these activities when you book them.
There is a bellman available for assistance with luggage at check-in and check out. This can be extremely helpful if you are on the 3rd or 4th floors. There are no elevators on the property.
Luggage storage is also available.
If you are taking the Amtrak the Glacier Park Lodge has complimentary transfers to and from East Glacier Park Amtrak Station.
Safe deposit boxes are available for complimentary use at the front desk.
Make sure and hold onto your keys! The hotel uses metal keys and there is a $10 replacement fee if one is lost.
There is a concierge located in the main lobby that can help with hiking recommendations, travel tips, maps, and directions. They can also assist in booking activities in the area including Red Bus Tours, whitewater rafting, and more.
The outdoor swimming pool is located behind the main building. The pool being open is weather dependent and is normally open from July to August. There are towels available poolside. Pool hours are normally from 10 am to 9 pm.
There is an ATM located in the lobby.
Box lunches are available to take on your daily adventures. Make sure and order them at the front desk by 8 pm the night before. Lunches are available for pick up after 7 am. The menu is available at the front desk.
Glacier Park Lodge Season for 2020 and 2021
June 3, 2020 – September 22, 2020
June 2, 2021 – September 21, 2021
Glacier National Park Resources
Glacier National Park Camping Guide - Find out about all of the campgrounds within the park, which ones you need reservations for, site photos and more.
Top things to do in Glacier National Park - All of the epic things you do not want to miss during your trip to the park.
Glacier National Park Lodging - Find out about all of the amazing lodges and places to stay within the park.