Trail of the Cedars is perhaps the most popular of all the Glacier National Park Trails. It is also one of two wheelchair-accessible trails in the park and has several interpretative panels as it guides you through towering trees along Avalanche Creek. It is a must-see during any visit to the park.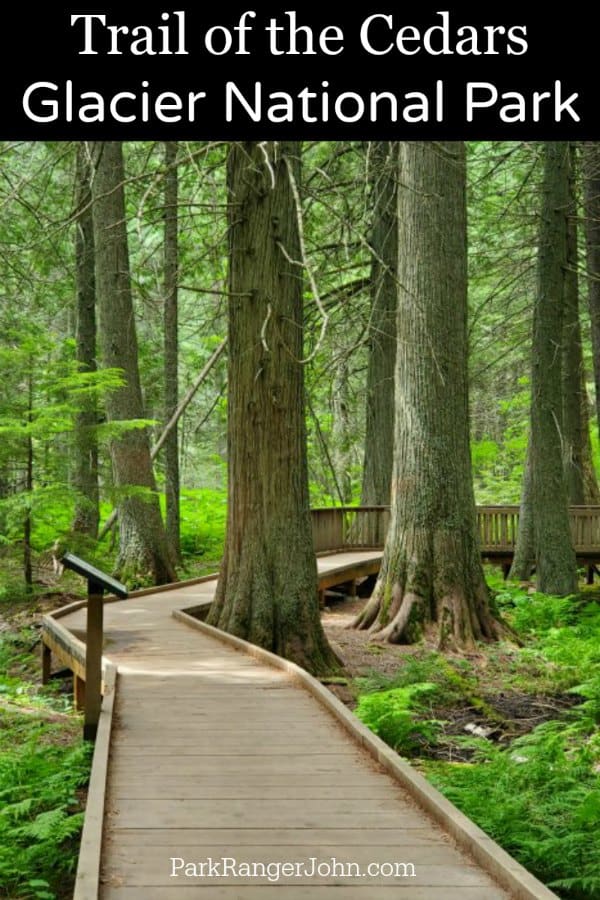 Trail of the Cedars and Avalanche Lake Trails share the same trailhead and are two of the park's most popular hikes. Make sure to arrive early in the morning or later in the afternoon to avoid difficulties in parking. You can also take the park's shuttle to the Avalanche Creek Shuttle Stop.
Trail of the Cedars Nature Trail
Trailhead - Avalanche Picnic Area
Length - .8-mile Round trip Loop Trail
Elevation Gain - Minimal/flat
Location - 5.5 miles east of the Lake McDonald Lodge on the Going to the Sun Road
Difficulty: Easy Hike
Closest Campground - Avalanche Creek Campground
ADA Accessible - Yes, the trail is wheelchair accessible
Shuttle Stop - Avalanche Creek
Trail of the Cedars is a boardwalk trail with some areas with compact dirt. It is wheelchair accessible and easy to travel.
I just want to start off by telling everyone that we love Glacier National Park and usually end up going 1-2 times a year. As with Glacier, the Trail of The Cedars is a special place for me. Each time I come here, I feel at peace.
No matter what is/has been going on in my life, my problems just fade away and I feel enlightened and connected with nature. Me and my wife don't have to say a word and by the time we get back to our car, we both appear different, in tune with life again. To me, this is the power of being connected to nature.
One of the best things about the Trail of the Cedars Nature Trail is you can take as much time as you want for the trail. You can easily speed walk through and be done in 20 minutes.
Of course, my response to that is why? These are the moments we traveled to enjoy. I know you may want to see as much as possible but this is the place to become one with nature; to soak up its beauty, to smell the forest, especially the cedar!
These are the special moments in life that we cherish, why we travel, and the moments we want to share with the people most important to us. We can share this moment with everyone as it is accessible to all! This is one of the places that are right in front of you, the one you will remember and reminisce about years later.
Sometimes you find yourself somewhere so special that you need to spend a few minutes reading an interpretive panel and sitting on a bench soaking in the size and smell of the trees. Close your eyes and hear the sounds of the forest and fill your lungs with the fresh mountain air.
Avalanche Gorge
Avalanche Gorge is one of the top highlights on the trail! Each time we go, we hear someone look at it as say out loud "Hey, that's that picture on our wall!" It's that AH-Ha Moment!
Take a few moments to look around and see where Avalanche Creek flows through polished stone walls as the water rushes through.
Avalanche Lake Hike
Trailhead: Avalanche Picnic Area
Length: 4.6 Miles Round Trip Out and back Hike
Elevation Gain: 500 Feet
Difficulty: Easy
Getting to Avalanche Lake Trail: You can access the trail to Avalanche Lake from the Trail of the Cedars. From this trail section, it is a two-mile hike up to Avalanche Lake.
Avalanche Lake makes for a great two hike trip to plan along with the Trail f the Cedars. A big reason for this is that you start the Avalanche Lake Hike basically right in the middle of the Trail of the Cedars Hike (See attached map).
This is also one of the most beautiful trails in the park as well as one of the most popular hikes in the park. This trail offers incredible views of Avalanche Creek on its way up to Avalanche Lake. and will guarantee to please most every visitor. I say most because there is always that one person that puts on their grumpy pants that day and tries to wear off on everyone else.
Bears can be frequently seen from this trail, especially earlier in the day and later in the afternoon when wildlife is most active. Make sure to always hike being Bear aware and practice Bear Safety tips.
The park services entrance stations are always handing out information on this subject trying to advise those who come ill-prepared to hike in bear country.
Getting into the Spirits of the National Parks
At one time, I had numerous fans request that I write an article about Spirits themed after the National Parks. I was very pleasantly surprised to find a "Trail of the Cedars" Absinthe from Glacier Distilling Co.
Many people know this spirit to be used in a Sazerac and the Death in the Afternoon Cocktail, also commonly referred to as the Hemingway Champagne.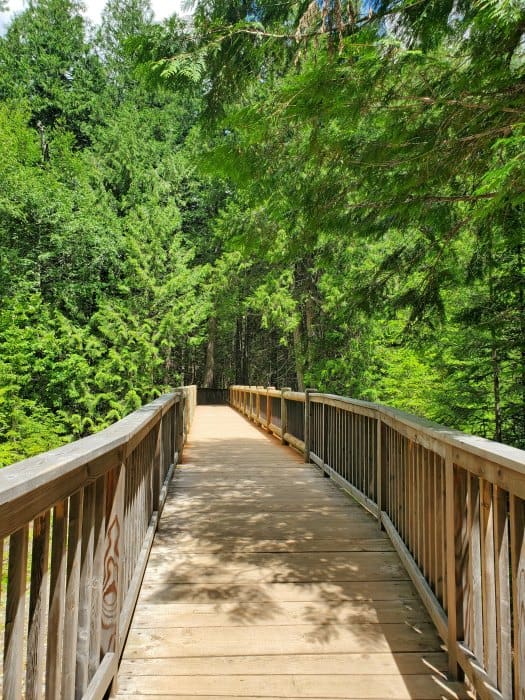 Additional Glacier Resources
Glacier Lodging - Check out all of the great lodges and hotels you can stay at in Glacier National Park.
Top things to do in Glacier - Check out all of the things you do not want to miss while in Glacier
Glacier Camping - Check out photos and campground information for all the campgrounds in the park.
Most Visited National Parks - Check out where Glacier ranks on the most visited national park sites.
Lake McDonald Boat Tours - Find out what to expect when heading out on a Lake McDonald Boat Tour
Prince of Wales hotel - Check out what it is like to stay at the Prince of Wales hotel in Waterton-Lakes National Park just north of Glacier.