There has been a dramatic increase in the number of Spirits Inspired by U.S. National Parks. What a great idea! Now you can take home one of these beautifully crafted bottles for display or you can learn how to make your own alcoholic beverages. I will also be posting drink recipes using the spirits that I have collected for you to enjoy also!
Now all just need to get you a list of these spirits so you can look for your favorite Spirits inspired by the U.S. National Parks!
Spirits inspired by the U.S. National Parks
I have noticed a new trend while shopping for U.S. National Park Inspired Beer and U.S. National Parks Inspired Wines and I am loving it!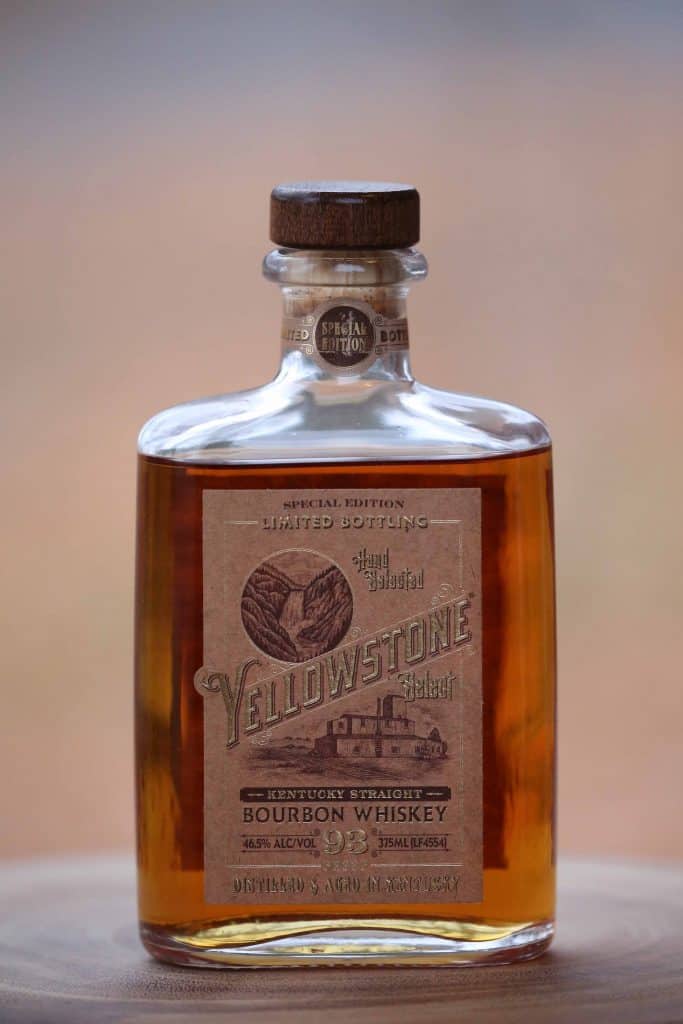 Yellowstone Bourbon, Yellowstone National Park
I wanted to start this article paying homage to the first U.S. National Park and the first Spirit named in its honor way back in 1872. Its roots go back to a name that anyone that has heard anything about Bourbon instantly recognizes, Beam.
Most people may recognize the name and associate it with Jim Beam who is one of the many descendants of the great Jacob Beam. Jacob's family line has continued the tradition of Bourbon making through the generations and its name can be tied to practically all of the Bourbons made in Kentucky in one form or another.
The Limestone Branch Distillery was founded by Steve and Paul Beam and has bought back the rights to Yellowstone Bourbon wanting to build upon their Great Grandfathers legacy, Minor Case Beam.
Yellowstone Select is the original recipe that built this brand back in 1872 and the brand quickly became a favorite on the Western Frontier. There is also a Yellowstone Black Bottle with a limited production of only 7000 bottles produced each year.
I had the pleasure of talking with Steve while doing research for this article and could hear his passion for making Bourbon. Steve told me that the Yellowstone Select is an Iconic Historic Brand and is a classic Kentucky Bourbon in the 4-7 year profile.
He also wanted people to know that it is available in all 50 states. Steve was also excited about making his first trip to Yellowstone sometime in the spring of 2018. He is also working with the park in anticipation of giving back to the park. A great big kudos to Steve and Paul Beam! Check out their website Yellowstone Bourbon for more information.
Bourbon is considered to be sweet compared to other whiskeys. There are several ways to enjoy a bourbon including; neat, w/water, on the rocks, Mint Julep, and a Brown Derby.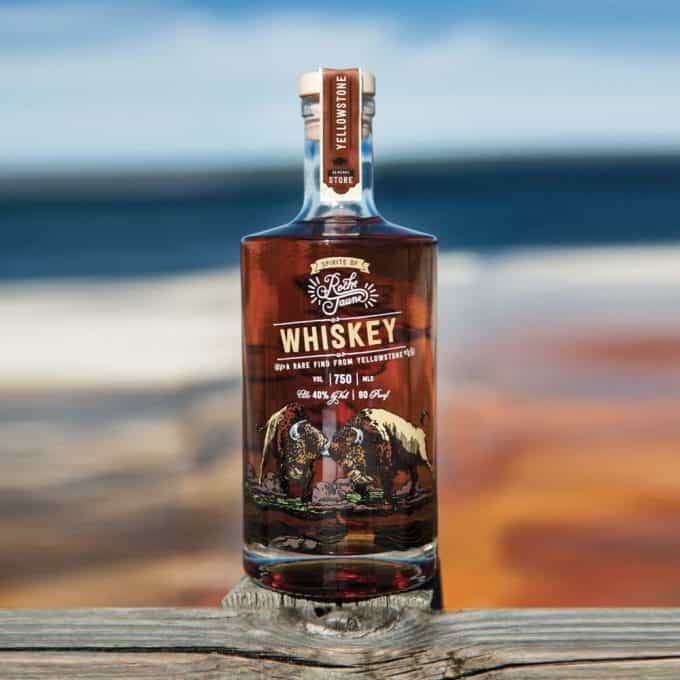 Roche Jaune Whiskey, Yellowstone National Park
The name Roche Jaune comes from early French explorers who named Yellowstone "Rock Yellow". This brand has three different varieties (Whiskey, Moonshine, and Huckleberry Vodka) that are sold exclusively in Yellowstone National Park General Stores since 2014. There is a limited quantity produced each year so make sure to pick some up when you have a chance.
The Roche Jaune Whiskey is a bourbon recipe that is blended with the Bozeman Distilleries Montana 1889 Whiskey and a sourced bourbon from out of state. They are currently working on their own and will phase out the blending of sourced bourbon. I personally like a good Bourbon on the rocks all I can say is that this is a very nice Bourbon! I had to put the bottle out of sight before it was empty. I will be sad to see the bottom of this bottle but already have a DIY project planned for this beautiful bottle when it is.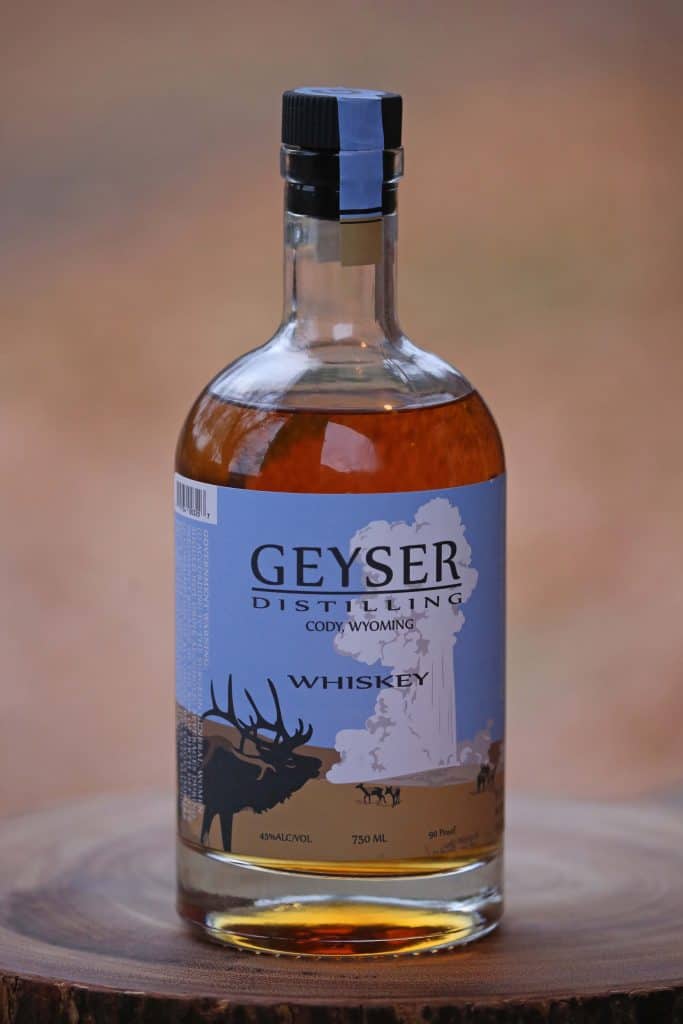 Geyser Distilling has created a unique handcrafted small-batch whiskey with the pristine water born in Yellowstone National Park. I personally am not a huge fan of rye whiskeys and prefer a Bourbon as Rye Whiskeys are less sweet and drier tasting.
I was not a huge fan of this on the rocks but can't wait to try in a mixed drink like a Manhattan, Sazerac, or an Old Fashioned.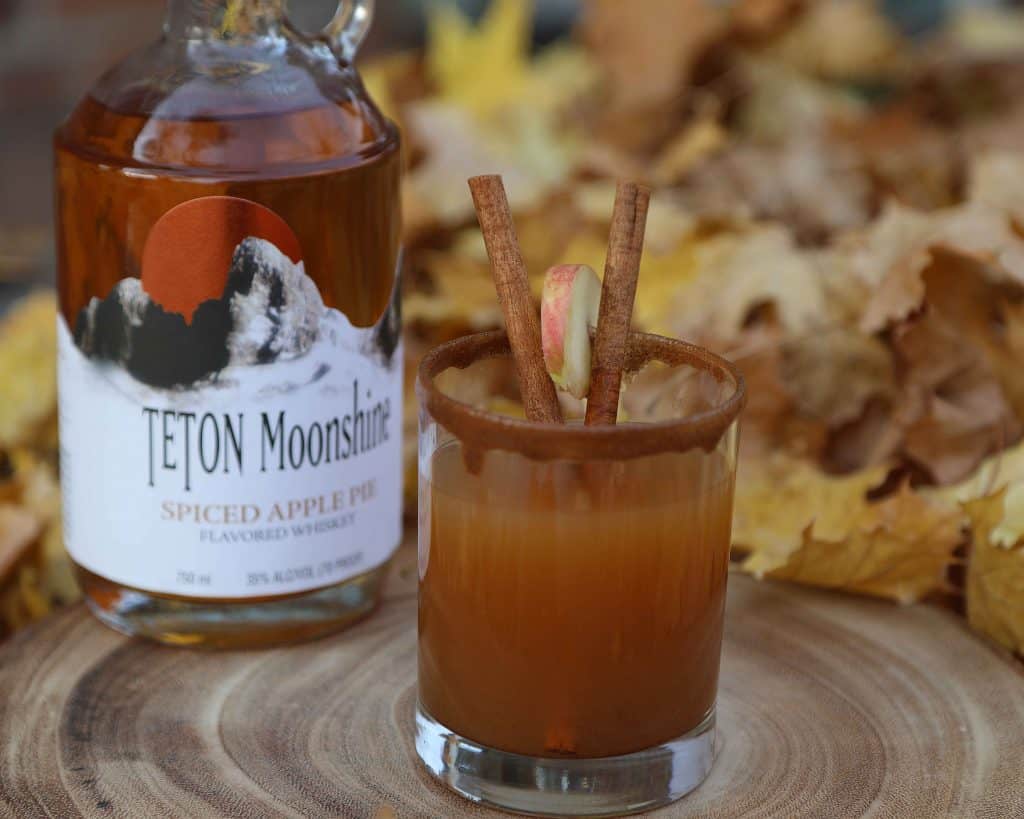 Teton Moonshine Spiced Apple Pie Flavored Whiskey, Grand Teton National Park
The Teton Distillery is located in Driggs, Idaho on the west slope of the Teton Range. All of the water used for distilling comes from the Teton's pristine mountain snowmelt.
The Teton Moonshine Spiced Apple Pie flavored Whiskey is an unaged corn whiskey blend proofed with real apple juice, brown sugar, cinnamon, and spices.
This made for an incredible Spiced Apple Pie Cocktail!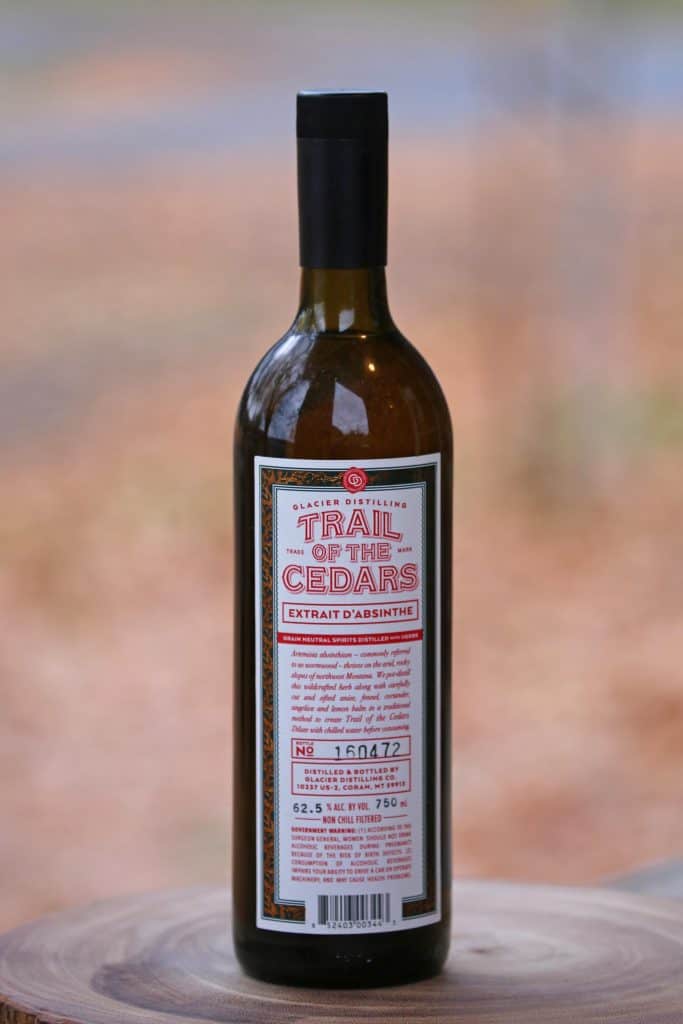 Trail of the Cedars Absinthe, Glacier National Park
Trail of the Cedars is a beautiful 7/10 mile boardwalk hike in Glacier National Park right off the Going to the Sun Highway near Lake McDonald. Here you will find a lush forest that reminds me of something you would see along the Pacific Coast with large Cedars, Hemlocks, giant ferns, and mosses. This lush forest reminds me of alcohol, one of a herbal background.
Absinthe is typically a high percentage of alcohol (110-144 proof) and is made with wormwood, aniseed, and fennel. This herbal fragrant alcohol was mistakenly thought to be hallucinogenic and was banned in the U.S. and Europe for decades.
Many people drink Absinthe at a portion of 1 part Absinthe to 3-5 parts iced water poured over a sugar cube. Mixed drinks include the Sazerac and Death in the Afternoon (The Hemingway or Hemingway Champagne).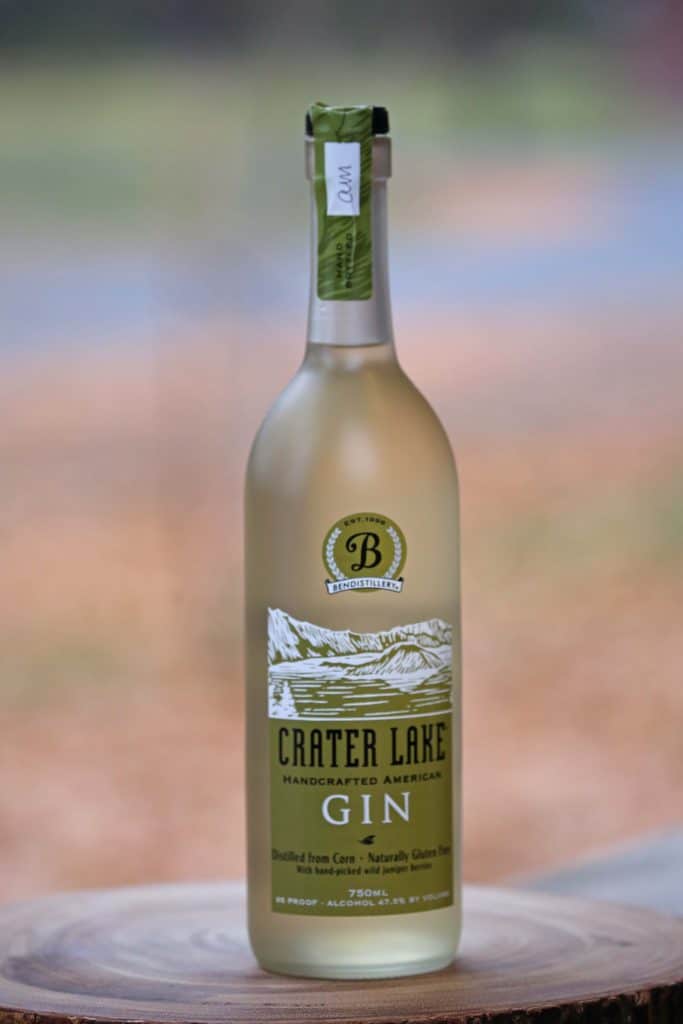 Crater Lake Gin, Crater Lake National Park
Bend Distillery is known for several Crater Lake products including a Hazelnut Espresso Vodka. They also have a Crater Lake Gin that is made with pure Cascade Mountain water and wild Oregon Juniper Berries hand-picked in the heart of the world's largest western juniper forest.
Gin is alcohol-infused with Juniper berries and other botanicals. It is arguably the first flavored vodka and a favorite of bartenders/mixologists around the world.
Gin can be found in numerous cocktails but here are a few of my favorites: The Aviation Cocktail (Perhaps my favorite all-time drink), Classic Gin Martini, Gin and Tonic, Gimlet, and a Singapore Sling.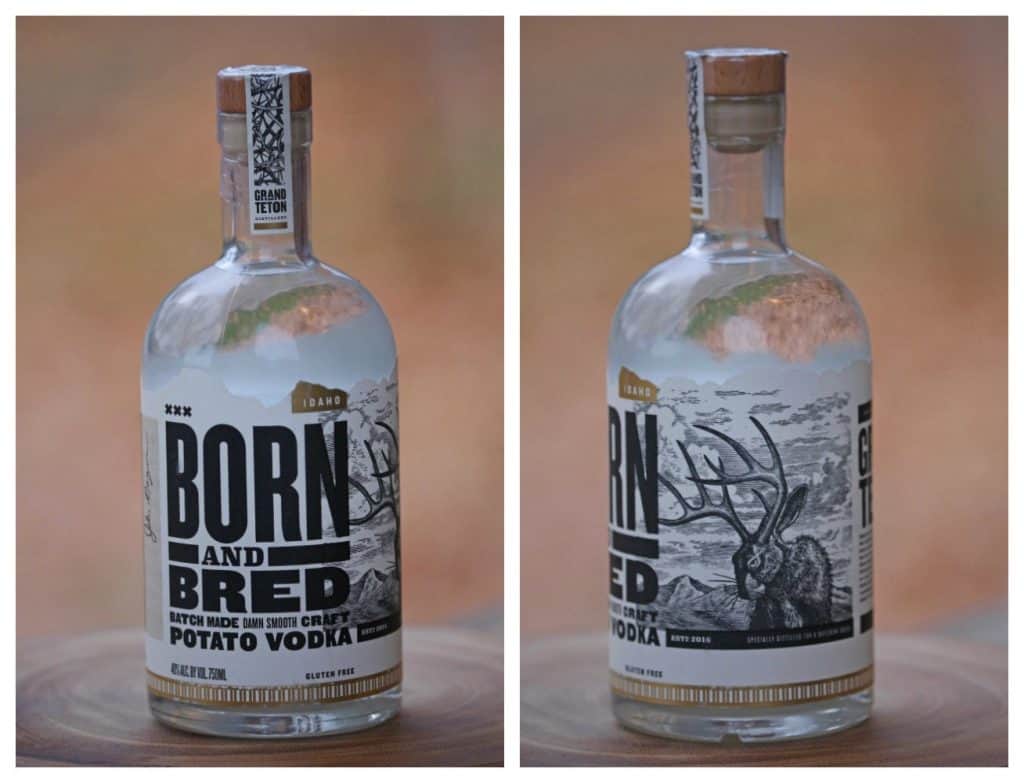 Born and Bred Potato Vodka, Grand Teton National Park.
Little did I know that my research for an article about spirits inspired by U.S. National Parks would lead me to Channing Tatum! Born and Bred originated on a quest by Channing Tatum to find the best vodka in America.
The collaboration between both Grand Teton Distillery and Channing Tatum has lead to Born and Bred, a multi-award-winning 20 times distilled vodka for an incredibly smooth finish. The water used comes from mountain snowmelt from one of America's National Parks! A spirit that has received this much love should best be enjoyed neat or on the rocks.
Don't worry if you are not into drinking vodka neat, it can still be used to make one of the numerous great mixed drinks.
Vodka is America's Favorite Spirit. Flavored vodkas have been around since the middle ages and now are taking on more exotic flavors. There are several ways to enjoy vodka including neat, on the rocks, tonic & soda, Moscow Mule, Cosmopolitan, and a Bloody Mary.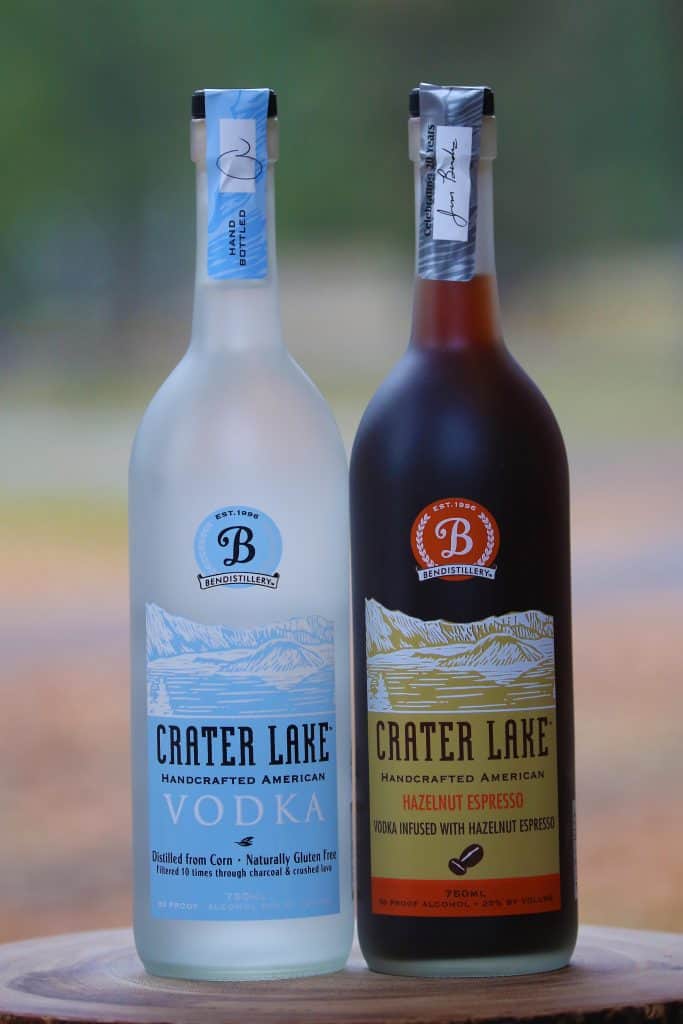 Do you like coffee as much as I do? If so, the Crater Lake Hazelnut Espresso is about to quickly become one of your new favorites too!
Try making The Nutty Russian, Sleighride, Cocoa Puff Martini, and a Boozy Dirty Chai. You will have a hard time choosing only one. Have I mentioned that this is another multi-award-winning spirit?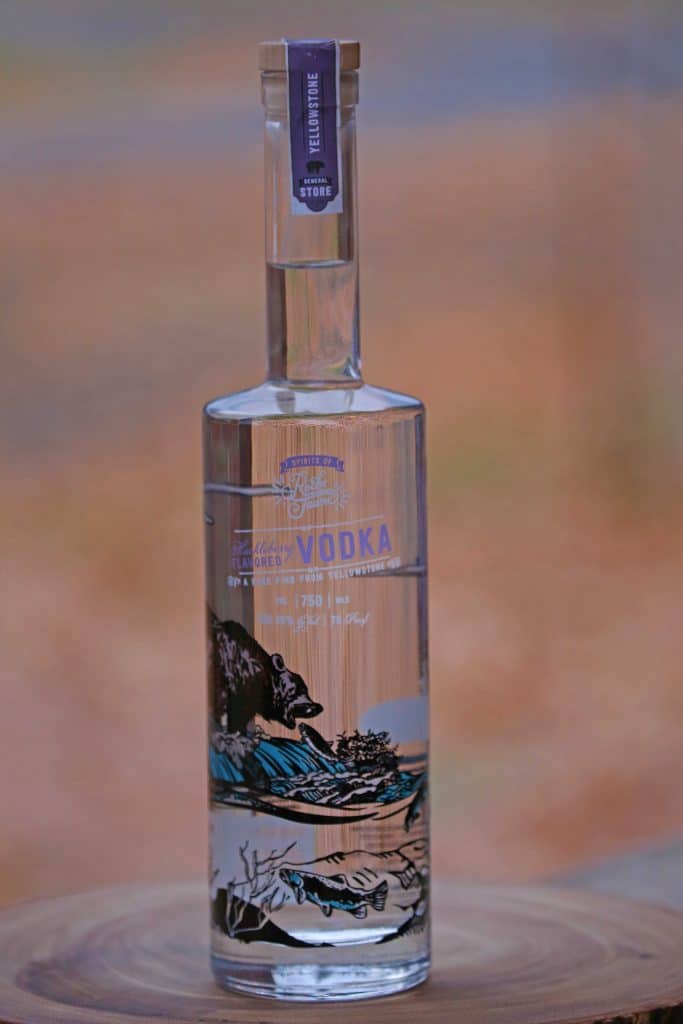 Roche Jaune Huckleberry Vodka, Yellowstone National Park
A funny thing happens when people arrive at the Northwestern states of Montana, Idaho, Washington, and Oregon. People start seeing everything made with Huckleberries. Huckleberries grow wild in the Northwest and upon first taste you will quickly understand what all the hype is about.
Now you can buy a Huckleberry Vodka and make a refreshing afternoon drink to survive the hot Northwest summers. Huckleberry Vodka makes a great Huckleberry Lemonade and a Huckleberry 7-up! The bottles are also a work of art! Don't just throw them away when you are finished, make sure to do a DIY project like make a candle or an outdoor torch.
Park Ranger John Pro Tip: Huckleberries grow wild in the West and many people get excited and want to pick some for themselves. Be advised that you are not the only one that likes Huckleberries. Bears love them too so if you see Huckleberries when hiking make sure to keep your ears and eyes out for Yogi Bear.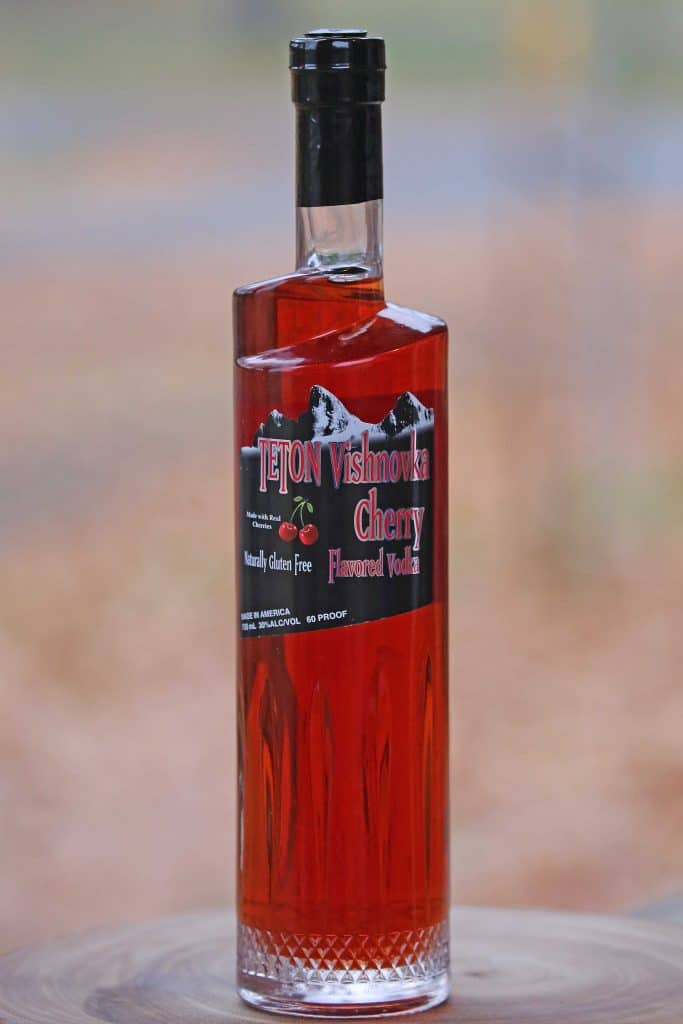 Teton Vishnovka Cherry, Grand Teton National Park
Teton Vishnovka Cherry gets its color and flavor with tart pie cherries from Oregon over the course of 12 weeks to impart the natural color and flavor. This makes a great Cherry Sangria, boozy Cherry Coke, and a boozy Cherry Lemon Lime soda.
Hopefully, this article on Spirits Inspired by the U.S. National Parks has inspired you to check out a new park this summer and perhaps find a new beverage in the process. These bottles are great for display and will definitely become a conversation piece in your home. Let me know if you have found any other Spirits Inspired by the U.S. National Parks in your travels.