Let's face it, an ice-cold beer goes down easy after a great day of hiking. I know that I am not the only one who thinks this way just by the number of microbreweries popping up in towns bordering the National Parks everywhere.
I was just in Zion and there was the Zion Brewery just outside the entrance. I mean it was literally like a hundred steps from the walk-in entrance! Why not make it one of the Beers inspired by U.S. National Parks?
Here is my list of the Beers inspired by U.S. National Parks that I have found! Let me know if you know any others!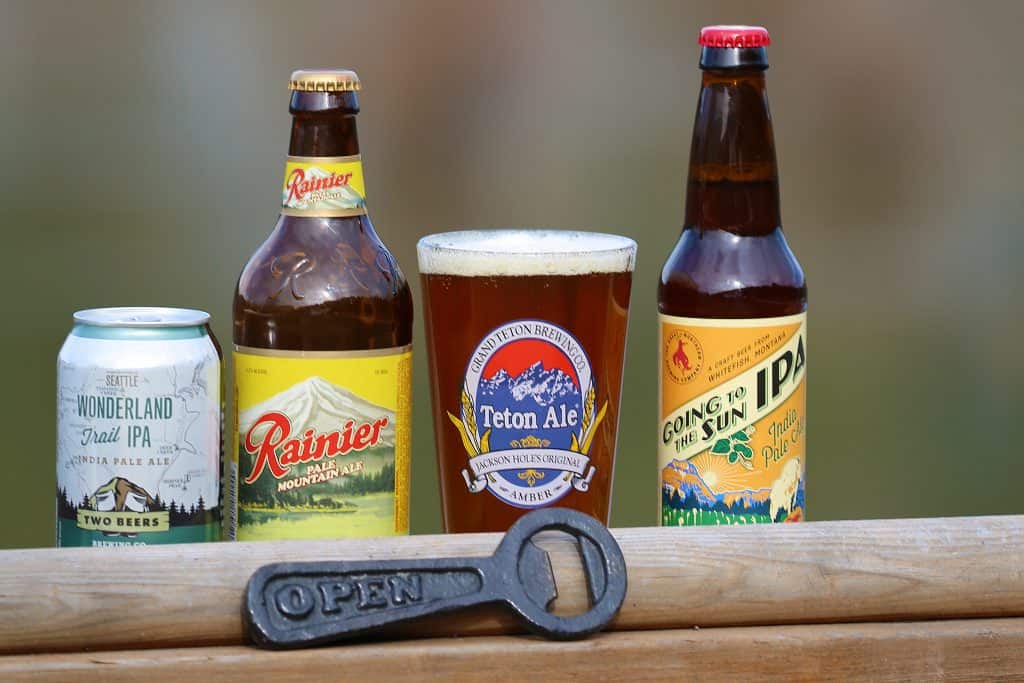 Beers inspired by U.S. National Parks
Rainier Beer - Mount Rainier National Park
Let's start this off old school! Seattle Washington could be where it all began. Rainier Beer was launched in 1878!
That's 11 years before Washington became a state and 21 years before President McKinley signed legislation making Mount Rainier the fifth U.S. National Park. As for the Pale Mountain Ale, it is a light bodied pale ale that is well balanced with a crisp citrus finish.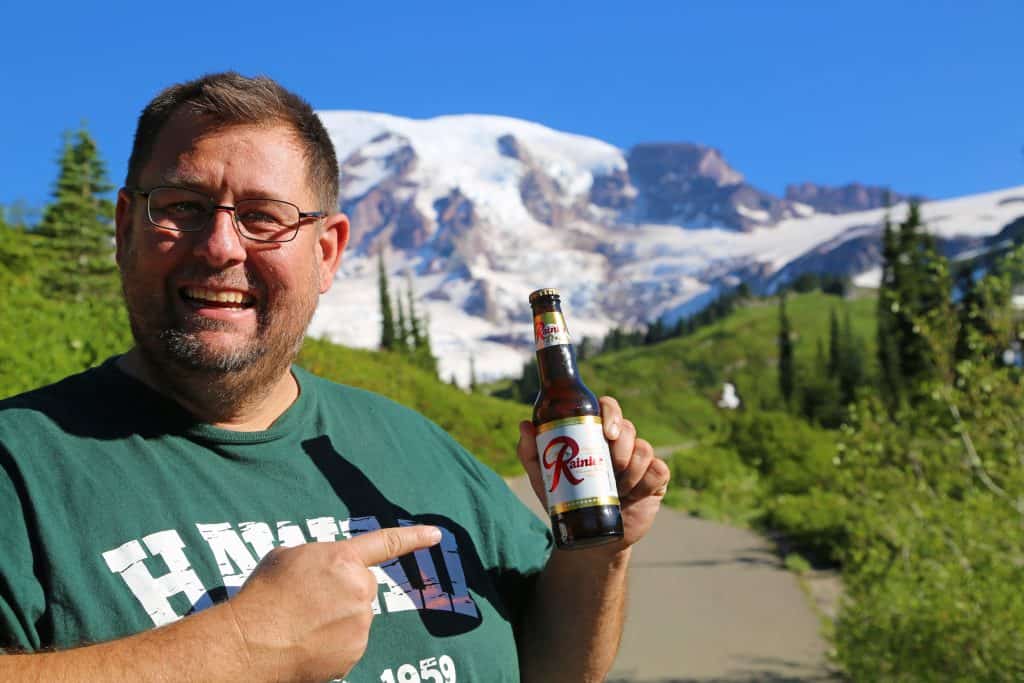 Mount Rainier, Glacier, Zion, Arches, Grand Tetons, Haleakala and Sequoia National Parks. #beer #nationalparks #nationalpark #travel" width="980" height="654">
Does anyone remember the famous Rainier Beer commercials? Tammilee and I always argue as to which one is best! I love the motorcycle commercial and Tammilee loves the beers running through the forest! I added the link to both, tell me what you think!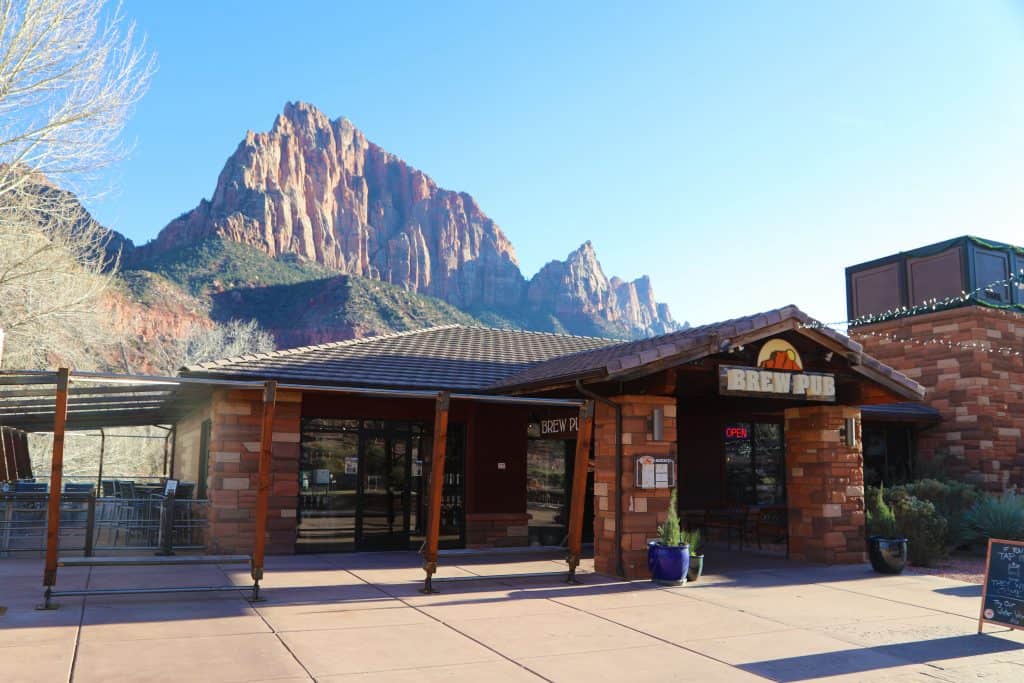 Grand Tetons, Haleakala and Sequoia National Parks. #beer #nationalparks #nationalpark #travel" width="980" height="654">
Zion Brewing Company - Zion Pale Ale
Zion became Utah's first National Park in 1919. It is only fitting that just outside the park's entrance lies Zion Brewery, Southern Utah's first microbrewery. This place doesn't disappoint with great brews and great views!
This place is a mecca for those who love red rock and a great place to get a glass of the Zion Pale Ale after a day of hitting the trails. This west coast style pale ale has assertive citrus notes and a rich malty body. Yum!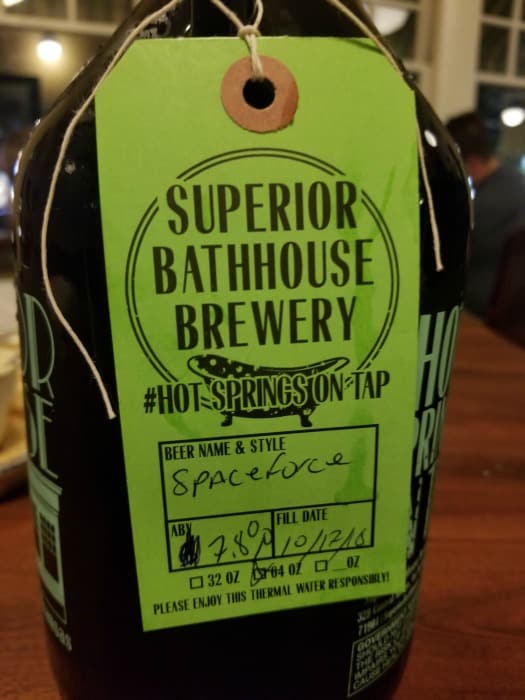 The only brewery located within a National Park is Superior Bathhouse Brewery in Hot Springs National Park. First, you can bathe in a Hot Spring then go to the Brewery afterward and drink the water too!
The key ingredient water is used in making their beer comes from the 47 hot springs in the area and is piped in at 143 degrees Fahrenheit. Beers include the Superior Pale Ale and a Barn Burner, a smoky wild yeast Saison.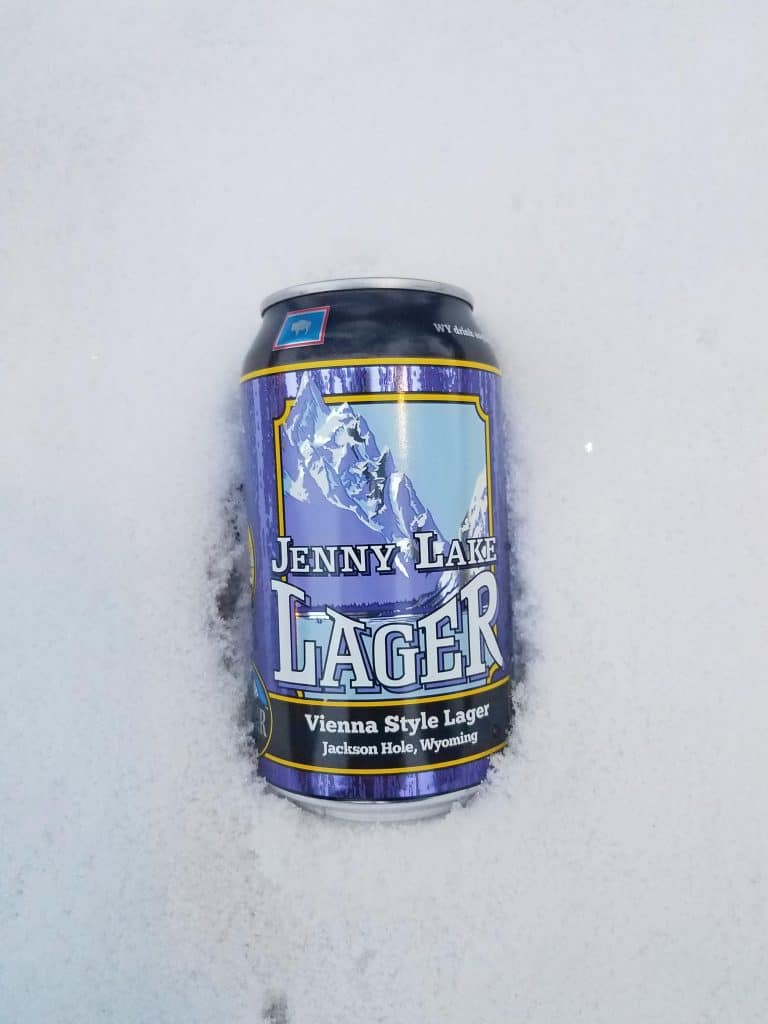 Sequoia National Parks. #beer #nationalparks #nationalpark #travel" width="768" height="1024">
Snake River Brewing Company - Jenny Lake Pale Ale
The Snake River Brewing Company rebranded its Snake River Lager in 2015 to Jenny Lake Pale Ale. For the next two years, they are donating $1 for every case sold to the Inspiring Journeys campaign for Jenny Lake with their partners The Grand Teton National Park Foundation.
This money will help create a cohesive, durable, and timeless complex of trails, bridges and other facilities at Jenny Lake.
This project is vital to Jenny Lake as it is Grand Tetons most visited destination with over 1 million visitors each year! The trails that were built here in the 1930's by the Civilian Conservation Corps (CCC) would have never imagined such use of these trails! Way to go Snake River Brewing!
How about the beer? I had the pleasure of enjoying a couple of pints during my last visit. This amber colored Vienna Style Lager is malt forward with a slightly sweet profile and is a great compliment to pizza or red meat.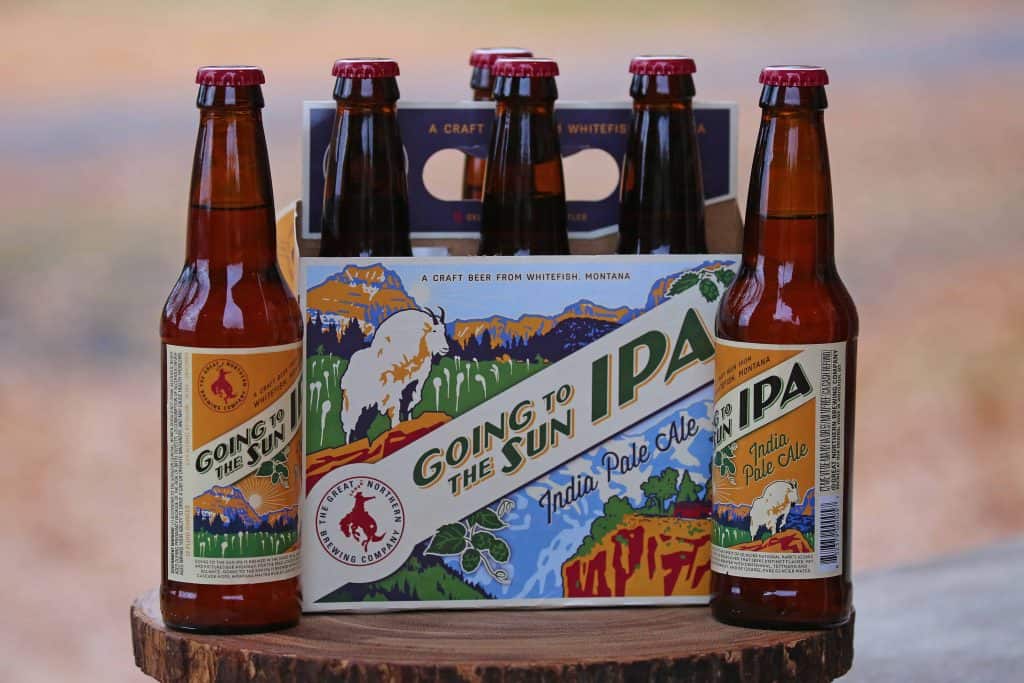 The Great Northern Brewing Company - Going to the Sun IPA
Minott Wessinger, the grandson of the great brewing pioneer Henry Weinhard, opened The Great Northern Brewing Company in Whitefish Montana in 1995. Going to the Sun IPA is one of their flagship beers brewed in the spirit of Glacier National Park's famous Going to the Sun Highway.
This American-style IPA is very drinkable and does not have as much bite as some of the northwest's IPA's. This is a beer that will have you wanting to return to Glacier!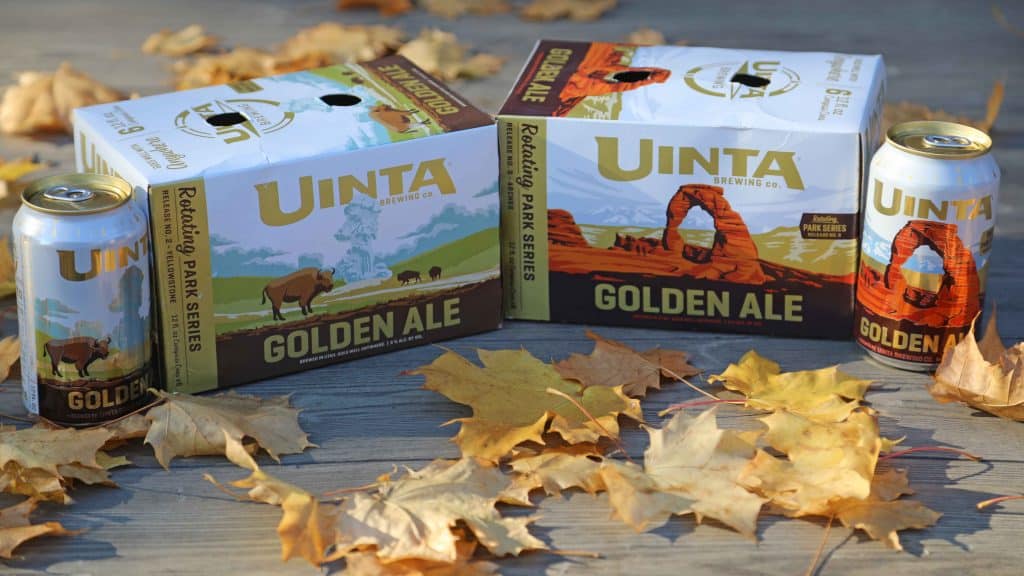 Uinta Brewing - Golden Ale Park Series
Uinta Brewing has come up with a Park Series label for its Golden Ale. The purpose was designed to raise awareness and appreciation for America's Parks!
Uinta plans on releasing cans honoring several parks in 2017 including Yosemite, Yellowstone, Arches, Great Smoky Mountains, Acadia, Grand Canyon, Rocky Mountain, and Everglades National Parks! How many will you find?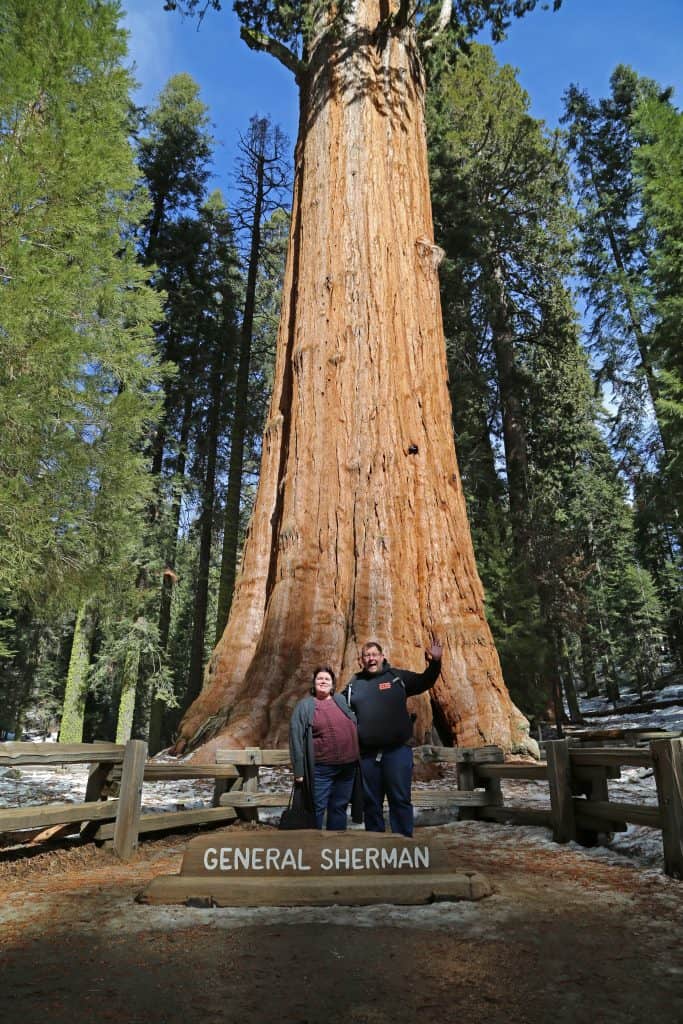 Sequoia Brewing Company, General Sherman IPA
Sequoia Brewing company has two locations in Fresno California and another in Visalia. This means that they are surrounded by three incredible National Parks; Yosemite, Sequoia and Kings Canyon.
We stumbled across the Visalia location on our trip to Sequoia National Park a couple of years ago, and it has become our new standard for brewpubs! My wife always talks about their pretzel bites and says that she would go back just for these.
I have a thing for hamburgers and would place their Buckeye Flat Frisco Burger in my top 2 all time! This work of art starts off with a ½ pound charbroiled patty placed on a parmesan sourdough bread and topped off with grilled onions and melted mozzarella cheese!
I dream of a return visit with this burger! I topped this burger off with a couple of kick-ass pints of the General Sherman IPA, named after the world's largest tree located in Sequoia National Park. This tree is 275 feet tall and weighs a staggering 4.18 million pounds!
The fine folks at Sequoia Brewing company didn't stop with one National Park inspired beer, they continued with several others including:
Sequoia Pale Ale is a light, smooth and flavorful pale ale.
Mount Whitney Pale Ale is a classic American Pale Ale and named after the tallest mountain in the contiguous US at 14,505 feet. This massive peak is partially located inside Sequoia National Park.
Half Dome, Named after the Yosemite Icon! This uniquely crafted Session Beer is a blend of two distinctive wheat ales along with fruits and exotic spice.
General Grant ESB, named after General Ulysses S. Grant and the second largest tree in the world located in Kings Canyon National Park. This British Style Beer pays homage to Grant's roots in the United Kingdom and is infused and dispensed with nitrogen for a smooth malt flavor and a dense creamy head.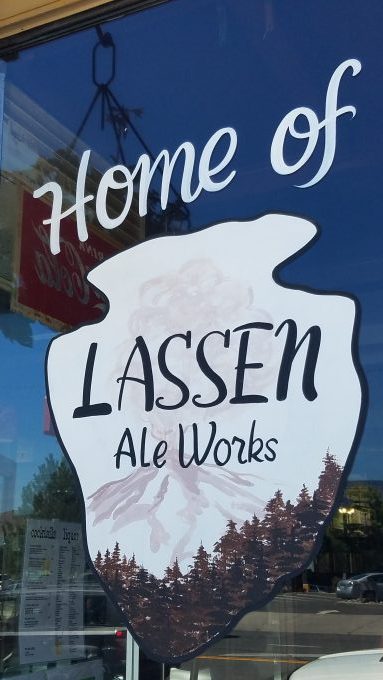 Lassen Ale Works - Volcanic Double IPA
We ran across this brewery in the small town of Susanville California in route to Lassen Volcanic National Park. We stopped in for a bite to eat and found a Volcanic Double IPA! This beer is a true hop heads dream as they add an additional 3+ pounds of hops per barrel.
The Post-fermentation dry hopping adds more complexity to an already hoppy beer! Just remember that enjoying more than one of these will likely make you ready for bedtime and not hitting the trails time.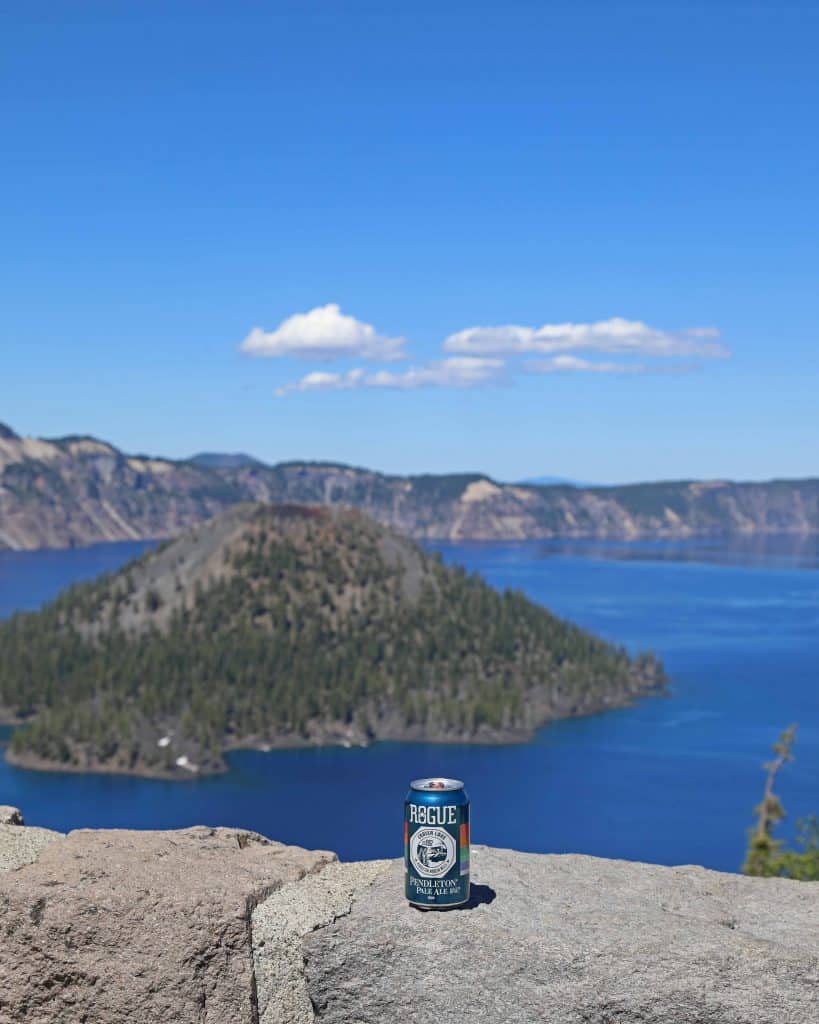 Rogue - Pendleton Pale Ale
Dedicated to America's Treasures is the Pendleton Pale Ale. This National Park Collection can proudly boast Crater Lake on its label. This Pale Ale is light and refreshing and brewed with hops and malts grown on Rogue Farms in Oregon!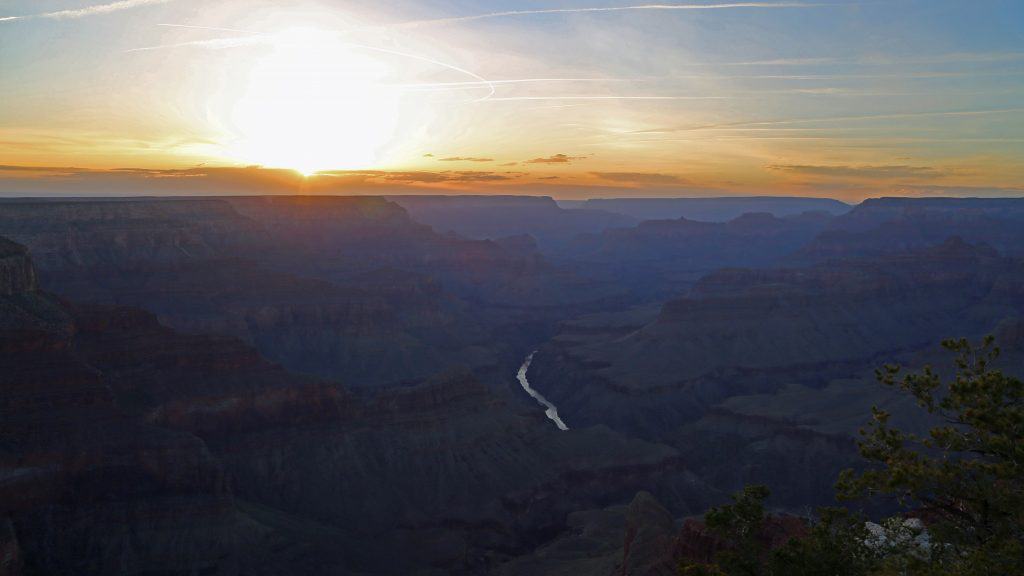 Grand Canyon Brewing Company - Sunset Amber Ale
Nothing quite compares to watching the sunset over the Grand Canyon! Okay maybe watching the sunrise but you get the point. Photographers have a term called the Golden Hour and refer to the period shortly after sunrise or just before sunset during which daylight is redder and softer than when the sun is higher in the sky.
This moment is so impressive at the Grand Canyon that photographers from around the world flock to the Grand Canyon to photograph places like Mather Point and Yavapai Point. Their goal is to capture one of the most incredible sunsets on planet earth!
This same sunset is what inspired Grand Canyon Brewing Company's Sunset Amber Ale. This traditional American Amber Ale pours a rich red color with bronze and gold highlights capturing this same moment in a pint. After watching this epic sunset from nature grab yourself a Sunset Amber Ale and just enjoy this moment.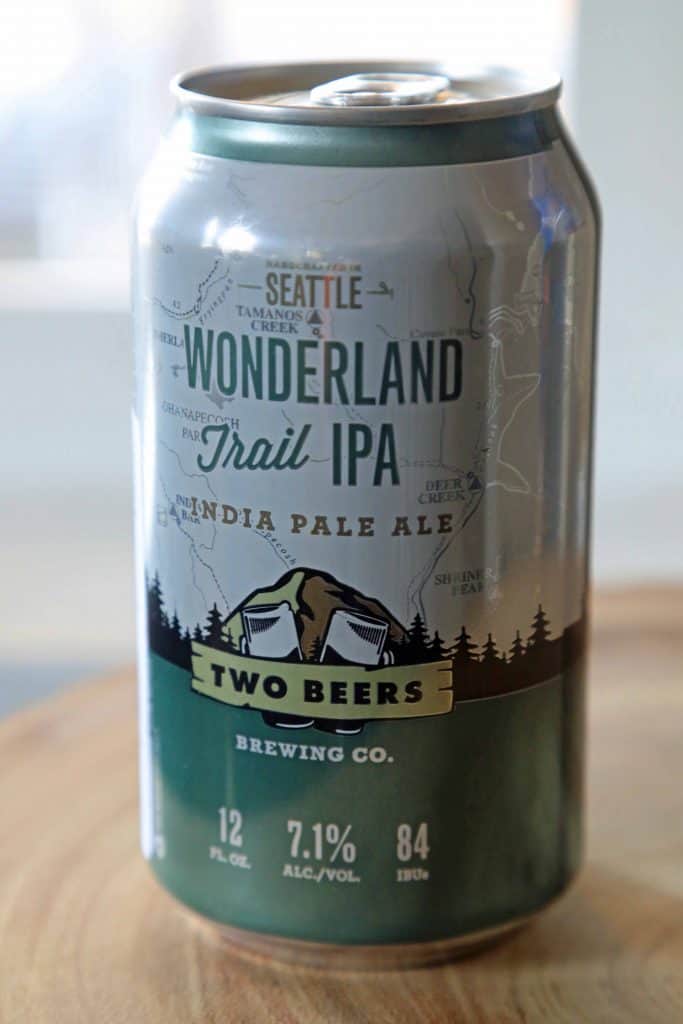 Two Beers - Wonderland Trail IPA
Mount Rainier is a hiker's paradise! It has well over 30 trails ranging anywhere from easy to a portion of the Pacific Crest Trail (PCT) that is 2,650 miles! The Wonderland Trail is a gem within Mount Rainier.
It circles the mountain crossing 93 miles of some of the most strenuous hiking you can face with backpackers often gaining/losing 3000' a day!
It's a great thing that Two Beers created a solid Wonderland Trail IPA to live up to this trails reputation with a slightly sweet aroma of Tangerine followed by a wave of citrus and Passion Fruit!

Maui Brewing Company - Haleakala Sunreyes IPA
The Maui Brewing Company produces great beer, and I am a big fan of their Big Swell IPA. Now they have a seasonal release, Haleakala Sunreyes IPA, inspired by probably the most epic sunrise location in the Northern Hemisphere.
That's Right the top of Haleakala National Park! This beer is a medium-bodied IPA with spicy notes of rye.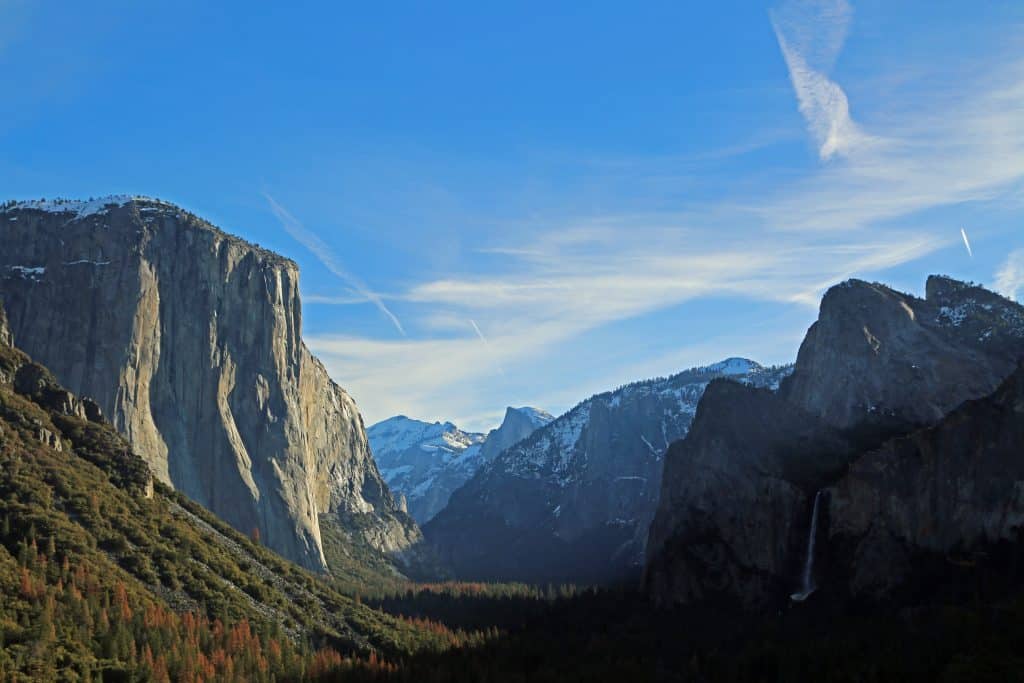 Mammoth Brewing Company - Yosemite Pale Ale
Mammoth Brewing Company is located just outside one of America's true icons, Yosemite Valley. No photo will ever compare to the first time you see this with your own two eyes! You truly feel like you are within a painting, something dreams are made of.
The fine folks at Mammoth Brewing Company claim that their Yosemite Pale Ale is best enjoyed after taking in the vistas of the valley, strolling beneath the Giant Sequoias, and marveling at the thunderous Yosemite Falls and pairs well with fresh air and sore legs. Well stated! As far the Yosemite Pale Ale, it is a classic American Pale Ale with a piney citrus hop nose with a full malt body and a clean bitter finish.
Grand Teton Brewing Company - Old Faithful Ale
The Grand Teton Brewing Company started in 1988 by Charlie and Ernie Otto as Otto Brothers Brewing Company and was the first modern micro-brewery in Wyoming. They came up with the idea of selling growlers, a 64oz. sealed reusable container which can now be found in every micro-brewery in the states!
The name was changed to Grand Teton Brewing Company in 2000 for marketing purposes and has also built two more locations including Victor Idaho. They felt this to be the best place on earth to build a brewery as the water is glacial runoff that has been filtered through the Teton granite and limestone for 300-500 years and comes from the ground a mere half-mile from the brewery.
We had the pleasure of visiting the Victor Idaho location back in 2010 and have wanted to go back ever since! The Old Faithful Ale is golden blonde in color with a crisp body and a light malt sweetness. For the hop heads out there the Teton Range IPA is now a year-round addition to their lineup!
For those who are under 21 or don't drink they even have a traditional old-style Old Faithful Root Beer.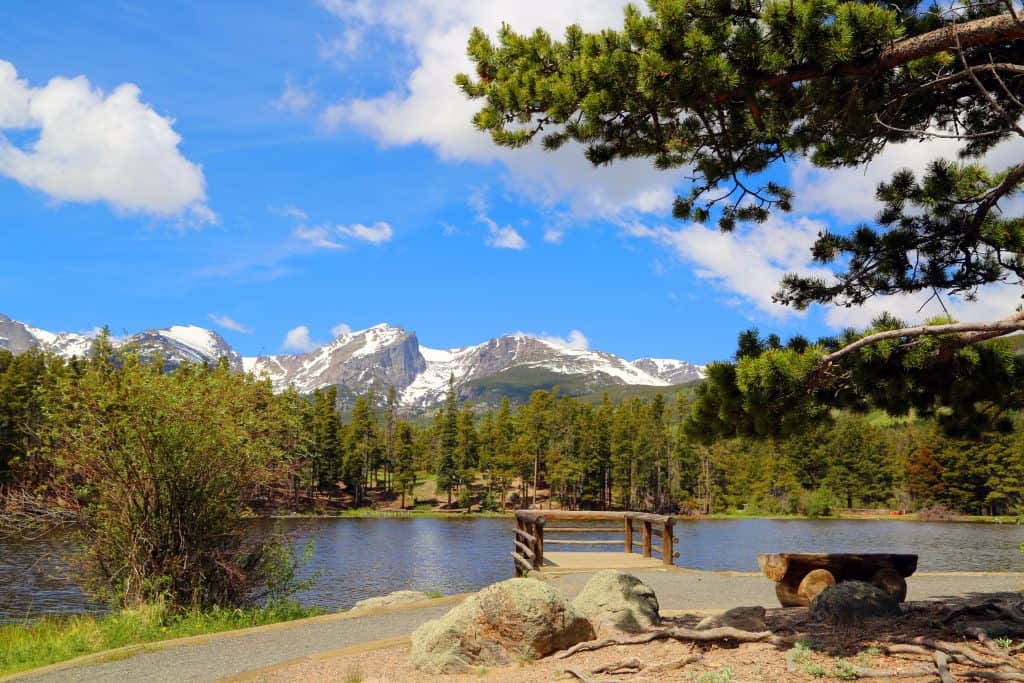 Estes Park Brewery - Longs Peak Raspberry Wheat
Longs Peak stands proudly above all other mountains within Rocky Mountain National Park at a staggering 14,259'. It is also the northernmost fourteener in the Rocky Mountain Range and featured on Colorado's State Quarter.
It's no surprise that when there is a mountain that can be seen almost anywhere in the general vicinity, there will be those who will want to climb to the top of it. This is not a hike; it is a climbing route! Many spots along the Keyhole Route has sheer cliffs to ascend.
If this is not your idea of fun, then I would recommend stopping by the Estes Park Brewery and trying a Longs Peak Raspberry Wheat instead! This light and refreshing Raspberry wheat ale uses pure raspberry extract to give this beer its fruity flavor and aroma.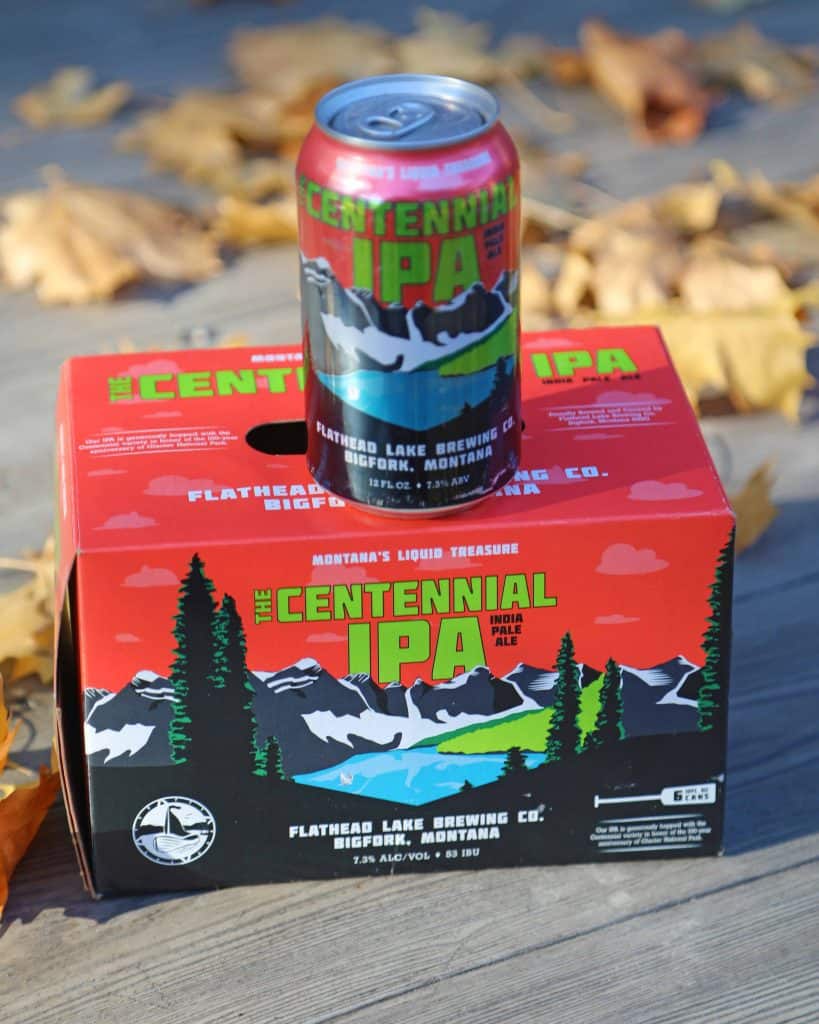 Flathead Lake Brewing Company came out with The Centennial IPA in honor of the 100th. Anniversary of Glacier National Park. This is a great-tasting full-bodied IPA with a floral and citrus hop profile with a clean malt profile.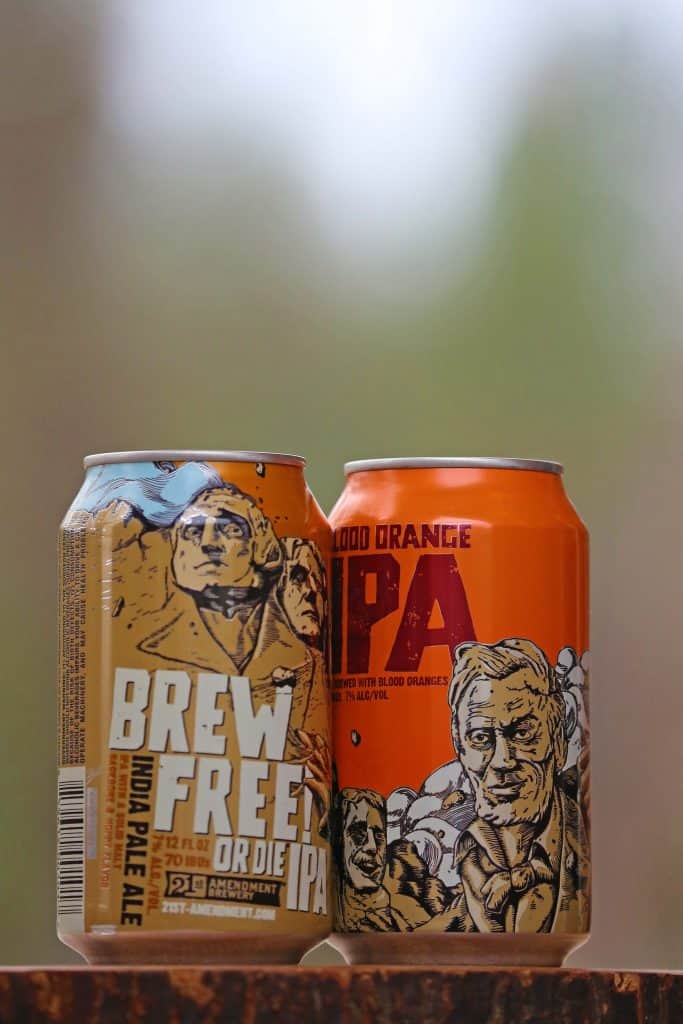 The 21st. Amendment Breweries' name refers to the abolishing of the 18th. amendment making alcohol illegal. The Brew Free or Die IPA & the Brew Free or Die Blood Orange IPA have a photo of Mount Rushmore on the can.
All I can say is the Blood Orange IPA is absolutely fantastic and could drink this by the keg. It's a beautiful blending of hops and orange to make this a memorable event.
This beer is a 7% alcohol, 70 IBU's, Centennial and Citra Hops, and a special ingredient of 100% fresh Blood Orange Puree.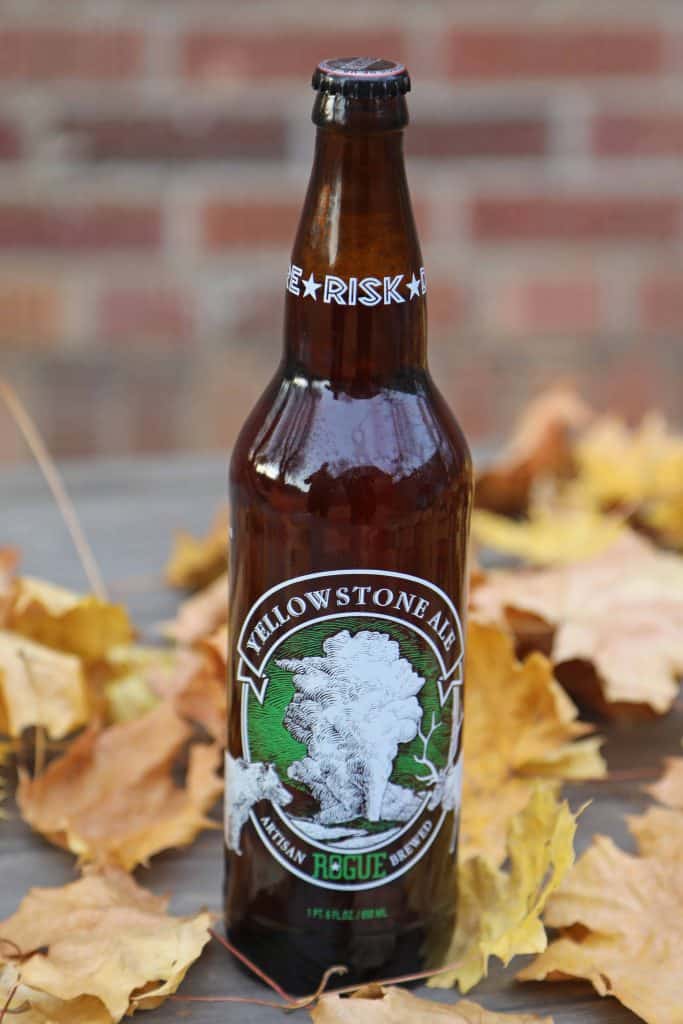 I discovered this bottle at the Yellowstone General Store in the park. It was the first and only time I have seen it and was unable to find any information from Rogue's website about this beer.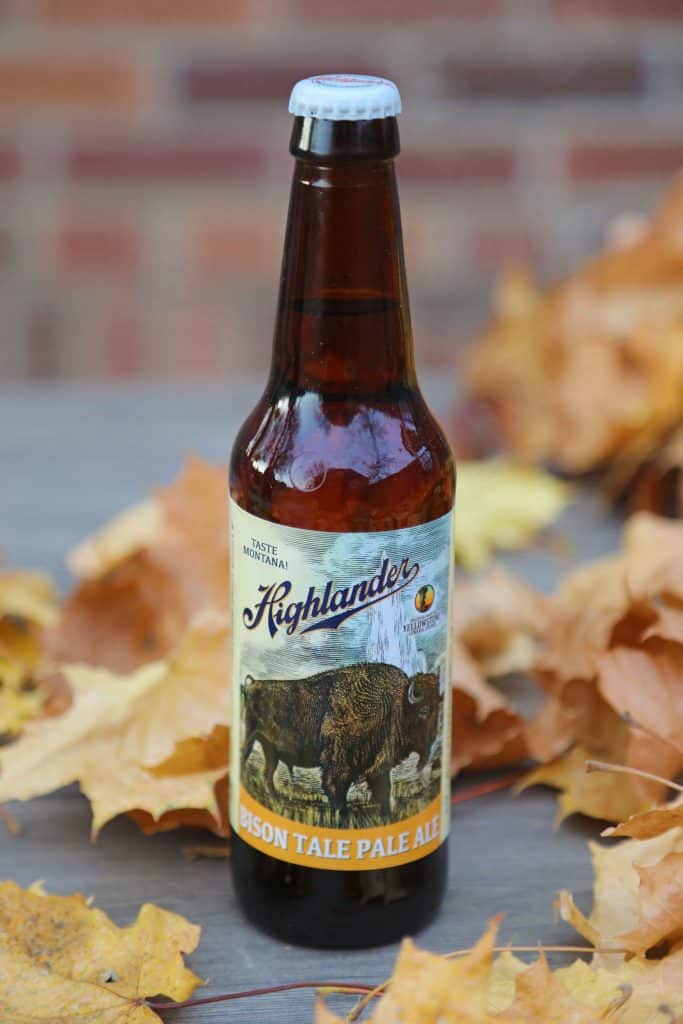 Highlander Brewing Company - Yellowstone National Park
Highlander Brewing Company is located in Missoula Montana and has produced the Bison Tale Pale Ale exclusively for the Yellowstone National Park Stores. I was unable to find any other information about this beer but did enjoy one.
Big Bend Brewing Company - Big Bend Hefeweizen
Their motto is simple, Brewing for the people of West Texas! Big Bend Brewing Company came up with something unique, something all its own when they came up with the Big Bend Hefeweizen. This Hefeweizen is spicy, fruity and light, essentially West Texas in a can!
I hope that you have enjoyed reading Beers inspired by U.S. National Parks! Let me know if you find another great park with a microbrewery so I can update the article.
If you like wine then check out my article on U.S. National Park inspired wine.
Make your next road trip to the Best Places to find Craft Beer inspired by Top U.S. National Parks! Make your list of parks including Mount Rainier, Glacier, Zion, Arches, Grand Tetons, Haleakala and Sequoia National Parks. Beers inspired by U.S. National Parks!
Love wine? Check out Wines inspired by U.S. National Parks!
Love Spirits? Check out Spirits inspired by the U.S. National Parks
Traveling abroad? Check out the best brewery tour ever! Guinness Storehouse in Dublin Ireland is the champion of Brewery Tours!