Complete guide to Mount Rushmore National Memorial in South Dakota including things to see, how to get to the park, lodging and camping, and more.
Visiting Mount Rushmore is at times considered a rite of passage or bucket list moment. More than 2.5 million people visited the park last year.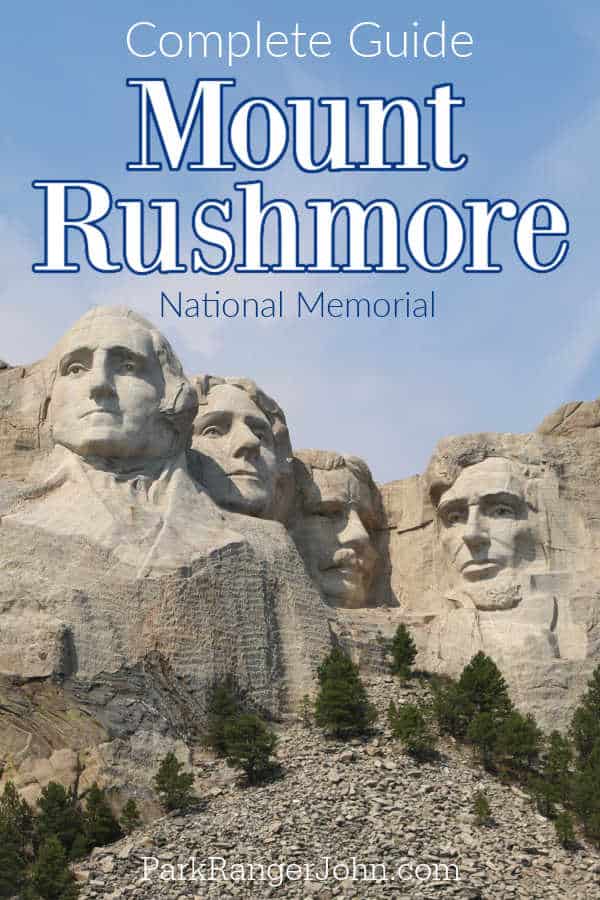 Mount Rushmore National Memorial
Visiting Mount Rushmore is one of those moments you won't soon forget! From the walk through the flags of our nation to realizing just how big and grand Mount Rushmore truly is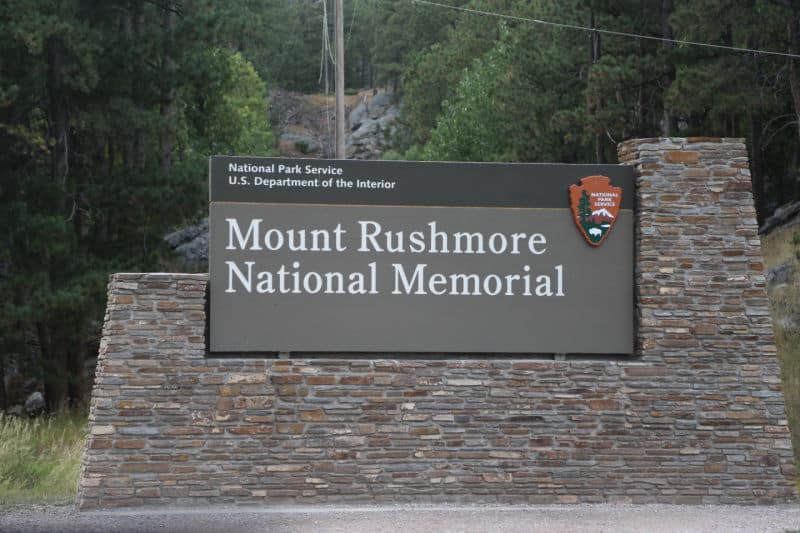 About Mount Rushmore National Memorial
Mount Rushmore National Memorial is a must-see at least once in your life. There is something truly amazing and awe-inspiring about looking up to see the presidents carved in the rocks.
Mount Rushmore is one of the United States' most recognizable and popular icons. This can make visiting the park in the summer incredibly busy!
Mount Rushmore is one of the largest sculptures in the world. It measures 250 feet across and each of the president's heads is 60 feet tall.
It is amazing to think that President Washington's head is as tall as the entire Great Sphinx in Egypt.
Mount Rushmore was sculpted between October 4, 1927, and October 31, 1941. Sculptor Gutzon Borglum and 400 workers sculpted the presidents to represent the first 150 years of American History.
Sculpting Mount Rushmore cost $989,992.32! One amazing thing is no workers died during the sculpting process.
..Let us place there, carved high, as close to heaven as we can, the words of our leaders, their faces, to show posterity what manner of men they were. Then breathe a prayer that these records will endure until the wind and rain alone shall wear them away.
Gutzon Borglum, Mount Rushmore Sculptor, 1930
We can't talk about Mount Rushmore and not talk about the controversy over the entire project and continued ownership of the land.
The Lakota Sioux tribe was promised they could remain on their land in the Black Hills of South Dakota in 1868.
This government promise only lasted for a couple of years before gold was found in the area. The gold brought in an influx of prospectors who forced the Sioux out of the area.
These events along with others happening around the country prompted Sitting Bull and Crazy Horse to fight back against the US Army. These battles include the Battle of Little Bighorn also known as Custer's Last Stand.
The last major defeat of Native Americans was the Battle of Wounded Knee in 1890.
You can imagine how the tribes felt when in December 1923 South Dakota State Historian Doane Robinson suggested a sculpture in the Black Hills.
The Black Hills have been sacred land for the Lakota Sioux Tribe for hundreds of years.
Then in 1927 a white man from Connecticut arrives and starts using dynamite to carve the faces of four white men onto the mountain.
Doane Robinsons original idea was to sculpt heroes of the West including both Native Americans and pioneers.
Gutzon Borglum persuaded him that carving the presidents would give the work a national significance.
In 1939 Sioux Chief Henry Standing Bear invited sculptor Korczak Ziolkowski to carve a memorial to the Sioux Nation.
When completed the statue of the great Sioux chief Crazy Horse will be larger than any of the Mount Rushmore carvings.
Korczak Ziolkowski passed away in 1982 but his family continues to work on creating the Crazy Horse memorial.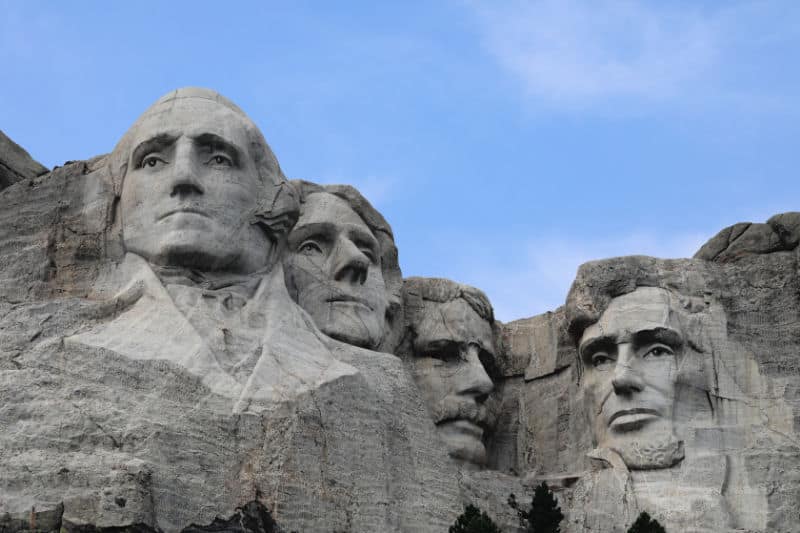 What presidents carved into Mount Rushmore?
The faces of George Washington, Thomas Jefferson, Abraham Lincoln, and Theodore Roosevelt are on Mount Rushmore.
George Washington - represents the birth of our country
Thomas Jefferson - symbolizes the expansion of the nation
Abraham Lincoln - embodies the preservation of the nation
Theodore Roosevelt - represents the development of our country
Did you know the original plan was to carve the presidents from the waist up? You can see the shaping of a jacket on George Washington.
When was Mount Rushmore Built?
October 4, 1927 to October 31, 1941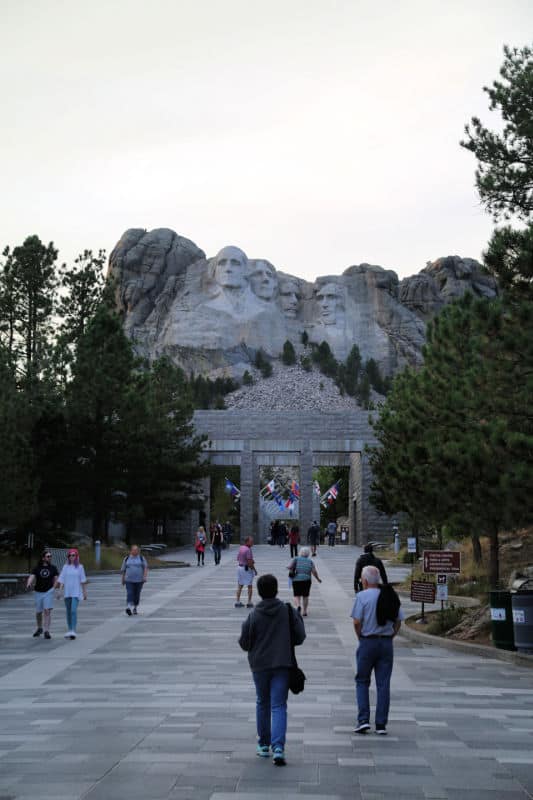 Is Mount Rushmore National Memorial worth visiting?
Yes! Make sure to see the evening program with the short film titled "Freedom, America's Lasting Legacy".
Before the program even starts, you are going to hear several sing-along songs that put you in the American spirit and end with the lighting of the sculpture.
History of Mount Rushmore
Just outside Keystone, South Dakota you can visit one of the most iconic National Monuments in America. Symbolizing freedom and democracy, Mount Rushmore features the monumental faces of four U.S. presidents carved into granite rock.
The mountain that was used to create Mount Rushmore in the early 1930s was originally referred to as "The Six Grandfathers" by the Lakota Sioux – the native tribe that held the Black Hills sacred long before white settlers moved into the area.
The name was given by Lakota medicine man Black Elk after he journeyed there on a spiritual quest and had a vision. His vision included the six sacred directions – north, south, east, west, above, and below.
The directions represented kindness, love, and wisdom – as what comes to mind when thinking of human grandfathers. The mountain was known as the center of the universe to the native Lakota people.
In the Treaty of 1868, the U.S. government promised the Black Hills to the Sioux. After the discovery of gold in the Black Hills during the 1870s, the U.S. took control of the Black Hills, including the land in and around "The Six Grandfathers."
During the 1880s, numerous prospectors visited the area hoping to strike it rich. Charles E. Rushmore was one such man.
Born in New York, he was a wealthy businessman and attorney who came to the Black Hills in the 1880s tasked with checking legal titles on properties there.
Legend has it that on the way back to his camp one day, he asked his guide, a local resident, what the name of the mountain was that they had passed. His guide, Bill Challis replied, "I don't believe it's ever had a name, but from now on, we'll call it Rushmore."
Fast forward to the 1920s. A South Dakota historian named Doane Robinson conceived the idea of building a massive sculpture immolating western heroes as a way to attract tourists.
Robinson's original intended location was a formation of rocks called "Needles." Today, this area sits within the Black Hills National Forest. Figures that Robinson originally intended for the monument project were Buffalo Bill Cody, Sacagawea, and Lewis and Clark.
As the idea for the massive monument moved forward, sculptor Gutzon Borglum visited South Dakota in 1924 and surveyed the area for a perfect location. He felt that Needles was too weathered and would not support a grand sculpture.
He felt the "Rushmore Mountain" was better suited for the vision. Borglum disagreed with sculpting western figures and instead insisted that the monument should showcase the founding fathers of America. It was decided that presidents Washington, Jefferson, Lincoln and Roosevelt would be the subjects of the project.
After negotiations with President Calvin Coolidge, the project was eventually approved in 1925. Borglum and 400 men (and a few women), many of whom were miners, began construction in October of 1927.
90% of the mountain was carved using dynamite. It was estimated that 450,000 tons of rock was removed from the mountain in preparing for the creation of the sixty foot head sculptures.
The technique of "honeycoming" was then used to create the faces. This meant that the surface was blasted with dynamite until only about six inches of rock was left to be removed. The drillers and carvers would then drill holes into the rock very close together.
The chief carver of the mountain was an Italian immigrant named Luigi Del Bianco whose knowledge of evoking emotion into faces of subjects in rocks was vital to Borglum's vision.
In 1933, the National Park Service took over jurisdiction of the mountain and the project. On July 4th, 1934, Washington's face was completed and a commemorative ceremony was held.
In March of 1941 the project met a major setback. The visionary sculptor Borglum, whose original dream was to see full head to waist sculptures of all four presidents, died of an embolism.
Borglum's son, Lincoln, continued with the project and supervised the completion. With the death of Borglum, funding issues with the project, and an impending American involvement in World War I, the project ended with the four carved faces of George Washington, Thomas Jefferson, Abraham Lincoln and Theodore Roosevelt.
Borglum had also envisioned a large area carved to summarize the nine most important events in U.S. history including the Declaration of Independence and the Louisiana Purchase.
It was certain that written words of that stature would never be visible from afar and after Borglum's death, that idea was halted.
Another more practical addition was made when in 1938 and 1939, a 70 foot tunnel was blasted behind Lincoln's head. In it was placed a warehouse of records and a quote by Borglum carved into the capstone which reads:
"...let us place there, carved high, as close to heaven as we can, the words of our leaders, their faces, to show posterity what manner of men they were. Then breathe a prayer that these records will endure until the wind and rain alone shall wear them away."
The monument was declared as a completed project on October 31, 1941. Mount Rushmore in total cost $898,992.00 to construct.
There were no fatalities throughout the 14 years of construction and approximately 2 million people visit the site each year.
In November 2019, the last known living carver of Mount Rushmore, Donald "Nick" Clifford died at the age of 98. He was living in Keystone, SD.
"I feel like Mount Rushmore was the greatest thing with which I was ever involved," he told the Rapid City Journal earlier that year after turning 98. "It tells a story that will never go away — the story of how America was made and the men who helped make it what it is today."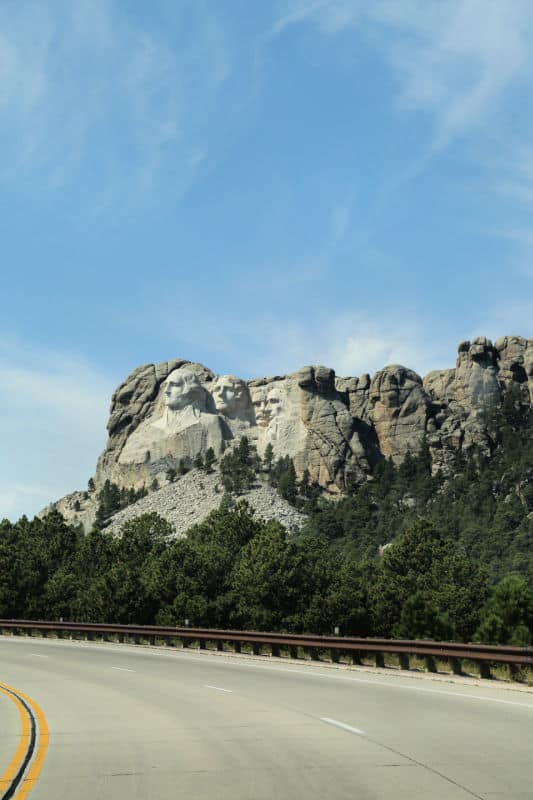 Things to know before your visit to Mount Rushmore
Entrance fee
$0.00 - There is no entrance fee to visit the park, however, there is a parking fee that is separate from the National Parks Pass program.
Planning a National Park vacation? America the Beautiful/National Park Pass covers entrance fees for an entire year to all US National Park Sites and over 2,000 Federal Recreation Fee Sites.
The park pass covers everyone in the car for per vehicle sites and for up to 4 adults for per-person sites.
Buy on REI.com and REI will donate 10% of pass proceeds to the National Forest Foundation, National Park Foundation and the U.S. Endowment for Forestry & Communities.
Parking Fees
Private Vehicle - $10
Make sure to hold onto your parking pass! It is good for 1 year from the date of purchase. You can visit the park multiple times a day with your parking pass.
50% discount for seniors 62 and older.
Parking for Active Duty Military is Free.
Annual Pass, Annual Pass - Military, Senior Pass, Access Pass and Every Kid Outdoors Pass do not apply.
Overnight parking is not allowed within the boundaries of the park.
Learn more about National Park Passes for parks that have an entrance fee.
Free Entrance Days -Check out the five free entrance days the National Park Service offers annually.
Time Zone
MST - Mountain Standard Time
Pets
Pets on a leash (no longer than six feet) are permitted only in the parking garages and the areas adjacent to them.
Pets on a leash are also permitted on the Blackberry Trail, located directly across South Dakota Highway 244 from the parking garage.
Service dogs, as defined by the Americans with Disabilities Act requirements, are permitted to accompany visitors with disabilities in all areas open to the public at Mount Rushmore National Memorial.
There are kennels near Mount Rushmore in Custer and Rapid City.
Cell Service
We had good service outside of the buildings in the park.
Park Hours
The park grounds are open every day of the year weather permitting.
The Information Center, Visitor Center, Gift Shop, and Carvers' Café are open every day except December 25th.
Park hours vary depending on the time of year you are visiting. Make sure to check for current hours if you plan to arrive early in the morning or later in the day.
On December 25th, all buildings are closed, but the parking structure and grounds remain open.
Wi-Fi
No Public Wi-Fi is available.
Insect Repellent
Insect repellent is always a great idea when outdoors, especially if you are around any body of water.
We use Permethrin Spray on our clothes before our park trips.
Water Bottle
Make sure to bring your own water bottle and plenty of water with you. Plastic water bottles are not sold in the park.
Parking
There is a large paid parking garage near the memorial. There is space for RVs and commercial tour buses.
Food/Restaurants
The Carver's Café and Ice Cream is located in the park. They serve a variety of food and drink options.
Carver's Café is a great place to sit if the weather is not pretty or you are waiting for someone. The chairs are comfortable and the view is amazing.
Make sure to try the Memorial Team Ice Cream. The ice cream is locally produced. The TJ Ice Cream is based on Thomas Jefferson's original ice cream recipe from 1780.
Gas
Make sure to fill up with gas before exploring the Black Hills. Gas stations are located in local communities.
Drones
Drones are not allowed to be flown within National Park Service Sites.
National Park Passport Stamps
National Park Passport stamps can be found in the visitor center and at the Sculptor's Studio Bookstore.
Make sure to bring your National Park Passport Book with you or we like to bring these circle stickers with us so we don't have to carry our entire Passport Book on a trip.
Mount Rushmore was featured as part of the 1986 Passport Stamp Set.
Electric Vehicle Charging
Six charging stations for electric vehicles are located on Level 2 of the parking facility.
Details about Mount Rushmore NM
Size - 1,278.45 Acres
Check out how the park compares to other National Parks by Size.
Date Established
June 10, 1933, President Roosevelt placed Mt. Rushmore under the jurisdiction of the National Park Service.
Visitation
In 2021, Mount Rushmore had 2,525,868 park visitors.
In 2020, Mount Rushmore had 2,074,986 park visitors.
In 2019, Mount Rushmore had 1,963,540 park visitors.
Learn more about the most visited and least visited National Parks in the US
Mount Rushmore Address
13000 Highway 244
Building 31, Suite 1
Keystone, SD 57751
Mount Rushmore GPS Coordinates
The street address for the park does not always register with GPS units. You may need to search for Keystone, South Dakota which is 3 miles from the park, or try typing in Mount Rushmore National Memorial.
Parking: 43.87581, -103.4532
Presidential Trail West Trailhead: 43.87687, -103.45634
Presidential Trail East Trailhead: 43.87718, -103.45576
Mount Rushmore National Memorial Map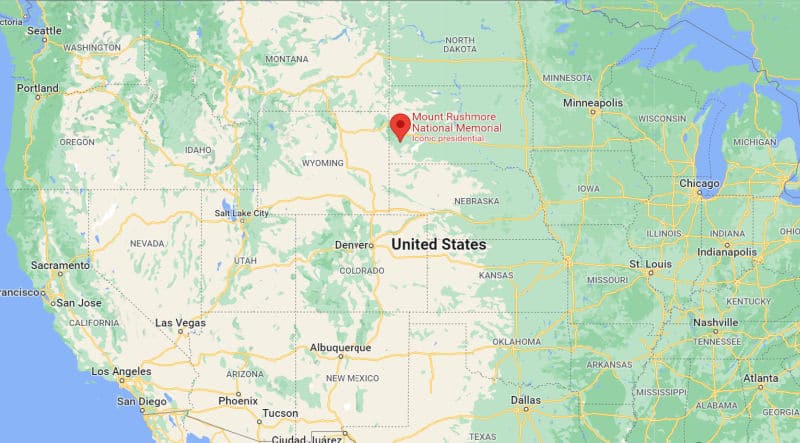 Where is Mount Rushmore?
Mount Rushmore is located in southwestern South Dakota State, United States.
Near the Black Hills of South Dakota.
Estimated distance from major cities nearby
Rapid City, SD - 23 miles
Sturgis, SD - 53 miles
Gillette, WY - 134 miles
Casper, WY - 232 miles
Denver, CO - 296 miles
Bismarck, ND - 321 miles
Colorado Springs, CO - 355 miles
Sioux Falls, SD - 369 miles
Lincoln, NE - 398 miles
Omaha, NE - 416 miles
Minneapolis, MN - 513 miles
Kansas City, MO - 552 miles
Estimated Distance from nearby National Park
Wind Cave National Park - 37 miles
Badlands National Park - 75 miles
Theodore Roosevelt National Park - 259 miles
Rocky Mountain National Park - 365 miles
Yellowstone National Park - 544 miles
Black Canyon of the Gunnison National Park - 583 miles
Great Sand Dunes National Park - 631 miles
Glacier National Park - 739 miles
Grand Teton National Park - 463 miles
Where is the National Park Visitor Center?
Information Center - Located near the parking structure.
There is a sign near the entrance providing the daily schedule of events. There are Park Rangers available to answer questions along with a bookstore for souvenirs.
Lincoln Borglum Visitor Center - Located below the Grand View Terrace
This building houses two theaters, a museum, and a Mount Rushmore Bookstore. It is free to visit the visitor center.
The film, "Mount Rushmore, The Shrine," is shown every 20 minutes in each theater.
The museum exhibits tell the story of Gutzon Borglum, the creation of Mount Rushmore and the workers who helped.
Make sure to check current visitor center hours for your visit. The visitor center closing time changes based on what month you are visiting.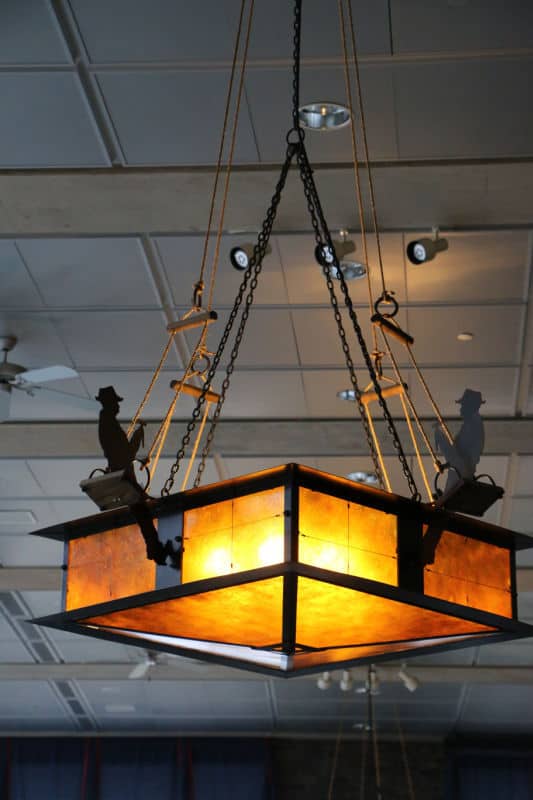 Getting to Mount Rushmore
Closest Airports
Rapid City Regional Airport (RAP) - 32 miles
Allegiant, American Airlines, Delta, United, and Boutique Air all fly into Rapid City Regional Airport.
International Airports
Denver International Airport (DEN) - 371 miles
Minneapolis-St. Paul International Airport (MSP) - 592 miles
Hector International Airport, Fargo, ND (FAR) - 603 miles
Salt Lake City International Airport (SLC) - 645 miles
Des Moines International Airport (DSM) - 651 miles
Kansas City International Airport (MCI) - 712 miles
Regional Airports
Custer County Airport (KCUT) - 22 miles
Chadron Municipal Airport (CDR) - 101 miles
Gillette-Campbell County Airport (GCC) - 138 miles
Alliance Municipal Airport, Nebraska (AIA) - 161 miles
Sheridan County Airport (SHR) - 186 miles
Pierre Regional Airport (PIR) - 198 miles
Train Service
Train service - There is no train service available to the park.
Driving Directions
From I-90 exit at Rapid City and follow U.S. Highway 16 southwest to Keystone and then Highway 244 to Mount Rushmore.
Visitors coming from the south should follow Highway 385 north to Highway 244, which is the road leading to the memorial.
Best time to visit Mount Rushmore
One of the best things about Mount Rushmore is it is open all year long. You can visit the park in any season though the experiences may vary greatly.
The summer months are the busiest for visitation but also the time when the most visitor services are offered.
It is a bit of a catch-22 deciding when to visit the park. Do you visit in the summer when there can be crowds but more Ranger talks and programs or do you visit during the off-season when fewer people are there but there are not as many programs offered?
If you are planning to visit during the summer when it is busy we do suggest arriving early and enjoy the early morning in the park.
Most visitors arrive around noon at the heat of the day. You can avoid this by arriving between 5 am to 9 am or after 3:30 pm.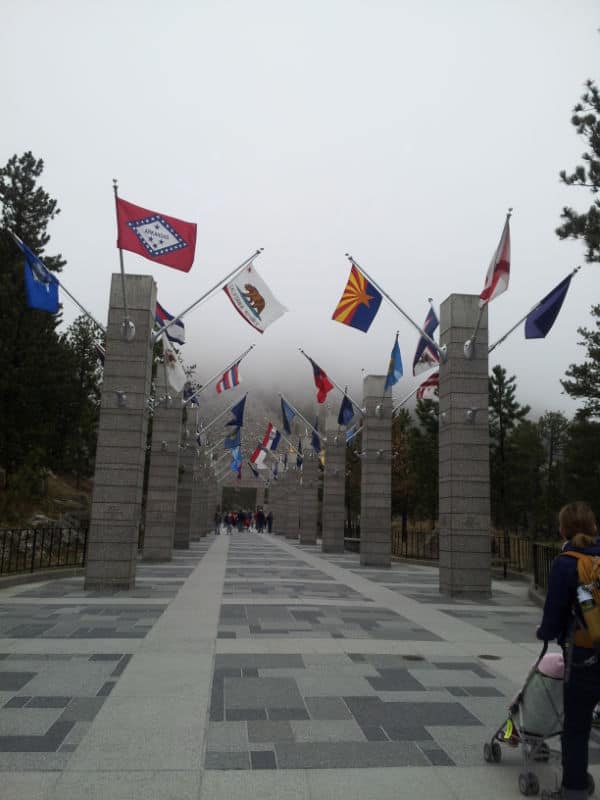 Mount Rushmore Weather and Seasons
Summers are hot, hot, hot in Mount Rushmore. Temperatures can reach up to 100 degrees F.
The warmest months are from June 14th to September 14th with a daily high over 77 degrees Fahrenheit.
The coldest weather is from November 19 to March 7th with average temperatures below 46 degrees F.
The coldest month is January with an average low of 18 degrees and a high of 37 degrees.
Snow occurs on average from October 25 to May 11th with March receiving the most snowfall.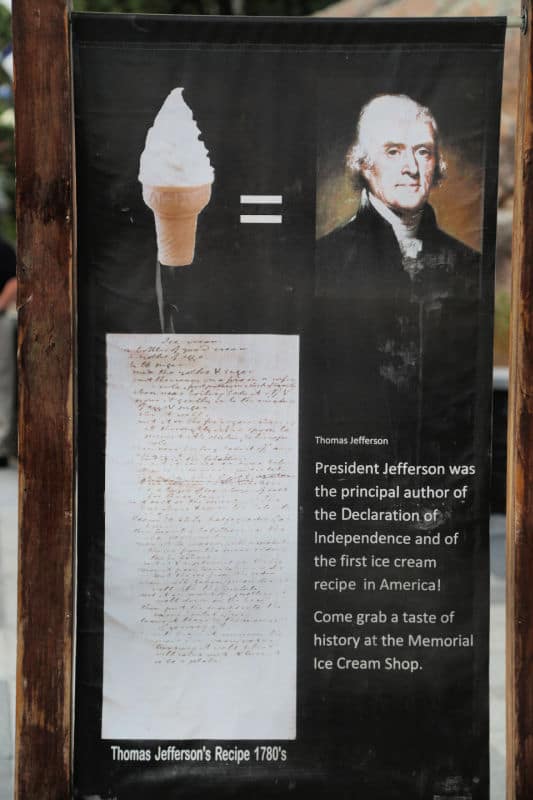 There are quite a few things to do while visiting the park. You can make your trip adventurous or relaxing depending on which activities you choose to do.
One of our favorite things is to sit on a bench on the Grand View Terrace and just stare up at the carvings. I feel like every time we visit the park we see something new.
Visiting Mount Rushmore is definitely a National Park Bucket List moment to be enjoyed.
If you want a guide during your trip there are private tours offered of Mount Rushmore, Crazy Horse and Custer State Park through Get Your Guide.
Lincoln Borglum Visitor Center
The main visitor center is located with an epic view of Mount Rushmore.
Located below the Grand View Terrace you can learn more about the park by watching the 14-minute film, checking out the exhibits, and learning about the methods used to carve Mount Rushmore.
Sculptor's Studio
A visit to the Sculptor's Studio is a great way to learn more about Gutzon Borglum.
Ranges provide 15-minute talks about the carving process and lives of the workers.
The studio is where Gutzon Borglum worked from 1939 to 1941.
The Sculptor Studio is open from Late May through the middle of October weather depending.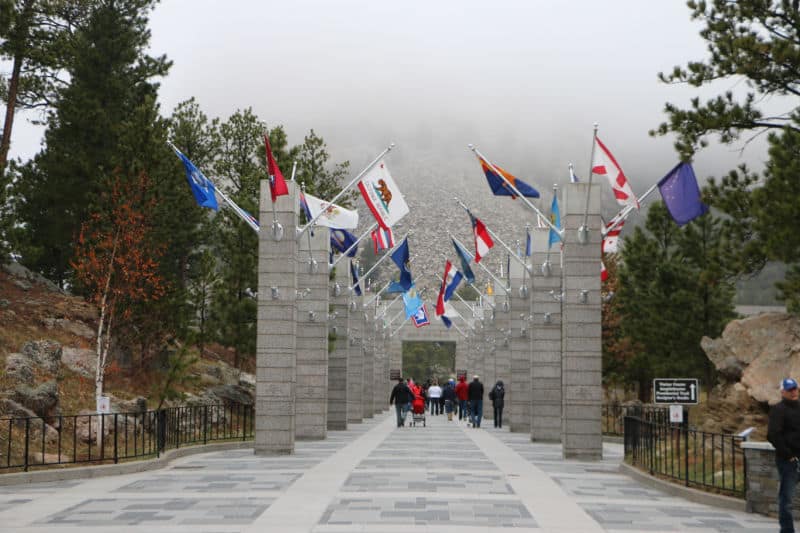 Avenue of Flags
The Avenue of Flags showcases all 50 states, the District of Columbia (Washington DC), three territories (Guam, American Samoa, and the Virgin Islands), and two commonwealths (Puerto Rico and the Northern Mariana Islands) of the United States.
There are a total of 56 flags displayed. The flags are arranged in alphabetical order with the A's on the walkway near the concession building and the W's near the Grand View Terrace.
There is a plaque below each flag detailing the name of each state, district, commonwealth, or territory.
Ranger Programs
Multiple Ranger Programs are offered daily depending on the time of year.
Ranger Talks or Walks - 30 minutes
These Ranger programs are offered daily throughout the summer. Look for the schedule posted at the Information Center and at the Lincoln Borglum Visitor Center.
Sculptor's Studio Talk - 15 minutes
Learn about the tools used to carve Mount Rushmore. These talks include learning about the specific tools used to carve the mountain and stories from the workers.
This program is offered multiple times each day throughout the summer months. Look for the schedule posted at the Information Center and at the Lincoln Borglum Visitor Center.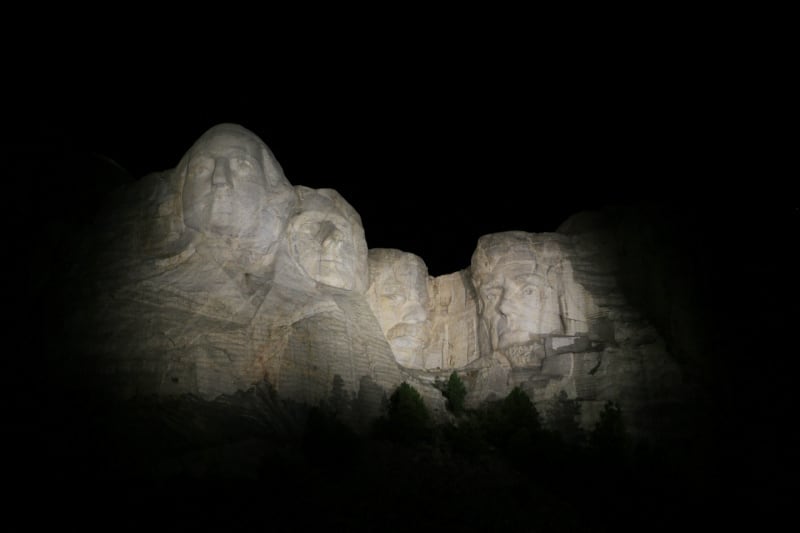 Evening Program - 45 minutes
This is a must-attend if you can! We absolutely loved the Evening Program! One of the best programs we have seen in any of the 275+ National Park Sites we have visited.
This program is weather permitting. The program includes a ranger talk, the Freedom: America's Lasting Legacy Film, and then ends with the lighting of the memorial.
The program is held nightly from late May through the end of September.
Lakota, Nakota, and Dakota Heritage Village - 10 to 30 minutes
Learn more about the history of the Black Hills and the Native American Indian Tribes that have been here for thousands of years.
Youth Exploration Area - 10 to 30 minutes
These interactive programs are located along the 1st section of the Presidential Trail. They offer the opportunity to explore the natural, cultural and historical aspects of Mount Rushmore.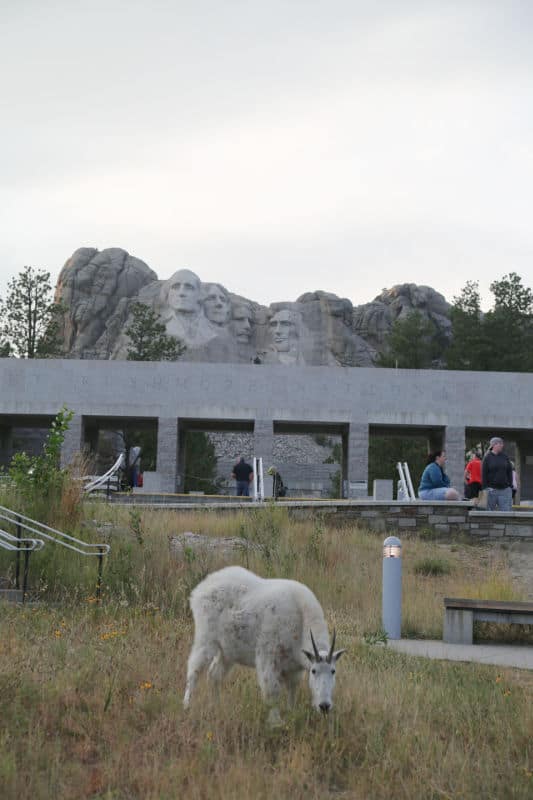 Wildlife viewing
Keep an eye out for Rocky Mountain Goats while visiting the park. We have also seen Yellow-Bellied Marmots and Mule Deer while visiting the park.
Yes, Mount Rushmore offers a couple of different Junior Ranger programs. We have done 150+ Junior Ranger programs and the Mount Rushmore Junior Ranger program for ages 13 and up is one of the hardest we have ever done.
We honestly had to use Google to help finish the program. They checked line by line when we turned it in at the visitor center. This is a program you want to plan time to finish.
Junior Ranger Trainee: For children ages 3-4
Junior Ranger Activity Book: For children ages 5-12.
Rushmore Ranger Activity Booklet: For ages 13 and up.
There are no fees to participate in any of these programs.
Self Guided Tours
Audio Tour - You can rent an audio guide for $6 at the park. The recorded audio guide incorporates music, narration, interviews, and recordings of Gutzon Borglum, Lincoln Borglum, American Indians, and workers.
Multimedia Tour - You can rent a multimedia device for $8 at the park. The device shows photos and videos that relate to the story of Mount Rushmore.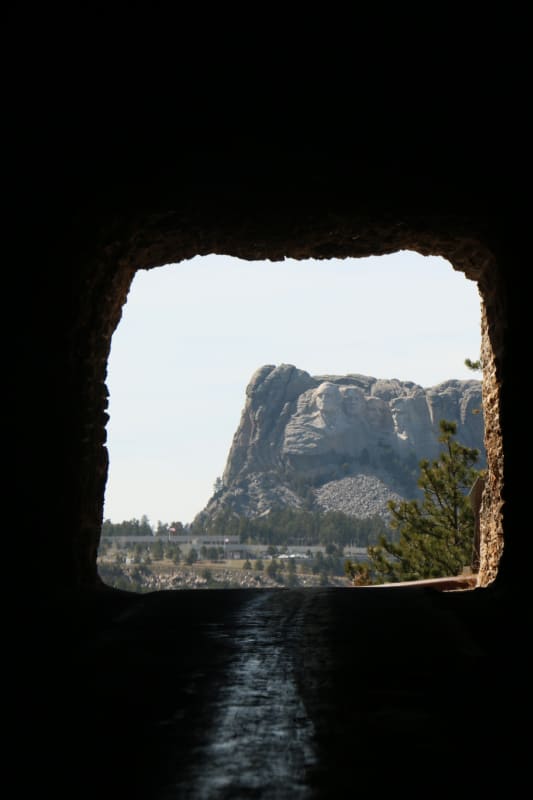 Iron Mountain Road in Custer State Park
OUTSIDE OF THE PARK, you can see an epic view of Mount Rushmore from Iron Mountain Road within Custer State Park and Black Hills National Forest.
There is nothing quite like driving through the Iron Mountain Road tunnel and seeing a full view of Mount Rushmore in front of you.
There are two tunnels along the Iron Mountain Road that have views of the Memorial, the Scove Johnson Tunnel and the Doane Robinson Tunnel. For the best views, you want to drive from south to north.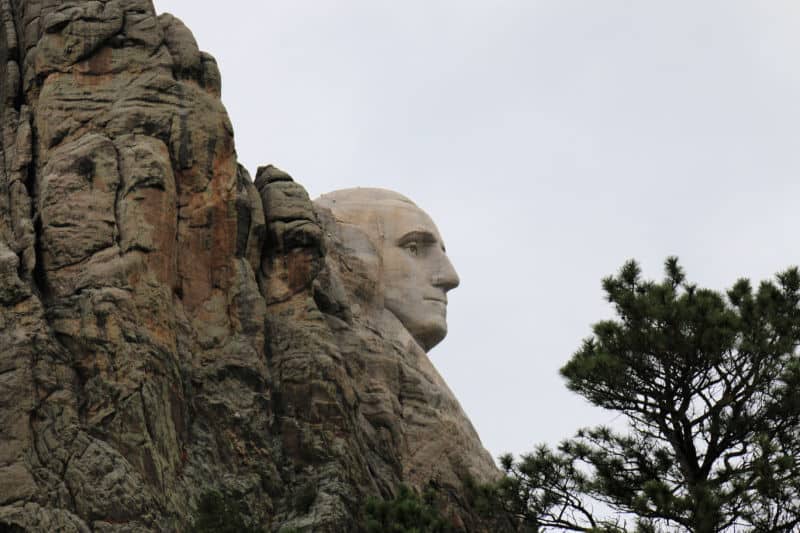 Profile of George Washington
For a different perspective of the monument you can see George Washington's profile from the Norbeck Byway just outside of the park.
There is a small parking area that is perfectly placed to see the side-view of George Washington's Face.
It is located on Highway 244 a little less than 5 minutes from the memorial. When you exit the parking area turn right onto Highway 244 and drive .7 miles to the turn-out.
There is a fantastic interpretive panel that explains that the side view of George Washington was not planned but actually a happy accident.
Things to do near Mount Rushmore
If you are looking for fun things to do near Mount Rushmore while visiting the Black Hills here are a few suggestions.
Black Hills: Private Tour of Mt. Rushmore & Flume Trail Hike - Go on this full-day private tour and explore two famous landmarks of the Black Hills.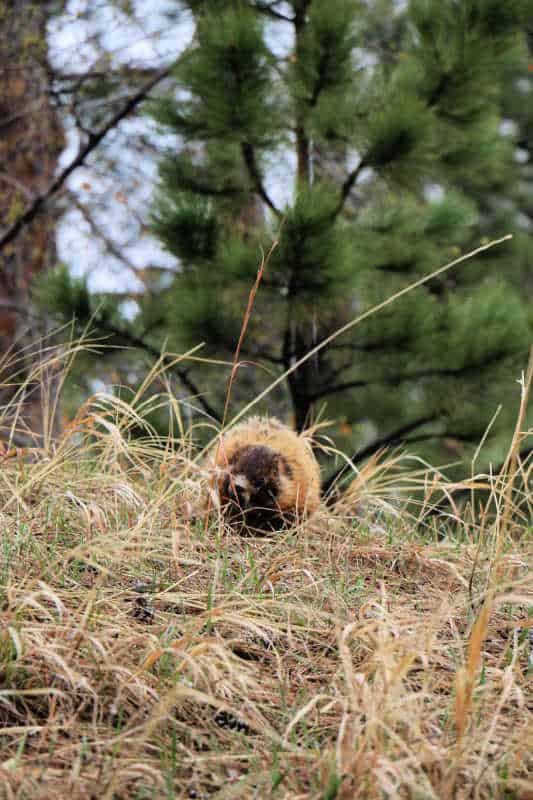 Hiking in Mount Rushmore NM
Always carry the 10 essentials for outdoor survival when exploring.
Presidential Trail
The Presidential Trail has 422 stairs and is .6 miles long. Be prepared with comfortable shoes.
One side of the Presidential Trail up to Mount Rushmore Terrace is accessible. The other side is filled with lots and lots of stairs.
Blackberry Trail
Distance - 1-mile gravel trail
Difficulty - Moderately strenuous
The Blackberry Trail is a designated National Recreation Trail. The trail connects to the Centennial Trail in the Black Elk Wilderness which is part of the Black Hills National Forest.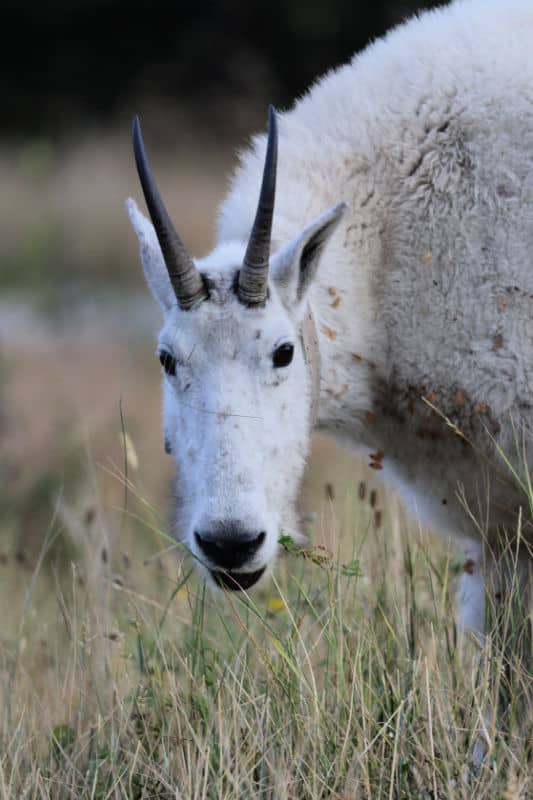 How to beat the crowds in Mount Rushmore?
The best way to beat the crowds is to arrive early or stay late in the park.
Arriving before 9am or after 3 pm can greatly help in reducing the number of people in the park.
The busiest visitation months are June, July, and August. If you can visit during May, September, or October when the weather is still nice but the crowds are significantly less.
Where to stay when visiting Mount Rushmore
There are no National Park Lodges at Mount Rushmore.
Under Canvas Mount Rushmore - 2 miles from the park. 3-star eco-friendly hotel.
Baymont by Wyndham Keystone - 2 miles from the park. Free breakfast buffet, a terrace, and laundry facilities. For some rest and relaxation, visit the hot tub. A 24-hour gym and a business center are available to all guests.
Quality Inn Keystone - 1.84 miles from the park. Free breakfast buffet, a fireplace in the lobby, and a hot tub, and free in-room Wi-Fi.
K Bar S Lodge, Ascend Hotel Collection - 1.7 miles from the park. A free breakfast buffet, a firepit, and laundry facilities are just a few of the amenities provided at K Bar S Lodge, Ascend Hotel Collection. Free in-room WiFi and a restaurant are available to all guests.
Comfort Inn And Suites Custer - 10 miles from the park. Free breakfast buffet, laundry facilities, and a gym at Comfort Inn And Suites Custer. For some rest and relaxation, visit the hot tub. In addition to a business center, guests can connect to free in-room Wi-Fi.
Click on the map below to see the current rates for hotels and vacation rentals near Mount Rushmore.
National Park Camping
There are no campgrounds within the park.
For a fun adventure check out Escape Campervans. These campervans have built in beds, kitchen area with refrigerators, and more. You can have them fully set up with kitchen supplies, bedding, and other fun extras. They are painted with epic designs you can't miss!
Escape Campverans has offices in Vancouver, Seattle, Portland, San Francisco, Las Vegas, Los Angeles, Phoenix, Salt Lake City, Denver, Chicago, New York, and Orlando
There are multiple nearby campgrounds.
Larsson's Crooked Creek Resort - 7 miles away in Hill City, South Dakota
Offers a pool, waterfront, fishing, RV and Tent Sites.
Hidden Lake Campground and Resort - 29 miles away in Hot Springs, SD
Offers waterfront, canoe/kayaking, fishing, paddle boats. RV and Tent Sites
Check out all of the campgrounds near Mount Rushmore on Campspot
Travel Tips
Give yourself extra time in to visit Mount Rushmore. During our last trip, we spent hours at the park and barely saw the carvings. It was so foggy that the mountain was hidden up until the point we had to leave due to our schedule. We were so sad not to have a few extra hours built-in so we could wait out the weather.
ATM - There is an ATM located in the Carvers Café next to the restrooms.
Mail - You can mail a letter/postcards from the post office box in the food area.
During summer months a Christian ministry offers a nondenominational service in the Mount Rushmore amphitheater on Sundays starting at 8:30 am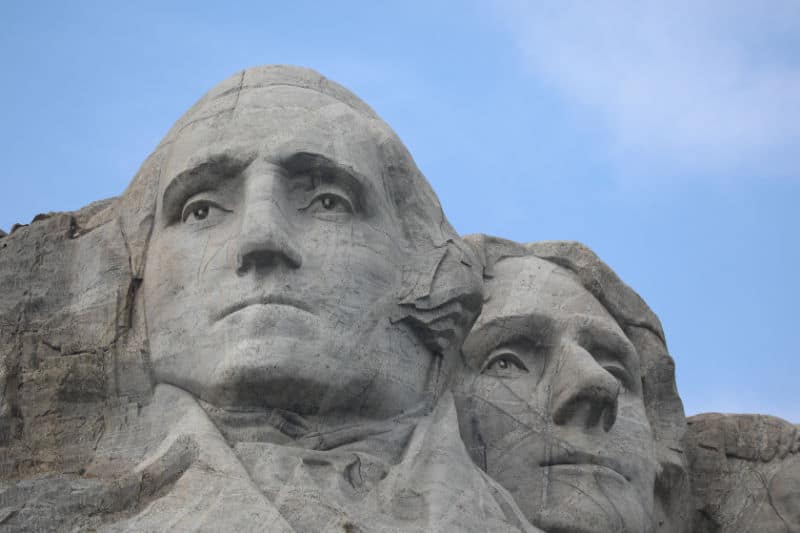 Additional Resources
Mount Rushmore for Kids- An Alphabet Journey
Mount Rushmore: Ready to Read Level 1 (Wonders of America)
The Mystery at Mount Rushmore (Real Kids Real Places)
Mount Rushmore Vintage T-Shirt
Parks near Mount Rushmore National Memorial
The Needles Highway
Crazy Horse Memorial
Minuteman Missile National Historic Site
Devils Tower National Monument
Check out all of the National Parks in South Dakota along with neighboring National Parks in Iowa, National Parks in Minnesota, National Parks in Montana, Nebraska National Parks, North Dakota National Parks, and Wyoming National Parks
National Park Service Website