Falling 2,425 feet Yosemite Falls is considered to be the tallest waterfalls in North America located in Yosemite National Park.
Yosemite Falls is actually three separate sections, Upper Yosemite Fall (1,430 feet), the middle cascades (675 feet), and Lower Yosemite Fall (320 feet).
Peak flow for Yosemite Falls occurs during the Spring when the snow is melting. You can expect epic views of the falls from April through June. During the summer the falls can be down to a slow trickle.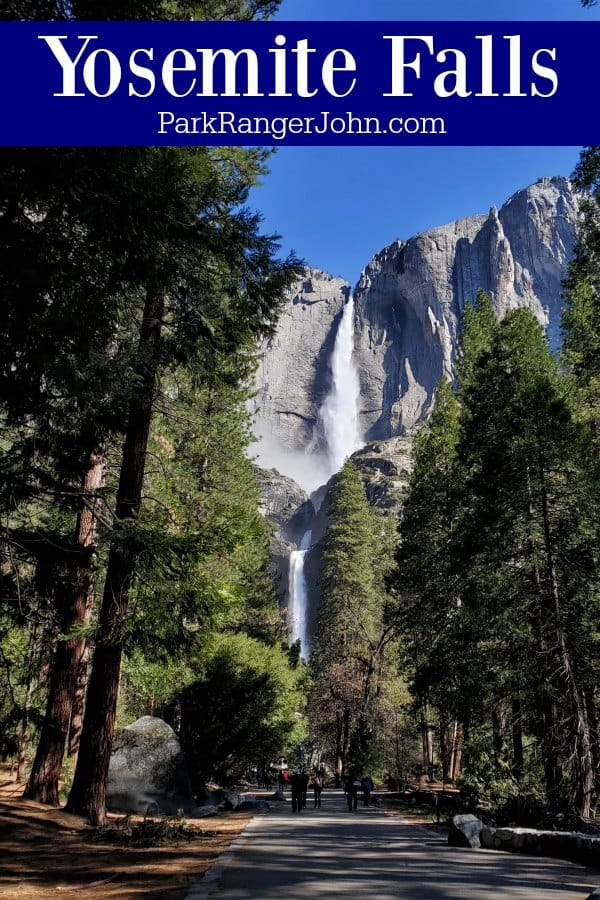 Yosemite Falls
Location in Yosemite National Park – Yosemite Valley
Shuttle Bus Stops – 6 and 7
If you are visiting during April – June when Yosemite Falls is roaring make sure and bring a cover for your camera, rain gear or an extra set of clothes, and possibly a towel to dry off with. The mist can soak you depending on how close you get to the falls.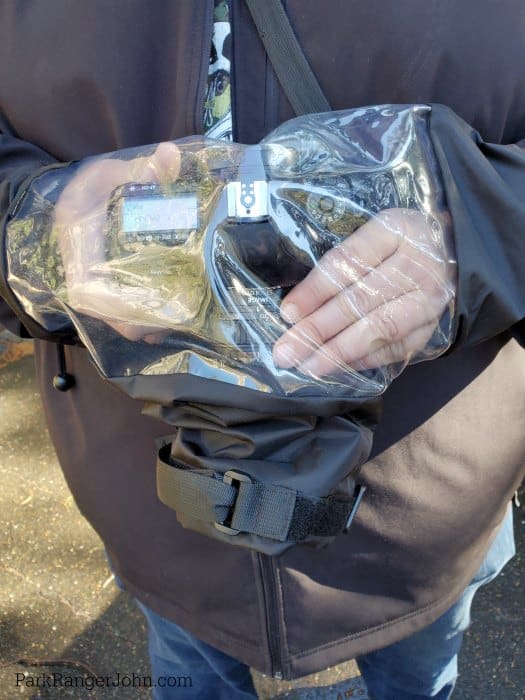 We brought this Camera Rain Cover and were so happy to have it! The mist is no joke and can easily drench your camera.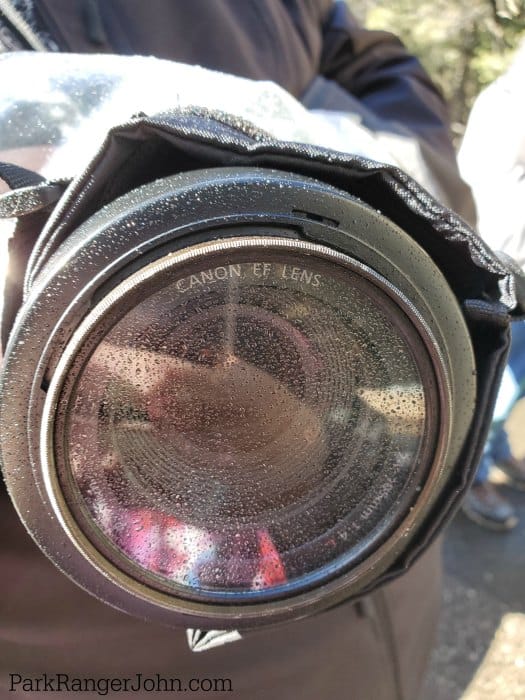 In the future, I would also bring a bandana or something to cover the lens when we are not shooting. Something that can slow down the mist from covering the lens.
Having great lens cleaners with you is also a really good idea.
There are a few ways to experience Yosemite Falls! You can walk the Lower Yosemite Falls quarter-mile trail or plan a full day hike up to the top.
One cool thing about Yosemite Falls is you can get epic photos from multiple places in the park. The falls are so big that you can see them all over the valley. Below we will discuss our favorite photo spots for Yosemite Falls along with the hiking trails to explore the falls up close.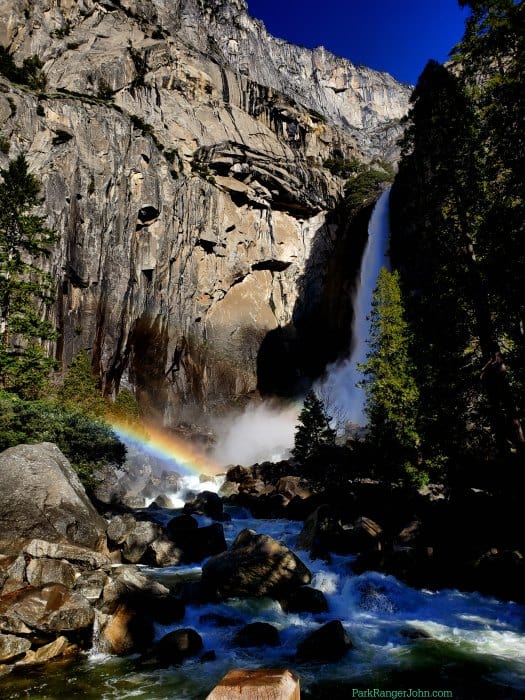 Lower Yosemite Falls
Bus stop: 6
The trailhead for Lower Yosemite Falls is located near the Yosemite Lodge. From the start of the trail, it is less than a quarter-mile to the base of the lower falls.
You can continue over the bridge and follow the trail back to the start.
ADA Accessibility: The eastern side of the loop, from the shuttle stop to the base of the waterfall, is a wheelchair-accessible trail.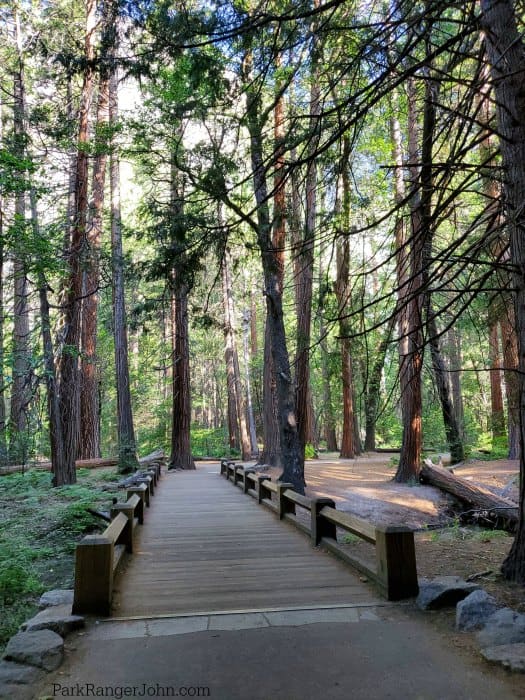 The Lower Yosemite Falls hiking trail is paved the entire way with a few boardwalk bridges.
If you want to skip walking up a small hill I would start the trail to the right and work your way back towards the bathrooms. This side of the trail is a little gentler of a hill and also wheelchair accessible.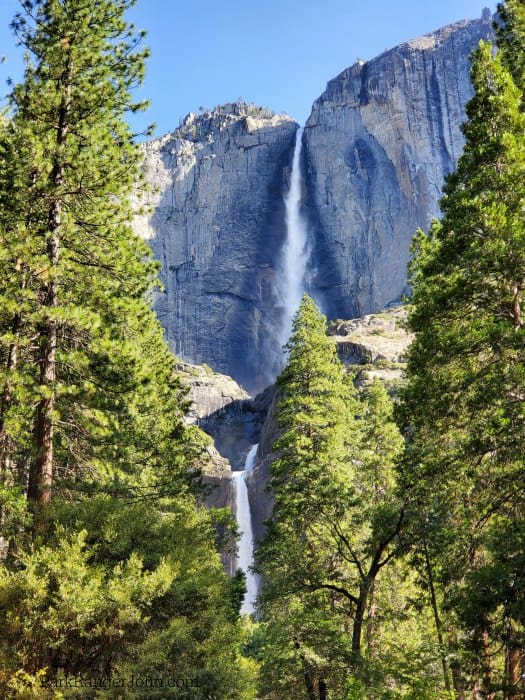 When you walk down the hill from the falls make sure to turn around a few times to see epic views of both upper and lower Yosemite Falls.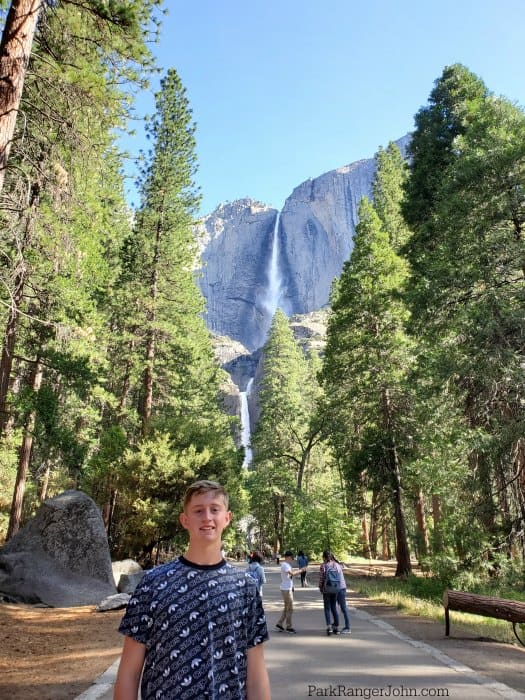 This is a great place to take family photos with the falls in the background. Most people along the trail will be happy to help you take a photo if you take one of their family.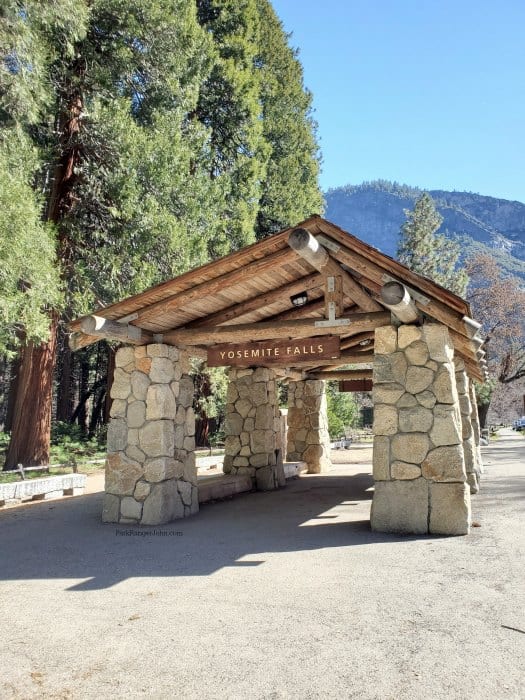 There are shaded benches at the shuttle bus stop. This is a great place to take a deep breath and relax before heading out to your next stop in the park.
Yosemite Falls Hike
Duration: 5 to 6 hours
Distance: 6.8 miles round-trip
Difficulty: 2400 foot elevation change
Start/Finish of the trail: Yosemite Falls Trailhead near Camp 4
Shuttle Stop: YARTS Shuttle Stop 7
If you want to check out an epic view of Yosemite Falls you can hike to the top of Yosemite Falls. The trail starts with four dozen short switchbacks that zigzag up through the canyon. You can stop after the first mile and 1000 vertical feet at Columbia Rock if you are done after this first portion.
Just so you know the views of El Capitan and Half Dome are obscured from the top of the trail. Please don't hike up the Yosemite Falls Hike expecting epic views of El Capitan and Half Dome!!!
If you really want to see Half Dome you can continue hiking to Yosemite Point (6,936 feet) which is 1.6 miles past the Yosemite Falls Overlook. From Yosemite Point, you can see Half Dome, North Dome, Clouds Rest, Glacier Point, Cathedral Rocks, and Lost Arrow.
Make sure you are prepared with water, sunscreen, a hat, and your Ten Essentials. There is very little shade on this trail.

As with any area in Yosemite National Park, you will want to be on the lookout and prepared to see wildlife. We were lucky enough to see this Black Bear on the Lower Yosemite Falls trail during our trip in April.
This photo was taken with a Canon EF 100-400mm f/4.5-5.6L IS II USM Lens and then cropped to bring it closer. We stayed a safe distance from the bear at all times and let it wander where it wanted to.
We did have to stop a few people from running towards the bear and trying to get cell phone photos. Please always remember to keep a safe distance from wildlife and never corner them in an area they feel trapped.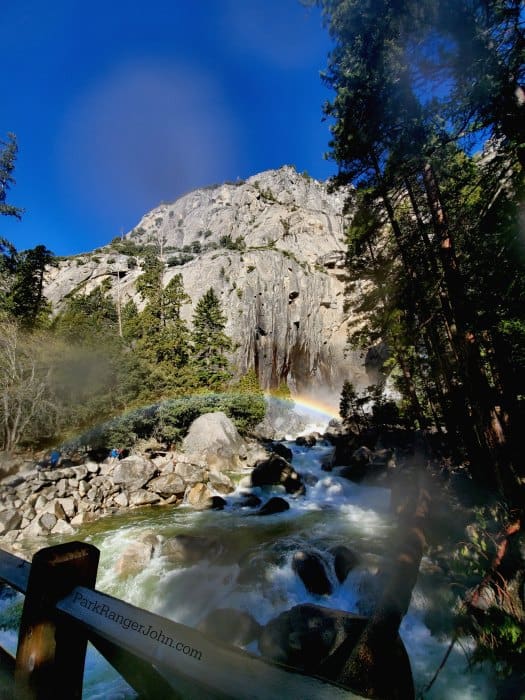 Yosemite Falls Rainbows
During Spring when the waterfall is flowing heavily and the mist is all over the place you can get amazing photos of rainbows near lower Yosemite Falls.
We were able to get great rainbow photos moving back and forth along the bridge. I will warn you that by the time we were done both of us were soaking wet and looked like we had just showered.
We ended up sitting in the sun to dry off for a while and just soaking in the view of the falls. Make sure you have your electronics and camera gear protected from the mist!
Yosemite Falls Moonbows
In April and May during the full moon nights, you can experience moonbows over Yosemite Falls. These lunar rainbows were first written about by John Muir.
Yosemite Firefall
In February over about three weeks, Yosemite Falls experiences its annual Firefall! Unlike in years past when the park service would actually light the falls on fire, this Firefall is a natural phenomenon.
As sunset nears the mist from the falls reflects the suns rays causing the firefalls which normally lasts about ten minutes. One thing to be prepared for if you want to see the Firefall…CROWDS!!!
This natural phenomenon has grown in popularity and there are now crowds of people trying to get the perfect shot.
Who am I kidding Yosemite is always a bit busy being one of the most visited National Parks but some days are more crowded than others.
Great places to get photos of Yosemite Falls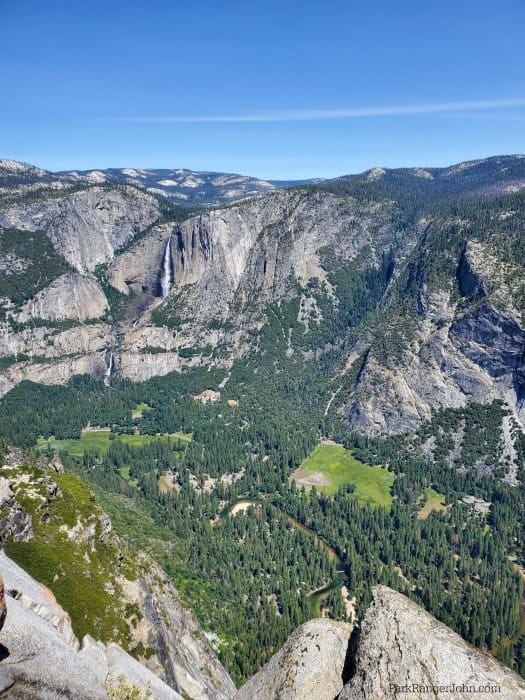 Glacier Point
From Glacier Point, on a clear day, you can see all three levels of Yosemite Falls!
Make sure to follow the trail signs to Glacier Point so you can see an epic view of the entire Yosemite Valley floor.
Glacier Point offers amazing views of El Capitan and the entire Yosemite Valley! Make sure and bring a hat, sunglasses, and sunscreen! The views are so good that it is easy to forget how long you have been out in the sun and come back a shade or five redder than normal.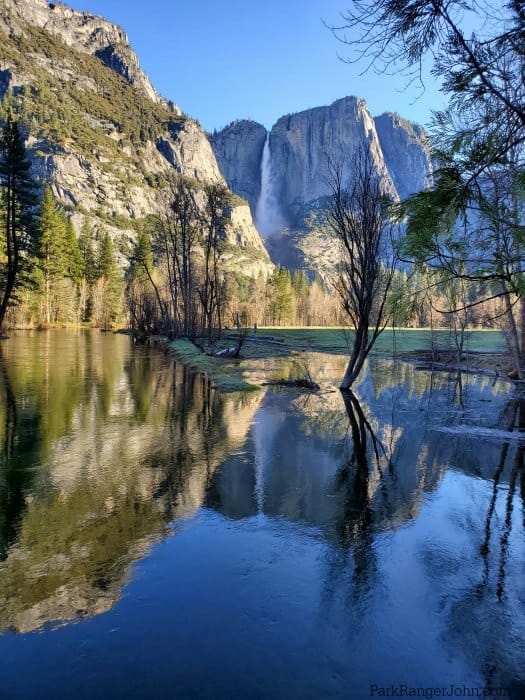 Swinging Bridge
From the Swinging Bridge across the valley from Yosemite Falls, you can get great photos! Especially early in the year when there is water puddles or smooth river water. You can grab an amazing reflection of the falls.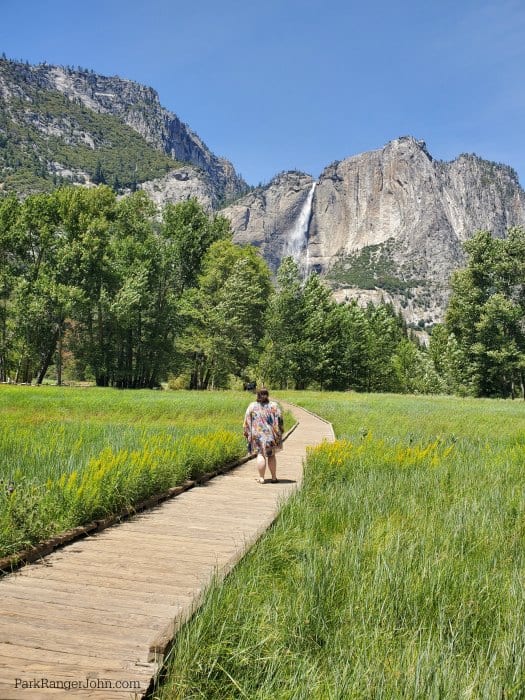 Yosemite Valley Boardwalks
If you are looking for a great Instagram photo with Yosemite Falls the boardwalks in the meadows of Yosemite Valley are perfect!
This is a great place to pose for an Instagram shot safely and easily.
Yosemite Falls is one of our favorite things to do in Yosemite National Park! No matter what time of year you visit the view is gorgeous!
Don't miss these other great Yosemite Waterfalls! Horsetail Fall, Ribbon Fall, Bridalveil Fall