Falling 2,425 feet Yosemite Falls is considered to be the tallest waterfall in North America located in Yosemite National Park.
Yosemite Falls is actually three separate sections, Upper Yosemite Fall (1,430 feet), the middle cascades (675 feet), and Lower Yosemite Fall (320 feet).
Peak flow for Yosemite Falls occurs during the Spring when the snow is melting. You can expect epic views of the falls from April through June. During the summer the falls can be down to a slow trickle.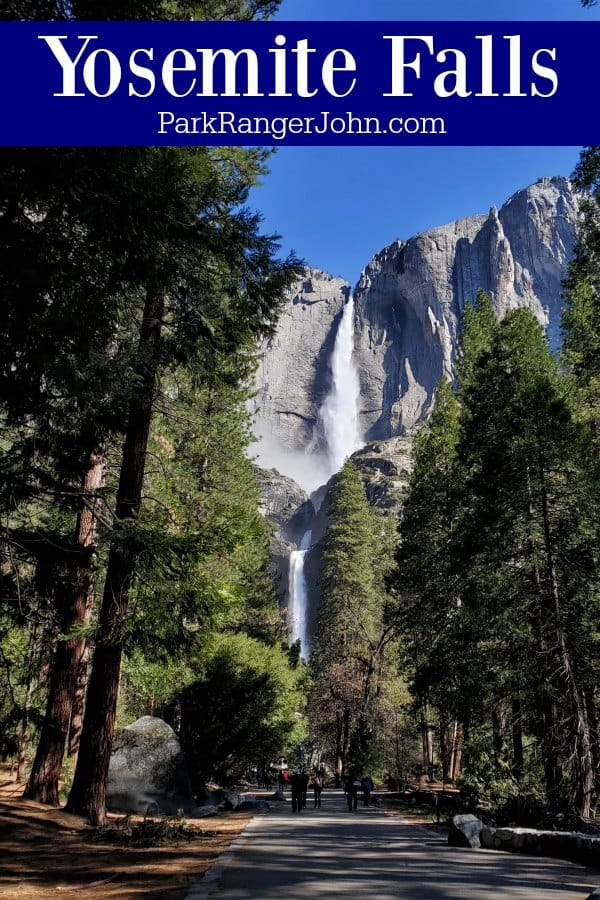 Yosemite Falls
The volume of water flowing over Yosemite Falls varies throughout the year from a frozen trickle in winter to a voluminous torrent in spring and early summer to next to nothing during late summer and fall. Hikers wishing to see the falls at their peak should plan to hike the trail in late spring.
Falling 2,425 feet through three sections, Yosemite Falls is one of the most prominent Yosemite waterfalls and among the best-known landmarks of Yosemite National Park. The Yosemite Falls Trail to upper Yosemite Falls offers a chance to see these stunning falls up close and enjoy incredible views of Yosemite Valley.
Day hikers must be properly prepared to tackle the Yosemite Falls Trail, however, as it is among the most challenging of Yosemite trails: according to the National Park Service, the 7.2-mile round trip features an elevation change of 2,700 feet.
Location in Yosemite National Park
- Yosemite Valley
Shuttle Bus Stops - 6 and 7
If you are visiting during April - June when Yosemite Falls is roaring make sure and bring a cover for your camera, rain gear or an extra set of clothes, and possibly a towel to dry off with. The mist can soak you depending on how close you get to the falls.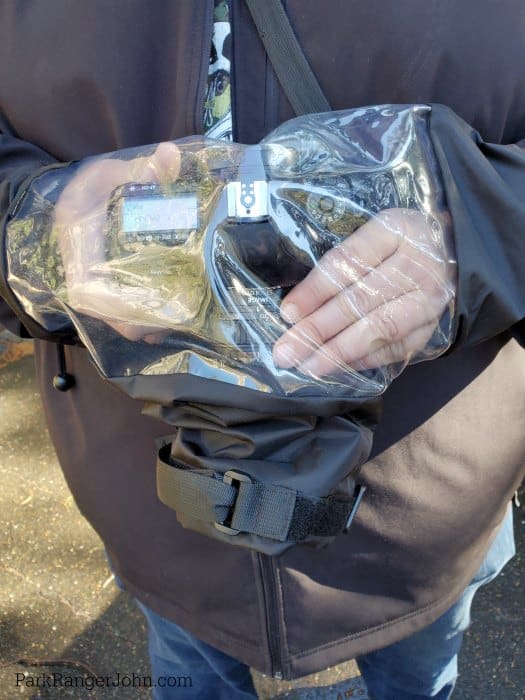 We brought this Camera Rain Cover and were so happy to have it! The mist is no joke and can easily drench your camera.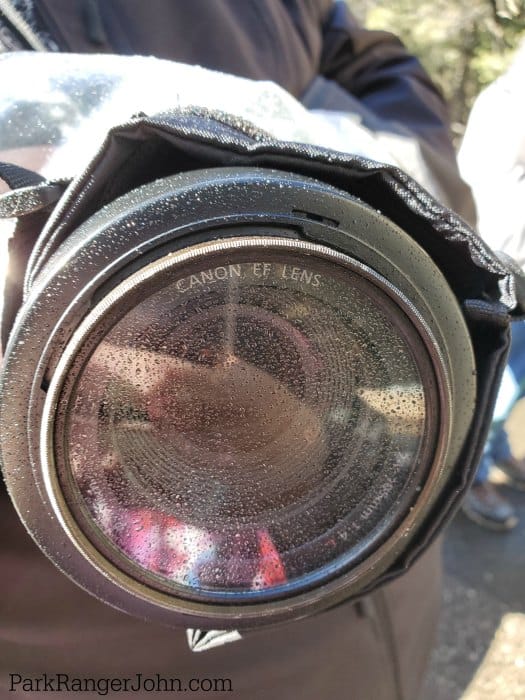 In the future, I would also bring a bandana or something to cover the lens when we are not shooting. Something that can slow down the mist from covering the lens.
Having great lens cleaners with you is also a really good idea.
There are a few ways to experience Yosemite Falls! You can walk the Lower Yosemite Falls quarter-mile trail or plan a full day hike up to the top.
One cool thing about Yosemite Falls is you can get epic photos from multiple places in the park. The falls are so big that you can see them all over the valley. Below we will discuss our favorite photo spots for Yosemite Falls along with the hiking trails to explore the falls up close.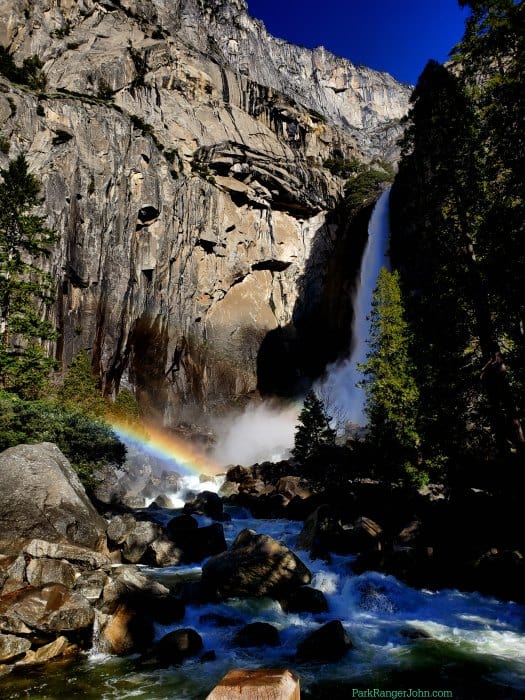 Lower Yosemite Falls
Bus stop: 6
The trailhead for Lower Yosemite Falls is located near the Yosemite Valley Lodge. From the start of the trail, it is less than a quarter-mile to the base of the lower falls.
You can continue over the bridge and follow the trail back to the start.
ADA Accessibility: The eastern side of the loop, from the shuttle stop to the base of the waterfall, is a wheelchair-accessible trail.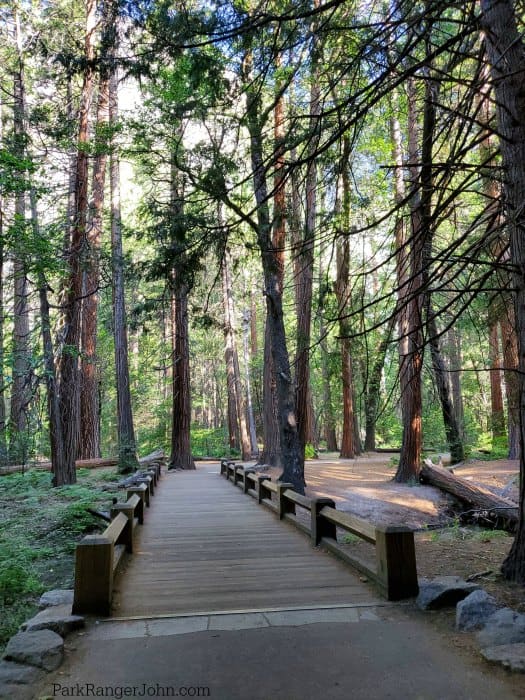 The Lower Yosemite Falls hiking trail is paved the entire way with a few boardwalk bridges.
If you want to skip walking up a small hill I would start the trail to the right and work your way back towards the bathrooms. This side of the trail is a little gentler of a hill and also wheelchair accessible.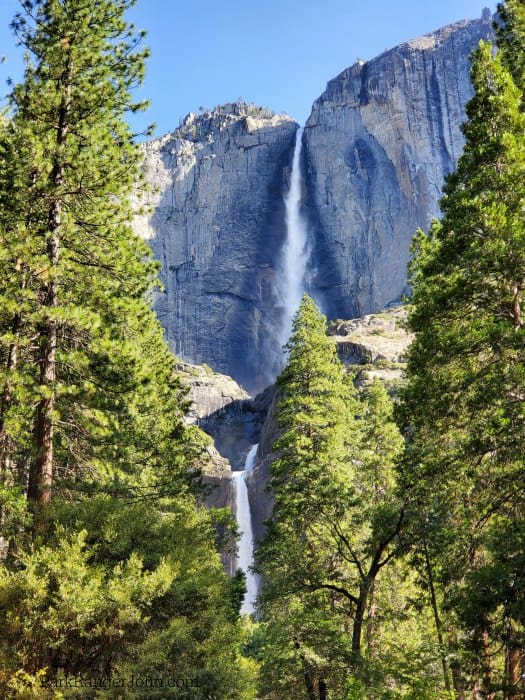 When you walk down the hill from the falls make sure to turn around a few times to see epic views of both upper and lower Yosemite Falls.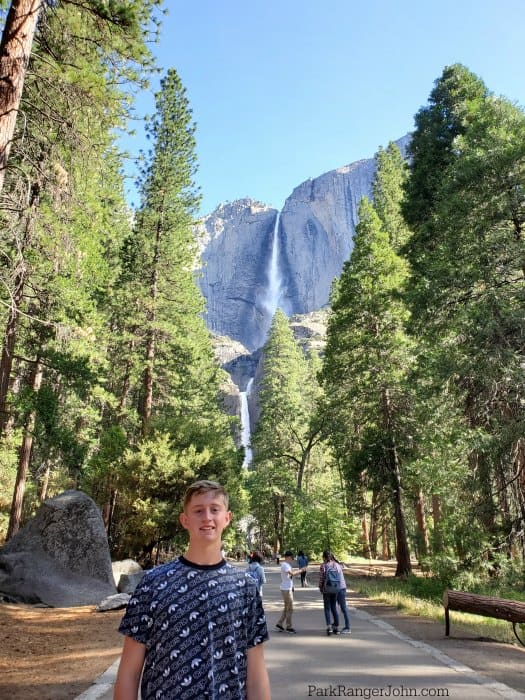 This is a great place to take family photos with the falls in the background. Most people along the trail will be happy to help you take a photo if you take one of their family.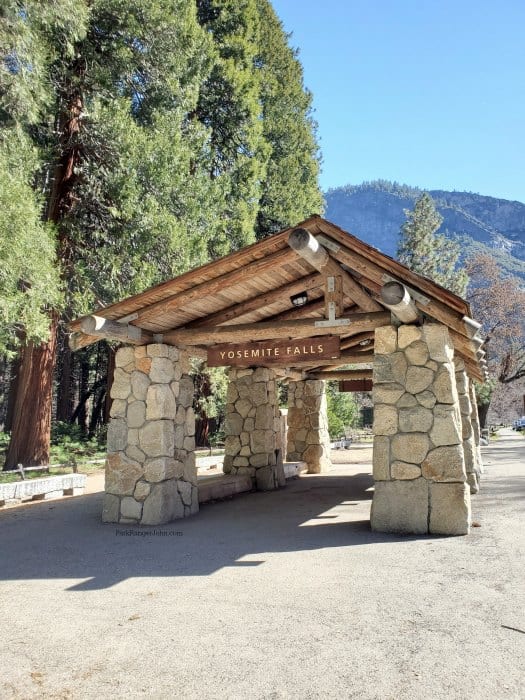 There are shaded benches at the shuttle bus stop. This is a great place to take a deep breath and relax before heading out to your next stop in the park.
Upper Yosemite Falls Hike
Duration: 5 to 6 hours
Distance: 6.8 miles round-trip
Difficulty: 2400 foot elevation change
Start/Finish of the trail: Yosemite Falls Trailhead near Camp 4
Shuttle Stop: YARTS Shuttle Stop 7
Prepare for a memorable experience by hiking to the top of Yosemite Falls, one of Yosemite National Park's most difficult yet most rewarding trails.
If you're a fan of nature's many wonders, you won't want to miss out on the experience that is hiking to Upper Yosemite Falls. Located in Yosemite National Park in the Sierras, Yosemite Falls is the highest measured waterfall in North America – and one of the highest waterfalls in the world.
The hike up to the top of the Falls is long and strenuous, but once when you get to the top, every step will have been worth it.
If you want to check out an epic view of Yosemite Falls you can hike to the top of Yosemite Falls. The trail starts with four dozen short switchbacks that zigzag up through the canyon.
You can stop after the first mile and 1000 vertical feet at Columbia Rock if you are done after this first portion.
Just so you know the views of El Capitan and Half Dome are obscured from the top of the trail. Please don't hike up the Yosemite Falls Hike expecting epic views of El Capitan and Half Dome!!!
If you really want to see Half Dome you can continue hiking to Yosemite Point (6,936 feet) which is 1.6 miles past the Yosemite Falls Overlook. From Yosemite Point, you can see Half Dome, North Dome, Clouds Rest, Glacier Point, Cathedral Rocks, and Lost Arrow.
Yosemite Falls: The Ultimate Stairmaster Challenge
Newcomers to hiking might want to tackle some low-key hikes in Yosemite before taking on this one. The climb to Upper Yosemite Falls is not only long (rangers recommend setting aside 6 to 8 hours total for the trip) and steep (the actual waterfall stands at an astounding 2,425 feet high), but it's considered the ultimate stair-climbing workout.
You'll be winding around rocks left and right if you want to make it to the very top, and the many switchbacks – hiking trails that go back and forth up a mountain – make the 7.6-mile round-trip hike even more difficult. Think of it as the equivalent of climbing to the top of not one, but two Empire State Buildings.
The Yosemite Falls trail begins behind Camp 4, one of Yosemite's many camping and rock-climbing sites. Don't worry about finding parking once you get inside the park. Most likely there will be space anywhere near Yosemite Lodge or Yosemite Village, and free shuttles run from anywhere in eastern Yosemite Valley to the trailhead.
Making it to the Top of Yosemite Falls
Though the hike to Upper Yosemite Falls is a difficult one, with a bit of preparation and a good attitude, anyone can make it to the top. Be sure to pace yourself and take breaks whenever necessary. There are rock enclaves at several points in the trail that make good places to stop and rest, whether it's to catch your breath or grab a bite to eat.
Last but not least, seeing the waterfall up close isn't the only worthwhile thing about the trail; don't feel obligated to get to the very top if you don't feel up to it. Even those who are physically fit can find it a challenge. So long as you focus on the journey rather than the outcome, you won't be disappointed.
Expectations for Hiking Yosemite Falls Trail
Hikers' expectations often set the stage for the enjoyment they derive from a day hike. Those planning to hike Yosemite Falls Trail round trip should expect a strenuous uphill climb through dozens of switchbacks and a demanding, although easier, descent on the return. They should plan to start hiking early and make a day of this hike rather than rushing through it or squeezing it in around other park activities.
Hikers should also recognize that getting to the top of this trail is but one way to enjoy it. Hikers shouldn't be afraid to take breaks and enjoy the ascent at their own pace, even if that means turning back before reaching the top. The views are spectacular from all of the upper switchbacks; hiking to any elevation of the Yosemite Falls Trail will be rewarding and memorable.
Preparations for Hiking Yosemite Falls Trail
Taking adequate water and food is crucial to enjoying a hike up the Yosemite Falls Trail. Hikers should ideally carry a hydration reservoir with several liters of water. Other options include carrying several wide-mouthed, reusable water bottles. A single bottle of water will be inadequate for this hike.
Food provisions should include a substantial lunch and several snacks such as energy bars, trail mix, or candy bars. During spring and early summer, small cascades cross the trail on both the lower and the upper switchbacks, allowing hikers with water treatment equipment to obtain potable water during the hike.
Bathrooms are available only at the base of the trail. Although it seems close to the valley, Yosemite Falls Trail is technically a wilderness area. Day hikers should use facilities before ascending and be prepared to follow Leave No Trace ethics until they return, packing out all toilet paper and trash.
Toilet paper and a small shovel for digging cat holes are essential items for a Yosemite Falls Trail daypack, but hikers should understand that finding privacy on the Yosemite Falls Trail switchbacks is difficult and can lead to dangerous falls. Hikers may find adequate privacy when the switchbacks end at the top of Yosemite Valley.
Other Helpful Tips for the Yosemite Falls Trail
Footing on the trail varies from dirt to rocks to granite "steps," all of which can be slippery owing to a fine coating of sand and gravel. When water is flowing, parts of the Yosemite Falls Trail become muddy from mist and streams that cross the trail. In mild months, hikers should wear comfortable but durable footwear that could range from hiking boots to trail runners to sturdy sandals or sneakers.
The Yosemite Falls Trail receives sun from morning until late in the afternoon, but once shaded, the trail cools rapidly at elevation. The higher switchbacks and overlooks can also be windy at times. Spring and early summer day hikers can expect to hike through misty, wet conditions in which a light rain jacket will come in handy.
Most hikers will also appreciate convertible pants and a wind-resistant jacket or other warm layers for their upper bodies.
A hike on the Yosemite Falls Trail is best completed during daylight hours, but a slower than expected pace or a blister can translate to descent at dusk. Hikers should have a flashlight or headlamp in their daypacks in case they must travel in the dark but plan to begin their descent well before sunset, even if they haven't made it to the top of the trail.
Completing the Yosemite Falls Trail
Hiking Yosemite Falls Trail will surely be an unforgettable experience. Hikers who start early, prepare themselves properly for the rigors of the hike, and take the right gear and essentials increase the likelihood of a successful, comfortable, and fun day hike.
What You Should Bring on the Hike
Depending on what season you go, your supplies may vary, but definitely bring the following items on your hike:
A good pair of hiking shoes. Hiking to Yosemite Falls is no piece of cake. Don't make the hike harder or more dangerous by wearing inappropriate footwear. The best shoes will have good traction to prevent you from slipping on the rocks.
Plenty of liquids. Many switchbacks are located in completely open areas with plenty of sunlight so you'll want to stay hydrated on your hike. Drink water regularly and before you're thirsty to avoid dehydration. However, also keep in mind that you'll be walking up a very steep trail the whole time; avoid over-packing and carrying more than you actually need. Since the hike is a good 6 to 8 hours long, consider bringing some liquids that have electrolytes, such as Gatorade.
Food to keep you energized. Bring food that is easy to prepare and not too heavy, but still filling. Some good options include beef jerky, dried fruit, granola, or energy bars. Keep food supplies lightweight and maintain a good balance of fat, protein, and carbohydrates. Remember, you're going to be hiking for at least 6 hours so you definitely want to keep your energy up.
A map. The trail is pretty straight-forward so it's unlikely that you'll get lost, but bring a map just in case. They give them out for free when you first drive in the park entrance to pay the entrance fee. The map includes information on how to handle various situations such as coming across wildlife or disposing of trash.
A camera. The hike up to the Falls may be strenuous, but that doesn't mean it's not beautiful. You'll definitely want to get some digital memories of the panoramic views of Yosemite, as well as get some one-of-a-kind shots featuring Yosemite Falls.
Bug spray. Unless you go when it's raining, you'll want something to ward off the mosquitoes.
Hiking Yosemite Falls in Different Seasons
The best time to hike to the Falls would be in the late spring or early summer since they tend to slow to a low trickle by August. There will certainly be more crowds during those periods, but you'll be better off going on a dry day than a wet one. Rain means that the rocks will be slippery and more likely to cause a fall - and it'll make it harder to see where you're going.
If you do plan on going in the fall or winter, make sure to bring these items:
A thick waterproof jacket with a hood.
Gloves.
Waterproof pants.
Extra pairs of socks.
Protective gear for your camera and other valuables. Wrapping them in heavy-duty garbage bags helps keep the water out.

As with any area in Yosemite National Park, you will want to be on the lookout and prepared to see wildlife. We were lucky enough to see this Black Bear on the Lower Yosemite Falls trail during our trip in April.
This photo was taken with a Canon EF 100-400mm f/4.5-5.6L IS II USM Lens and then cropped to bring it closer. We stayed a safe distance from the bear at all times and let it wander where it wanted to.
We did have to stop a few people from running towards the bear and trying to get cell phone photos. Please always remember to keep a safe distance from wildlife and never corner them in an area they feel trapped.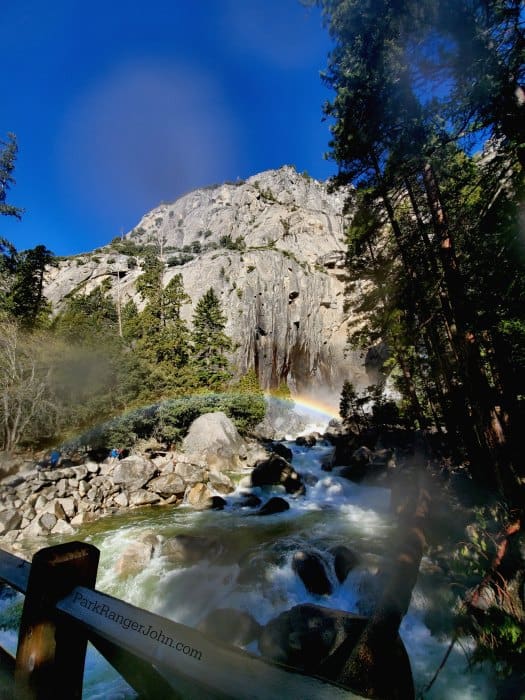 Yosemite Falls Rainbows
During Spring when the waterfall is flowing heavily and the mist is all over the place you can get amazing photos of rainbows near lower Yosemite Falls.
We were able to get great rainbow photos moving back and forth along the bridge. I will warn you that by the time we were done both of us were soaking wet and looked like we had just showered.
We ended up sitting in the sun to dry off for a while and just soaking in the view of the falls. Make sure you have your electronics and camera gear protected from the mist!
Yosemite Falls is truly one of the Best Waterfalls in the USA!
Yosemite Falls Moonbows
In April and May during the full moon nights, you can experience moonbows over Yosemite Falls. These lunar rainbows were first written about by John Muir.
Yosemite Firefall
In February over about three weeks, Yosemite Falls experiences its annual Firefall! Unlike in years past when the park service would actually light the falls on fire, this Firefall is a natural phenomenon.
As sunset nears the mist from the falls reflects the suns rays causing the firefalls which normally lasts about ten minutes. One thing to be prepared for if you want to see the Firefall...CROWDS!!!
This natural phenomenon has grown in popularity and there are now crowds of people trying to get the perfect shot.
Who am I kidding Yosemite is always a bit busy being one of the most visited National Parks but some days are more crowded than others.
Great places to get photos of Yosemite Falls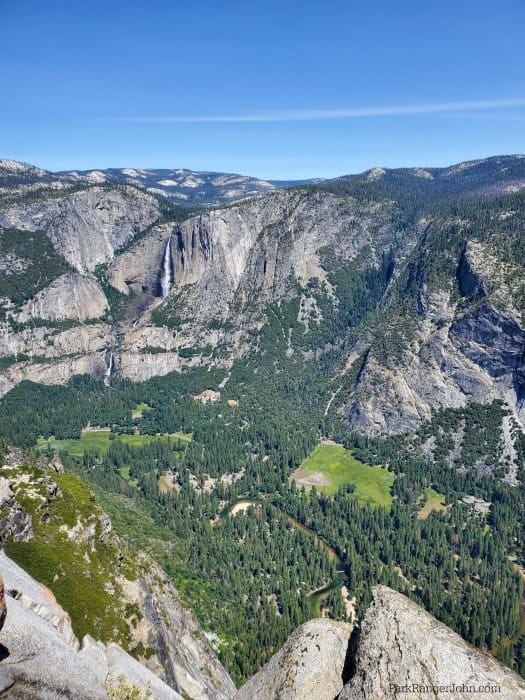 From Glacier Point, on a clear day, you can see all three levels of Yosemite Falls!
Make sure to follow the trail signs to Glacier Point so you can see an epic view of the entire Yosemite Valley floor.
Glacier Point offers amazing views of El Capitan and the entire Yosemite Valley! Make sure and bring a hat, sunglasses, and sunscreen! The views are so good that it is easy to forget how long you have been out in the sun and come back a shade or five redder than normal.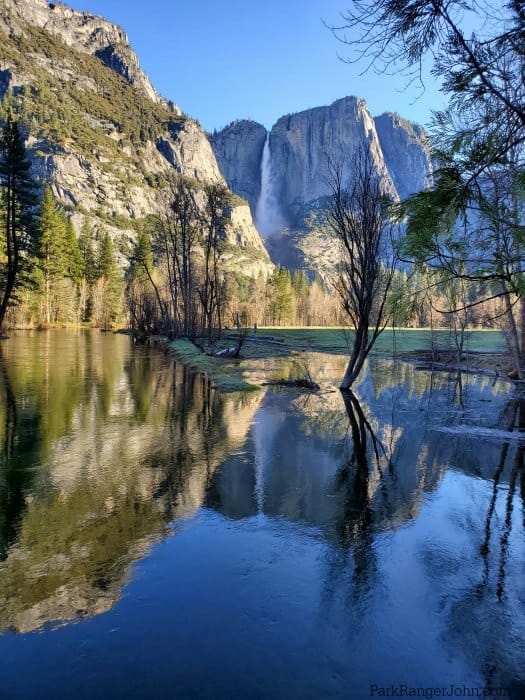 Swinging Bridge
From the Swinging Bridge across the valley from Yosemite Falls, you can get great photos! Especially early in the year when there is water puddles or smooth river water. You can grab an amazing reflection of the falls.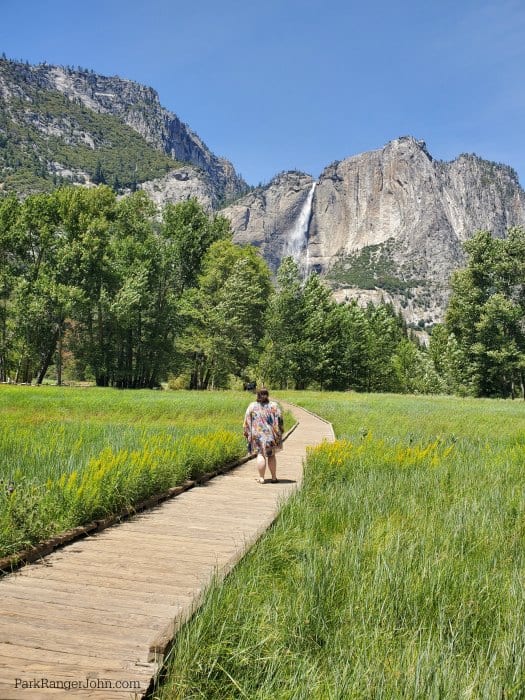 Yosemite Valley Boardwalks
If you are looking for a great Instagram photo with Yosemite Falls the boardwalks in the meadows of Yosemite Valley are perfect!
This is a great place to pose for an Instagram shot safely and easily.
Additional Resources
Yosemite Falls is one of our favorite things to do in Yosemite National Park! No matter what time of year you visit the view is gorgeous!
Don't miss these other great Yosemite Waterfalls! Horsetail Fall, Ribbon Fall, Bridalveil Fall
If you love waterfalls make sure to check out all of the epic waterfalls in Northern California
Yosemite Lodging - Find out what it is like to stay within the park.
Make sure to check out our planning guide for Yosemite National Park