The Superior Bathhouse Brewery at Hot Springs National Park is the only brewery in a National Park! It is also the only brewery to use thermal spring waters to produce their beers! We really enjoyed our visit to the Superior Bathhouse Brewery.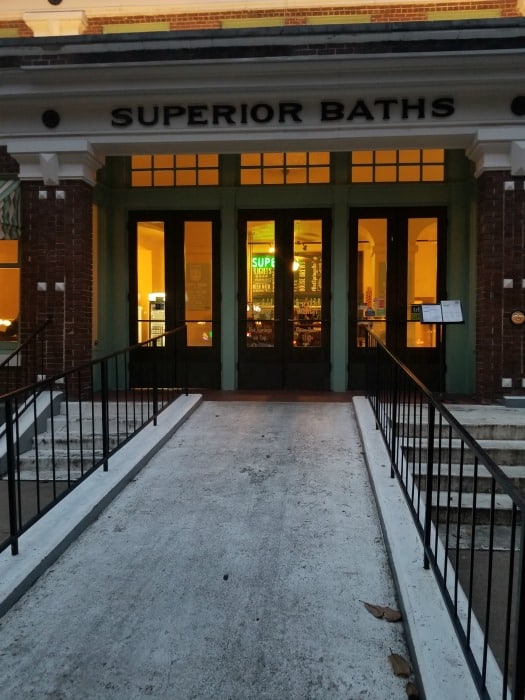 Superior Bathhouse Brewery
We visited for dinner and truly enjoyed the food and of course the beers. The Superior Bathhouse Brewery has a rotating menu of beers with a few that are consistently on the menu. Trust me they will have a beer you will fall in love with. The beers range from citrusy IPA's to Bourbon Barrel Aged beer.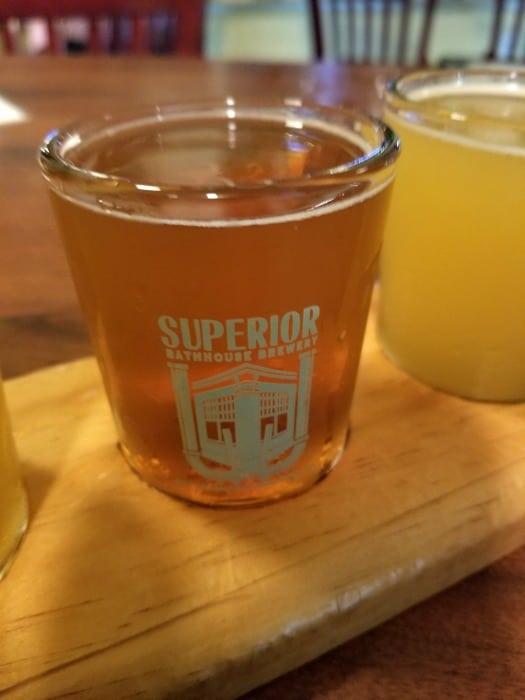 If you can't decide on just one beer you can try out a beer flight! They offer flights of 4 beers to create your perfect tasting flight or go big and order the beer bath tasting with all 18 beers that are on tap!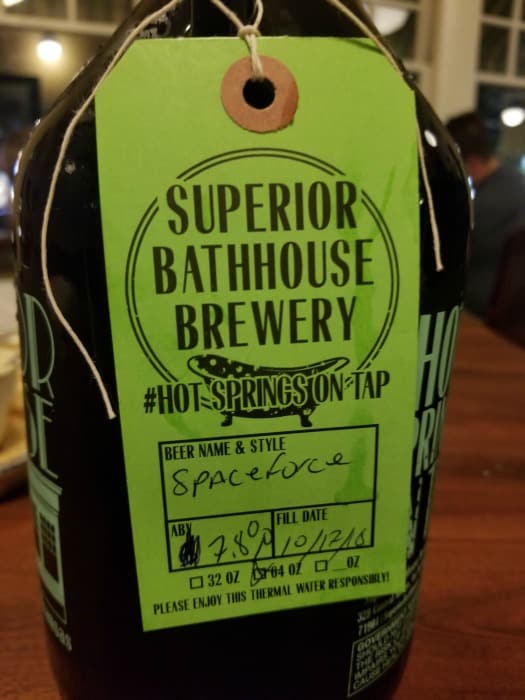 Hot Springs Brewery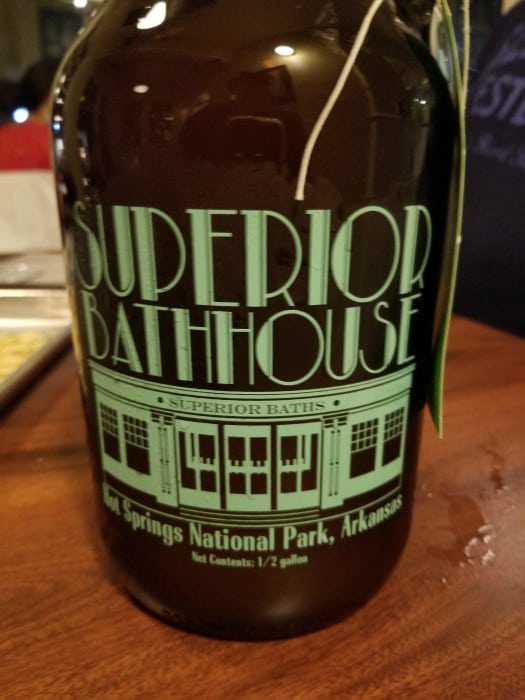 Don't worry if you fall in love with a beer you don't have to go home without it! The brewery sells really fun glass growlers along with some beers in cans. The glass growler is a fun souvenir and you can enjoy your favorite beer a little longer. I am going to admit that I picked up a growler of the Space Force IPA!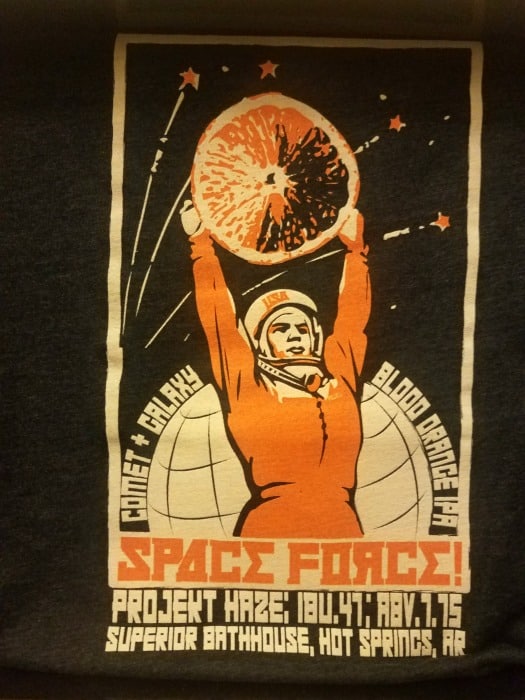 The Space Force IPA has a blood orange flavor made with Galaxy and Comet hops. This is a beer I wish I could keep in my fridge all year round.
Don't worry if you are not a beer drinker the Bathhouse Brewery is still worth visiting! They have a delicious root beer float bar! You can sit at the counter and gaze out at the people walking along Bathhouse Row.
The restaurant is non-smoking and all ages.
Superior Bathhouse Brewery Menu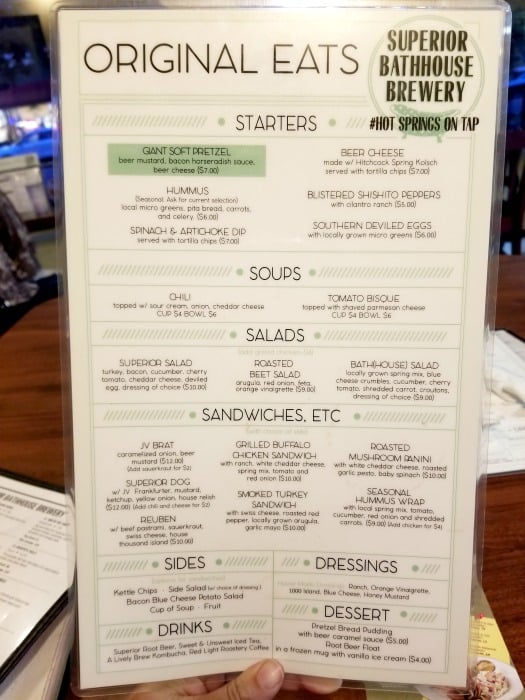 The Superior Bathhouse Menu offers some great options. There are multiple vegetarian options available.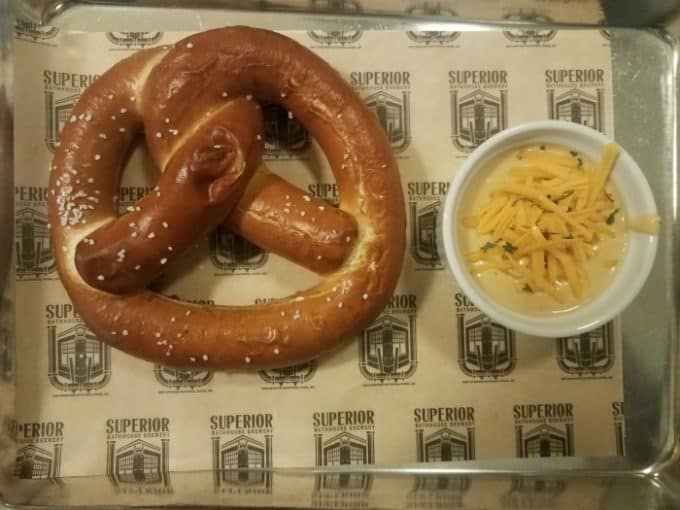 The pretzel on the appetizer menu was delicious! We opted to have just the beer cheese instead of having the mustard that could also come with it. Trust me you are going to want to lick the bowl with the beer cheese!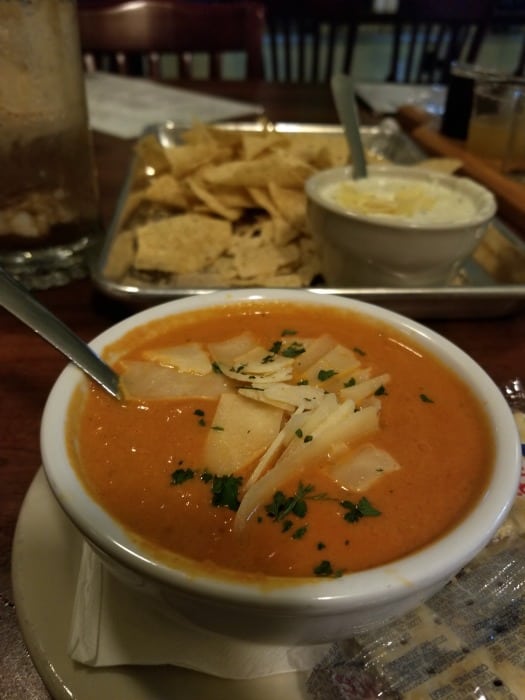 The tomato soup was delicious as was the spinach artichoke dip!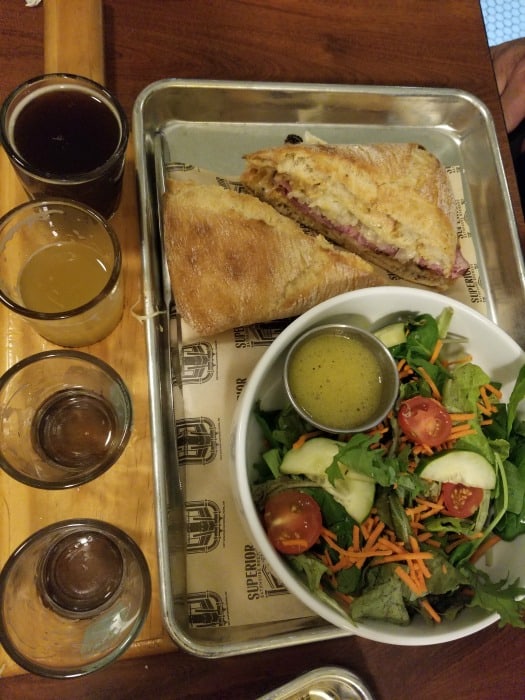 The Reuben sandwich was fantastic along with a really fresh side salad.
We truly enjoyed our meal at the Superior Bathhouse Brewery and would go back again anytime. If you are visiting Hot Springs National Park the brewery is the perfect place to stop for a meal or at least a nice cold beer.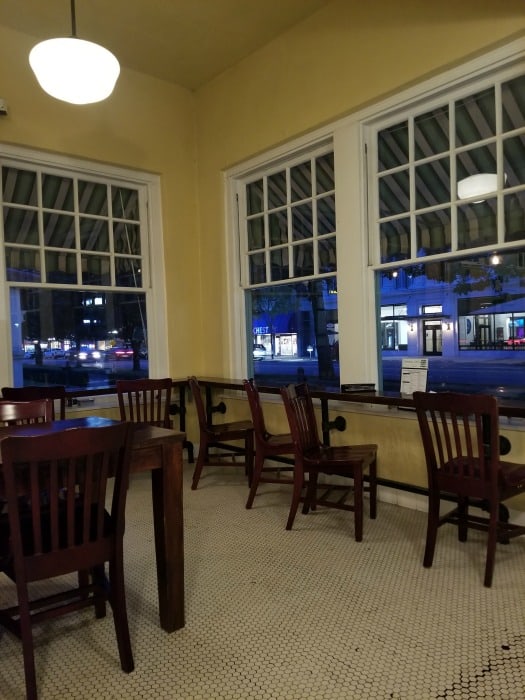 Superior Bathhouse Brewery History
After sitting vacant for thirty years the historic Superior Bathhouse has been re-imagined into the first brewery inside a National Park. You can still check out the bathhouse tile floor and decorations within the building.
Superior Bathhouse Brewery Address
329 Central Ave
Hot Springs, AR 71901
There is free parking on Central Ave. If the street parking is full there is a free covered city garage a couple of blocks down the road.
Phone number - 501-624-2337
Superior Bathhouse Brewery Hours
Sunday through Thursday 11 am - 9 pm
(Winter Hours - Jan & Feb Noon - 8 pm)
Friday and Saturday - 11 am - 11 pm
Happy Hour - 3 to 6 pm Monday through Thursday
This was one of our favorite things to do in Hot Springs National Park!