Motel Lake McDonald in Glacier National Park is located in the perfect location to explore this great Montana National Park. This modest hotel is not fancy but does offer the ability to stay within the park.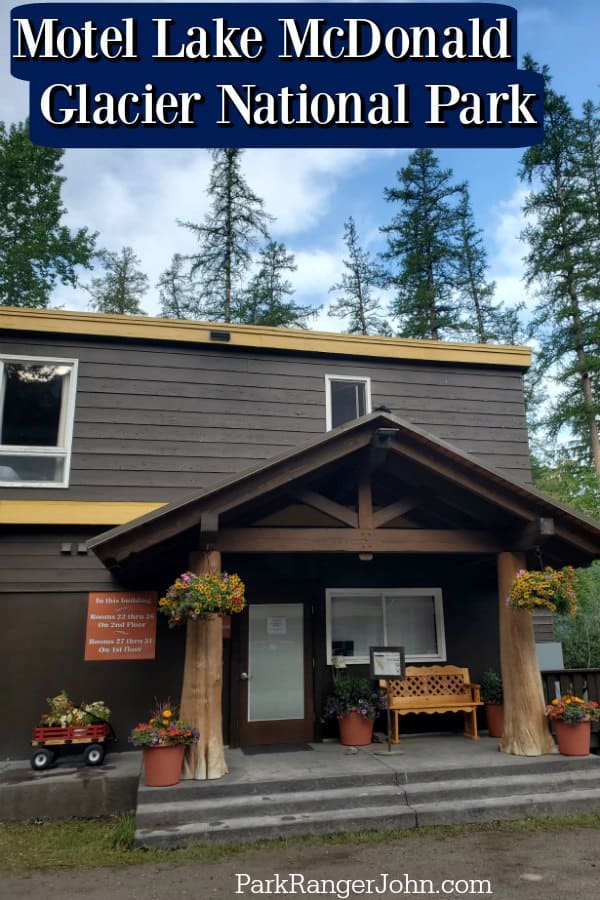 Motel Lake McDonald
Located ten miles inside Glacier National Park on the Going To The Sun Road is the perfect area for exploring this gorgeous Montana National Park.
Plus you can't complain about being steps away from Lake McDonald!
Motel Lake McDonald is located just off of Lake McDonald behind the gift store. It can be a little funny to find. You will want to look for the dirt road right past the gift store before you pull onto the Going to the Sun Road.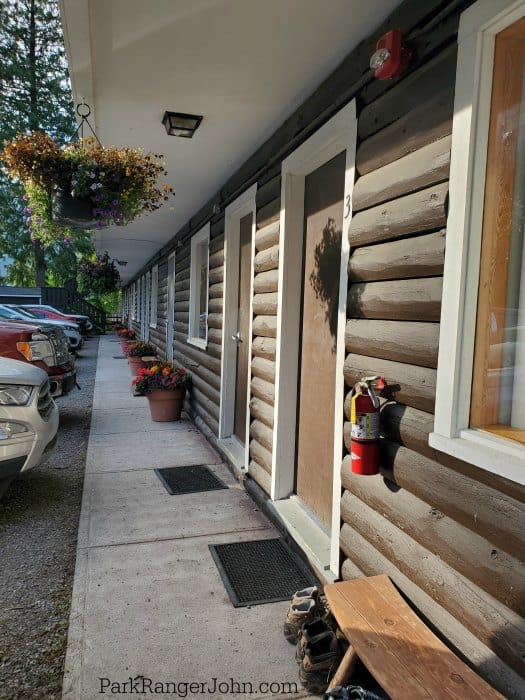 The motel has two 2-story buildings with parking right in front of the motel buildings.
We stayed in a 2 double bedroom on the 1st floor directly across from the registration building. Room #1 was right next to the stairs so we could hear people moving their things to their rooms and going up and down the stairs.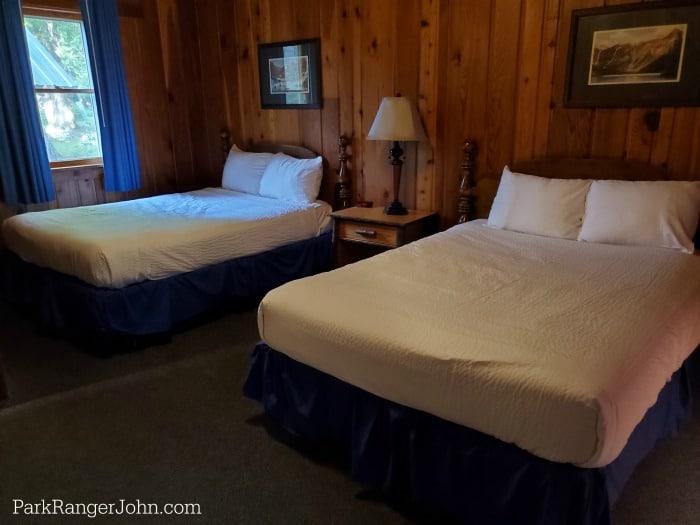 The room is a fair size but not large. There is space to walk on both sides of each bed so you don't have to worry about someone having to hug a wall.
The room amenities include a box fan, desk and dresser drawers, private bathroom with shower stall, toilet, and small sink. One nightstand table with a lamp and a few drawers.
There are multiple electrical plugins on the wall so you can charge your phones and camera batteries. There is also a basic alarm clock on the nightstand table.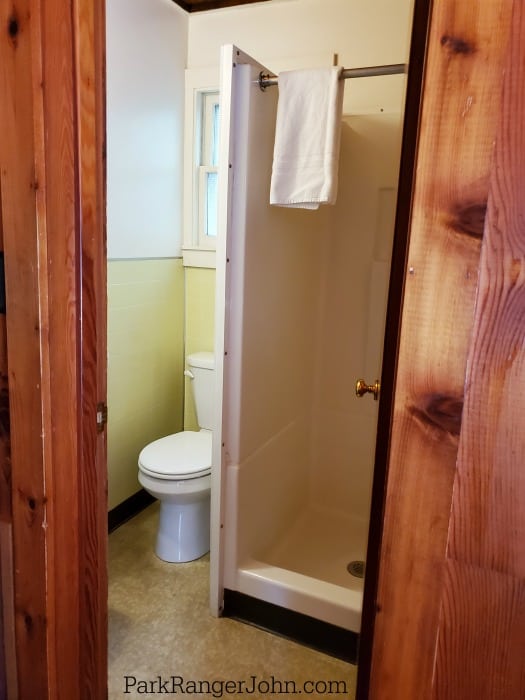 If you are plus size or have any mobility restrictions the bathroom is small! As in bounce off the walls going through the door small if you are not tiny. The area around the toilet is small enough you may hit your elbows on the wall.
One thing we found in our room that surprised us a lot was mosquitoes. There were at least 10 mosquitoes buzzing around the room when we first arrived.
We had to try and kill as many of them as we could since we did not want to spray the room down with bug spray and then sleep with the smell.
There was also a high-pitched noise that was non-stop. We are not sure what was causing it but we ended up sleeping with earplugs and trying to play music so we could drown out the constant high-pitched noise.
Each bed has two pillows and a thin blanket.
One thing that surprised us was the hotel wi-fi did work in our room most of the time. It was not a super-strong connection but we were able to get some emails through and check social media.
If you have mobility restrictions it is worth noting that it is a step up to get into the room.
The Motel Lake McDonald offers basic amenities and rooms in an epic location. You are literally feet away from exploring the Going to the Sun Road and Lake McDonald.
You can easily walk to the Lake McDonald Lodge to enjoy dinner or a Lake McDonald Boat tour.
The lobby offers hot coffee in the morning.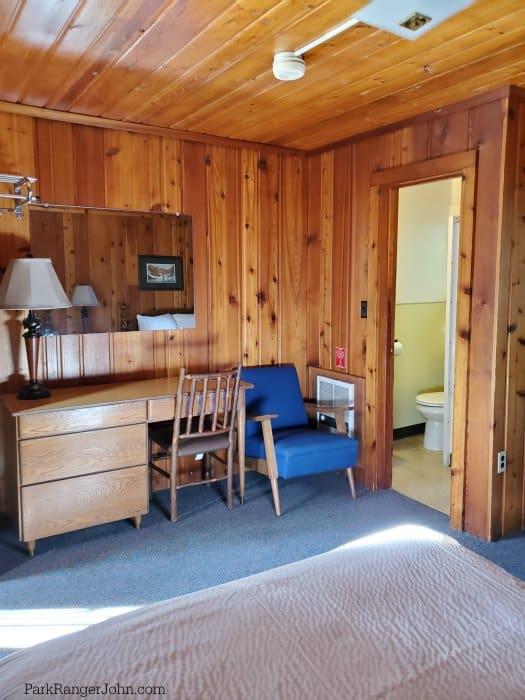 Room Types
Single Bed
Double Bed
ADA Accessible King
Double Bed Room Photos/Video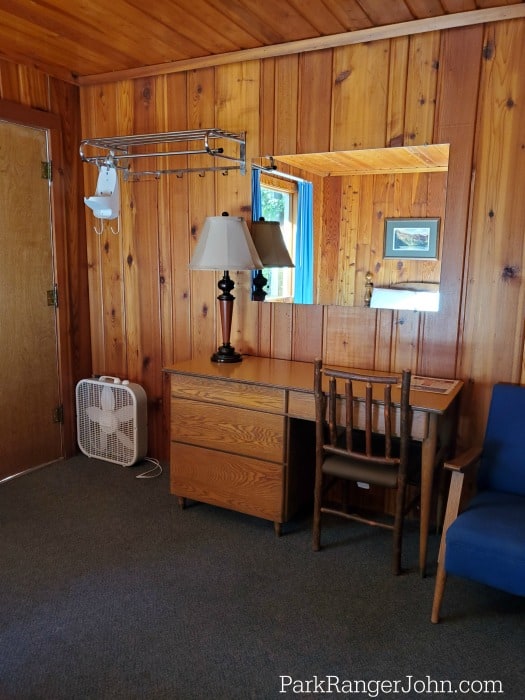 Amenities
2 Doubles
Iron/Ironing Board
Fan (Upon Request)
Daily Housekeeping Service
Hairdryer
Alarm Clock
Golden Memory™ Pillows
Energy Efficient Lighting
Super Topper™ Mattress Cover
BeeKind™ Environmentally-Friendly Toiletries
Golden Memory™ Down Alternative Pillows
Internet available in the lobby
Things to know when planning a stay at Motel Lake McDonald
Address - 288 Lake McDonald Lodge Loop Road, Going-to-the-Sun Road, Glacier National Park, MT 59936
Phone - 406.892.2525
Location - Located 10 miles inside Glacier National Park's west entrance on the Going-to-the-Sun Road.
WiFi - Available in the lobby only.
Additional Glacier Resources
Glacier Lodging – Check out all of the great lodges and hotels you can stay at in Glacier National Park.
Top things to do in Glacier – Check out all of the things you do not want to miss while in Glacier
Glacier Camping – Check out photos and campground information for all the campgrounds in the park.
Montana National Parks - Find out more information about all the parks you can visit while in Montana
Ultimate Glacier Travel Guide - All the things you want to know to plan a great trip to the park.
Most Visited National Parks – Check out where Glacier ranks on the most visited national park sites.
Lake McDonald Boat Tours – Find out what to expect when heading out on a Lake McDonald Boat Tour
Prince of Wales hotel – Check out what it is like to stay at the Prince of Wales hotel in Waterton-Lakes National Park just north of Glacier.