Glacier National Park in Montana is one of our favorite parks in the National Park system. There is just something so amazing about driving the Going to the Sun Road, watching bears, and hiking in this park. Today we are excited to share our best Glacier National Park Travel Tips to help you plan the most amazing trip you can.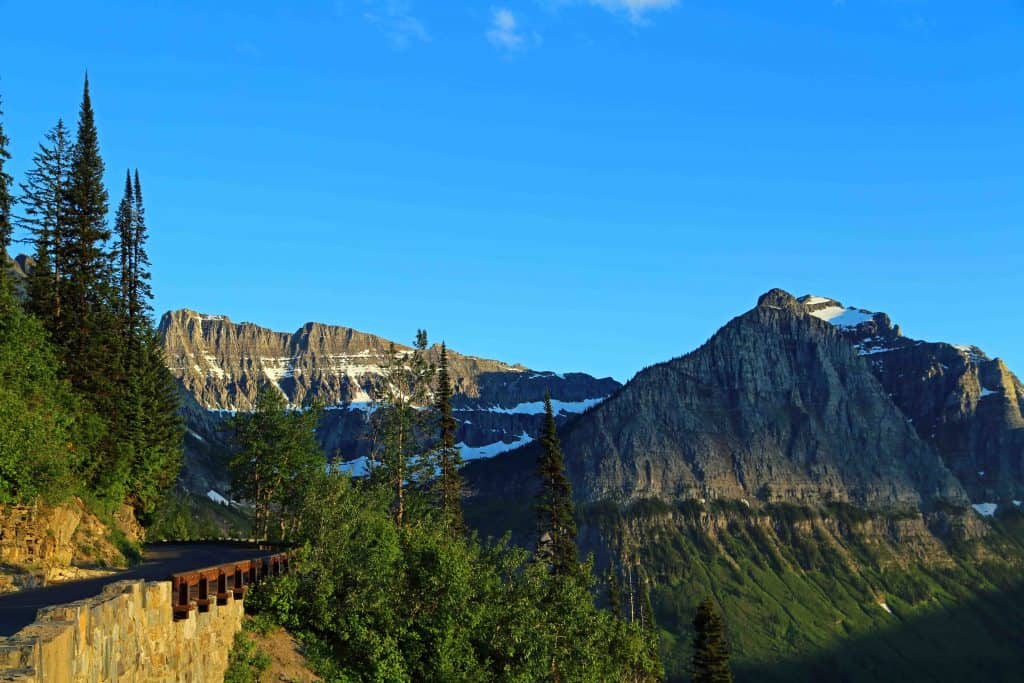 Glacier National Park Travel Tips
-Check the weather often before your trip. It can easily snow in July on Logan Pass and make traveling the Going to the Sun Road interesting. You can find links for local weather in the park here.
-Dress in layers. This park has so many different areas from the top of Logan Pass to boating on Lake McDonald. You can easily travel between an alpine walk to cruising the lake on a boat.
-Traffic can be brutal in the park. Plan extra time to balance out the traffic especially during the summer construction season. Check current road conditions and construction updates on the park website.
-You also want to check and make sure that Going to the Sun is open and plowed. As of May 31, 2018, the road was still closed due to plowing. It can easily be the Fourth of July before Going to the Sun Road opens for visitors.
–Bug Spray is your friend!
– -If you are interested in taking a tour make sure and book them as soon as you can. Especially the Jammer tours. The Red Jammers fit around 17 people per vehicle so they can easily fill up quickly.
-Try Huckleberry everything! This small berry is a bear favorite and one of my favorites. They make great margaritas, ice cream, and honestly everything.
-If you are staying near Kalispell make sure and have dinner at Moose's. It is a true Montana experience. From the sawdust-covered floors to the atmosphere there is nothing quite like it. Their pizza is absolutely amazing!
-Be BEAR AWARE at all times! You never know when a bear will be around so keep your eye on your surroundings and also know where your camera is.
-Bring glass cleaner or spray if you have some to keep your windshield clean. There is nothing worse than seeing a bear or other wildlife and your photo has bug guts spread across the windshield. Trust me I have been there and was so bummed out.
-There is very little cell service in the park. Be prepared to spend the day enjoying the park and not be hooked to your phone, other than using it to take photos.
-Pack snacks and water with you. We try to bring a lunch that can easily be stored in our coolers.
-When you see a bathroom use the bathroom. Especially with traffic, it can feel like hours before you see the next bathroom.
-What is it like in Glacier right now? Check out these webcams for a look into the park.
-You can check out the park newsletter online which is a great way to plan your trip.
– Vehicles and vehicle combinations allowed on Going to the Sun Road • longer than 21 ft. (including bumpers) and/or • wider than 8 ft. (including mirrors) are prohibited on the Going-to-the-Sun Road between Avalanche Creek and Rising Sun. Vehicles over 10 feet in height may have difficulty driving west from Logan Pass due to rock overhangs.
-If you plan to cross the border into Waterton National park make sure you have your passport with you.
-If you are planning on going hiking you may want to bring bear spray with you. It is much cheaper to buy this ahead of time than buying it in the park. If you are flying please check with the airline to make sure you can bring this in your checked bag.
Here are a few Glacier National Park books/maps to help with planning your trip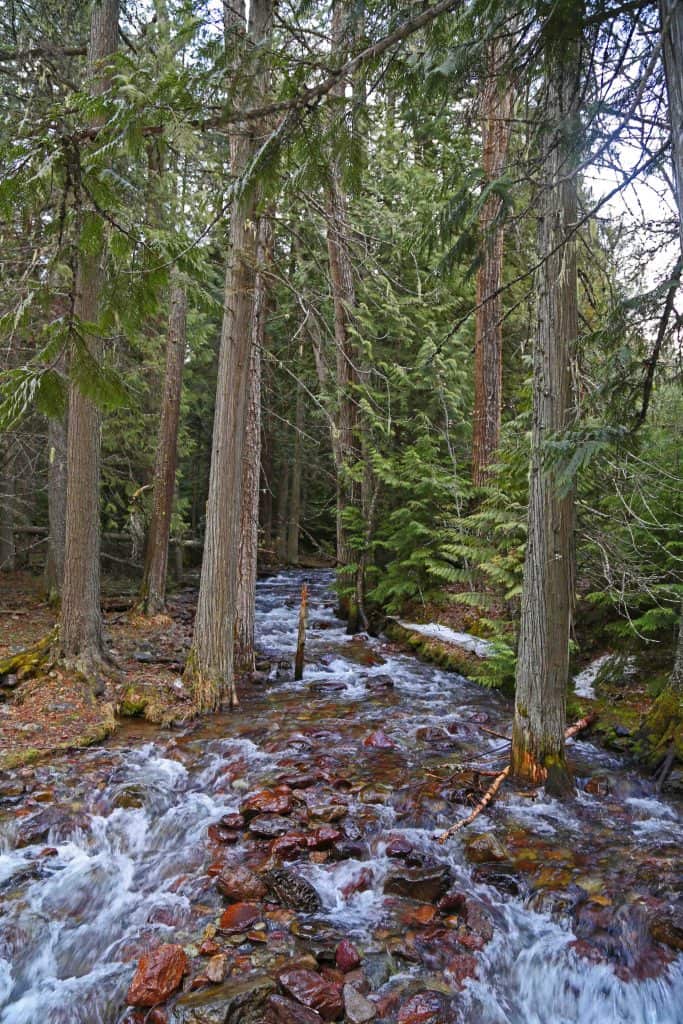 How much does it cost to visit Glacier National Park?
Entrance Fee by car – 7-day permit – $35.00
Winter Rate – $20 November 1 – April 30
This is an entrance fee for all persons traveling in a single, private, non-commercial vehicle (car/truck/van). The permit is non-transferable. Visitors can enter the park at any time, if the entrance station is not staffed, a self-registration area is available for purchasing a 7-day park permit.
Entrance Fee by single entry – $20.00
Winter Rate – $15 November 1 – April 30
This is a per person entrance fee for a visitor traveling on foot, bicycle, or for individuals traveling together in a vehicle as a non-commercial, organized group. The permit is non-transferable.
Entrance Fee by motorcycle – $25.00
Winter Rate – $20 November 1 – April 30
This is a per motorcycle entrance fee. The permit is non-transferable.
Glacier National Park Annual Pass – $70.00
This pass is valid for one year from the month of entry and admits the purchaser and passengers in a single, private, non-commercial vehicle, or the pass holder and his/her immediate family (spouse, children, parents) when the entry is by other means (foot, bicycle) into the park. It is non-transferable, non-refundable, and does not cover camping fees.
Free Entrance Days in 2019
The National Park Service offers the following Entrance Fee Free Days this year:
January 21: Birthday of Martin Luther King, Jr.
April 20: First day of National Park Week
August 25: National Park Service Birthday
September 28: National Public Lands Day
November 11: Veterans Day
Other fees such as reservation, camping, lodging, tours, concession and fees collected by third parties are not included unless stated otherwise.
For more information on National Park Passes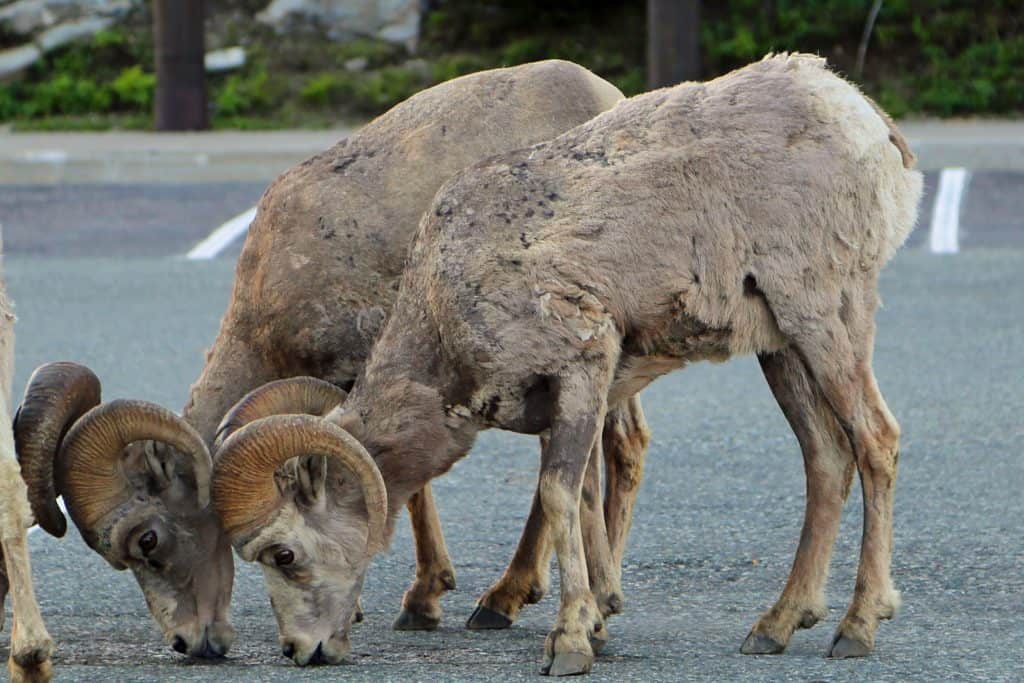 Where is Glacier National Park?
Glacier NP is located in Northwest Montana. The closest cities are Kalispell and then Missoula is 2.5 to 3 hours away.
How do I get to Glacier National Park?
By car use U.S. Highway 2 to access Glacier National Park from either the East or West entrance. The park is also accessible via Highways 89 or 17.
Driving distance
Seattle to Glacier National Park – 550 miles
Portland to Glacier National Park – 622 miles
Spokane to Glacier National Park – 272 miles
Missoula to Glacier National Park – 136 miles
Yellowstone to Glacier National Park – 376 miles
For flights to Glacier National park, the closest airport is Kalispell, Montana. Airport code – Glacier Park International Airport (FCA)
Amtrak services offer train to Glacier National Parking including East Glacier, West Glacier, and Whitefish train depots on the Empire Builder line.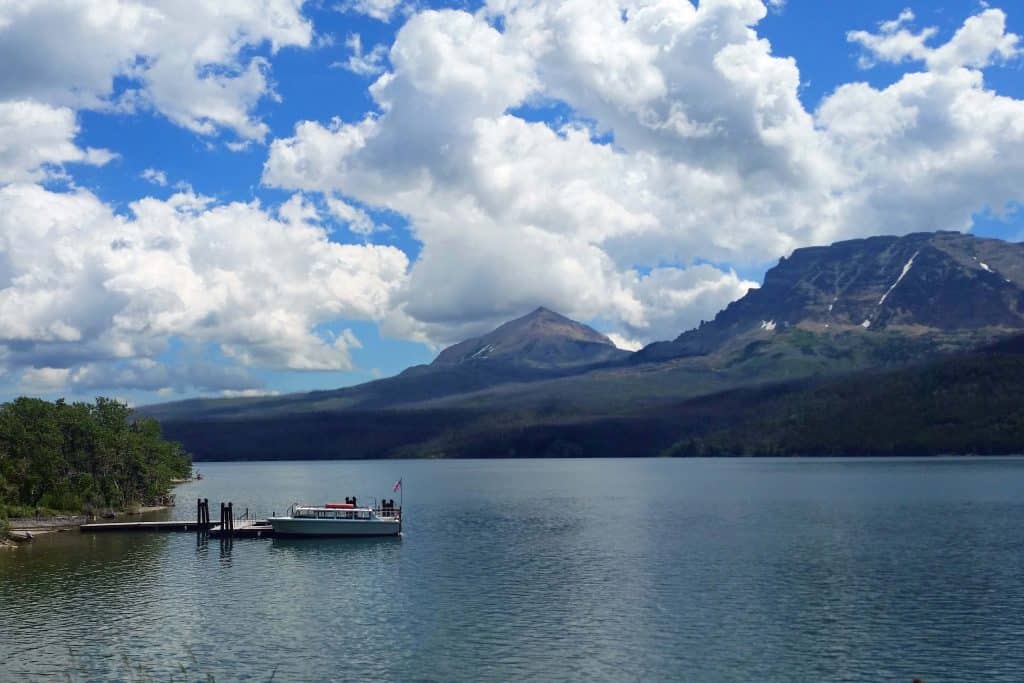 Where are the Glacier National Park Visitor Centers?
Apgar Visitor Center – Apgar Visitor Center is located 2 miles east of the west entrance to the park.
Open daily mid-May to mid-October
Open weekends only in fall, spring, and winter

May 13–June 9 ……………..9 am–4:30 pm
June 10–Sept. 4………………… 8 am–6 pm
Sept. 5–Oct. 9……………………8 am–5 pm
APGAR NATURE CENTER June 17–August 27……………10 am–4 pm
Logan Pass Visitor Center – The Logan Pass Visitor Center sits atop the Continental Divide at 6,646 feet.
Open daily from Going-to-the-Sun Road's opening to late September.

Once open for the summer –Sept. 4 . 9 am–7 pm
Sept. 5–Sept. 30……………9:30 am–4 pm
St. Mary Visitor Center – The St. Mary Visitor Center is located just inside the east entrance of the park near the community of St. Mary, Montana.
Open daily late May to early October

May 26–June 17 …………………8 am–5 pm
June 18–August 12…………….. 8 am–6 pm
August 13–Sept. 30…………….8 am–5 pm
October 1-October 8 ……….. 9 am–5 pm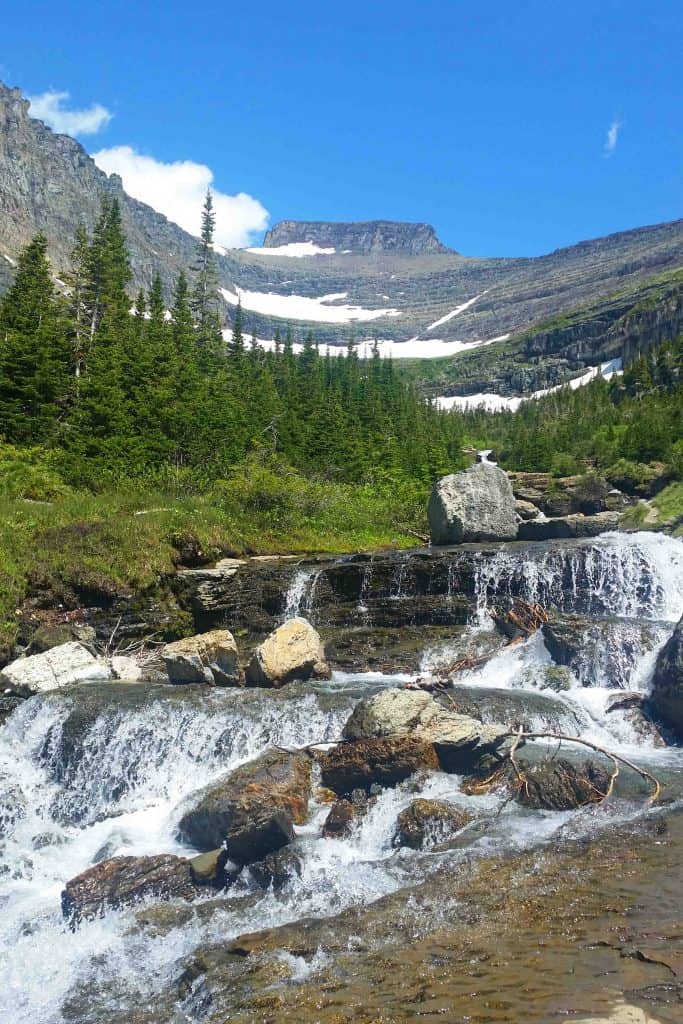 Where can I find out about staying/camping in Glacier National Park?
Campgrounds in Glacier are all mostly first-come, first-served. Camping sites available for reservation include all of Fish Creek and St. Mary, five group sites in Apgar, and 41 sites in Many Glacier. Reservations are made through the National Park Service reservation system. For more information, call (877) 444-6777 or visit: recreation.gov
Hikers planning to camp overnight in Glacier's backcountry must obtain a backcountry use permit. Permits cost $7 per person per night, and are issued no more than 24 hours in advance
Check out all of the Glacier National Park Lodging options!
Is there a Junior Ranger Program at Glacier National Park?
Yes, You can pick up a free junior ranger program at any of the visitor centers within the park. You can also print the junior ranger booklet and other educational booklets ahead of your trip here.
Can I bring my Dog/Pet with me to Glacier National Park?
Pets are permitted in campgrounds, along roads, and in parking areas. Pets must be on a leash no longer than six feet, under physical restraint, or caged at all times.
Service animals are welcome. Service animals require a permit, available at the backcountry permit offices listed above, to use trails or enter the backcountry.
Glacier National Park Facts
Established as a park on May 11, 1910
Established as Waterton-Glacier International Peace Park in 1932
Going-to-the-Sun Road was completed in 1932
Established as Waterton-Glacier International Peace Park World Heritage Site in 1995
Number of named lakes: 131
Number of unnamed lakes: 631
Largest lake: Lake McDonald at 9.4 miles long; 1.5 miles wide; 464 feet deep; 6,823 acres
Acreage: 1,012,837
Elevation at Logan Pass: 6,646 feet / 2,025 m
Highest mountain: Mt. Cleveland at 10,448 ft / 3,190 m
Number of glaciers in Glacier National Park: 26; all shrinking in size
Largest glacier: Harrison Glacier at 1,661,456.75 sq. meters
Miles of Continental Divide Trail in Glacier: 110
The number of fish species: 24 — 18 native and 7 non-native (Lake trout are native in the Hudson Bay drainage, but are non-native west of the Divide. They are listed on both the native and non-native lists.)
Number of species of mammals: 71
Number of species of birds: 276 documented
Additional Resources Information
You can follow the park on these social channels for up to date photos and events in the park – Facebook, Twitter, and Instagram. You can also see great videos of the park on their YouTube channel
Glacier National Park Physical Address –
64 Grinnell Drive
Glacier National Park Headquarters
West Glacier, MT 59936
Travel Montana VisitMT.com / (800) 847-4868
Blackfeet Indian Reservation BlackfeetCountry.com / (406) 338-7406
Waterton Lakes National Park, Alberta MyWaterton.ca / (403) 859-2224
Flathead National Forest (406) 758-5200
Lewis & Clark National Forest (406) 791-7700
Flathead Convention & Visitor Bureau FCVB.org / (800) 543-3105
Bigfork, MT BigFork.org / (406) 837-5888
Columbia Falls, MT ColumbiaFallsChamber.org (406) 892-2072
Cut Bank, MT (406) 873-4041
Kalispell, MT KalispellChamber.com / (406) 758-2800
Whitefish, MT WhitefishChamber.com (406) 862-3501
Travel Alberta TravelAlberta.com / (800) 252-3782
Check out all of our Glacier National Park posts!