Old Faithful is one of the biggest icons of Yellowstone National Park! Truly it is the world's most famous geyser and a bucket list destination for many. A visit to the world's first national park should definitely include time exploring the Old Faithful Geyser district.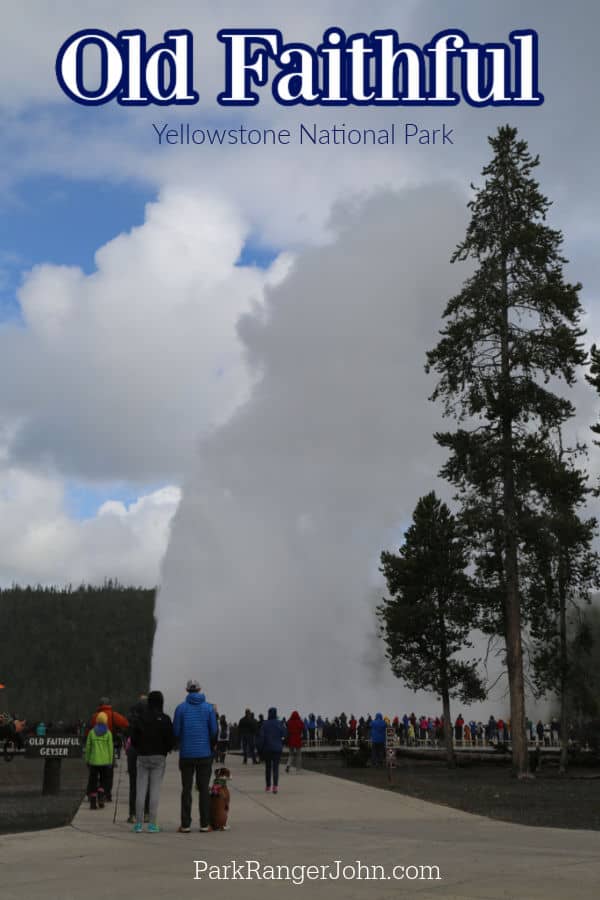 Old Faithful - Yellowstone National Park
Location - Upper Geyser Basin which houses the largest concentration of geysers in the world.
One thing to know about Old Faithful is it is part of a larger ecosystem of Geysers in Yellowstone and thermal features. When you are standing near Old Faithful you are among the largest concentration of geysers in the world, not just the United States.
Old Faithful erupts more frequently than any of the other big geysers which makes it the perfect place to visit during a trip to Yellowstone.
When does Old Faithful erupt?
Each eruption prediction is based on the last eruption so times vary by the day.
The average eruption is every 92 minutes. The interval between eruptions can range from 50 to 127 minutes.
How often does Old Faithful Erupt?
Old Faithful erupts on average every 92 minutes but the time between eruptions can extend up to 127 minutes. It is worth planning some time to explore the entire Old Faithful area.
There are great Yellowstone restaurants at the lodges or you can pack a picnic and enjoy the views.
Currently, it erupts around 20 times a day.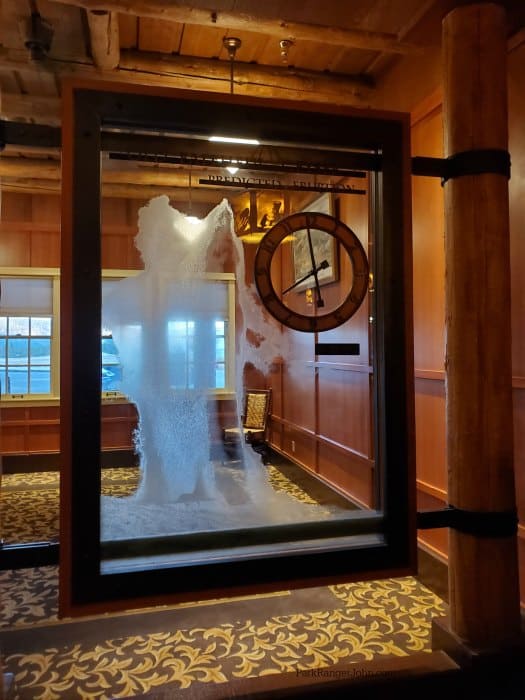 Where can I find Old Faithful prediction times?
Old Faithful Prediction times are posted in the lobby of the Old Faithful Visitor Center as well as in the Old Faithful Inn
There is a really fun Yellowstone App that has live updates of prediction times. You can download the app here. Just remember that cell service is sporadic at best in Yellowstone so make sure to update your phone when you have a chance outside the park.
Predictions are not available when the Old Faithful Visitor Education Center is closed, typically early November through mid-December and mid-March through mid-April.
How hot is the water in Old Faithful?
During an eruption, the water temperature at the vent has been measured at 204 degrees Fahrenheit (95.6 degrees Celsius).
The steam temperature has been measured above 350 degrees Fahrenheit.
The average temperature is 169.7 degrees Fahrenheit with a PH of 9.
Please stay on boardwalks when hiking around the geysers. One wrong step and you could be in boiling hot water and instantly in a life-threatening event.
How long does Old Faithful erupt?
Eruptions last between 1.5 minutes and 5 minutes.
How high does Old Faithful Erupt?
Eruptions expel 3,700 to 8,400 gallons of boiling water that can reach a height between 106 to 184 feet (30-55 meters)
Where is Old Faithful?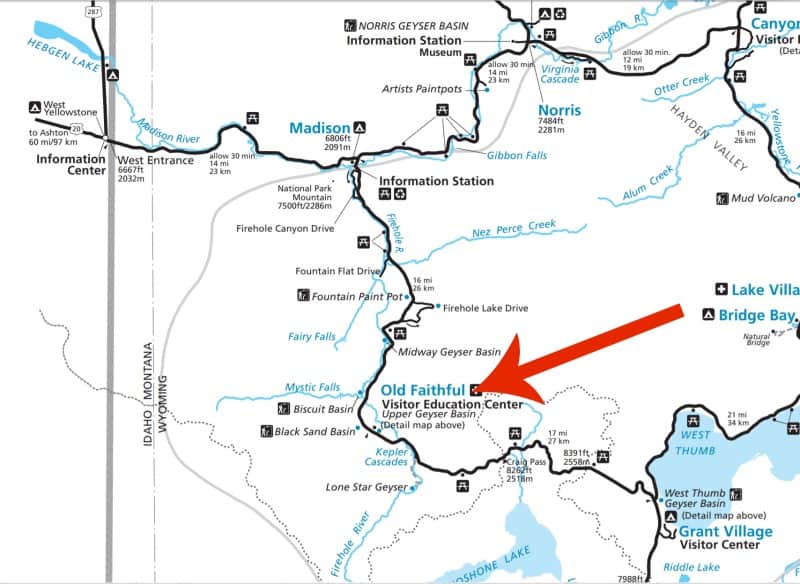 Old Faithful is located in the Upper Geyser Basin of Yellowstone National Park in Wyoming.
This gorgeous part of the park also includes the Black Sand Basin, Biscuit Basin, Midway Geyser Basin, Fountain Paint Pot Trail, and more!
How do I avoid the crowds around Old Faithful?
The best way to avoid crowds is to visit in the morning or later in the evening. From noon to 6 pm you can expect crowds including tour busses.
If you do end up visiting during crowded times make sure to relax after the eruption. Most people run for their cars causing huge backups in the parking lot. Plan to spend 20-30 minutes exploring the area.
The visitor center is amazing, the bakery at the Old Faithful Lodge has a ton of sweet treats, or check out the historic Old Faithful Inn.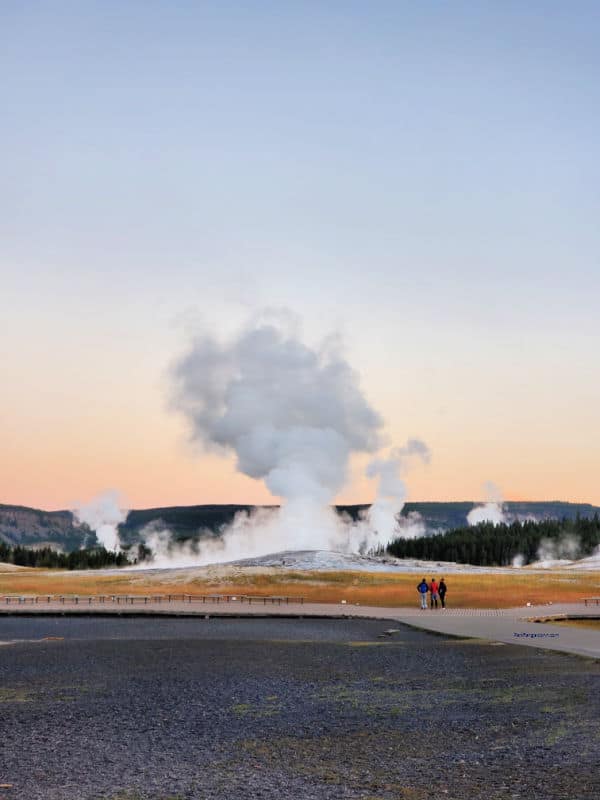 Where can I watch Old Faithful erupt?
There are a few places you can watch Old Faithful erupt. It really depends on if you want to go on a hike or enjoy sitting on the wood bleachers.
Along the boardwalk, there are bleacher seats that you can enjoy while waiting for Old Faithful to erupt. You will want to arrive 30-60 minutes early so you can grab a seat.
Observation Point is a 1.1-mile roundtrip hike to a view area above Old Faithful. This short but strenuous hike gets you above the crowds for a different perspective of the geyser.
There is a viewing deck on the Old Faithful Inn that has a great view of the geyser.
How was Old Faithful Named?
Members of the Washburn expedition in 1870 named the geyser for its consistent performance.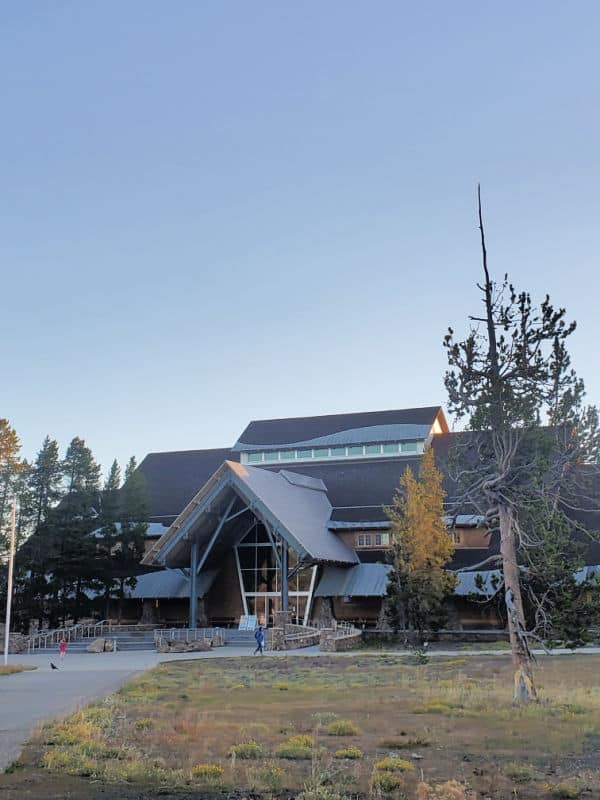 Old Faithful Visitor Center
The Old Faithful Visitor Center has great information on the geyser and surrounding area. There is a help desk staffed by National Park Service employees and volunteers that are happy to answer questions. You can pick up a Yellowstone Junior Ranger Program here along with information on the park.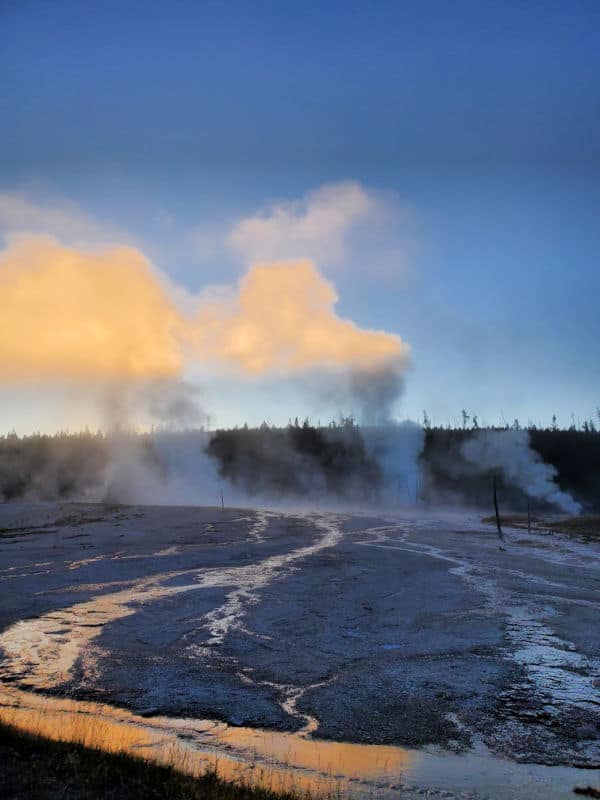 Geyser Hill
Old Faithful is only one of many geysers in this area of Yellowstone National Park. You can enjoy a great walk along Geyser Hill to check out additional geysers.
Here are some of the great geysers you can also see in this area.
Anemone Geyser
If you get to Anemone Geyser and it is empty give it a few minutes and get ready for a show! You can watch the stages of an eruption happen right in front of you.
The pool will fill, then overflow, and bubbles will rise then all of a sudden Anemone Geyser will erupt 6 feet or more. Anemone Geyser cycles approximately every 7 to 10 minutes.
Plume Geyser
Plume Geyser erupts on average every hour or so in three to five bursts that can reach 25 feet.
Beehive Geyser
Beehive Geyers is a site when it erupts! The water can be projected up to heights of 150-200 feet. When it erupts it lasts for four to five minutes.
The Lion Group
There are four geysers that are part of the Lion Group including Little Cub, Lioness, Big Club, and Lion.
Lion has the largest cone and erupts up to 70 feet for up to seven minutes.
Doublet Pool
This pool is gorgeous and well worth visiting for amazing photographs.
Giantess Geyser
Giantess Geyser does not erupt often but when it does the water can burst up to 200 feet high. It normally erupts on average 2 to 6 times a year.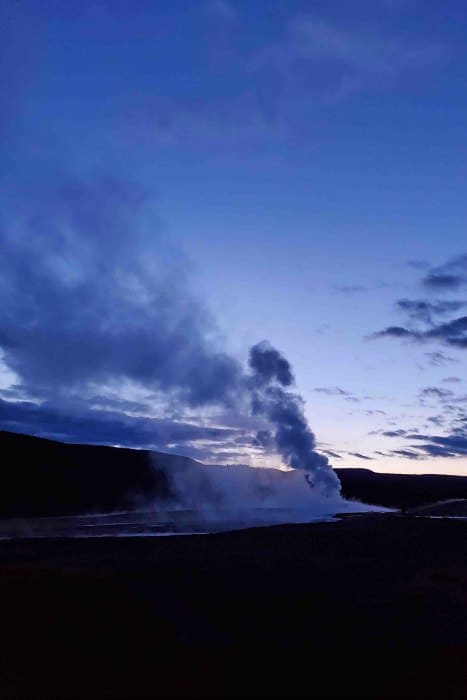 Safety Reminders
As a retired Park Ranger I feel like I need to put my flat hat back on and provide a safety reminder!
Stay on boardwalks and designated trails!
Never run, push, shove, or throw your friend in the geyser.
Supervise children and anyone who may be rambunctious at all times.
Do not scratch Hydrothermal Mats.
Do not throw anything into the geysers or any thermal areas within the park. Please place garbage or recycling in bins made specifically for garbage.
Please remember that the water coming out of geysers can literally melt your skin off.
Bison may look cuddly but please stay a safe distance away from the large 1,000+ pound animal that can run 35 mph.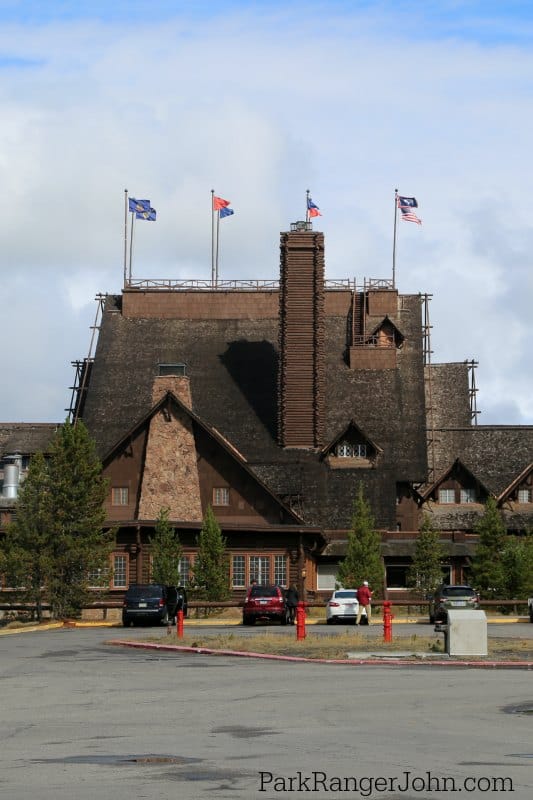 Nearby Yellowstone Attractions
Biscuit Basin - Check out Black Opal Pool and the Jewel Geyser in Biscuit Basin.
Black Sand Basin - Located one mile from Old Faithful this is a great short boardwalk trail.
Firehole Lake Drive - This 2-mile scenic drive includes the Great Fountain Geyer, White Dome Geyser and Firehole Lake
Fountain Paint Pots Boardwalk Trail - Check out this half-mile boardwalk that guides you past all four types of hydrothermal in the park.
Firehole Canyon Drive - This 2-mile one-way drive travels past the 40 foot tall Firehole Falls and the Firehole River swimming area.
West Thumb Geyser Basin - West Thumb Geyer Basin is on the shores of Yellowstone Lake.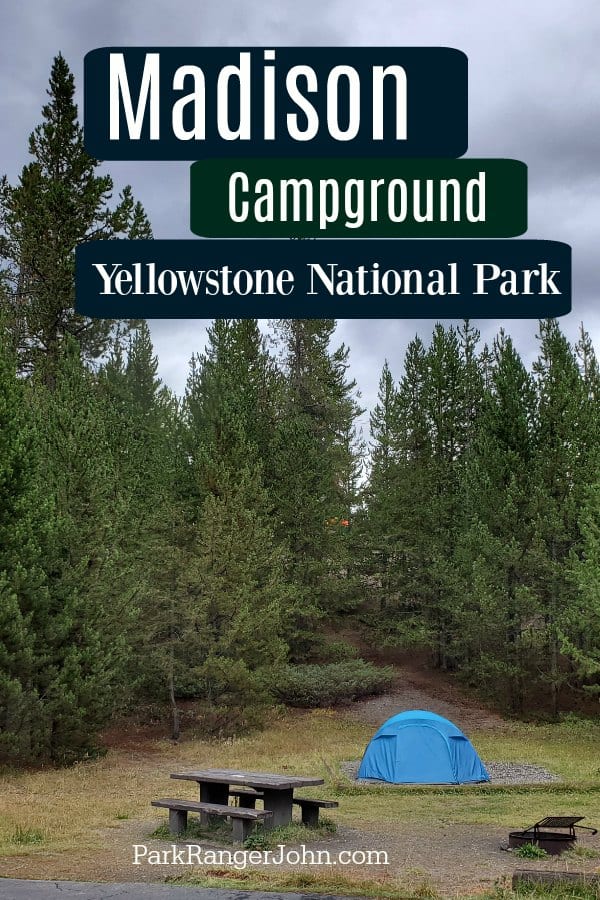 Closest Campground
Madison Campground- Is located near the Madison Junction.
Grant Campground - Is located near Grant Village.
Check out all of the Yellowstone Campgrounds to help plan your time in the park.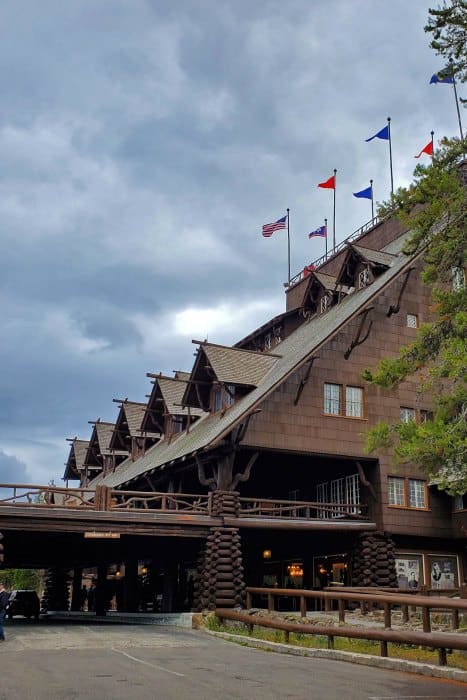 Closest Yellowstone Lodging
The Old Faithful Inn, Snow Lodge, and Old Faithful Lodge Cabins are the closest lodging options.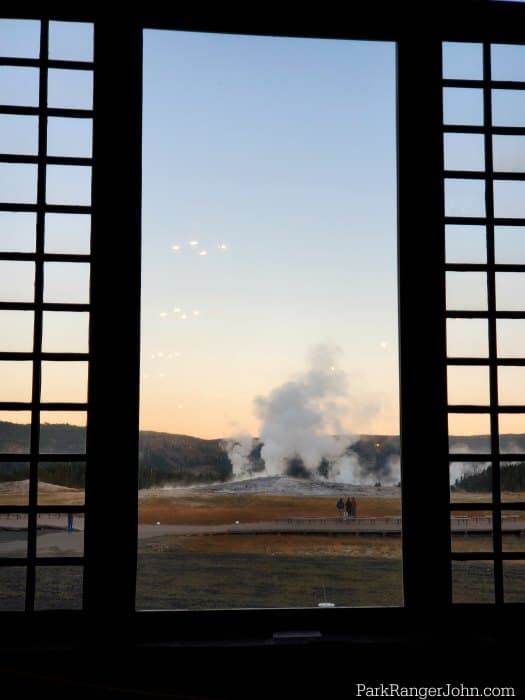 Additional Yellowstone Resources
Yellowstone Lodging Guide -Check out all of the lodges you can stay in while visiting Yellowstone NP.
Yellowstone Camping Guide - Check out all of the campgrounds available within the park.
Things to do Yellowstone - Check out all of the top things to do in the park.
Yellowstone Facts - Learn more about the unique features in Yellowstone.
Free National Park Days - Check out all of the days the National Park Service waives park entrance fees.
National Parks in Wyoming - Check out all of the parks you can visit while in Wyoming.
Grand Teton Guide - Everything you need to know to plan a visit to the park.