Firehole Lake Drive is one of our favorite scenic drives within Yellowstone National Park. This 2-mile drive takes you by amazing geysers, hot lakes, hot springs, and even a hot cascade. You could say it is a HOT Drive.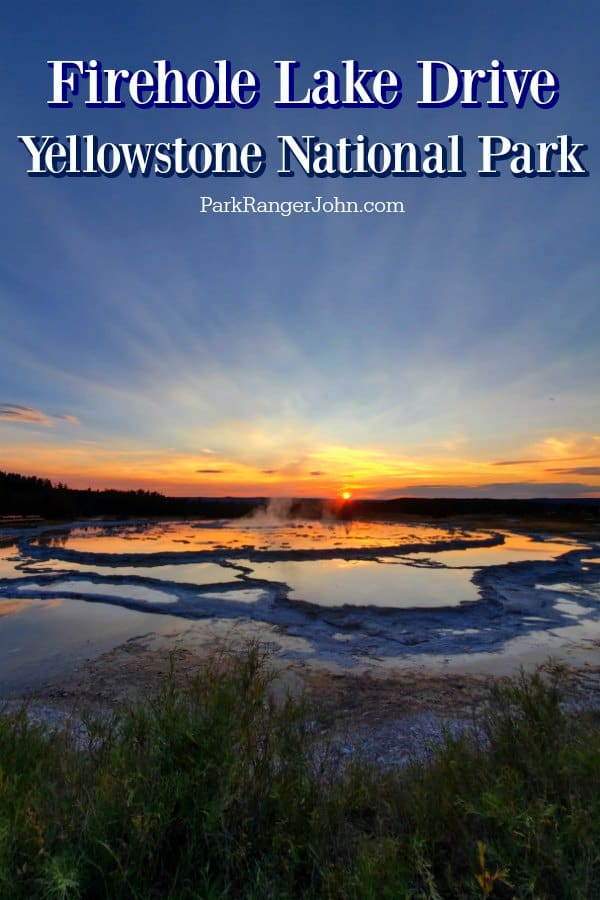 Firehole Lake Drive
Location - 1.2 miles south of Fountain Paint Pot between Madison and Old Faithful.
Driving Distance - 2 miles
Firehole Lake Drive is an easy paved road perfect for exploring. The road is too small for RV's or Buses!
We love exploring Firehole Lake Drive at all different times of the day. Early in the morning, you can see the steam rising from all the thermal features and enjoy the drive almost to yourself.
At sunset the photos are amazing! The colors reflecting in the Great Fountain Geyser pool are breathtaking and a must-see.
Firehole Spring
One of the first pullouts is Firehole Spring. Early explorers thought that the large bubbles looked like flashes of light which earned this springs name of Firehole Spring.
Firehole Spring looks absolutely amazing when the sun is high in the sky illuminating the bright blue pool.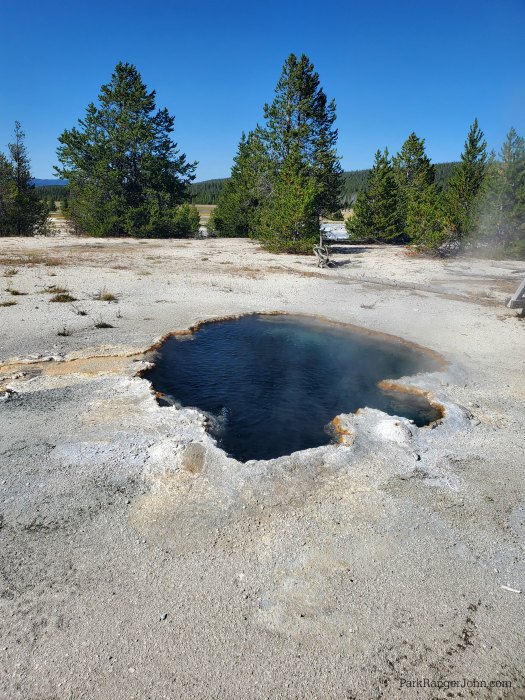 Surprise Pool
Surprise Pool is a gorgeous deep blue color with wide intricate overhangs of sinter. Early visitors to the park would throw sand in the pool to cause "surprise" boiling.
Thankfully this early activity did not cause permanent damage to the springs.
Great Fountain Geyser
When Great Fountain Geyser erupts it averages 100 feet high. There are rare super bursts that can reach 200 feet or more. Eruptions can last 45-60 minutes in a series of bursts.
Keep an eye out on the pool to see it slowly filling and then begin to overflow 70 to 100 minutes before it is due to erupt again.
The estimated eruption times are posted on a sign near the entrance to the boardwalk. You can also find the times in many of the Yellowstone Lodges.
We sat for over two hours watching the sunset while waiting for Great Fountain Geyser to erupt. It of course erupted as soon as it is was too dark to take photos. LOL!
There is a wonderful boardwalk with benches set up so you can view the geyser erupting. We had a wonderful time talking with other visitors while we waited for the eruption.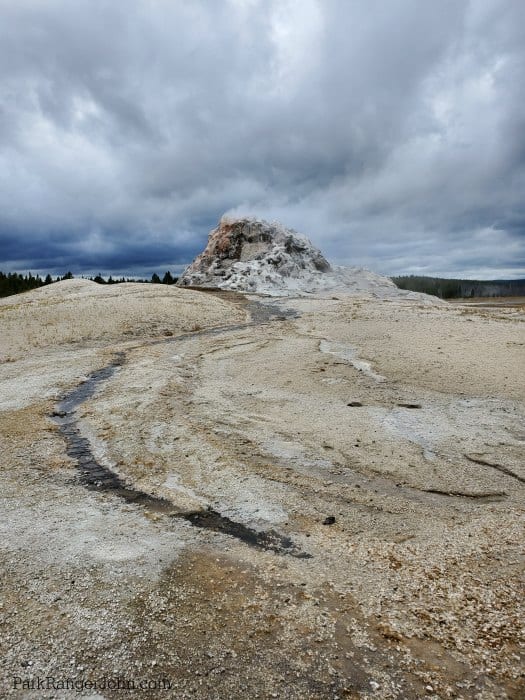 White Dome Geyser
White Dome Geyser has a massive cone that indicates it has probably been erupting for hundreds of years. The sinter deposits have caused the eruptions to push through a narrow vent and minimize the eruption strength.
Eruptions still reach a height of about 30 feet which is equal to the height of the massive cone. White Dome Geyser eruptions last approximately two minutes before changing into spray and steam.
On average White Dome Geyser erupts every 30-35 minutes but it can take as long as 3 hours.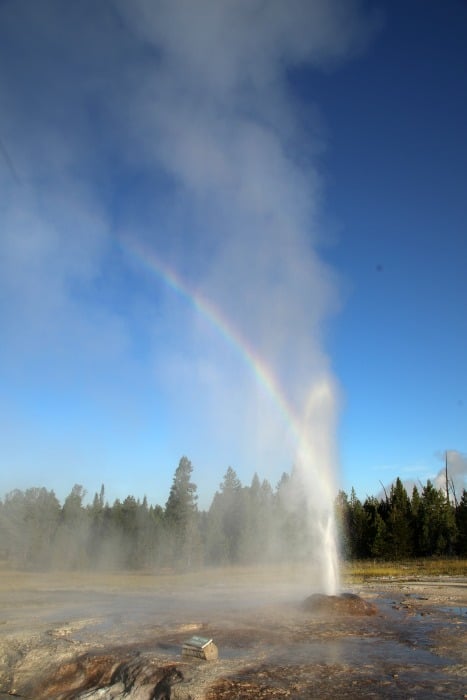 Pink Cone Geyser
There are no records of Pink Cone Geyser erupting until 1887. From 1889 to 1936 Pink Cone Geyers appeared to have gone dormant.
After 1936 for 23 years Pink Cone Geyser started erupting every two days until 1959 and the Hebgen Lake Earthquake. After the earthquake, the geyser intervals were as short as every 50 minutes.
Currently, Pink Cone Geyser erupts approximately every 29 hours for a duration of about 100 minutes. The eruption is up to 30 feet high.
The pink color is caused by small amounts of manganese oxide.
We were so excited to see Pink Cone Geyser erupting while we were exploring Firehole Lake Drive. The sheer size of the geyser is shocking considering the tiny little cone you see when it isn't erupting.
You could easily drive by the Pink Cone Geyser and not think anything of it. We honestly didn't think much of it until we came across it erupting and it was absolutely amazing.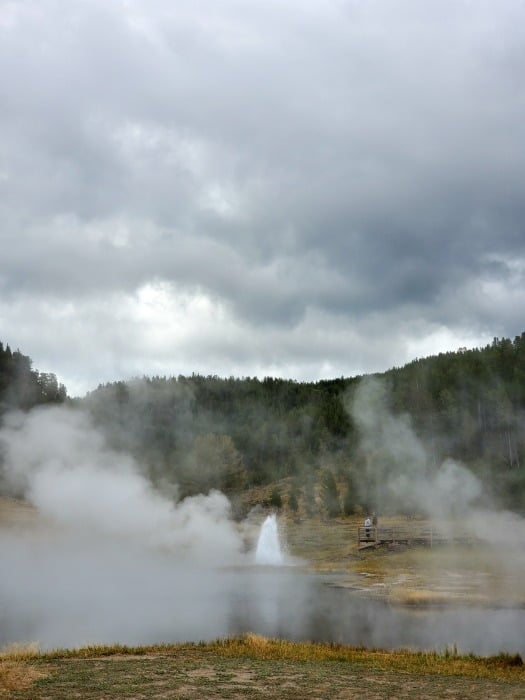 Firehole Lake
Firehole Lake is the largest hot spring in the area. The water averages 158 degrees Fahrenheit from the supply vents. There are high levels of carbon dioxide in the water.
The high levels of carbon dioxide allow the water to carry more calcium which produces the deposits of travertine around the lake edges.
The black deposits are manganese oxide along with dark mats of thermophiles that grow there.
Look for the Young Hopeful Geyser that almost continuously splashes up to 2 feet high. There are also other small geysers around the lake that can splash water up to 10 feet high.
There is a great boardwalk around a portion of Firehole Lake and the surrounding waters that are well worth checking out. It is a great opportunity to stretch your legs and see amazing thermal features. There is a great parking area that gives you access to the boardwalk.
Steady Geyser can be seen along the boardwalk with its calcium carbonate mineral deposits. Black Warrior Lake is a dark color due to manganese oxide.
At the end of the boardwalk is Hot Cascades. This steaming fall of water flows from Black Warrior into Hot Lake.
Firehole Lake Drive Map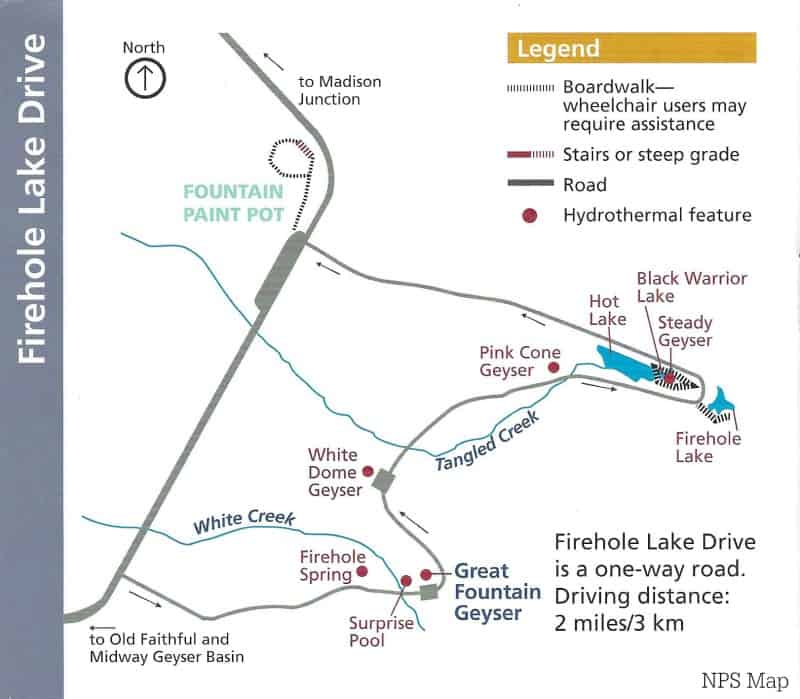 Where is Firehole Lake Drive?
Firehole Lake Drive is south of Madison Junction on the way to Old Faithful off the Grand Loop Road.
Nearby Yellowstone Attractions
Old Faithful - Old Faithful is just down the road from Firehole Lake Drive
Biscuit Basin - Check out Black Opal Pool and the Jewel Geyser in Biscuit Basin.
Fountain Paint Pot - Explore the Fountain Paint Pot Trail to check out the Celestine Pool, Jet Geyser, Fountain Geyser, and Clepsydra Geyser.
Firehole Canyon Drive - Check out Firehole Falls and Firehole River Swimming Area on this great scenic drive.
Black Sand Basin - This is a great short boardwalk through multiple thermal features.
Fairy Falls - Fairy Falls can be reached on a 5.4-mile roundtrip hike. At 200 feet it is one of Yellowstone's most spectacular waterfalls
Norris Geyser Basin - Norris Geyser Basin is home to some of the hottest thermal features in the park. There are two loop trails that guide you along with these thermal features.

Closest Campground
Check out all of the Yellowstone Campgrounds to help plan your time in the park.
Closest Yellowstone Lodging
The Old Faithful Inn, Snow Lodge, and Old Faithful Lodge Cabins are the closest lodging options to Firehole Lake Drive.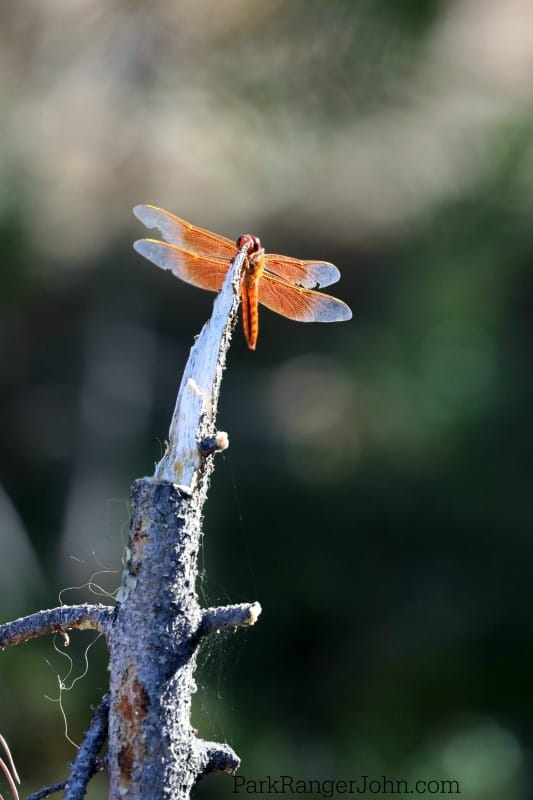 Additional Yellowstone Resources
Yellowstone Lodging Guide -Check out all of the lodges you can stay in while visiting Yellowstone NP.
Yellowstone Camping Guide - Check out all of the campgrounds available within the park.
Things to do Yellowstone - Check out all of the top things to do in the park.
Yellowstone Facts - Learn more about the unique features in Yellowstone.
Free National Park Days - Check out all of the days the National Park Service waives park entrance fees.
National Parks in Wyoming - Check out all of the parks you can visit while in Wyoming.
Grand Teton National Park Guide - Epic guide for planning a trip to this amazing park.