Mammoth Hot Springs in northern Yellowstone National Park sits on the border of Wyoming and Montana.
It is a place you have to see to believe. Boardwalk trails give visitors the opportunity to walk near one of the world's best-protected travertine depositing hot springs.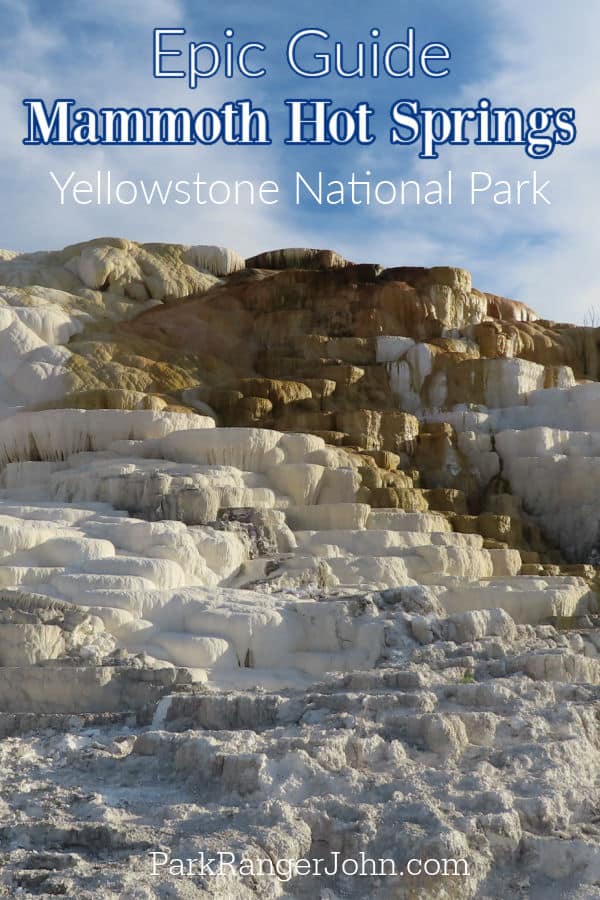 Mammoth Hot Springs - Yellowstone National Park
Location - Northern section of Yellowstone National Park
Season - Mammoth Hot Springs is open year-round. It is the only area of the park that remains open for the entire year.
Mammoth Hot Springs is broken into Lower Terraces, Main Terrace, and Upper Terraces. There is an amazing boardwalk system that allows you to explore the travertine formation and thermal areas.
Plan a couple of hours at minimum to explore this unique section of Yellowstone.
For really fun souvenirs make sure to check out the General Store. Mammoth Hot Springs hotel and cabins are located in the heart of the area and offer the opportunity to stay next to the travertine terraces.
Entrance Fees - $35 for a 7 day pass
Planning a National Park vacation? America the Beautiful/National Park Pass covers entrance fees for an entire year to all US National Park Sites and over 2,000 Federal Recreation Fee Sites.
The park pass covers everyone in the car for per vehicle sites and for up to 4 adults for per-person sites.
Buy on REI.com and REI will donate 10% of pass proceeds to the National Forest Foundation, National Park Foundation and the U.S. Endowment for Forestry & Communities.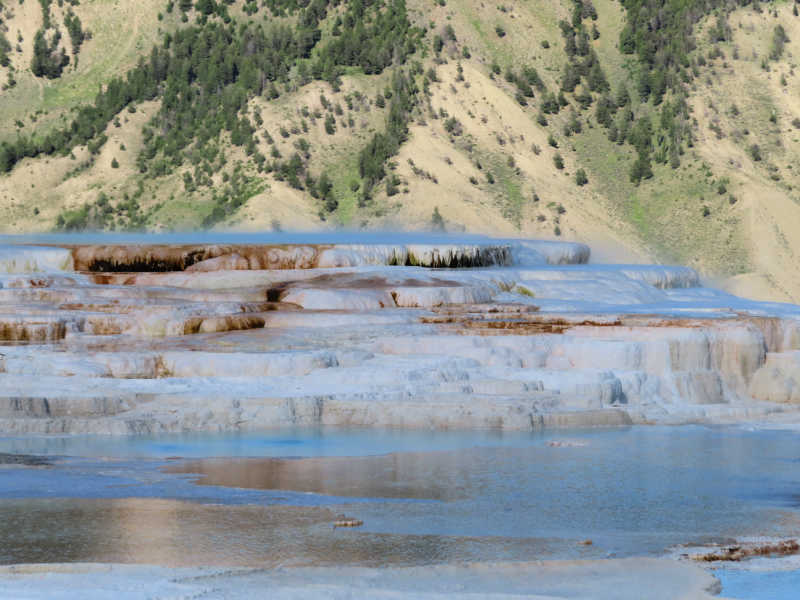 One thing to remember is Mammoth Hot Springs is constantly changing.
Mammoth Hot Springs is one of the world's best-protected examples of travertine-deposited hot springs. Features constantly change with new features appearing and older features becoming inactive.
The maximum water temperature found in this area is 163 degrees Fahrenheit.
The volcanic heat source for Mammoth Hot Springs is still a bit of a mystery for scientists. A network of fractures and fissures form the plumbing system for these hot springs.
The plumbing system allows hot water from underground to reach the surface. The water comes from rain and snow falling on the surrounding mountains and seeping deep into the earth where it is then heated.
The final ingredient is limestone that was deposited millions of years ago when a vast sea covered this area. Hot water with dissolved carbon dioxide makes a solution of weak carbonic acid. As this solution rises through the rock it dissolves calcium carbonate, the primary compound found in limestone.
The calcium carbonate is deposited at the surface to form travertine which is the rock that forms the terraces seen in Mammoth Hot Springs.
The color you see on the terraces and rocks is Thermophiles which are heat-loving microorganisms. They create the tapestry of colors where hot water flows along the terraces. Clear and yellow thermophiles grow in the hottest water. Orange, brown, and green thermophiles thrive in cooler waters.
Is Mammoth Hot Springs drying up?
One of the questions we hear often is asking if Mammoth Hot Springs is drying up. The quick answer is no they are not drying up.
The area is constantly changing and evolving based on the volume of water coming out of the springs. Features will go dormant and then start again sometimes a few days later other times after months or years.
There is always a new feature or growth happening which makes this one of our favorite areas in the park to visit. Every visit you can see something new and check out how the features have changed.
In this area the geologic process is always happening before your eyes.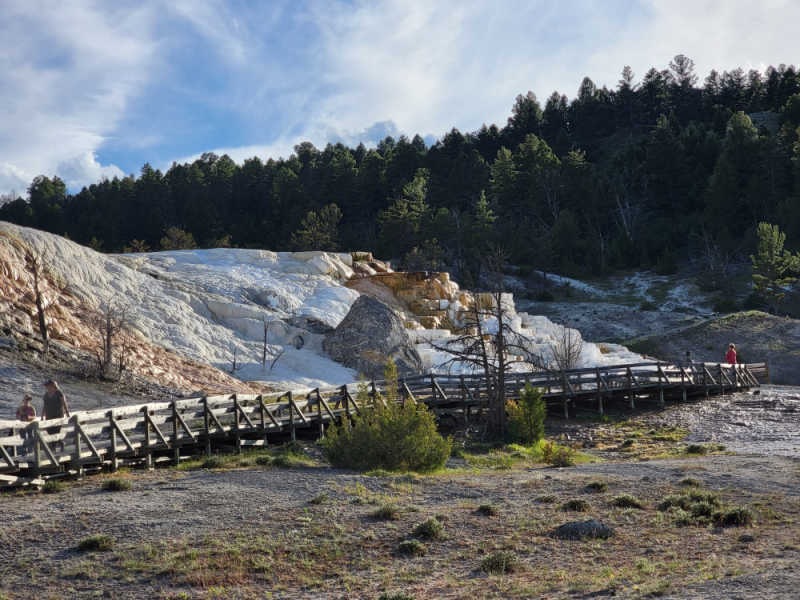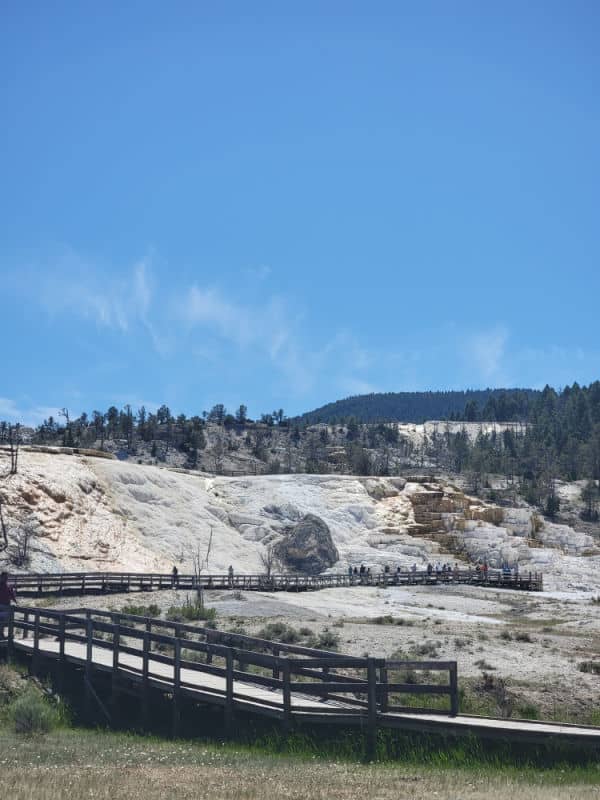 Lower Terraces
The Lower Terraces of Mammoth Hot Spring can be reached from boardwalks or via Upper Terrace Drive.
Some of the boardwalks are wheelchair accessible but there are areas that have stairs or steep grades. The entire boardwalk system is 1.75 miles.
Make sure to walk the lower path to see Palette Spring up close. This area is constantly changing and evolving.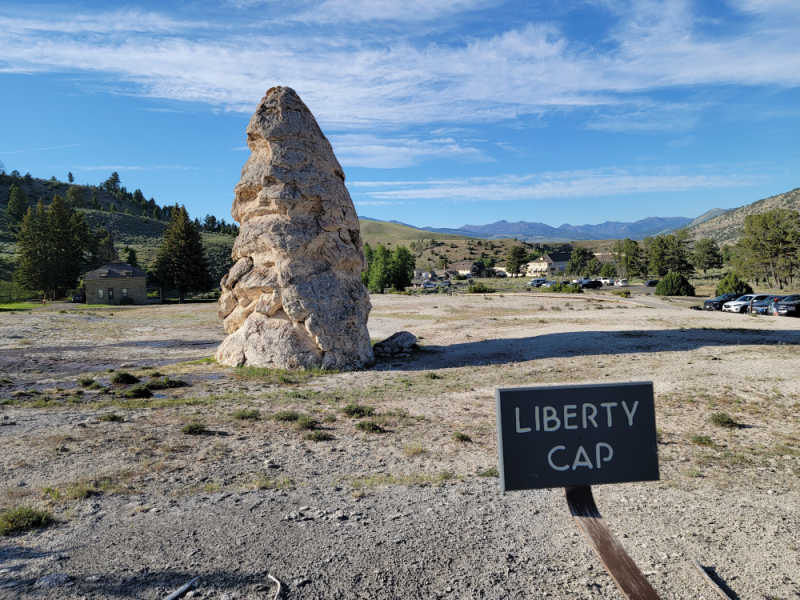 Liberty Cap
Liberty Cap can't be missed near the parking area for Mammoth Hot Springs. It looks really random when you first see it.
Liberty Cap is 37 feet tall and was created by a hot spring that was active in one location a long time ago.
It was named in 1871 by the Hayden Survey after the peaked knit caps symbolizing freedom and liberty during the French Revolution.
You will see Palette Springs behind Liberty Cap from the parking lot.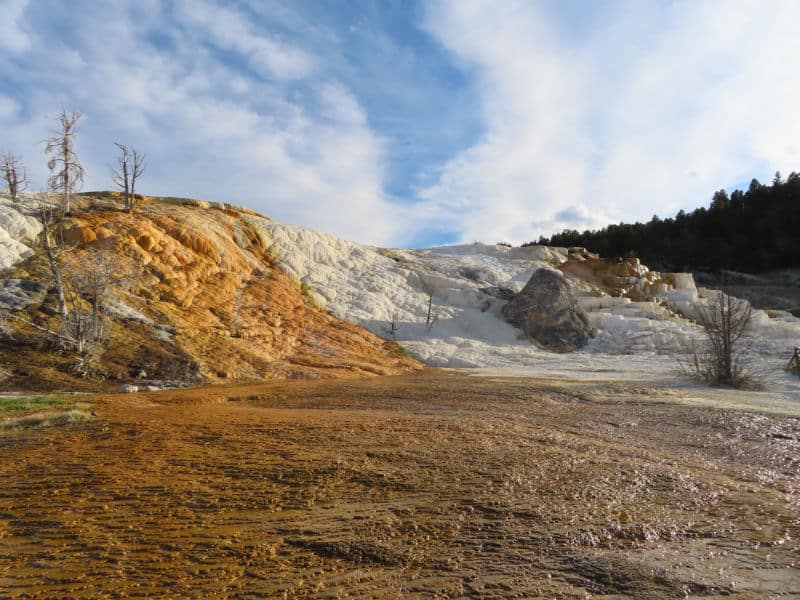 Palette Spring
Palette Spring is really easy to access from the lower boardwalks. You can park near the Liberty Cap and walk right up the boardwalk to see this springs.
Water flows down a steep ridge where colorful thermophiles create a changing palette of colors. Every time we visit the park this spring looks a little different. We try to take a photo during every visit to see how it changes and adapts.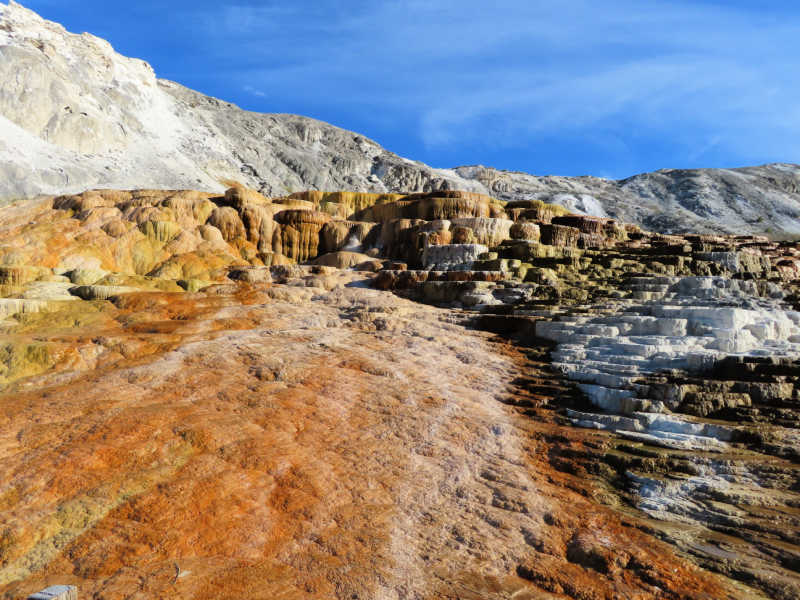 Upper Terraces
The Upper Terraces can be explored by walking the boardwalk or by driving the Upper Terrace Loop Drive Road.
The Upper Terraces include Prospect Terrace, New Highland Terrace, Orange Spring Mound, Bath Lake, White Elephant Back Terrace, and Angel Terrace.
Upper Terrace Drive is for cars or foot traffic only. The road is too small for RVs, trailers or buses.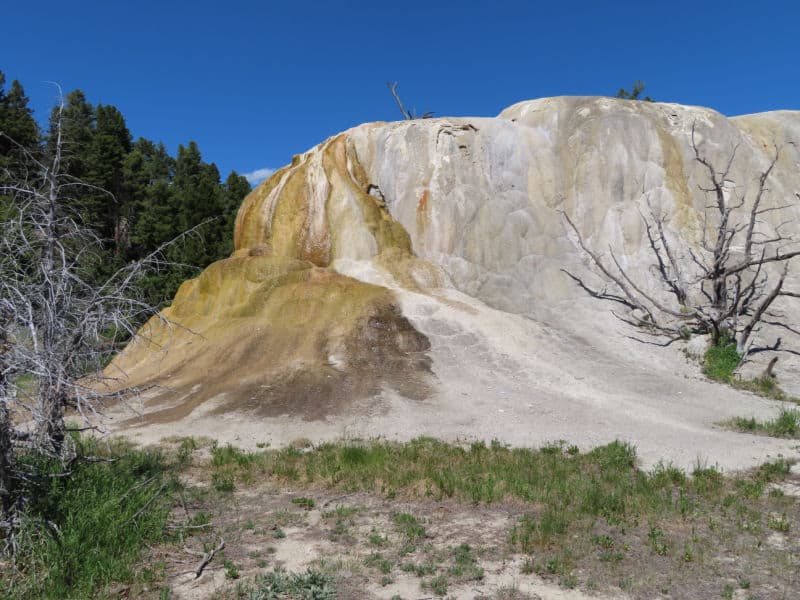 Orange Spring Mound
Orange Spring Mound is one of the most accessible springs to see along the Upper Terrace Drive. The road was recently moved to allow the spring to free flow with water.
You can drive along the side of Orange Spring Mound and see up close what is happening. There is also a small parking lot with a boardwalk for getting photos.
There are several vents at the top of the mound that hot spring water flows from.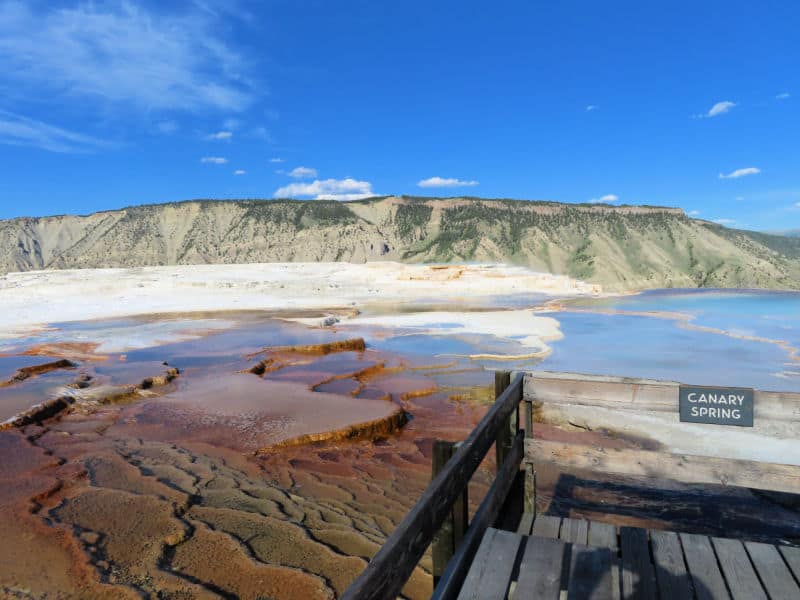 Canary Spring
Canary Springs is an epic overlook along the terrace boardwalk. You can see hot water flowing creating new travertine terraces.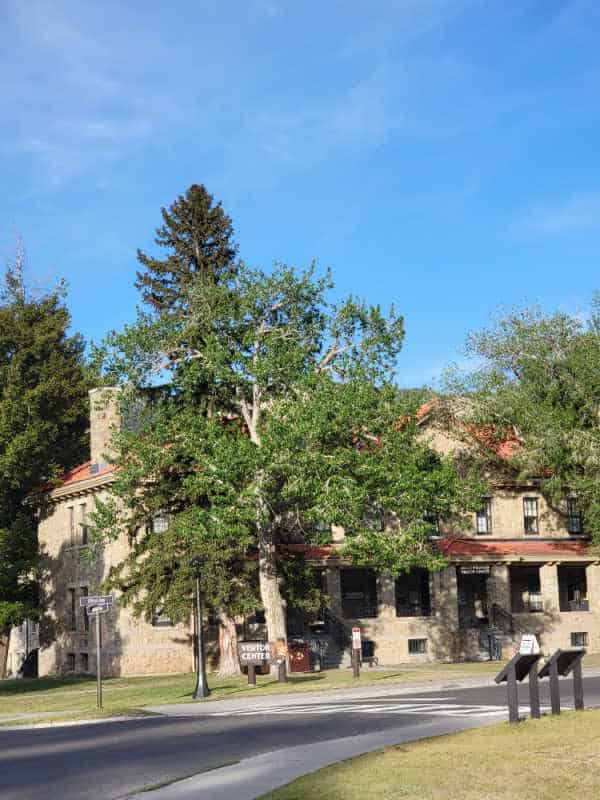 Albright Visitor Center
The historic building that houses the Albright Visitor Center was built by the US Army in 1909.
The building was built for the bachelor officer's quarters for the cavalry troops who protects the park before the creation of the National Park Service.
Today visitors can find park information, road conditions, shop in the park store, and learn more about the history of Yellowstone.
Park Rangers are available to answer questions, sell fishing permits, and offer information on backcountry trails/camping.
Historic Fort Yellowstone
This part of the park gives you the opportunity to learn more about the beginning of the world's first national park.
Most of the buildings were constructed when the US Army was in charge of protecting the park before the National Park Service was established.
One thing to remember while exploring Historic Fort Yellowstone is many of the buildings are employee residences. Please be courteous and respect the employee's privacy.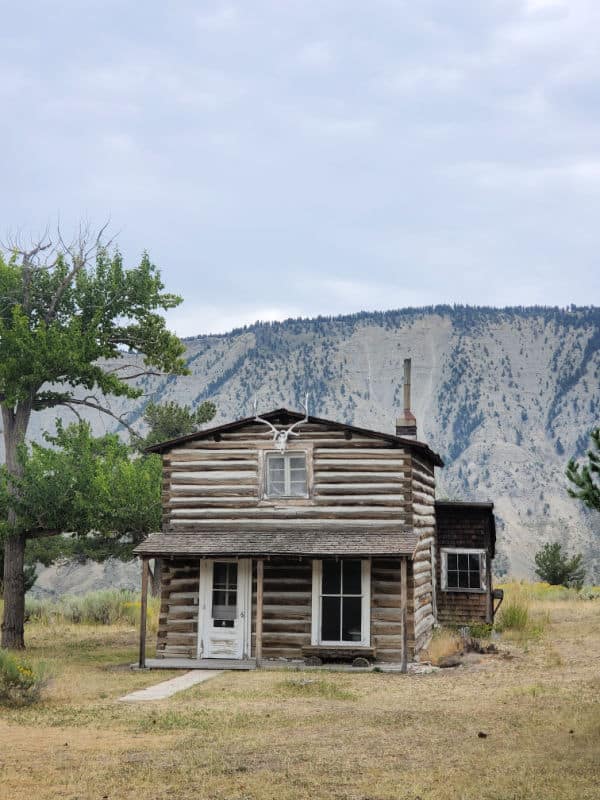 Mail Carriers Cabin
One of our favorite things about exploring Mammoth Hot Springs is seeing Yellowstone's history. This Mail Carriers Cabin was built by Alden Roseborough who accepted the mail carrier position in 1895.
The mail carrier route was 100 miles round trip from Mammoth Hot Springs through the northern remote portion of the park and into Cooke City.
Mr. Roseborough built this cabin and became its first occupant. He also leased two cabins along the route to help facilitate delivering the mail regularly.
The cabin also served as an employee residence for more than a century.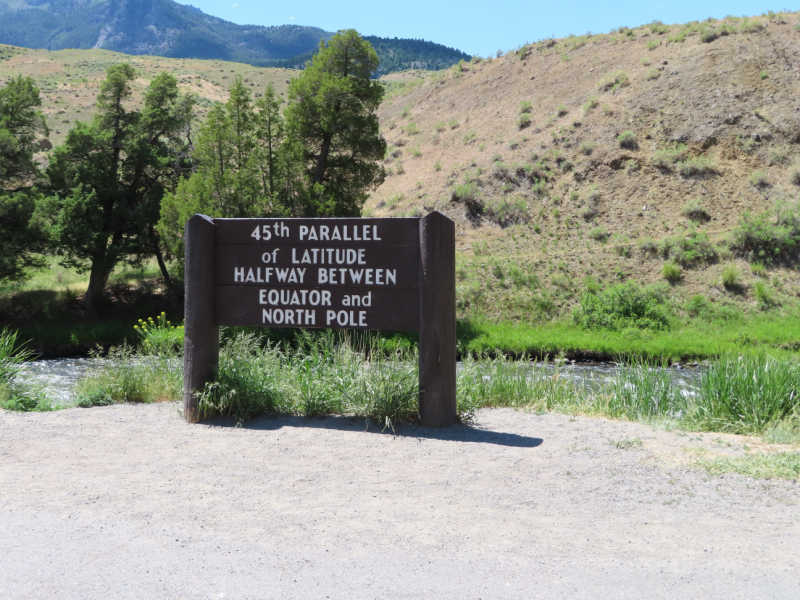 45th parallel of latitude
On the road leading to Mammoth Hot Springs, you will see a sign for the 45th parallel. The 45th parallel is an imaginary line that circles the globe halfway between the equator and the North Pole.
This same line passes through Minneapolis-St. Paul, Ottawa, Bordeaux, Venice, Belgrade, and the northern tip of the Japanese islands.
Boiling River
You will pass the Boiling River as you enter the North Entrance to Yellowstone NP and drive towards Mammoth Hot Springs. This is one of 2 areas in the park where you can go swimming.
One thing to know is the Boiling River does not usually open before mid-July to make sure that the water is safe and the current is not too strong.
It is a half-mile walk from the parking lot to the swimming area. The only restroom is in the parking lot.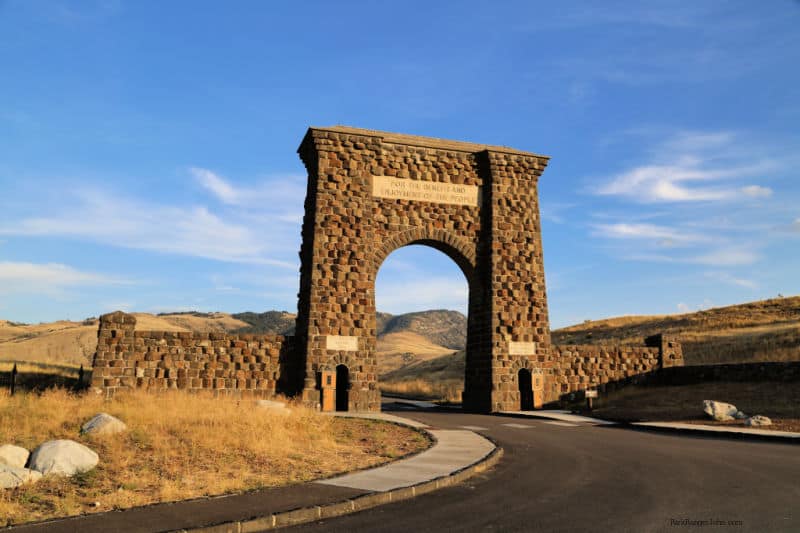 Roosevelt Arch
The Roosevelt Arch designates the north entrance to Yellowstone National Park. The massive stone arch was designed so passengers in horse-drawn coaches could pass through the arch. Robert Reamer, a famous architect in Yellowstone, designed the immense stone arch in 1903.
President Theodore Roosevelt was visiting the park during the construction of the arch and laid the cornerstone. The top of the Roosevelt Arch is inscribed with "For the benefit and enjoyment of the people," which also appears in the National Park Service Organic Act of 1916.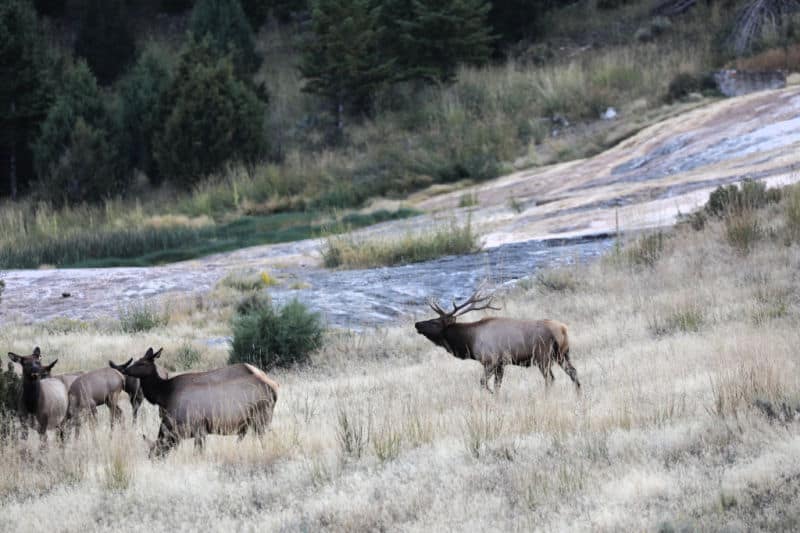 Elk
There is a fairly large population of Elk that love to hang out in the Mammoth Hot Springs area. If you are visiting in the Fall you will hear the males bugling and keeping a watchful eye over their harem.
Make sure to be careful while driving in this area because the elk own the road and will walk out when they want to.
Can you swim in mammoth hot springs?
Swimming is not allowed in Mammoth Hot Springs. The water can reach up to 163 degrees Fahrenheit. It is also a protected area within the park. The closest swimming area is the Boiling River just down the road.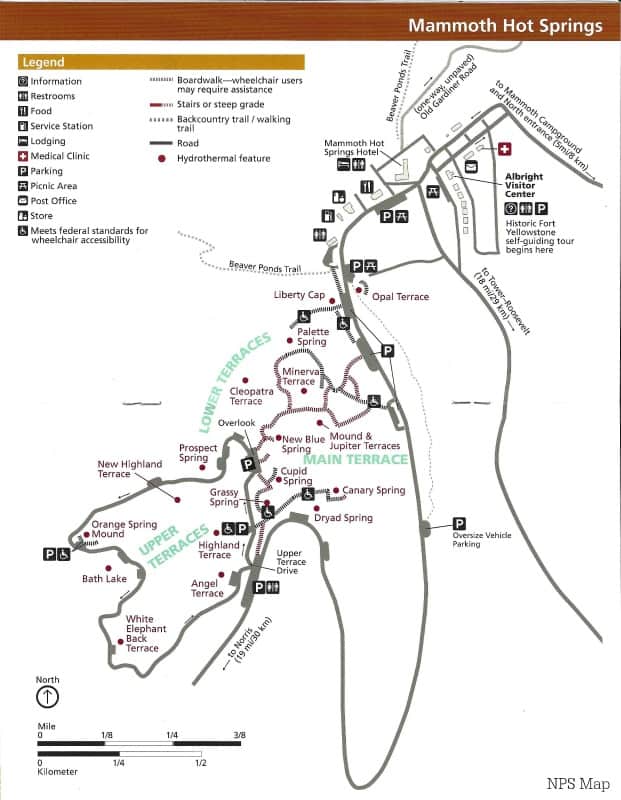 Mammoth Hot Springs Map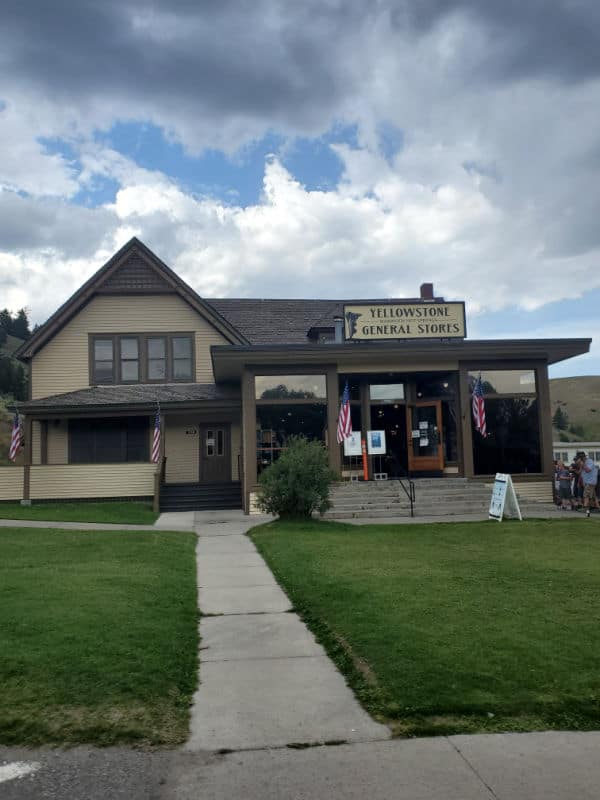 Visitor Services
There are several services available to park visitors in the Mammoth Hot Springs Area. Services include:
United States Post Office
Sinclair gas station: Make sure to keep your tank full when exploring Yellowstone. There are over 200 miles of road in Yellowstone itself and gas stations can be hard to find.
Mammoth General Store
Mammoth Dining Room: Sit down dining room
Mammoth Terrace Grill: Casual dining
Public Restrooms
Park Ranger John Pro Tip
The Mammoth General Store has unique gifts that can only be found in the park. One of these gifts is Roche Jaune Whiskey. This is a fantastic gift for any Bourbon lover out there!
Every year I get numerous emails from viewers asking where they can get more of this fantastic whiskey. I have to tell them that it is only available at the Yellowstone general stores inside the park. Make sure to check out my article about Spirits inspired by the National Parks.
Where is Mammoth Hot Springs?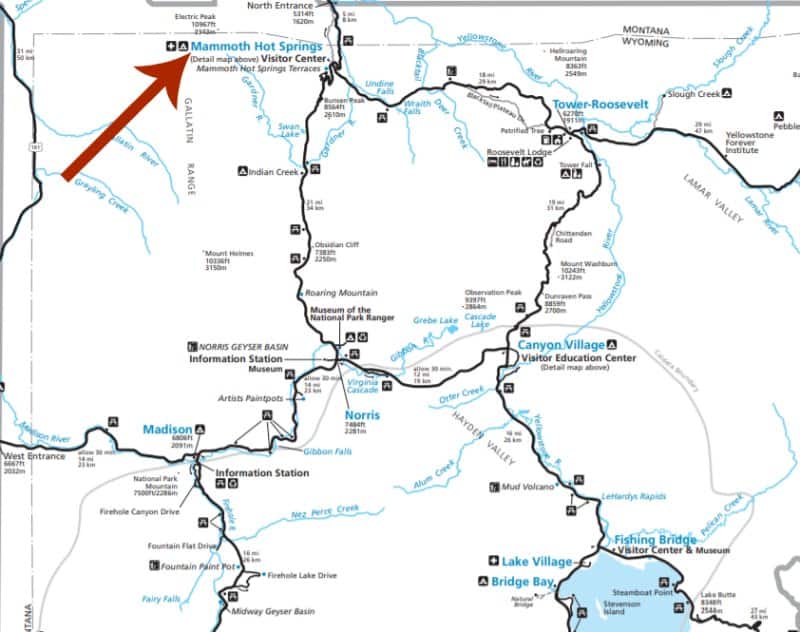 Mammoth Hot Springs is located next to the northern entrance to Yellowstone National Park.
The closest city is Gardiner, Montana.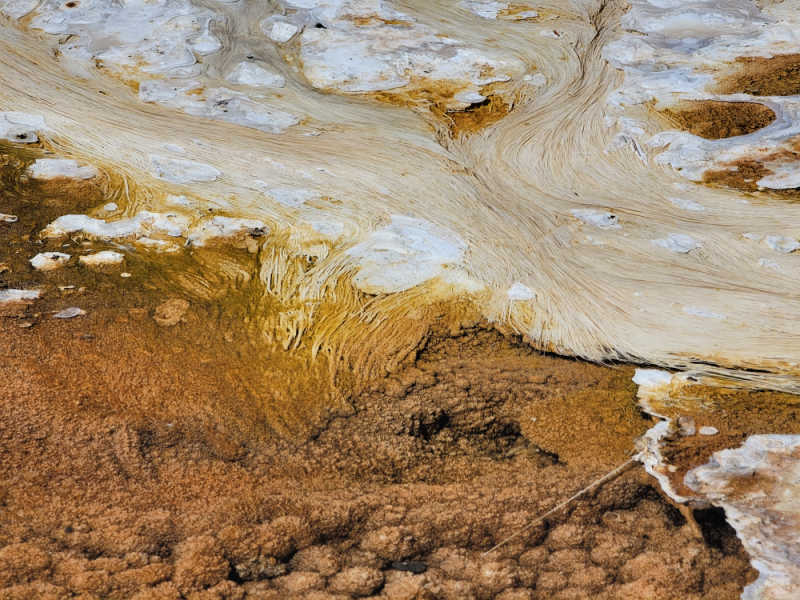 Nearby Yellowstone Attractions
Lamar Valley - One of the best places to see wildlife within the park.
Boiling River - One of two places in the park you can go swimming.
Tower Fall
Blacktail Plateau Drive
Petrified Tree
Hayden Valley - Explore one of the best places in Yellowstone to see wildlife.
Grand Canyon of Yellowstone - See the largest waterfall in Yellowstone.
Yellowstone Waterfalls - There are a couple of great waterfalls near the Mud Volcano area.
Closest Campground
Check out all of the Yellowstone Campgrounds to help plan your time in the park.
For a fun adventure check out Escape Campervans. These campervans have built in beds, kitchen area with refrigerators, and more. You can have them fully set up with kitchen supplies, bedding, and other fun extras. They are painted with epic designs you can't miss!
Escape Campervans has offices in Vancouver, Seattle, Portland, San Francisco, Las Vegas, Los Angeles, Phoenix, Salt Lake City, Denver, Chicago, New York, and Orlando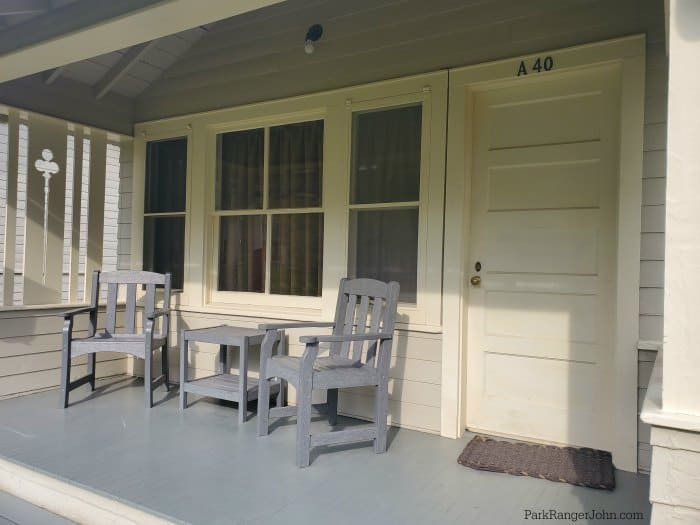 Closest Yellowstone Lodging
This hotel was recently renovated and offers the perfect place to stay to explore the Mammoth Hot Springs area and have easy access to the Lamar Valley.
The Mammoth Hot Springs Hotel Cabins are located right behind the historic Mammoth Hot Springs Hotel near the North Entrance to Yellowstone National Park. There are a few different types of cabins available including four hot tub cabins.
Lodging in Gardiner, Montana
Lodging in Gardiner, Montana includes:
Dreamcatcher Tipi Hotel - Along with self parking, this campground has coffee/tea in a common area and a microwave in a common area. Free continental breakfast and free Wi-Fi in public areas are also provided. Additionally, concierge services, a garden, and barbecue grills are onsite. All 17 accommodations boast heated floor (bathroom) and offer Wi-Fi and 8 bathrooms. Other amenities available to guests include memory foam beds, premium bedding, and rainfall showerheads. Private bathrooms are not ensuite.
Absaroka Lodge - Absaroka Lodge provides amenities like a terrace and a garden. Stay connected with free in-room Wi-Fi.
Yellowstone Big Rock Inn - Yellowstone Big Rock Inn provides a garden and more. Stay connected with free in-room Wi-Fi.
Super 8 by Wyndham Gardiner - Super 8 by Wyndham Gardiner/Yellowstone Park Area provides dry cleaning/laundry services and more. Guests can connect to free in-room Wi-Fi.
Yellowstone Gateway Inn - 3-star hotel near Yellowstone National Park. Yellowstone Gateway Inn provides amenities like a garden and laundry facilities. Treat yourself to a massage or other spa services. Stay connected with free in-room Wi-Fi.
Click on the map below to see additional lodging and vacation rentals in the area:
Closest Visitor Center
Mammoth Hot Springs Visitor Center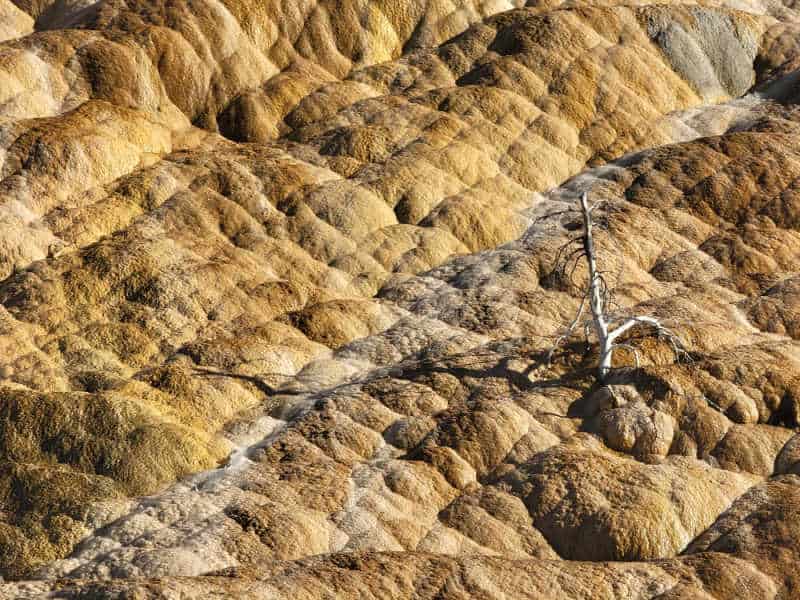 Additional Yellowstone Resources
Yellowstone Lodging Guide -Check out all of the lodges you can stay in while visiting Yellowstone NP.
Yellowstone Camping Guide - Check out all of the campgrounds available within the park.
Things to do Yellowstone - Check out all of the top things to do in the park.
Yellowstone Facts - Learn more about the unique features in Yellowstone.
Free National Park Days - Check out all of the days the National Park Service waives park entrance fees.
National Parks in Wyoming - Check out all of the parks you can visit while in Wyoming.
Grand Teton Guide - Ultimate guide to Grand Teton National Park.