The Mammoth Hot Springs Hotel Cabins are located right behind the historic Mammoth Hot Springs Hotel near the North Entrance to Yellowstone National Park. There are a few different types of cabins available including four cabins with hot tubs.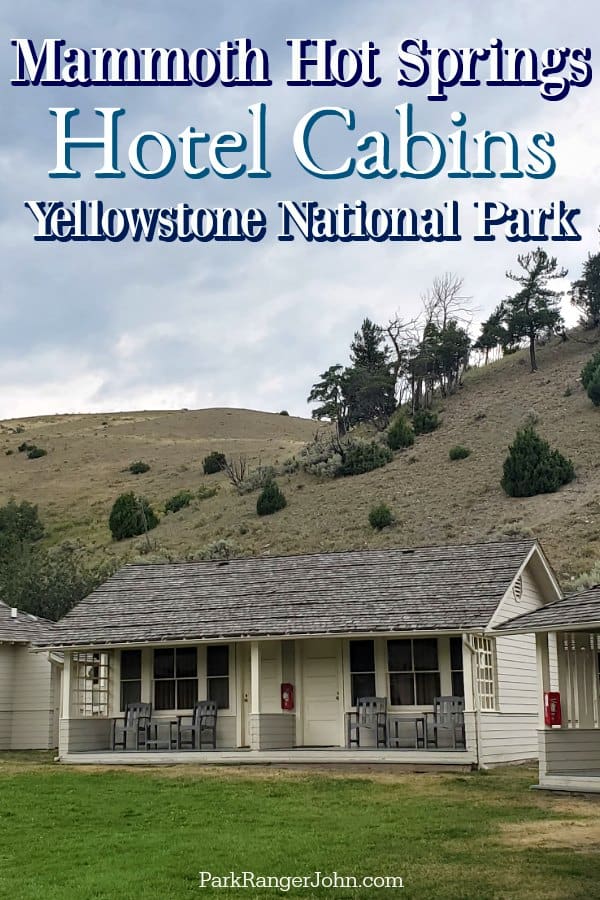 Mammoth Hot Springs Hotel Cabins - Yellowstone National Park
One thing to know is there are cabins with and without private bathrooms. You will want to confirm which type of cabin you are booking while making reservations.
The cabins provide easy access to the historic Mammoth Hot Springs Hotel! Make sure to check out the gorgeous map room.
They are located right next to the Mammoth Hot Springs area of the park.
Frontier Cabin 2 Queen Beds
The Mammoth Hot Springs Cabins are located behind the Mammoth Hot Springs Hotel in a couple of loops. The cabins are mostly single units with small front porches with two chairs for relaxing.
We stayed in a cabin with 2 queen beds and a private bath. The room had the two queen beds with a shared nightstand, a chair, and a private bathroom with shower, toilet, sink, and toiletries. There is shampoo, conditioner and body wash in the shower along with hand soap and lotion by the sink.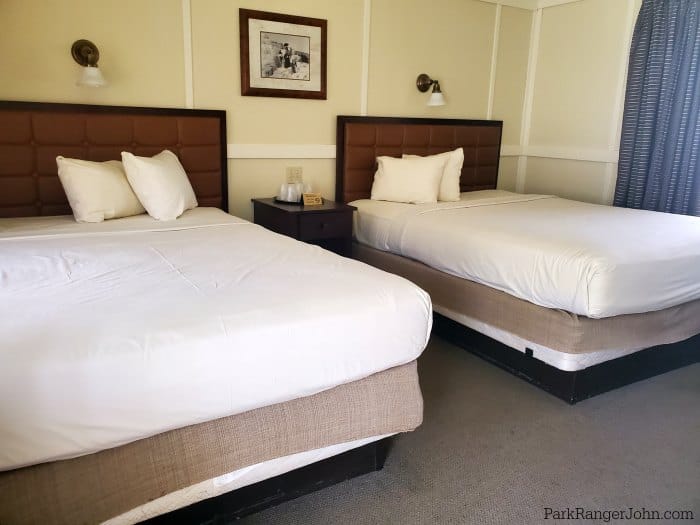 The beds were firm like most of the lodging in Yellowstone National Park. Overall the cabin was cute and pretty quiet considering how close they are to each other. You can hear cars pull through the grounds but it wasn't that bad.
One thing to look for when walking up to the cabins is elk poop. There was a lot of droppings showing how often the elk are in the area. You will want to make sure and look out in the grounds before heading out of the cabin in the morning to make sure you don't spook an elk.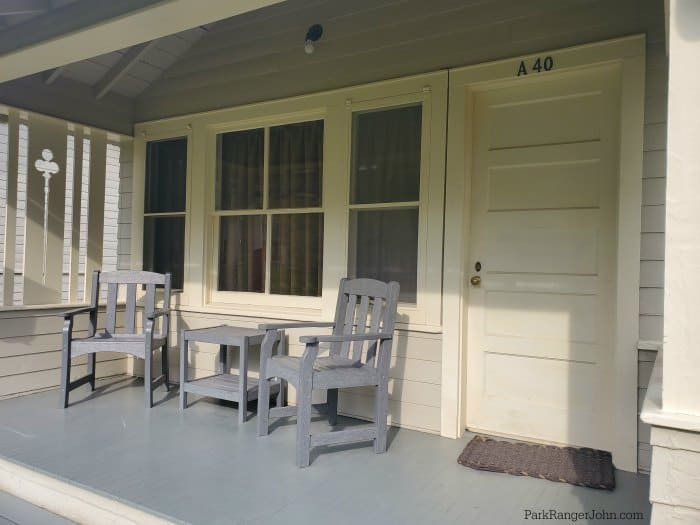 There is parking along the sides of each cabin and behind them. Parking can get tight if all of the cabins are booked. It is first to come first parked.
The cabins are fairly small but had everything we needed for staying in the park. There was not a ton of space if you have a ton of luggage or need room to spread out. The cabin was a great place to sleep but not a place I would spend a ton of time hanging out in.
Staying in the Mammoth Hot Springs Cabins provides great easy access to Mammoth Hot Springs and Lamar Valley along with heading out of the north entrance to Gardiner, Montana.
Frontier Cabins have private bathrooms with a shower, sink, and toilet.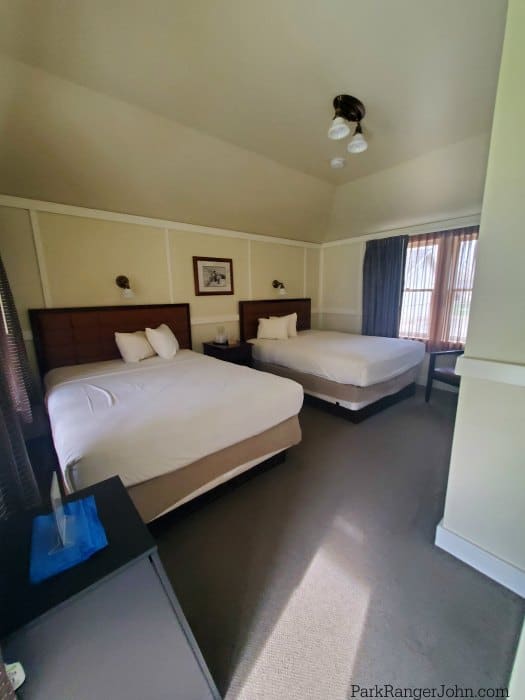 There are also four Hot Tub Cabins available that have a private 6-person hot tub within a fenced enclosure. Along with a private bath that includes a shower, toilet, and sink.
One Room and Two Room Cabins without a bath have a vanity sink but no toilet or shower. Shared bathrooms with private showers are located nearby.
Things to know
Check-in Time - 4 pm
Check out Time - 11 am
Park entrance fees are not included in your reservation and are payable upon arrival at the park entrance.
Smoking - All rooms and facilities at Yellowstone National Park are non-smoking.
Cooking is prohibited in all accommodations.
Wifi - Wifi, Internet, and cell service in Yellowstone are limited or nonexistent.
Televisions, microwaves, radios, rollaway beds, swimming pools, and air conditioners are not available.
GPS Coordinates - 44.9765658, -110.7013212
Hotel Address - 2 Mammoth Hotel Avenue, Yellowstone National Park, WY 82190
Mammoth Hot Springs Hotel Cabin Map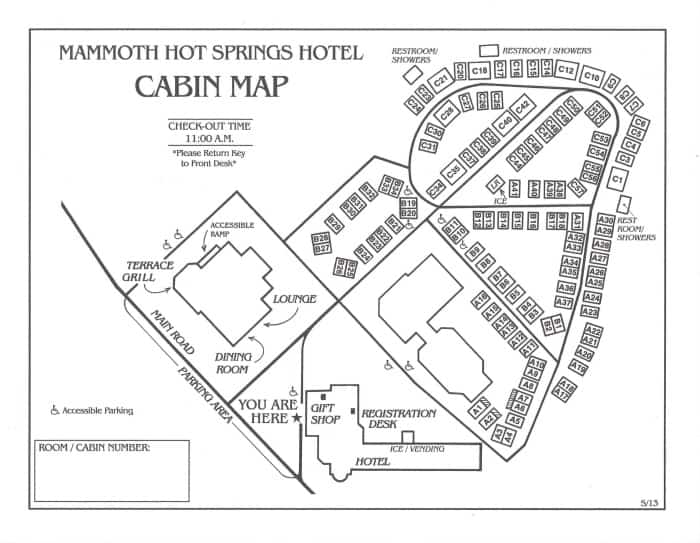 Nearby Yellowstone Attractions
Lamar Valley - One of the best places to see Yellowstone Wildlife including bears, wolves, and bison.
Boiling River - One of two places in the park you can go swimming.
Tower Fall - A gorgeous waterfall that can easily be seen
Blacktail Plateau Drive -A great one-way dirt road that takes you deeper into the park.
Petrified Tree - A petrified redwood tree you can see up close.
Hayden Valley - Explore one of the best places in Yellowstone to see wildlife.
Grand Canyon of Yellowstone - See the largest waterfall in Yellowstone.
Yellowstone Waterfalls - There are a couple of great waterfalls near the Mud Volcano area.
Closest Campground
Check out all of the Yellowstone Campgrounds to help plan your time in the park.
Closest Visitor Center
Mammoth Hot Springs Visitor Center
Additional Resources
Yellowstone Lodging Guide -Check out all of the lodges you can stay in while visiting Yellowstone NP.
Yellowstone Camping Guide - Check out all of the campgrounds available within the park.
Things to do Yellowstone - Check out all of the top things to do in the park.
Yellowstone Facts - Learn more about the unique features in Yellowstone.
Free National Park Days - Check out all of the days the National Park Service waives park entrance fees.
National Parks in Wyoming - Check out all of the parks you can visit while in Wyoming.
Grand Teton Guide - Find out more about this great park.
Gardiner, Montana - Find out what all there is to see and do in Gardiner.