Lamar Valley in Yellowstone National Park , also known as America's Serengeti, is without a doubt one of the best places in the world to watch wildlife. It is a place where nature has been allowed to return as it was before human interaction and has become a true refuge for wildlife.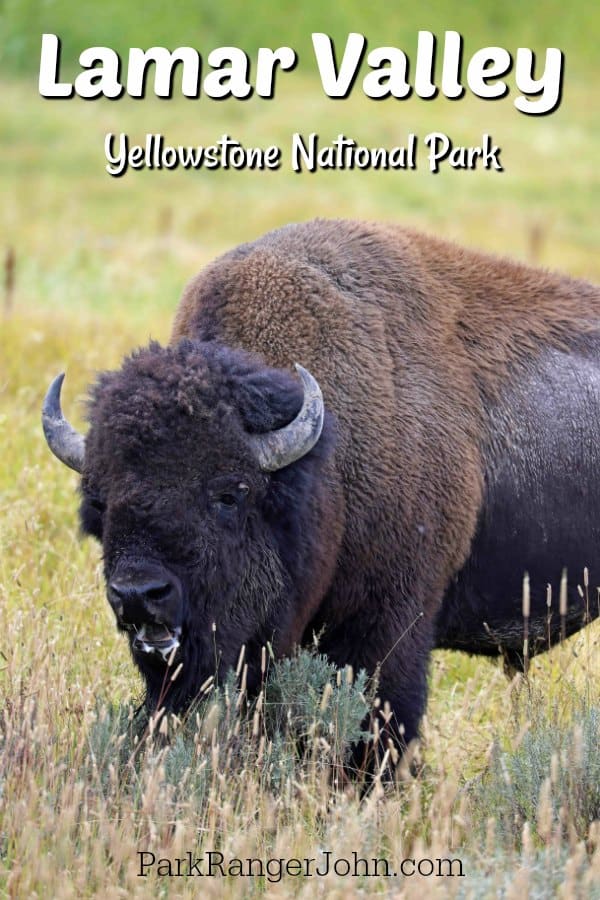 Lamar Valley - Yellowstone National Park
Lamar Valley is the place to go for wildlife in Yellowstone National Park. This area is often called the American Serengeti because of all the large wildlife you can see during a visit. You can go on a wildlife safari as you explore Lamar Valley.
Yellowstone Wildlife viewing includes elk, bison, wolves, grizzly bears, Black Bears, Bighorn Sheep, fox, deer, moose, and pronghorn antelope. Make sure to keep your eyes peeled along the Yellowstone River and Lamar River for bald eagles, ospreys and waterfowl.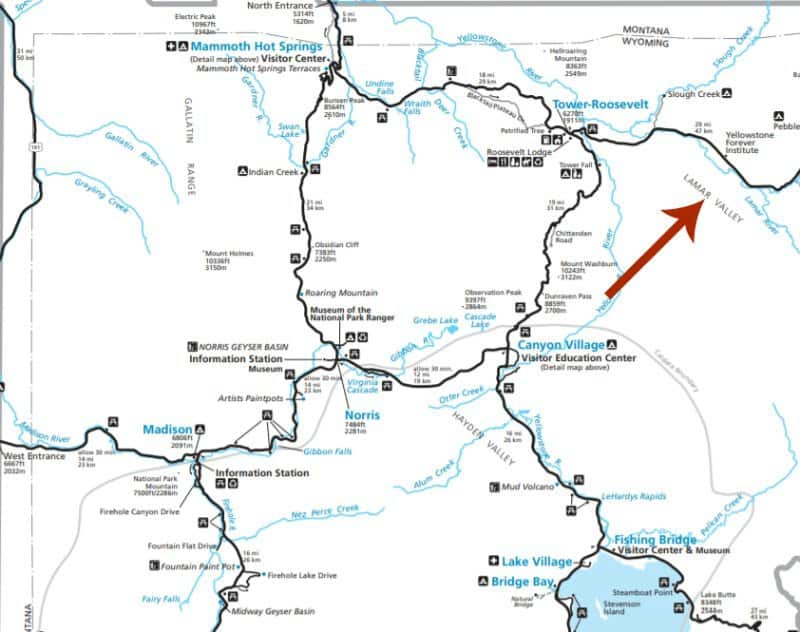 Where is Lamar Valley?
Lamar Valley is located in the Northeast corner of the park between Tower Roosevelt Junction to the northeast entrance road at Cooke City, Montana. It is also the only portion of the park with year-round access as it is the only access for the northeast gateway cities of Cooke City (Originally called Shoo Fly) and Silver Gate.
The only way for the citizens of these towns to get out each winter is to drive through Lamar Valley and then out through the Northern Gateway city of Gardiner. From Gardiner, take highway 89 to Interstate 90 and Livingston.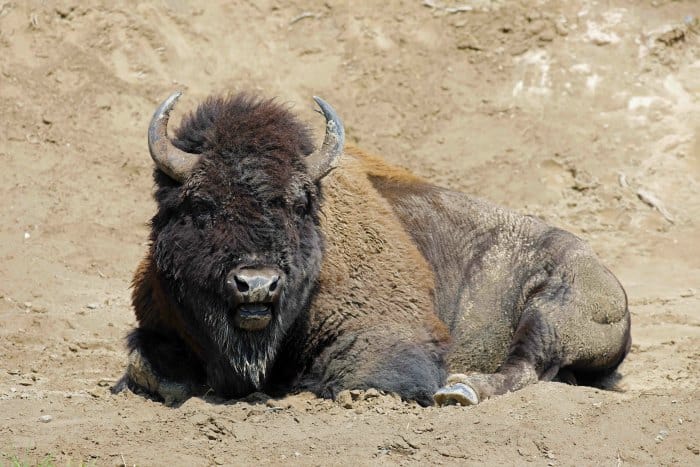 Why is Lamar Valley considered America's Serengeti?
The high concentration of wildlife in the valley is due to animals having everything they need for a great life (food, water, shelter).
The rivers provide water, forested areas for protection, and ample food sources. Along the road, you can expect to see bison, bears, pronghorn antelope, and if you are lucky Yellowstone wolves.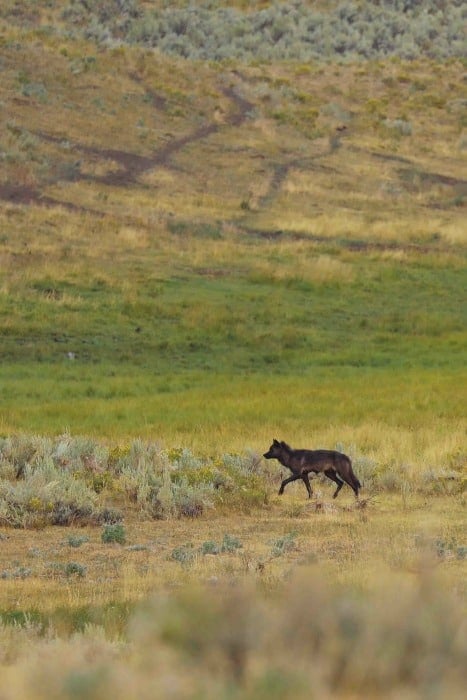 Where can you see Lamar Valley Wolves?
The Junction Butte and Lamar Canyon wolf packs can be found in the valley. It is not uncommon to see people lining the roads with spotting scopes and gigantic camera lenses watching for wolves.
The most famous wildlife in Yellowstone National Park is probably the Yellowstone Wolves. They are loved, hated, and feared all at the same time depending on who you talk with.
Many visitors will spend hours waiting and hoping to see a wolf in Yellowstone.
During our last trip to Yellowstone, we lucked out and were finally able to see our first wolf in the park. A bison was killed from a rut injury and passed away just off the main road through Lamar Valley. We spent hours waiting and hoping to see a wolf.
We arrived at 5:30 am so we were there for sunrise. Seeing a wolf in the wild has been on my National Park Bucket List for a very long time and I was going to be there if one showed up!
All I can say is that it was an awe-inspiring moment watching the wolf crest the hill and walk down towards the bison. One part awe and one part of oh my what are we about to see all happened at the same time.
I will put out the warning that if you are hoping to see a wolf and are traveling with kids, you will want to have the conversation ahead of time about wolves preying on other animals for food.
While we were watching the wolf on the bison, there were a few kids that were not prepared for seeing the natural cycle of life and began crying and wanting it to stop.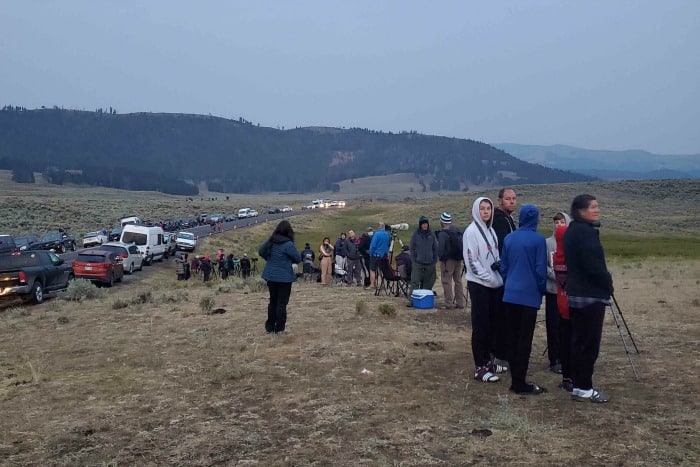 Tips for seeing Yellowstone Wolves
A lot of people congregate on the road leading to the Slough Creek Campground in hopes of seeing Yellowstone Wolves.
It is not uncommon for people to spend hours a day waiting and watching for the wolf pack.
If you plan to spot wolves in Yellowstone you will want to be prepared with binoculars or a spotting scope.
Be prepared to arrive before sunrise to claim a spot in this busy area.
We also brought a camp chair and blanket as we were there for several hours.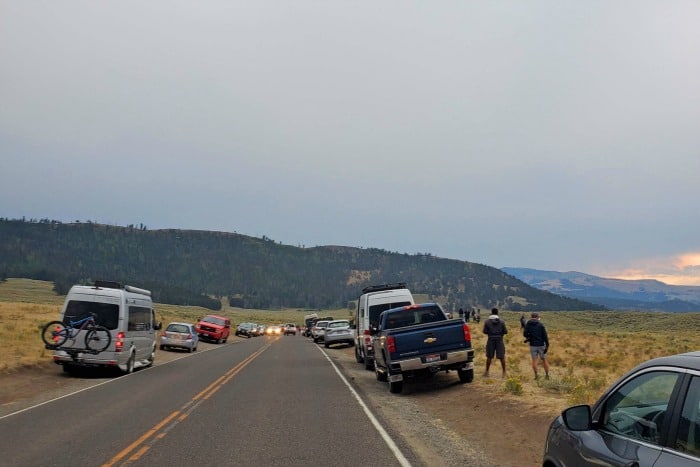 Best time to see wildlife?
The best time to see wildlife is early morning or late evening. If you can, make sure to set your alarm and get to Lamar Valley before or near sunrise.
Animals are most active during the cooler temperatures of the day. This is also when there are fewer people in the area for wildlife to contend with.
While wildlife is prevalent through Lamar Valley you will want to plan ahead to get the best opportunity to see wildlife.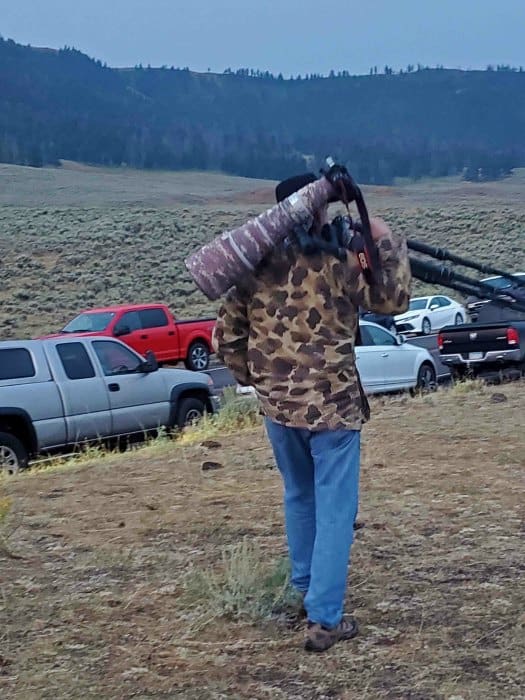 Things to bring with you
Binoculars - Avalon Optics 10×42 PRO HD Binoculars
You can buy cheaper binoculars but these are really good for wildlife viewing as the 10x magnification allows you to have a focal length from 10 yards to a thousand yards. I like these because of their clarity, lets in a good amount of light, and is waterproof and fog proof.
Spotting Scope - I have not personally used a spotting scope in a long time. I think this is primarily because I already have binoculars and a lot of camera equipment. I know you can get spotting scopes now with camera and cell phone attachments but again I don't personally know much about them.
Camera - Canon EOS 5D Mark IV Full Frame Digital SLR Camera Body.
This is my go-to camera base and I have been using a Canon Mark 5 body for years.
Telephoto Lens - We shoot with a Canon EF 100-400mm f/4.5-5.6L IS II USM Lens
This has been my go-to camera lens for shooting wildlife. I have to admit that I had difficulties shooting the wolf as it was quite a ways out. (Wolves like their space), I think that I am going to research renting a larger lens for my next trip as the lens I want to try is well, over 10k!
Yellowstone Wildlife Pocket Guide - These are great especially for kids to be able to identify the wildlife they are seeing.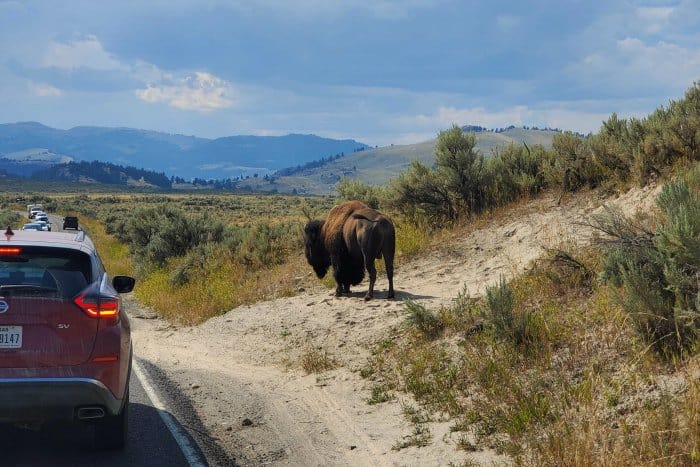 Wildlife Safety
It is time for me to put on my flat hat and have a bit of a ranger talk about wildlife safety!
PLEASE remember that even with millions of visitors the animals in Yellowstone are STILL WILD!!!
This means keep your distance of at least 25 yards, except for Wolves, bison, and Bears where you should stay at a minimum of 100 yards away. If you plan on spending time around animals, make sure you can tell their warning signs as most will give you hints that they are not happy before charging.
Remember, an adult male Bison can weigh well over 2,000 pounds which is equivalent to the same weight as a 2016 Chevy Spark (yes a car!) and they can run up to 35 mph. The fastest recorded human was 23 mph!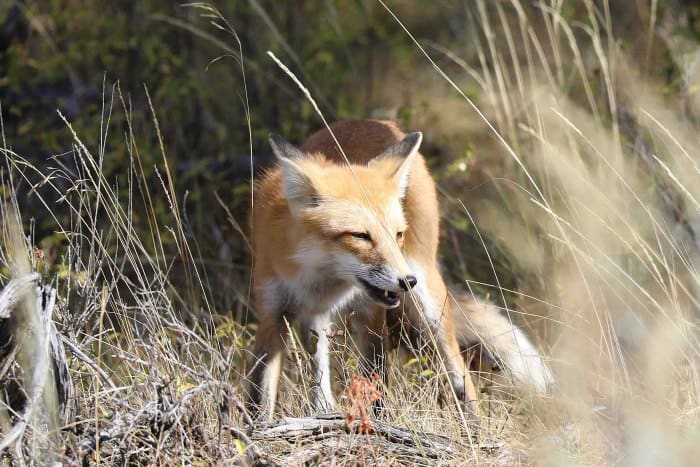 Lamar Valley Travel Tips
Plan to spend a minimum of a few hours exploring Lamar Valley.
There is no lodging or services in Lamar Valley so you will want to have water and snacks packed with you.
There are a few bathrooms along the road but this is definitely an area that you will want to use a restroom when you see it. There is a possibility of being stuck in a bison jam and not being able to reach a bathroom for a while.
If you park on the side of the road make sure your entire vehicle is past the white lines. This will help hopefully prevent someone from running into you or your car.
Look for groups of people with large camera lenses and spotting scopes. This is a great indicator that wildlife is nearby or has been seen.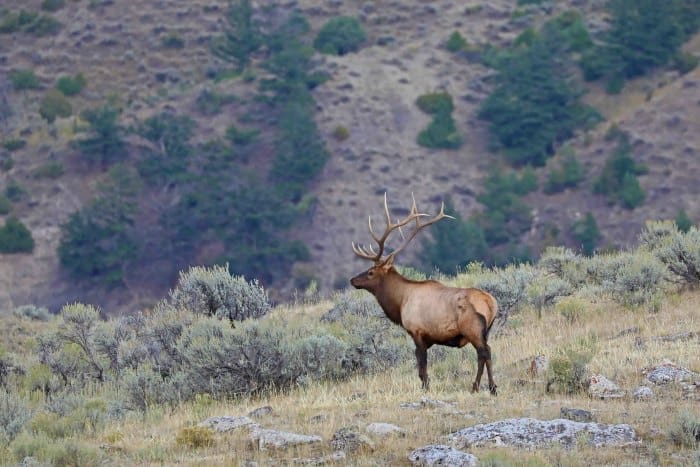 Nearby Yellowstone Attractions
Tower Fall
Blacktail Plateau Drive
Petrified Tree
Hayden Valley - Explore one of the best places in Yellowstone to see wildlife.
Grand Canyon of Yellowstone - See the largest waterfall in Yellowstone.
Yellowstone Waterfalls - There are a couple of great waterfalls near the Mud Volcano area.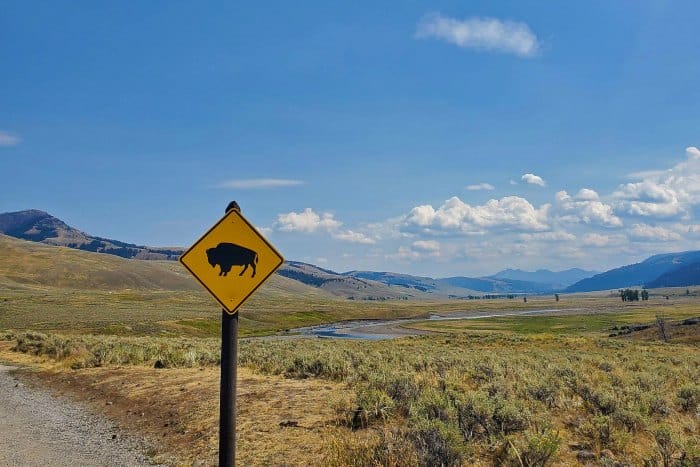 Closest Campground
Check out all of the Yellowstone Campgrounds to help plan your time in the park.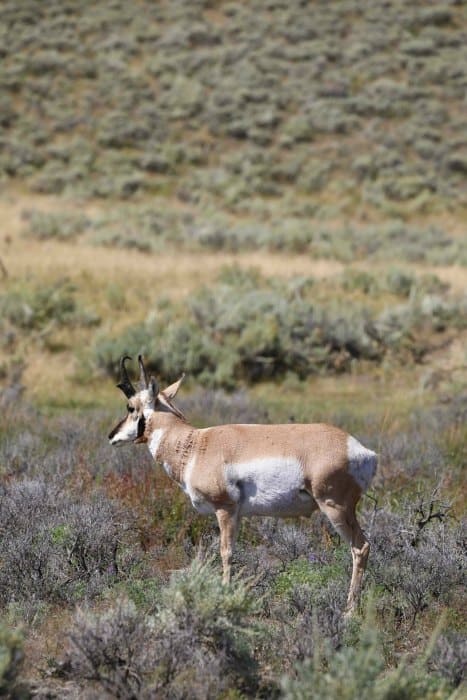 Closest Yellowstone Lodging
Roosevelt Lodge - We haven't had a chance to stay in the Roosevelt Lodge yet. We will update this as soon as we stay there.

Closest Visitor Center
Mammoth Hot Springs Visitor Center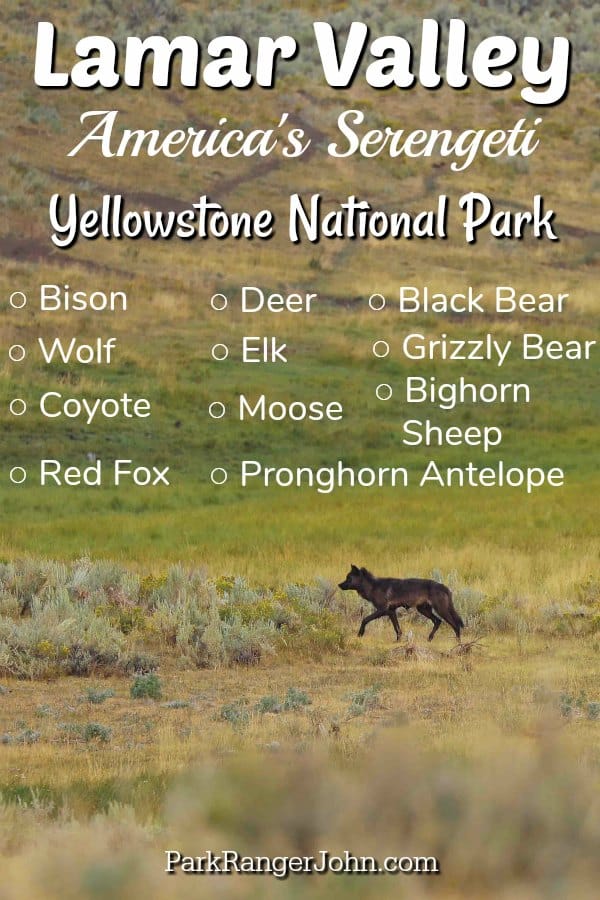 Additional Yellowstone Resources
Yellowstone Lodging Guide -Check out all of the lodges you can stay in while visiting Yellowstone NP.
Yellowstone Camping Guide - Check out all of the campgrounds available within the park.
Things to do Yellowstone - Check out all of the top things to do in the park.
Yellowstone Facts - Learn more about the unique features in Yellowstone.
Free National Park Days - Check out all of the days the National Park Service waives park entrance fees.
National Parks in Wyoming - Check out all of the parks you can visit while in Wyoming.
Grand Teton Guide - Everything you need to know to plan a great visit to the park.