The Swiftcurrent Motor Inn is located in the Many Glacier Area on the Eastern side of Glacier National Park in Montana. The inn offers both guest room and cabin accommodations along with having Nell's restaurant and a camp store.
The Swiftcurrent Inn is a great base for exploring the eastern side of the park. You can reach the inn after spending the day on the Going to the Sun Road and soaking in the epic views.
We were really impressed with our room at the inn. It is not the biggest room but it had everything we needed for comfortable night's sleep. The bed was comfortable and honestly hard to get out of the next morning we slept so great.
If you are a light sleeper you may want to pack earplugs or comfortable headphones to sleep in. The hotel walls are semi-thin and we could hear people talking in the room next to us. You can't hear the exact words but it was loud enough to hear that they were having a conversation. You can also hear when people walk up and down the central hallway.
Like any hotel or lodge in a National Park, we do suggest making reservations as soon as you know when you want to visit the park. We lucked out and I was able to make last-minute reservations a few days ahead of time in August to celebrate my wife's birthday.
If you are planning a last-minute park trip it is definitely worth checking daily to see if there are any cancellations for rooms.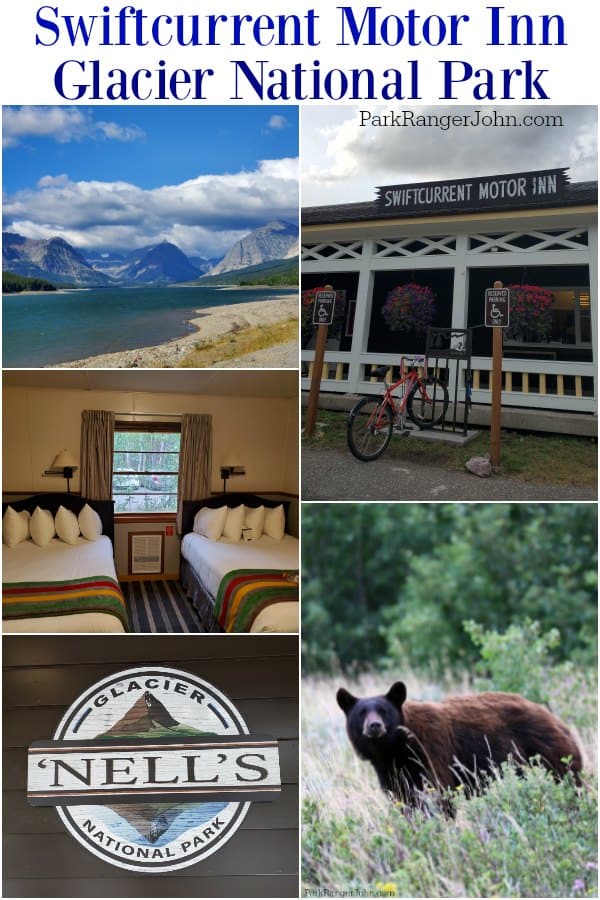 Swiftcurrent Motor Inn and Cabins
If you are thinking about moving around to different portions of the park don't miss this great article on all of the Glacier National Park lodging options!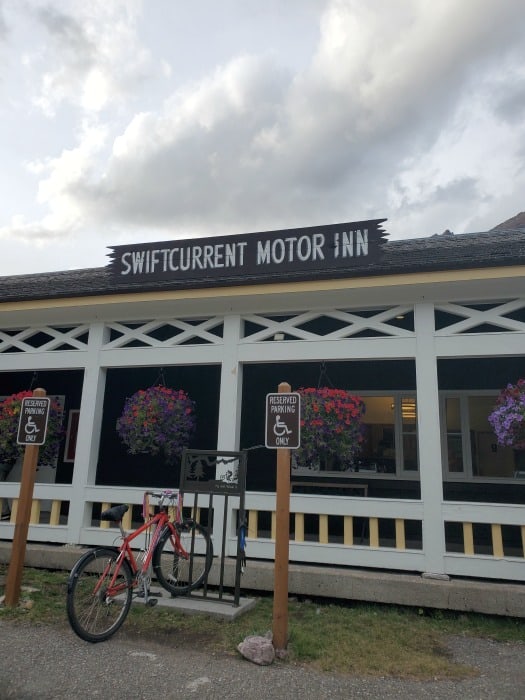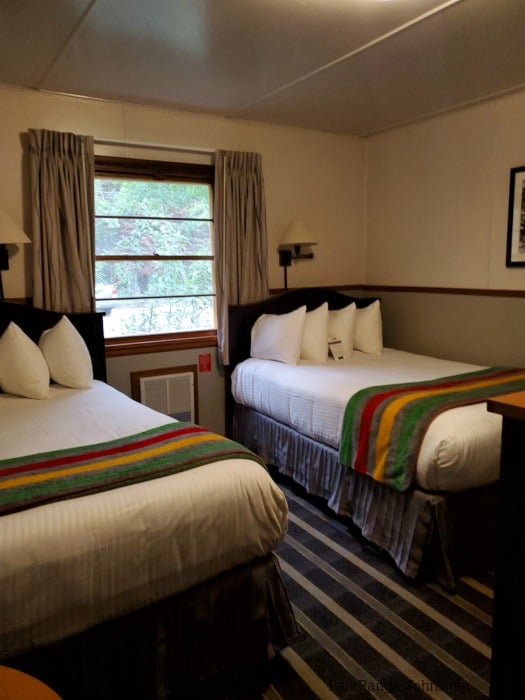 2 Queen Room – Amenities in the Pine Top Motel portion of the Inn
2 queen beds
A small table and 2 chairs
Private bathroom with shower
Small dresser
Parking near the entrance
Glacier National Park toiletries (shampoo, conditioner, body wash)
Coffee vouchers – there are no coffee machines in the rooms in the Pine Top Motel so you are given vouchers to get a hot cup of coffee at the camp store.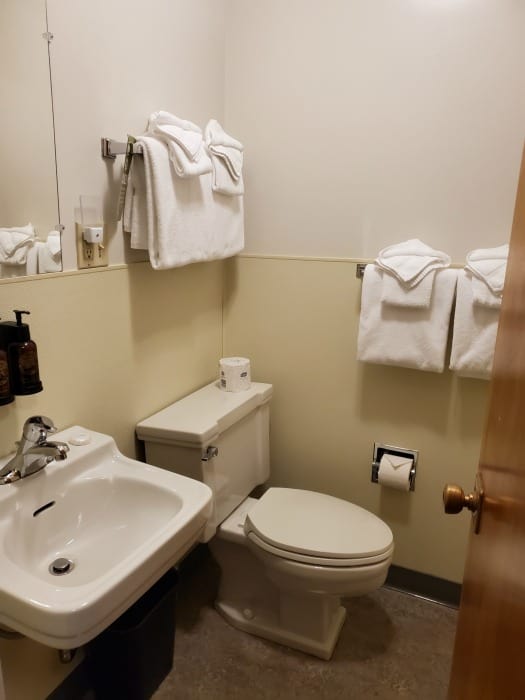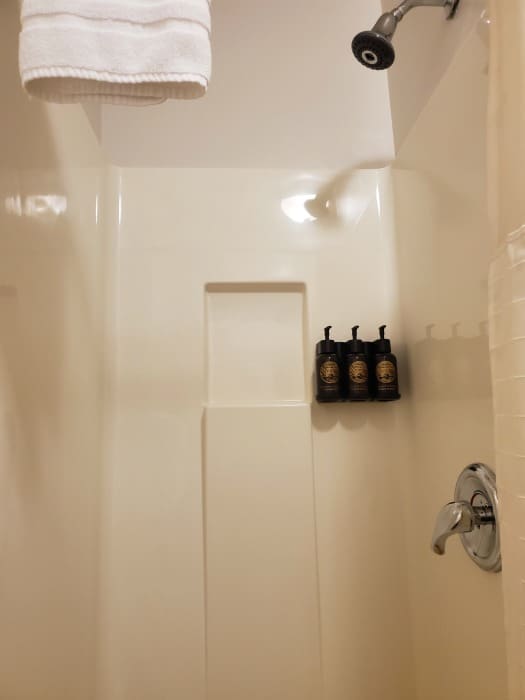 History of Swiftcurrent Motor Inn and Cabins
The name Swiftcurrent is believed to have come from a Blackfeet Indian term "iakmi-awaki-mishka' which translates to mean 'fast running water'. The Great Northern Railway established a teepee camp in 1911 in the location of the hotel today.
Guests arrived in this portion of the park on horseback and slept on army cots in full-size replicas of the 23 pole Blackfeet Indian teepee.
Twenty Seven cabins were built by the Superior Building Company in 1933. The area became known as the Many Glacier Auto Tourist Camp.
The CCC (Civilian Conservation Corp_ constructed a campground just south of the cabin along with the cabins in circles D and I.
The current camp store was built in 1935 to provide services to campers.
The Heavens Peak forest fire swept through the area on August 31, 1936, burning thirty-one cabins and many acres of forest area. The National Park Service planted thousands of trees to replace those burned along with the cabins being rebuilt in 1937.
In 1940 a comfort station with showers was added to the complex. E.T. Scoyen, the park superintendent at the time put pressure on the Great Northern Railway for a coffee shop. In 1941 they added the portion of the building that is now the main lobby area to the existing camp store.
In 1955 there was major construction completed for an employee dormitory building and three motel units were added. The Pine Top Motel building was originally an employee dormitory that was converted to being a motel unit.
During 2013 seven more cabins were constructed to complete the I circle. These brought the complex up to 95 guest rooms. All of the rooms were refurbished in the winter of 2014 and spring of 2015.
In January 2014 Xanterra Parks and Resorts won the primary concessionaire contract for Glacier National Park.
The Swiftcurrent Auto Camp Historic District was placed on the National Register of Historic Places in 1996. The recognition was for its significance in local history.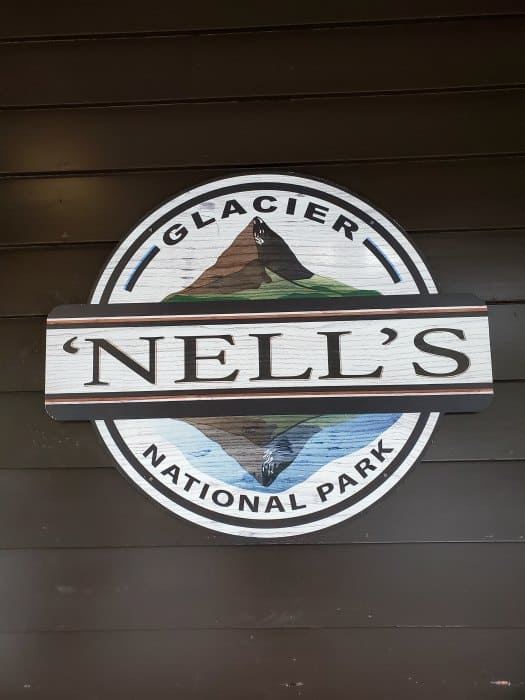 Nell's Restaurant
Nell's Restaurant is next to the hotel lobby and offers breakfast, lunch, and dinner. The restaurant was named for explorer George Bird Grinnell. The restaurant is fast and casual. You order at the main counter and your food is brought out to your table.
I have to say this may be the best restaurant we have tried in Glacier National Park. The prices were fantastic and the food tasted great. I had mac and cheese with pulled chicken, barbecue sauce and seasoning and it was delicious. Honestly better than the sit-down restaurant at the big lodges in the park.
The restaurant does not take reservations and is on a first come first serve basis. They do offer a kids menu along with box lunches and food to go.
Breakfast – 6:30 am to 11 am
All-day menu – 11 am to 10 pm
After 5 dinner options – 5 pm to 10 pm
Camp store
The store is located in the main building off the lobby of the hotel. The store has a wide variety of grocery items, hot coffee, camping supplies and souvenirs.
Store hours – 7 am to 10 pm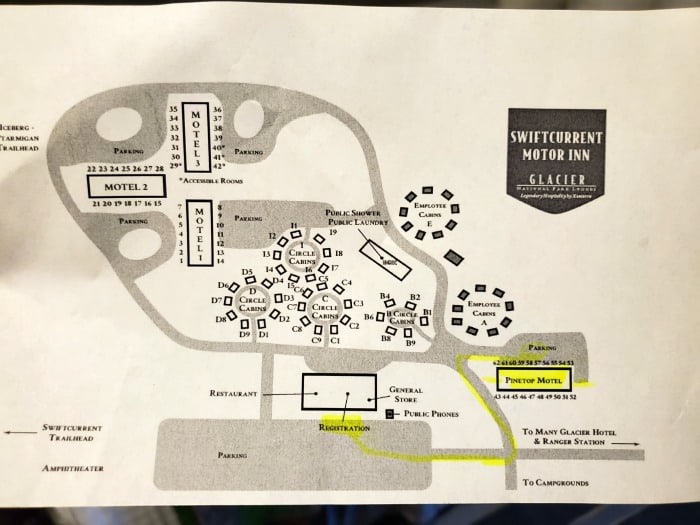 Things to know when planning a stay at Swiftcurrent Motor Inn and Cabins
Check-in time – 4 pm
Check out time – 11 am
Swiftcurrent Hotel Phone Number – 406-732-5531
Smoking – Smoking and vaping are prohibited in all guest areas.
Pets – Only service animals are allowed in the hotel or cabins
Religious services – Interdenominational services are held every Sunday in June through August at the Many Glacier Campground campfire circle.
WiFi – We did not have any WiFi during our stay
Cell phone service – We did not have any cell phone service during our stay.
Reservations – Reservations can be made online or by calling 855-733-4522 or Outside the U.S.: 303-29-PARKS (303-297-2757)
2019 Dates – Opens: June 11, 2019 to September 15, 2019*
2020 Dates – Opens: June 9, 2020 to September 13, 2020*
*All properties open at 12 p.m. on opening day and close at 12 p.m. closing day. No services are available prior to opening day or after closing day.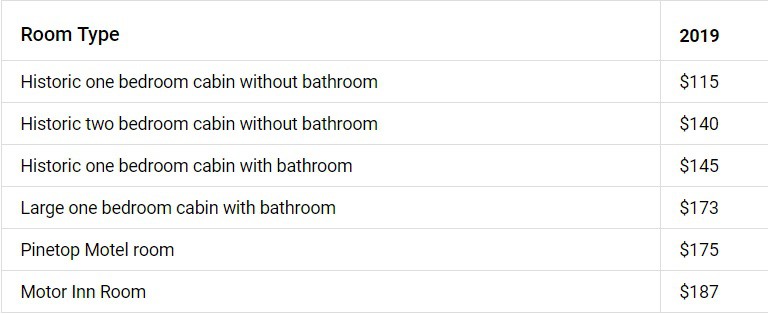 *Rates based on double occupancy except for family units. Rates and dates may change without notice. All room rates are subject to applicable taxes and/or utility surcharges and do not include the current room tax or utility surcharge.
GPS Coordinates - 48.797712 – 113.677071
Red Bus Tours offered from the Swiftcurrent Motor Inn
Old North Trail – 8 hours, departs at 9:05 am June 11 – June 21
Crown of the Continent Tour – 8 hours, departs at 9:05 am June 21 – September 15
Eastern Alpine Tour – 4.5 hours, departs at 8:35 am and 2:05 pm June 21 – September 15