The Village Inn at Apgar is located on the shores of Lake McDonald in Glacier National Park. The hotel offers epic views of the lake, a comfortable room, and easy access to many of the highlights of the park.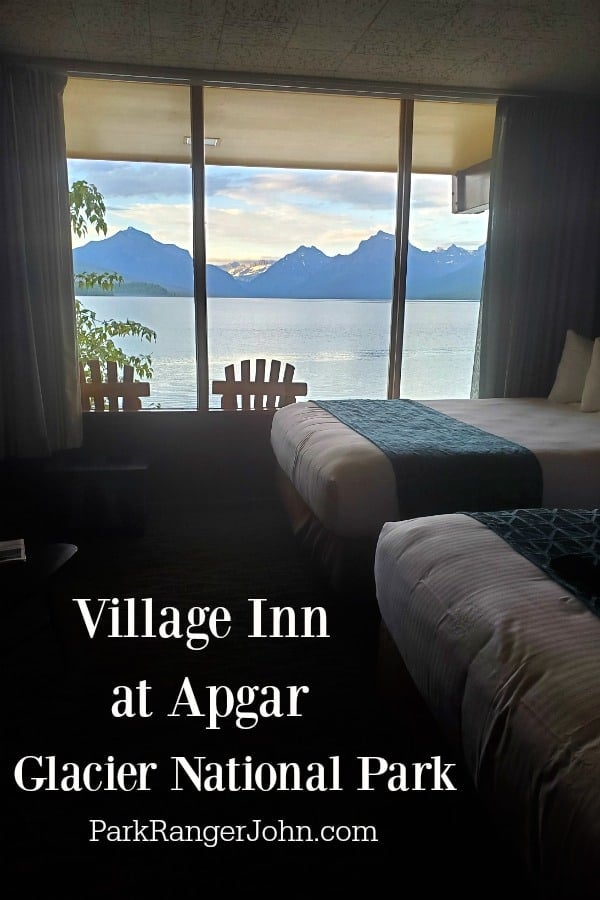 Village Inn at Apgar - Glacier National Park
This hotel is one of our favorite hotels in Glacier National Park. The location, the quirky 70s feel, the access to the Going to the Sun Road...all of it is epic!
This is a property you do not want to judge from the outside. It still looks like it is from the 70s but trust me you are going to LOVE IT!
The Village Inn at Apgar was built in 1956 and has 36 rooms.
You truly can not get a better view of Lake McDonald and mountains than you do from the Village Inn at Apgar!
During our stay, we had an epic double rainbow over Lake McDonald. It was so much fun seeing everyone running out of their rooms to get amazing photos.
There are Adirondack chairs outside each room so guests can relax and enjoy the epic Crown of the Continent views.
Make sure to bring bug spray with you since mosquitoes can be present. The temperature definitely drops once the sun starts to go down. Dressing in layers is a great idea for being able to sit out and enjoy the quiet of the park.
Built-in 1956 the Village Inn could be considered a motor inn. The parking is at the back of the hotel near the main entrances to each of the 1st-floor rooms.
Second-floor rooms are accessible by stairs only. ADA Accessible Rooms are located on the 1st floor.
2 Queen bedroom with kitchen
One-bedroom, full kitchen units are available on the first floor and are equipped with basic utensils, refrigerator, microwave, coffee maker and stove/oven.
We truly enjoyed our stay at the hotel. The room was quiet and incredibly comfortable.
There is a small couch in the living room and a small table. The beds were incredibly comfortable! We had an epic night's sleep.
If you are traveling as a family this would be a great lodging in Glacier NP option. The kitchen area is perfect for easy meals while relaxing as a family.
We stocked the fridge with snacks, tea, and our favorite easy meals. You can easily premake sandwiches and lunch options to take out with you while hiking. Just remember to bring sandwich bags or mini coolers to pack in the car.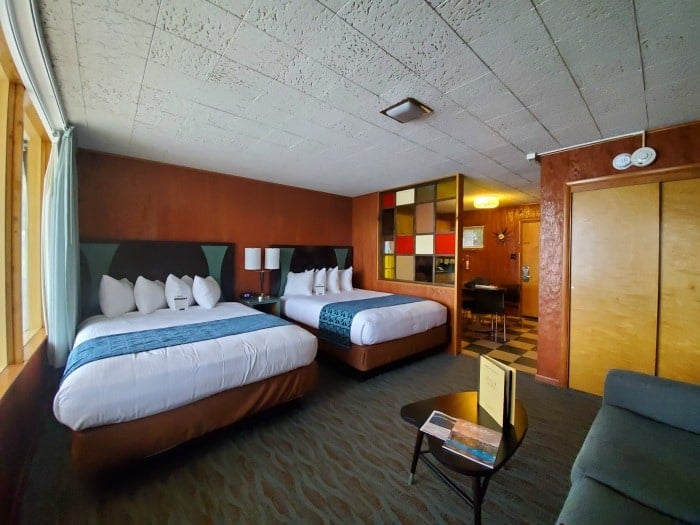 Amenities
Down alternative, eco-smart pillows
Energy-efficient lighting
Recycle bin
Alarm clock
Fan (upon request)
Iron and ironing board
Coffee Maker and a selection of teas
Hairdryer
Blanket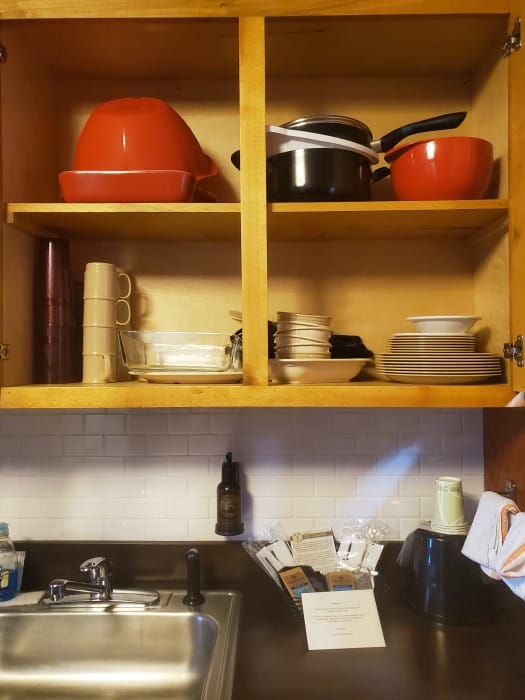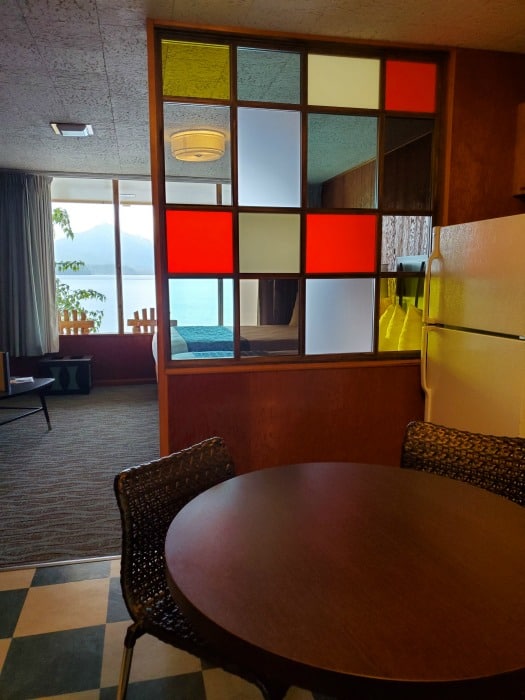 There are no televisions, air conditioning, or in-room telephones.
All guest rooms are non-smoking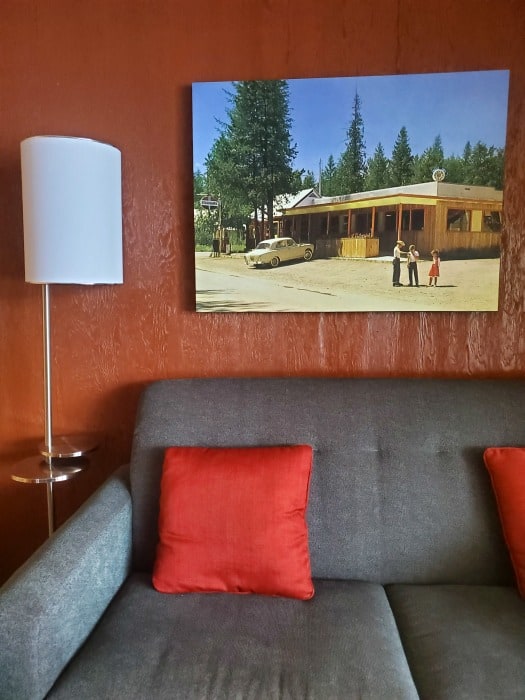 One and two-bedroom units that can accommodate up to six people are located on the second floor.
Smaller one-bedroom units are located on both floors and can accommodate a maximum of two people.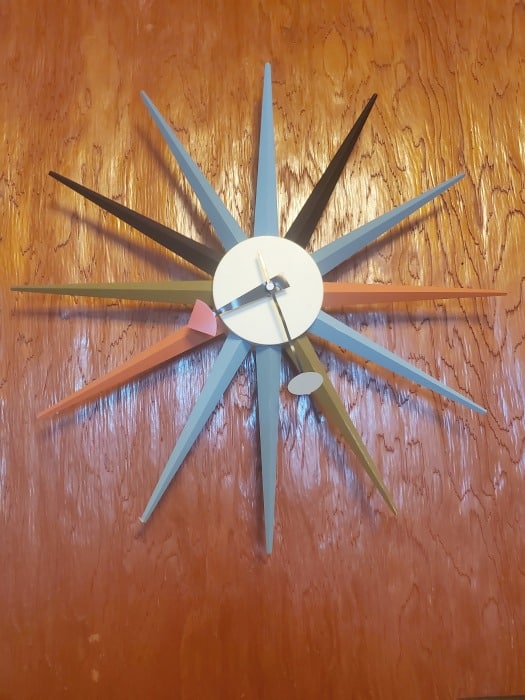 The Village Inn is considered a level 4 National Park Lodge with special merit. The hotel is themed with a Mid-century modern feel of a road motel.
The outdoor decor of the hotel is themed to fit the swiss chalet look of Glacier NP.
The National Park Service purchased the hotel in 1959. It was added to the National Register of Historic Places in 1987.
Things to know when planning a stay at the Village Inn at Apgar
Village Inn at Apgar Reservations
Phone: Toll-free within the U.S.: 855-SEEGLACIER (855-733-4522)
Outside the U.S.:1-303-265-7010
2020 Dates – Opens: May 20, 2020 | Closes September 28, 2020
GPS Coordinates: 48.52887 – 113.99390
The hotel is located close to West Glacier and Apgar Village. Guests can easily walk to Eddies Cafe and Gifts, the ice cream stand, and kayak and bike rentals.
Guests can easily rent kayaks to head out on the lake and mountain bike later in the day.
Additional Glacier National Park Resources
Apgar Village Lodge - See room photos and video of what to expect when staying in the Creekside Motel at Apgar Village Lodge
Lake McDonald Lodge - Find out what it is like to stay at this historic national park lodge.
Epic things to do in Glacier - All of the things you do not want to miss during your trip to Glacier.
Glacier National Park Camping - An epic guide to every campground in Glacier
Many Glacier Hotel - Room photos and video of the Many Glacier Hotel
Glacier National Park Lodging - Guide to all of the hotels and lodges in Glacier National Park
Montana National Parks - Check out all of the epic parks you can visit during your vacation to Glacier.