The Canyon Lodge is the largest lodging facility within Yellowstone National Park. The Canyon Lodge Cabins offer easy access to everything the Canyon Lodge has to offer while staying in a great cabin.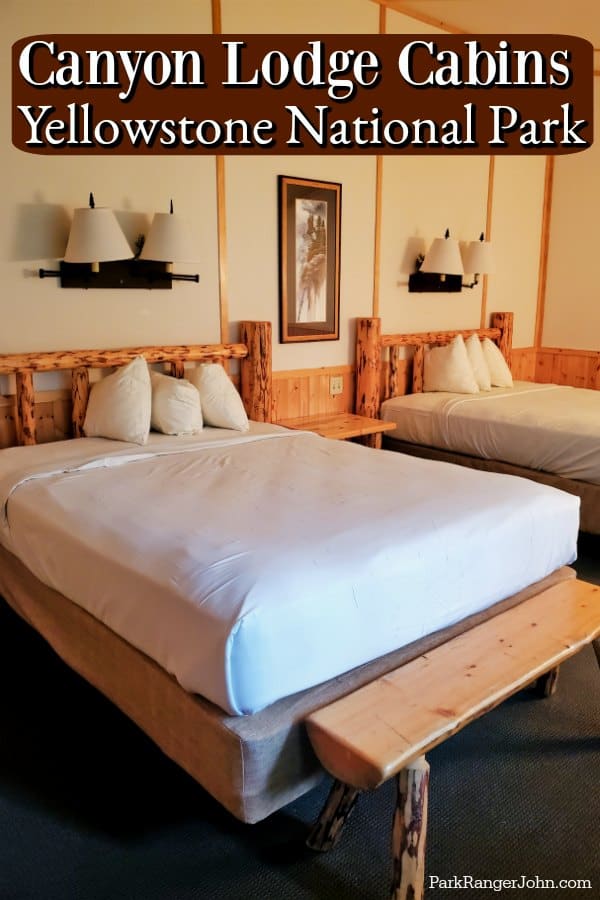 Canyon Lodge Cabins - Yellowstone National Park
Staying in the Canyon Lodge Cabins provides easy access to the east side of the park near the Grand Canyon of the Yellowstone.
Canyon Lodge Western Cabin
We stayed in a 2 queen bed Western Cabin at the Canyon Lodge. The cabins are located just down from the main lodge buildings in a circle pattern. There is parking in front of the majority of cabins but it is first to come first to get a close parking space.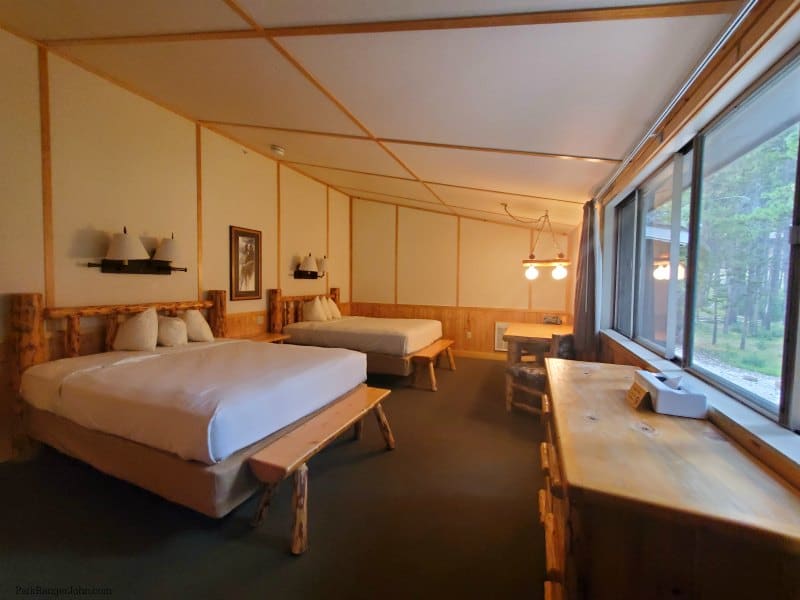 The cabin had 2 queen beds with wooded benches at the end of the bed, a shared nightstand and lights over each bed. There is a large table with two chairs and a bright light right overhead. One warning the light over the table is low and you can easily get blinded if you get to close to it.
The cabin also has a wooden dresser and recycling/garbage container.
There is a private bathroom with a nice size shower/tub combo. The shower has shampoo, conditioner and body wash available in it that actually smells great. The sink is right outside of the toilet/shower area and has soap and lotion plus the world-famous Yellowstone bear soap.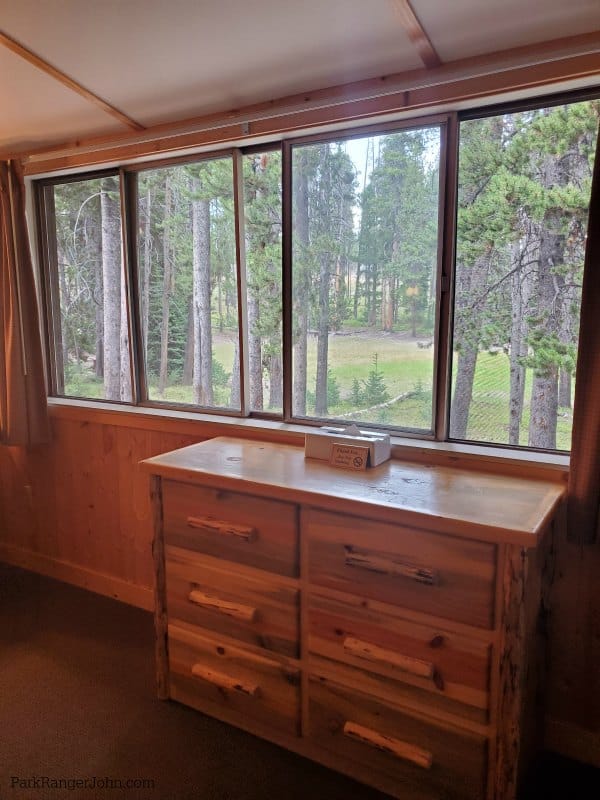 We were in cabin #47 which had a great view out over trees and a grassy area. Our room was at the back of the cabin and was pretty quiet most of the night. We could hear people beeping their car alarms at the end of the day but after everyone was in their cabins it was really quiet.
We woke up to birds chirping outside of the windows which was amazing. The cabins do not have air conditioning so leaving the windows open or using the fan in the room is a great way to cool them down.
The beds were firm like most Yellowstone Lodging and had three small pillows on each bed. If you are someone who likes a lot of pillows or a large pillow you may want to bring one with you.
We were really impressed with how large the Western Cabin room was. It was more than enough space to spread out and relax.
Staying in the Canyon area is great for being able to access Hayden Valley or head anywhere in Yellowstone National Park.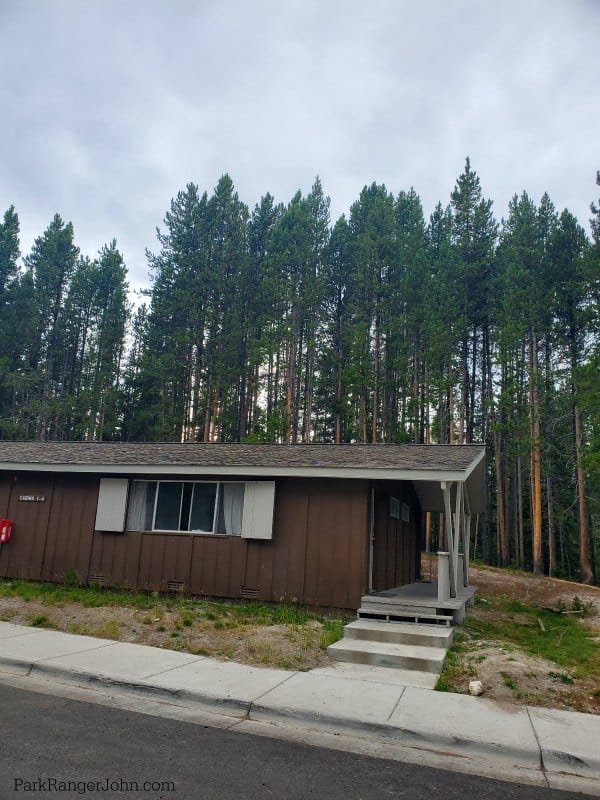 Things to know
Check-in Time - 4 pm
Check out Time - 11 am
Park entrance fees are not included in your reservation and are payable upon arrival at the park entrance.
Smoking - All rooms and facilities at Yellowstone National Park are non-smoking.
Cooking is prohibited in all accommodations.
Wifi - Wifi, Internet, and cell service in Yellowstone are limited or nonexistent.
Televisions, microwaves, radios, rollaway beds, swimming pools, and air conditioners are not available.
GPS Coordinates - 44.7325815, -110.4862002
Address - 41 Clover Ln, Yellowstone National Park, WY 82190
Canyon Lodge Map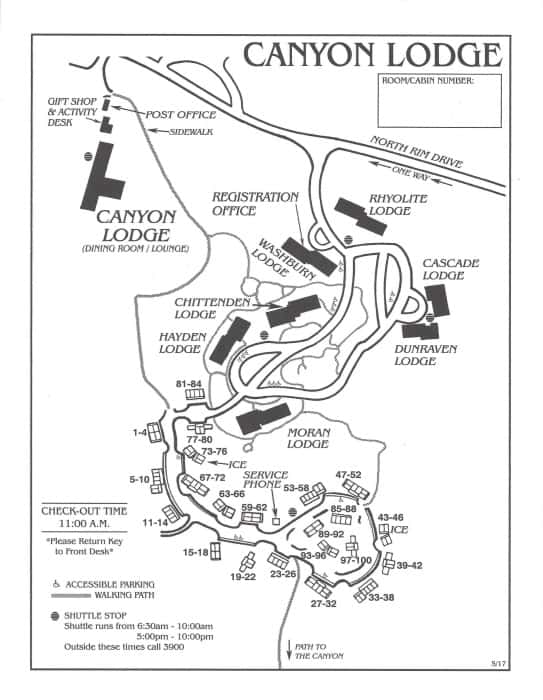 Nearby Yellowstone Attractions
Grand Canyon of Yellowstone - See the largest waterfall in Yellowstone.
Hayden Valley - Explore one of the best places in Yellowstone to see wildlife.
Yellowstone Lake - There are 141 miles of shoreline surrounding Yellowstone Lake. The perfect place for a picnic or soaking in the views.
West Thumb Geyser Basin - Explore amazing geysers and colorful pools next to Yellowstone Lake.
Yellowstone Waterfalls - There are a couple of great waterfalls near Canyon Lodge
Closest Campground
Fishing Bridge RV Park
Check out all of the Yellowstone Campgrounds to help plan your time in the park.
Closest Visitor Center
Canyon Village Visitor Education Center
Fishing Bridge Visitor Center
Additional Resources
Yellowstone Lodging Guide -Check out all of the lodges you can stay in while visiting Yellowstone NP.
Yellowstone Camping Guide - Check out all of the campgrounds available within the park.
Things to do Yellowstone - Check out all of the top things to do in the park.
Yellowstone Facts - Learn more about the unique features in Yellowstone.
Free National Park Days - Check out all of the days the National Park Service waives park entrance fees.
National Parks in Wyoming - Check out all of the parks you can visit while in Wyoming.
Grand Teton Guide -Learn more about this amazing park.