The Lake Yellowstone Hotel is a National Historic Landmark and a Green Seal Gold Certified hotel. Located on the shores of Lake Yellowstone you can enjoy epic sweeping views over the lake and easy access to other attractions within the park.
The hotel recently underwent a full interior renovation in 2014 helping to restore the hotels colonial revival heritage. The public spaces, guest rooms, the dining room, and the deli were all renovated. All of the rooms within the hotel have a private bath with a tub/shower combination. You can find both queen and king size rooms within the hotel.
During the summer from the middle of June through the beginning of August, you can enjoy a performance from the Lake Hotel String Quartet in the sunroom on Thursday through Monday evenings. Other nights of the year you can enjoy piano music in the sunroom.
One really cool thing you can do at the Lake Yellowstone Hotel is taking a free walking tour of the hotel. These tours are offered every afternoon and meet in the lobby.
Lake Yellowstone Hotel opened in 1891 and is the oldest operating hotel in Yellowstone. The hotel originally was a basic three-story clapboard building that was built for the cost of $46,000. This 1st hotel provided the first-class accommodation guests wanted including indoor electricity, indoor plumbing, steam heat and epic views of Yellowstone Lake.
Over time renovations were completed to add more guest rooms. The front gables, the iconic columns, and false balconies and dormer windows. The hotel name was changed to Colonial Lake Hotel.
Today guests can still enjoy the luxurious experience of staying on the shores of Lake Yellowstone.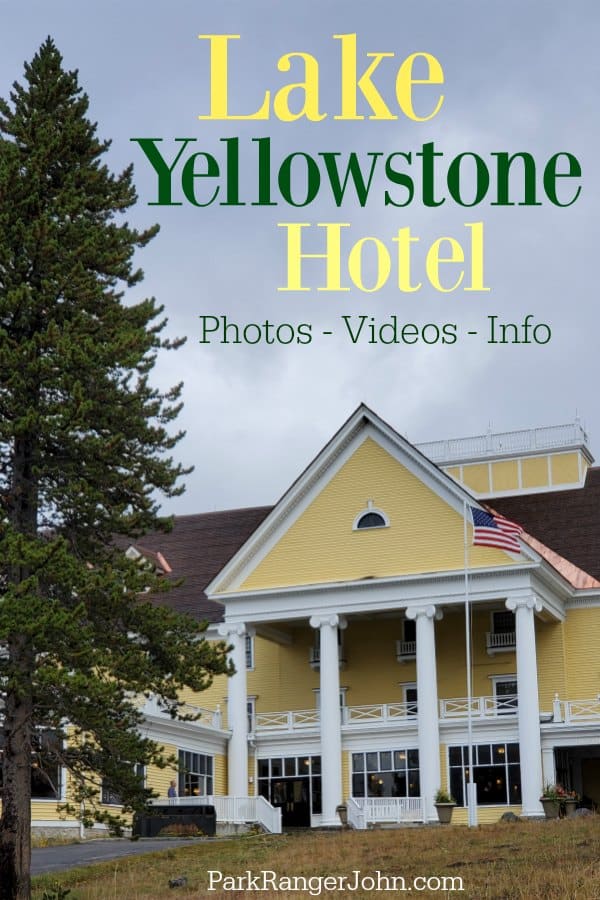 Lake Yellowstone Hotel & Cabins
1 queen bed with a private bathroom
The hotel room had one queen bed with a nice headboard and bench at the foot of the bed. There is organic Tumblewood Irish Breakfast Tea and Rainforest Organic Coffee. The armoire has an in-room safe, fan, extra blanket, and iron/ironing board.
There is nice recycling and compost bin within the room. The bathroom came with robes, shampoo, conditioner, and body wash. There are also small bottles of lotion, sunscreen, and chapstick branded with Lake Yellowstone Hotel you can take with you. There were loofah mitts and makeup remover wipes along with shower caps. There is a hairdryer in the room. The shower is gorgeous with white subway tiles and silver fixtures.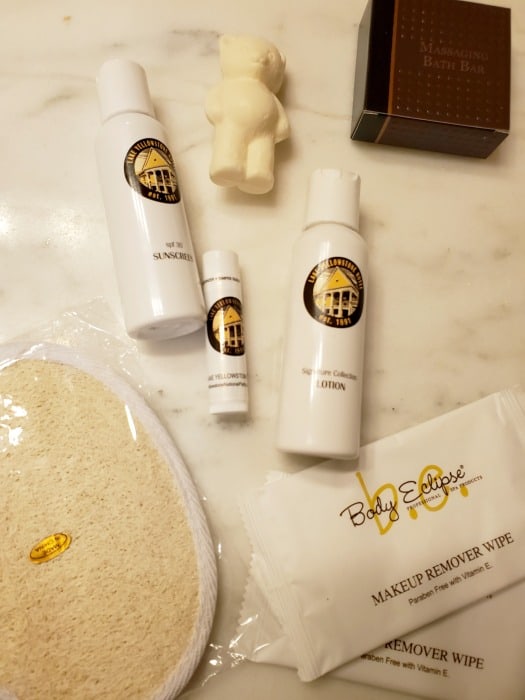 The only random thing with the bathroom is you have to close the door to see the mirror and vanity area. You would have to move to make room for another person to open the door to enter the bathroom. It is definitely a bathroom made for one person at a time or you will be very close to each other.
Our room had a view of the back parking lot so we chose to close the curtains quickly and tell ourselves that the view was epic we were just choosing to not look at it. LOL!
Yellowstone Hotel also has a presidential suite with 3 bedrooms and 2 bathrooms. One bedroom with a king bed and one with a queen bed.
Superior Rooms include one king bed or one or two queen beds on the lakeside of the hotel.
Premium Hotel Rooms have one king-size bed or one or two queen beds.
Standard Lodge Rooms are located in the Sandpiper Lodge and offer one queen or one king bed.
The hotel has accessible rooms with communication accessible rooms and accessible rooms with the same set up as other rooms.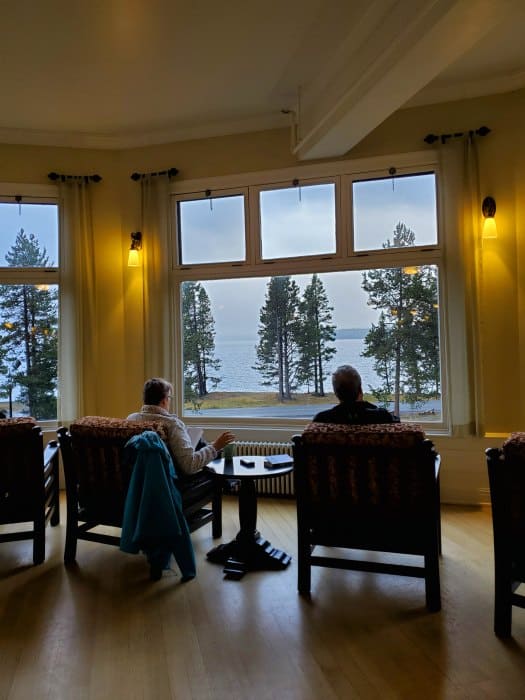 Value for Money
Price we paid for a night stay – $456.55 + tax for a total of $507.87
Location – This really depends on your goals while visiting the park. The hotel is right on Lake Yellowstone and close to the West Thumb geothermal area. There is easy access to the majority of the park easily.
Amenities – The room had a nice size table with two chairs, organic coffee and tea set up, there were great bathroom amenities available including chapstick, lotion, and sunscreen along with the cute bear soap.
There is complimentary valet which was a huge plus when we arrived back to the hotel late at night and the back parking lot was packed.
There was a piano player in the lobby when we went through along with a nice bar and restaurant.
Night Sleep – We slept ok but not amazing in the hotel. The bed was firmer than we normally prefer so we ended up tossing and turning. You can hear noise from other rooms since this is a historic hotel it wasn't a ton but enough early in the morning to grab my attention.
Would we stay here again – Yes, The hotel was beautiful and located right in Yellowstone National Park. While the nightly rate is pricey the amenities and location were amazing.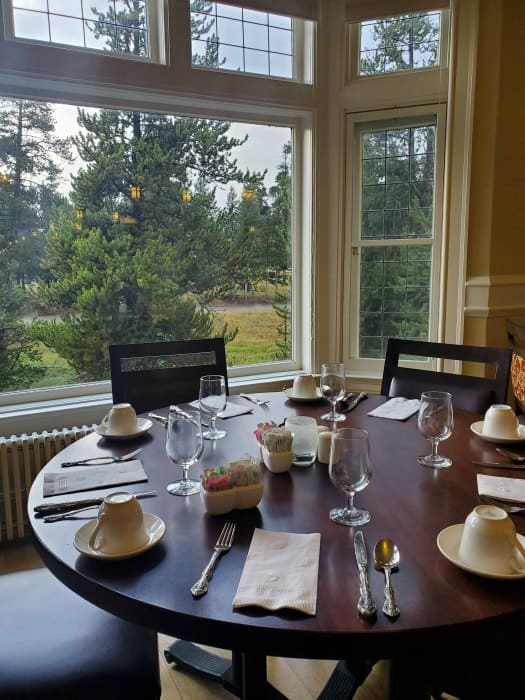 Restaurants at Lake Yellowstone Hotel
Dining Room
The dining room is open from May 10 – October 7th for breakfast, lunch, and dinner.
Dinner reservations are required and can be made ahead of time by calling 307-344-7311.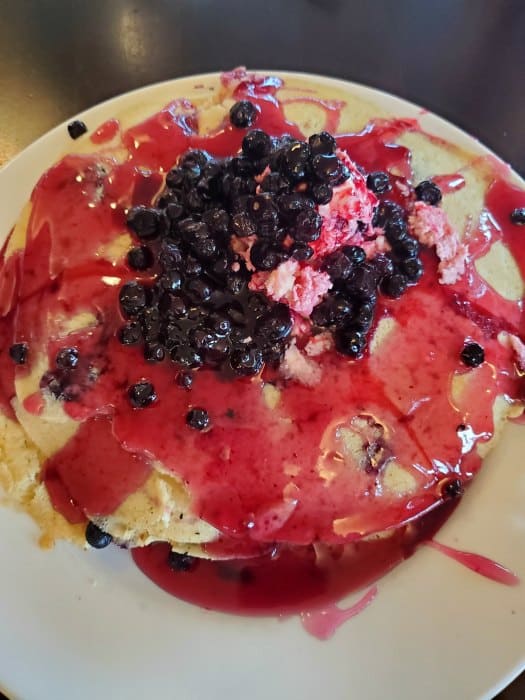 The huckleberry pancakes at breakfast were delicious!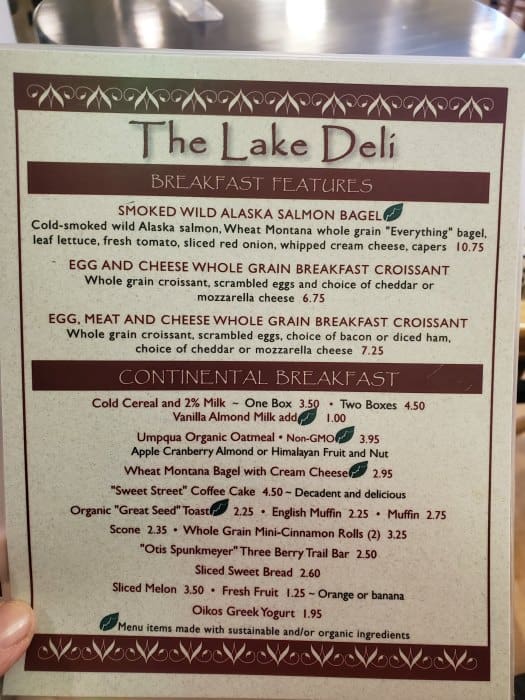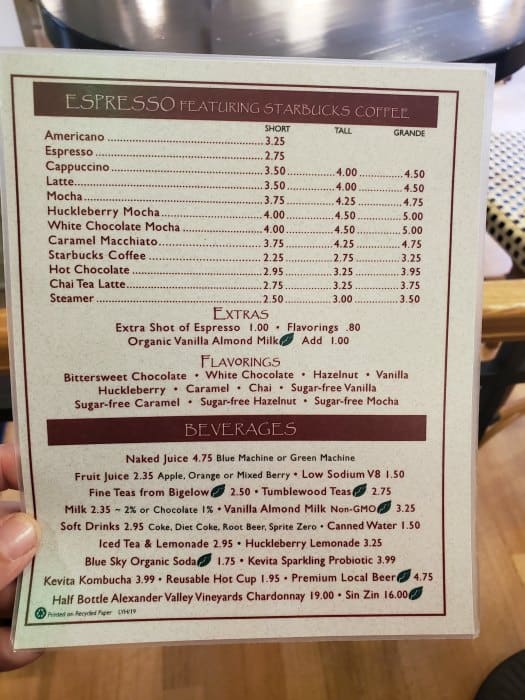 The Lake Hotel Deli
The deli is located off of the main lobby just down the hall. They are open from May 10 – October 6th.
The deli offers on the go options including specialty deli sandwiches, soups, baked goods, and Starbucks coffee. They are open for breakfast, lunch, and dinner.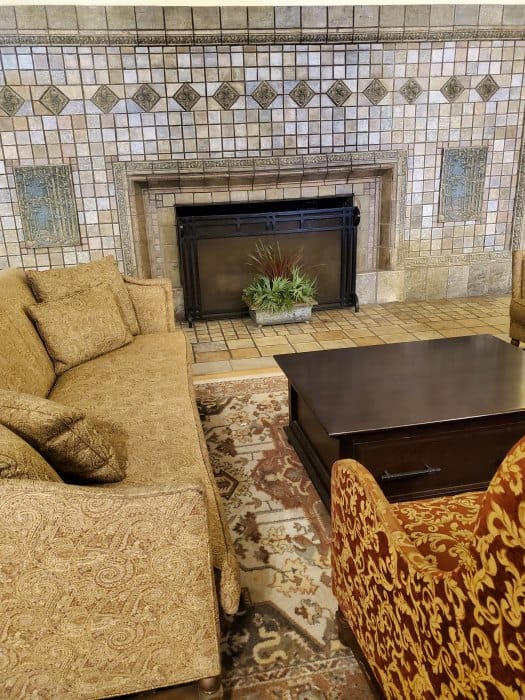 Lake Hotel Lounge
The Lake Hotel Lounge is located near the main lobby in the sun room. You can enjoy a cocktail or beer while gazing out over Lake Yellowstone.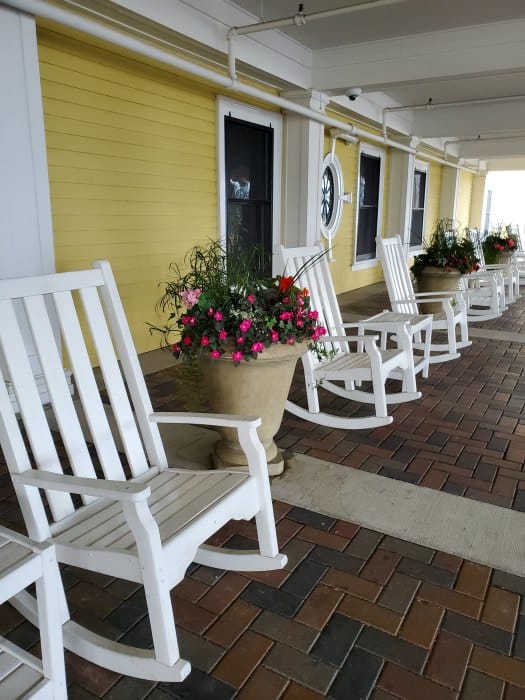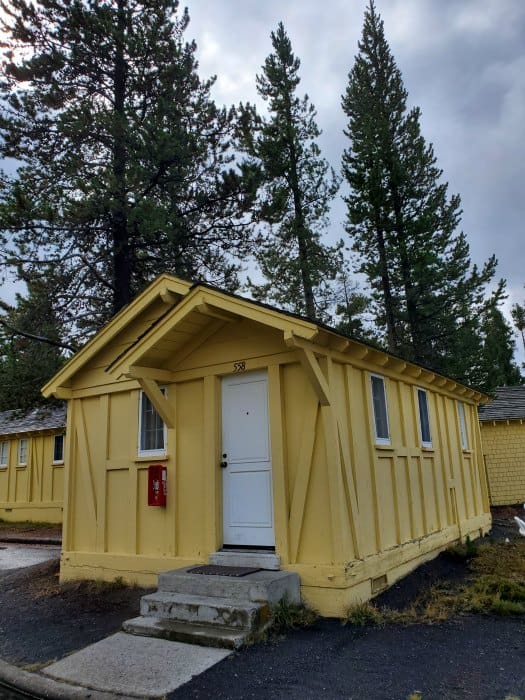 Lake Cottages
The Lake Cottages were built in the 1920s and remodeled in 2003/04. The Lake Cottages are located behind the hotel.
Cabins include two double beds and a private bath with a shower (no tubs).
Lake Yellowstone Activities
Scenic cruise on Lake Yellowstone
You can enjoy a one-hour scenic cruise on Lake Queen II which leaves from the Bridge Bay Marina. The boat cruise is done in a covered and heated boat that heads to Stevenson Island where you can see the wreck of the SS E.C. Waters and learn about the history, ecology, and geology of Lake Yellowstone.
Lake Yellowstone Guided Fishing or Sightseeing Charters
You can hire a captain to take you fishing for Lakers and Cutthroat, or trolling in a charter boat. You can book these at any activities desk or Bridge Bay Marina.
Boat Rentals
You can rent an 18-foot outboard motorboat from the Bridge Bay Marina. Rental boats are available on a first-come-first-serve basis. Passengers must be 2+ years old.
Things to know when planning a stay at the Lake Yellowstone Hotel
Opens: May 15, 2020
Closes: October 12, 2020
Check-in time – 4:30 pm
Check out time – 11 am
Cribs – Cribs and crib sheets are available from the front desk upon request
Firearms – firearms both open carry and concealed weapons under permit are prohibited in Xanterra operated properties.
WiFi – There is an ethernet connection in the room
Hotel offers wired internet service and a business center.
There is NO air conditioning, television or radio in any rooms.
The hotel has been designated a National Historic Landmark.
View the location map of park lodging and cabins at Lake Yellowstone
Additional Yellowstone National Park Resources
Ultimate Yellowstone National Park Lodging and Cabins Guide– The most complete source you can find on lodging and cabin options in Yellowstone National Park
Old Faithful Inn– Plan a trip to one of the most Iconic National Park Lodges!
Yellowstone Camping Guide – Information on all of the campgrounds within the park, reservations, site photos and more.
Things to do in Yellowstone – These are the top things to do that you don't want to miss during your trip!
Yellowstone National Park Facts – Learn more about our 1st National Park and fun facts about the wildlife in the park.
Jackson Lake Lodge – Find out what it is like to stay in this gorgeous Grand Teton NP Lodge.
Mammoth Hot Springs Hotel – Find out what it is like to stay in this great Yellowstone lodge.