First-time visitors oftentimes find themselves overwhelmed by all the things to do in Grand Teton National Park. I still find plenty of things to do even after coming here for over 20 years!
It's a park that has something for almost any park visitor. The Tetons offers incredible hiking trails, climbing, water activities, Wildlife viewing, auto touring, horseback riding, float trips, and much more!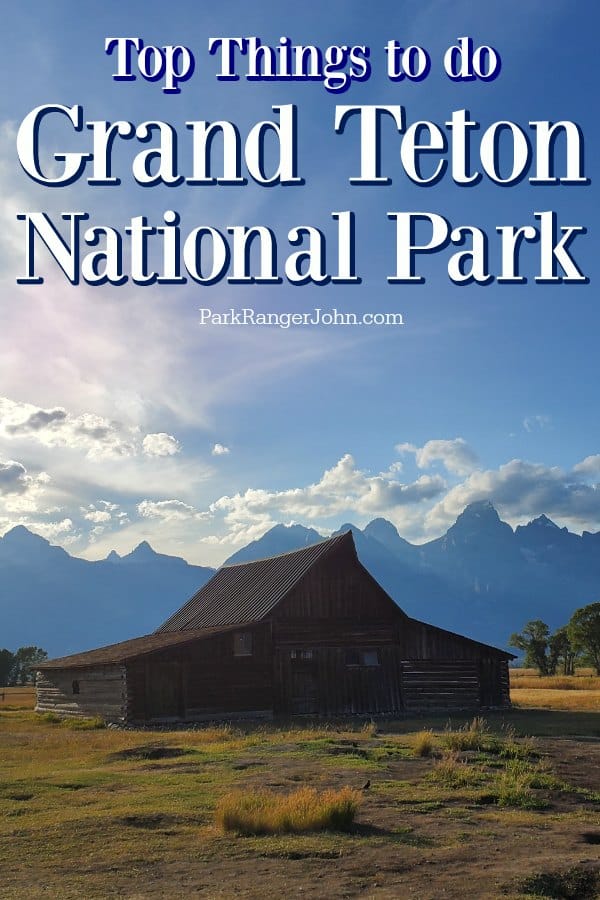 Things to do in Grand Teton National Park
Stop at the scenic overlooks
I still remember my first trip to the Tetons. My jaw dropped when I got to Jackson Lake and saw the mountains! It seemed like each corner was prettier than the previous one. I stopped at several of the overlooks including Oxbow Bend Turnout, Snake River Overlook, Teton Point Turnout, and Glacier View Turnout.
I was completely enamored! What completely blew my mind is that the valley floor throughout the Tetons is approximately 6500' in elevation. This is a high elevation country, then you have this mountain range that just shoots straight out of the ground reaching as high as 13,770' in elevation.
The views here are second to none and the reason alone to come to see this incredible park. I keep coming back still in awe.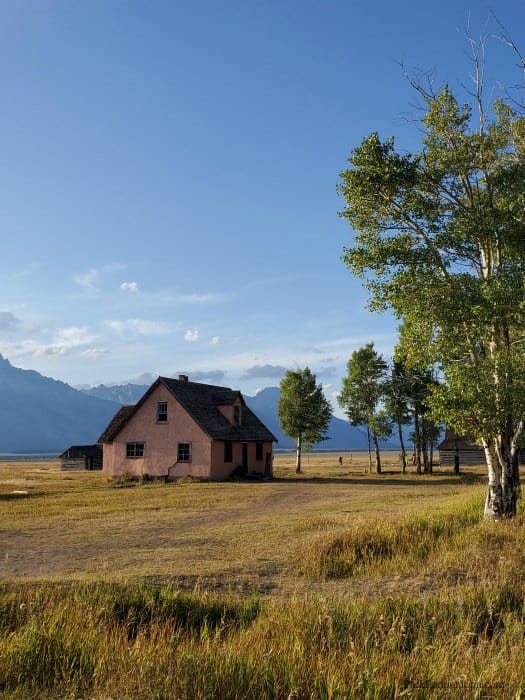 Mormon Row is one of the most photographed locations in the park. The photo of the barn with the Tetons in the background is easily one of the most recognizable portraits of the American West.
It symbolizes the American dream of the westward movement and was one of the last places to be homesteaded due to its remoteness and ruggedness. This was not an area for the faint of heart and life was hard here. The winters are cold and water was not easy to find.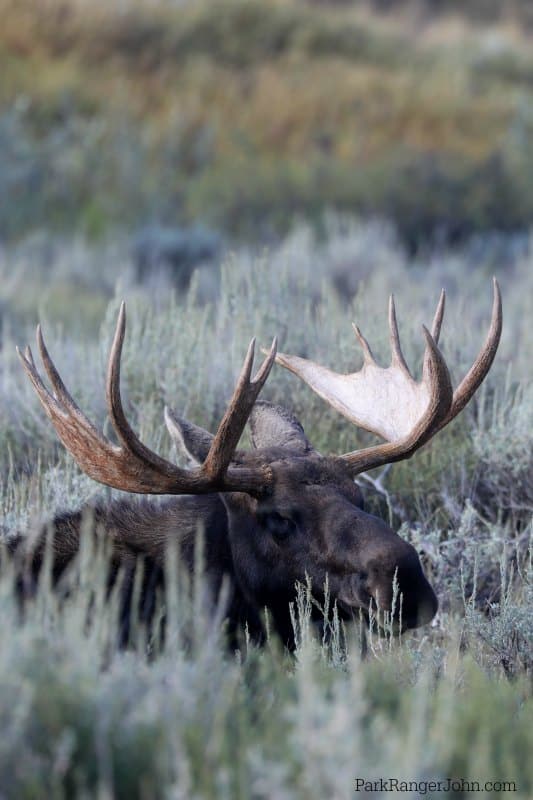 I personally feel that between Yellowstone and the Grand Tetons, you will not find better wildlife viewing opportunities anywhere in the lower 48! Everyone asks me where to go to see wildlife in the Tetons and I tell them they just need to show up!
Wildlife commonly seen include black bear, grizzly bear, moose, elk, bison, pronghorn antelope, deer, coyotes, badgers, otters, and fox. There are many more species, especially birds that make Grand Teton National Park home.
Don't be surprised to see wildlife management vehicles near heavy wildlife areas. These park volunteers and employees are there to keep not only you safe but also the wildlife. They will ask you to move your car or to get off a trail if they feel like it is needed.
The area I get asked about the most for wildlife viewing is Moose-Wilson Road as it is well known for moose. Yes, I have seen moose along this road, I have also seen moose along the Gros Ventre River and campground.
I think that I personally have a love-hate relationship with Moose Wilson Road. I say this because I love the wildlife here but hate that there is very little parking and the road shoulders have been either signed as no parking or there are rocks and logs preventing people from parking.
String Lake
String Lake is one of the most popular locations in all of Grand Teton National Park! The parking lot fills up early and you best get up early if you want to spend time here. There is plenty to keep you busy all day from going swimming, picnicking, canoeing/kayaking, and hiking.
Park Ranger John Pro Tip:
Get to the lake super early for a great experience of canoeing/kayaking. The wind is generally calm in the mornings as well as fewer people giving the lake a mirror-like reflection on the water.
This also provides excellent photo opportunities. It is also more likely to see wildlife early in the morning.

42 Mile Scenic Loop Drive Grand Teton National Park
The 42 Mile Scenic Loop Drive in Grand Teton includes the Teton Park Road as well as Highway 26. It also covers many of the park's scenic overlooks and attractions like String Lake, the Cunningham Cabin, Mount Moran, Mormon Row, Taggart Lake, String Lake, Jenny Lake, Menor's Ferry Historic District including the Chapel of the Transfiguration.
There are two additional scenic drives that connect to the 42-mile scenic drive; Jenny Lake Scenic Drive and the Signal Mountain Summit Road Drive.
About the only place, it doesn't take you to is the Colter Bay Village which is north on the way to Yellowstone National Park. I have also seen lots of wildlife by simply driving along this loop road enjoying the scenery.

Biking
Grand Teton National Park is incredibly bike-friendly with bike racks and many of the popular trailheads and destinations.
Those going to the park with bikes have the chance to use the Multi-Use Pathway, opened to the public in 2009. This paved route runs alongside the Teton Park Road to South Jenny Lake and provides some great views of the surrounding landscape.
The National Park Service put out a great brochure on biking at GTNP. It includes the gravel surface River Road and Two Ocean Lake Dirt Road.
This provides plenty of opportunities for bikers to enjoy the park scenery. There are also plenty of opportunities for hikers, with a number of walking routes winding their way around the park.
Visit one of four of the Grand Teton National Park Visitor Centers
There are a number of visitor centers around the park providing details and information about activities, alerts, the landscape, and wildlife.
Colter Bay Visitor Center
Hours: 9:00 am-5:00 pm
Closed all major holidays except Independence Day and Labor Day.
The Colter Bay Visitor Center sits on Lake Jackson and previously served as the Colter Bay Museum.
Jenny Lake Visitor Center
The Jenny Lake Ranger Station provides useful information for those who plan to spend time in the park. They also offer activities such as guided walks and talks.
The ranger station at south Jenny Lake provides information and backcountry permitting for climbing and mountaineering in the park.
Craig Thomas Discovery and Visitor Center (Moose)
Hours: 9:00am-5:00pm
Closed all major holidays except Independence Day, Labor Day, and Columbus Day.
Open Seasonally from Late Spring to fall.
The Craig Thomas Discovery & Visitor Center has many visitor services including exhibitions about the natural history and landscape of the park, a 24-minute park movie, and Ranger Led programs. You can also get permits for backpacking and boating and explore the park bookstore.
WiFi is available for free at the Craig Thomas Discovery Center and Visitor Center in Moose
Laurance S Rockerfeller Preserve Center
The Laurance S. Rockefeller Center offers activities such as guided walks and talks. It should be noted that some of the centers are seasonal and do not operate year-round.

For those who enjoy camping, there are plenty of developed campgrounds around the park. In total there are six to choose from and these typically have a number of individual and group sites on offer.
While some, such as the Jenny Lake Campground, offers only tent camping, others allow RV and trailer camping. The Colter Bay RV Park and Flagg Ranch Campground offer full hook-up sites for those who enjoy camping in a little more luxury.

Stay in a Lodge or Cabin
From the historic Colter Bay Cabins to the luxurious Jackson Lake Lodge and Signal Mountain Lodge you will love waking up in Grand Teton National Park. Each of the lodges is unique and offers a great experience.

Dine with a view at Jackson Lake Lodge
There are several dining options within the National Park Lodges but nothing compares to the Mural Room at the Jackson Lake Lodge. It is here that you can have breakfast, lunch, or dinner with epic views of the Tetons.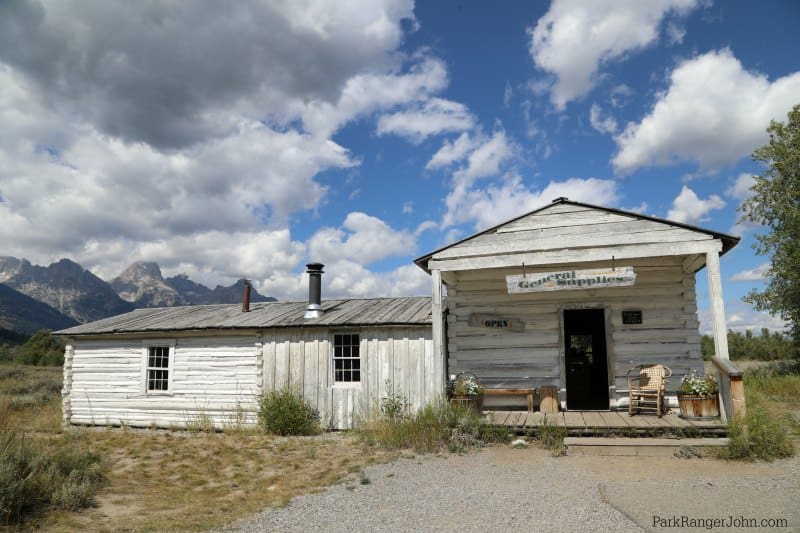 Menors Ferry Historic District
Just down from the Moose visitor center is the historic Menors Ferry. A short trail takes you to Bill Menor's cabin and country store.
Here you can see what life was like for one of the original homesteaders in this area. He created the ferry on the Snake River proving to be an important river crossing for people.
There are also a few supplies to purchase even today in the Menor's country store.

The Cunningham Cabin is one of the few remaining structures left standing from the Homesteading movement that took place in the Jackson Valley in the late 1800s.
Today park visitors come here for the iconic photo of the Tetons looking through the cabin window. I know that it's one of those photos that everyone has but I still love it here. I love starring out that window and wonder what it would have been like living here over 100 years ago without any of today's amenities.
Fishing
Those who have a valid fishing license for Wyoming have the chance to try and land a big one in the park. The waters and lakes around the park are generally open for fishing year-round, although there are a few exceptions to this. Full details of the fishing opportunities can be found in the Grand Teton Fishing Brochure.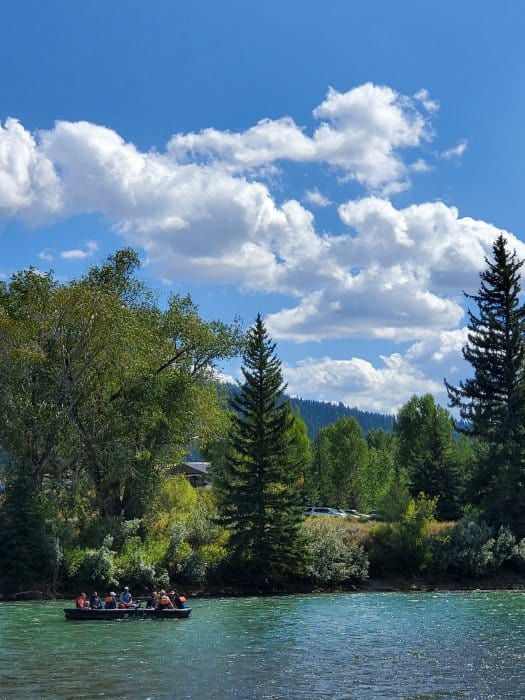 Boating
Visitors looking to take advantage of the water in the park have unlimited opportunities. Motorboats can access the Jenny and Jackson Lakes (10 horsepower maximum), and non-motorized boats can be used on the many lakes and rivers in the park. A fun way to travel on the water involves floating the Snake River.
Remember the rules for Boating in the Grand Tetons and make sure to read the park's brochure on boating and floating before you go. Boaters are first required to get a permit before launching any vessel in the park and can get the permit at the Craig Thomas Discovery and Visitor Center and the Colter Bay Visitor Center.
Also, remember that all boats entering Grand Teton National Park are required to stop for an AIS Inspection (Aquatic Invasive Species). By law boats coming from out of state must be inspected or have a valid proof of inspection before they launch on waters in the state, including waters in the park. Boaters must also purchase an Aquatic Invasive Species (AIS) decal from the Wyoming Game and Fish Department.
Jenny Lake and Jackson Lake Boat Tours
Jenny Lake
Jenny Lake boating runs small passenger shuttles from South Jenny Lake Boat Dock to Mount Teewinot. This shuttle basically eliminates a 2-mile hike each way to reach the Cascade Canyon Trailhead. From here, you can hike to Hidden Falls (1 Mile round trip), Inspiration Point (2 miles round trip), and beyond to several other trails.
They also offer an hour-long scenic cruise allowing you to sit back and soak in the scenery. They also have knowledgeable guides ready to answer questions and show you some of the highlights to the area.
Jackson Lake
The Grand Teton Lodge Company has several boat tours on Jackson Lake, the biggest lake in Grand Teton National Park. Tours are 1.5 hrs.-2.5 hrs. depending on if you have a cruise only or one with either breakfast, lunch, or dinner included. no matter which cruise you decide to take, the views of the Tetons are absolutely breathtaking!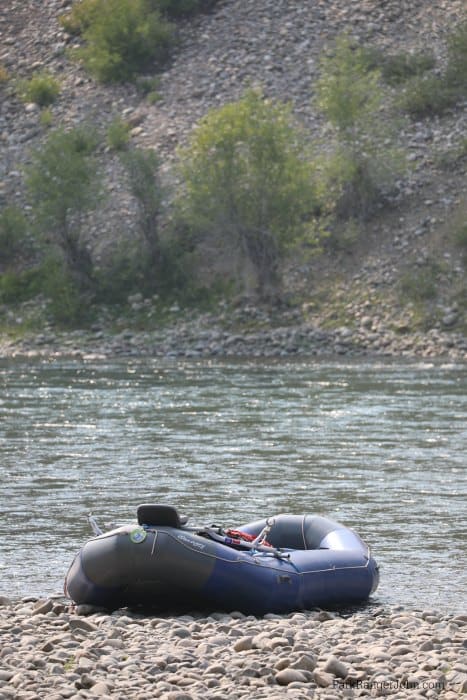 White Water Rafting in the Grand Tetons
Are you a thrill-seeker? Love to get wet? The Snake River raft trip will give you both! With names of rapids like the Big Kahuna and Lunch Counter, you will have a great time.
You also get the benefit of taking in the breathtaking scenery of the Tetons. There are several outfitters to choose from and will definitely be a highlight to your Grand Teton vacation.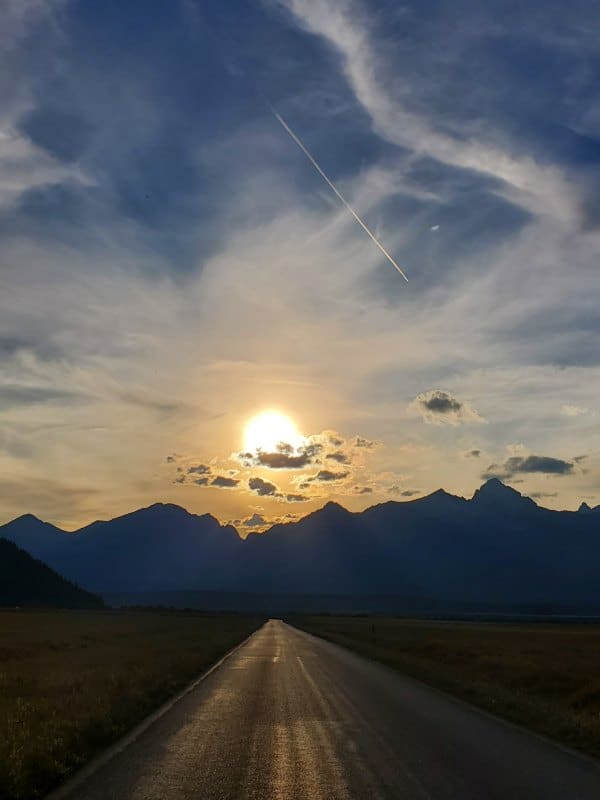 Places to see sunrise/sunset
Sunrise
Sunrise in Grand Teton National Park is an unforgettable experience. This is because the Teton mountain range sets directly east to several very photogenic locations. As the sun rises, the morning glow of the golden hour lights up the Tetons creating pure magic. There are several locations to get an epic sunrise photo so use your imagination as you look east. Some of my favorite sunrise locations include:
Sunset
One thing to remember about photographing sunsets in Grand Teton National Park is the sun sets in the west behind the Teton Mountain Range that go North-South as you face towards the east. This makes taking sunset photos very tricky as there is only a short window to take a great sunset photo.
This window occurs about an hour before sunset as the sun dips behind the Tetons, yet still, enough light to light the foreground of your image. With luck, you will have clouds above the Tetons adding color and texture to your photograph. For those of you who come prepared, can have an unforgettable photo of the sunset in the Tetons.
Some of my favorite sunset locations include:
Summit of Signal Mountain: Drive-up Signal Mountain Road to get a great view of the entire Jackson Valley.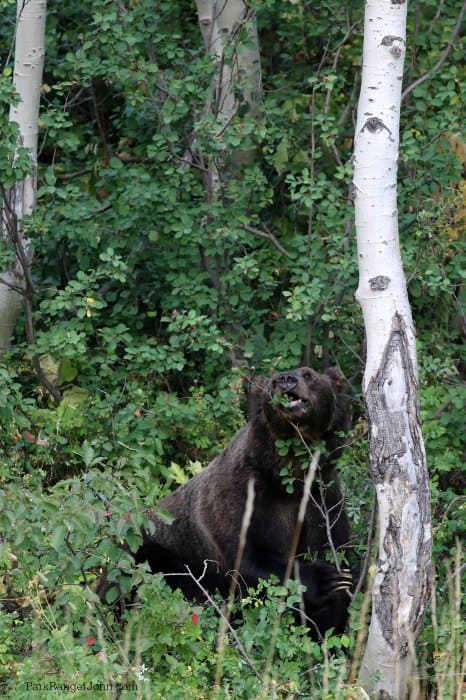 Hiking
There are well over 200 miles of hiking trails in the Grand Tetons. Needless to say, hiking is one of the park's most popular activities. There is a huge variety of trails from easy flat trails to epic hikes up to a glacier on the Teton Peaks.
One of the best tips we can give you for planning a hiking trip in Grand Teton is to arrive early to the trailhead. When I say early I mean hours before you think you need to get there. We have seen cars parked for almost a mile from trailheads. You do not want to end up having to take a longer hike from your car than the actual hike you are planning to take.
I always encourage everyone to carry the ten essentials with you and make sure that someone knows what hikes you are planning to take. The trails here are at high elevation, rocky and it is easy to twist an ankle or fall if you are not paying attention. The weather here can also change suddenly so I always encourage everyone to come prepared. You even have to plan on wildlife encounters here including the Grizzly Bear in the Tetons.
The best easy day hikes I would recommend to a first-time visitor would be:
String Lake Loop
Taggart Lake
Lunch Tree Hill
Hidden Falls
Inspiration Point
Lake Creek-Woodland Loop Trail
Grand Teton Brewing/ Snake River Brewing
I think everyone knows that I like to enjoy a good beer after exploring a new park, especially trying beers with names themed after the National Parks.
Snake River Brewing (Jackson, Wyoming) has a great Jenny Lake Lager and Grand Teton Brewing (Victor, Idaho) has a National Park Series including an Old Faithful Ale as well as an Old Faithful Root Beer for those under 21.
Make sure to check out my article, Beers inspired by the U.S. National Parks.
Additional Grand Teton Resources
Yellowstone Camping Guide – Breakdown of every campground in Yellowstone with site photos, reservations, and more.
Top things to do in Yellowstone – All the things you don't want to miss during your trip.
Grand Teton Camping Guide – Check out all of the campgrounds in Grand Teton.
Make sure to check out more great articles about Grand Teton National Park.
Also, make sure to check out my articles about Yellowstone National Park.
-