The Colter Bay Cabins are located next to Colter Bay Village and offer amazing access to the lake and water activities. They are spread out in the trees with easy parking in front of them.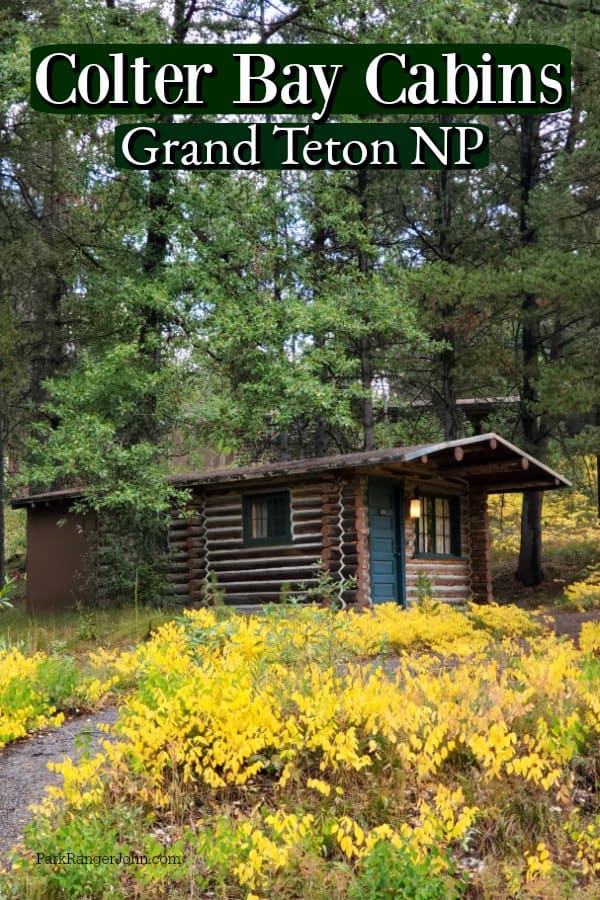 There are a few different types of private cabins offered at Colter Bay. One big tip is to check if the cabin has a shared or private bathroom. Some of the cabins have shared bathrooms that are outside of the cabin.
We stayed in a Colter Bay Village Cabin with 1 double bed and 1 twin bed along with a private bathroom.
1 double & 1 twin Cabin
We truly loved the cabin that we stayed in. It felt like we walked back in time and were in a log cabin. We learned while staying in the cabin that we did actually in a way walk back in time.
There was a great framed picture that explained that the Colter Bay Cabins we stayed in was built in the 1930s and was part of the Square G Ranch. The Square G Ranch was located on Old North Jenny Lake Road about 20 miles from Colter Bay.
The Square G Ranch was just outside what was then the Grand Teton National Park borders and offered guests the opportunity to enjoy horseback rides around Jenny Lake and Leigh Lake and experience campfires with views of the Teton Mountains.
When Colter Bay was built in 1965 cabins from all over the Teton Valley were brought on flatbed trucks to this area. The log wall cabin structure is the same as it was when it was built for the Square G Ranch. The only changes have been electricity and private bathrooms installed in the cabins.
One really amazing thing we learned is that within the cabin there is a custom-designed dresser that represents the early settlers who could only bring one prized piece of furniture with them in their covered wagons.
It was amazing realizing we were one of potentially thousands of visitors to Grand Teton National Park who have enjoyed the history of the cabin we stayed in. That for over 90 years people have been staying in these cabins.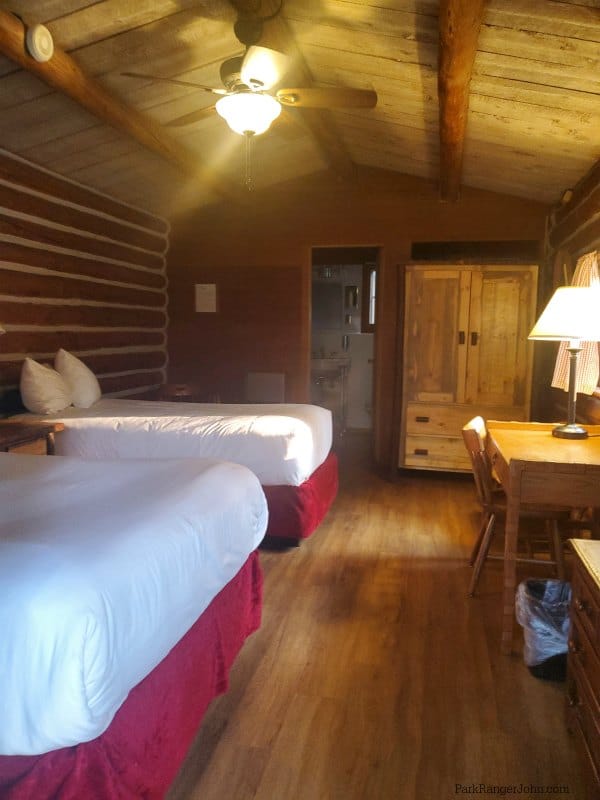 Our cabin had 1 double bed and 1 twin bed with two nightstands and lap. The beds were fairly firm but had great soft linens and quite a few pillows.
The cabin also has a small historic dresser, a nice table with a chair and a lamp, an armoire with closet space and drawers, and two wooden chairs. The alarm clock also had two USB electrical outlets for charging phones which was amazing.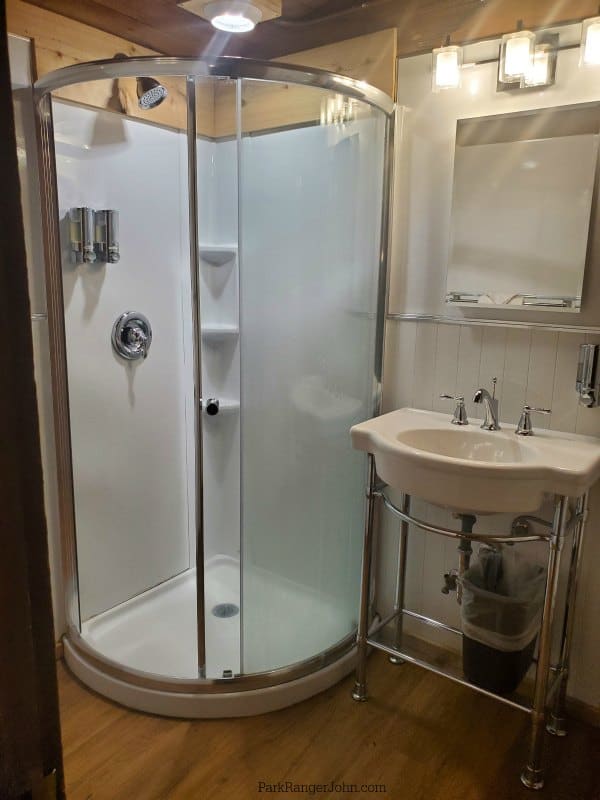 The private bathroom is larger than we expected for being in a cabin. It has a great walk-in shower, toilet, and sink along with shampoo and soap is available.
We did hear that bears are frequent in the area so there is no outside cooking or cooking inside of the cabins. While we were staying in Colter Bay a portion of the lake access was closed due to bear activity.
We would definitely stay in the Colter Bay Cabins again during a return trip to Grand Teton NP. The cabins provide easy access to not only Colter Bay but the main driving route through the park that passes by Oxbow Bend, Schwabacher's Landing, and down to Mormon Row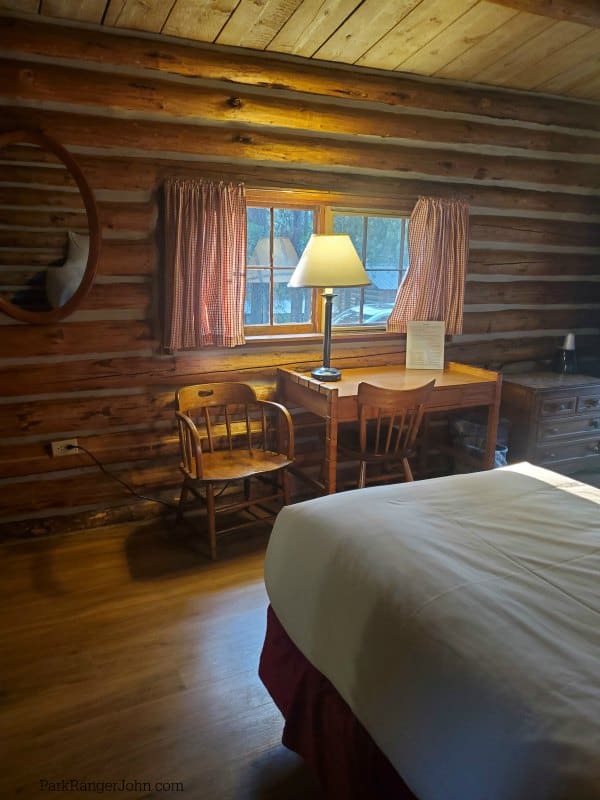 One Room Cabin with bathroom, one double & one twin bed can sleep up to 3 guests.
Cabins do not have coffee makers, mini-fridges, and or microwaves.
Rollaway beds and cribs are not available.
TV's are not included in our guest rooms.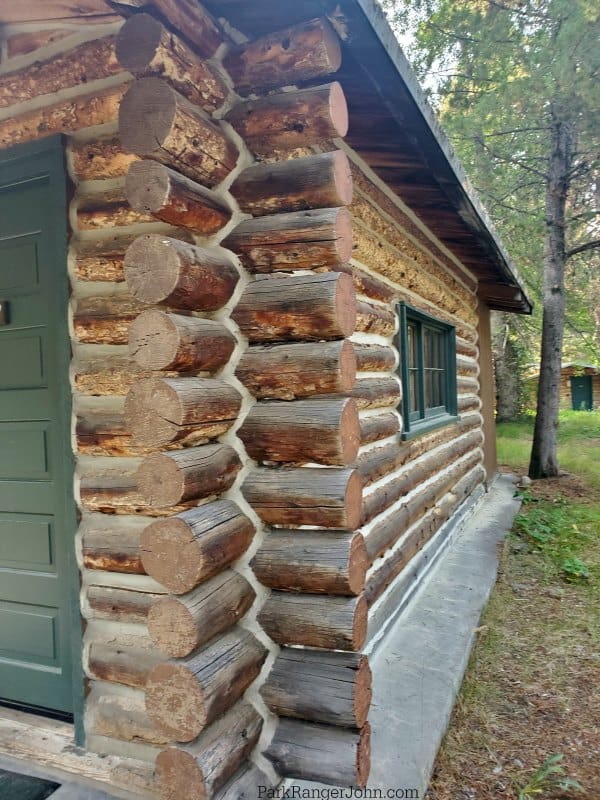 Things you need to know
Colter Bay cabins are available seasonally from late May to late September.
Reservations for all cabins can be made online or by calling 307-543-3100.
Check-In Time - 4 pm
Check out Time - 11 am
Smoking - All cabins are non-smoking.
WiFi - Complimentary wireless internet is available at the Cabin Office, restaurants, laundromat, and grocery store, however, it is not available in the cabins.
Pets - All cabins are pet-friendly. If additional cleaning is required to the bed and comforters after your stay, a $50 fee will be charged.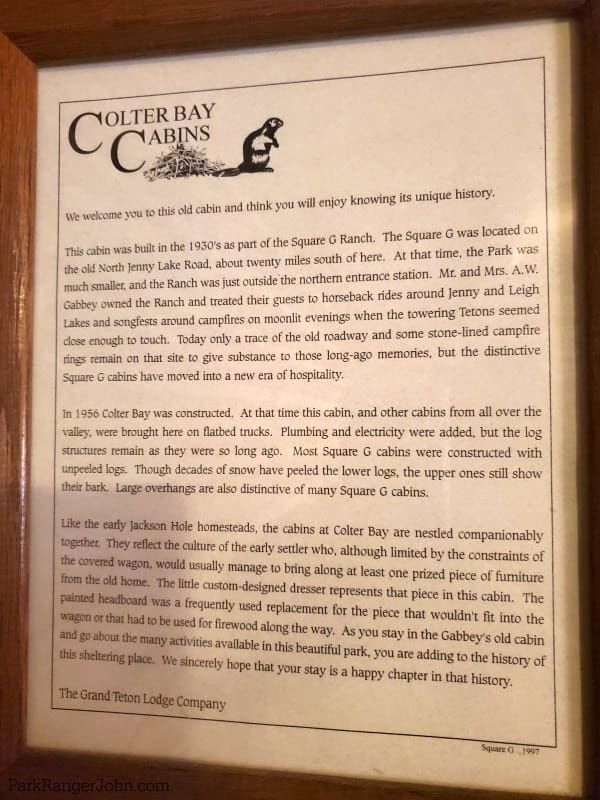 Nearby Grand Teton Attractions
Colter Bay - They offer a variety of boat rentals, a general store, laundromat, and it is only a short walk from the cabins
Jackson Lake - There are great lake cruises offered to help you have the perfect vacation. Colter Bay sits on the shore of Jackson Lake.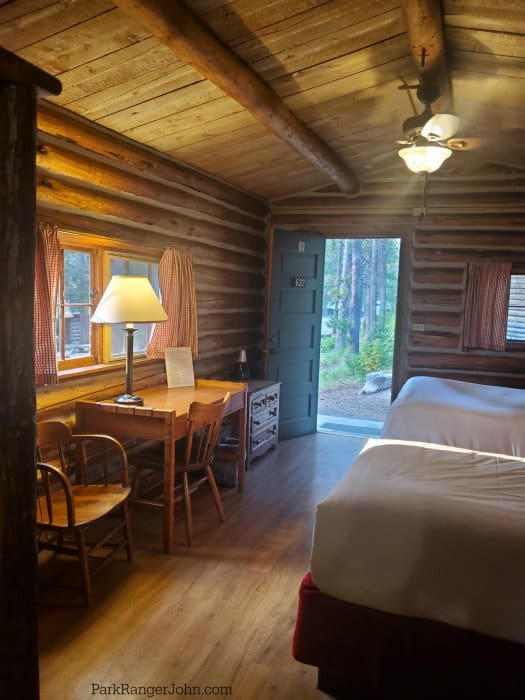 Closest Grand Teton Campground
Colter Bay Tent Cabins - Just around the corner from the Colter Bay Cabins the tent cabins have a wood-burning stove, outdoor fire ring, and picnic table. You will need to bring your own sleeping bags and supplies.
Check out all of the great Grand Teton Campground options.
Closest Visitor Center
Colter Bay Visitor Center
Additional Grand Teton Resources
Grand Teton Camping Guide - Find out about all of the great campgrounds within the park.
Grand Teton Animals - Check out the best places to see wildlife in the park.
Mormon Row - Learn more about this icon of the park.
Grand Teton Lodging Guide - Find out about all of the lodges within the park.
Free National Park Days - Check out all of the days the National Park Service waives park entrance fees.
Yellowstone Lodging Guide -Check out all of the lodges you can stay in while visiting Yellowstone NP.
National Parks in Wyoming - Check out all of the parks you can visit while in Wyoming.
Yellowstone National Park Guide - Everything you need to know to plan an epic trip.