The Gros Ventre Campground in Grand Teton National Park offers shaded spots, epic wildlife viewing, and great views of the Teton Range.

Gros Ventre Campground
Moose and Bison are common in the campground. Our first camping trip to Grand Teton National Park we saw Great Horned Owls and their owlets in one of the campsites. It was amazing. This is one of our favorite places to view Grand Teton Wildlife.
One of the benefits of staying in the Gros Ventre Campground is being close to Mormon Row and Jackson Hole.
This campground is also close to the Gros Ventre River providing great wildlife viewing.
Season: Early-May to early-October
Number of Sites: 300 sites, 5 groups sites, 36 electric hookup sites
Location in the park: closest campground to the town of Jackson, Wyoming.
Campsite cost:
Individual Tent & RV Sites (dry)
$38 per night
$19 per night for Golden Age/Interagency Senior or Golden Access/Interagency Access campers
Electric/ADA Sites
$60 per night
$30.00 per night for Golden Age/Interagency Senior or Golden Access/Interagency Access campers
*Please note, these sites are first-come, first-serve as well.
Group Campsites
$31 non-refundable registration fee, and $13 per person per night for group tent sites or $6 per person per night for Golden Age/Interagency Senior campers or Golden Acess/Interagency Access campers
Please note, group sites require at least 10 guests or more and are mainly for tent camping. RV accommodations are very limited in group sites.
Reservations for group sites open on January 2nd of each year and can be made by calling 307-543-3100.
Payments accepted:
Reservations: Yes, as of 2021 Gros Ventre Campground is on the reservation system.
Campground Address:
Latitude/Longitude:
Elevation: 6,565 feet
Accessible Sites: Yes, #169, 173, 174, 204, 206
There are 10 campsites that are ADA compliant with electric-only hook-ups. Most sites in the campground are level, vehicle-accessible, and surfaced with compact gravel. Several restroom facilities are wheelchair-accessible. The campground loop roads are paved and generally level, with some small inclines/declines. Routes to the amphitheater have an incline and are paved, but somewhat uneven. Please note, neither the campground registration office nor the courtesy phone is wheelchair accessible.
Pets Allowed: Yes, pets must be on a leash less than 6 feet in length. Pets must stay within 30 feet of the roadway.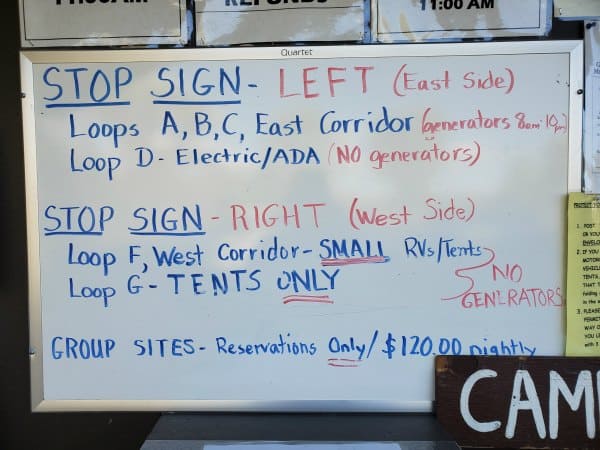 Gros Ventre Campground Reservations
Are campground Reservations Available? Yes
Phone Number? 1-877-444-6777
Online? Recreation.gov
How Far Ahead can you make a reservation? Individual sites at this campground operate on a 6-month rolling basis
Are there any First-Come, first-served campsites available?
Gros Ventre Campground Amenities
Flush Toilets: Yes
Showers: Yes, Showers and coin-operated laundry services are available for an additional fee at the Colter Bay Launderette or in the town of Jackson.
Payphone: Yes
Is wifi available? No
Is cellular Phone Service Available? Yes, we had service in most of the campground with T-mobile
Is camp host available on site? Yes
Is firewood available for purchase? yes, when the campground office is open
Amenities at each campsite:
Firepit in the site? Yes
Picnic Table in the site? Yes
Bear Box in site/area? Yes, Bear boxes are available for most tent sites.
Potable Water? Yes
RV Camping at Gros Ventre Campground
Thirty-six sites have electricity, 10 of which are ADA compliant with and adjacent restroom.
RV Length: RVs up to 45ft
Dump Station: Yes, a dump station is available in the campground for $10 per use.
Generators: Quiet hours are 10 pm - 8 am. Generators cannot be used during these hours.
No generators are permitted on the west side of the campground including the corridor, Loop F, Loop G, and the Group Loop.
Hookups: There are 13 electric hookup sites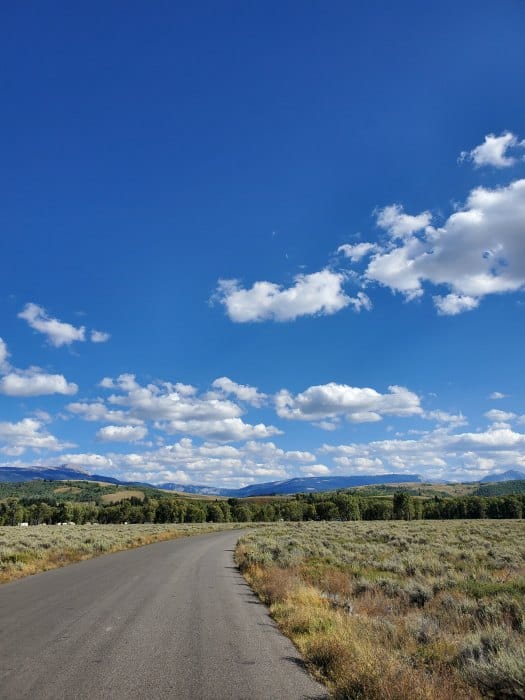 How to get to Gros Ventre Campground
11.5 miles southeast of Moose, Wyoming, near the town of Jackson. Go south on Highway 89 out of Moose, turn on the Gros Ventre/Kelly turnoff and proceed to the campground entrance three miles ahead.
Important Dates for Campground
2020 Dates: May 1 - October 9
Gros Ventre Campground Regulations
The maximum number of people in a campsite: Maximum 6 persons per site
The number of cars per campsite: Tent sites allow for up to two tents and two vehicles. RV sites allow for one RV (tow included) only. (For reference, 2 motorcycles = 1 vehicle)
Check-in Time: check-in any time of day that there is an unoccupied site.
Checkout time: 11 AM.
Quiet Hours: Quiet hours are from 10:00 p.m. to 7:00 a.m.
Maximum Stay: 14 nights and the maximum cumulative stay between all park campgrounds is 30 nights.
Don't forget to pack
Earplugs - Especially if you are in a tent you may get a lot of noise.
Food containers
Fire Starter
Smores Kit
Gros Ventre Campground Map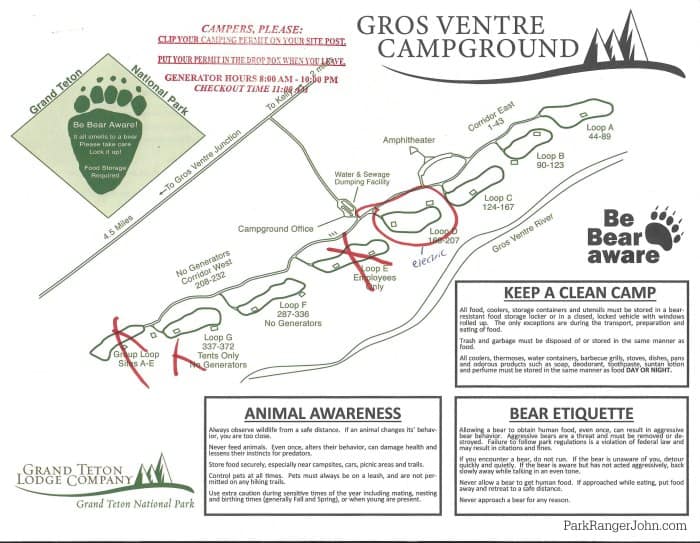 Gros Ventre Campground Videos
Loop B Loop C Loop D
Gros Ventre Campground Photos
Site 229
Additional Grand Teton/Yellowstone Resources
Grand Teton Camping Guide - Guide to every campground in Grand Teton.
Jackson Lake Lodge - Room photo and video, find out what it is like to stay at this great lodge.
Yellowstone Camping Guide - Breakdown of every campground in Yellowstone with site photos, reservations and more.
Top things to do in Yellowstone - All the things you don't want to miss during your trip.
Wyoming National Park - Check out the other great parks you can visit in Wyoming
Yellowstone Guide - Check out all of the things you need to know to plan a great visit.