The complete Grand Teton wildlife viewing guide is a must for anyone traveling to Grand Teton National Park! This guide will help you plan on what animals you might see, where to find wildlife, best times, etc.

Grand Teton Wildlife
When it comes time to spot wildlife, you are going to love Grand Teton National Park in Wyoming! Many people think of the greater Yellowstone Ecosystem for wildlife viewing then forget about Grand Teton just south of Yellowstone. I have personally found that Grand Teton National Park has some of the best wildlife viewings in any national park and rivals Yellowstone once outside Lamar Valley and Hayden Valley.
Grand Teton National Park has everything Yellowstone has including Grizzly Bears, Bald Eagles, mule deer, bison, and pronghorn. They even have wolves! What sets Grand Teton over the edge is that you also get the grandeur of the Teton Mountain Range and the Snake River.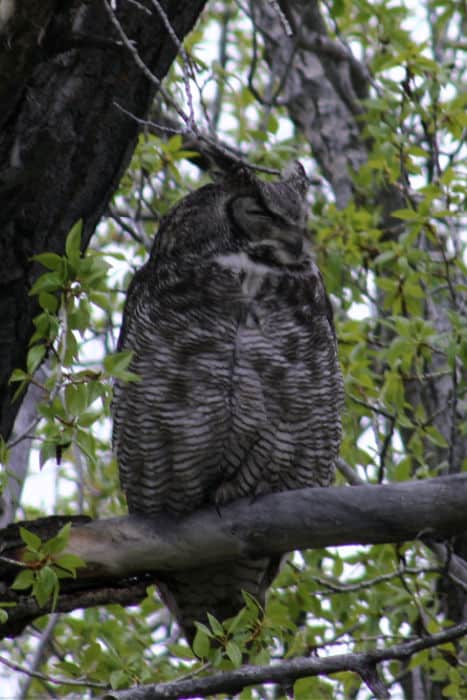 Wildlife Viewing Safety
The first tip here is to watch wildlife from a safe distance.
The National Park Service recommends that you keep a distance of at least 100 yards from bears, bison, and wolves and at least 25 yards from other large animals including moose, deer, elk, antelope, and bighorn sheep. I like to also add in to watch for behavioral changes in an animal as they can be telling you that they are not happy with you!
A great indicator is when an animal starts looking at you or they turn around and face you, this is a good time to start gaining distance between you and the animal.
My second tip is to carry bear spray when hiking or camping in grizzly country.
Whatever you do, carrying bear spray should not make you feel like you are safe or invincible outdoors. Bear Spray is for emergencies and I personally don't want to be close enough to a bear to use pepper spray!
My third tip is for people wanting a great wildlife photo.
Showing up in a park and attempting to get a close-up of wildlife requires skill and quality equipment. Cellular phones are great for landscape photos of the Tetons, Oxbow Bend, Mormon Row, and some of the other park highlights but are pretty ineffective for wildlife photography. My wildlife photos were taken with a Canon Mark 5 with a Canon EF 100-400 is usm lens. This gives me space and time to get to safety when photographing wildlife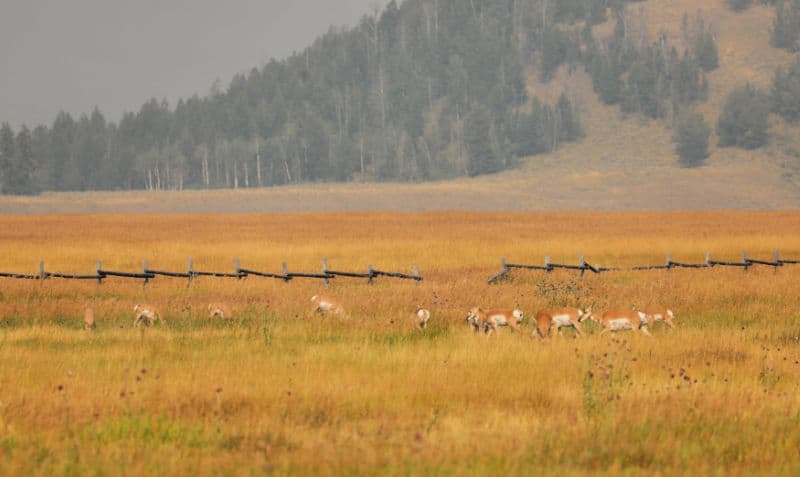 I need to put my ranger flat hat on for a second and remind everyone to be safe and careful around wildlife. Some of the things I have seen while looking at Teton wildlife have been truly frightening.
PLEASE remember that wildlife in a National Park is wild, not zoo animals or a drive-through petting zoo!
We have seen people running towards grizzly bears and then running away from them. Please maintain a safe distance from all wildlife and remember that running towards an animal can trigger them to think they are being attacked and running away can trigger their predator instincts and chase you down for lunch!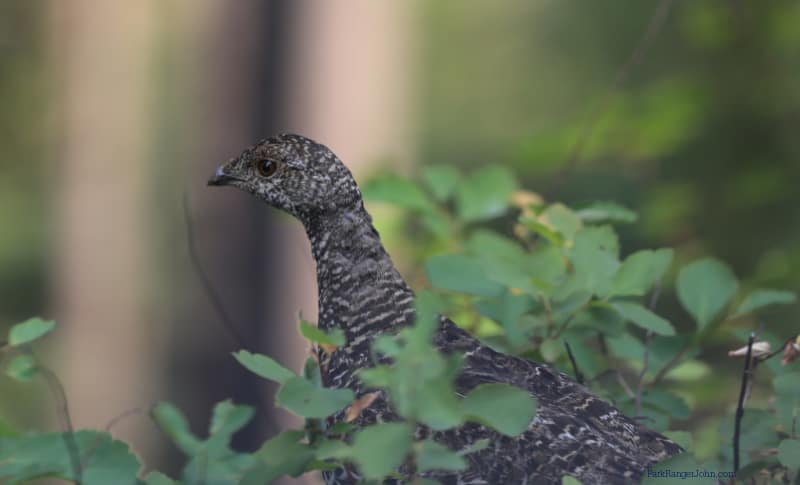 Exercise extreme caution when crossing a highway or park road. I have seen park visitors and their kids get so excited at seeing an animal that they run across a road in front of cars as the cars go zooming by at 55 mph. I totally understand the excitement of seeing wildlife and wanting to get a great epic photo but remember the other car could be looking at the same wildlife and not see you in the road!
If you decide to park on the side of the road please make sure that you get your vehicle over as far as possible and completely off the roadway. Even pulled over fully on the side of the road we almost lost a side mirror to a rental RV driver that did not realize how close he was.
We also almost saw someone get hit in the head by an RV mirror as the driver got distracted by the bear on the side of the road. Please always remember to watch your surroundings and stay safe. I want you to be able to enjoy your entire time in the park.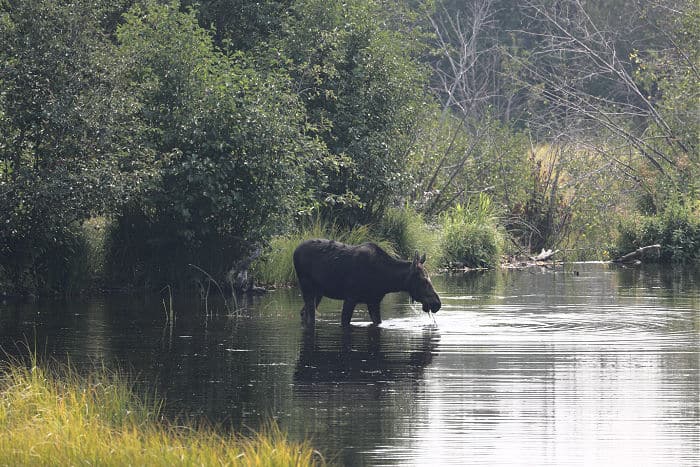 What is the best time to see wildlife?
There is a little luck in wildlife viewing, after all, we don't release wildlife from cages every morning! More importantly, is knowing about wildlife. Knowing an animal's habitat, if they hibernate or not, and what they prefer to eat, etc. can help you locate wildlife.
Early morning and late afternoon are the best times to see wildlife as this is when they are most active.
The best time of year to see birds is during the spring and fall migration. I prefer spring for birdwatching, also a great time of year to see wildlife with babies. Now I personally prefer photographing big game in the fall. This is because antlers have become larger by the fall and it's a special moment to hear an elk bugling!
Grizzly Bears
One of the highlights of any trip to Grand Teton is seeing Grizzly Bears! Grizzlies are common in Grand Teton National Park and are most commonly seen in the northern end of the park, especially around Pacific Creek Road and Pilgrim Creek Road.
One of the most famous grizzly bears in Grand Teton is #399 who is thought to be over 24 years old and had 4 cubs in 2020. We had the chance to see her along Oxbow Bend and it was amazing.
Keep an eye out for people with huge camera lenses set up along the side of the road and you may be able to see #399 or one of the other amazing grizzly bears in the park.
Park Ranger John Pro Tip
Bears will be tagged and monitored for their health and safety. Locals and photographers become very familiar with these bears and oftentimes have fun stories and fantastic photos.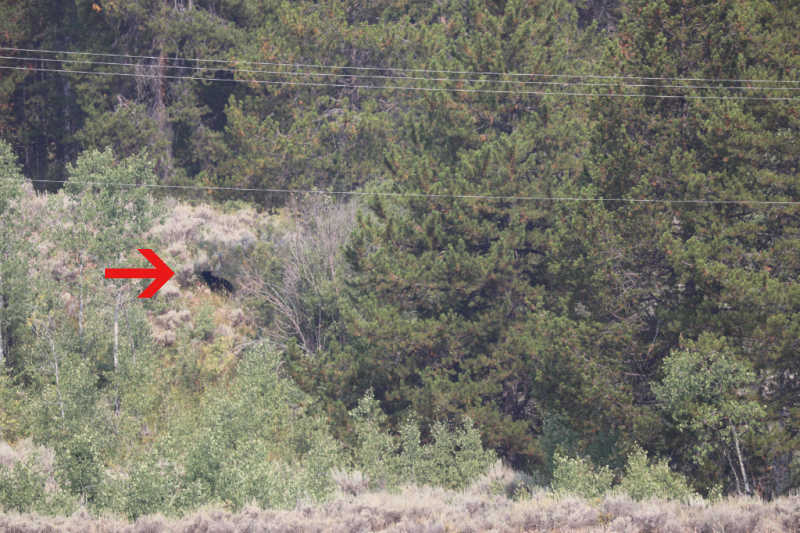 Black Bears
Black Bears are smaller than Grizzly Bears and tend to be seen in more forested areas throughout the park. Black bears are commonly seen in Pacific Creek Road. Keep an eye out for them along the sides of creeks and in the wooded areas of the park. Just because black bears are smaller doesn't mean you shouldn't give them the same respect and space as a Grizzly Bear.
One thing about wildlife viewing in Grand Teton is it is not always close by. As you can see from the black bear picture above which was taken with a telephoto lens from a ways away.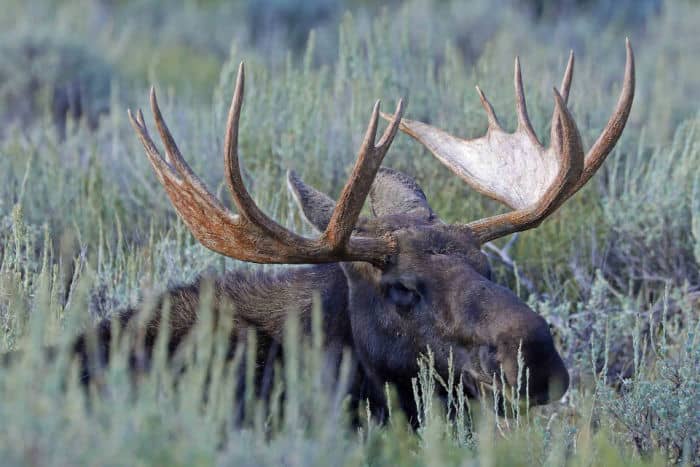 Moose
Moose are amazing creatures that are bigger than you expect them to be. They are also highly adaptable and can be seen not only in rivers and lakes but in the forest too! The most common places to see Moose is moose browse is along the beaver ponds along the Moose-Wilson Road and along the Gros Ventre River.
We saw 3 large bull Moose in the Gros Ventre campground and another along the Moose-Wilson road during our last trip to the park. Keep an eye out in marshy areas for the moose to be chewing on leaves.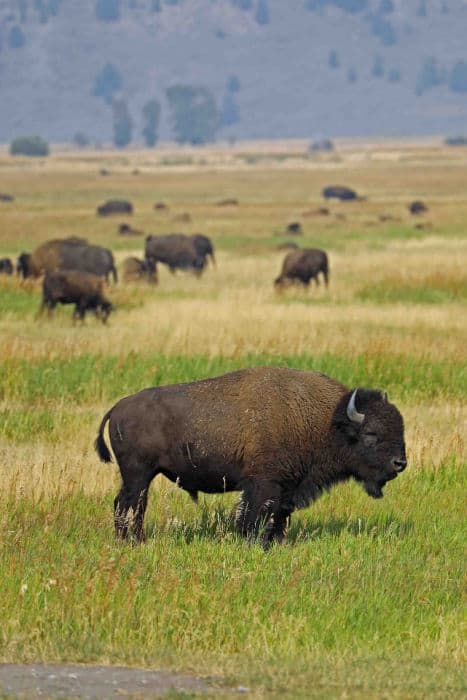 Bison
You can see Bison graze near the Elk Flats Overlook most of the time. This large spread of open grazing area also has pronghorn antelope, cows, and horses.
Please remember that even though bison look like fluffy cows they are actually up to 2500 pounds, more than a Nissan Versa! Bison can also run up to 35 mph which is faster than Usain Bolt who is the fastest human on record who reached 27.8 mph for a 100-meter sprint. Most average humans can maybe hit 10 mph on a short sprint.
The moral of my story, is that you wouldn't run in front of a car driving 35 mph., so why jump in front of a Bison?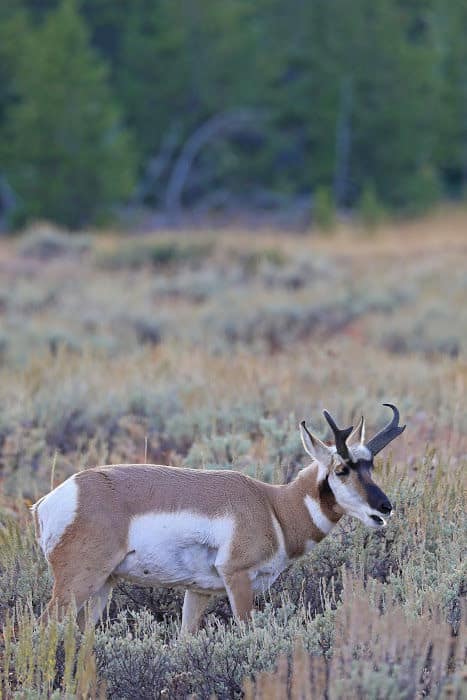 Pronghorn Antelope
Keep an eye out for the furry white butts of pronghorn antelope as you drive down Elk Flat Overlook, antelope flats road, or other pasture areas and throughout the park. The furry white butt is a warning mechanism as the white hair will rise when startles and can be seen for miles. It is always amazing to see these animals run along the pastures and can reach speeds of up to 65mph!
For being so fast, they are not good jumpers and will usually slow down and crawl under a fence instead of jumping over one.
Pronghorn Antelope are herbivores and can be seen in grasslands throughout central and western North America.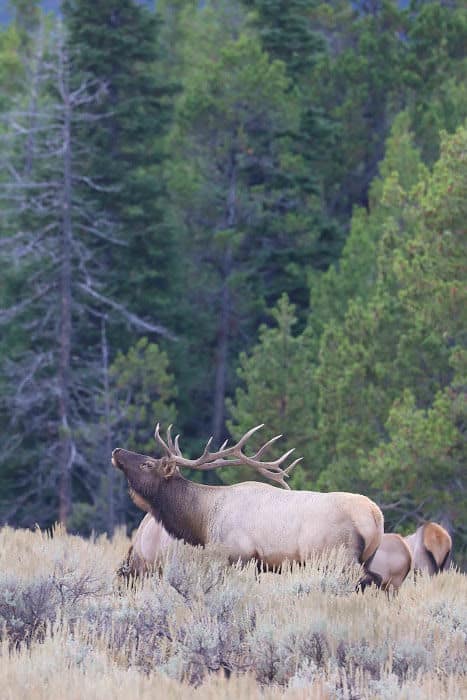 Elk
Similar to the pronghorn antelope I have to admit that most of the time what you will see first when looking for elk is their butts. LOL! They have an almost heart-shaped white fur area around their butt that stands out in the trees.
From the front elk can blend in really well but when they turn around it is hard to miss their butts.
We have seen elk throughout Grand Teton National Park including the wooded areas along Moose-Wilson Road and also in more open pasture areas along some of the side roads.
If you are visiting Grand Teton in the winter make sure to plan time to explore the National Elk Refuge just south of the park heading to Jackson Hole. During the winter, more than 15,000 elk winter in this wildlife refuge.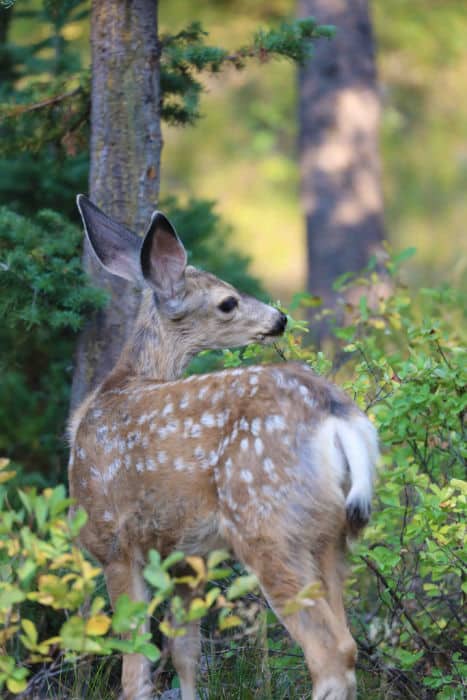 Deer
Deer seem to pop up when you least expect them. They are known for darting across the road during dusk or popping out of trees just by the side of the road. We have seen mostly blacktail deer in Grand Teton.
Chipmunks/Squirrels
You will see quite a few chipmunks and squirrels darting around parking lots and camping areas within the park. They are super cute but please give them a safe distance. I know many of us grew up being told that chipmunks were great to feed our extra food to but now as adults we know that this is not healthy for the chipmunks or squirrels.
It may also not be healthy for your fingers as chipmunks and squirrels BITE! Most of the wildlife issues that I encountered as a 20-year law enforcement park ranger were people getting bit by a chipmunk.
They may look cute and cuddly but their bites are not fun and can bring with them disease and other issues. It is best to keep space between you and the furry chipmunk and just enjoy the view.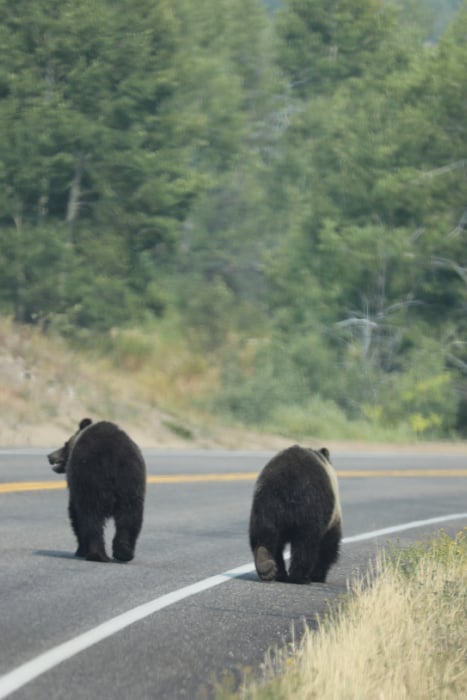 Viewing wildlife in Grand Teton can easily be the highlight of your Wyoming adventure! There is nothing quite like watching grizzly bears walk down the road in front of you or a moose lifting its head out of the water to make you gasp in awe.
Even after many trips to Grand Teton NP, I am still always in awe of the animals that make this park their home.
If you are looking to track the wildlife you have seen or want an easy way to identify all of them make sure to check out these great resources:
Wildlife Viewing spots near Grand Teton National Park
Epic Guide to Yellowstone Animals- Yellowstone Wildlife Guide
Lamar Valley - Yellowstone National Park
Hayden Valley - Yellowstone National Park.
National Parks Near Grand Teton National Park
John D Rockefeller National Parkway
Fossil Butte National Monument
Craters of the Moon National Monument
Make sure to check out all the Wyoming National Parks, Montana National Parks, Idaho National Parks, and National Parks in Utah!