Oxbow Bend is one of the most popular photography and wildlife viewing areas in Grand Teton National Park. This scenic pull-off offers amazing views of the Teton Range.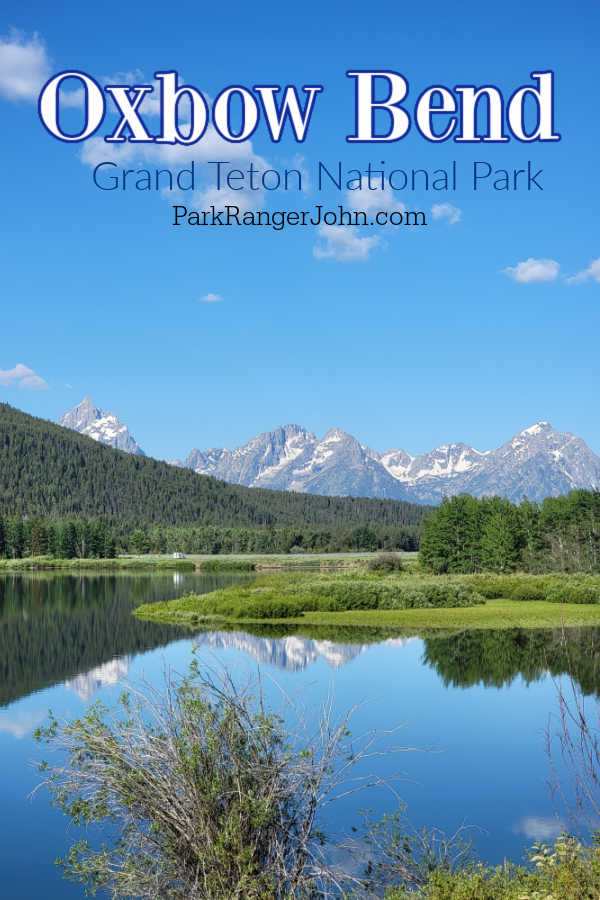 Oxbow Bend - Grand Teton National Park
If you have seen photos from Grand Teton NP, you have most likely seen at least one taken from Oxbow Bend. It is one of the most scenic sites in the park.
When the water is calm Mount Moran can be seen reflected on the surface of the water. This is a photographer's paradise when the lighting is right!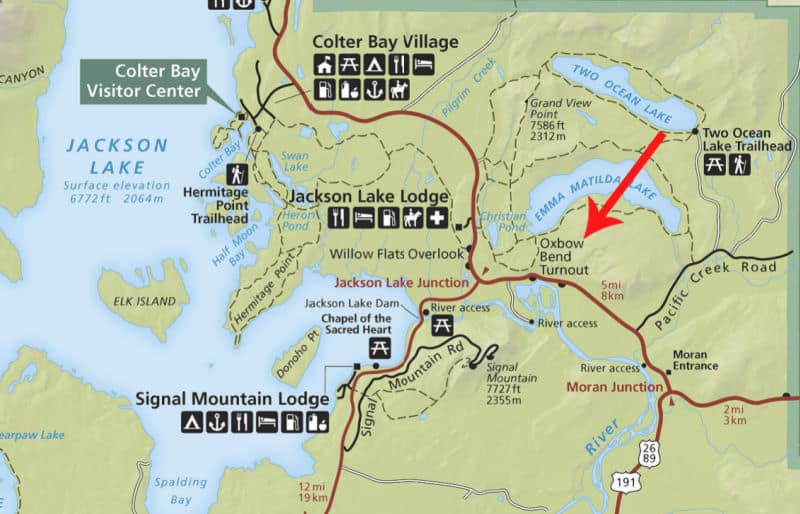 Where is Oxbow Bend?
Oxbow Bend is an overlook along highway 89/191 between Jackson Lake Junction and Moran Junction. Located just a little over a mile straight east of the Jackson Lake Junction on Highway 89.
From Jackson Hole, it is 33 miles to Oxbow Bend.
Wildlife at Oxbow Bend
We have had amazing luck seeing wildlife while parked at Oxbow Bend, including world-famous grizzly bear #399 and her cubs. We have also seen Bald Eagles, River Otters, and other wildlife.
Black bears are often spotted in this area also.
Always maintain a distance of at least 100 yards from bears and wolves and 25 yards from all other wildlife.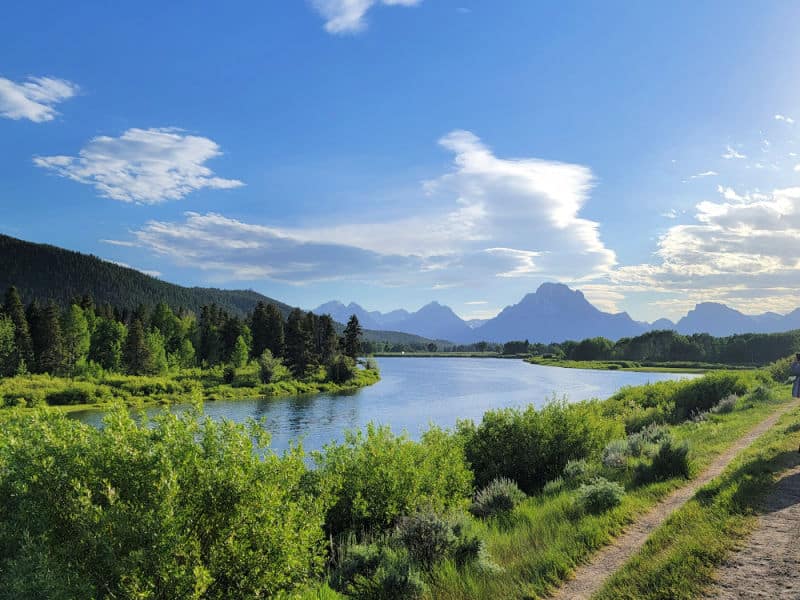 Photographing Oxbow Bend
This overlook is a photographer's dream! As the light changes during the day, you can get unique and amazing photos.
No two visits to Oxbow Bend will result in the same photos. Weather, clouds, wildfire smoke, time of year, and more can all affect how your photos look.
We visited in August and found the entire park covered in wildfire smoke that had blown in from Idaho. We couldn't even see the Teton Range; it was so hazy from the smoke. We could barely see the Aspen Grove in the distance.

Fall Colors
Oxbow Bend is one of the most popular places to photograph the fall colors in Grand Teton.
What to bring with you
Depending on the time of year you are visiting, you will definitely want to be prepared for the weather. It can be COLD in the morning and HOT in the afternoon.
Binoculars/Spotting Scope - These will help spot birds and wildlife and make them easier to identify. We tend to see waterfowl in the distance, and they are always just a bit too far to identify them without binoculars.
Grand Teton Wildlife Card - We love bringing these wildlife cards with us, especially when traveling with family who is not used to the wildlife. They are a great way for everyone to be able to identify what wildlife they are seeing easily.
Things to know
ADA Accessibility - Paved pullout along the snake river. Views can be seen from the pullout.
Pets - Pets are allowed in the paved parking area. Pets are not allowed on dirt trails or in the river.
Make sure to keep an eye out for wildlife near and on the road!!! A ton of mule deer, bison, elk, and other large animals cross the highway to reach the Snake River for water.
Additional Grand Teton NP Resources
Grand Teton Lodging Guide - including Jackson Lake Lodge, Signal Mountain Lodge, Jenny Lake Lodge, and more.
Check out all of the great National Parks in Wyoming and neighboring Colorado National Parks, Idaho National Parks, National Parks in Utah, Nevada National Parks, Arizona National Parks, and New Mexico National Parks.