Signal Mountain Lodge is located on the shores of Jackson Lake in Grand Teton National Park.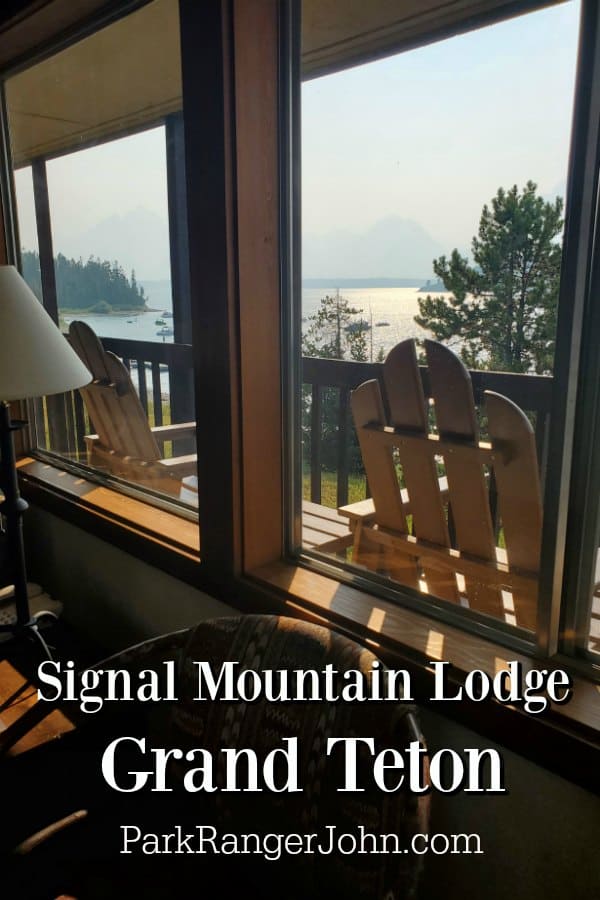 Lakefront Retreat
Lakefront Retreat units are the only room type that offers views of Jackson Lake and the Teton Mountain Range
We stayed in a king upper view room at the Signal Mountain Lodge and it was honestly amazing! Even with the Tetons clouded in smoke, the views were phenomenal. It is hard to describe being able to curl up with a hot cup of coffee looking out as the sun lights up the Teton range in the morning.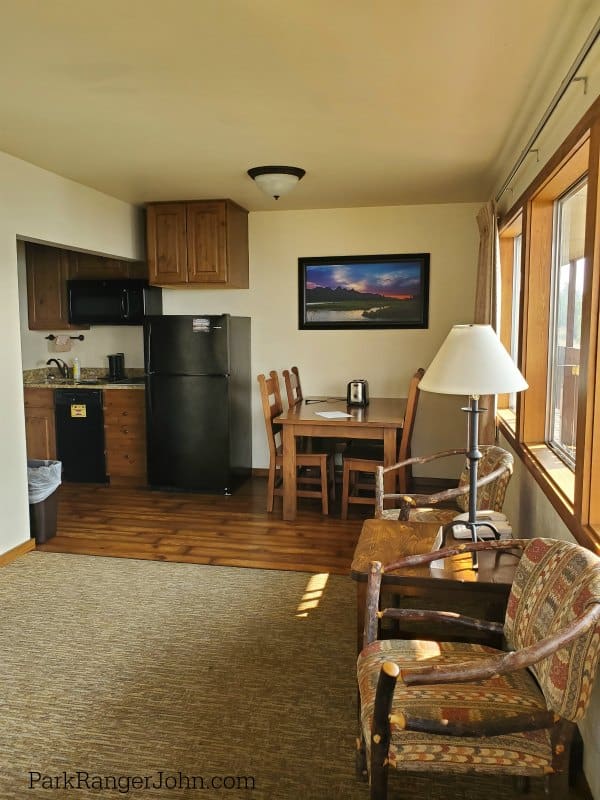 The room included a living/kitchen area with a leather couch big enough for 2 people, 2 chairs, and a table, along with a dining room table and four wooden chairs.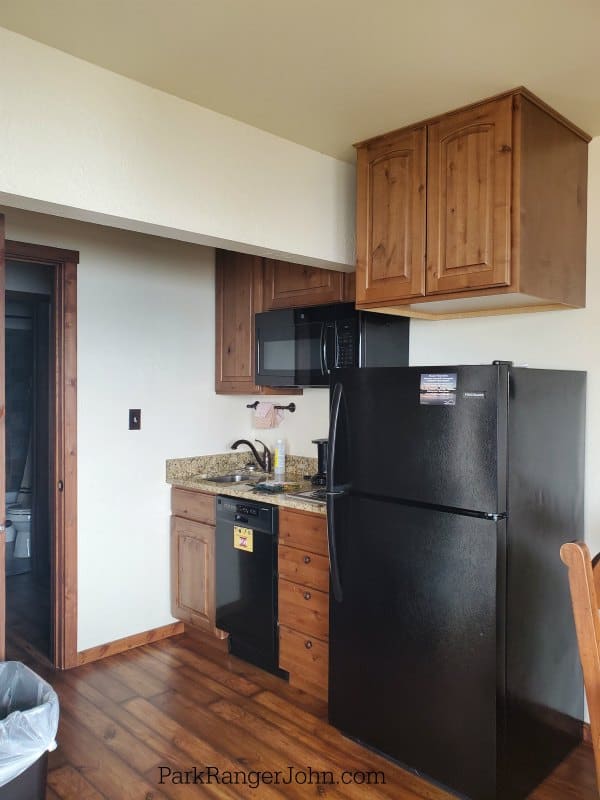 The small kitchen has a medium-size refrigerator, 2 stovetop burners, a small sink, and a microwave.
There is also a dishwasher and most of the dishes you would need to enjoy meals in the room. A toaster and coffee maker were also available in the kitchen.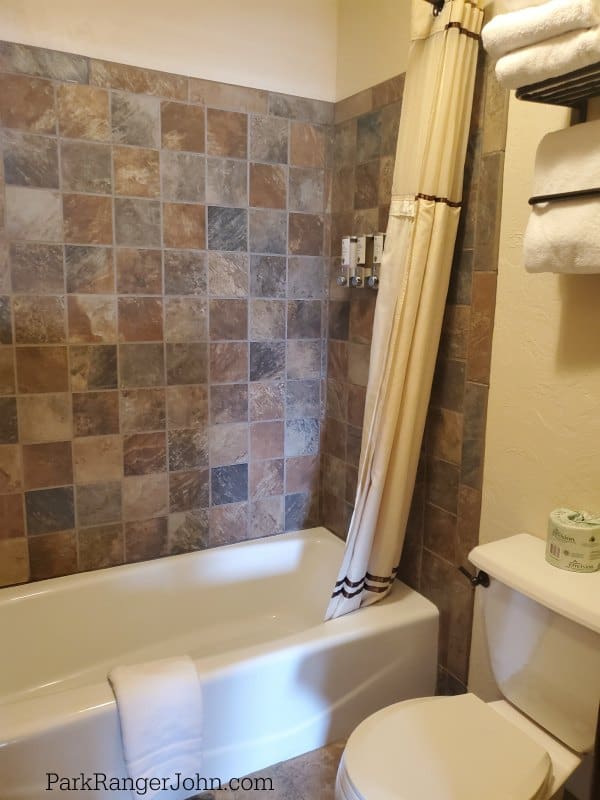 The bathroom has a large counter and sink just outside of a private bathroom with a toilet and a nice size shower. The bedroom had a king-size bed with two nightstands, a small safe, and a box fan.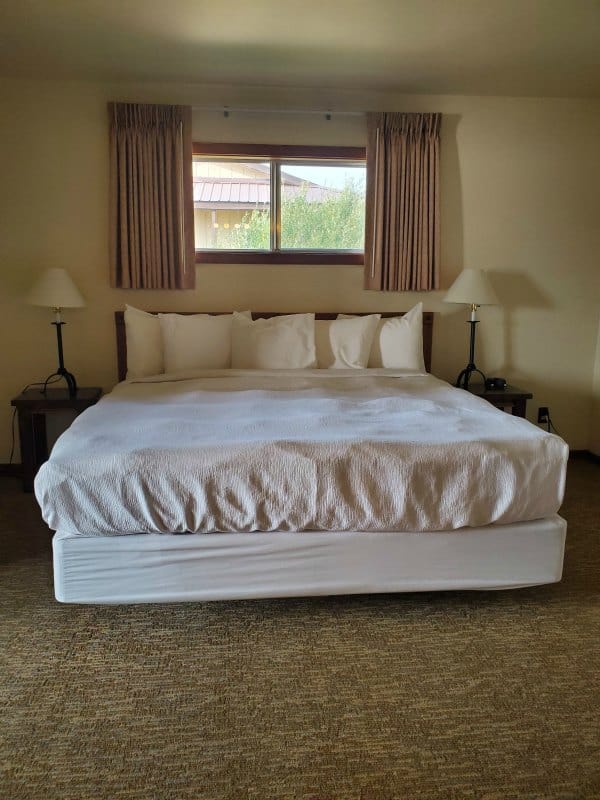 While the rooms do not have air conditioning they did have a box fan that we set up near the large front windows that did more than enough to cool the room off at night.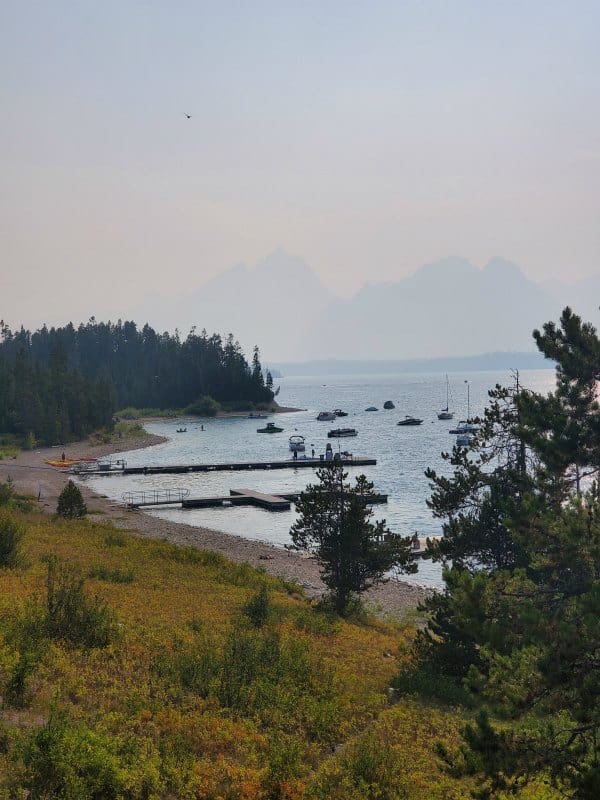 The highlight of the upper view room is the VIEW! The deck has two tall Adirondack chairs that are perfect for relaxing with a glass of wine and just watching the sunset over the Tetons.
We are already talking about when we can come back for a longer stay at the Signal Mountain Lodge. This room is the perfect oasis for relaxing and letting go of any stress.
We ended up visiting at the same time wildfire smoke blew in from other states and clouded in the Teton Valley.
Signal Mountain Lodge is close to Oxbow Bend which makes it easy to head out and look for Grand Teton wildlife or head in the other direction to check out Jenny Lake and the Moose-Wilson Road.
Conveniently located next to the lodge there is a small grocery store, coffee bar, and gas station. Most years there is also a restaurant and gift shop open.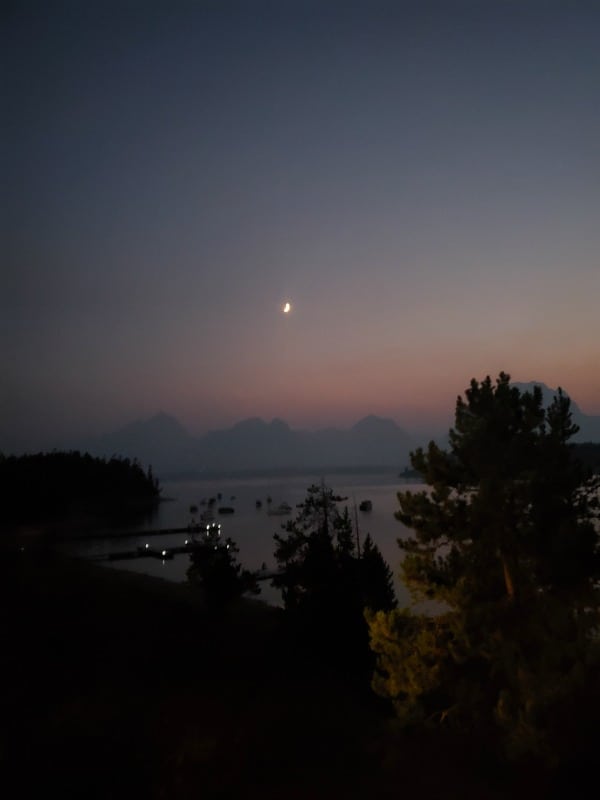 Things you need to know
Season - 2021 season runs May 7 through October 16, 2021.
Check-In Time - 3 pm
Check out Time - 11 am
Smoking - All the buildings on the property are non-smoking.
WiFi - All guest units come with free Wi-Fi
Pets - Pets are allowed in all rooms EXCEPT Upper Lakefront Retreats and Premier Western Rooms for a $20 per night pet fee.
Where is Signal Mountain Lodge? - About 27 miles, about a 45-minute drive, from the South Entrance into Yellowstone.
Signal Mountain Lodge is centrally located in Grand Teton National Park, about 30 miles north of the town of Jackson.
GPS coordinates:
Latitude: N 43° 50.381'
Longitude: W 110° 36.745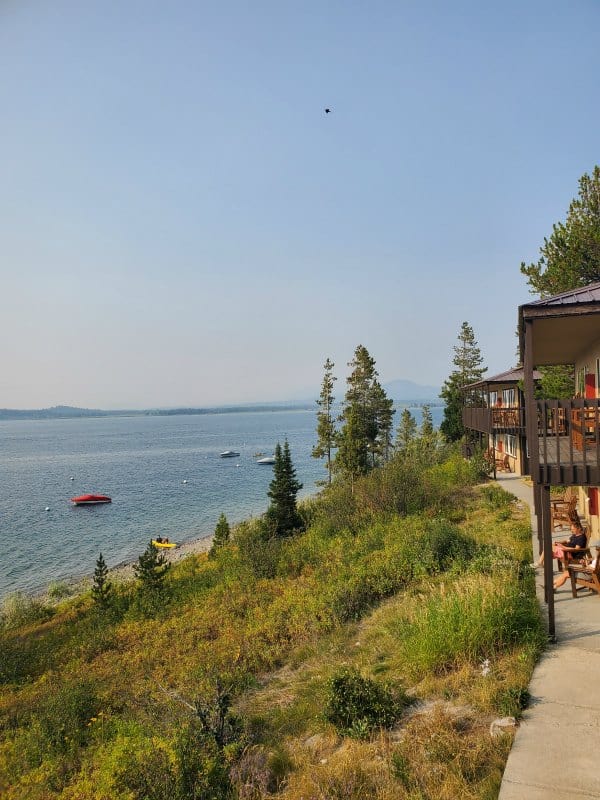 Additional Grand Teton Resources
Grand Teton Camping Guide - Find out about all of the great campgrounds within the park.
Mormon Row - Learn more about this icon of the park.
Grand Teton Lodging Guide - Find out about all of the lodges within the park.
Free National Park Days - Check out all of the days the National Park Service waives park entrance fees.
Yellowstone Lodging Guide -Check out all of the lodges you can stay in while visiting Yellowstone NP.
National Parks in Wyoming - Check out all of the parks you can visit while in Wyoming.