Jenny Lake is one of the most popular attractions in Grand Teton National Park in Wyoming. Visitors can enjoy epic hiking trails, boat rides, renting a canoe, and wildlife viewing at the base of the Teton Range. The Tetons offer epic views around every corner of this park.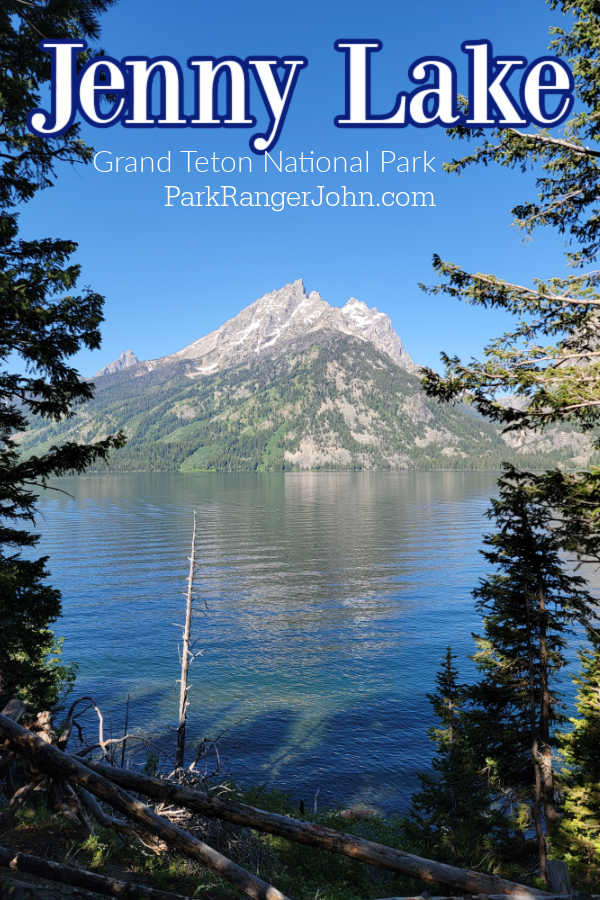 Jenny Lake - Grand Teton National Park
The first thing you need to know about visiting Jenny Lake in Grand Teton National Park is it is EXTREMELY POPULAR and BUSY!! If I could make the words "extremely busy" and "popular" in bigger, bolder, flashing Las Vegas-style neon lights I would. Why? Because that is how busy this part of the park is.
The parking lot fills up EARLY! Earlier than you probably want to think about it filling up. It is not uncommon to pull into the parking lot and see multiple cars just driving in circles trying to find a parking space. You will also see cars parking along the roadside and people hiking to reach the visitor center and trailheads.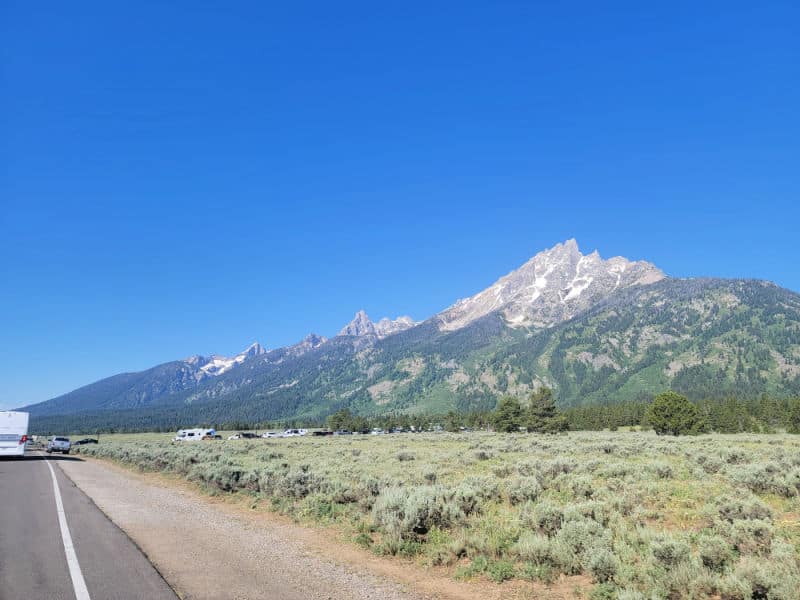 You will want to plan time to find parking and get to the visitor center and trails. I also suggest having a few alternative plans in case there is no parking available.
Great alternatives to Jenny Lake include driving the Moose-Wilson Road to look for wildlife, drive down to Menor's Ferry Historic District to learn more about this part of the park, or head over to Mormon Row for a while to take photos before heading back to see if parking is available.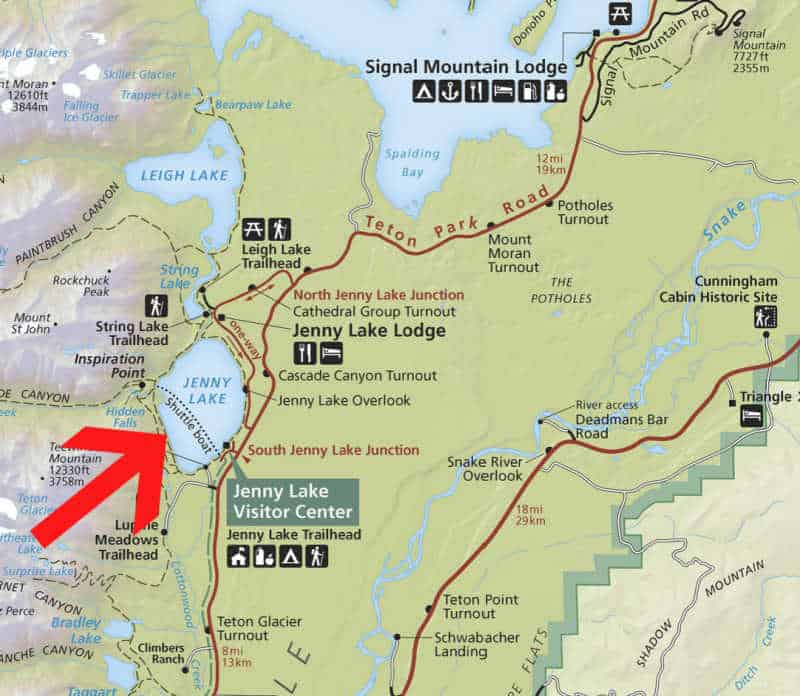 Where is Jenny Lake?
Jenny Lake is located off of Teton Park Road. There are quite a few signs in the park leading you to the South Jenny Lake area.
The lake is located 19.5 miles from Jackson Hole, Wyoming.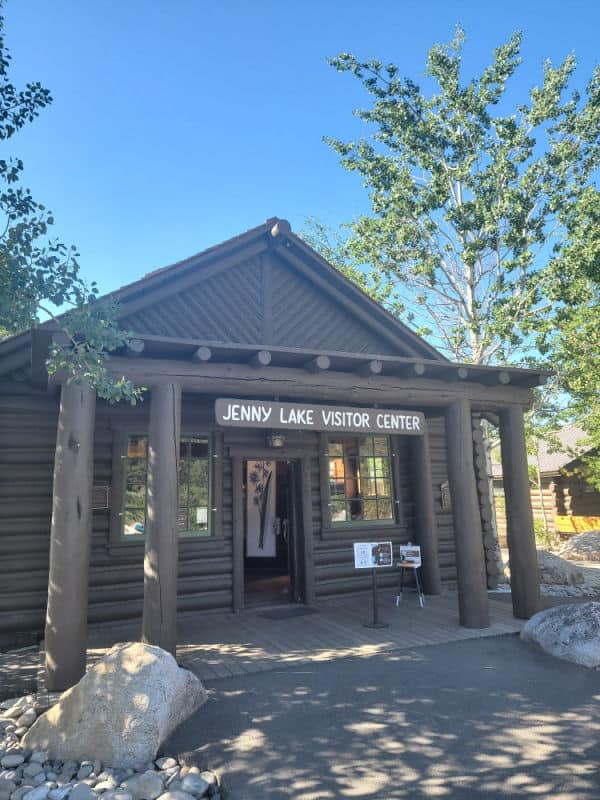 Jenny Lake Visitor Center
The Jenny Lake Visitor Center is housed in the historic Harrison Crandall Studio. The original building was built in the 1920s, and recent renovations were completed in 2019.
Harrison Crandall worked as the park's first official photographer in the late 1920s. He sold postcards and photographs from this cabin.
Today you can visit the visitor center to learn more about the impact of art in the park. Shop at the Grand Teton Association store and ask rangers questions about the area.
The visitor center is open daily from late spring through mid-fall, with extended hours during the summer season.
You can get your National Park Passport Book stamp in the visitor center.
Jenny Lake Ferry Shuttle Boat
The Jenny Lake Shuttle runs daily and eliminates a 2-mile hike (each way) to the Cascade Canyon trailhead. You will want to check to see what times the boat shuttles are running. Times vary by season.
Shuttles run every 10-15 minutes throughout the day.
Options are available to take the shuttle boat round-trip (over and back with hiking time between) or taking the Ferry Shuttle Boat One-way and hike one way).
The boat dock is just down from the visitor center.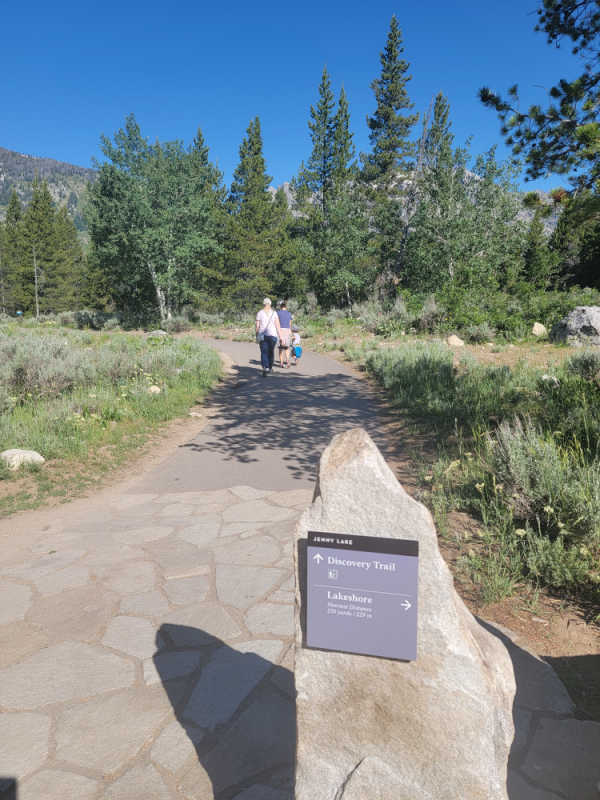 Hiking Trails
Hidden Falls and Inspiration Point are two of the most popular hiking trails in this area. If you plan to hike in Grand Teton, please pack the ten essentials and take a hiking map with you.
Jenny Lake Trails are some of the most popular trails in all of Grand Teton National Park!
Discovery Trail
The Discovery Trail is a paved, 0.35m/0.56km trail, with wheelchair access to Jenny Lake.
Hidden Falls
Hidden Falls is accessible via the Jenny Lake Loop Trail (4.8 miles Roundtrip) or by taking the shuttle boat to shorten the hike (1-mile Roundtrip).
The trail is dirt with sections of rock steps and exposed obstacles, such as roots and rocks.
Inspiration Point
Inspiration Point is accessible via the Jenny Lake Loop Trail (5.8 miles RT) or by taking the shuttle boat to shorten the hike (2 miles RT).
The trail has 500 ft (152.4 m) of elevation gain. The trail is dirt with several sections of rock stairs and exposed roots. The trail crosses exposed rock and features several steep switchbacks.
Boat Rentals
Canoes and Kayaks are available for rent from the Jenny Lake Boating Company.
Find out more here.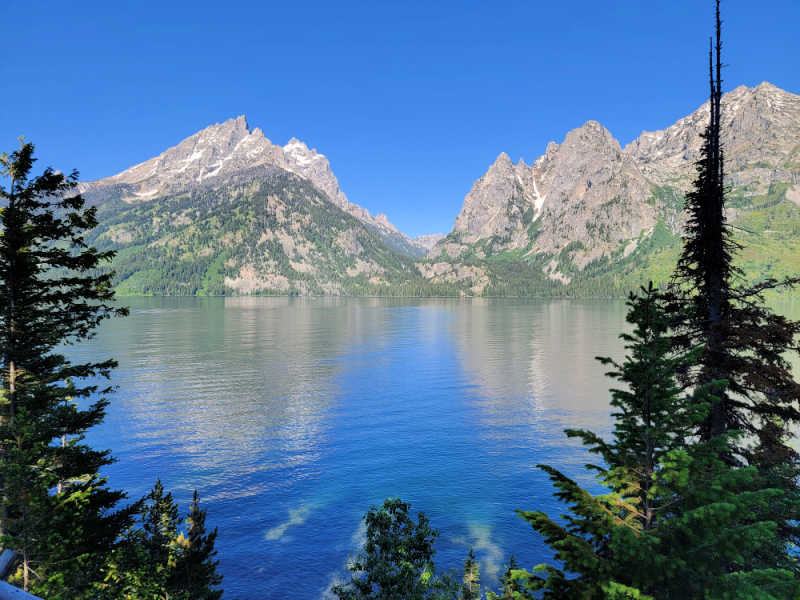 Jenny Lake Scenic Drive
The scenic drive is gorgeous! The drive goes by the Jenny Lake Lodge and through a beautiful forest. The main attraction of the scenic drive is a gorgeous scenic overlook.
Wildlife
Grizzly bears and black bears are frequent visitors to this part of the park. Make sure you are always Bear Aware and know what is happening around you.
Always maintain a distance of at least 100yds/91m from bears and 25yds/23m from other wildlife.
Jenny Lake Ranger Station
Jenny Lake Ranger Station was originally the homestead cabin of Lee Manges. The building was built by Lee Manges in 1925. It was turned into the park's first ranger station and museum in 1930.
The Jenny Lake Ranger Station is home to the Jenny Lake Climbing Rangers. If you are planning to climb, overnight camp, or head out on a strenuous adventure you will want to check into the ranger station first.
A permit is required for all overnight stays in the Grand Teton backcountry. All permits for climbing must be picked up from the Jenny Lake Ranger Station during the summer.
A boating permit is required for all motorized or non-motorized used in Grand Teton. The Jenny Lake Ranger Station is cash only.
The Ranger Station is late spring through early fall.
What to bring with you
Camera and Lenses - You will want to have a zoom lens for wildlife, a wide-angle lens to get the Teton range and lake in the photo, and a tripod.
Dress in layers - It can be really windy on the lake and super cold. Dressing in layers will make your lake experience so much better.
How did Jenny Lake get its name?
The name Jenny Lake dates back to the Hayden Expedition of 1872 when Jenny Leigh, Shoshone Indian wife of Richard "Beaver Dick" Leigh, assisted the expedition.
Closest Campgrounds
Jenny Lake Campground - Jenny Lake Campground does not allow trailers, campers, or generators. The site is for tents only. Vehicles cannot be over 8-feet high or 14 feet long.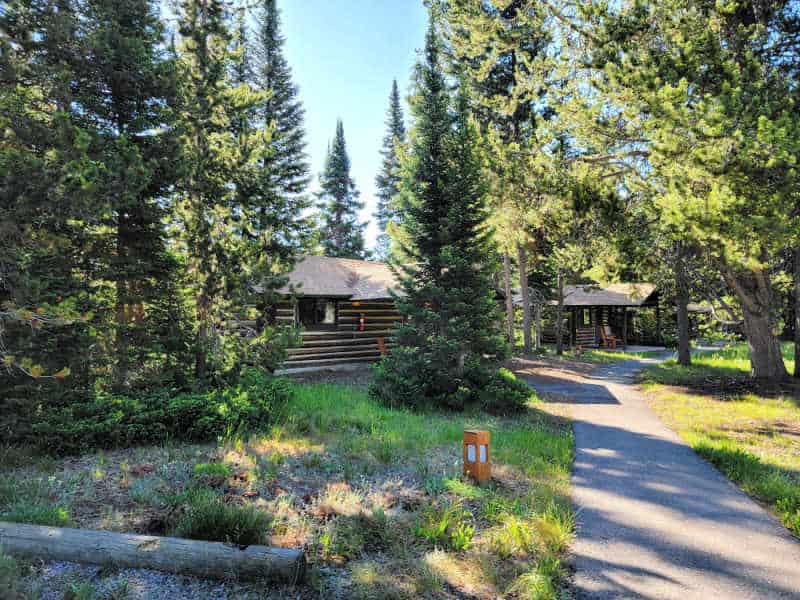 Closest Lodging
Jenny Lake Lodge
Check out all of the Grand Teton Lodging opportunities.
Things to know
The road from Moose to Jenny Lake is closed in the winter.
National Park Service Website - https://www.nps.gov/grte/index.htm
Additional Grand Teton NP Resources
Grand Teton Lodging Guide - including Jackson Lake Lodge, Signal Mountain Lodge, Jenny Lake Lodge, and more.
Check out all of the great National Parks in Wyoming along with neighboring Colorado National Parks, Idaho National Parks, National Parks in Utah, Nevada National Parks, Arizona National Parks, and New Mexico National Parks.