Amazing Yosemite National Park and Oakhurst, California Trip report including our stay at the Ahwahnee, and exploring the southern gateway to the park.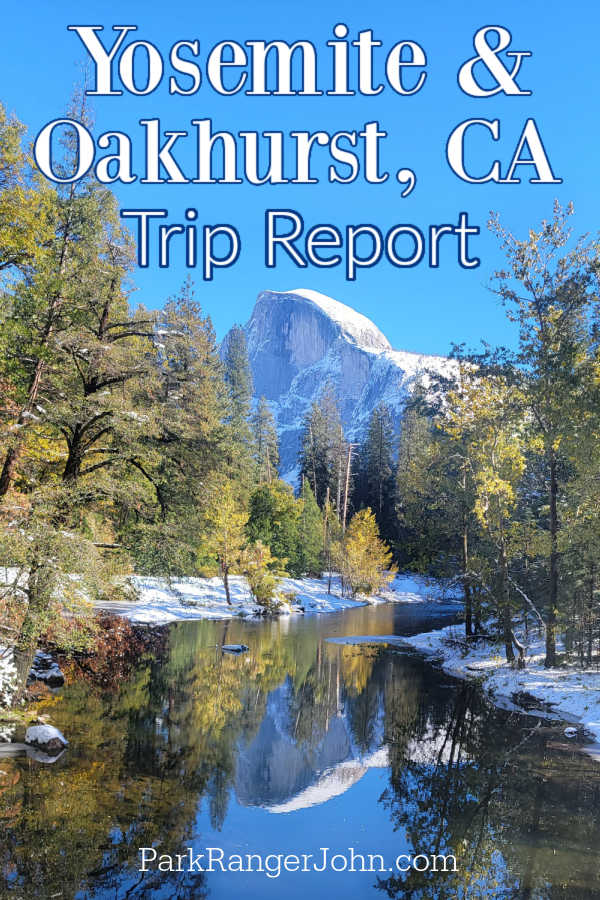 Yosemite NP and Oakhurst, Ca Trip Report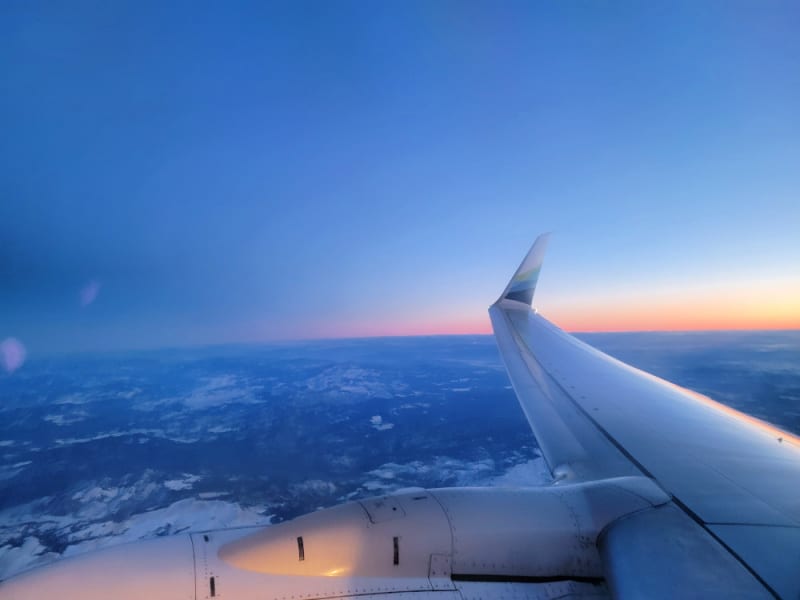 Day 1 - Spokane to Yosemite NP.
We started the morning early flying out of Spokane to Seattle and then down to Fresno. It is a quick 90-minute flight from Seattle to Fresno.
Flying into Fresno is our favorite way to get to Yosemite and Oakhurst. We always stop at In n Out for our burger fix before heading out on Highway 41 to reach Oakhurst.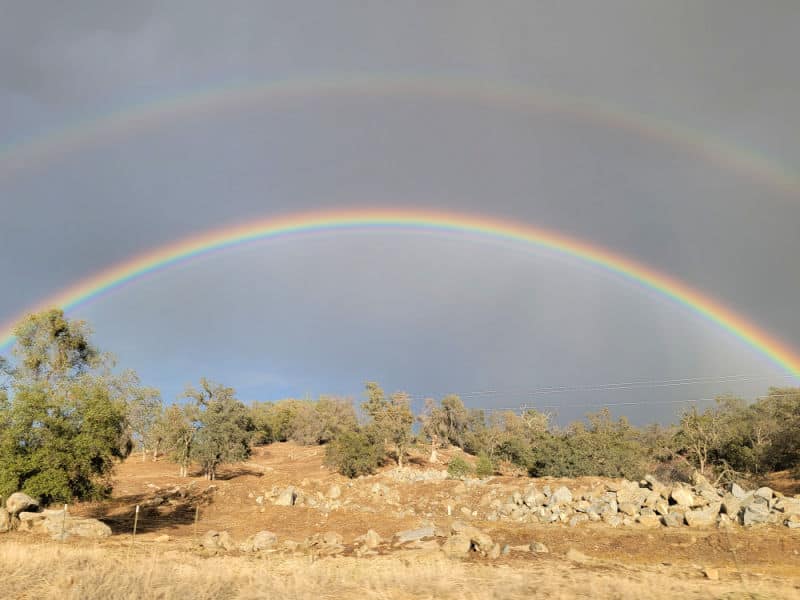 On our way to Oakhurst, we saw an amazing double rainbow! It was truly the most vibrant rainbow we have ever seen.
I am going to admit that every trip also includes a stop at Zander's Coffee Shop in Coarsegold. They have the most amazing blended coffee drinks.
They are the perfect caffeine fix on the drive to the park. We were not sure if we were going to make it into the park due to a snowstorm that came in the night before.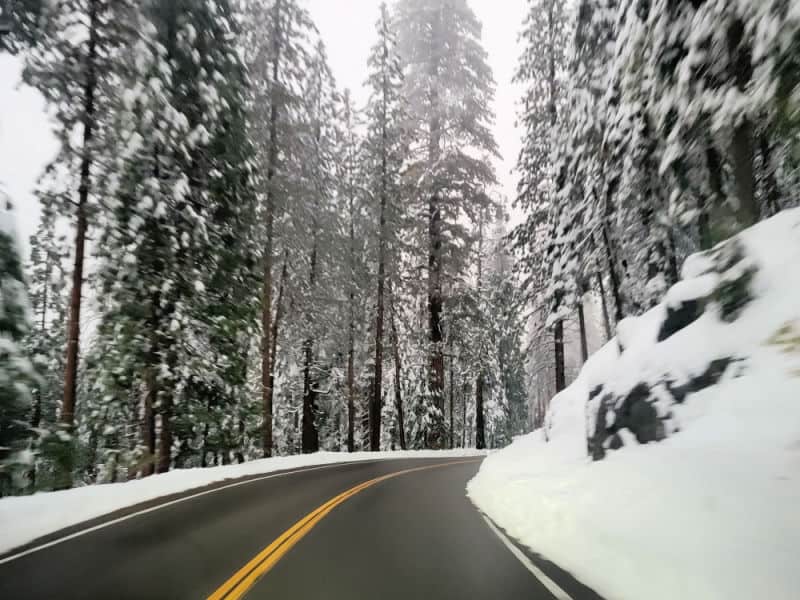 One thing about visiting Yosemite in the Winter is you need to be prepared for changing weather and conditions.
Thankfully, by the time we got into Oakhurst and checked the road conditions they were clear and open.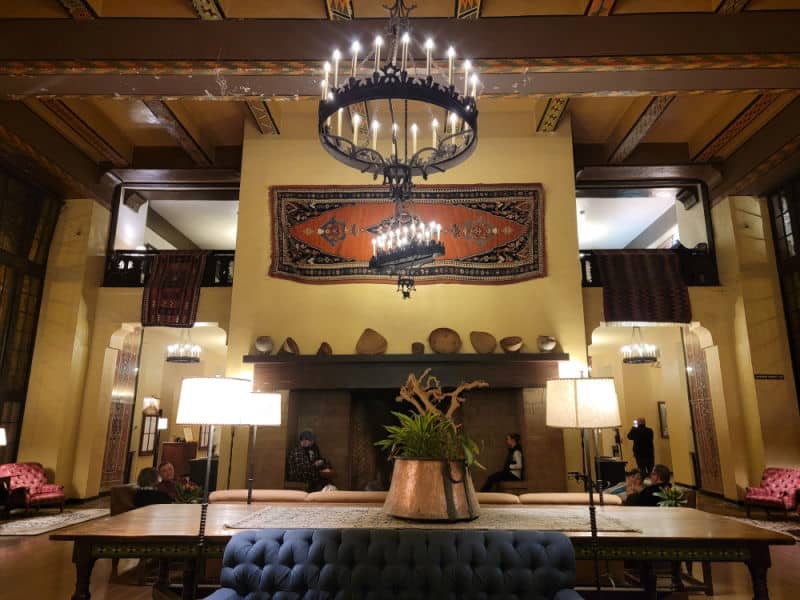 We booked a night at one of my favorite National Park Lodges...the Ahwahnee!
This tier 1 National Park Lodge is unbelievable. My wife booked us reservations for dinner in the dining room and it was truly amazing.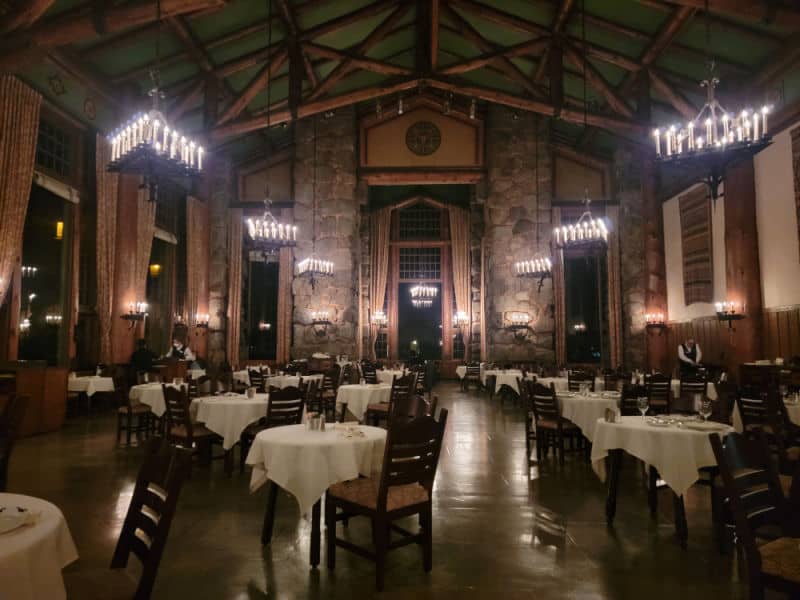 We had a romantic date night in the park savoring amazing food.
Check out our post on the Ahwahnee Hotel to see room photos and more! We are excited to share our entire experience in the hotel.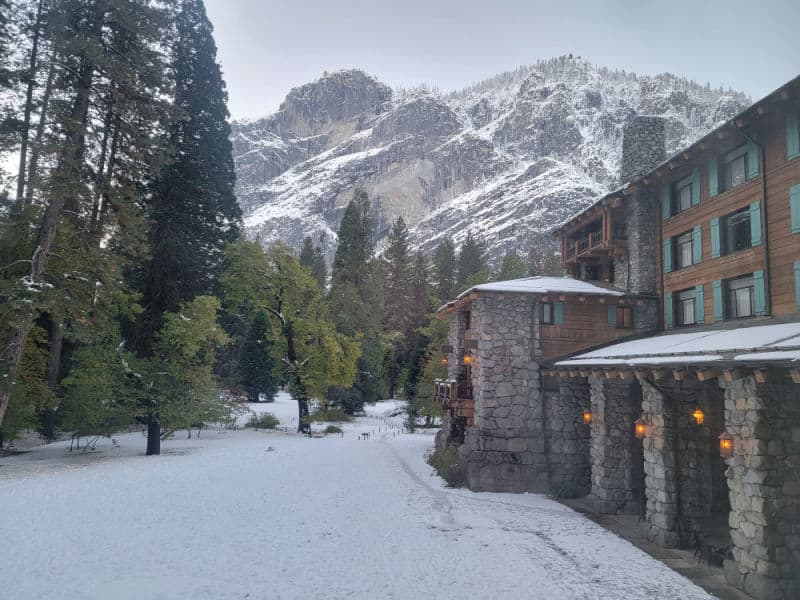 Day 2 - Yosemite NP to Oakhurst, CA
After a great night's sleep, we headed down for breakfast in the Ahwahnee Dining Room. The hotel has a self-serve buffet for breakfast.
We enjoyed a leisurely breakfast savoring the amazing views of the park and snow.
After a relaxing morning, we checked out and headed for the rental car. I am sad to say that on the way to the car I slipped on the ice and banged myself up a bit.
The parking lot was covered in ice and I didn't even know what happened until I was down on the ground.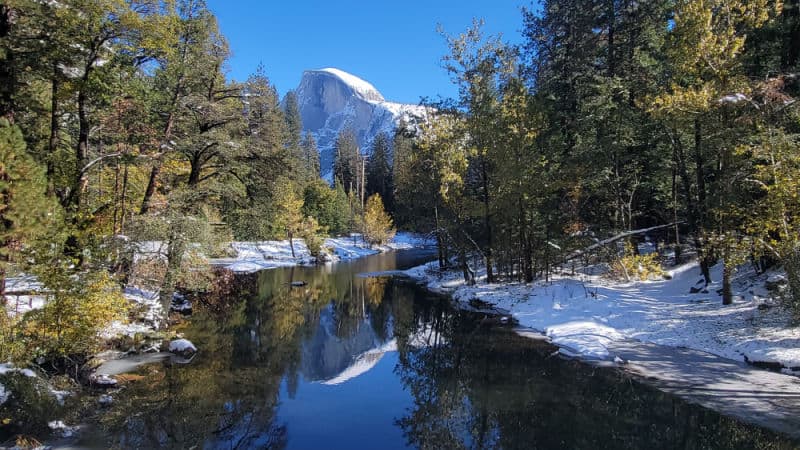 We ended up driving through the valley and enjoying the views from the rental SUV instead of heading out to explore too deeply since I was banged up.
Thankfully, the views of Yosemite Valley are amazing no matter how you see them.
We enjoyed relaxing in the car and watching Yosemite Falls from the valley floor. Truly one of the most amazing sites in the park.
There is just something about Yosemite that makes you want to sit and stare in awe.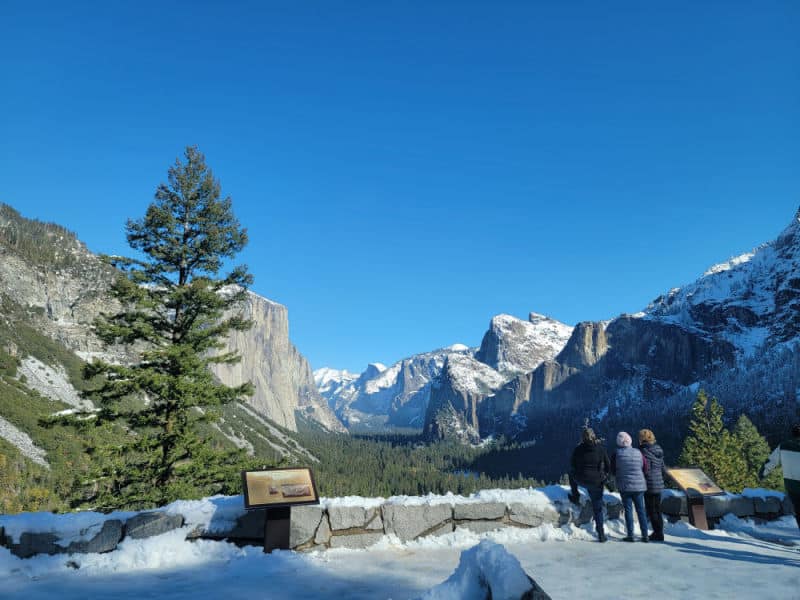 The drive into Oakhurst is beautiful through the mountains and past the Mariposa Grove of Giant Sequoias.
We kicked off our time in Oakhurst visiting with our friends at the Yosemite Madera Visitor Center. I am so thankful for their partnership and for working together. We have partnered with the visitor bureau for the past few years and love being able to share more about the area.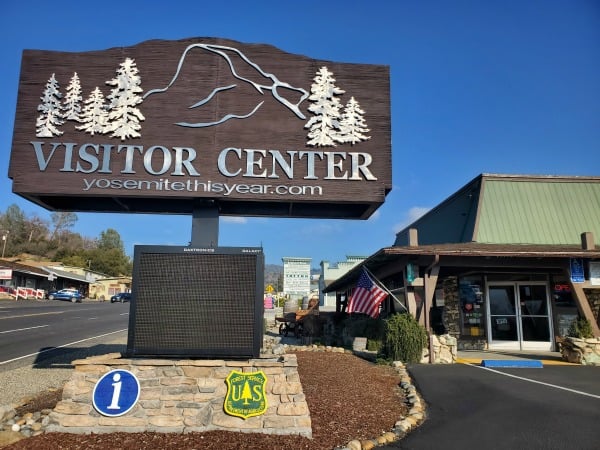 The visitor center is the go-to place for information on heading into the park, what is happening in Oakhurst, and ideas for places to visit.
We are staying at the Fairfield Inn & Suites right off Highway 41 in Oakhurst. The hotel is brand new and fantastic.
Our king room had a comfortable bed, a sitting area with a nice couch, and a work desk.
The Fairfield is located right in Oakhurst and provides easy access to amazing Oakhurst Restaurants and one of our favorite things to do ….Yosemite Axe Throwing!
For dinner, we headed to the Cowboy Tavern at Sierra Sky Ranch. We stayed at Sierra Sky Ranch a couple of years ago and really enjoyed it.
Since our visit there they have completely redone the restaurant and it is a must-visit when in Oakhurst.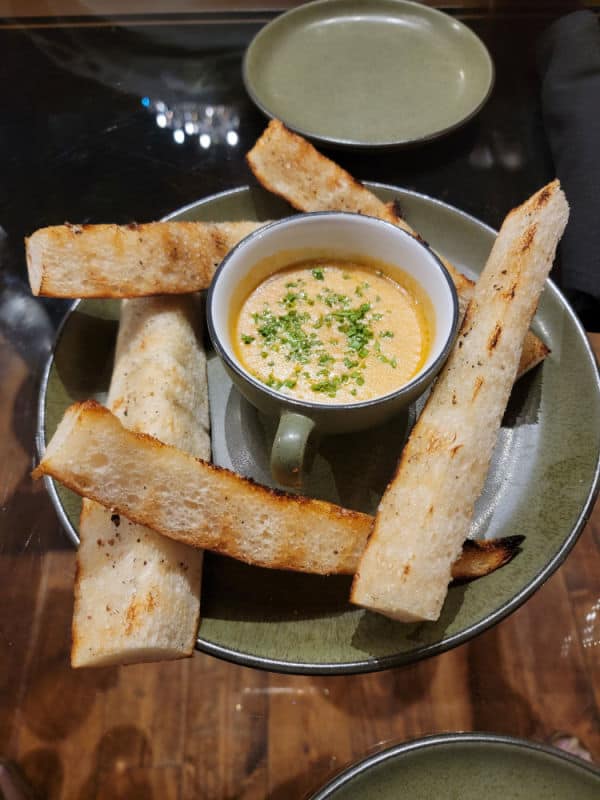 Every single thing we tried was amazing. The pale ale cheddar dip was so good we thought about ordering a 2nd one and taking our entrees to go.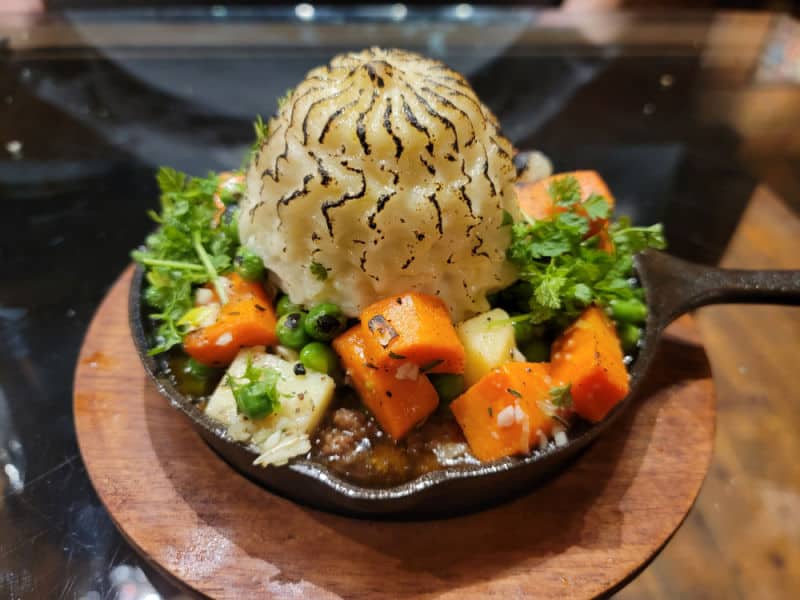 Thankfully we held back and waited for our entrees because they were delicious. The shepherd's pie was packed with flavor and so filling.
For dessert we had a pear crumble with brown sugar whipped cream and house-made vanilla bean ice cream. YUM!
We headed back to the hotel to get a great night's sleep so we are ready for an epic day in Oakhurst tomorrow.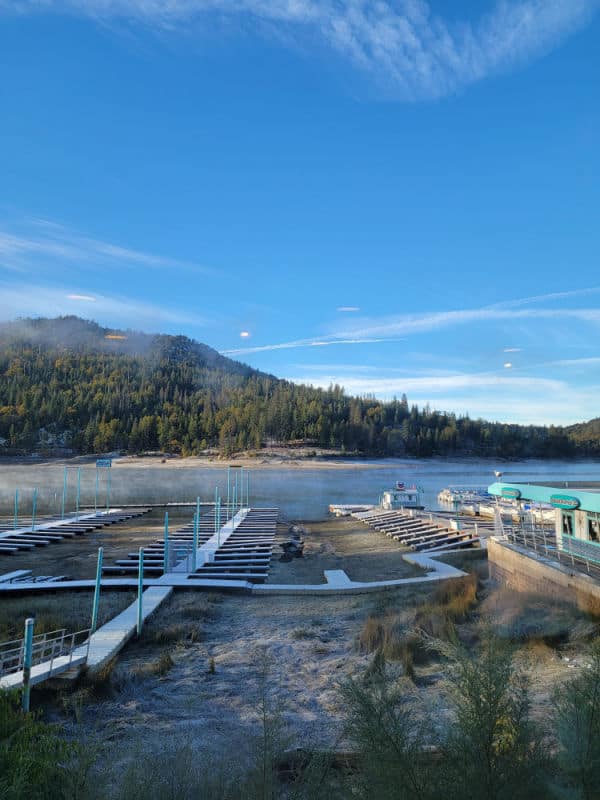 Day 3 - Sugar Pine Railroad and Oakhurst, Ca
We kicked off the day with breakfast at Ducey's on Bass Lake. This restaurant is one of our favorites for breakfast.
The view of the lake is beautiful even in the winter and the food is fantastic. On our way into the restaurant, we saw bear scat and some other signs that bears had been in the area but sadly did not see any.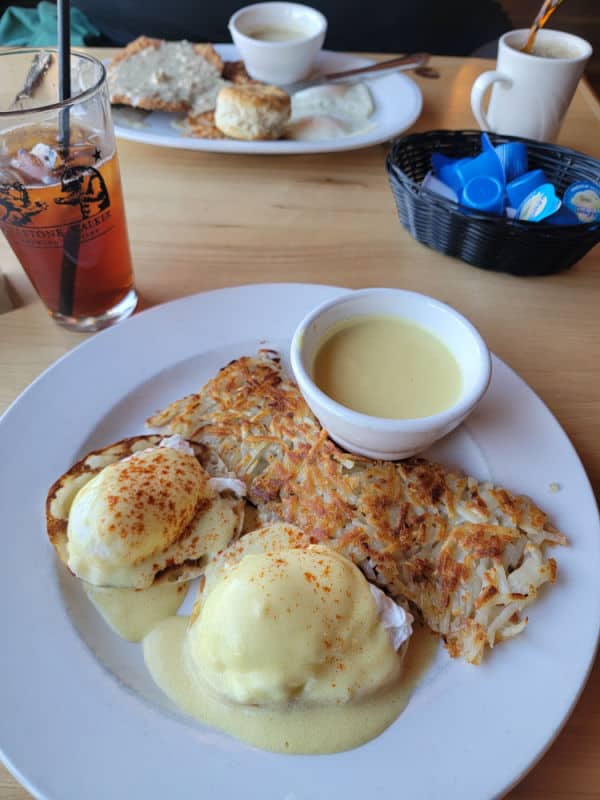 We keep hearing there is a momma bear and 2 cubs hanging out near Bass Lake and we were hoping to see them.
After a delicious breakfast at Ducey's, it was time to head over to the Yosemite Mountain Sugar Pine Railroad.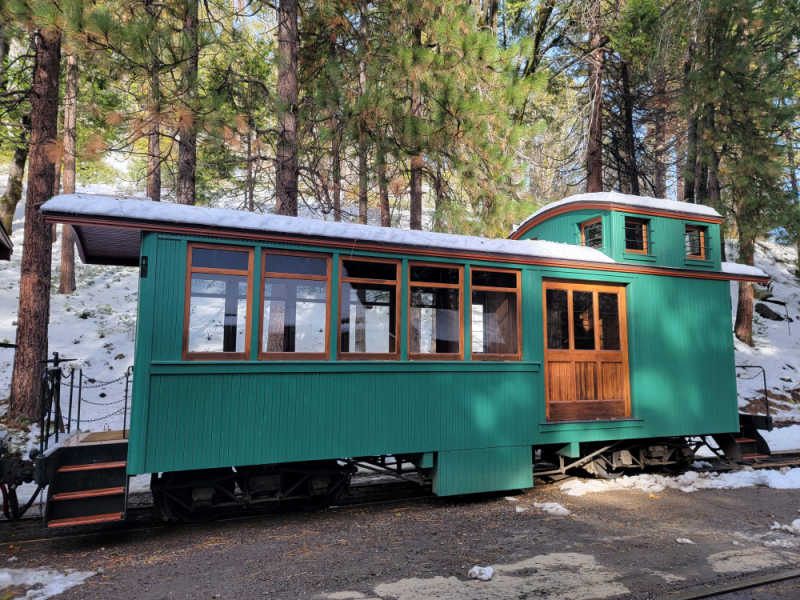 Since our last visit, the Sugar Pine Railroad has added an amazing 1st class caboose so we had to check it out.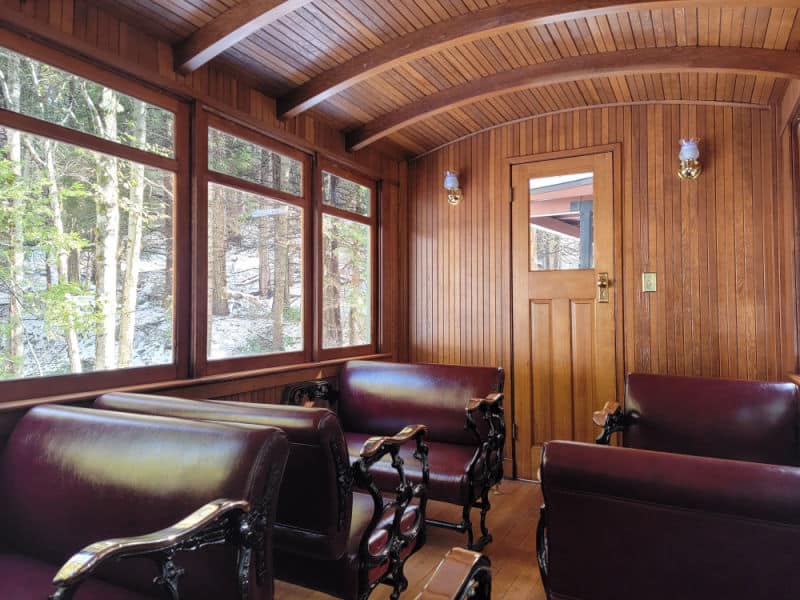 We ended up being the only passengers in the caboose and having a private train tour which was honestly amazing.
The 1st class ride in the caboose comes with a train guide who provides the history of the Yosemite Mountain Sugar Pine Railroad and the surrounding area.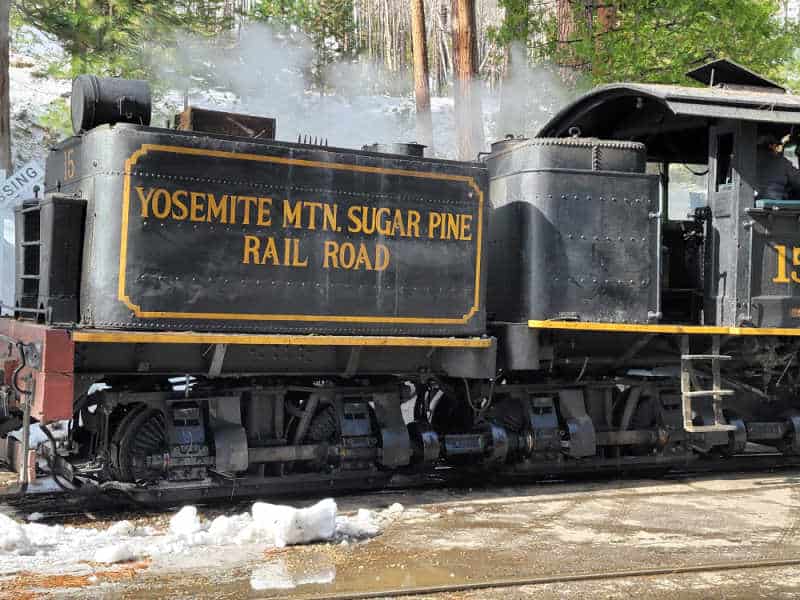 It was honestly amazing riding the train through the snow and soaking in the beautiful scenery.
The ride lasts about an hour and then we headed into Oakhurst for shopping fun.
Every time we visit Oakhurst my wife has a list of stores she needs to return to. There are so many fun local shops that she loves to shop at.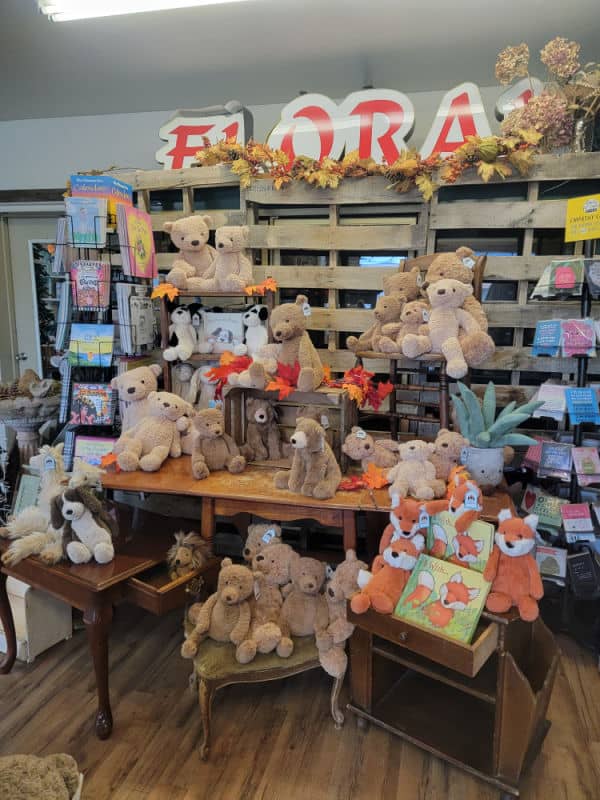 She visited Enchanted Florist for the first time and fell in love. She picked up a lavender heating pad that you put in the microwave and I have to admit that I have used it every day since she bought it.
It has been amazing soothing my muscle aches and pains from falling on the ice a few days ago.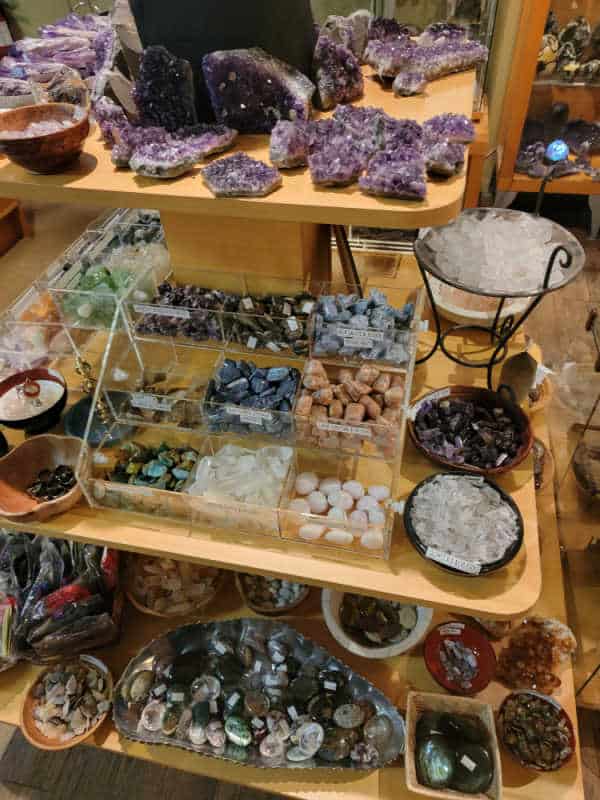 One shop my wife always visits is Artifacts for fun crystals and home decor. She picks up a new crystal every time we visit to remember the trip and add it to her Yosemite crystal bowl.
She also loves Oakhurst Giftworks! It is a combination of an antique store, scrapbook store, souvenir store, and so much more.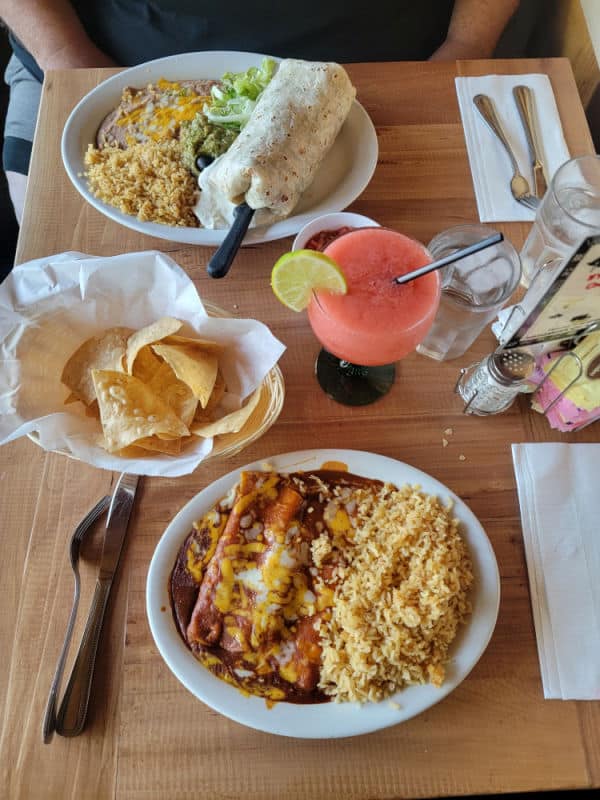 For lunch, we headed to a favorite Oakhurst Restaurant...El Cid Mexican Restaurant!
One of the things I love about El Cid's is you can sit by the back window and birdwatch while enjoying delicious food. They have a couple of bird feeders that are always packed with birds.
At one point I counted over 30 birds on the feeders.
It is the perfect lunch soaking in the bird watching while enjoying delicious food. The El Cid Burrito is massive and so filling.
I had it with steak and could barely finish it. My wife loves their cheese enchiladas.
After a late lunch, we did a bit more shopping in town. My wife loves supporting the local shops in Oakhurst and finding fun gifts to bring home with us.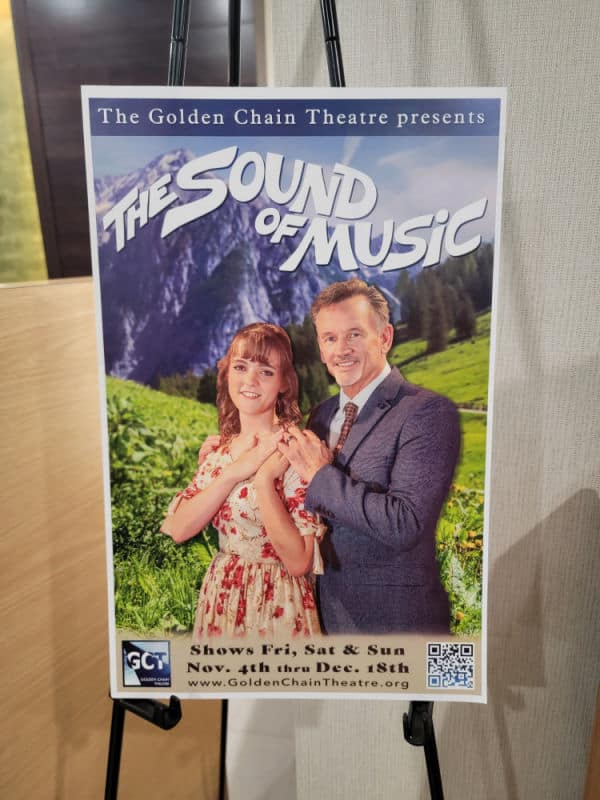 I am so excited we were in town for a Golden Chain Theater production! This local historic theater is putting on the Sound of Music for 7 weekends.
We were so impressed by the theater's production of Sound of Music. It reminded us of the Sound of Music tour we took in Austria with Viking River Cruises a few years ago.
It was the perfect date night out in Oakhurst. They have already announced their upcoming shows including The Hunchback of Notre Dame, The Angel of Calamity Gulch (Melodrama), You're a Good Man Charlie Brown musical, The Play that Goes Wrong, and A Christmas Carol.
Make sure to check for tickets while you are visiting Oakhurst.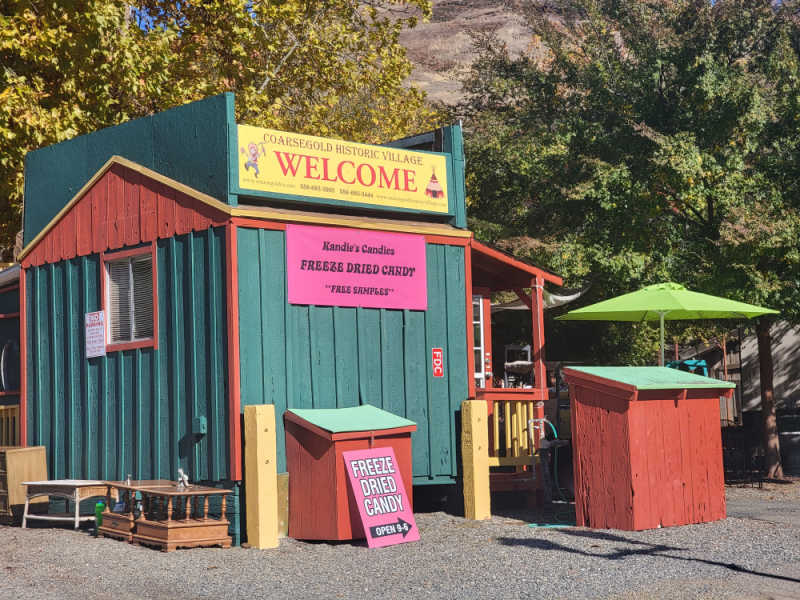 Day 4 - Coarsegold, California
Our goal today is to deep dive into Coarsegold, CA, and spend time exploring the Coarsegold Historic Village.
We have visited the village multiple times to drive through Zanders for coffee but really wanted to explore more of the local stores.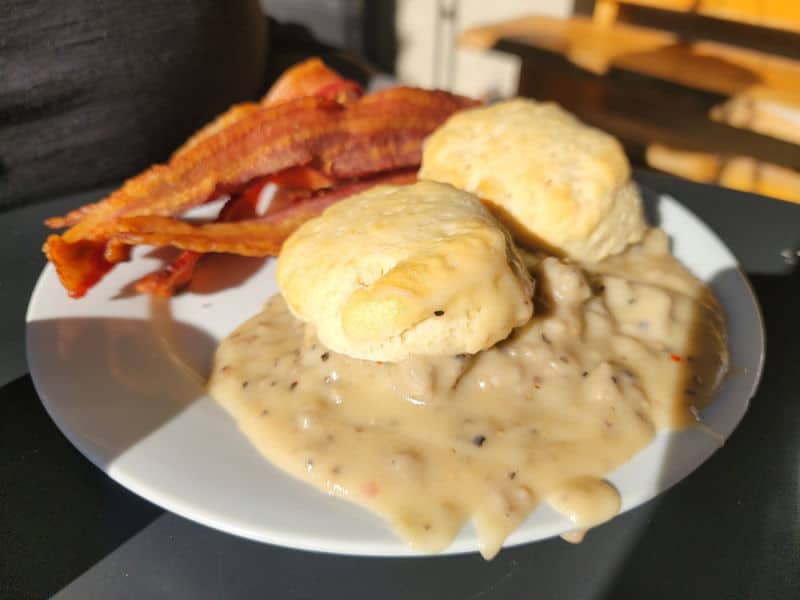 For breakfast, we headed to the Wild Fig which we tried a couple of years ago and really enjoyed.
This visit was not as amazing as our visit a few years ago but I am hoping it is just an off day for them. We will try again on a future visit to see if it was a random occurrence or if there have been changes to the restaurant.
Unfortunately, our food did not come out together and when my wife's food was delivered it was cold. So cold that the shredded cheese on her breakfast sandwich was not even a tiny bit melted.
While I did enjoy my biscuits and gravy I was disappointed to see an employee walk in with a Ziploc bag filled with frozen biscuits to make the dish.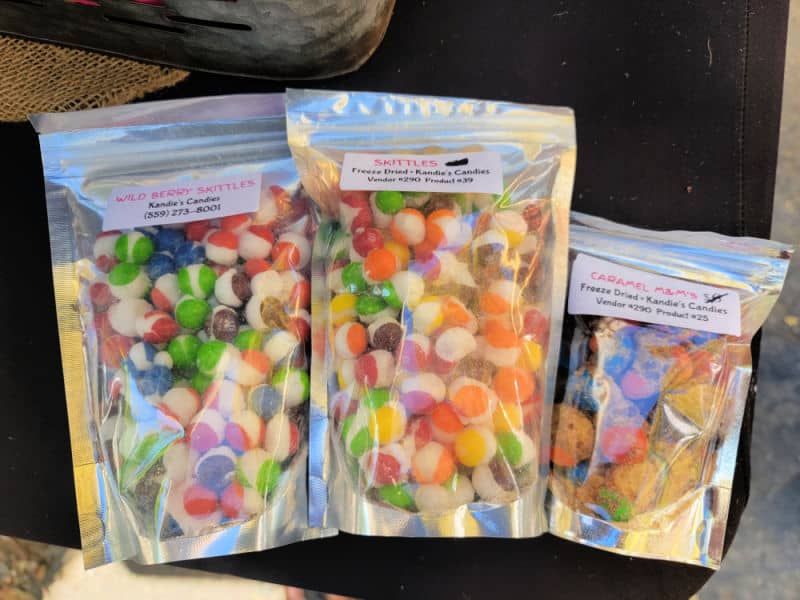 After breakfast, we headed into the Coarsegold Historic Village to explore. I need you all to visit Kandie's Candies to try their freeze-dried candies.
The freeze-dried Skittles honestly blew my mind. I stood there in awe and then had to try a few more samples.
We ended up buying multiple bags of freeze-dried candies to try later in the day. Everything from freeze-dried Neapolitan taffy to Jolly Ranchers.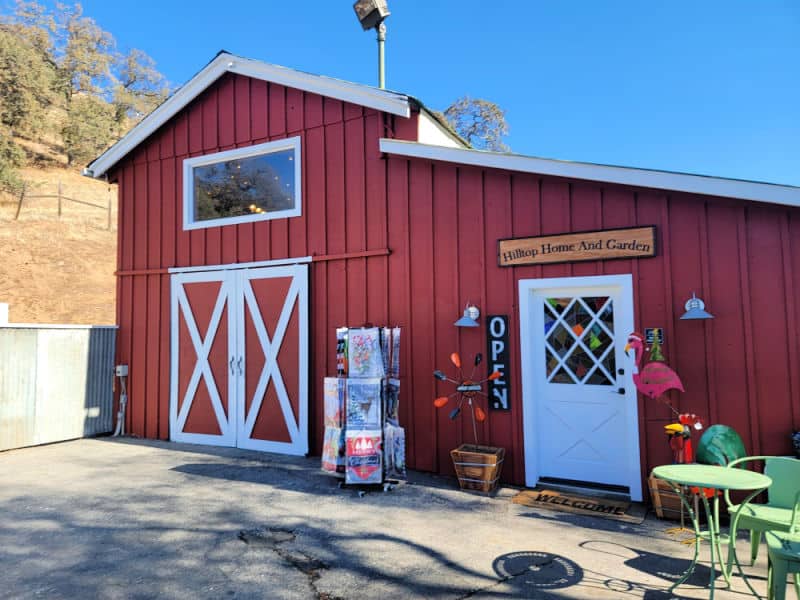 Our next stop was the Hilltop Home and Garden Store just down the street from the historic village.
My wife had an amazing time in the store. She picked up multiple gifts and was sad we were running out of suitcase space because there was so much more she wanted to get.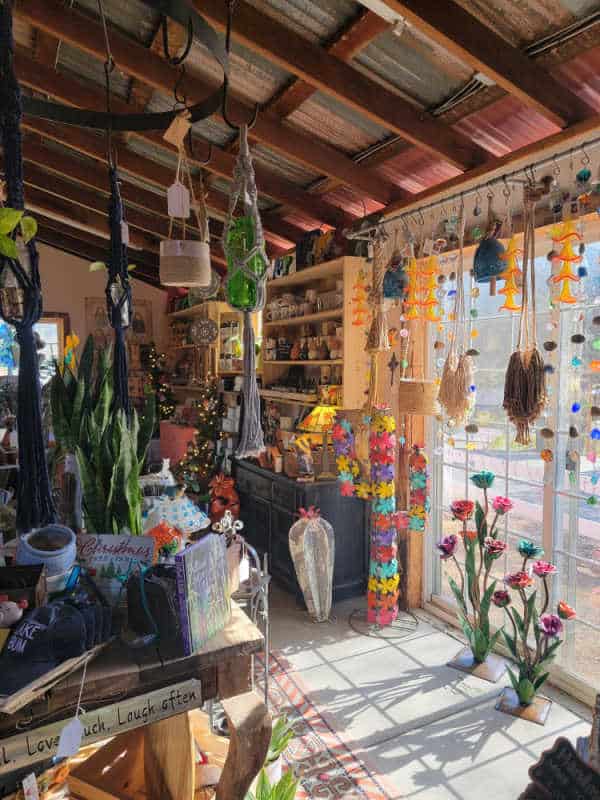 I was already informed that every trip will include a stop at Hilltop Home & Garden to see what they have available.
For lunch, we headed to Smokehouse 41 BBQ right off Highway 41 in Oakhurst. I saw their Pit Master sandwich on TikTok and had to try it.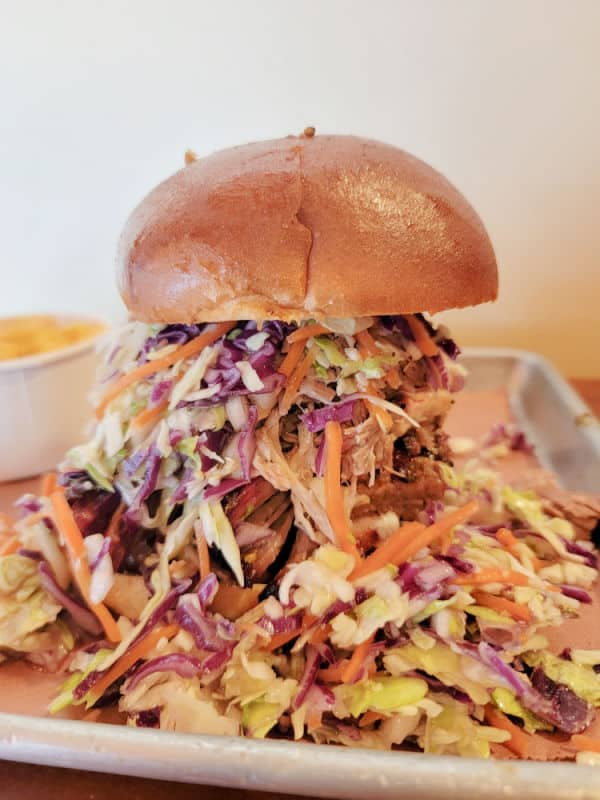 Oh my goodness this sandwich is epic! It has brisket, pulled pork, and sliced sausage topped with coleslaw on a bun.
Did I mention the sandwich is huge? I ended up eating it with a fork because it was so big. Every single bit was amazing.
The Jalapeno Mac and Cheese side dish was also delicious.
We decided to drive back to Bass Lake and see if we could spot the black bears while soaking in epic views of the lake.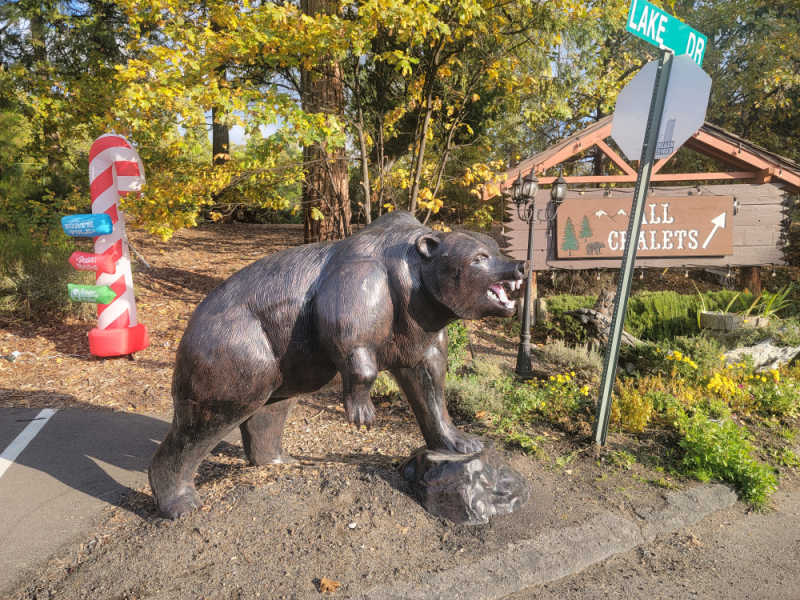 The only bear we saw was this bear statue at the Pines Resort. LOL!
The views of the lake are always amazing and we love seeing how the area is growing and changing.
We headed back to Oakhurst so I could watch the new Yosemite VR movie at Yosemite Cinemas. I have been counting down the days until I was able to see this epic movie.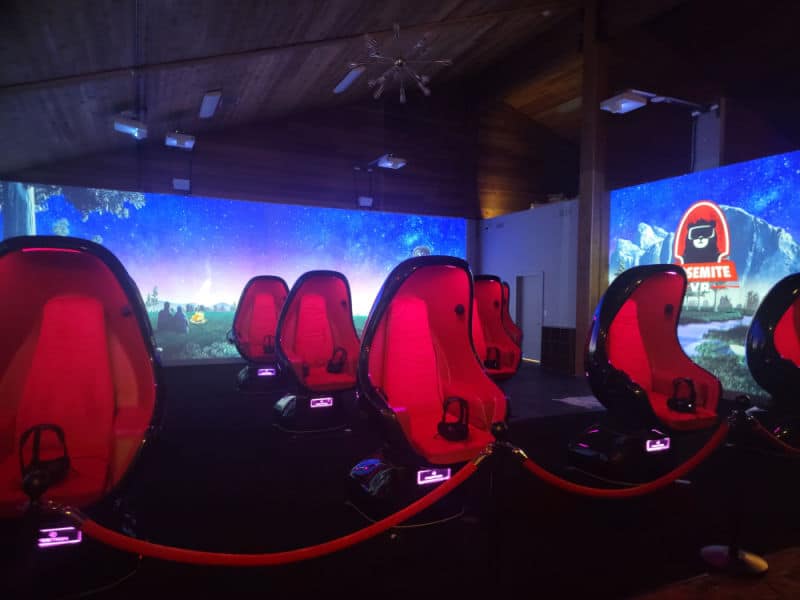 Everyone gets their own seat that moves, has scent dispensers, and more! You put on a virtual reality headset and take a trip through Yosemite National Park.
I was so excited going into the movie and I am so happy to say it blew my mind. I came out to the car and gushed to my wife Tammilee about how epic the movie was and how I needed to see it again and again.
There were so many amazing facts about Yosemite that I wasn't aware of. It truly felt like you were immersed in the park.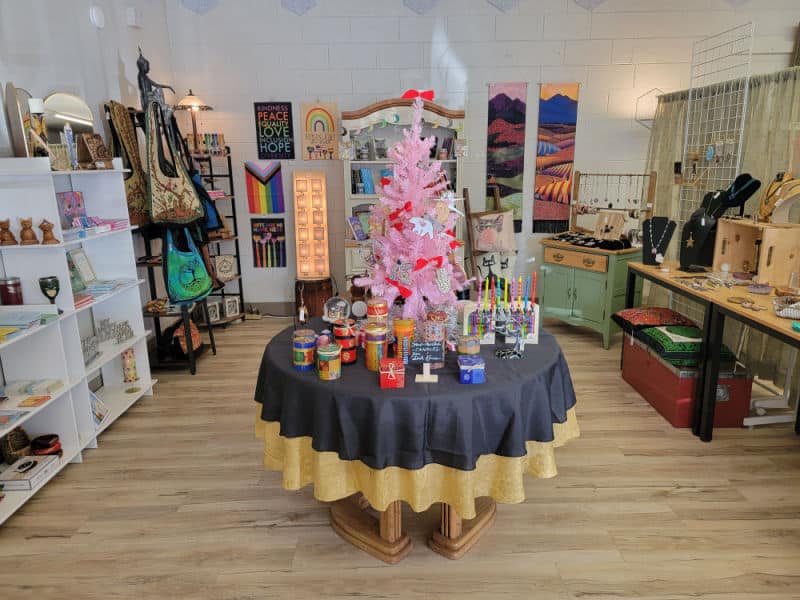 We stopped by the new Metta Yosemite store right near the visitor center so my wife could shop a bit more after the movie.
The new Metta store offers yoga classes, sound bowls, and other classes every week. They also have a fun gift store that my wife really enjoyed.
She came out with a couple of Yosemite-inspired cards that we are going to frame when we get home. They are so perfect.
We decided to change things up for dinner and do something we have never done while in Oakhurst. We ordered Door Dash to see how food delivery was in town.
We normally head to one of our favorite restaurants in Oakhurst but wanted to see what was available for delivery and how it tasted.
We went with Taste of China Restaurant and I have to tell you it was delicious. The restaurant has been on our must-try list for a while and we finally made it happen.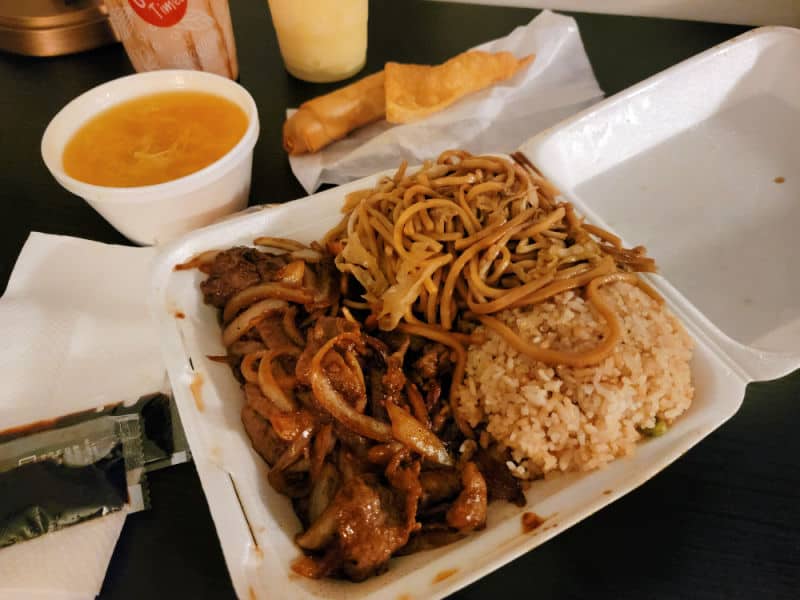 They have a mango slushie that was so good! Plus they have boba tea you can customize and a huge menu of food.
The Mongolian Beef was super flavorful and filling.
I love that you can get epic food delivered right to your hotel. We even saw Idle Hour Winery and Kitchen available during the week You can have one of their amazing current wine releases delivered to your hotel!
The Idle Hour Tempranillo, Cabernet Franc, and Alicante Bouschet are amazing. I may need to restock up on a few bottles before we have to fly home.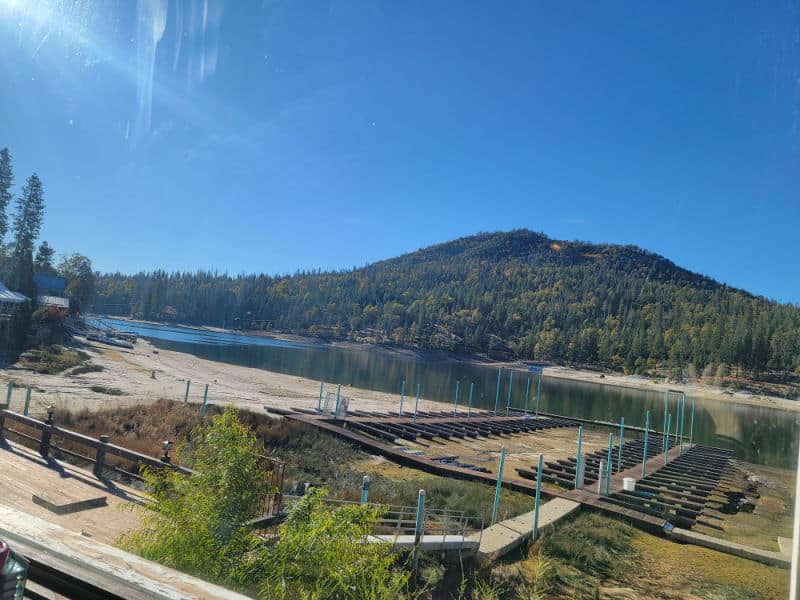 Day 5 - Madera Wine Trail
We started the morning heading back to Ducey's on Bass Lake. It truly is one of our favorite breakfasts. There is something so peaceful about starting the day next to the lake.
We love watching the birds and savoring the gorgeous sunshine while enjoying amazing food.
I tried the chicken fried chicken for breakfast and it was a home run! So good! It may be my new favorite thing.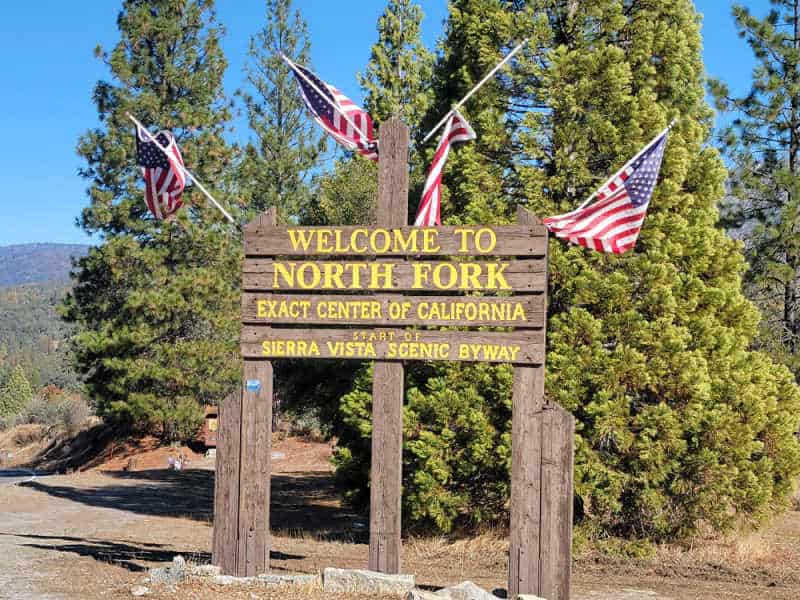 After breakfast, we decided to take a gorgeous drive along the lake to North Fork. This small town has some really cute stores and one of our favorite coffee shops...the Red Barn!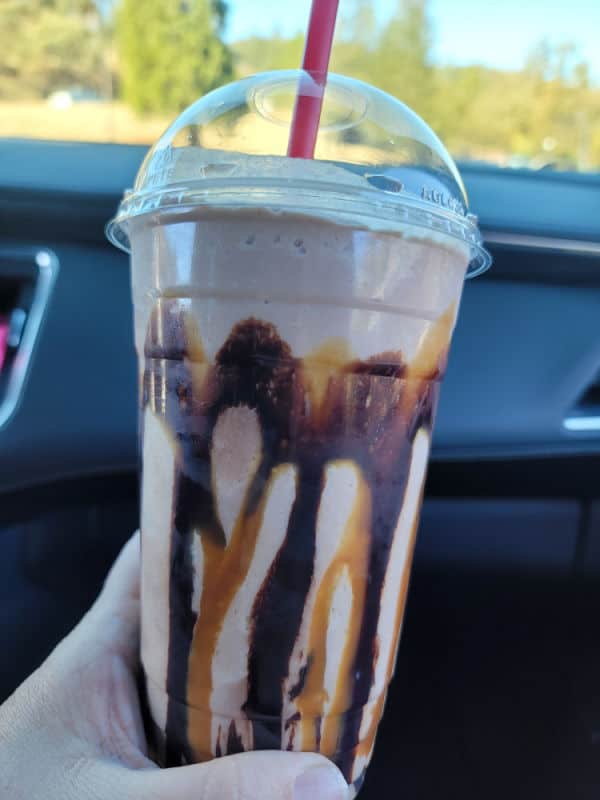 Hello yum! We picked up our favorite coffees from Red Barn Coffee Co. and spent time exploring the town.
When you visit Red Barn Coffee Co you need to try the Stampede blended coffee with peanut butter, chocolate, and caramel!
It is such a gorgeous drive along Bass Lake with the fall colors and snowy mountain tops in the distance.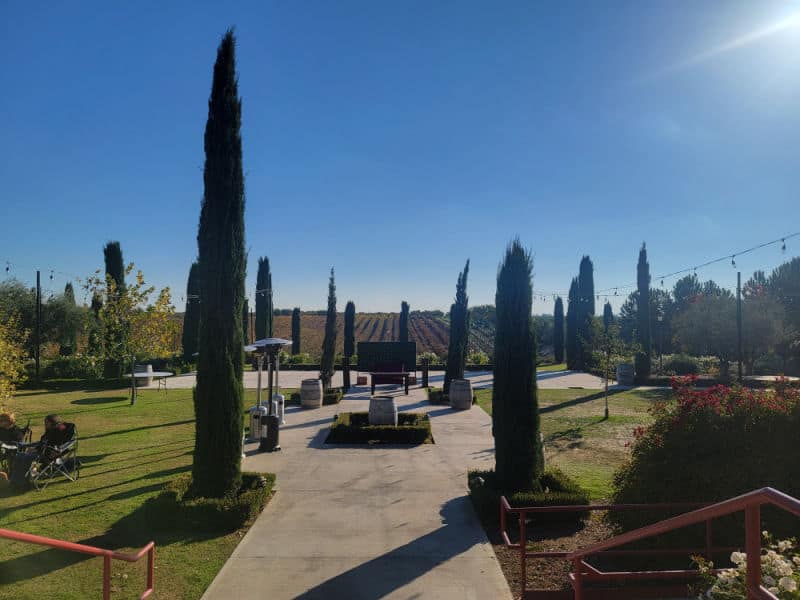 Our afternoon was spent wine tasting at Toca Madera Winery. They have live music on Sundays so we spent the afternoon soaking up the epic sunshine and relaxing.
It was such a beautiful day! Toca Madera Winery has gorgeous grounds and outdoor seating.
We tried four different tastings including their 2021 Unico, 2017 Tempranillo reserve, 2018 cabernet Syrah, and 2016 G.S.M. (Mourvèdre, Syrah, and Grenache).
After a relaxing afternoon, we headed back to Oakhurst to make sure we had South Gate Brewing Company for dinner.
South Gate Brewing is always a good idea. We try to fit in at least one meal at South Gate on every trip.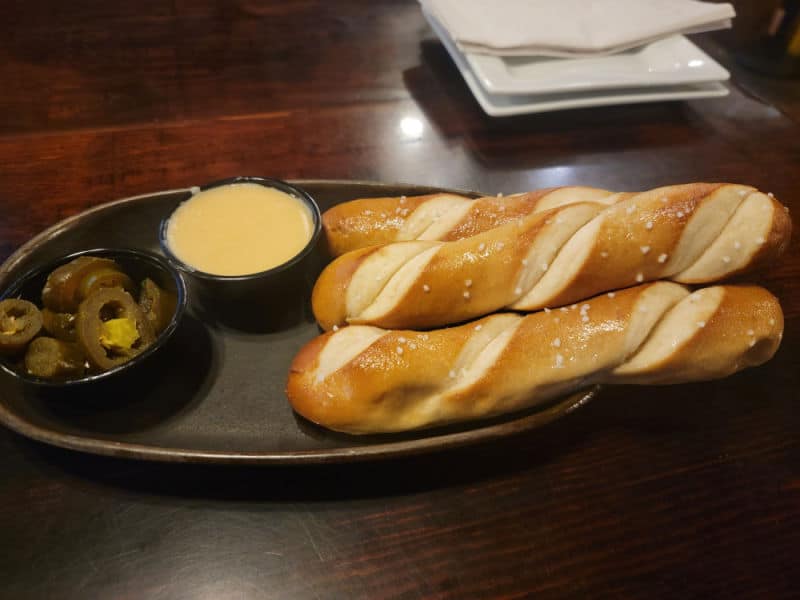 The Blonde Ale Beer Cheese and Bavarian Pretzels are a must-try! So delicious!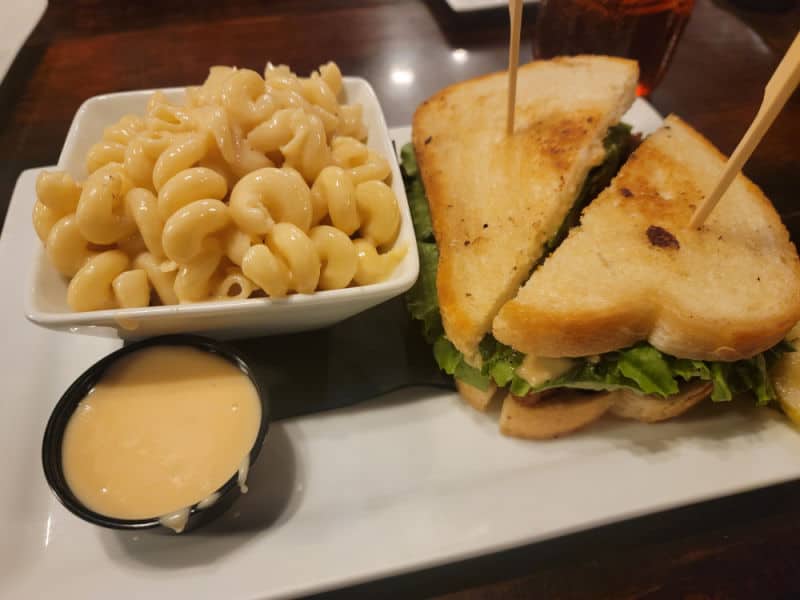 I decided to change up my normal order and try the P.B.L.T. (Crispy pork belly, lettuce, tomato, smoked tomato aioli on Max's Sourdough. HELLO YUM!
This will now be my new order on every visit. I paired it with a side of their beer cheese mac and cheese and it was perfection.
My wife also tried the housemade crème brulee and she said it was unbelievable.
One thing about Oakhurst is there are so many epic restaurants it can be hard to fit them all in on one trip. This feels like the perfect reason to plan multiple trips to Oakhurst to explore even more.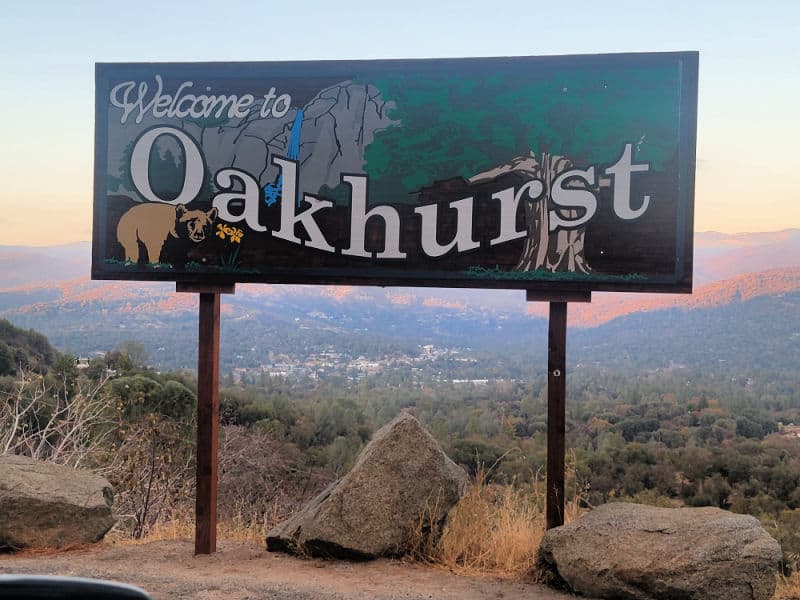 Day 6 - Oakhurst to Spokane
We are so sad to be packing up and getting ready to leave Oakhurst. We had a truly amazing stay in one of our favorite places in the world.
I have to confess that we have a sweet tradition on our last day in Oakhurst. We stop into Judy's Donuts and pick up a dozen amazing doughnuts to bring home with us.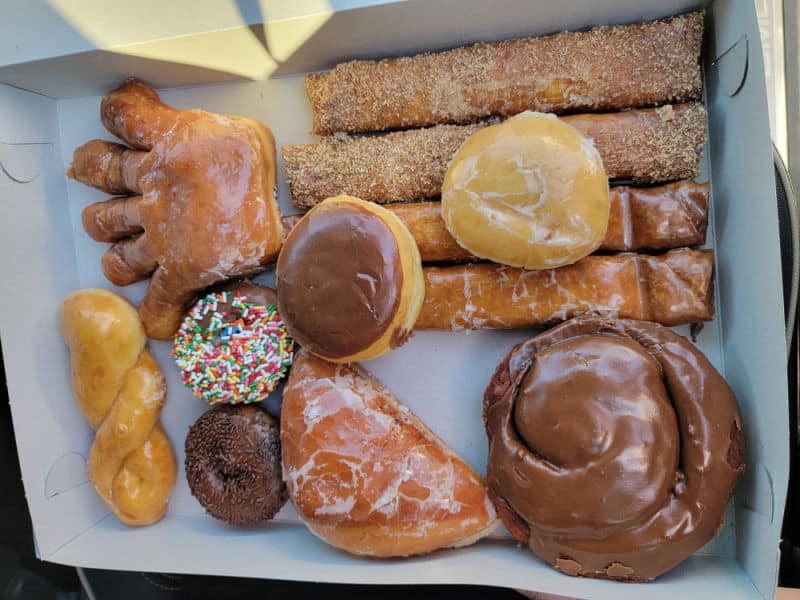 We pack Ziploc baggies to package them up and bring them home with us. We love being able to enjoy one of our favorite treats at home to make our trip last a little longer.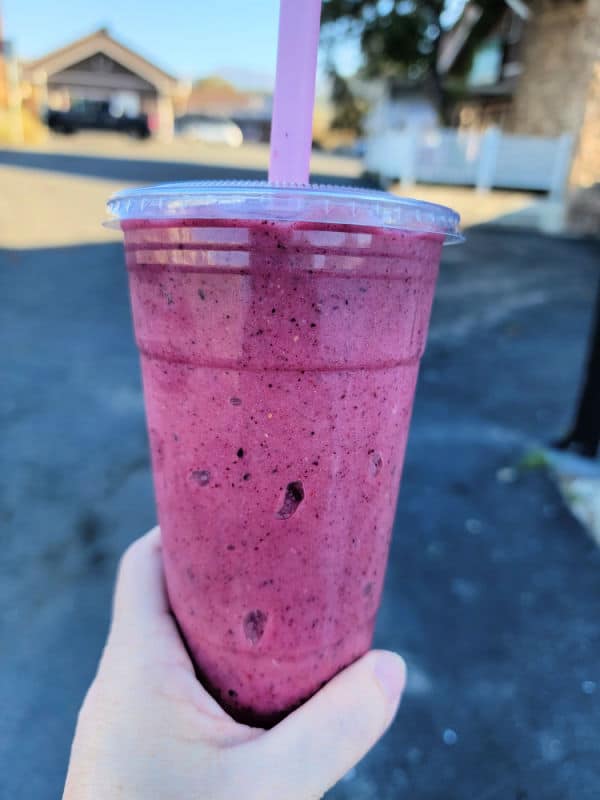 We also stopped into Glow Juice for a fresh fruit smoothie that was delicious! They have a huge menu of smoothies along with breakfast and lunch items.
There were so many epic smoothies on the menu that it was hard to decide which ones we wanted to try.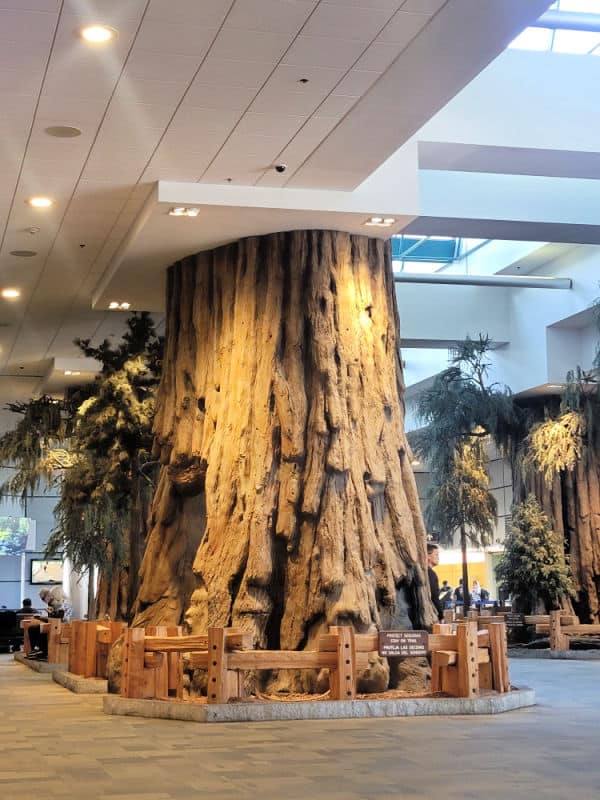 We love seeing the Giant Sequoia trees you can walk through in the Fresno Airport. Such an epic way to start or end a trip.
Our flight home was quick and easy which is always amazing. We are already thinking about all of the things we want to do the next time we are in Yosemite and Oakhurst, California.
We still need to try the Cellar Bar at Erna's Elderberry House, and the Snowline Saloon, plus there is a new North Fork Barbecue Restaurant that opened right on Highway 41.
My wife says there are still amazing local stores in Oakhurst she hasn't spent enough time in and wants to get some great shopping done at.
Our next trip is heading to hopefully sunny Florida to re-visit Everglades National Park, Biscayne National Park, Big Cypress National Preserve, Dry Tortugas National Park, and check out some new to us Florida State Parks. Plus enjoy all the key lime pie we can handle.