There is just something magical about a Yosemite Winter! I think for me personally, it stems back to my childhood. I can still remember falling in love with the National Parks after seeing photos of Yosemite Valley by Ansel Adams.
The one photo that truly captured my spirit was seeing Half Dome blanketed in snow with the Merced River in the foreground. Little did Ansel Adams know that, at the moment, he just captured a photo that inspired so many people!
I was one of those who have been so inspired, I have spent 20 years working as a Park Ranger and now two years into my online site ParkRangerJohn.com continuing to share my passion for the parks.
Several decades later, my life has led me full circle as I find myself staring at Half Dome with the Merced River in the foreground in winter. I feel that I have found myself all over again as I explored Yosemite National Park in the winter!
I found much more than an iconic photo, I found a park bursting full of winter activities that I can't wait to share with everyone! Let's explore the magic of a Yosemite Winter and discover everything you will need to know to plan your ultimate trip to Yosemite in the Winter!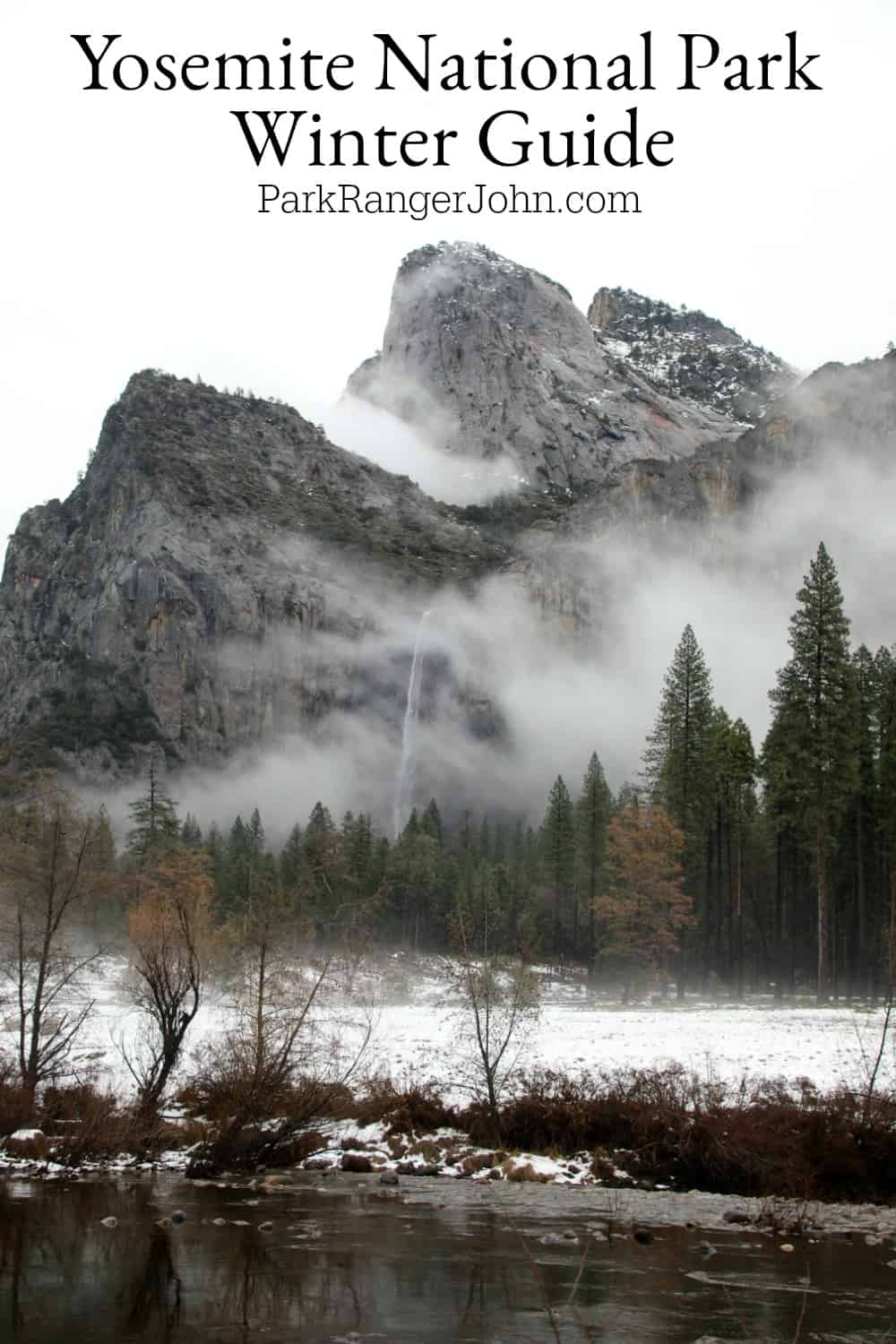 Yosemite Winter Guide
This year I am partnering with
Visit Yosemite Madera County
to bring you a ton of updates on why you need to visit Yosemite National Park! Keep an eye out for tons of Yosemite coverage this year and let us know what you would like to learn more about!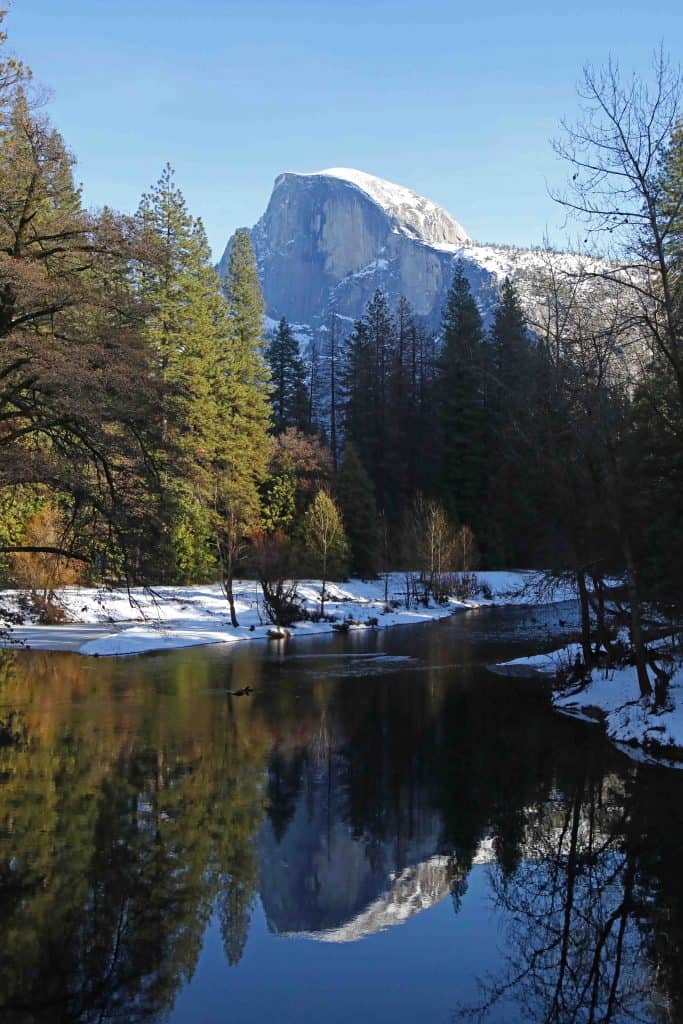 There are 4 developed campgrounds in Yosemite National Park that are open in the winter; Upper Pines and Camp 4 in Yosemite Valley, Wawona in south Yosemite and Hodgdon Meadow in the north Yosemite.
Keep in mind that Yosemite is located in the Sierra Nevada Mountains and a high elevation park which can easily get multiple feet of snow at a time. Be prepared for the elements to ensure a great camping trip.
At 4,000 feet in elevation, The Wawona Campground is the only South campground open in the winter. The campground has 93 campsites and has flush bathrooms.
The easiest way to access the campground is to travel on Highway 41 through Oakhurst. Oakhurst is a good size city and makes for a great place to get last-minute supplies or something to eat before heading into the park.
Reasons to camp in the south area of Yosemite include:
The Wawona Campground is perfectly located to explore the giant Sequoia Trees in the Mariposa Grove. There are 5 winter recreation trails that you can take in this area also.
The Wawona Campground is less than a half-hour away to Oakhurst if you want to go have dinner.
You are also less than a half-hour away from Bass Lake which is best known as the location where the movie "The Great Outdoors" was filmed with John Candy and Dan Ackroyd. There's a couple of really good Oakhurst restaurants here and a nice lodge too.
Leaving the Wawona Campground and head towards Yosemite Valley for one of the most iconic views in the entire National Parks System, Tunnel View. this is the point where you drive through a tunnel and as soon as you begin to exit the tunnel is one of the most breathtaking views anywhere in the world!
Just make sure to keep focused on the road long enough to park in the parking lot and just take your time. You will be looking out into the Yosemite Valley with El Capitan on the left, Bridalveil Fall in the foreground, and Half Dome in the background on the right.
Great location to head up to the Yosemite Ski and Snowboard Park for downhill skiing and snowboarding.
Great location to head up to Glacier Point Road winter recreation trails.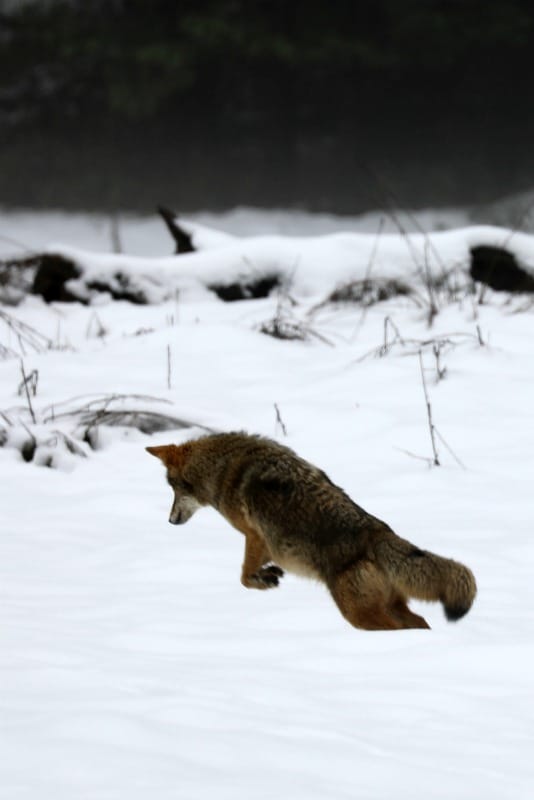 At 4,000 feet in elevation, the Upper Pines and Camp 4 Campgrounds are open year-round in Yosemite Valley. They have flush restrooms with over 250 campsites available between both campgrounds.
Reasons to stay in the Yosemite Valley campgrounds/lodges include:
Located in the heart of the park and easily accessible to Yosemite Village and Curry Village. You can visit the parks visitor center, explore the Ansel Adams Gallery and even go ice skating!
It is also a great place to ditch the car and ride the bus to many of the park's attractions in the Yosemite Valley.
Have lunch/dinner at the Ahwahnee Hotel
Great location to head up to the Yosemite Ski and Snowboard Park for downhill skiing and snowboarding.
Great location to head up to Glacier Point Road winter recreation trails.
At 4,900 feet in elevation, the Hodgdon Meadow Campground is the only campground open in the north portion of Yosemite National Park. The campground has 105 campsites and flush restrooms.
Reasons to stay in the North Portion of Yosemite Include:
Best location to access the Crane Flat Winter Recreation Trails
The closest location to Tubing Yosemite
Still in close proximity of Yosemite Valley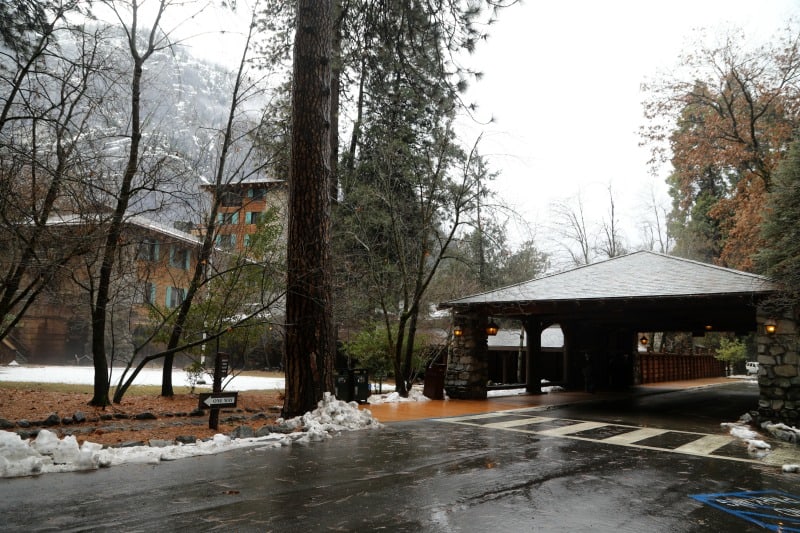 Yosemite Winter Lodging
There are two hotels/lodges, both in Yosemite Valley, that are open year-round in Yosemite National Park. These hotels/lodges not only provide a place to stay in Yosemite National Park but they are both absolutely beautiful!
Many people know this incredible lodge by its previous name, the Ahwahnee. This is widely known as one of the premier/elite lodges in the entire National Parks System and is compared to the likes of other great lodges like The El Tovar at Grand Canyon National Park, the Crater Lake Lodge at Crater Lake National Park and the Old Faithful Inn at Yellowstone National Park.
These are the lodges that will leave lasting memories for park visitors, especially for park enthusiasts like myself who will find themselves fawning over the lodges "Parkitecture" design, also known as National Park Service rustic.
This is a style of architecture that was developed in the early and middle 20th century in the United States National Park Service to create buildings that harmonized with the natural environment.
People in the know also know about something special that happens at the Majestic Yosemite Hotel each year around Christmas. The great Ansel Adams was the director of the very first Bracebridge Dinner held in 1927 and it has become a Yosemite tradition ever since. Read below for more information about this incredible event.
The Yosemite Valley's 241 room lodge made of wood and glass has recently been renovated and is a much more affordable option to the Majestic Yosemite Hotel. It also has breathtaking views of Yosemite Falls and a great central location to explore Yosemite.
Yosemite Winter Activities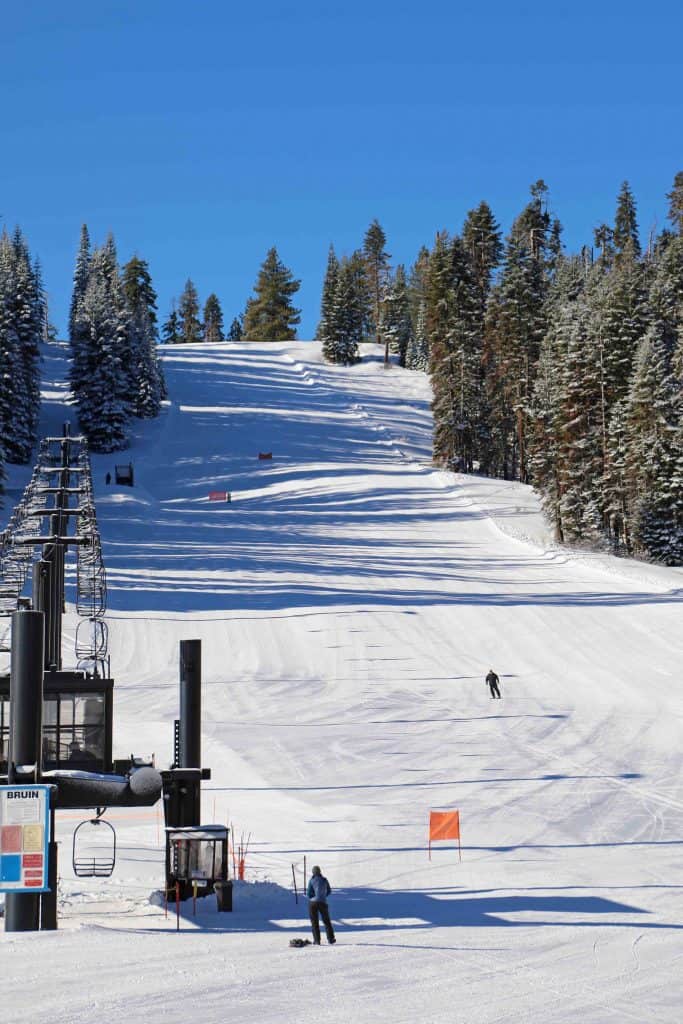 Yosemite Ski and Snowboard Area
Did you know that you can go downhill skiing and snowboarding in Yosemite National Park? The Yosemite Ski and Snowboard Area has an 800 foot of vertical drop starting at 8000 feet in elevation with 10 runs and 5 chair lifts. There is everything from beginner to advanced, even a Badger Pups program for 4-6-year-old kids.
Call (209)372-8430 for more information.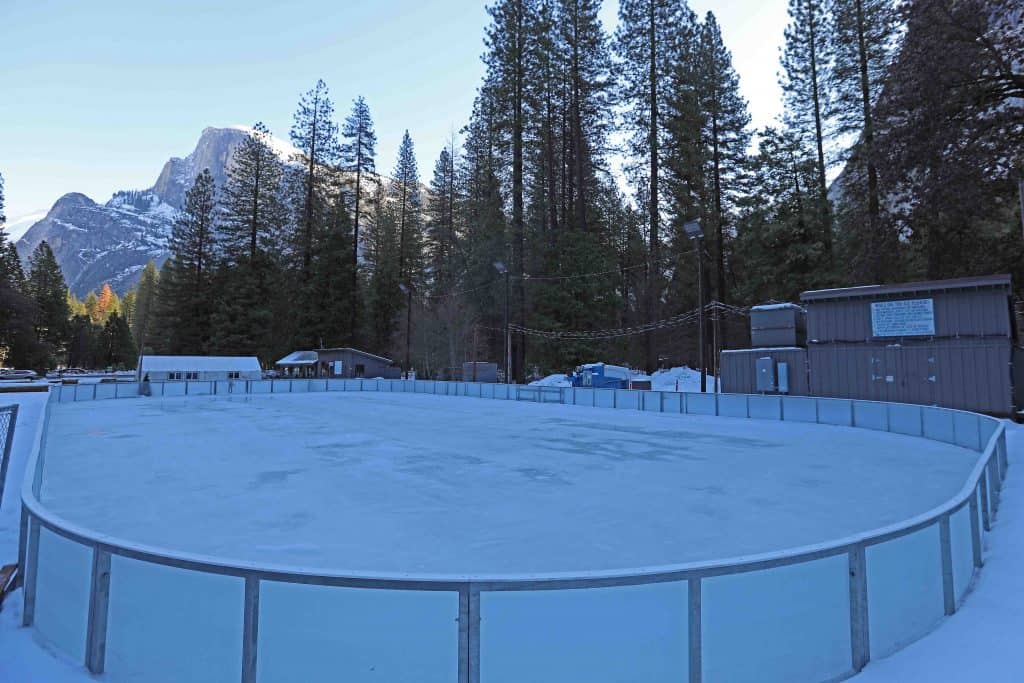 Yosemite Ice Skating
Park visitors have been enjoying Ice Skating in Yosemite National Park since 1928! The outdoor Ice Skating Rink is beautifully aligned with views of Half Dome to provide an unforgettable experience. You can even plan for private parties on weekdays.
Hours vary depending on the weather so make sure to call ahead at (209)372-8333 for more information and rink hours.
The Bracebridge Dinner is a Yosemite Tradition that dates back to 1927. Each December, The Majestic Yosemite Hotel (formerly the Ahwahnee) hosts this 7-course feast prepared by the hotel's world-class culinary team while turning The Majestic Yosemite Hotel dining hall into a 17th century English manor.
Guests are invited to join Squire Bracebridge for a Christmas celebration that includes a 4-hour Yuletide celebration of singing and acting, and of course a 7-course feast.
Make sure to click here to get your tickets!
Tubing Yosemite
Yosemite Hospitality offers snow tubing and sledding in Yosemite National Park. Rates are for two-hour blocks and typically have two different blocks each day.
The hill is perfect for kids of all ages but kids need to be 4 years and 42" tall in order to snow tube alone.
Yosemite is one of our favorite winter family vacations. There is so much to do!
Snowshoeing Yosemite
I have to admit that snowshoeing is my favorite winter activity! It's extremely easy, affordable, the winter brings fewer people and the air is cold and crisp. Did I mention that the sun reflecting off the snow is a great way to get some vitamin D in the winter! Yosemite is also a great place to go snowshoeing.
The Mariposa Grove Road closes to vehicle traffic from the end of November until at least March 15 of each year. During this time, all trails in the grove remain open in the winter for cross-country skiing and snowshoeing and hiking.
Make sure to click here for a detailed list of winter recreation trails and maps at Mariposa Grove.
Glacier Point Road has one of Yosemite's iconic views of Half Dome! It's also home to several winter recreation trails to explore. Make sure to click here for a detailed list of winter recreation trails and map for Glacier Point Road.
Crane Flats
Crane flats have 8 different winter trails to explore. Click here for a detailed list of winter recreation trails and a map of Crane Flats.
Yosemite Cross Country Skiing
Cross Country Skiing and snowshoes have several marked winter trails are available, generally from mid-December through March. Look in the snowshoeing section for links to the detailed maps with trail descriptions.
Park Ranger John Pro Tip:
Glacier Point Ski Hut is one of the most gorgeous and breathtaking sites in the Sierra Nevada's. Upon arrival, you will overlook Yosemite Valley, Half Dome, and the Yosemite High Country all from 3500 feet above the Yosemite Valley!
The Glacier Point Hut is open from December through March and Glacier Point Road is groomed beyond The Yosemite Ski & Snowboard Area. It is possible to ski the 21-mile round trip to the Hut and back in one day but experienced guests know to stay longer and stay at Glacier Point Ski Hut overnight.
Reservations are required for overnight stays.
Inside the Glacier Point Ski Hut, you'll find a dining room and rustic accommodations that include:
Comfortable Sofas
Woodstove
Restrooms
Large bunk bed area that sleeps up to 20 people in a single room.
Call (209)372-8444 for more information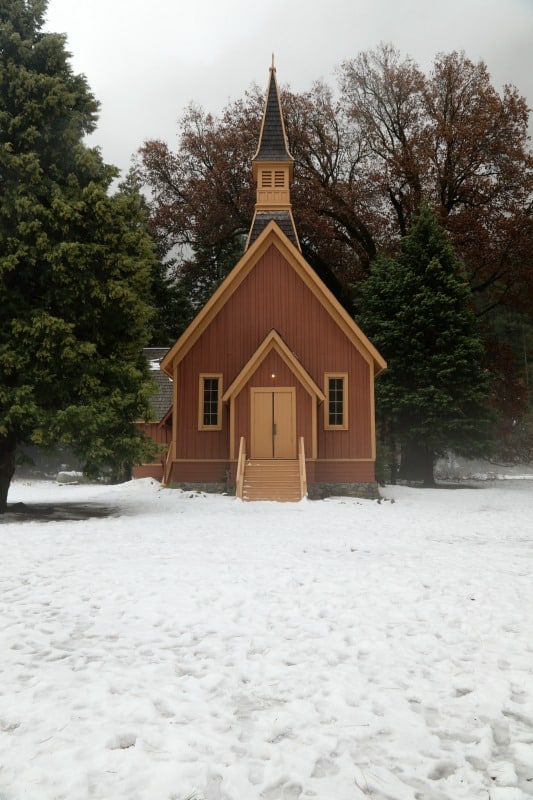 Yosemite Chapel
The Yosemite Valley Chapel, located in the heart of the Yosemite Valley, has welcomed residents and visitors alike for over 135 years! The chapel has spectacular views of Yosemite Falls as well as the Yosemite Valley.
They have weekday services, weekend services and also hosts weddings. They also have Easter Services, Thanksgiving Services, Christmas Eve Service, and New Years Night Watch Service.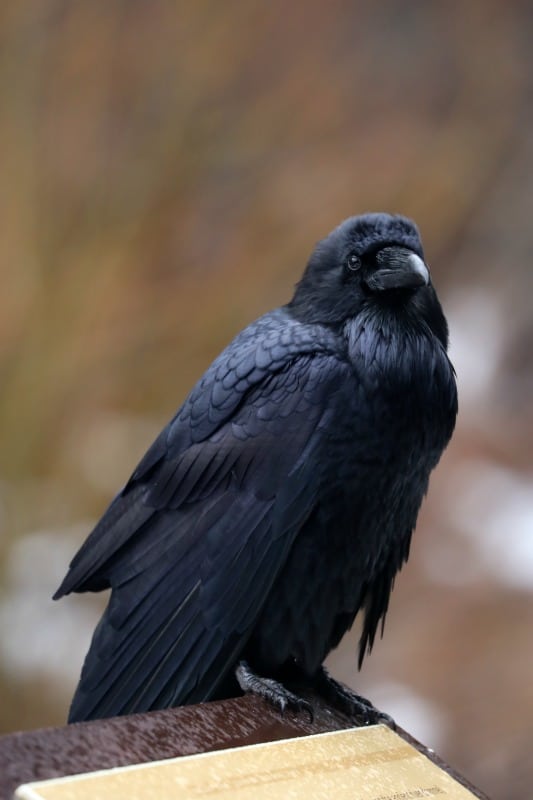 Yosemite Village
Yosemite Visitor Center
The Yosemite Valley Visitor Center and Bookstore are open daily from 9:00 am to 5:00 pm. The visitor center offers information, maps, and books. Explore the exhibits and learn how Yosemite's landscape formed and how people interact with it.
The theater behind the Yosemite Valley Visitor Center plays two different films daily: Ken Burns' Yosemite, A Gathering of Spirit plays on the hour and The Spirit of Yosemite plays on the half-hour.
Indian Cultural Museum
The Indian Cultural Museum is open daily from 9:00 am to 5:00 pm and may be closed for lunch. Here you can learn about the cultural history of Yosemite's Miwok and Paiute people from 1850 to the present day.
Ansel Adams Museum
The Ansel Adams Museum is located in the heart of Yosemite Valley by the parks Visitor Center. The gallery location has magnificent views of Yosemite Falls, Half Dome, and Glacier Point and has numerous photos from Ansel Adams and a nice gift store to take home that perfect gift.
The gallery has several activities including camera walks, Fine Print Tours, photography classes, photography workshops, and Ansel Adams films!
Camera Walks are Free, led by staff photographers and are offered Tuesday (from the Majestic Yosemite Hotel), Thursday, and Saturday. The Camera Walks depart from the Gallery porch at 9 AM and is limited to 15 people. Topics are basic information about using cameras, composition, exposure, and whatever questions come up.
Registration opens 3 days in advance of the scheduled walk so make sure to call and reserve your space at (209)-372-4413.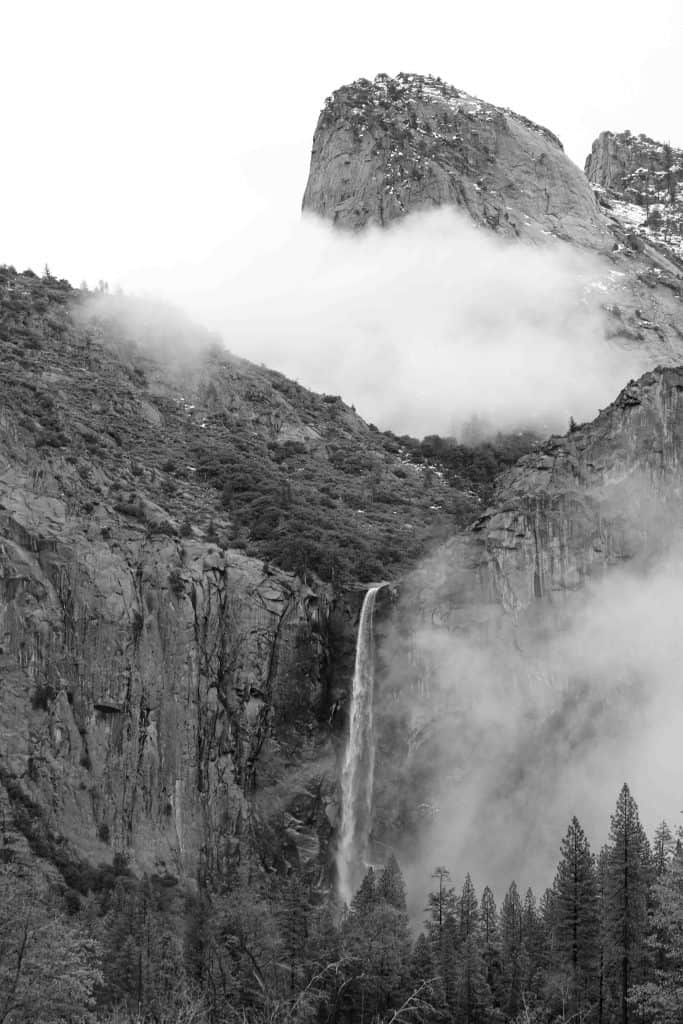 Yosemite Winter Hikes
The Yosemite Valley usually doesn't have sufficient snow for skiing or snowshoeing making this a great place to go for a hike or walk. Remember that there can still be plenty of snow and ice so make sure to watch where you step and know your abilities.
Here is a list of a few easy day hikes from Yosemite Valley:
Bridalveil Fall: .5 mile easy round trip should take approximately 20 minutes.
Lower Yosemite Falls (Shuttle stop #6) 1 mile easy round trip hike, should take approximately 20 minutes
Mirror Lake (Shuttle stop #17) easy 2 Miles round trip, Should take approximately 1 hour (Mirror Lake is a seasonal Lake)
Vernal Falls Footbridge (Shuttle Stop #16) Moderate 400-foot elevation gain 1.4-mile round trip hike. It should take approximately 1-2 hours.
There could be other trails accessible depending on snow levels. Make sure to check at the park's visitor center or with a ranger before heading out about the park's trail conditions. Trails may close at any time due to unsafe conditions, make sure to follow all warning signs.
Now you have seen a little of what makes a Yosemite Winter so magical! I vividly remember the first time I saw the Yosemite Valley in the winter, I instantly felt as if I was placed in the middle of a Norman Rockwell painting and was transported into a time where everything was serene.
It's hard to believe that most visitors miss this opportunity and opt for the busy crowds of the summer. Now you can start planning your own trip to Yosemite in the winter.
Make sure you check the weather for Yosemite before heading to the park! Depending on the weather the roads leading into Yosemite may be closed. This year Yosemite National Park has experienced a large level of snow which has damaged some of the Yosemite Valley structures and many trees.