Upper Pines Campground is located in the heart of Yosemite Valley. Open year-round this campground is close to hiking trails, half dome village, and the Merced River.
The campground is filled with Ponderosa Pines though many of them had to be cut after huge winter storms.
Upper Pines Campground is the largest campground in Yosemite National Park! The campground is set up with six one-way loops. Each loop has a restroom nearby along with garbage and recycling areas.
This is a super busy campground, especially during the summer. You will want to make a reservation as soon as you can!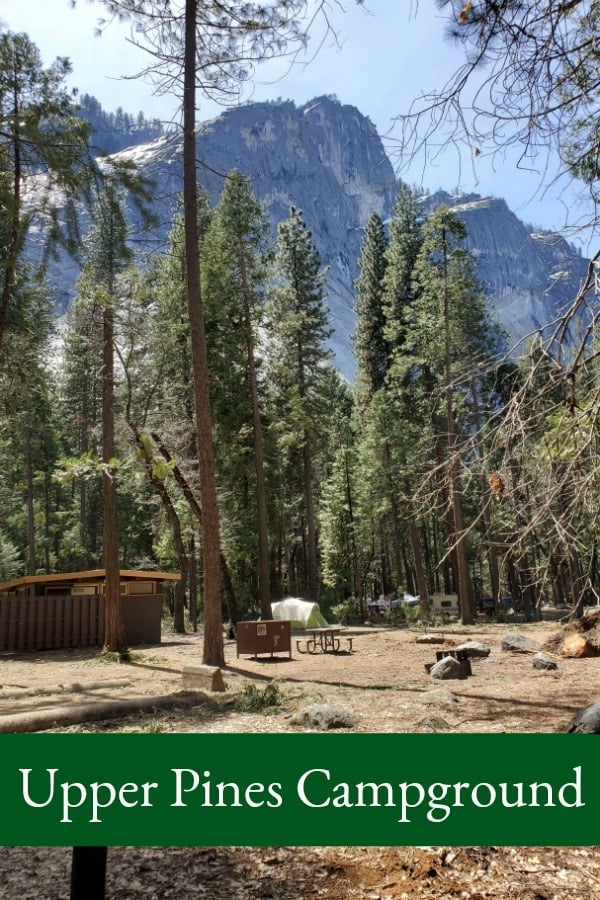 Check out all of the Yosemite Camping options! There are 13 campgrounds within Yosemite National Park!
Four of the campgrounds are in Yosemite Valley, five of them are along the Tioga Pass and Tuolumne Meadows which are open seasonally, the rest are found along Highways 120 and 140.
Upper Pines Campground
Season: Year Round
Number of Sites: 238
December to mid-February, only the first two loops are normally open (about 50 campsites)
Location in the park: Yosemite Valley
Campsite Cost: $26/night
Payments accepted:
Reservations: Yes, Recreation.Gov
Campground Address:
Latitude/Longitude:
Latitude:
37.7361111
37° 44' 10.0000" N

Longitude:
-119.5625
119° 33' 45.0000" W
Elevation: 4,000 feet
Accessible Sites: 6, 7, 21, 26, 27, 28, 29, 39, 42, and 43
Pets Allowed: Pets are allowed but they must be on a leash less than 6 feet long.
Pets are not allowed inside park buildings or on specific trails.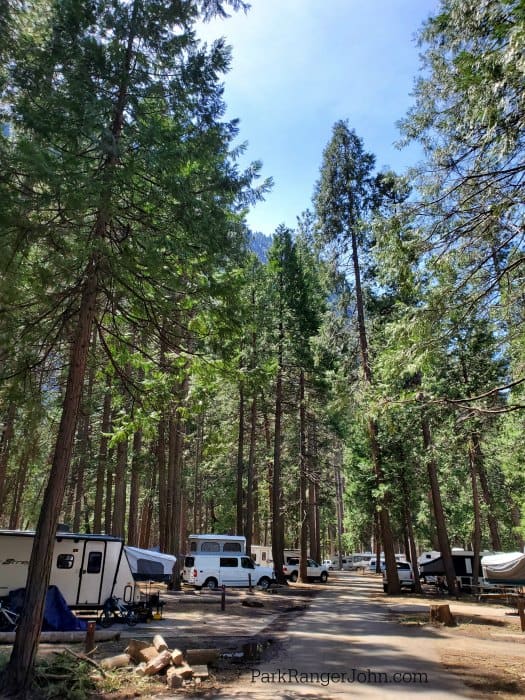 Campground Reservations
Are campground Reservations Available? Yes
Phone Number?
Online? Recreation.Gov
How Far Ahead can you make a reservation? Up to five months in advance on the 15th of each month at 7:00 a.m. (PT) or 10:00 a.m (ET).
First Come, First Served? No!
First-night rent plus a one-time transaction fee of $4.50 will be charged at the time of reservation and is non-refundable.
Campground Amenities
Flush Toilets: Yes
Payphone: Yes, near the entrance/ranger station
Is wifi Available? No
Is cellular Phone Service Available? Depends on your carrier. We have spotty coverage with T-mobile in Yosemite Valley.
Is camp host available on site? Yes
Is firewood available for purchase? Yes, at the Yosemite Village Store
Amenities at each campsite:
Fire ring in the site? Yes
From May 1 to Sept 30th, wood fires are only allowed between 5 pm and 10 pm nightly.
Fires must be attended at all times and extinguished fully with water so coals are cold and no smoke is visible.
There is no wood gathering in Yosemite Valley including pine cones and needles.
Picnic Table in the site? Yes
Bear Box/ food storage in site/area? Yes,
You are required to store food properly in order to protect Yosemite's bears. Bear storage lockers are provided in all campsites 35"(D)x43"(W)x28"(H)
Potable Water? Yes
Curry Village offers a general store, restaurants and bar, amphitheater, showers, and tours and activities desk.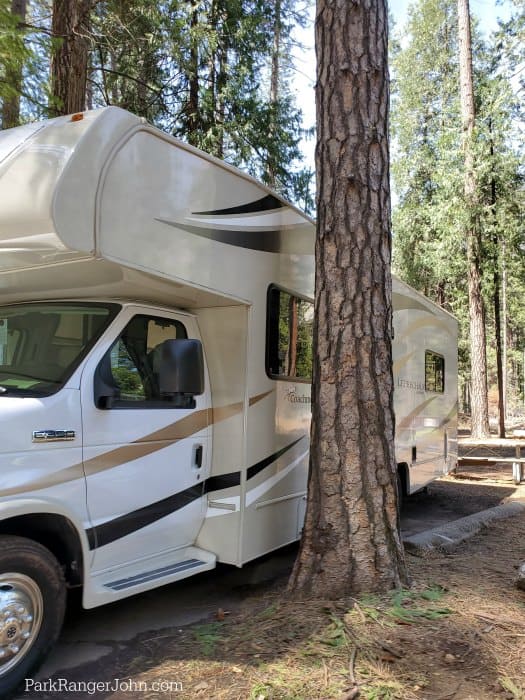 RV Camping at Upper Pines Campground
RV Length: RVs up to 35 feet
Trailers up to 24 feet
Not every site can accommodate equipment of these lengths. Be sure to read the site details when making a reservation on recreation.gov to ensure your equipment will fit into the site you're reserving.
Dump Station: Yes at the entrance to Upper Pines
Generators: Yes during the following time periods - 7 am to 9 am, 12 pm to 2 pm, and 5 pm to 7 pm.
Hookups: No, There are no electric, water, or sewer hook-ups at this facility

Important Dates for Campground
From May 1 to Sept 30th, wood fires are only allowed between 5 pm and 10 pm nightly.
December to mid-February, only the first two loops are normally open (about 50 campsites)
Campground Regulations
The maximum number of people in a campsite: A maximum of six people (including children) are allowed per campsite. There is no limit on the number of tents (as long as they all fit into the campsite).
The number of cars per campsite: Two motorized vehicles per campsite. A valid campground car pass must be displayed.
Checkout time: 12 noon
Quiet Hours: Quiet hours are from 10 pm to 6 am
Maximum Stay: 7-day maximum stay limit.
Camping is permitted in designated assigned sites only.
Upper Pines Campground Map

Photos of Upper Pines Campground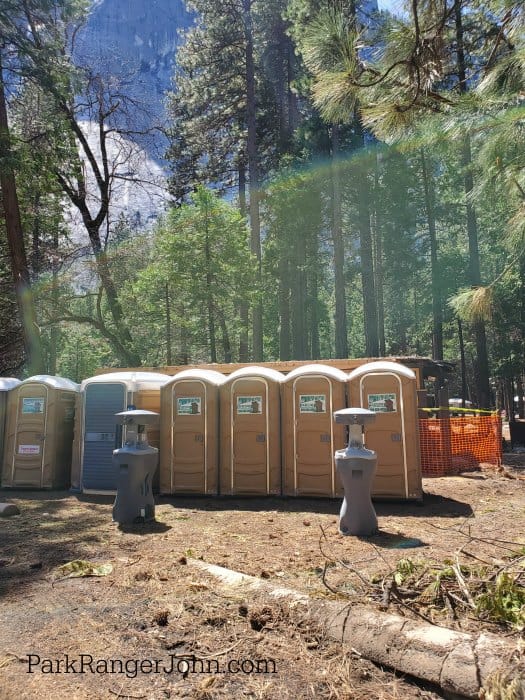 Check out our ultimate Yosemite NP travel planning guide.