Located off the Tioga Road in Yosemite National Park the Tuolumne Meadows Lodge includes 69 canvas-tent cabins without electricity.
These are normally open between mid-June to mid-September depending on weather and snow levels.
It is worth noting that the Tuolumne Meadows Lodge is 60 miles from Yosemite Valley and sits at over 8,700 feet in elevation.
White Wolf and Tuolumne Meadows Lodge are the easiest accessible high sierra camps to reach.
Tuolumne Meadows Lodge is located off of Tioga Pass near the eastern entrance on Highway 120 east. The lodge is located in the high country near the Tuolumne River within the Sierra Nevada mountains.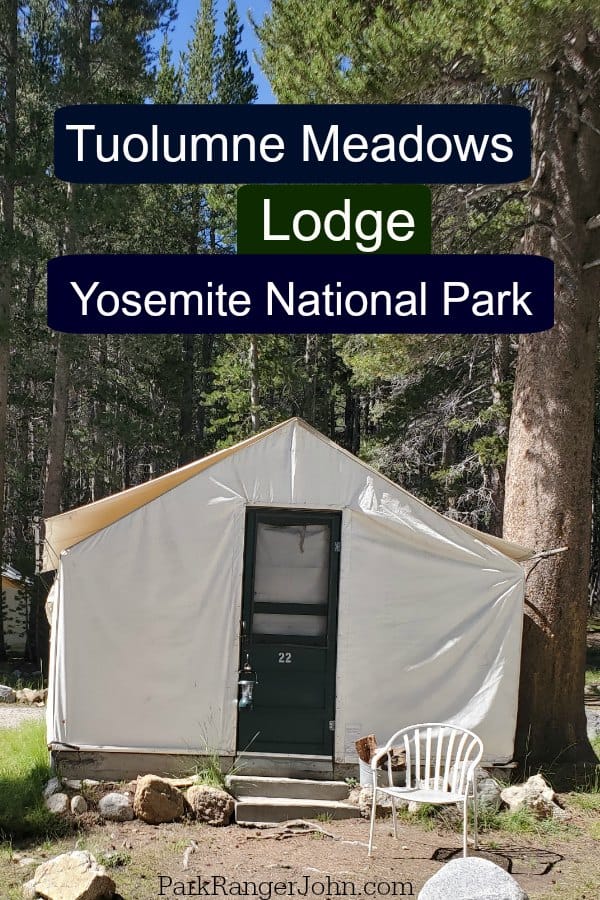 Tuolumne Meadows Lodge
Season:
June 3, 2022 - September 18, 2022 (conditions permitting)
Number of Sites: 69 canvas-tent cabins
Location in the park: Off of the Tioga Road near Tuolumne Meadows
Campsite cost:
Reservations: Yes (see how and when to make a reservation below)
Latitude/Longitude: 37.8773° N, 119.3331° W
Elevation: 8,775
Pets Allowed: There are no pets allowed on the property.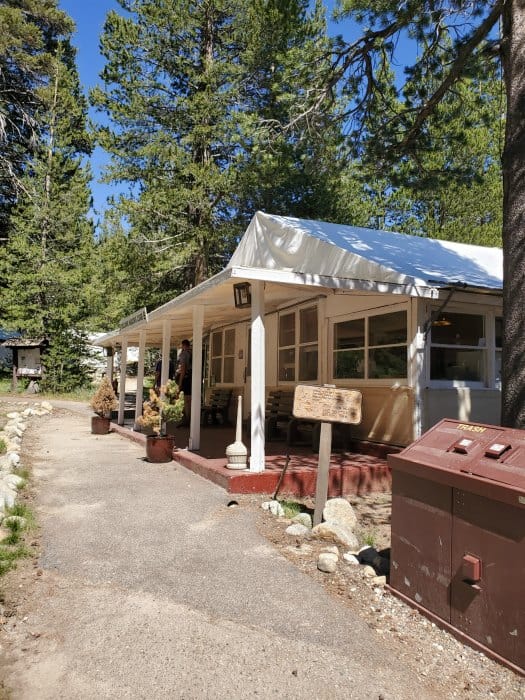 Tuolumne Lodge Reservations
Are campground Reservations Available? Yes
Phone Number? 888.413.8869
Online? Travel Yosemite Website
How Far Ahead can you make a reservation? Reservations are available 366 days in advance and are strongly recommended, especially from spring through fall and during holidays.
Deposit: A deposit of 100% of the first night at the time of booking if paid by credit or debit card.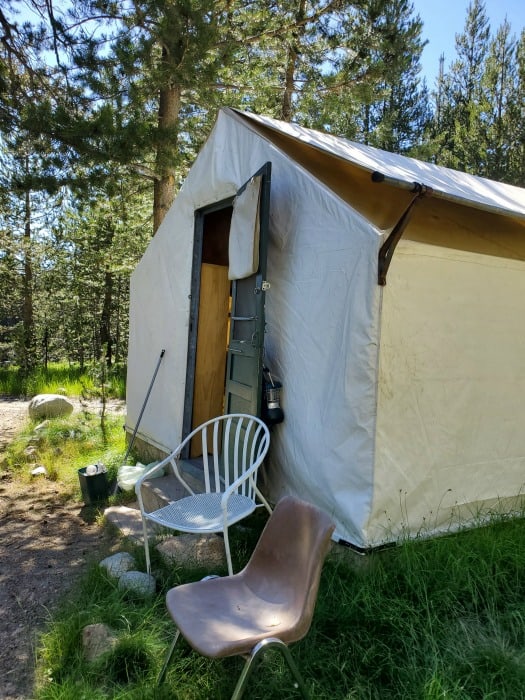 Tuolumne Lodge Amenities
When staying in the Tuolumne Lodge you will need to use a luggage cart or carry your luggage from the parking lot to your tent.
There are bear/food storage boxes in the parking lot for food and toiletries.
Flush Toilets: Yes
Showers: Yes there are showers in the bathrooms available only for Tuolumne Meadows Lodge Guests.
Payphone: Yes
Is wifi available? No (Complimentary WiFi is available at Degnan's Kitchen near the Yosemite Valley visitor center (bandwidth is limited)
Is cellular Phone Service Available? Maybe, It will depend on your carrier. Some trips we have service with T-mobile in this area of the park.
Is firewood available for purchase? Yes, You can buy charcoal and firewood at most stores within Yosemite.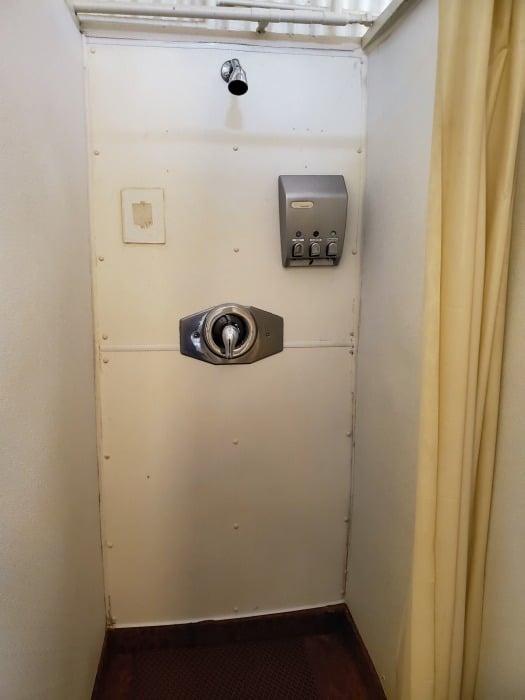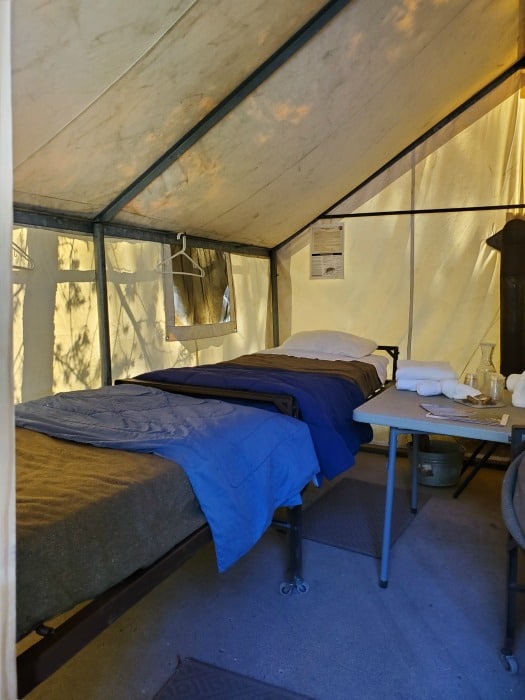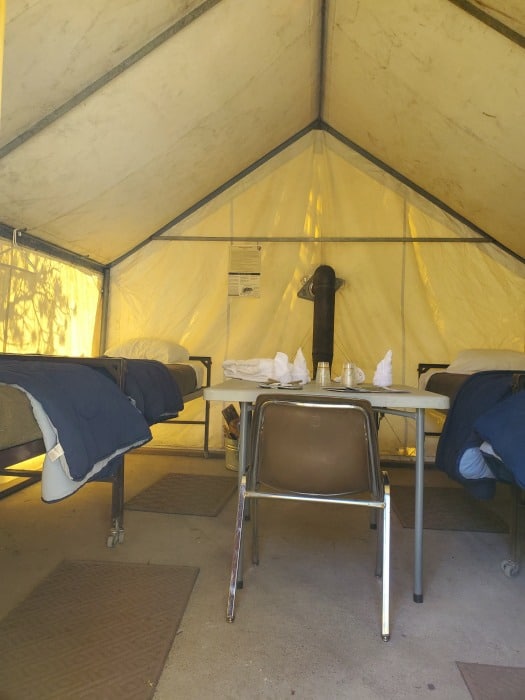 Amenities at each Tuolumne Meadows Lodge Tent
Tents are available with 4 Twin Beds or 1 Double Bed with 2 Twin Beds
Within each tent, you will find 3 wool blankets and 1 comforter for each bed. There is also a table, towels, water carafe, glasses, and a wood-burning stove.
There is NO ELECTRICITY within these tents. There is a lantern within each tent.
Bear Box in site/area? Yes, All units have a bear-proof storage box in the main parking lot of the lodge.
You are required to store food properly in order to protect Yosemite's bears.
Food storage lockers are provided in all campsites 35″(D)x43″(W)x28″(H)
Potable Water? Yes, there is drinking water available in the campground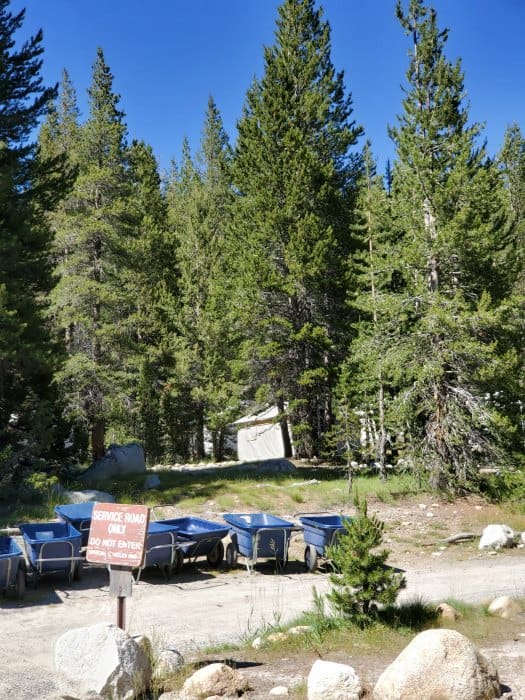 Don't forget to pack with you
Padlock for your food storage locker.
Shower shoes for the public community showers and walks to the restroom at night.
Earplugs for additional sleeping support.
A water bottle that you can refill.
Flashlight or LED headlamp and extra batteries.
Closeable plastic food containers to store in the locker.
Inflatable Hammock for lounging and checking the epic Yosemite scenery.
The best thing to remember to bring is your sense of adventure!
Tuolumne Meadows Lodge Dining
The lodge dining room serves breakfast and dinner daily. They do not serve lunch since most guests will be out hiking during the day.
The dining room serves hearty meals great for hikers.
You can order box lunches from the dining room the night before.
Dinner reservations are required and can be made when you have breakfast in the morning or by calling 209-372-8413.
There are no private cooking facilities available at the lodge. Guests need to keep all food and toiletries in bear boxes in the main parking lot.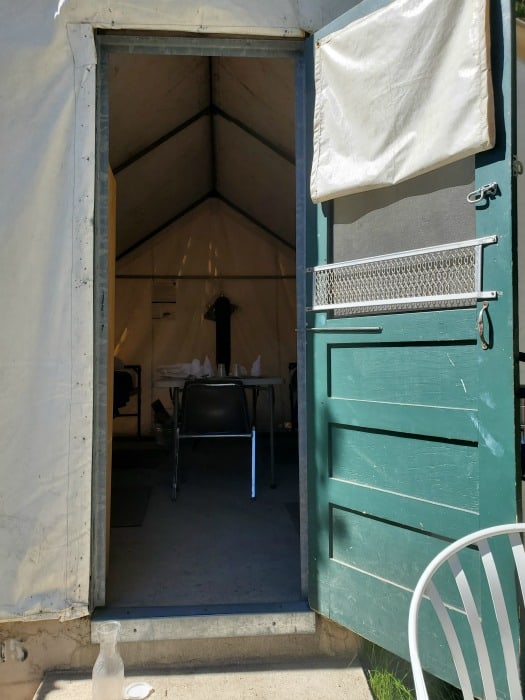 Tuolumne Meadows Lodge Regulations
The number of cars per tent: A maximum of 4 people can stay in each tent.
Check-in Time: 4 pm
Checkout time: 11 am
Quiet Hours: Quiet Hours are from 10:00 pm to 6:00 am, seven days a week.
Cancellation Policy: $10.00 cancellation fee for cancellations made 7 or more days prior to arrival. Reservations canceled within 7 days of arrival will forfeit the deposit paid.
Smoking: Smoking is strictly prohibited at all accommodations and buildings in Yosemite.
Tuolumne Meadows campground is just down the street from the lodge.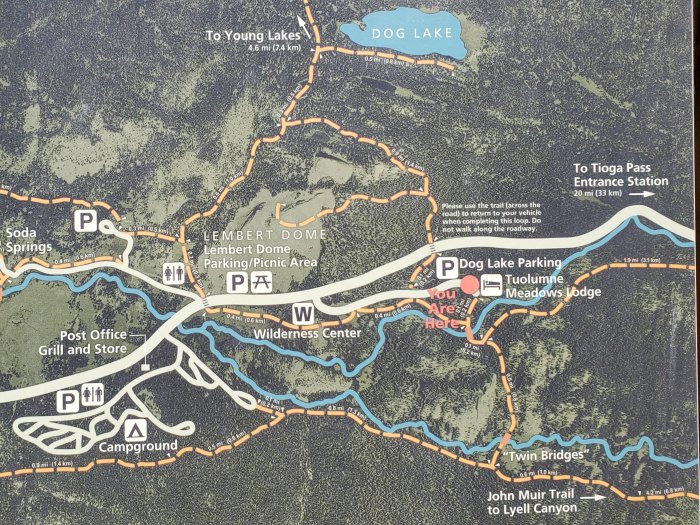 Yosemite Resources
Yosemite Lodging Guide - Find out more about all the lodging options within the park.
Best things to do in Yosemite - All the epic sites, hikes, and things to do you don't want to miss within this great park.
Yosemite Falls - Detailed information on visiting Yosemite Falls in Yosemite Valley
Yosemite camping guide - detailed information on each of the campgrounds in Yosemite, how to make a reservation, site photos and more.
Mariposa Grove - all the info you need to enjoy your time in the Mariposa Grove of Giant Sequoias.
California National Parks - check out all of the great parks you can visit en-route to Yosemite.
One day in Yosemite Itinerary - All of the epic things you can do in one day in the park.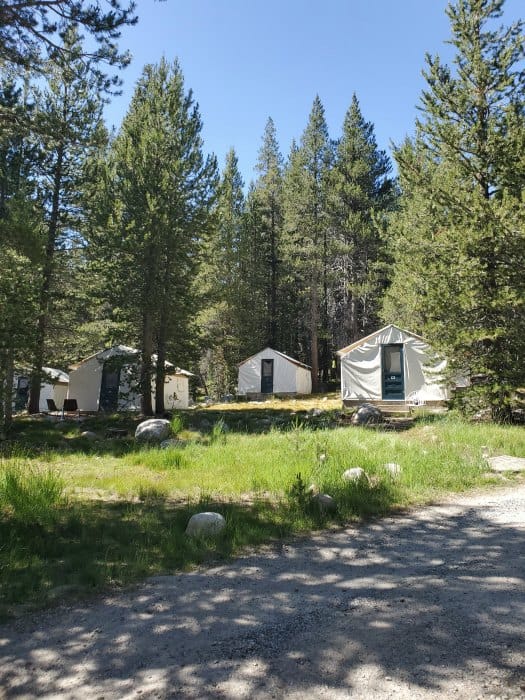 Check out our Yosemite Planning Guide for everything you need to know to plan a great vacation.