Tunnel View in Yosemite National Park is one of the most popular things to do in the park. You can expect to see spectacular views of Yosemite Valley including El Capitan, Half Dome, and Bridalveil Fall.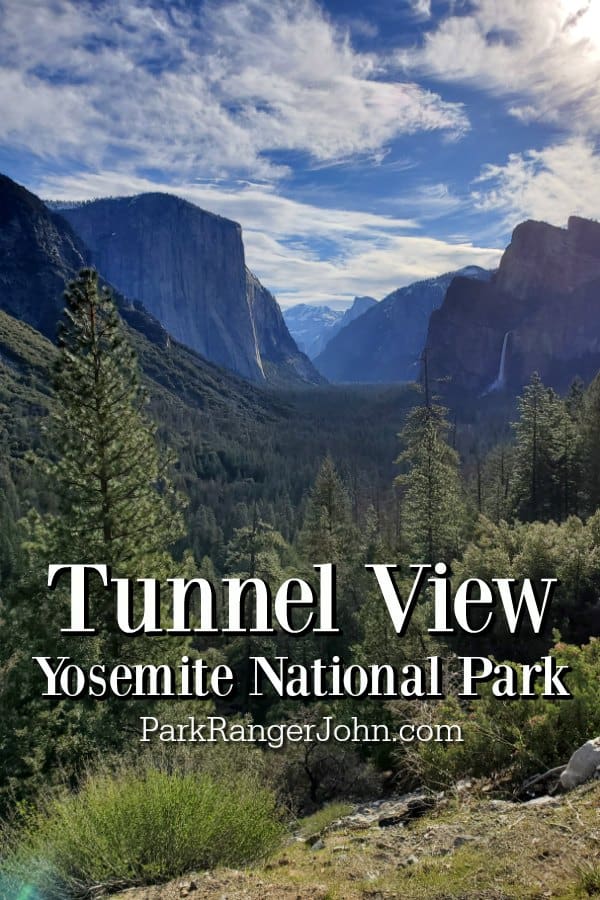 Tunnel View - Yosemite National Park
A visit to Yosemite National Park would not be complete without stopping at Tunnel View.
Trust me when I say you do not want to miss this epic view! It is the view you see on Yosemite Postcards, on the cover of books and really on everything.
This is your chance to have your own postcard photo.

Where is Tunnel View?
If you are wondering how to get to Tunnel View Yosemite National Park don't worry it is really easy to find!
Yosemite Tunnel View is located just past the Wawona Tunnel on State Highway 41.
Wawona Road/Highway 41 is the main road that runs from Oakhurst, California to the southern entrance of Yosemite National Park and connects to the Yosemite Valley loop road (Southside and Northside Drive).
There are two parking lots one on each side of Highway 41. Each of the parking areas offer great views. One thing to know is in the main parking area the middle spaces are for tour buses. They will ask you to move if you park in a bus stop.
If there are no parking spots when you arrive you may want to pop down to Bridalveil Fall to explore and then head back up to Tunnel View.
If you are traveling from within Yosemite Valley you will head 1.6 south on Wawona Road (Route 41) from the junction with Southside Drive. You will pass the parking area for Bridalveil Fall on your left.
You may see/hear Tunnel View also called Wawona Tunnel View since the view happens right after you pass through the Wawona Tunnel.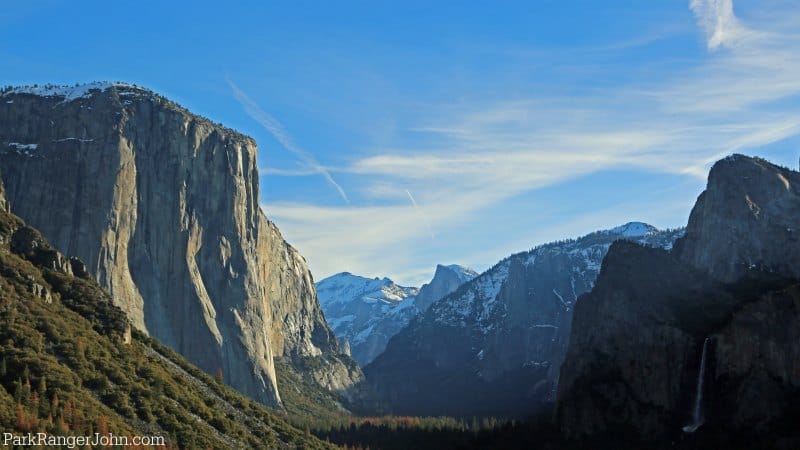 What can you do at Tunnel View?
Yosemite Valley Tunnel View was made famous by Ansel Adams. His 1935 photograph Clearing Winter Storm showed the world just how epic Yosemite National Park is.
From Tunnel View, you can look out at Yosemite Valley and gaze in wonder.
The best part is there is no hiking required! The hardest thing some days is finding a parking space. Once you have a parking space you can walk up to the overlook.
Tunnel View is one of our top things to do in Yosemite! Honestly, the view is truly that epic.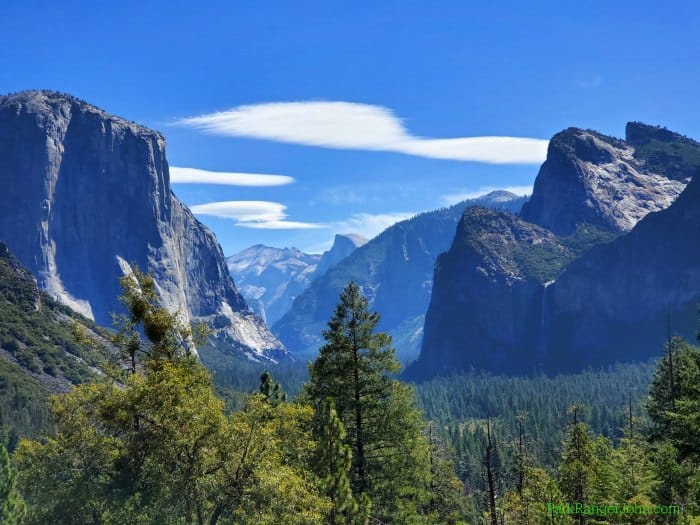 Photography Tips for Tunnel View
One of our biggest photography tips is to make sure you move around the overlook.
Each angle provides a different look over the valley.
In the morning Yosemite Valley is back-lit which brings out amazing shadows.
In the afternoon the sunlight provides light across the valley which is a totally different look.
We suggest visiting at different times during the day to see how the view changes.
If you visit at sunset don't be surprised to see photographers lined up with tripods and epic gear trying to get an amazing photo.
You may have to maneuver through a crowd to get a spot if you do not arrive early for sunset.
Each of the photos of Tunnel View in this post was taken at different times of the year and times of day to show how the view changes.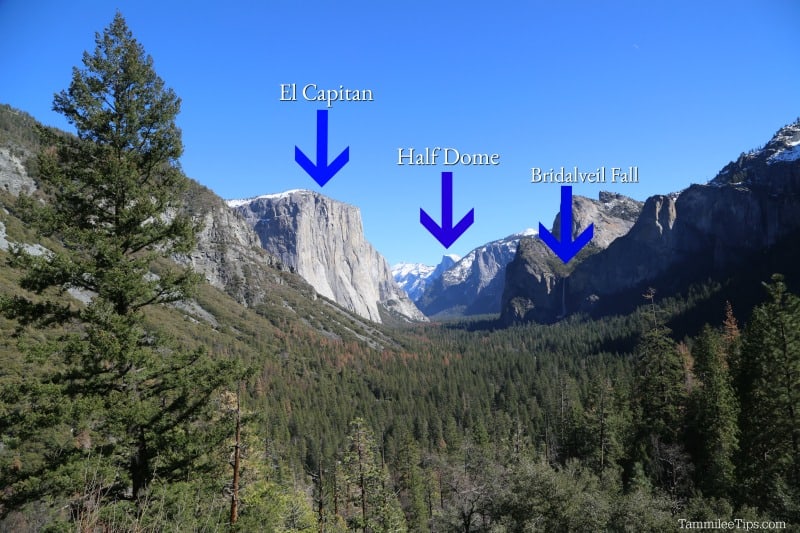 What can you see from Tunnel View?
El Capitan
You can see an amazing view of El Capitan to the left of the overlook.
From the overlook, you can see Bridalveil Fall on the right side of Yosemite Valley. This is a great viewpoint to see just how big the falls are and how much water is flowing.
Half Dome
Directly in the middle of Yosemite Valley, you can see Half Dome. Depending on the time of day you will see it in shadows or full sun.
On cloudy or foggy days it is not uncommon for Half Dome to disappear from view.
On clear sunny days, you can see Clouds Rest to the left of Half Dome and Sentinel Dome above on the right.
What can't you see from Tunnel View?
While the views over Yosemite Valley are truly epic there are a few highlights that you can't see from the overlook.
You will not see the Mariposa Grove of Giant Sequoias, Nevada Falls, the Merced River, or Yosemite Falls.
One cool thing you will notice is you can't see any man-made structures from the view. When you look out at the view of Yosemite Valley you can see what Ansel Adams saw back in 1930s.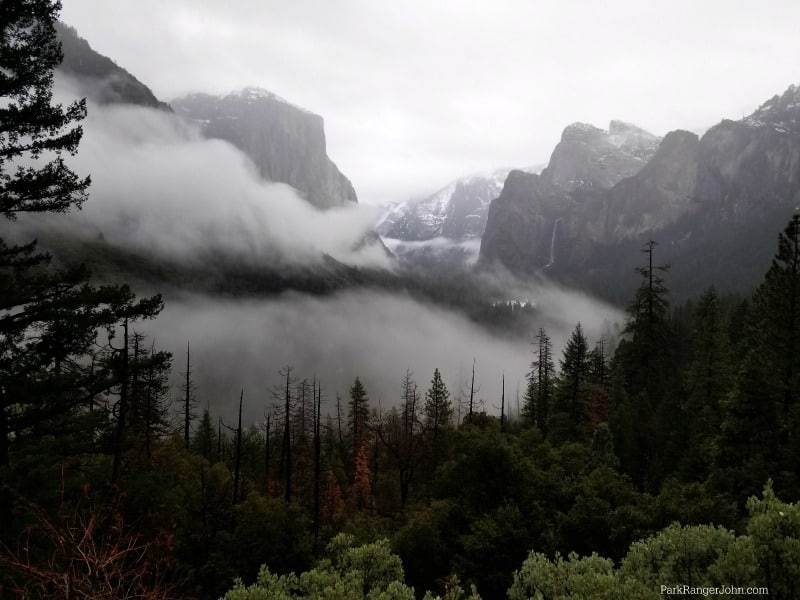 Tunnel View History
Tunnel View was originally constructed in 1933. The Wawona Tunnel was built to replace a portion of the old wagon road that climbed high across the hill.
The overlook was rededicated on October 24, 2008.
Wawona Tunnel and Tunnel View were determined eligible for listing on the National Register of Historic Places in 1986 because of their exemplary design.
In 2008 the overlook had renovations including expanded handicap accessible viewing area, improved traffic flow, educational exhibits, and historic rockwork.
These updates were funded by The Yosemite Fund and the National Park Service as part of the President's Centennial Initiative.
Details/Information
Tunnel View coordinates: 37.715484, -119.67723 (37° 42′ 55.74″N 119° 40′ 38.02″W)
Additional Yosemite Resources
Yosemite Camping Guide - Check out all of the campgrounds in Yosemite including site photos.
Yosemite Lodging - Check out all the lodges within the park.
One Day Yosemite Itinerary - Check out all the things you don't want to miss if you only have 1 day in the park.
Californa National Parks - Check out all of the parks you can visit while in California.
Yosemite Lodging Guide - Check out all of the great places you can stay within the park