North Pines Campground is one of the popular campgrounds in Yosemite Valley. Located in the heart of Yosemite Valley you have access to Mirror Lake, Tenaya Creek, and Yosemite Bus Stops.
One of the best parts about camping in Yosemite Valley is how close you are to everything in the park. You can easily hop on a Yosemite Shuttle Bus and reach most of the top attractions in the park without having to worry about parking your car.
You can literally wake up with a view of the epic Yosemite mountain views and Merced River. Spend the day reading by the river, hiking one of the valley trails, or check out the climbers on El Capitan.
This campground is surrounded by large trees providing wonderful shade in the summer. Be prepared for warm days and cool nights. The campground sits at 4,000 feet elevation so you can guarantee a temperature swing.
If you are not used to being above sea level make sure you drink lots of water and give your body time to acclimate to the higher elevation.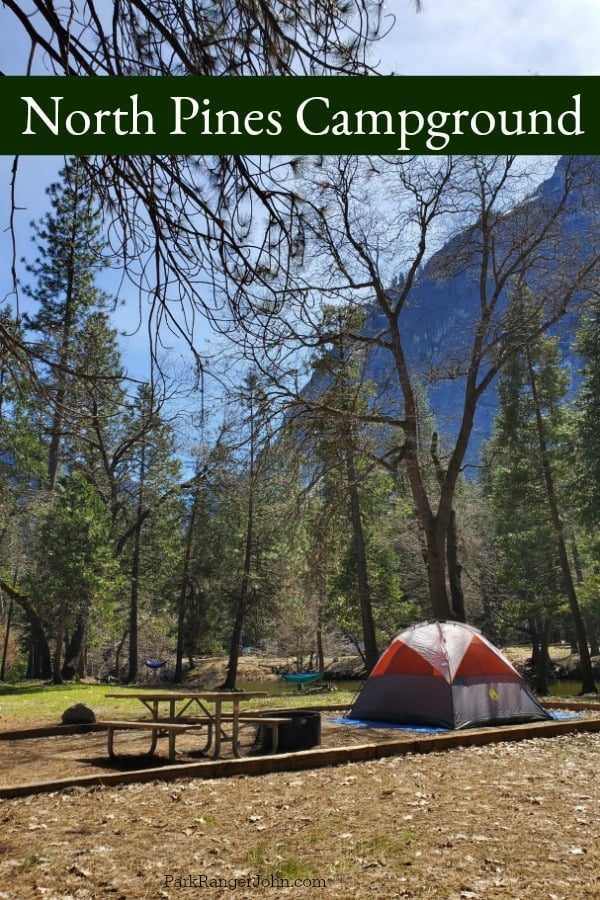 North Pines Campgrounds - Yosemite National Park
Check out all of the Yosemite Camping options! There are 13 campgrounds within Yosemite National Park!
Season: April 01, 2019 - October 26, 2019
Number of Sites: 81
Location in the park: Yosemite Valley
Campsite Cost: $26/night
Reservations: Yes, Recreation.Gov
Latitude/Longitude:
Latitude:
37.7419444
37° 44' 30.9998" N
Longitude:
-119.5655556
119° 33' 56.0002" W
Elevation: 4,000 feet
Accessible Sites: 111, 113, 119, 125, and 129
Pets Allowed: Pets are allowed but they must be on a leash less than 6 feet long.
Pets are not allowed inside park buildings or on specific trails.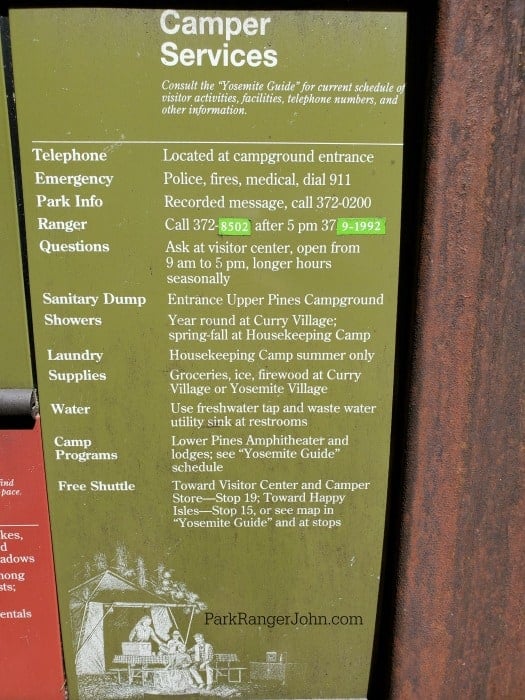 Campground Reservations
Are campground Reservations Available? Yes
Phone Number? 1-877-444-6777
Online? Recreation.Gov
How Far Ahead can you make a reservation? Up to five months in advance on the 15th of each month at 7:00 a.m. (PT) or 10:00 a.m (ET).
First Come, First Served? No!
First-night rent plus a one-time transaction fee of $4.50 will be charged at the time of reservation and is non-refundable.

Campground Amenities
Flush Toilets: Yes
Payphone: yes
Is wifi Available? No
Is cellular Phone Service Available? yes, depending on your cell phone carrier. We have spotty service with T-mobile in Yosemite Valley
Is camp host available on site? Yes
Is firewood available for purchase? Yes, in Curry Village/Half Dome Village or at the Yosemite Village store
Amenities at each campsite:
Each campsite has a picnic table, fire ring, close access to the Yosemite Shuttle Bus and near the Merced River.
Fire pit in the site? Yes, there are fire rings at each campsite.
From May through September, campfires in Yosemite Valley are only allowed between 5 pm and 10 pm.
Picnic Table in the site? Yes
Bear Box in site/area? Yes,
You are required to store food properly in order to protect Yosemite's bears.
Food storage lockers are provided in all campsites 35"(D)x43"(W)x28"(H)
Potable Water? Yes, There is drinking water available in the campground
RV Camping at North Pines Campground
RV Length: RVs up to 40 feet
Trailers up to 35 feet
Not every site can accommodate equipment of these lengths. Be sure to read the site details when making a reservation on recreation.gov to ensure your equipment will fit into the site you're reserving.
Dump Station: Yes at the entrance to Upper Pines
Generators: Yes during the following time periods - 7 am to 9 am, 12 pm to 2 pm, and 5 pm to 7 pm.
Hookups: No, There are no electric, water, or sewer hook-ups at this facility
How to get to North Pines Campground
Follow the main road through Yosemite Valley. There are signs leading to the Pines Camping area.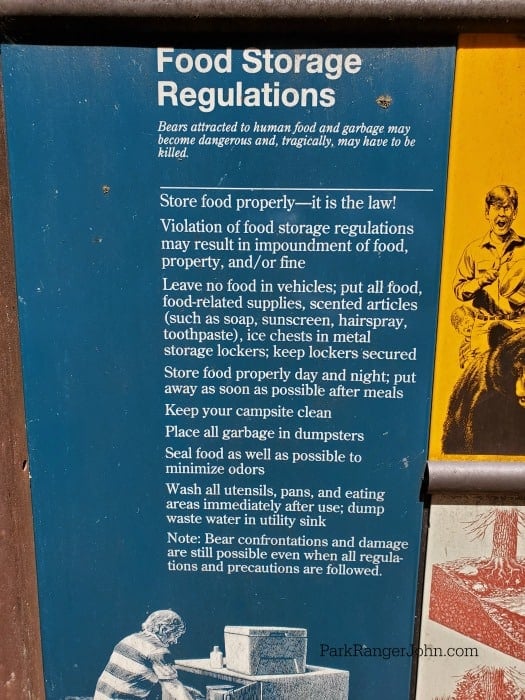 North Pines Campground Regulations
The maximum number of people in a campsite: A maximum of six people (including children) are allowed per campsite. There is no limit on the number of tents (as long as they all fit into the campsite).
The number of cars per campsite: Two motorized vehicles per campsite. A valid campground car pass must be displayed.
Checkout time: 12 noon
Quiet Hours: Quiet hours are from 10 pm to 6 am
Maximum Stay: 7-day maximum stay limit.
North Pines Campground Map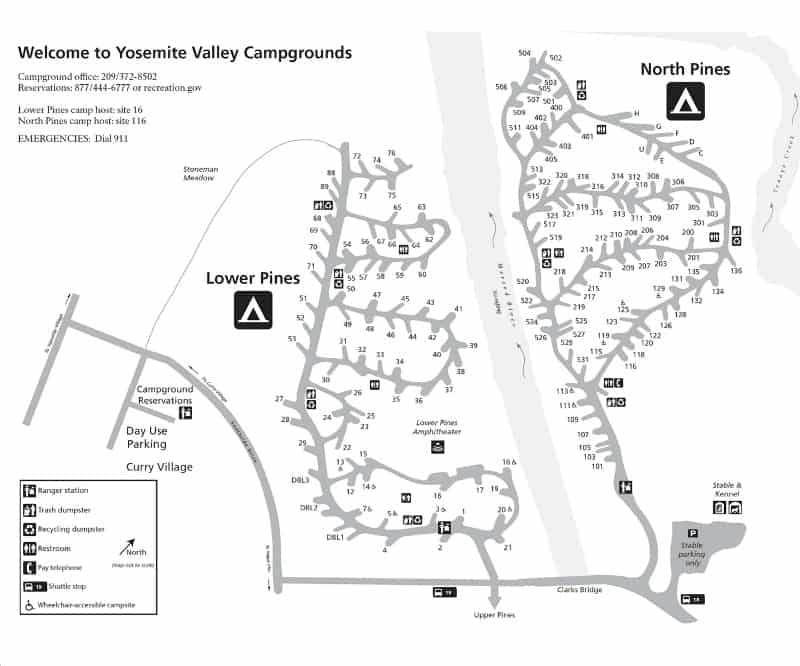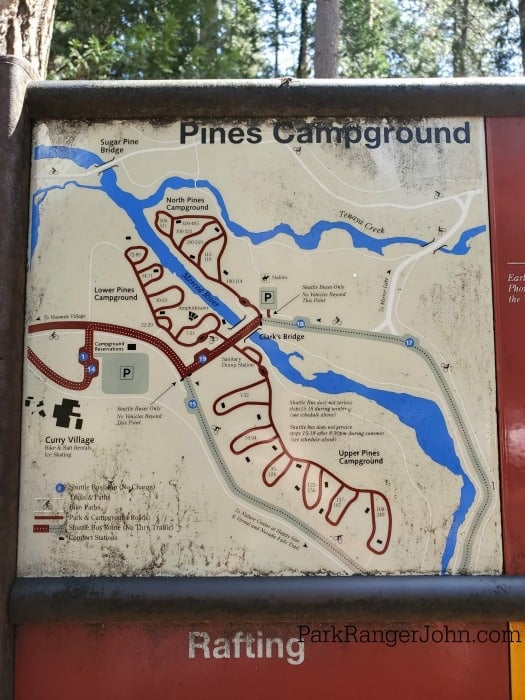 Photos of North Pines Campground
Check out all of our articles on Yosemite National Park!
You don't want to miss the best things to do in Yosemite during your visit.
If you are looking for Yosemite Travel Tips this post has everything you may be looking for.