Curry Village is located in the heart of Yosemite Valley in California. Home to the world-famous Curry Village Tents and Cabins this is an amazing place to stay within the park.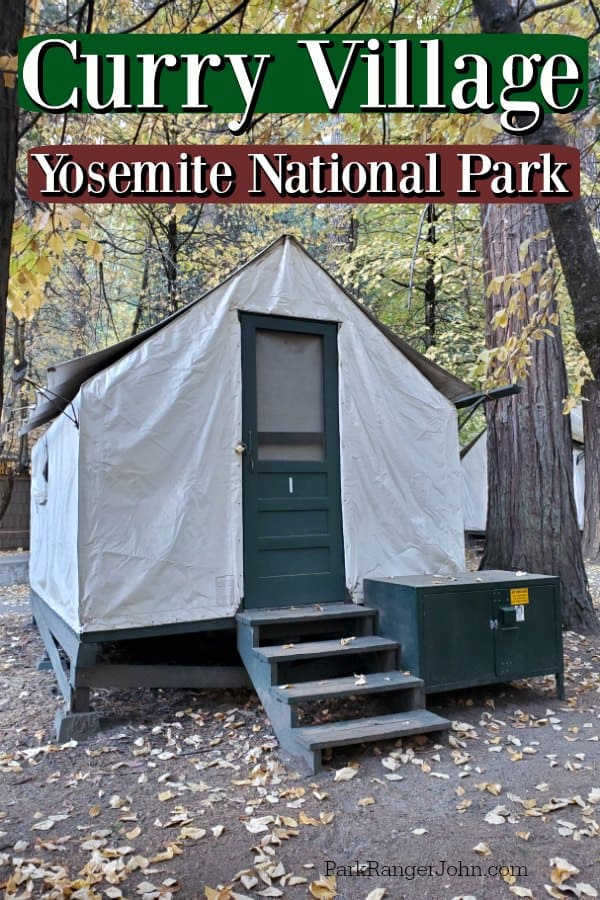 Curry Village - Yosemite National Park
Curry Village has been welcoming guests for over 120 years. David and Jennie Curry founded the village in 1899.
During the summer of 2020, there will be a lot of maintenance and work being done to the dining options within the village. The Pavilion, Pizza Patio, Bar, and Coffee Corner are closed through the renovation.
Curry Village also known as Camp Curry and previously known as Half Dome Village sits below Glacier Point in Yosemite Valley.
Yosemite lodging options in Curry Village include:
46 Yosemite cabins with private baths
14 Cabins that share a convenient bathhouse
403 Canvas tent cabins
18 Standard motel rooms
One of my favorite things about this area is the epic views of Half Dome and Glacier Point.
In the winter you can walk to the ice skating rink easily. Yosemite winters are absolutely amazing! Ice skating with a view of half dome is a total National Park bucket list moment.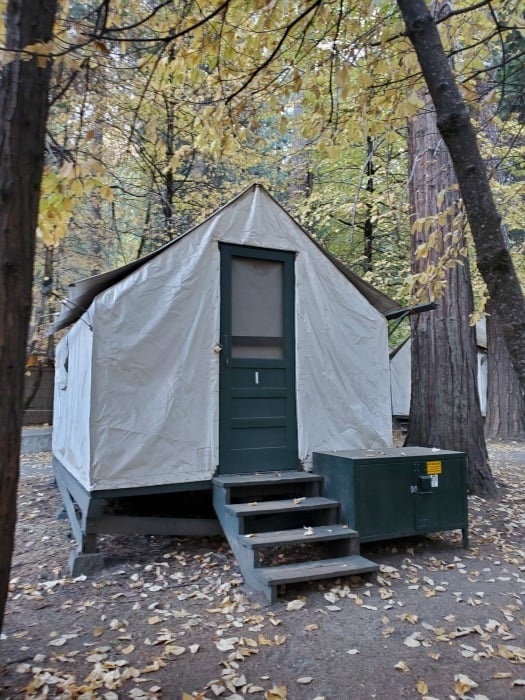 Curry Village Tent Cabins
When staying in the tent cabins you will want to prepare as if you are camping in any of the Yosemite campgrounds.
Some of the tents have heat and others do not so you will want to make sure when you make a reservation you know what you are getting.
Tent campers share bathrooms located in central areas of the tents.
If you are a light sleeper you will want to bring earplugs. The canvas tents do not provide much noise cancellation.
The tent cabins do have a small storage rack with a locking safe so you can store some valuables in the tent.
The Camp Curry Tent Cabins do have a light but do not have any electrical plugins. You will want to make sure you have a way to keep your phone charged along with camera batteries.
Sheets, wool blankets, pillows, and towels are provided.
Unheated tent cabins can accommodate two to five guests.
Heated canvas tent cabins can accommodate two to four guests. The heated canvas tents are only available during the winter. The heat is turned off the Friday before Memorial Day and turned on the Tuesday after Labor Day.
Tent cabins come with one locker measuring:
35.5"W x 20.5"D x 23" H (Small Tent Cabins)
47.5"W x 20.5"D x 23" H (Large Tent Cabins)
Guests need to store all food and anything with a scent in the food lockers. Make sure to bring resealable containers to easily transport your food and toiletries to the food lockers. Even deodorant and toothpaste needs to be kept in the food lockers.
For safety, there is no cooking within the tent cabins.
Canvas Tent Cabins ADA Rooms
ADA Canvas Tent Cabins are designed to accommodate wheelchairs, with either a double bed or a single bed, lever door handle, ramp, and wide door entrance.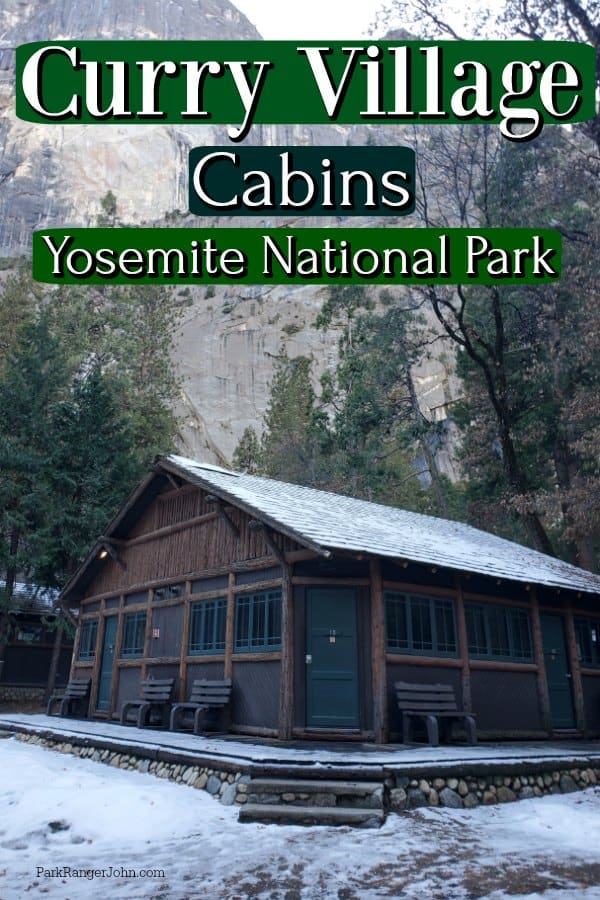 We had the best night's sleep in the cabins at Camp Curry. This was one of our favorite places we have stayed in the park.
Cabins come with either a
1 Double Bed
1 Double Bed and 1 Single Bed
2 Double Beds
Check out our post with photos of the Curry Village Cabins.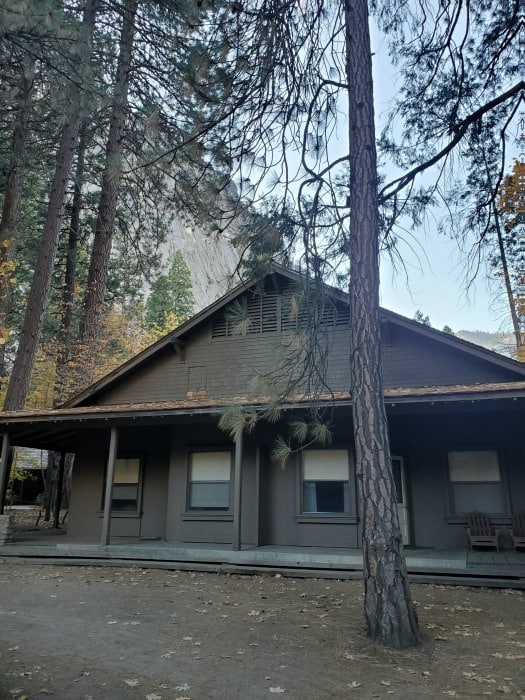 Stoneman Cottage
The Stoneman Cottage Rooms are in what was the original dance hall. There are 18 rooms in the Stoneman hotel.
These rooms can be really hard to get so you will want to be ready to make a reservation the day they open for reservations.
Each room has a private bathroom, heat, linens, blankets, and towels.
Rooms come with either one or two double beds.
Stoneman ADA Rooms
ADA rooms include a double bed, lever door handle, oversized chair, strobe light smoke detector, restroom flip handle, grab bars in the restroom and a wheelchair-accessible roll-in shower.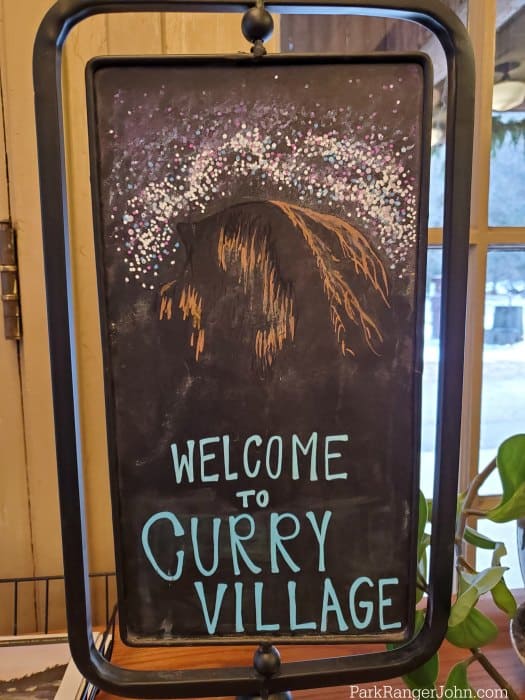 Curry Village Reservations
Reservations open 366 days in advance. If you are planning to visit Yosemite during the peak season you will want to make a reservation as soon as you can.
When we say peak season I have to honestly say that it is almost year-round now. If you know you want a specific type of lodging in Yosemite you will want to book it as soon as you can!
Reservations can be made online or by calling 888.413.8869
or international calls - 602.278.8888
Phone reservations can be made:
Monday - Friday: 7:00 am – 5:00 pm (AZ Time)
Weekends: 8:00 am - 5:00 pm (AZ Time)
Check-in time is 5:00 pm
Check out time is 10:00 am
Pets are not permitted in any Yosemite Lodging with the exception of service animals.
Smoking is prohibited.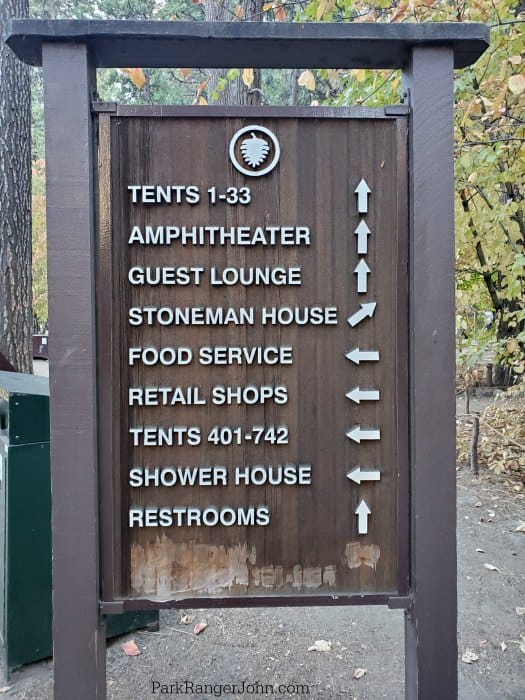 Curry Village Map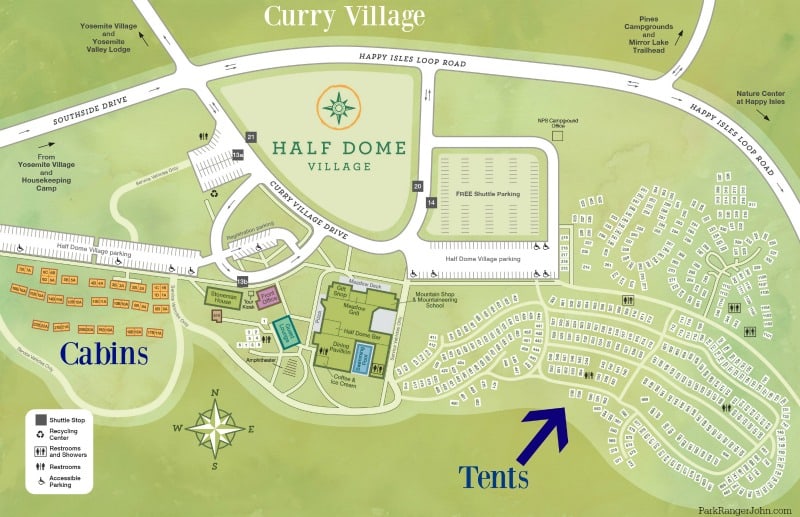 Curry Village offers amazing access to Yosemite Valley via the free shuttle buses.
Swimming Pool
The heated outdoor pool is open every day from the end of May through the beginning of September, weather permitting.
Curry Village guests can use the pool free, and other Yosemite guests pay $5/adult and $4/child.
Bike Rentals
Biking around Yosemite Valley is an amazing way to see the park. You can rent bikes for the day in the village.
Bike Rentals are available from spring through fall.
Raft Rentals
Most years you can rent rafts to leisurely float down the Merced River. Unfortunately, there will be no raft rentals in 2020 for health safety.
Yosemite Mountaineering School
The Yosemite Mountaineering School will be closed for 2020.
Lounge
Guests staying at Curry Village have access to a lounge that has free WiFi. I will tell you the WiFi is not the strongest you have ever used. LOL!
The WiFi should be enough to check emails and hopefully social media.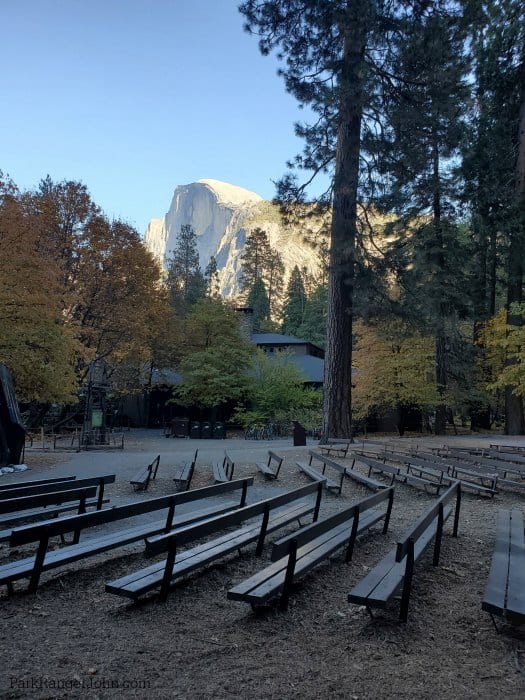 Additional Yosemite Resources
One Day in Yosemite - Find out all of the things you can fit into one day in the park.
Ahwahnee Hotel - Find out more about the luxury hotel within the park.
Yosemite Valley Lodge - This lodge is located across from Yosemite Falls and has a great restaurant.
Tunnel View - Find out why you can't miss this view during your trip.
California National Parks - Check out all of the parks you can visit while in California.
Free National Park Days - Find out the 5 days the National Park Service offers free entrance fees.
Yosemite Guide - Check out our full guide to planning a trip to Yosemite.