Located in Central California Manzanar National Historic Site protects and provide information on what happened from 1942 to 1945.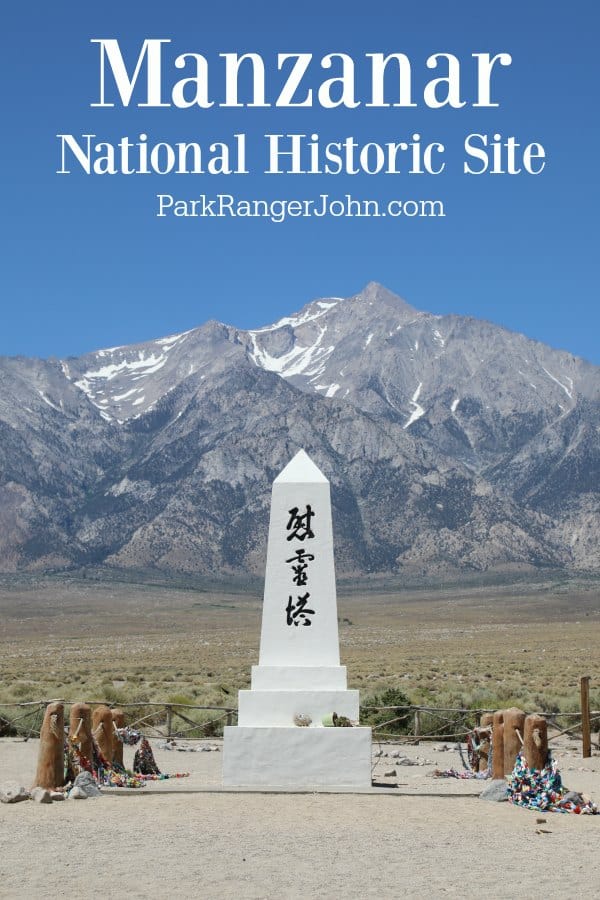 Manzanar National Historic Site
Manzanar...That name remains infamous in the Japanese-American community as the best known of the ten relocation centers during World War II. Some call them internment or concentration camps.
About Manzanar National Historic Site
After the attack on Pearl Harbor, President Franklin D. Roosevelt signed executive order number 9066 giving military authorities the power to establish relocation centers resulting in some 120,000 persons of Japanese ancestry on the west coast being rounded up and sent to them. Over 10,000 found themselves at Manzanar.
All this happened between 1942 and 1945 and the memory of those detained are remembered at Manzanar National Historic Site located on Highway 395 between Lone Pine and Independence in California's Owens Valley.
The climate is harsh. Owens Valley is the northernmost section of the Mojave Desert and flanked by the Sierra Nevada and Inyo Mountain ranges. Summers are heat infernos and winters below freezing. Those are the conditions Japanese-American detainees had to endure.
For decades, travelers would not have noticed Manzanar because there was virtually nothing left. The army dismantled the place leaving only the auditorium and two stone sentry gates. The government only leased the land and Inyo County used the auditorium for its purposes over the years.
Manzanar was not an NPS national historic site until 1992 and the restored auditorium opened as the interpretive center in 2004. A sign informs visitors where to turn off the highway for Manzanar is an easy spot to miss as all there is desert and bland appearing auditorium off in the distance.
The imagination strains to envision this desolate location as being a hub of activity for almost four years and point of controversy to this day. The 10,000 Japanese-Americans were packed into a 500-acre housing section divided into 36 blocks containing 504 barracks.
Quarters were cramped with 200-400 people per block. Any illusion this was a "center" and not a concentration camp was dispelled by a surrounding barbwire fence and eight guard towers manned by military police. Guns pointed inward.
The outlying 5500-acres that were once military housing, reservoir, sewage plant, and agricultural fields have been reclaimed by the desert.
Roads within the site are basically unpaved. Visitors enter by the stone guard structures that were erected by Japanese-American workers. In fact, the whole camp was assembled by their labor.
Except for seeing a few lizards and jackrabbits in the brush, there is not much to observe beyond some laid out stones, concrete flats and signs identifying where things once stood. It is best to get the driving tour brochure at the interpretive center prior to exploring.
There is a small lobby, restrooms and gift shop to maneuver before reaching the exhibit area. The park ranger suggests viewing a short documentary about Manzanar in the theater and the movie does provide an insightful overview to relocation camps and people affected.
The exhibit area explains the circumstances and what happened to Japanese-Americans, history of the relocation centers and view of what daily life was like for those detained at Manzanar.
The number of artifacts and memorabilia displayed are few and donated by former detainees. It should be noted Manzanar was completely dismantled and everything removed so it is not a situation of digging up a treasure trove of objects decades later.
A display case holds odd and ends like a child's fire helmet, various badges, a trophy from a golf tournament held during that period and shell jewelry crafted by detainees.
An interior of a barracks building has been recreated to provide a feel of what it looked and felt like living in one. There is a dresser built from leftover wooden fruit crates.
Outside, the site of Block 14 is slowly being developed into a demonstration area. A restored vintage World War II mess hall was the first building and has now been joined by two reconstructed barracks buildings with more to follow in the future.
This area is a short walk from the auditorium or can be reached during the driving tour. Walking may not be a good idea during summer when temperatures soar.
Each block number is marked as are other points of interest such as medical and administrative facilities. Wandering around reveals more arranged stones and flat concrete foundation slabs. There are remnants of an orchard leftover from the turn of the century when Manzanar was a farm.
The occupants created a number of Japanese gardens throughout the center and what was once flowing with water and life as evidenced in photos and footage is now dry and barren. The best example plus a nearby root cellar had been covered over by sand from the endless strong desert winds and excavated.
The most important area of Manzanar is the cemetery where the annual Manzanar remembrances take place. Here visitors will find the symbol of Manzanar which is a white obelisk with a Japanese symbol. Fifteen people were buried there but just six remains.
For those seeking more information concerning Manzanar, a visit to the Eastern California Museum in Independence is recommended. Not only is there a comprehensive look at Manzanar including many photos and artifacts but there are plenty of items and history concerning the local area to peruse.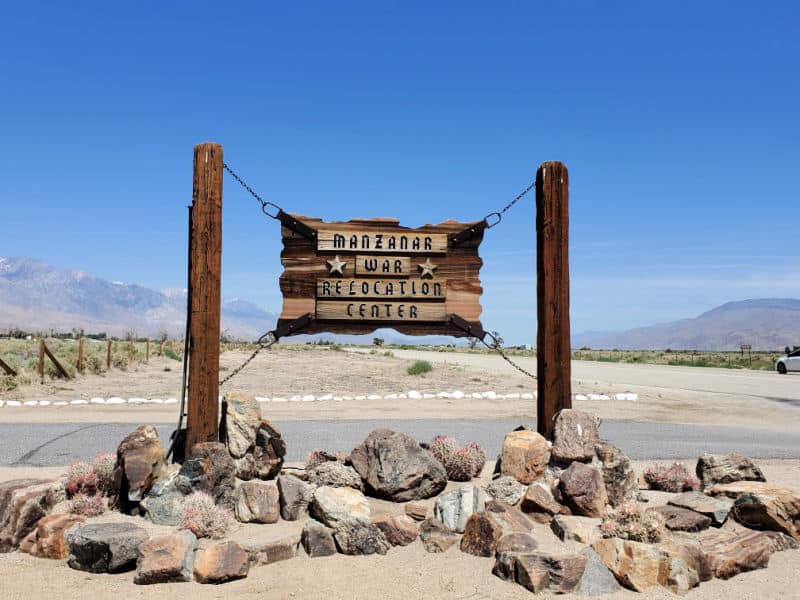 Is Manzanar National Historic Site worth visiting?
Yes! It is incredibly important that we all learn about what happened to Japanese Americans during World War II.
The Manzanar War Relocation Center detained these American citizens in a military style camp.
Visiting Manzanar was heart breaking but so important to understand what happened to 120,000 Japanese Americans.
History of Manzanar National Historic Site
Manzanar National Historic Site is located at the foot of the Sierra Nevada Mountains between the towns of Lone Pine and Independence, California. It is approximately 230 miles north of Los Angeles.
The beautiful California land of Manzanar was first inhabited by Indigenous Americans 10,000 years ago. More recently, the Owen Valley Paiute people lived in the area nearly 1,500 years ago.
When white settlers first arrived in the mid-1800s, they found a large number of Paiute villages. John Shepard was one of those settlers who established a homestead there and eventually, with the help of Paiute workers, grew his ranch to over 2,000 acres.
In 1905, an agriculture developer named George Chaffey bought Shepard's ranch and others in the area. In 1910 he established the agricultural settlement town of Manzanar.
The word "manzanar" means "apple orchard" in Spanish which is a nod to what the land would become in the future. Farmers grew apples, pears, peaches, potatoes, and alfalfa on thousands of acres located around Manzanar.
The city of Los Angeles began acquiring parts of the land early on. By 1929, Los Angeles owned all of Manzanar's land and water rights. Years earlier, the city had completed a 233 mile long aqueduct. In 1934, the last two families relocated and the town of Manzanar was abandoned and would remain that way until the 1940s.
On the infamous day of December 7, 1941, Japan succeed in bombing United States' Pearl Harbor on the islands of Hawaii.
Americans were saddened, horrified, and almost immediately fearful and prejudice of Japanese Americans.
The federal government shared the same feelings and by February 1942 it began rounding up Japanese Americans and sending them to war relocation centers.
President Franklin D. Roosevelt signed Executive Order 9066 on February 19, 1942 which authorized the evacuation of all persons deemed a threat to national security from the west coast to relocation centers located further inland.
Between 1942 and 1945, a total of 10 relocation camps were opened in the United States. They held a combined total of approximately 110,000 Japanese Americans. Camps were located in Arizona, Wyoming, Colorado, Utah, Arkansas, and California.
Without much notice, the government gave Americans of Japanese descent only a few days to figure out what to do with their homes, businesses and possessions.
Families were not told where they were going and for how long. They were loaded onto busses and driven to their specific location. 11,000 of these people were taken to a hastily created camp at Manzanar, California.
The Manzanar area is a beautiful location with the Sierra Nevada's standing majestically nearby but temperatures and weather conditions can prove difficult. Below freezing temperatures are grueling in the winter and sand storms were not uncommon.
This was a stark contrast for many detainees as they were used to western coastal weather. Japanese Americans did their best to persevere in a climate where their freedoms had been taken away and they were never sure what was to come.
Many had been born in America and were proud of their citizenship and freedoms before the horrible attack on Pearl Harbor. Now that same country was taking away their rights and freedoms.
Individual barracks did not have dining areas, all foods were served at block mess halls. Many detainees reported that people got sick often while eating ill-prepared food.
Gardens eventually helped with the problem as did detainees who occasionally snuck out of camp to fish. The camp seemed to have the sense of everyday life except for the fact that barbed wire and armed guards surrounded their daily lives.
The detainees eventually created their own micro communities which involved social clubs, schools and businesses. They created gardens and churches and played sports.
Basketball, baseball, soccer, volleyball and marital arts, among others, were favorite recreation activities. Baseball seemed to be a favorite and detainees viewed "America's favorite pastime" as a way to show allegiance to America.
Regular games and even championship games were held. A golf course was built on the camp. Theatre productions included original productions created by detainees.
There was one documented riot at Manzanar which happened on December 6, 1942. Tensions had been precipitating for months before the culminating riot.
Rumors began to spread that meat and sugar shortages were due to foods being sold as black market items by camp administrators.
The camp was loosely divided into two groups – the JACL, Japanese American Citizens League and the Kibei (Japanese Americans who were educated in Japan).
In the days preceding the riot, a member of the JACL had been beaten severely. A leader of the Kitchen Workers Union, Henry Ueno, was arrested and kicked out of the camp.
Over the next 24 hours, fighting increased as Ueno was let back into the camp but put into jail. The fighting culminated in a truck being push towards the jail, at which time military police fired into a crowd killing two people and injuring many others.
As the war came to a close in 1945, detainees from around the country began to be released from the relocation camps.
Manzanar was the 6th camp to be officially closed on November 21, 1945. Newly freed Japanese Americans were given $25 and were left to find a way to their next destination.
Most of the buildings from the time period are gone today, but visiting the historic site, you can see evidence of the foundations, water systems and landscaping.
Despite the four years it was used as a camp for 11,000 people, there is still evidence of the town of Manzanar and the ranches and Paiute villages that existed long ago.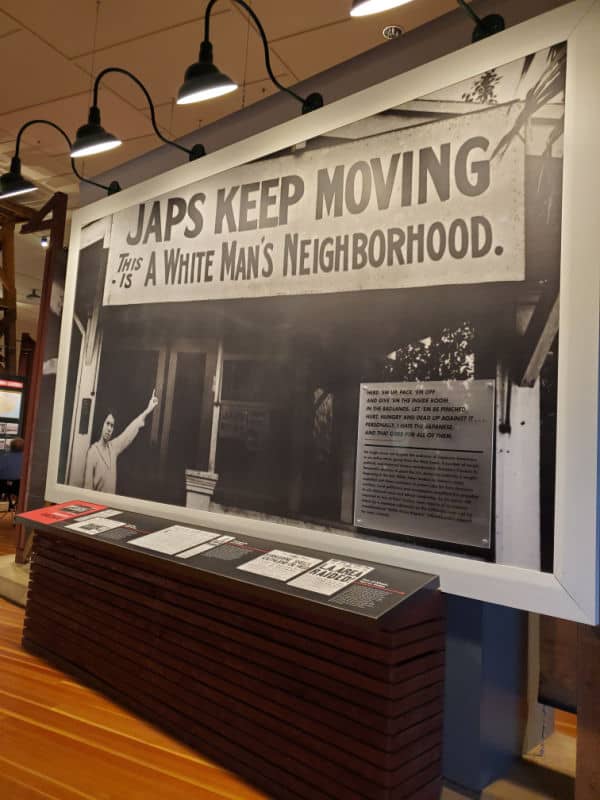 Things to know before your visit to Manzanar National Historic Site
Entrance fee
$0.00 - There is no fee to visit the park.
Planning a National Park vacation? America the Beautiful/National Park Pass covers entrance fees for an entire year to all US National Park Sites and over 2,000 Federal Recreation Fee Sites.
The park pass covers everyone in the car for per vehicle sites and for up to 4 adults for per-person sites.
Buy on REI.com and REI will donate 10% of pass proceeds to the National Forest Foundation, National Park Foundation and the U.S. Endowment for Forestry & Communities.
Learn more about National Park Passes for parks that have an entrance fee.
Free Entrance Days -Mark your calendars with the five free entrance days the National Park Service offers annually.
Time Zone
PST - Pacific Time
Pets
Pets are allowed on the site, however, they must be on a leash at all times. You must clean up after your pets. Pets are NOT allowed in any buildings including the Visitor Center or within the fenced area of the cemetery.
Cell Service
Cell service will depend on your carrier.
Park Hours
Park grounds - sunrise to sunset
Visitor Center - Open Friday, Saturday, Sunday, and Monday from 11:00 a.m. to 4:00 p.m. Closed Christmas Day.
Reconstructed Buildings on Block 14 - Open daily from 7:30 a.m. to 3:00 p.m. Closed Thanksgiving and Christmas days.
Wi-Fi
Public Wi-Fi is available
Insect Repellent
Insect repellent is always a great idea when outdoors, especially if you are around any body of water.
We use Permethrin Spray on our clothes before our park trips.
Water Bottle
Make sure to bring your own water bottle and plenty of water with you. Plastic water bottles are not sold in the park.
Parking
There is a large parking lot near the visitor center.
Food/Restaurants
There are no restaurants within the park. We suggest packing snacks for the road trip to the park.
Gas
There is no gas within the park.
Drones
Drones are not permitted within National Park Sites.
National Park Passport Stamps
National Park Passport stamps can be found in the visitor center.
Make sure to bring your National Park Passport Book with you or we like to pack these circle stickers so we don't have to bring our entire book with us.
Manzanar NHS is part of the 2003 Passport Stamp Set.
Electric Vehicle Charging
There are no EV Charging Stations within the park. There is a Tesla Supercharger in Lone Pine, California.
Accessibility
There are 5 accessible parking spaces near the visitor center including two accessible van parking spots.
There is a wheelchair available for use at the visitor center if needed.
All of the video exhibits include open captioning. There is an accessible restroom and family restroom in the visitor center.
The park brochure is available in Braille, audio description, and text-only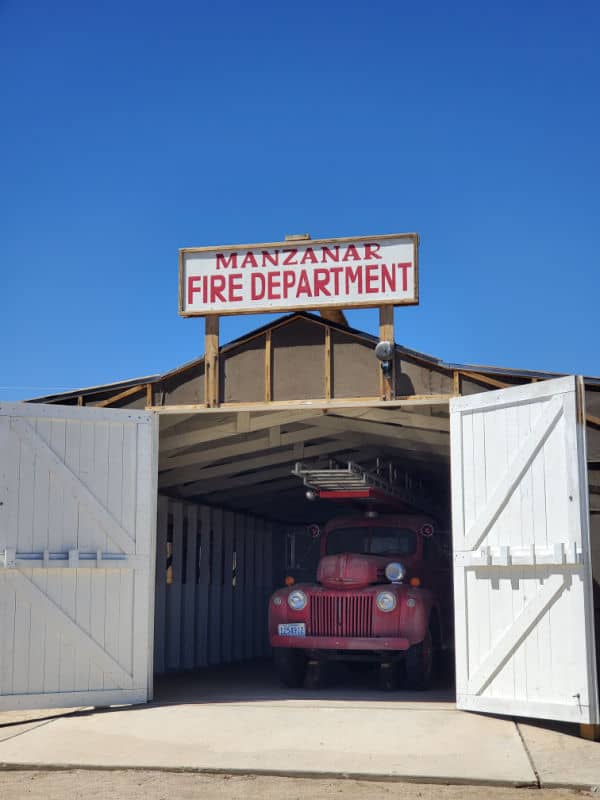 Details about Manzanar National Historic Site
Size - 814 acres acres
Check out how the park compares to other National Parks by Size.
Date Established
March 3, 1992
Visitation
In 2021, Manzanar NHS had 117,113 park visitors.
In 2020, Manzanar NHS had 65,289 park visitors.
In 2019, Manzanar NHS had 97,380 park visitors.
Learn more about the most visited and least visited National Parks in the US
Manzanar National Historic Site Address
5001 Highway 395, Independence, CA 93526
9 miles north of Lone Pine, California and 6 miles south of Independence, CA.
Park Phone Number: (760) 878-2194 x3310
Manzanar National Historic Site Map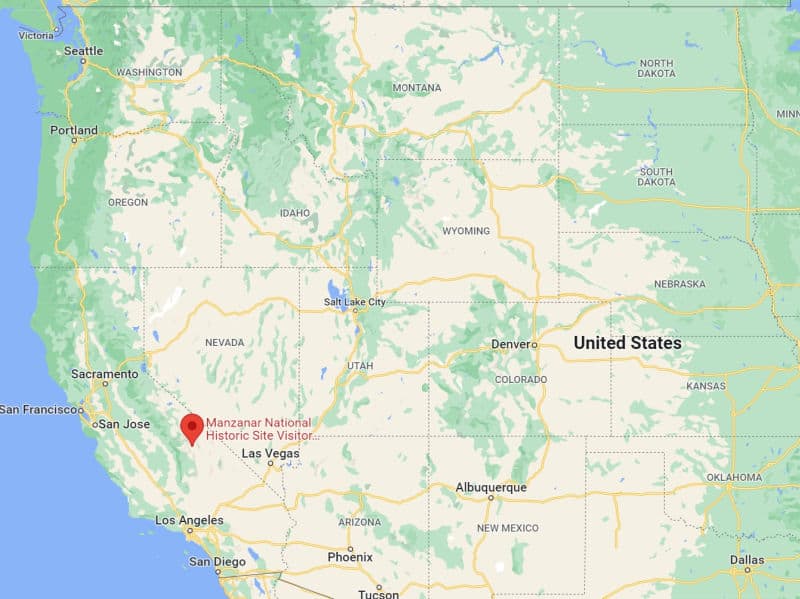 Where is Manzanar National Historic Site?
Manzanar NHS is located in east central California.
Estimated distance from major cities nearby
Fresno, CA - This will depend on the time of year you are traveling and if the Tioga Road is open through Yosemite.
Bakersfield, CA - 168 miles
Las Vegas, NV - 243 miles
Paradise, NV - 234 miles
Reno, NV - 253 miles
Glendale, CA - 519 miles
Los Angeles, CA - 222 miles
San Diego, CA - 307 miles
Estimated Distance from nearby National Park
Yosemite National Park - This will depend on the time of year you are traveling and if the Tioga Road is open through Yosemite.
Death Valley National Park - 64 miles
Zion National Park - 397 miles
Sequoia National Park - 274 miles
Kings Canyon National Park - 314 miles
Where is the National Park Visitor Center?
The visitor center is located off the main road into the park. It is really easy to find.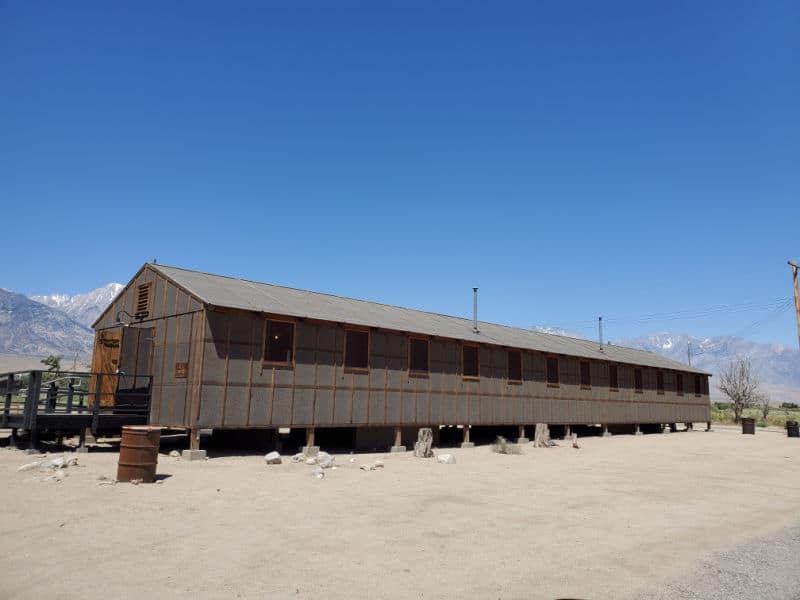 Getting to Manzanar National Historic Site
Closest Airports
Lone Pine Airport (RQA)
Independence Airport (VWR)
Mammoth Yosemite Airport (MMH)
International Airports
LA/Ontario International Airport (ONT)
Los Angeles International Airport (LAX)
Las Vegas McCarren International Airport (LAS)
Palm Spring International Airport (PSP)
Regional Airports
John Wayne Airport (SNA)
Bob Hope Airport (BUR)
Driving Directions
Depending on the time of year you are visiting the park you will want to be prepared for road closures.
Tioga Pass in Yosemite is closed during the winters.
Los Angeles, CA to Manzanar NHS (~226 miles)
Take the Golden State Freeway/I-5 north towards Sacramento. Take CA-14 north toward Lancaster/Palmdale. Remain on CA-14 for 118 miles.
Continue on US-395 north for 80 miles. Manzanar is 9 miles north of Lone Pine, CA on the west side of US-395.
Reno, NV to Manzanar NHS (~245 miles)
Take US-395 south for 250 miles. Manzanar is 5 miles south of Independence, CA on the west side of 395.
Las Vegas, NV to Manzanar NHS (~262 miles) - through Death Valley National Park
Take I-515 north/US-93 north/US-95 north for Ely/Reno for 1 mile. Continue on US-95 for 86.5 miles. Turn on NV-373 for 16.5 miles.
Continue on CA-127 for 7 miles. Turn on CA-190 for 115.5 miles Continue on CA-136 for 17 miles. Turn on US 395 north for 12 miles. Manzanar is on the west side of US-395.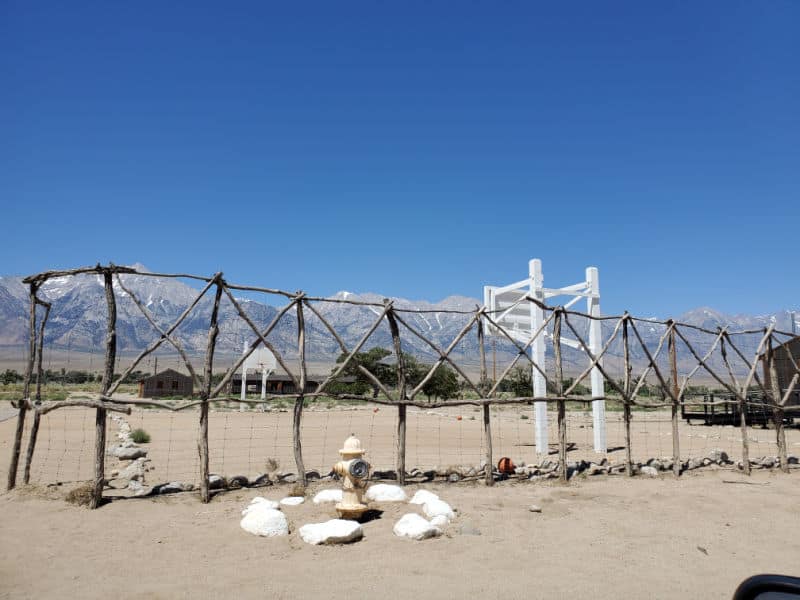 Best time to visit Manzanar National Historic Site
The best time to visit to experience great weather is early June to mid September. It may be hot but it should be sunny and nice out.
Weather and Seasons
The park experiences hot and arid summers along with cold and cloudy winters. The hottest months are from June 6 to September 17th when the average daily temperature is above 87 degrees Fahrenheit.
The coldest months are from November 20 to February 28 with average daily temperatures below 60 degrees.
The most rainy days occur from November 12 to April 5th. February has the most rain.
Snow may occur between December 25th to January 25th with an average of maybe 1 inch.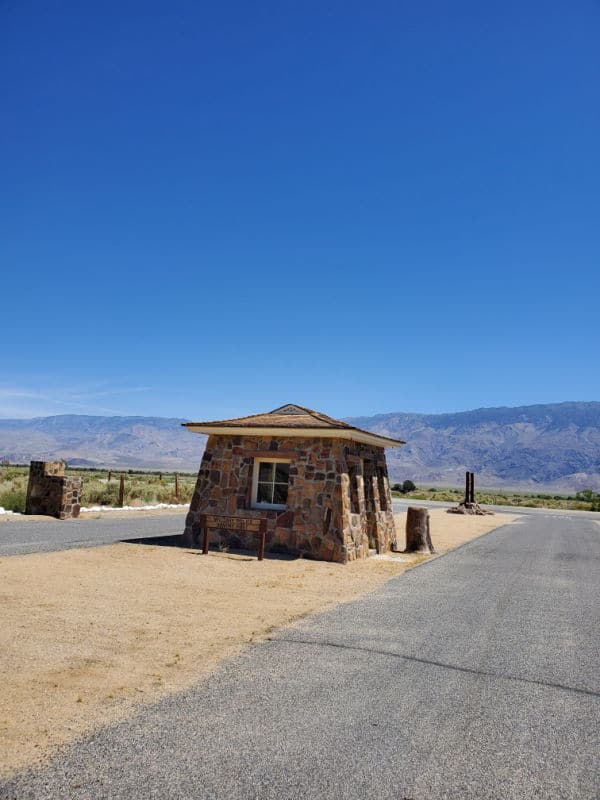 Best Things to do in Manzanar National Historic Site
We suggest planning a few hours at the park minimum to have enough time to explore the visitor center, watch the park film, and tour the auto tour.
The park also offers guided tours when they can.
Visitor Center
The Manzanar NHS Visitor Center is located in what was the gymnasium and community center. The visitor center is filled with truly amazing interpretive displays that give you the opportunity to learn more about what life was like in Manzanar.
You will want to give yourself a minimum of an hour to explore the visitor center. If you are really interested in history you may want to schedule at least a few hours to check out all of the displays. This is one of the best visitor centers we have seen.
Museum exhibits span from 1885 to today and focus on the World War II relocation and internment of Japanese Americans on the West Coast of the United States.
Remembering Manzanar Park Film
The 22-minute Remembering Manzanar film is a must-see! You can watch it by clicking the video above here or while visiting the park at the visitor center.
Shows every half hour in the Interpretive Center.
The park movie explores the experience of more than 10,000 Japanese Americans who were moved to Manzanar.
The film uses rare historic footage, photographs, and personal recollections and interviews to tell the stories of the events that occurred.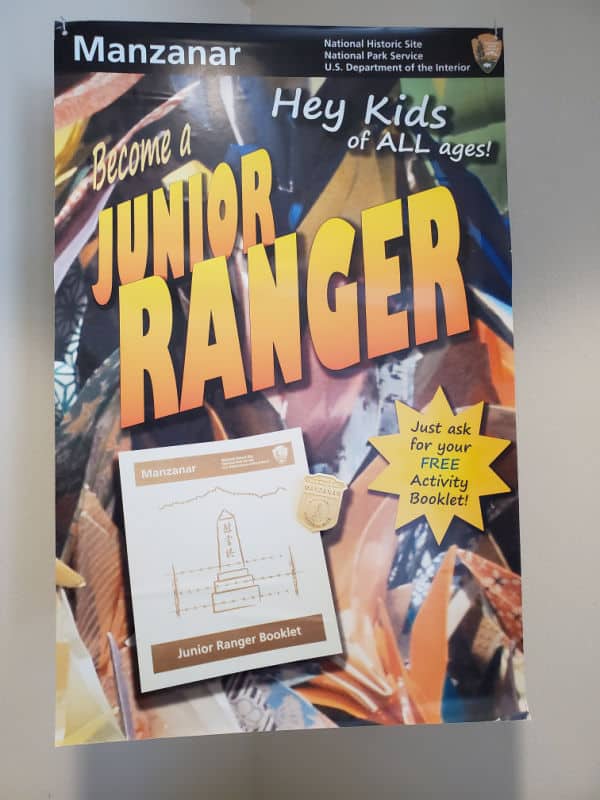 The Junior Ranger Program can be completed within the visitor center and through the auto tour. It is incredibly well set up for all ages to learn something and find out more about Manzanar.
Block 14
Block 14 gives visitors the opportunity to see what it was like to live at Manzanar.
Visitors can visit the mess hall, women's bathroom, and two barrack buildings that were part of Block 14.
The Mess Hall was constructed at Bishop Air Base in 1942. The NPS moved it to Manzanar in 2002 and restored it.
It is identical to the 36 mess halls that produced 28 million meals at Manzanar between 1942 and 1945.
Women's Latrine was reconstructed in 2017. Visitors can see the communal showers and rows of toilets.
Barracks Buildings were built in 2015 to share what it was like to arrive at Manzanar, the importance of the Block Manager's Office, the loyalty questionnaire Japanese Americans had to answer, and the school at Manzanar.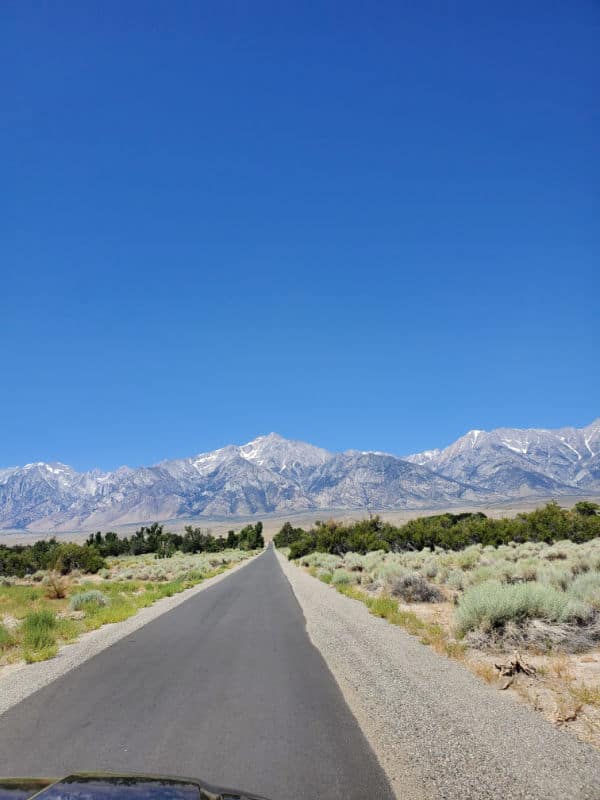 3.2 miles Self Guided Driving Tour
The 3.2-mile self-guided driving tour takes you around the historic site giving you the opportunity to see how the site was set up. There are only a couple of buildings still standing but you can see how they would have been set up in the 1940s.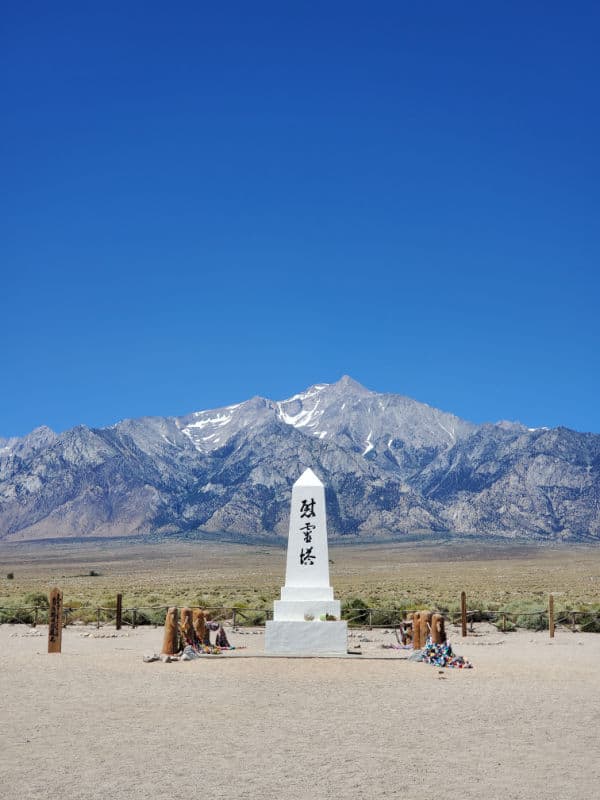 Cemetery Monument
The Cemetery Monument was erected in 1943 to honor the people who passed away. Stonemason Ryozo Kado supervised the work on the monument.
150 Japanese Americans passed away while confined in Manzanar during World War II.
The three characters on the east side front of the monument translate to "soul consoling tower".
The inscription was written by a Manzanar Buddhist Priest, Shinjo Nagatomi.
Merritt Park
More than 100 Japanese Gardens were created by the people living in Manzanar. The most elaborate of these gardens was Merritt Park. It was named for camp director Ralph P. Merritt.
The gardens were a refuge for people. Visitors can view what is left of the park today.
Japanese Gardens
Today 11 of the over 100 Japanese Gardens that were built in Manzanar have been uncovered and stabilized.
Visitors can walk between .25 miles up to 2.5 miles to view the gardens. Make sure to pick up a Japanese Garden guide at the visitor center.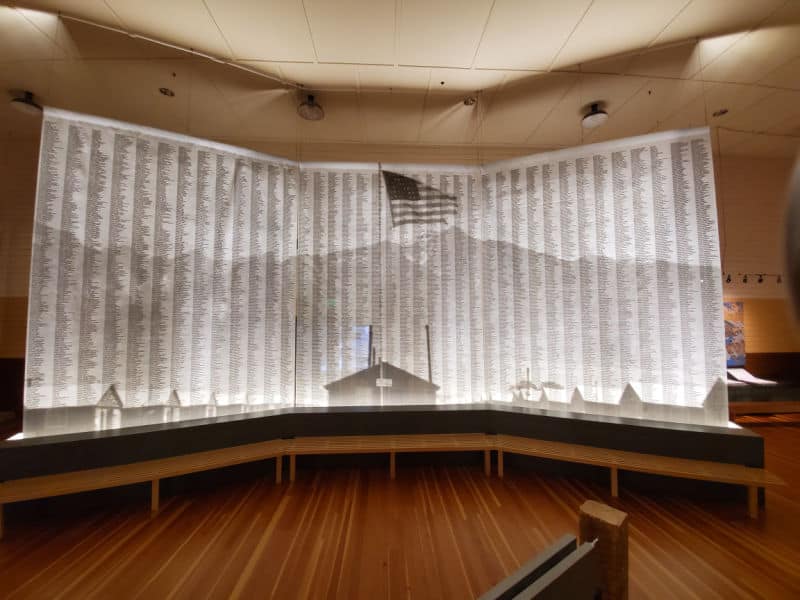 How to beat the crowds in Manzanar National Historic Site?
We did not experience any crowds during our visit to the park. The visitor center is large and there is more than enough room to maneuver around people.
Where to stay when visiting Manzanar National Historic Site
There are no National Park Lodges within the park.
The closest lodging can be found in Independence or Lone Pine, California.
Quality Inn Lone Pine - This Quality Inn offers clear views of the eastern Sierra Nevada Mountains and is less than 14 miles from Mt. Whitney. Free Wi-Fi is available throughout the hotel. All rooms at the Quality Inn Lone Pine near Mount Whitney are equipped with DirectTV, a microwave and refrigerator. An in-room coffee maker is included.
Trails Motel - Trails Motel is located in Lone Pine. All guestrooms at Trails Motel have comforts such as air conditioning, as well as amenities like free Wi-Fi.
Winnedumah Hotel - All guestrooms at Winnedumah Hotel include amenities such as free Wi-Fi.
Click on the map below to see current rates for vacation rentals and hotels near the park.
Camping
There are no campgrounds within the park.
For a fun adventure check out Escape Campervans. These campervans have built in beds, kitchen area with refrigerators, and more. You can have them fully set up with kitchen supplies, bedding, and other fun extras. They are painted with epic designs you can't miss!
There are campgrounds nearby including:
Nelson Falls RV Park - Springville, CA
This campground offers lodging and RV sites, hiking, and more
Orange Grove RV Park - Bakersfield, CA
This campground offers RV sites with a pool, dog park, and Cable TV.
Almond Tree Oasis RV Park - Coalinga, CA
This campground offers lodging, RV and Tent Sites, a pool, dog park, and more.
Check out additional campgrounds in the area on CampSpot.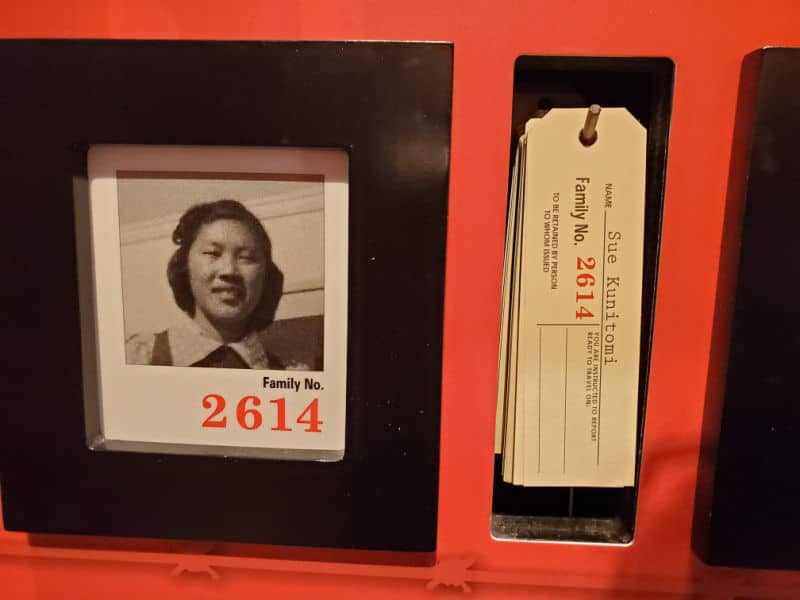 Additional Resources
Photographs of Manzanar by Ansel Adams
Manzanar Internment Camp Diary
They Called us the Enemy by George Takei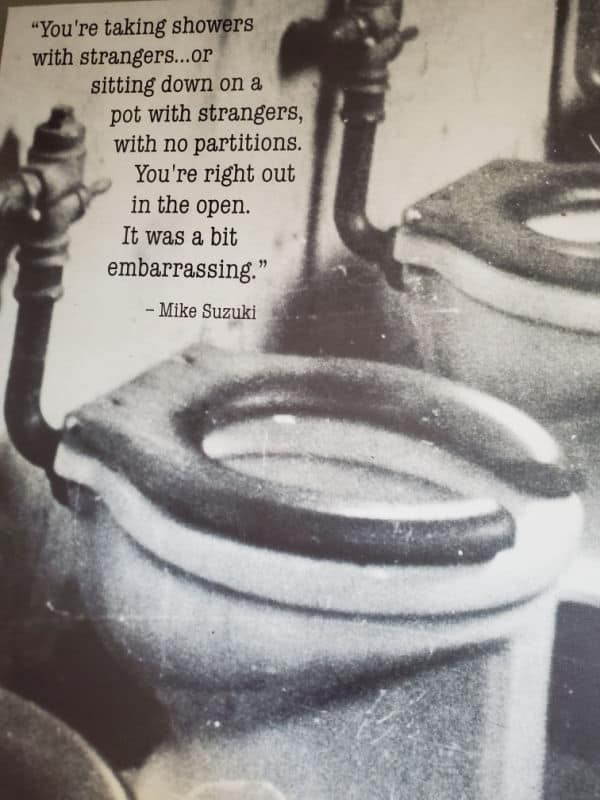 Parks Near Manzanar National Historic Site
Devil's Postpile National Monument
Tule Springs Fossil Bed National Monument
Cesar E Chavez National Memorial
Castle Mountains National Monument
Check out all of the California National Parks along with neighboring Arizona National Parks, Oregon National Parks, and National Parks in Nevada