Located in Central California Manzanar National Historic Site protects and provide information on what happened from 1942 to 1945.
Manzanar...That name remains infamous in the Japanese-American community as the best known of the ten relocation centers during World War II. Some call them internment or concentration camps.
After the attack on Pearl Harbor, President Franklin D. Roosevelt signed executive order number 9066 giving military authorities the power to establish relocation centers resulting in some 120,000 persons of Japanese ancestry on the west coast being rounded up and sent to them. Over 10,000 found themselves at Manzanar.
All this happened between 1942 and 1945 and the memory of those detained are remembered at Manzanar National Historic Site located on Highway 395 between Lone Pine and Independence in California's Owens Valley.
The climate is harsh. Owens Valley is the northernmost section of the Mojave Desert and flanked by the Sierra Nevada and Inyo Mountain ranges. Summers are heat infernos and winters below freezing. Those are the conditions Japanese-American detainees had to endure.
For decades, travelers would not have noticed Manzanar because there was virtually nothing left. The army dismantled the place leaving only the auditorium and two stone sentry gates. The government only leased the land and Inyo County used the auditorium for its purposes over the years.
Manzanar was not an NPS national historic site until 1992 and the restored auditorium opened as the interpretive center in 2004. A sign informs visitors where to turn off the highway for Manzanar is an easy spot to miss as all there is desert and bland appearing auditorium off in the distance.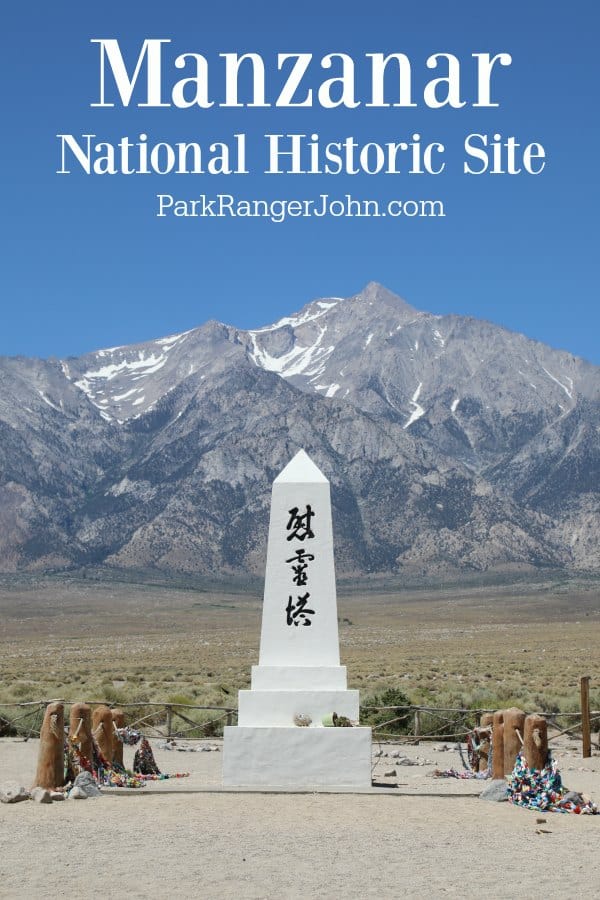 Manzanar National Historic Site
The imagination strains to envision this desolate location as being a hub of activity for almost four years and point of controversy to this day. The 10,000 Japanese-Americans were packed into a 500-acre housing section divided into 36 blocks containing 504 barracks.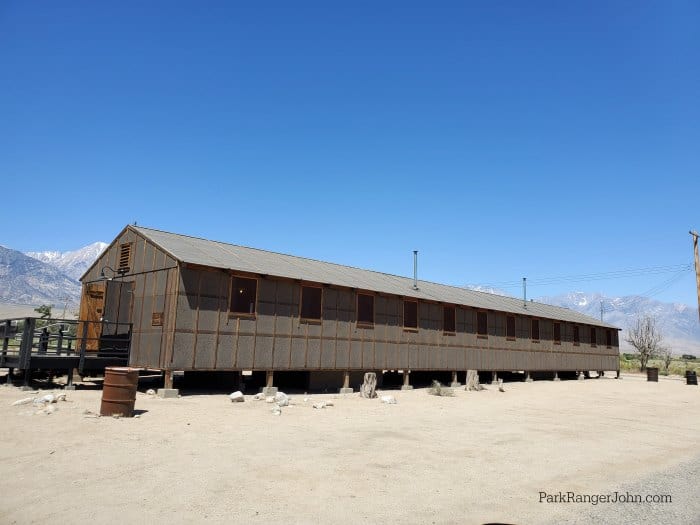 Quarters were cramped with 200-400 people per block. Any illusion this was a "center" and not a concentration camp was dispelled by a surrounding barbwire fence and eight guard towers manned by military police. Guns pointed inward. The outlying 5500-acres that were once military housing, reservoir, sewage plant, and agricultural fields have been reclaimed by the desert.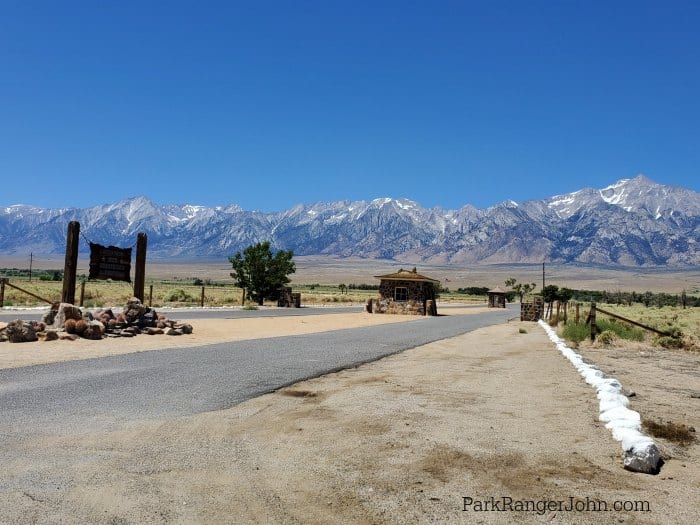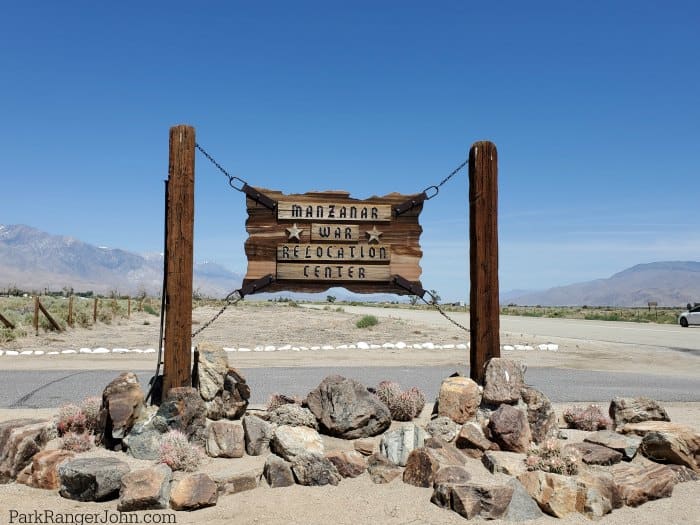 Roads within the site are basically unpaved. Visitors enter by the stone guard structures that were erected by Japanese-American workers. In fact, the whole camp was assembled by their labor.
Except for seeing a few lizards and jackrabbits in the brush, there is not much to observe beyond some laid out stones, concrete flats and signs identifying where things once stood. It is best to get the driving tour brochure at the interpretive center prior to exploring.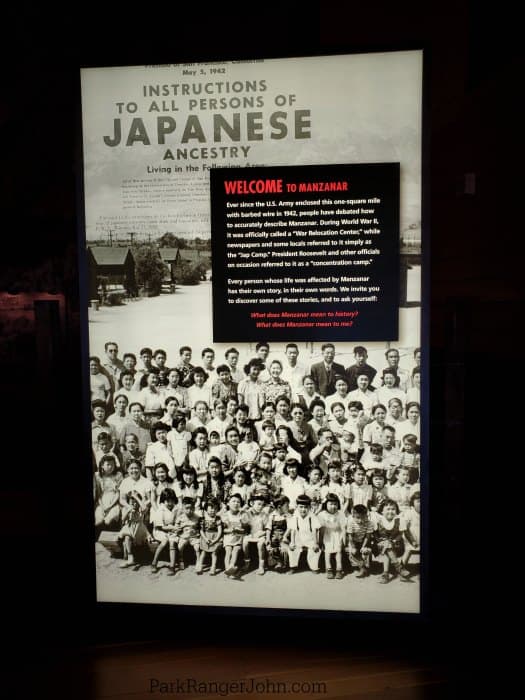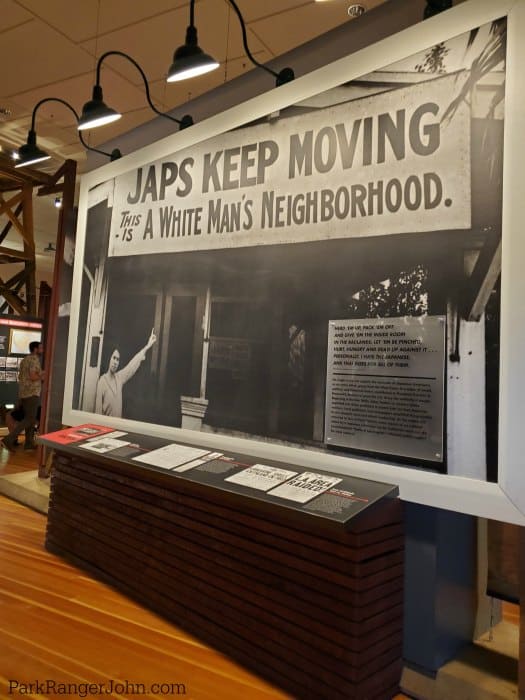 There is a small lobby, restrooms and gift shop to maneuver before reaching the exhibit area. The park ranger suggests viewing a short documentary about Manzanar in the theater and the movie does provide an insightful overview to relocation camps and people affected. The exhibit area explains the circumstances and what happened to Japanese-Americans, history of the relocation centers and view of what daily life was like for those detained at Manzanar.
The number of artifacts and memorabilia displayed are few and donated by former detainees. It should be noted Manzanar was completely dismantled and everything removed so it is not a situation of digging up a treasure trove of objects decades later.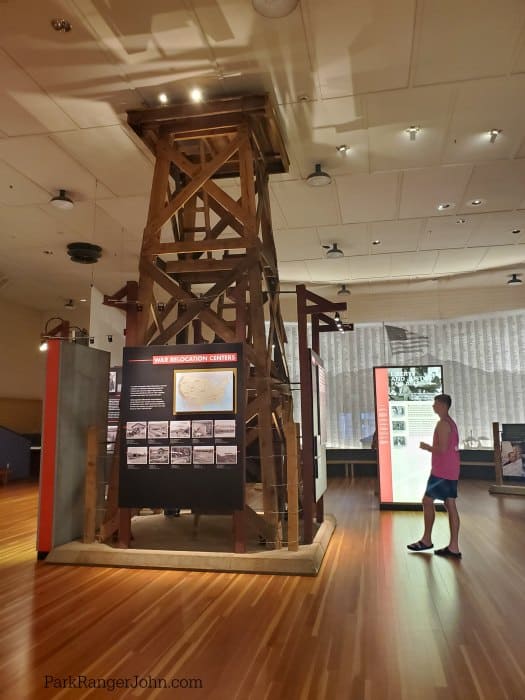 A display case holds odd and ends like a child's fire helmet, various badges, a trophy from a golf tournament held during that period and shell jewelry crafted by detainees.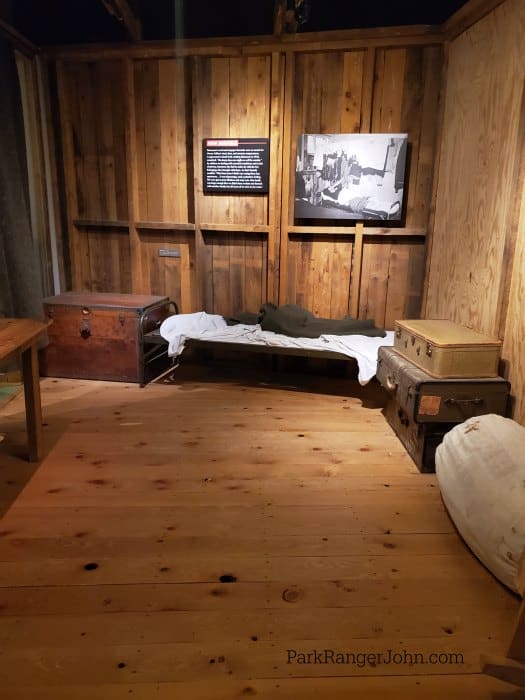 An interior of a barracks building has been recreated to provide a feel of what it looked and felt like living in one. There is a dresser built from leftover wooden fruit crates.
Outside, the site of Block 14 is slowly being developed into a demonstration area. A restored vintage World War II mess hall was the first building and has now been joined by two reconstructed barracks buildings with more to follow in the future.
This area is a short walk from the auditorium or can be reached during the driving tour. Walking may not be a good idea during summer when temperatures soar.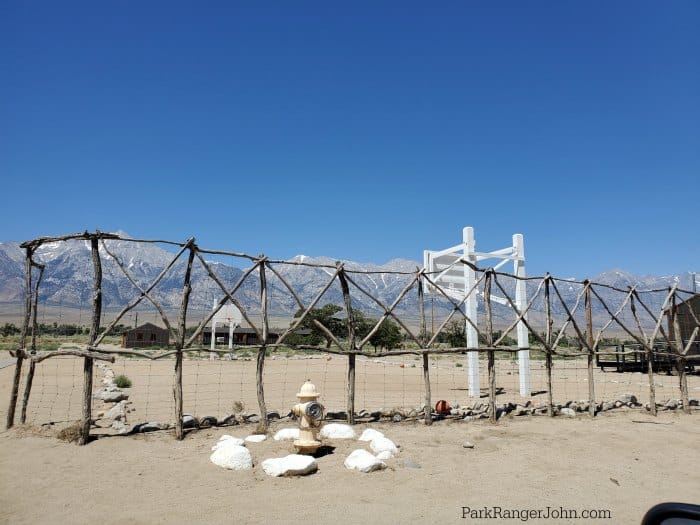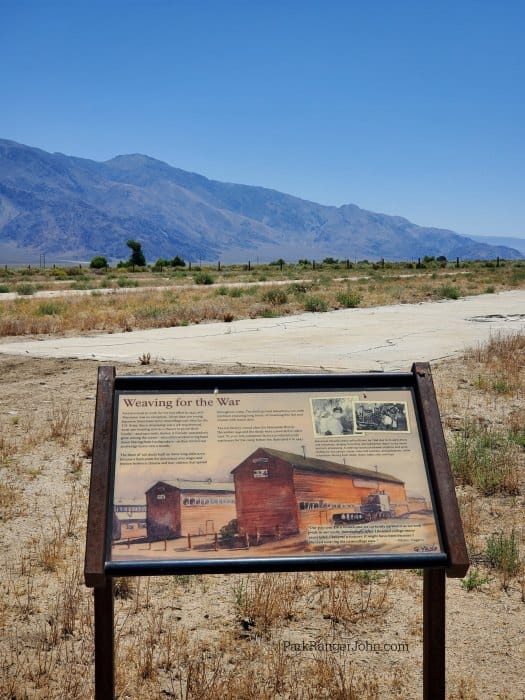 Each block number is marked as are other points of interest such as medical and administrative facilities. Wandering around reveals more arranged stones and flat concrete foundation slabs. There are remnants of an orchard leftover from the turn of the century when Manzanar was a farm.
The occupants created a number of Japanese gardens throughout the center and what was once flowing with water and life as evidenced in photos and footage is now dry and barren. The best example plus a nearby root cellar had been covered over by sand from the endless strong desert winds and excavated.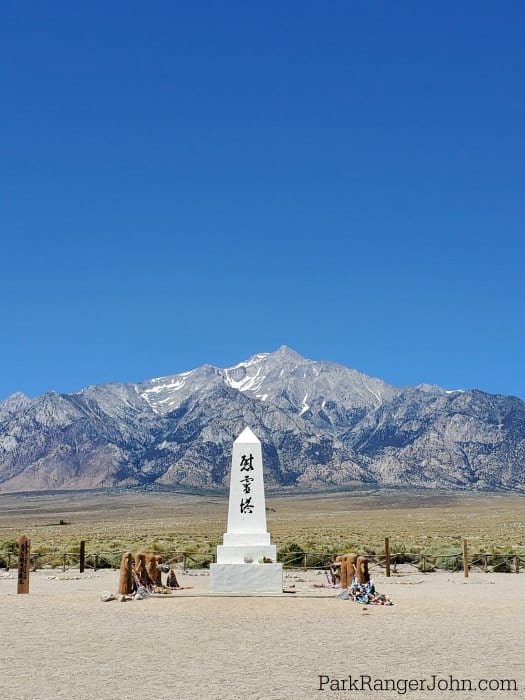 The most important area of Manzanar is the cemetery where the annual Manzanar remembrances take place. Here visitors will find the symbol of Manzanar which is a white obelisk with a Japanese symbol. Fifteen people were buried there but just six remains.
For those seeking more information concerning Manzanar, a visit to the Eastern California Museum in Independence is recommended. Not only is there a comprehensive look at Manzanar including many photos and artifacts but there are plenty of items and history concerning the local area to peruse.
Things to do at Manzanar NHS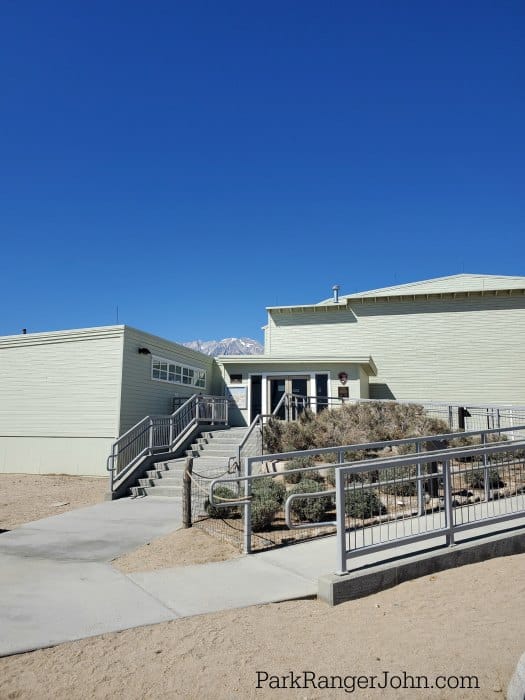 Visitor Center
The Manzanar NHS Visitor Center is located in what was the gymnasium and community center. The visitor center is filled with truly amazing interpretive displays that give you the opportunity to learn more about what life was like in Manzanar.
You will want to give yourself a minimum of an hour to explore the visitor center. If you are really interested in history you may want to schedule at least a few hours to check out all of the displays. This is one of the best visitor centers we have seen.
Remembering Manzanar Park Film
The 22-minute Remembering Manzanar film is a must-see! You can watch it by clicking the video above here or while visiting the park at the visitor center.
Shows every half hour in the Interpretive Center.

Junior Ranger Program
The Junior Ranger Program can be completed within the visitor center and through the auto tour. It is incredibly well set up for all ages to learn something and find out more about Manzanar.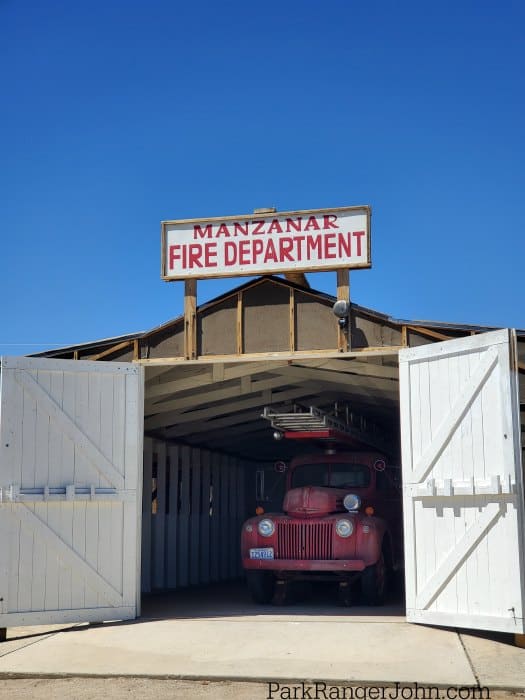 3.2-mile self-guided driving tour
The 3.2-mile self-guided driving tour takes you around the historic site giving you the opportunity to see how the site was set up. There are only a couple of buildings still standing but you can see how they would have been set up in the 1940s.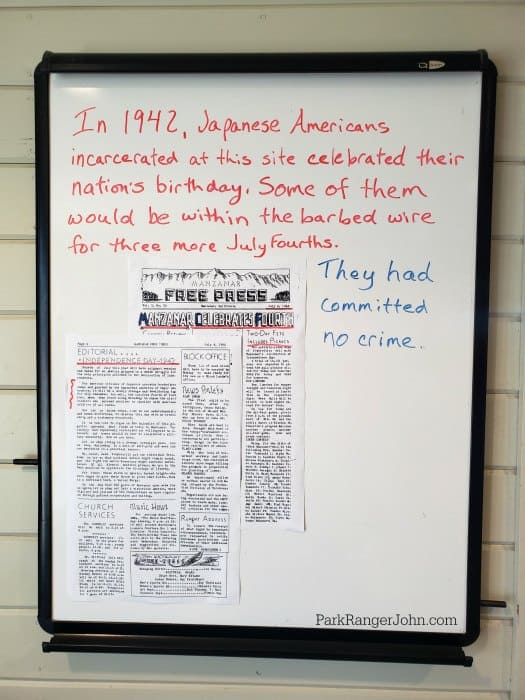 Things to know when planning a visit to Manzanar National Historic Site
Park Address: 5001 Highway 395, Independence, CA 93526
9 miles north of Lone Pine, California and 6 miles south of Independence, CA.
Park Phone Number: (760) 878-2194 x3310
Park Hours: 9:00 AM to 4:30 PM
Entrance Fee: $0.00, There is no cost to visit Manzanar NHS
Pets: Pets are allowed on the site, however, they must be on a leash at all times. You must clean up after your pets. Pets are NOT allowed in any buildings including the Visitor Center or within the fenced area of the cemetery.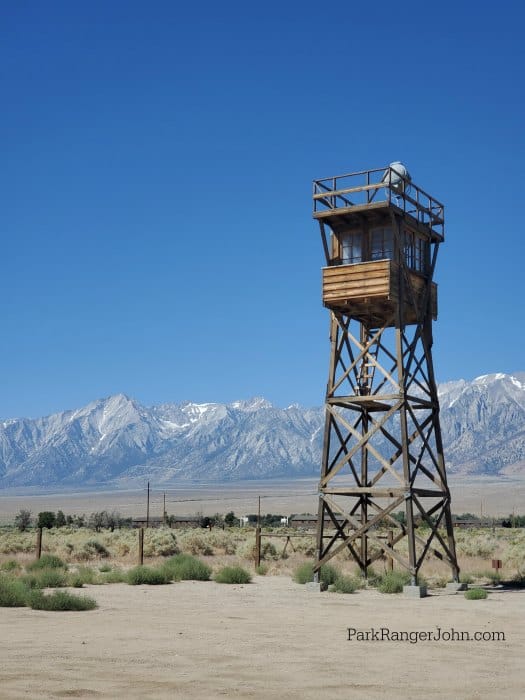 National Park Sites near Manzanar NHS
Devil's Postpile National Monument
Tule Springs Fossil Bed National Monument
Check out all of the California National Parks and neighboring Nevada National Parks and Utah National Parks.