The West Coast National Parks cover six states including California, Hawaii (Including the Pacific Islands) Idaho, Nevada, Oregon, and Washington.
National Parks on the West Coast include some of the most iconic parks in the National Park System including Yosemite, Sequoia, Redwoods, Olympic, and Joshua Tree National Park.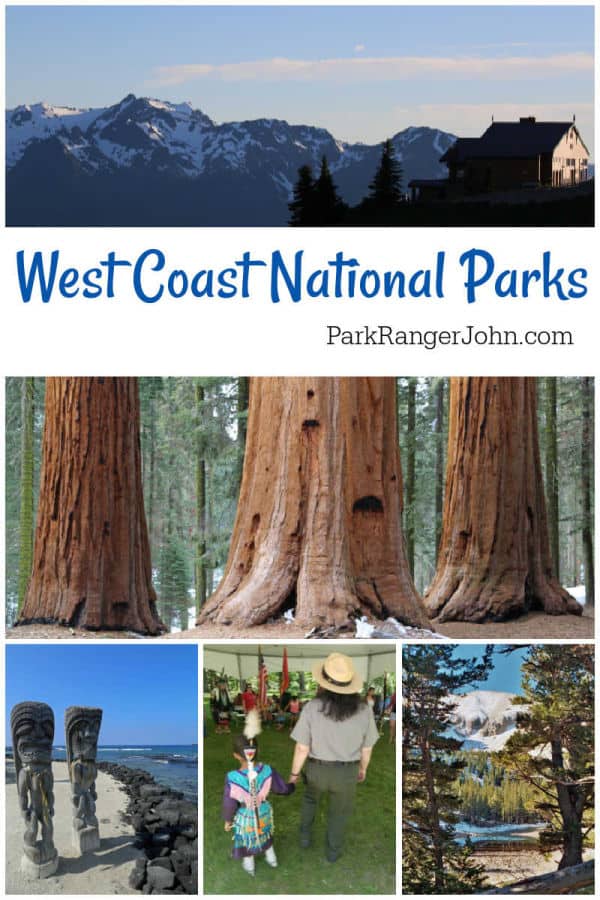 West Coast National Parks
The West Coast National Parks is the Pacific West Region of the US National Park System. The National Park Service regions are broken into Alaska, Intermountain, Midwest, National Capital, Northeast, Pacific West, and Southeast.
While the National Park Service has their own regional breakdown of parks we find that most visitors use different terms when looking for parks to visit.
Planning a National Park vacation? America the Beautiful/National Park Pass covers entrance fees for an entire year to all US National Park Sites and over 2,000 Federal Recreation Fee Sites.
The park pass covers everyone in the car for per vehicle sites and for up to 4 adults for per-person sites.
Buy on REI.com and REI will donate 10% of pass proceeds to the National Forest Foundation, National Park Foundation and the U.S. Endowment for Forestry & Communities.
The West Coast National Parks Include:
The West Coast National Parks covers seventeen National Park Sites including nine alone in California. California has more designated National Parks than any other state.
A national park is defined as containing a variety of resources and encompasses large land or water areas to help provide adequate protection of the resources.
Here is a list of every National Park on the West Coast.
A tropical paradise awaits you in the middle of the Pacific Ocean! Here you can go snorkeling/diving on its coral marine habitats, walk the beach or simply relax and enjoy this lush tropical paradise!
Channel Islands National Park
Begin your trip visiting the park's visitor center on the mainland before catching a boat to one of the park's five Channel Islands. You can also take one of the wildlife/whale watching tours. What makes this area unique is that the island's isolation for over thousands of years has created unique animals, plants, and archeological resources found nowhere else on Earth.
It's easy to spend a day starring out over the rim and seeing the deep blue waters of Crater Lake! You can simply drive around the lake, go for a hike, take a boat ride or go fishing and swimming!
Death Valley is the land of extremes! Go for a hike, explore sand dunes, stand by the visitor centers temperature gauge in the heat of the summer is just a few of the fun things to do here!
Take a hike and see the oldest trees on earth and see Nevada's only glacier. No trip to Great basin would be complete without visiting Lehman Caves and its shield formations!
Sunrise at Haleakala is the park's main attraction. Don't forget to look for rainbows (Hawaii is the rainbow state) and bird lovers will go crazy over some of Hawaii's native species like the 'Apapane, 'I'iwi, and 'Amakihi.
Hawaii' Volcanoes National Park
Explore this otherworldly environment as volcanic eruptions continue to change this landscape! Speaking of eruptions, eruption viewing has been a very popular visitor activity in recent years as lava has poured into the ocean creating new land and a fissure erupted at the bottom of Halemaʻumaʻu crater and began to form a lava lake. Of course, conditions change and could stop tomorrow. Make sure to also hike the Thurston Lava Tube!
A short drive from Palm Springs California sits Joshua Tree! Make sure to hike the Cholla Cactus Garden (also known as teddy bear cactus). Make sure not to get too close as these prickly cactus have injured numerous park visitors. Afterward, go stand near a Joshua Tree. You will easily tell how impressive these cactus really are! Don't forget to check out Skull Rock, yes it actually looks like a skull!
Massive Sequoia Trees, raging waterfalls during spring runoff, and endless hiking trails in breathtaking Kings Canyon! It's easy to see why there are so many incredible parks along the Sierra Nevada Mountain range.
The Lassen Volcanic National Park Highway is filled with breathtaking views, especially some of the lakes like Lake Helen. For an unforgettable hike, take the Bumpass Hell trail and see some of the park's geologic features.
Locals often refer to Mount Rainier as "The Mountain". Anyone who has visited may call it heaven. The summer brings a wildflower bloom that is awe-inspiring! Make sure to hike the trails in Paradise and keep an eye out for hummingbirds going from one flower to the next or go to reflection lake early in the morning and see if you can get the classic photo of Mount Rainier reflecting in the lake.
There are two ways to really explore North Cascades; drive the scenic Highway 20 or get out and go for a hike. After all, the North Cascades is known as a hikers paradise!
Olympic National Park has everything you could wish for in a park: high snow-capped mountain peaks, beautiful ocean beaches, incredible hot springs, jaw-dropping waterfalls, and endless miles of trails in the park!
Go hike and explore the Pinnacles! This is also a great park for birdwatching, perhaps you will get lucky and see a California Condor!
The coastal Redwoods are a sight to see. You can enjoy the beach, drive the scenic Howland Hill Road, or take a hike in Stout Grove amongst the giant Redwoods!
Sequoia National Park is known for the massive Sequoia trees within the park including General Sherman Tree, the largest tree in the world by volume, the drive-thru tree (a giant sequoia that fell) has a tunnel through the trunk allowing cars to drive through and don't forget to hike Moro Rock for spectacular views!
The Holy Grail of the West Coast National Parks! There is so much to see and do in Yosemite, you can visit here numerous times and not see everything! The park is busy during all four seasons, especially spring and summer. Must-see activities include Tunnel View, Glacier Point, Yosemite Valley, Yosemite Falls, and Half Dome.
While these are the big parks that you hear about don't miss some of the smaller unique parks that are also amazing.
The West Coast National Park Service Sites includes:
17 National Parks 1 National Seashore
14 National Monuments 1 National Battlefield
11 National Historic Parks 1 National Memorial
8 National Historic Sites 1 National Reserve
7 National Recreation Areas 1 National Historical Reserve
3 National Preserves 1 National Heritage Area
3 National Trails 2 Affiliated Areas
Best National Parks of the West Coast
The West Coast has some of the best National Parks in the US! Some of the sites include:
Crater Lake- The deepest lake in the US
Death Valley- The lowest elevation in the US, also the hottest recorded temperature on earth!
Great Basin - The oldest living trees on earth, The Bristlecone Pine
Hawaii Volcanoes National Park- two of the world's most active volcanoes, Kīlauea and Mauna Loa
Mount Rainier National Park - Home to the Nations biggest single peak Glacial System
Redwood National and State Parks- Has the tallest recorded tree in the world!
Sequoia National Park- The world's largest tree by volume (The General Sherman Tree)
Yosemite National Park- The nations tallest waterfall, Yosemite Falls
National Trails of the West Coast
Ala Kahakai National Historic Trail (HI)
California National Historic Trail (CA, CO, ID, KS, MO, NE, NV, OR, UT, WY)
Ice Age Floods National Geologic Trail (WA)
Juan Bautista de Anza National Historic Trail (CA)
Lewis and Clark National Historic Trail (ID, IL, IA, KS, MO, MT, NE, ND, OR, SD, WA)
Oregon National Historic Trail (ID, KS, MO, NE, OR, WA, WY)
Pony Express National Historic Trail (CA, CO, KS, MO, NE, NV, UT, WY)
Pu`ukoholā Heiau National Historic Trail (HI)
Santa Fe National Historic Trail (CO, KS, MO, NM, OK)
Major US Cities in the West Coast Region with Airports
Boise, Idaho: Boise Airport (BOI)
Fresno, California: Fresno Yosemite International Airport (FAT)
Honolulu, Hawaii: Daniel K. Inouye International Airport (HNL)
Kona, Hawaii: Kona International Airport (KOA)
Las Vegas, Nevada: Las Vegas McCarran International Airport (LAS)
Los Angeles, California: Los Angeles International Airport (LAX)
Maui, Hawaii: Kahului Airport (OGG)
Portland, Oregon: Portland International Airport (PDX)
San Diego, California: San Diego International Airport (SAN)
San Francisco, California: San Francisco International Airport (SFO)
Seattle, Washington: Seattle-Tacoma International Airport (SEA)
Spokane, Washington: Spokane International Airport (GEG)
Park Ranger John's most memorable experiences in West Coast National Parks
Sunrise at Haleakala is an incredible experience! The day starts off early as most visitors come from Lahaina or Kihei and take at least a couple of hours to get there. You will want to give yourself time to walk from the parking lot and pick your spot as you will not be alone! You will also want warm clothing, hats, and gloves.
Remember the summit is over 10,000 feet in elevation! The view at 10,000 feet high above the Pacific is incredible, especially when you can start to see daylight as it crests in the horizon before the sun. The first rays of the sun are spectacular as you gravitate towards it willing yourself to gain some warmth.
My first trip to see the sunrise at Haleakala was a real treat for me as a local Hawaiian started chanting as the sun began peeking over the horizon! It literally gave me chills down my back, my arm hairs stood as I listened and starred towards the sun.
For Hawaiians, this is known as E Ala E, the ceremonial practice of clearing the mind and body before an important event! It literally means awaken and you greet the sun at first light and you chant and wake up the sun.
How would you like to get into the Christmas Spirit in a National Park? Look further than Yosemite as they have been hosting the Bracebridge Dinner at the Ahwahnee Hotel since its opening in 1927. This incredible event is a black-tie affair with Pageantry, theatre, music, and a multi-course, five-star feast.
As if you would need additional help to get you in the mood for Christmas, you are located in the heart of the Yosemite Valley where several places have Christmas lights and decorations up. The Valley itself looks like it was an image from a Norman Rockwell painting, a beautiful Church, and even an outdoor ice skating rink in Curry Village overlooking Half Dome!
I got up early one morning to go photograph sunrise over Crater Lake. What became the highlight was seeing Crater Lake by moonlight! I remember walking out to the edge and getting comfortable to photograph the event. As my eyes focused on the light of the moon and what seemed like a million stars, I could clearly see Crater Lake too! The sight was spectacular!
My wife and I had the opportunity to take my nephew to Sequoia National Park when he was 16. Being raised in Alabama, he had never seen anything quite like the Giant Sequoia Trees. I can still remember his first Sequoia sighting. all I heard was "UNCLE JOHN Uncle John!!!!" followed by a short pause. Then I heard "LOOK!!!" another pause. I saw his eyes as big as saucers pointing at a Sequoia as he was trying to get words to come out. All of a sudden I hear "WHOA!", "UNCLE JOHN.....WHOAH! Look, Uncle John!! WHOA!!" "Did you see that tree?!" Look How Big it is! Whoa!
Needless to say, we heard more Whoa's on this trip than we have ever heard in our life! We even let him drive the car through the tunnel tree, okay maybe 3 or 10 more times each followed by, yes you guessed it, Whoa! The best part of this story is that it is 100% true! I wish everyone could see the magic of a Giant Sequoia.
Do you want to know what the best way to see San Francisco and the Golden Gate Bridge is? Make sure to schedule to help Sail the 1891 Scow Schooner Alma Sailboat at San Francisco Maritime National Historical Park. The trip out also goes near the famous Alcatraz Island. Make sure to bring plenty of sunscreen and water and be ready for a great day in the bay!
Manzanar National Historic Site is a place that really shook me to my core. It seems recently, I have heard so many people debate that our rights are being put to the test on issues like vaccinations and gun control and just how fragile our democracy is.
For these folks, I would like to remind them of our US History. Asian Americans is one group of citizens in the US that had their constitutional rights taken from them and placed in camps like Manzanar all over the U.S. when the US entered World War 2.
Franklin D. Roosevelt issued Executive Order 9066 that resulted in the internment of Japanese Americans, not for their actions but because of fear, not fighting for what's right, racism, and how its implications can easily destroy democracy.
Mount Rainier is known for its epic wildflowers in the summer! You can literally be hiking in a sea of purple in yellow flowers while starring at the mountain. One of my favorite views of the Mountain is at Tipsoo Lake, the eastern side of Mount Rainier National Park.
There is a nice short hike around the lake and about halfway around you can see Mount Rainier, sometimes with its reflection off of Tipsoo Lake and surrounded by wildflowers. I could spend all day here!
Arizona
Grand Canyon-Parashant National Monument
California
Cabrillo National Monument
Castle Mountains National Monument
Cesar E. Chavez National Monument
Channel Islands National Park
Death Valley National Park
Devils Postpile National Monument
Eugene O'Neill National Historic Site
Fort Point National Historic Site
Golden Gate National Recreation Area
John Muir National Historic Site
Joshua Tree National Park
Lassen Volcanic National Park
Lava Beds National Monument
Manzanar National Historic Site
Mojave National Preserve
Muir Woods National Monument
Pinnacles National Park
Point Reyes National Seashore
Port Chicago Naval Magazine National Memorial
Redwood National Park
Rosie the Riveter WWII Home Front National Historical Park
San Francisco Maritime National Historical Park
Santa Monica Mountains National Recreation Area
Sequoia & Kings Canyon National Park
Tule Lake National Monument
Whiskeytown National Recreation Area
Yosemite National Park
Hawaii
Haleakalā National Park
Hawai'i Volcanoes National Park
Honouliuli National Historic Site
Kalaupapa National Historical Park
Kaloko-Honokōhau National Historical Park
Pearl Harbor National Memorial
Pu`uhonua O Hōnaunau National Historical Park
Pu`ukoholā Heiau National Historic Site
Idaho
City of Rocks National Preserve
Craters of the Moon National Monument and Preserve
Hagerman Fossil Beds National Monument
Minidoka National Historic Site
Nez Perce National Historical Park
Montana
Nevada
Great Basin National Park
Lake Mead National Recreation Area
Tule Springs Fossil Beds National Monument
Oregon
Crater Lake National Park
John Day Fossil Beds National Monument
Lewis and Clark National Historical Park
Oregon Caves National Monument and Preserve
Washington
Ebey's Landing National Historical Reserve
Fort Vancouver National Historic Site
Klondike Gold Rush National Historical Park
Lake Chelan National Recreation Area
Lake Roosevelt National Recreation Area
Manhattan Project National Historical Park
Mount Rainier National Park
North Cascades National Park
Olympic National Park
Ross Lake National Recreation Area
San Juan Island National Historical Park
Whitman Mission National Historic Site
American Samoa
National Park of American Samoa
Guam
War In The Pacific National Historical Park
Northern Mariana Islands
American Memorial Park (Affiliated Area)
National Parks in the Western US not listed under West Coast National Parks
There are several other great parks to visit in the Western United States! These parks are located in the Intermountain Region which includes the iconic American Southwest and parks located in the Rocky Mountain Range.
Glacier National Park - Montana
Yellowstone National Park - Montana, Idaho, and Wyoming
Grand Teton National Park - Wyoming
Rocky Mountain National Park - Colorado
Grand Canyon National Park - Arizona
Zion National Park - Utah
Arches National Park- Utah
West Coast National Park Road Trip Ideas
There are so many options for road trips along the West Coast! You can plan a week long trip and explore a region like
Washington Road Trip: Mount Rainier- Olympic- North Cascades
Southern Oregon/Northern California Road Trip: Crater Lake, Redwood, Lassen Volcanic (in the summer months)
Big Trees Road Trip: Yosemite, Sequoia and Kings Canyon
So Cal Road Trip: Channel Islands, Death Valley, and Joshua Tree
Utah's Mighty Five: Zion, Canyonlands, Bryce Canyon, Arches, and Capitol Reef
Best of the Rocky Mountains: Glacier, Yellowstone, Grand Teton, and Rocky Mountain
One week on any of these road trips will feel like a whirlwind experience. I could easily plan two weeks on any of these road trips, especially if you would like to throw in other national park sites along the way or even some of the great state parks like Calaveras Big Trees State Park in California along the Big Trees Road Trip.
For a fun adventure check out Escape Campervans. These campervans have built in beds, kitchen area with refrigerators, and more. You can have them fully set up with kitchen supplies, bedding, and other fun extras. They are painted with epic designs you can't miss!
Escape Campervans has offices in Vancouver, Seattle, Portland, San Francisco, Las Vegas, Los Angeles, Phoenix, Salt Lake City, Denver, Chicago, New York, and Orlando