Nahuku Thurston Lava Tube in Hawaii Volcanoes National Park is one of the most amazing natural wonders you can visit and explore on the Big Island of Hawaii. The short walk provides an amazing opportunity to experience the power of volcanoes and lava tube geology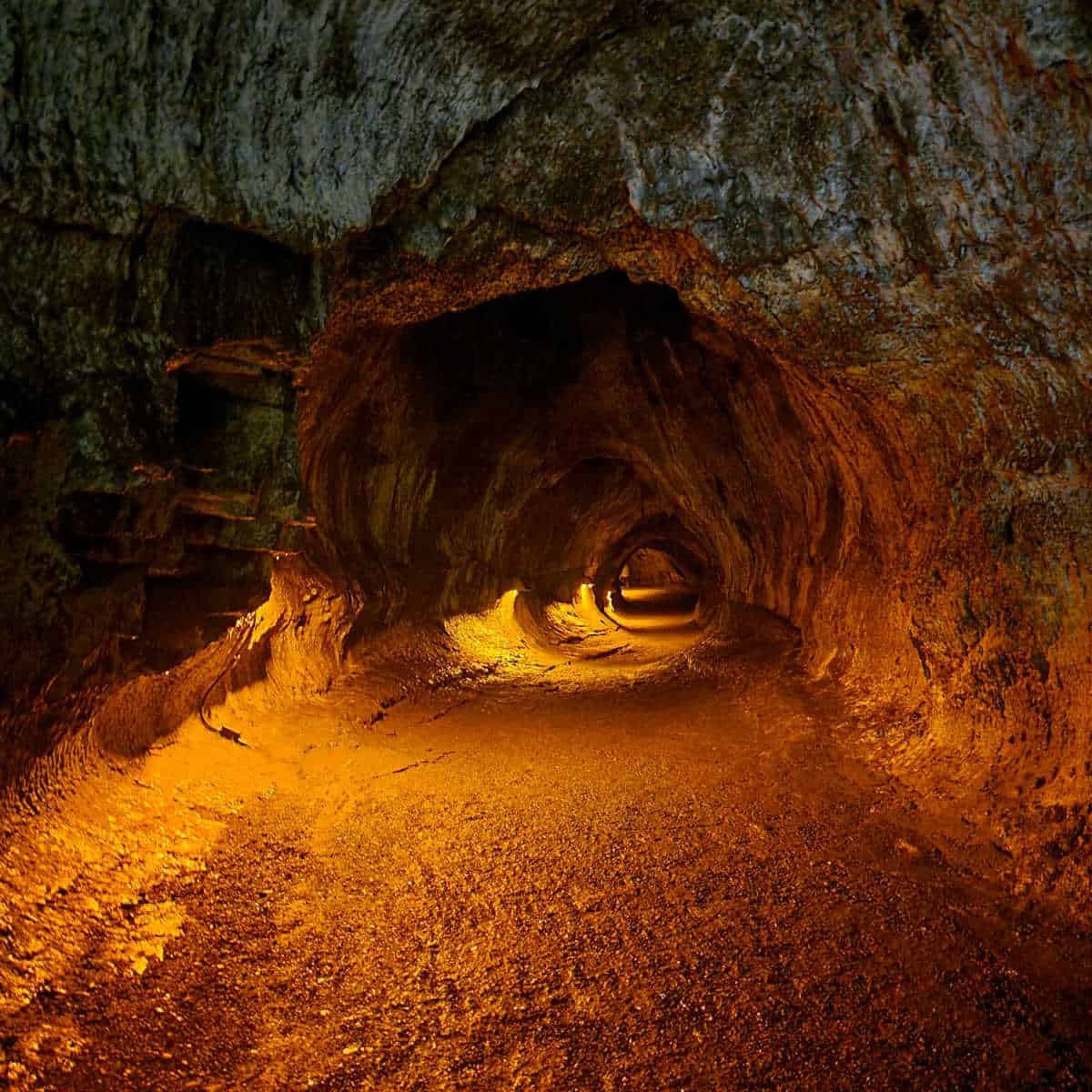 Nahuku Thurston Lava Tube
The Nahuku Thurston Lava Tubes are one of the most popular things to do at Hawaiʻi Volcanoes National Park!
A visit to the lava tube gives park visitors a unique opportunity to not only learn, but see firsthand more about volcanic geology.
Visitors will also get to experience a canopy of Ohi's Lehua Trees and Hapu'u (fern trees) that dominate the understory of this tropical rainforest that receives over 100 inches of rain each year.
My personal favorite part of visiting the lava tube area is hearing the calls of native birds, both native and non-native. Perhaps if you are lucky, you will get to see one of the rare native species like 'apapane and apakihi. If you are really lucky, maybe you can spot an 'oma'o, a thrush only found on the Big Island of Hawaii!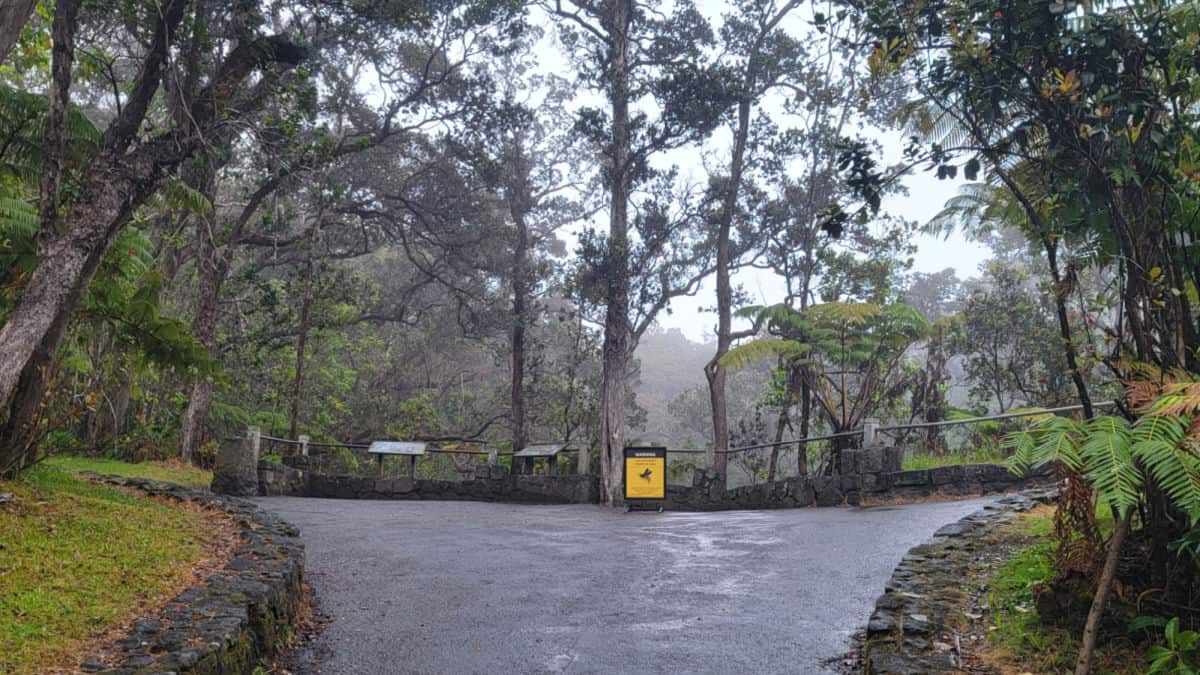 Nahuku Thurston Lava Tube Trail
Distance: 0.5 mile short trail
Elevation Gain/Loss: Approximately 50 feet
Time: 30 minutes
Trailhead Elevation: 3900'
Trail Difficulty: Easy
One of my favorite parts of this trail is that it is in a cool tropical rainforest, a drastic difference from the sunny, hot, and dry Kona side that most tourists fly into when they go to the Big Island of Hawaii.
Every time I have taken this trail it has either rained or misted so I would count on some sort of precipitation. The lush green foliage is awe-inspiring and the air smells so clean and refreshing.
You can sit and hear the birds chirping although you rarely see one in the dense vegetation. The trail starts off to the right and then starts to descend in a series of switchbacks to the lava tube entrance.
The trail is paved but is not ADA Accessible as it is narrow, steep, and has steps along the way. The entrance is definitely inspiring with lush vegetation surrounding the entrance.
The hike through the lava tube is actually very easy and is only 400' long. The surface of the tube is relatively flat and the National Park Service has put lighting inside the tube making it easy to walk through.
Once you have made it through the lava tube, it is an easy hike back to the beginning of the trailhead through the rainforest.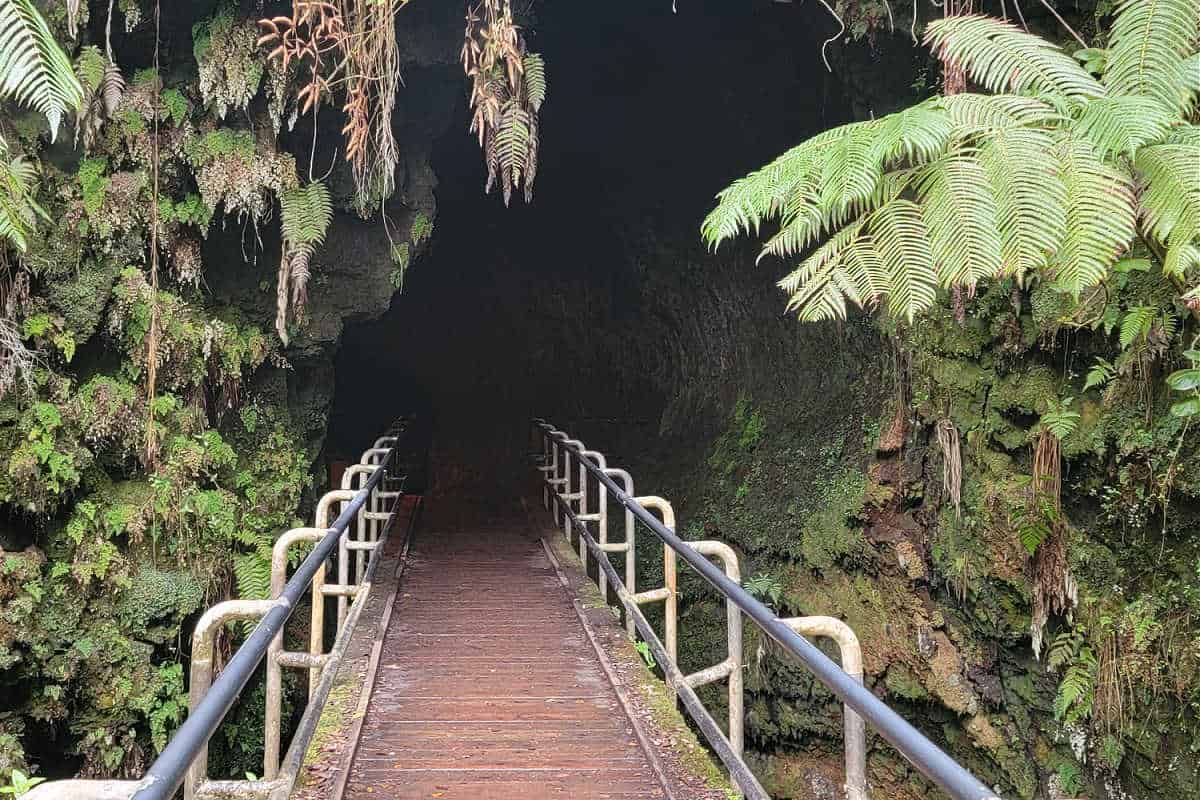 Where is Thurston Lava Tube?
Nahuku Thurston Lave Tube is located 1.5 miles from the entrance to Hawai'i Volcanoes National Park heading south on Crater Rim Drive.
Parking: There is a parking area across from the entrance to the lava tube. One thing to know is it gets really busy during the middle of the day. You can also park at the Kilauea Iki parking lot.
Restrooms: are located near the lava tube and are open from 9 am to 5 pm
What is a Lava Tube?
A Lave tube, also known as a Pyrroduct, is a natural channel created by a river of lava from a volcanic vent that moves beneath a hardened surface of lava.
These tubes are created by the lava flow itself. As the molten lava flows, the outside surface is exposed to the much cooler surface air causing the top layer of lava to harden and turn into Basalt. Think of how a river freezes in the winter.
This hardened layer essentially acts as insulation to the lava underneath the hardening surface and gets the lava superheated in the core as there is no place for the heat to escape.
This in turn causes the lava to start heating the lower surface of the lava tube and begins a process known as thermal erosion.
As the rock underneath the lava tube heats up, it begins to erode away causing the lava tube to go deeper underneath the newly formed earth's crust just above the tube.
Eventually, the lava flow will stop and the hollow lava tube will be left behind as a reminder of the power of lava and volcanoes.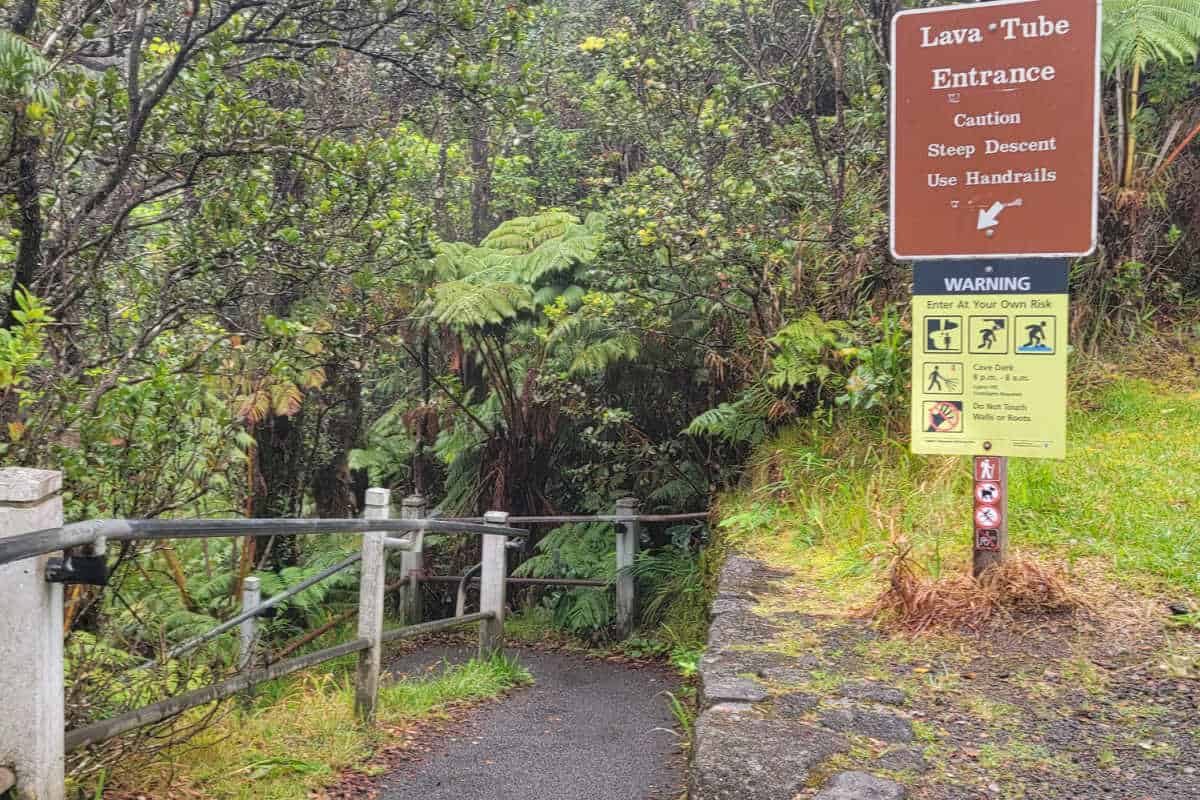 What does Nāhuku mean?
Nāhuku, the native Hawaiian name means "the protuberances," which refers to the lava drippings that once hung from the lava tube ceiling.
Unfortunately, the lava drippings disappeared due to souvenir collectors after the lava tube was discovered in 1913.
When you visit the lava tube imagine the roof covered in lava stalactites. How amazing would that have been!
How long is Thurston Lava Tube?
The nāhuku lava tube is 600 feet long.
The lava tube varies in height and width.
Don't worry there is more than enough space in this walk-through lava tube. The ceiling height is more than enough to comfortably walk through.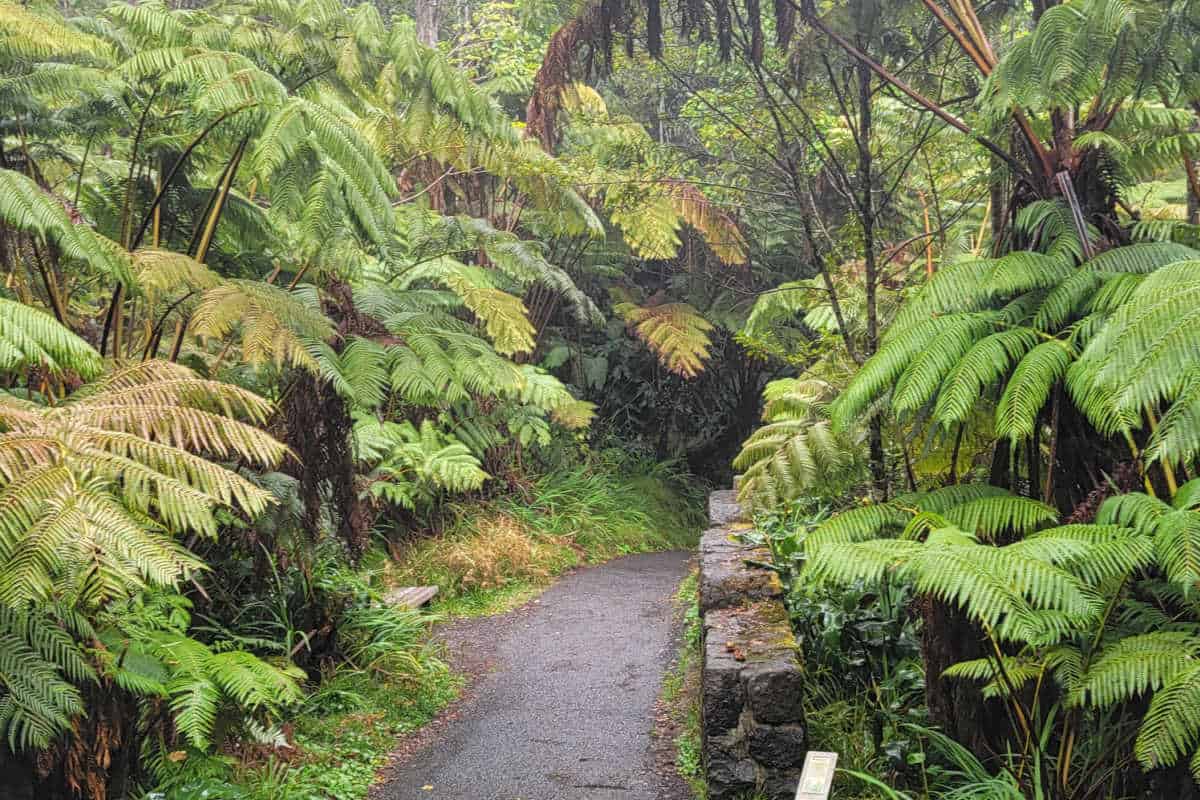 Is Thurston Lava Tube Open?
Yes, The lava tube is open 24 hours a day but the new electrical system that includes 12 energy-efficient amber LED electric lights to illuminate the 400-foot lava tube automatically turns on every day from 8 am until 8 pm.
Overnight Nahuku lava tube is pitch black with no lighting. If you plan to explore the lava tube before the lights turn on make sure to bring a great headlamp and flashlights.
Cell phones do not provide strong enough light to safely hike through the lava tube.
How old is Thurston Lava Tube?
Thurston Lava Tube was created over 550 years ago during an eruption of Kilauea. The eruption produced vigorous streams of lava which left the long, hollow tunnel behind when the river of lava drained away.
The lava tube was discovered in 1913 by Lorrin Thurston who was a local newspaper publisher.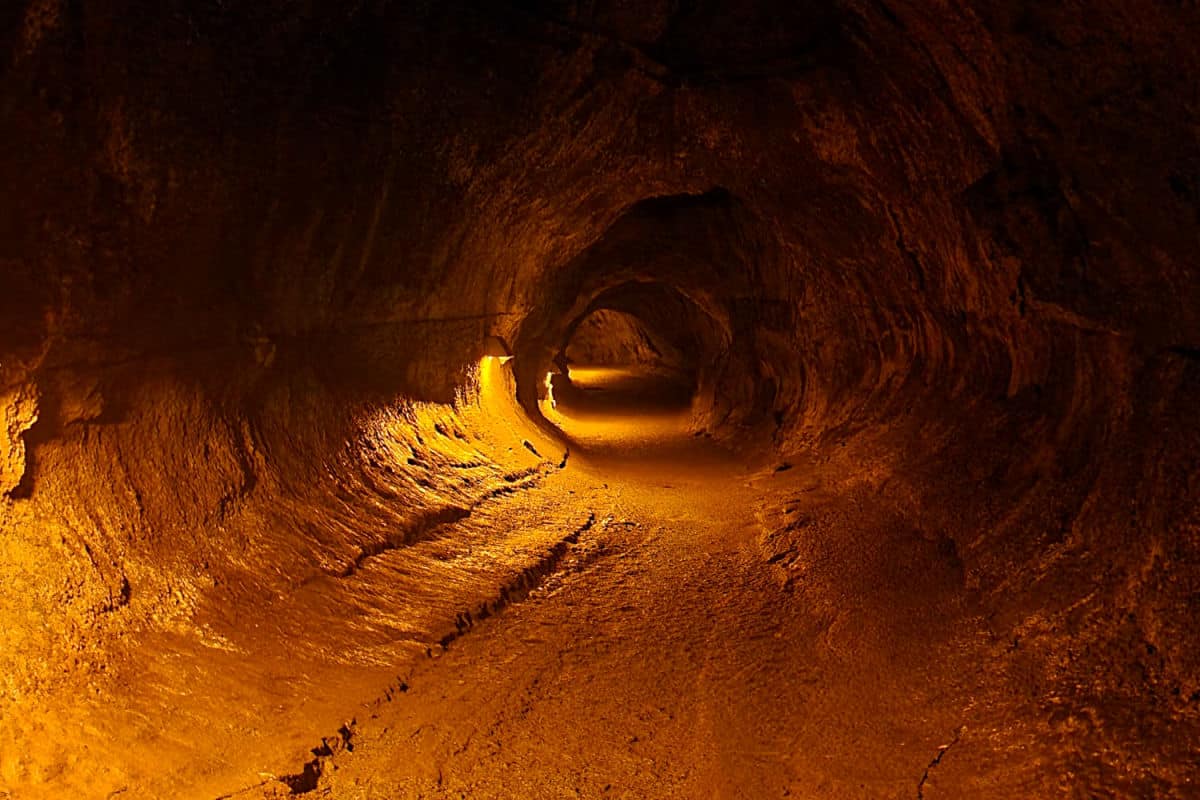 Hiking through Thurston Lava Tube
Trailhead - Nāhuku (Thurston Lava Tube) parking area and Kīlauea Iki Overlook.
Hazards to be aware of - Potential hazards include rockfalls, low ceilings, standing water, tripping hazards, and low light conditions.
On the trail be sure to look for large rocks, tree roots, or any new cracks that may appear along the flat rock floor and trail.
Distance - The trail distance depends on if you park in the lava tube parking area or at the Kīlauea Iki Overlook.
1.5 mi (2.4 km) round-trip walk from Kīlauea Iki Overlook.
6.0 mi (9.7 km) round-trip from Devastation Trailhead (including the Kīlauea Iki loop)
Accessibility -
The trail is paved with handrails but this is not an ADA-accessible trail. The trail is oftentimes wet, is narrow, has several steps, and has several switchbacks to get to the entrance of the Lava Tube. There are several steps to get out of the Lava Tube as well.
The trail inside the lava tube is not paved but is mostly flat.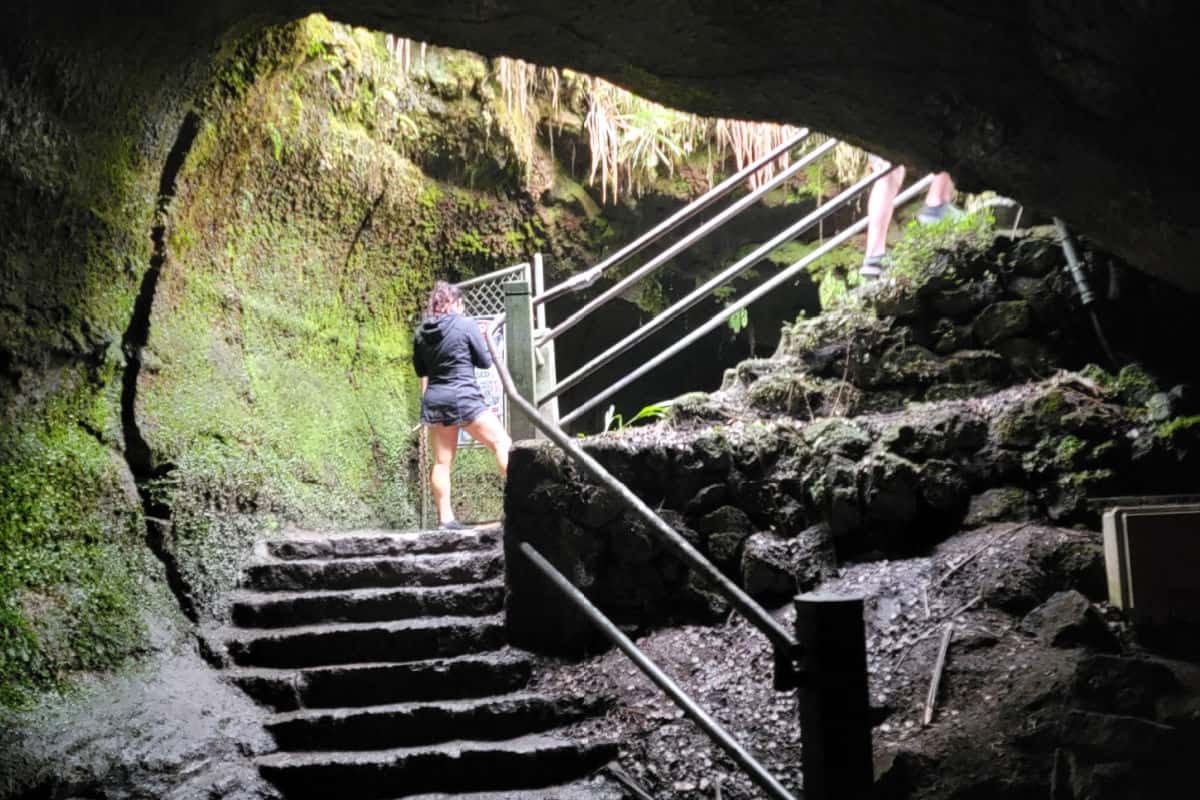 What to bring with you
Sturdy Shoes - Be prepared for the trail to be wet and slippery.
Flashlight - If you plan to walk the trail while it is dark a cell phone flashlight is not bright enough to illuminate the lava tube caves.
Camera - The photos in this article were taken will my Samsung cell phone. You want to make sure you have a camera that can handle low lighting.
Sweatshirt/Jacket - I know you are in Hawaii but the cool damp rainforest environment can be a bit chilly while walking through the lava tube. The average temperature in the cave is around 55 degrees Fahrenheit.
Nearby Things to do in Hawaii Volcanoes
Hawaii Volcanoes NP Hikes - check out all of the epic hiking trails in the park.
Kilauea Iki Overlook - This overlook is just down from the lava tube parking area. It provides an amazing view over the Kilauea Iki Crater. The crater is 3,000 feet across and a mile long. The floor is 400 feet below the overlook and you can see Mauna Loa in the distance.
Crater Rim Road - Explore Crater Rim Road and check out Uekahuna, Kilauea Overlook, Steaming Bluff (Wahinekapu), Sulphur Banks (Ha'akulamanu), Pu'upua'i Overlook, and Keanakako'i Crater.
Chain of Craters Road - Chain of Craters Road gives you the opportunity to drive down to the Pacific Ocean and see historic lava flows. The road is 18.8 miles to the end of the road. There are no services along the road. At the bottom of the road you can walk out to see the Holei Sea Arch and explore the Pu'uloa Petroglyph Trail.
Things to know when visiting Hawaii Volcanoes NP
Park Entrance Fee -
7-day single-vehicle park pass - $30
7-day individual park pass - $15
7-day motorcycle park pass - $25
7-day bicycle park pass - $15
Annual Park Pass - $55
Valid for one year through the month of purchase. Admits one private, non-commercial vehicle or its pass holder.
Planning a National Park vacation? America the Beautiful/National Park Pass covers entrance fees for an entire year to all US National Park Sites and over 2,000 Federal Recreation Fee Sites.
The park pass covers everyone in the car for per-vehicle sites and for up to 4 adults for per-person sites.
Buy on REI.com and REI will donate 10% of pass proceeds to the National Forest Foundation, National Park Foundation, and the U.S. Endowment for Forestry & Communities.
Learn more about National Park Passes for parks that have an entrance fee.
Visitor Center - The visitor center is located just past the main entrance station to the park. There is a great museum, gift shop, and park rangers available to answer questions.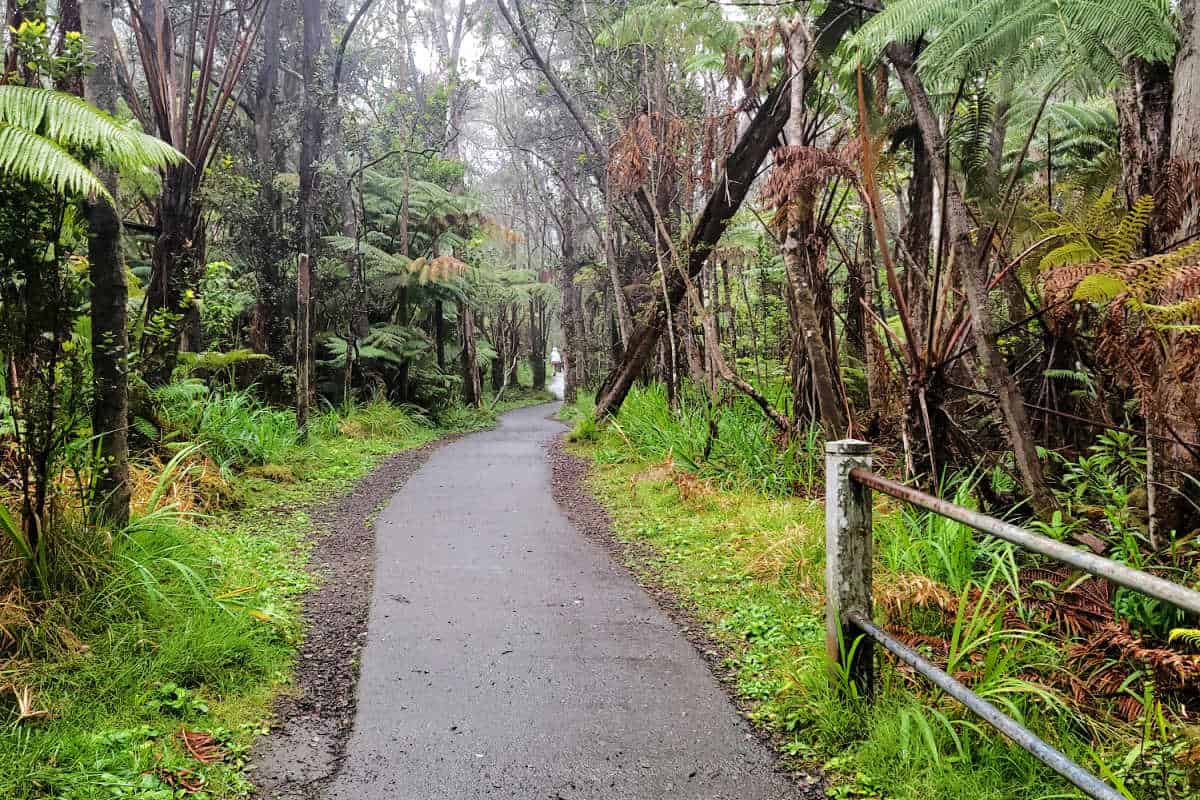 Lodging in/near Hawaii Volcanoes National Park
Volcano House - This historic National Park Lodge is located near Kilauea caldera offering amazing views of the lava glow right from your room.
Rustic Camper Cabins at Namakanipaio Campground - Hawai'i Volcanoes Lodge Company operates rustic camper cabins and campsites at the Nāmakanipaio campground. The cabins sleep 4 (1 double bed and 2 bunk-style twin beds). Each cabin has a picnic table, an outdoor barbecue grill, and an outdoor fire pit. Reservations are required.
Volcano Village Estates - Volcano Village Estates is in the historical district and in the mountains. Enjoy a free full breakfast, a terrace, and a garden. Stay connected with free in-room Wi-Fi. All 12 rooms feature comforts such as bathrobes, in addition to thoughtful touches like free Wi-Fi and free bottled water.
Lava Lodge at Hale Kilauea - Lava Lodge at Hale Kilauea provides everything you need. Guests can connect to free in-room Wi-Fi. All guestrooms are individually furnished, and boast comforts such as free Wi-Fi and free bottled water.
Aloha Crater Lodge - 3.5-star guesthouse near Hawaii Volcanoes National Park. All guestrooms are individually furnished and include comforts such as free Wi-Fi and dining tables.
The Inn at Kulaniapia Falls - 3.5-star boutique bed & breakfast by the river. Take advantage of a terrace, a garden, and a library at The Inn at Kulaniapia Falls. Active travelers can enjoy hiking/biking, rock climbing, and a ropes course at this bed & breakfast. Guests can connect to free Wi-Fi in public areas.
Grand Naniloa Hotel Hilo - a Doubletree by Hilton - a 4-star hotel in the heart of Keaukaha. Active travelers can enjoy cycling, snorkeling, and fishing at this hotel. Be sure to enjoy a meal at Hula Hulas, the onsite restaurant. Enjoy the 24-hour gym, as well as activities like boat tours, rowing/canoeing, and sailing. Stay connected with free in-room Wi-Fi, and guests can find other amenities such as dry cleaning/laundry services and a fireplace in the lobby.
You can also stay outside of the park in Hilo, Hawaii, and nearby smaller communities.
Click on the map below to see additional hotels and vacation rentals near the park.


Camping in Hawaii Volcanoes National Park
There are two drive-in campgrounds inside the Hawaii Volcanoes National Park. The sites are available on a first–come first served basis and no fees are charged, except the entrance fee to the park. Stays are limited to 7 days a month and 30 days a year.
This campground, located at 4000 feet elevation off Highway 11, is situated in an area with eucalyptus and ohi'a trees. Facilities include restrooms, barbecue pits, and picnic tables. There is also a large pavilion with tables and two fireplaces. At night, temperatures can drop into the 30s. The days can be cool in the 60s. It is recommended that you bring warm clothing and a tent with you.
Located about 5 miles down the Hilina Pali Road, Kulanaokuaiki Campground has only three campsites, two of which are accessible by wheelchair. Picnic tables and barbecue grills are provided, but there is no water and only a vault-type toilet. No dogs are allowed.
Guided Tours
From Hilo - A helicopter ride over the park and waterfalls
Soar over Volcano National Park on this helicopter tour from Hilo. Marvel at views of the Mauna Kea and Mauna Loa volcanos. Fly over waterfalls that plunge into lush vegetation.
From Kona - Mauna Kea Stellar Explorer
For an out-of-this-world experience, check out Maunakea Stellar Explorer. This thrilling adventure features nighttime astronomical observing as well as safe daytime solar viewing, with all ages welcome.
Twilight Volcano and Stargazing Tour - Experience the Big Island's most spectacular natural splendors on this small-group tour and discover the history, culture, and geology of the island. Visit a Kona Coffee Farm and the magnificent Hawaii Volcanoes NP.
Volcano NP Tour with Lunch - Join a full-day nature tour offering an in-depth look at Hawaii. Discover diverse landscapes as you explore Hawaii Volcanoes National Park, Waipio Valley waterfalls, and Punalu'u Black Sand Beach.
Volcano NP Group or Private Hiking Tour - Step into the caldera of an active volcano on a group or private hike in Hawai'i Volcanoes NP. Trek through Hawaiian forests and Kilauea Iki Crater to reach the iconic Thurston Lava Tube.
Volcano NP E-Bike Ride with GPS Guide - Take a GPS E-bike Tour of the Hawaii Volcanoes NP and the Lava Viewing Area using your smartphone. Embark on an adventure packed with fun bike trails and roads.
Door Off Helicopter ride over Volcano and the Rainforest - There is no better vantage point than a helicopter and there is no bigger thrill than leaving the doors behind so there is nothing between you and the sights. On this scenic flight tour, soar over iconic waterfalls and glowing lava flow.
From Kona - Helicopter Tour with private landing in a secluded location.
Take a helicopter tour over Big Island for views of Hawaii's famous volcanoes and mountains. Top it off with a private landing in a secluded location so you can enjoy your own piece of paradise.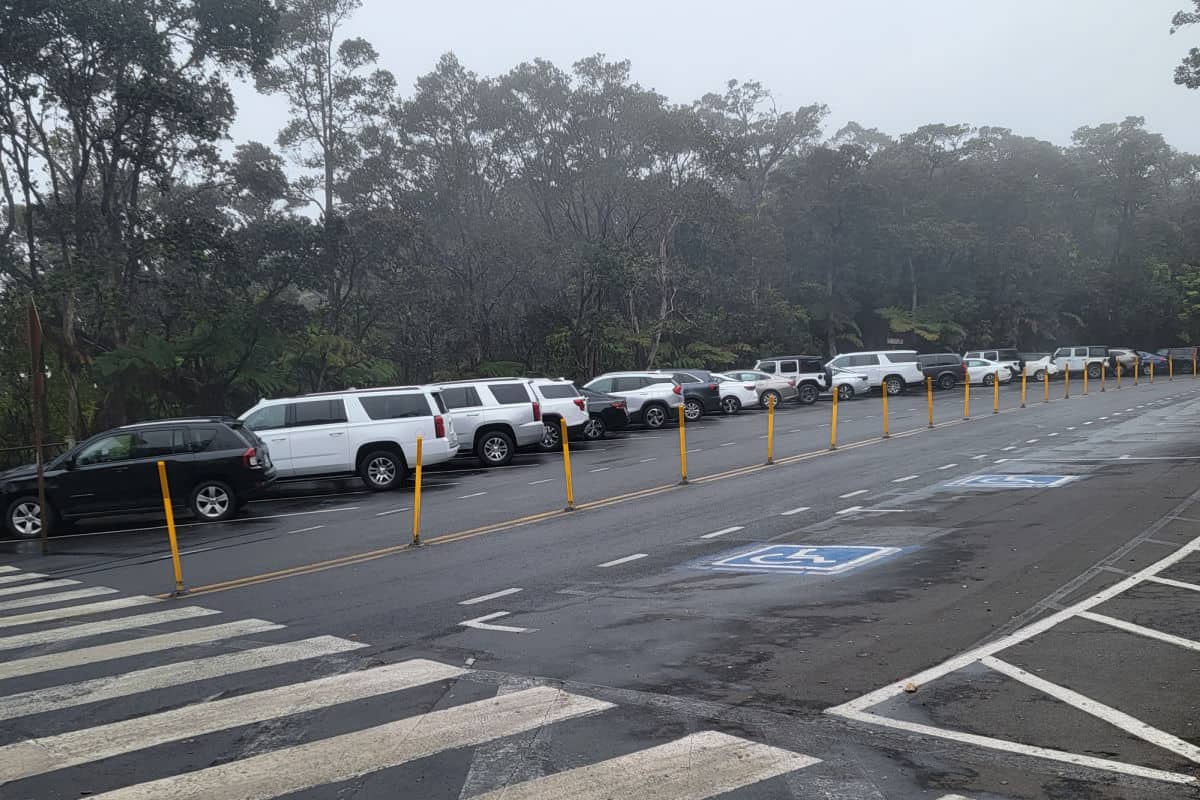 Additional Big Island of Hawaii Resources
Kaloko-Honokohau National Historical Park
Pu'ukohola Heiau National Historic Site
Puuhonua o Honaunau National Historical Park - City of Refuge
Check out all of the National Parks in Hawaii
The park is managed by the National Park Service. Check out the official park website for updates and latest conditions.