Volcano House is the Big Island of Hawaii's oldest hotel site and the only hotel/lodge within Hawaii Volcanoes National Park.
It is amazing to think that the original historic Volcano House was first built in 1846. The lodge is perched on the rim of Kilauea and offers stunning views of the active volcano.
While the volcano is not erupting like it was the past few years you can still see steam vents and enjoy the iconic location overlooking the Halemaumau Crater.
The Hawai'i Volcanoes Lodge Company manages the hotel and gift shop.
The Volcano House hotel offers guests the opportunity to stay within the park and surround themselves in nature.
You can wake up to native birds, and the sounds of the park. You can imagine what it was like to stay in a hotel dating back to 1846.
I always wonder what early guests saw and enjoyed while visiting the park.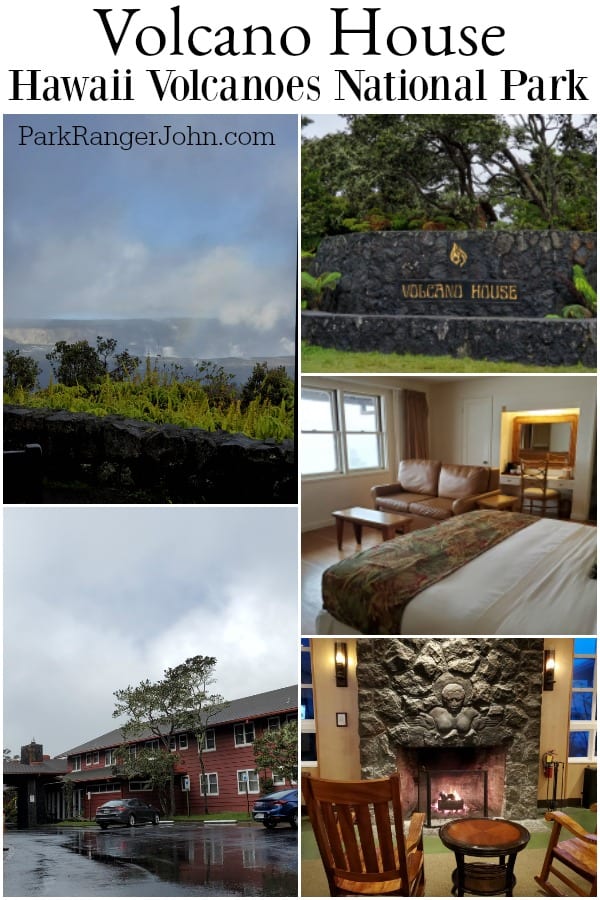 Volcano House - Hawaii Volcanoes National Park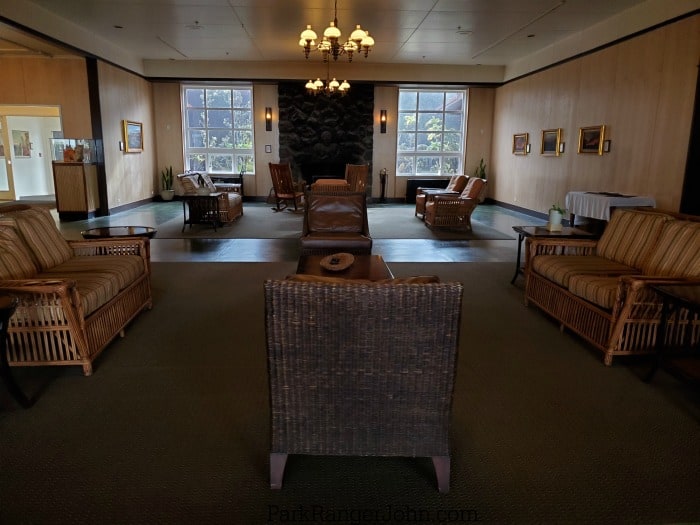 We stayed in Volcano House in May and really enjoyed waking up with views of the crater. One thing I will say is the lodge is not super quiet. If you are a light sleeper make sure to bring earplugs with you.
We could hear people talking in the hall and getting ready in the morning. This is honestly the only thing to prepare for other than having a great time. We didn't realize until after our stay that the front desk has sleep amenity packets available that include earplugs, eye masks, and tea. There is also a spa sound machine in the nightstand drawer to help drown out the hotel noise.
The lodge view is epic. There is no other word to describe it.
It is hard to believe that you are waking up overlooking an active volcano that was erupting less than a year ago.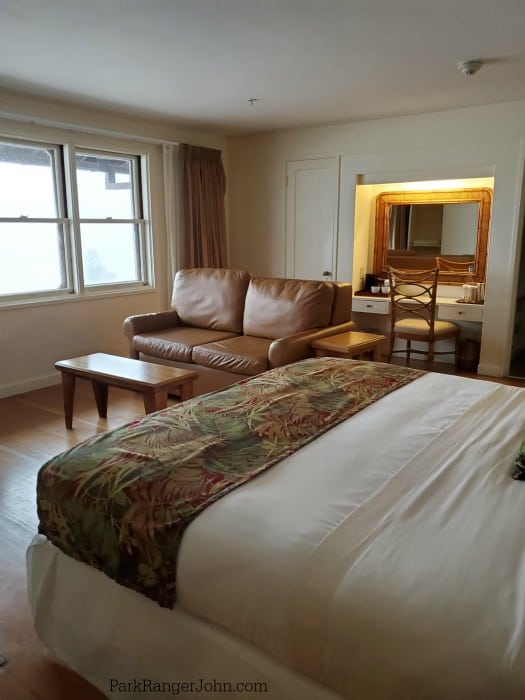 Deluxe Crater View Room
We stayed in room 11 on the second floor of Volcano House. The room has a king size bed, comfortable leather couch, and side table/coffee table.
Our room had a view over the crater which was amazing.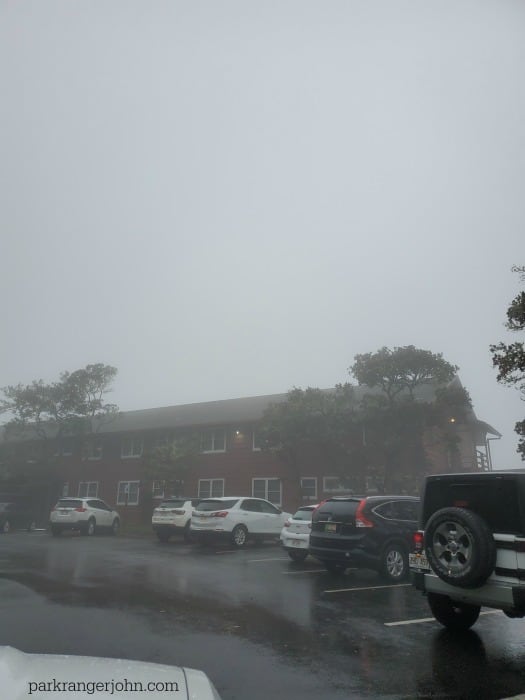 One thing to know is the weather is always changing in Volcanoes. You will want to be prepared with layers of clothes and a rain jacket.
The deluxe crater rim room had an electric heater in the fireplace that warmed the room up quickly. Plus it just looked fun with the fake glowing rocks.
The rooms are really nice size. There is a lot of room for a National Park lodge. You do not feel like you are stuffed in a tiny room like some lodges.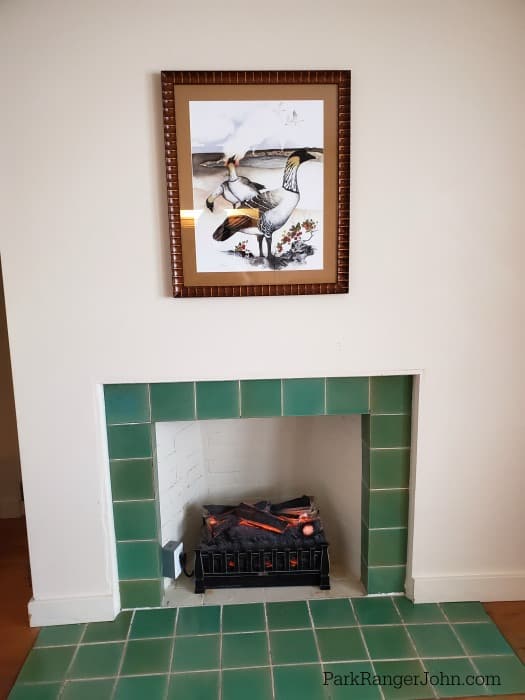 Amenities
There are no TV's in the rooms. Volcano House does offer free use of iPads and free Wi-Fi.
The Wi-Fi did not work for us during our stay but the hotel does say it is available. You may need to check in the lobby or other common areas if it does not reach your room.
You can also sign up to take a guided walking tour, free bike rentals, board and card games, free entertainment on Wednesday, Saturdays, and Sundays in Uncle Georges Lounge.
The hotel offers an evening cookie service at 6:30 pm with their signature cookies.
They even have a lending library with natural history, cultural studies and children's bedtime books available to check out.
If you are like me and need a cup of coffee to start the day you can bring the mug down from your room and enjoy free complimentary coffee and tea in the lobby. You can even ask for a to-go cup to take with you out into the park.
None of the guest rooms are equipped with air conditioning. Don't worry the average temperature is 67 to 73-degrees. The lodge is situated at 4,000 feet above sea level.
Complimentary coffee packets replenished daily (upon request)
Complimentary in-room safe
All rooms non-smoking
AM / FM alarm clock radio
Coffeemaker
Daily housekeeping service
"Did you forget?" essential items service
Electronic key card
Hair dryer
Iron/ironing board (upon request)
iPad rental (Check out at the Front Desk)
Private lanai/balcony (some)
Shower
Signature bath amenities (soap, lotion, body wash, shampoo, and conditioner)
Telephone w/ voicemail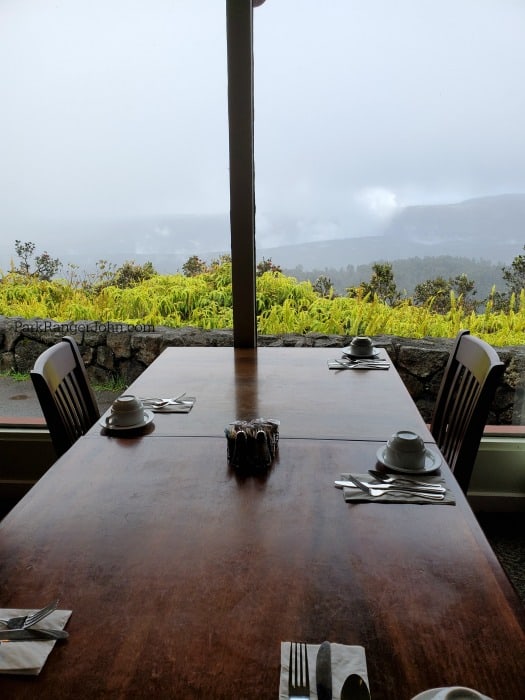 Volcano House Restaurant
Imagine dining overlooking the Halema'uma'u Crate as it settles from the latest eruption.
Dine on flavors unique to Hawaii and the Pacific region. We love that so many of the dishes are made with ingredients from local Big Island farms and gardens.
Listen to live music by local musicians every night of the week from 6:00 PM – 8:30 PM.
The Volcano House Dining Room does require reservations for dinner. It is the more formal dining room within the lodge.
Breakfast Buffet: 7:00 AM - 10:30 AM View Breakfast Menu
Lunch: 11:00 AM - 2:00 PM View Lunch Menu
If you are coming from the east coast you will want to make sure you have snacks in your room if you normally eat breakfast early.
The breakfast buffet does not start until 7 am which is after 12 pm east coast time. Even coming from the Pacific coast we were awake at 4 am and happy to have a couple of snacks in the room.
The gift shop does have a few light snacks, soda and sweet treats for sale.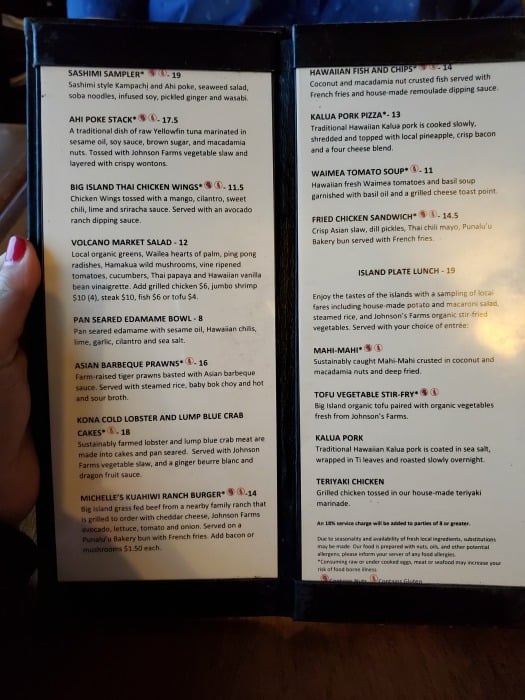 Uncle George's Lounge
Uncle George's Lounge is the perfect place to enjoy a snack, late night cocktail or relax after a day in the park.
If you are looking for a more casual atmosphere during your stay Uncle George's Lounge is perfect. The lounge still has amazing views over the crater but you do not need reservations.
If you are vegetarian or vegan make sure to ask what ingredients are in the food. During our stay, the tomato soup was made with chicken stock and they were unable to make it vegetarian.
The vegetarian options were a salad or a cheese pizza with a few veggies. They do not have a ton of options for guests with dietary restrictions.
Menu items not to miss
The Paniolo Milkshake
Michelle's Kuahwiwi Ranch Burger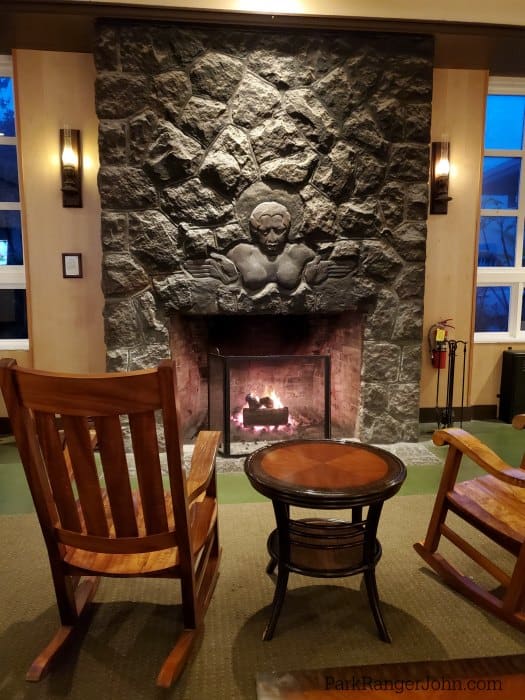 Things to know when planning a stay at Volcano House Hawaii
Address: 1 Crater Rim Dr. Hawaii National Park
Reservations: 1-866-536-7972
Property direct: 1-808-756-9625
DIRECTIONS
The lodge is located across the street from the visitor center. There is parking next to the lodge for guests.
From Hilo Airport: Exit the airport; turn left onto HI-11/Kanoelehua Avenue/Hawaii Belt Road. Continue 28 miles to Hawaii Volcanoes National Park. Turn left onto the park entrance at Crater Rim Drive. (45-minute drive)
From Kona Airport: Exit the airport and turn right onto HI-19/Queen Kaahumanu Highway. Continue 99 miles to Hawaii Volcanoes National Park. Turn right onto the park entrance at Crater Rim Drive. (2.5 to 3-hour drive)
Guests do need to pay the Volcanoes National Park entrance fee before arriving at the lodge. Make sure to have your National Park Pass with you if you have one.
Check out all of our articles on Hawaii Volcanoes National Park to find out more about this great Hawaii National Park.
Check out the best things to do in Hawaii Volcanoes National Park and Hawaii Volcanoes Hiking Trails.