In these days of crowded U. S. national parks, it's a joy to find one that's not a mob scene during high season. Great Basin National Park, in eastern Nevada, may well be the most un-crowded park of them all.
Great Basin National Park is a national park in the eastern and central part of the state of Nevada in the United States. It was originally designated as a National Monument on January 24, 1922, and was incorporated on October 27, 1986, into the National Park Service as a national park.
The park has its name from the Great Basin, which is a 400 by 600-mile area stretching from California to Utah's Wasatch Range. Once a vast sea, the basin covers parts of six states. The park is located approx. 295 miles north of Las Vegas.
More than 800 species of plants are found in the Great Basin National Park and neighboring wildlife areas. A plant species that grows in this national park is the "bristlecone" tree which is one of the longest-lived life forms on Earth. In 1964, one tree was cut down for research by the US Forest Service just to find out that it was over 5,000 years old!
Since there's an almost 8,000 foot (2,400 meters) difference in elevation between the park's 13,063-foot Wheeler Peak and the valley floor, you can hike from salt desert shrubland through sagebrush, pinyon pine, juniper, mountain mahogany and spruce to bristlecone pine forests and alpine tundra in a matter of only a few miles.
There are also many animal species, like 238 species of birds, 71 species of mammals, 18 species of reptiles, 8 species of fish and 2 species of amphibians. In the lower parts of the park, you can see various types of mammals such as rabbits, squirrels, various types of mice, and to a lesser extent coyotes, foxes or goats. Higher parts of the park are the habitat for mountain lions, mountain sheep, and deer.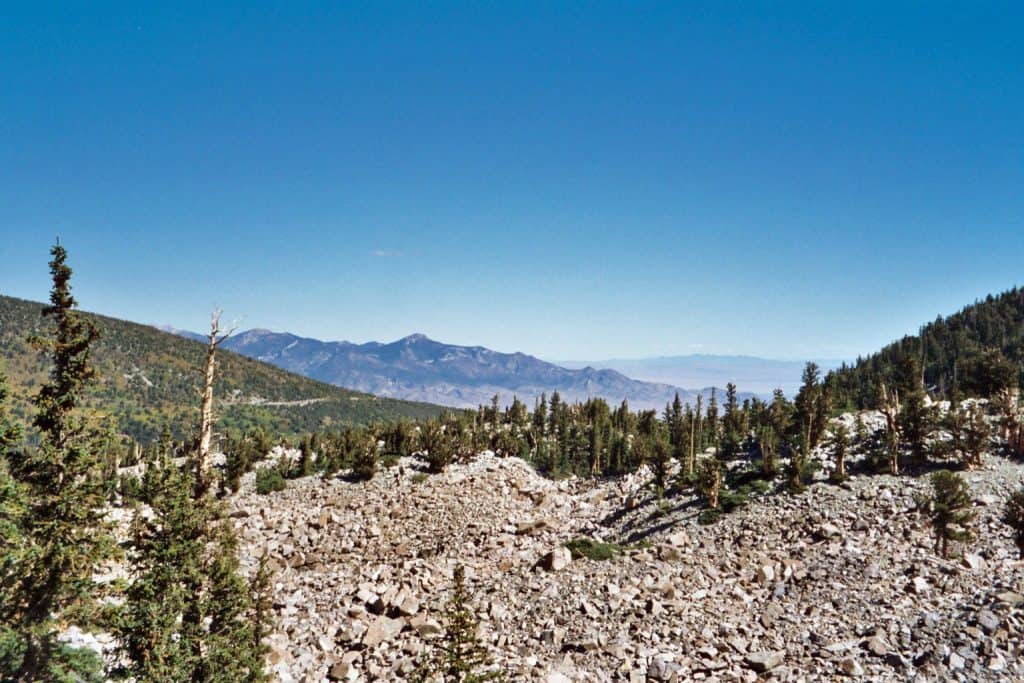 Hiking trails
The five-mile hike from the trailhead to the top of Wheeler is recommended only for experienced hikers. However, an easy/moderate 1.6-mile segment of the trail through quaking aspen and Engelmann spruce to the Bristlecone Forest is one that most people can manage.
Forks in the Wheeler Peak trail lead to Teresa and Stella Lakes, shallow bodies of water with fallen logs and rocks lining their shorelines. At Stella Lake, all but experienced hikers should turn back, since at higher elevations, sudden storms with snow, ice and 50 to 60 mph winds, can make ridge hiking in the Snake Range treacherous.
The Baker Creek trail follows the park's prettiest stream to Baker Lake, largest of the park's six lakes and the only one where you'll catch fish (rainbow and brown trout). Another trail at a lower elevation starts out gently along Snake Creek, then follows a steep jeep track to Johnson Lake.
The park's 60 or so miles of developed trails tell only part of the hiking story. There are also forest service trails and old roads, like a dirt track in the Baker Creek area, where few vehicles care to challenge the wash-outs.
How to get to Great Basin National Park
Great Basin National Park is within a mile or two of being located directly between Las Vegas and Salt Lake City but having stated that Las Vegas offers the most direct route. Within minutes from North Las Vegas, U.S. Highway 93 exits from Interstate 15 and proceeds north to the Majors Place junction.
Leave U.S. 93, also known as the loneliest highway in the United States, and travel east on U.S. Highways 6/50 for a few miles to the Baker, Nevada exit, or State Highway 487. Beyond Baker, State Highway 488 takes visitors into the park. From Salt Lake City, drive due west on Interstate 80 to Wendover, Nevada and then south on U.S. Highway Alt 93 past Ely and to the highway junction of Major's Place, and then simply follow the aforementioned directions.