Nevada's only designated National Park lies in the rugged and remote Great Basin of Northern Nevada. Its remoteness greatly reduces the crowds you often see in other Western National Parks, rest assured that there are plenty of things to do in Great Basin National Park!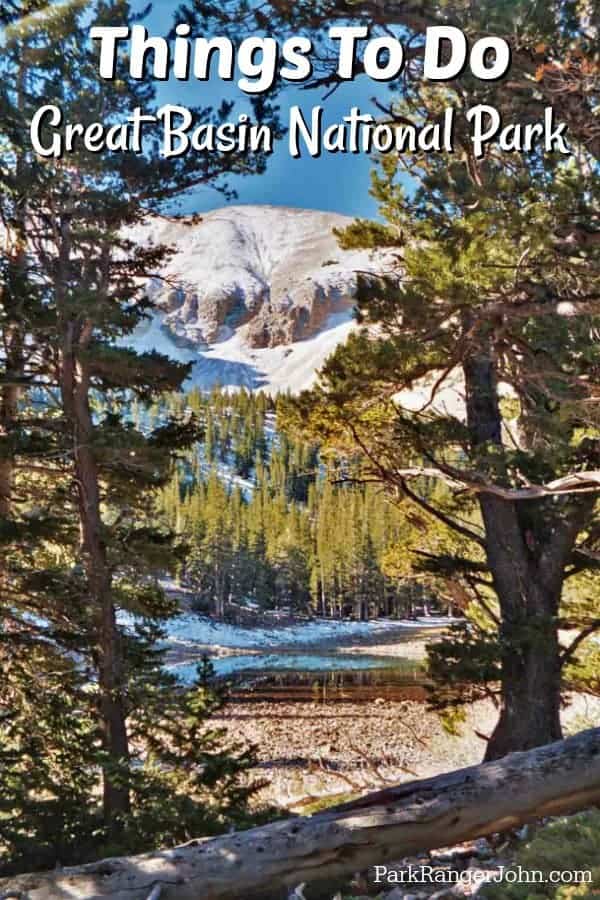 Things to know before your visit to Great Basin National Park
In 1922, President Harding proclaimed Lehman Caves a National Monument.
In 1986, Great Basin National Park was established and Lehman Caves National Monument was incorporated into the park
Entrance Fee: Great Basin National Park has no entrance fee but there is a per-person fee charged for all visitors on cave tours, camping fees, and an RV Sanitary Station Fee.
Time Zone
Great Basin is located in the Pacific Time Zone
Pet Rules
Pets must be kept on a leash 6 feet in length or shorter at all times.
Pets are not permitted in Lehman Caves or at evening programs.
Pets are not permitted on trails or in the backcountry of the park, except leashed pets on the Lexington Arch Trail or the trail between Baker and the Great Basin Visitor Center.
(There is only a dirt road to Lexington Arch that is rough and rutted. This requires a high clearance, a four-wheel drive vehicle, and advanced driving skills to reach the trailhead. Depending on the weather, the road can be impassable.)
Leashed pets can only be exercised in the campgrounds, in front of the visitor centers, and along roads.
Pet owners are required to immediately remove and properly dispose of fecal matter deposited by their pets. Deposit bags of fecal matter in a dumpster.
Pets may not be left unattended at campsites or tied to trees or other fixtures.
Park Hours
Great Basin National Park's grounds are open year-round to hiking, stargazing, and camping, and the park's visitor center's hours adjust to the season.
Where is Great Basin National Park?
Great Basin NP is located in east central Nevada near the town of Baker.
Estimated distance from major cities nearby
Baker, NV - 5 miles
Salt Lake City, UT - 234 miles
Cedar City, UT - 142 miles
Saint George, UT - 194 miles
Las Vegas, NV - 292 miles
Reno, NV - 383 miles
Fresno, CA - 685 miles
Boise, ID - 443 miles
National Park Passport Stamps
National Park Passport stamps can be found in the visitor center.
Make sure to bring your National Park Passport Book with you or we like to pack these circle stickers so we don't have to bring our entire book with us.
Great Basin NP is part of the 1989 Passport Stamp Set and the 2022 Passport Stamp Set.
Best time to visit Great Basin
Depending on the time of year you visit Great Basin NP you will experience a great place to see the oldest trees in the United States, the second tallest peak in Nevada, amazing wildlife, and so much more!
Winter
The winter is rather quiet in Great Basin National Park. For those who make the trip, you can snowshoe or ski to your heart's content and most likely not meet another person.
This does not mean that you will be completely alone, keep a lookout, and there's a good chance of seeing footprints in the snow of other animals who call this incredible park home.
If you are lucky you may see a paw print from the elusive mountain lions that call this park home.
Spring
Spring comes late at Great Basin as this is a high-elevation park. The majority of precipitation in this region comes in the form of snowfall and can last well into the spring. Services may be limited at this time due to snow still lingering in the high elevations but the sunny days of spring is very welcoming.
Summer
Summer is the ideal time to visit Great Basin. This is when most areas of the park will be open including the Wheeler Peak Scenic Drive and some of the iconic park hikes including the Bristlecone trail and Wheeler Peak trail. Of course, this also means that this will also be when most park visitors come to the park so expect to see crowds when exploring.
Fall
I personally love Great Basin in the fall! This is when there are smaller crowds, the fall colors come to life and wildlife is abundant! For those interested in the night sky, September brings a 3-day astronomy festival with events that include guest speakers, photo workshops, tours of the Great Basin Observatory (GBO), plus many more fun programs.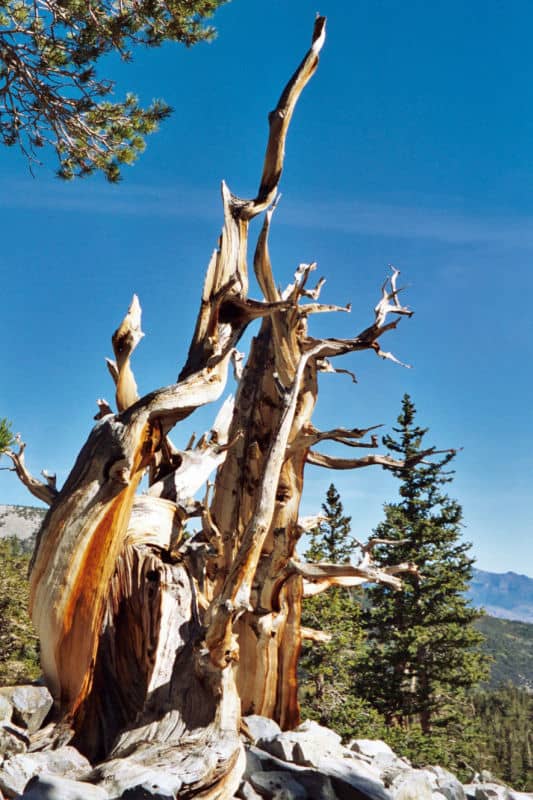 Things to do in Great Basin National Park
Most people have the impression that Nevada is nothing but a desert and have images conjured in their heads of Las Vegas, slot machines, and showgirls.
In reality, outside of Las Vegas and Reno, Nevada has very few residents with large open landmasses. In fact, 84.9% of Nevada is federal public lands where you can not only find desert, you can also find incredible lush forests, mountains, lakes, and even a glacier!
In my opinion, the pinnacle of Nevada is Great Basin National Park. This park is located in a very remote area of central Nevada and part of the adventure is just getting here.
Just remember that sometimes you find the best things in life on the road less traveled and Great Basin National Park is no exception.
The park sits on an area of great scenic beauty in the smaller half of the Humboldt-Toiyabe National Forest, in eastern and northern Nevada.
The forested slopes of the South Snake Range are comprised of a mountainous landscape. Wheeler Peak, the highest point of the range at 13,063 feet (3,982 meters), is perpetually covered with snow and ice.
Plan an early start and a full day to explore the park especially if it is your first time visiting.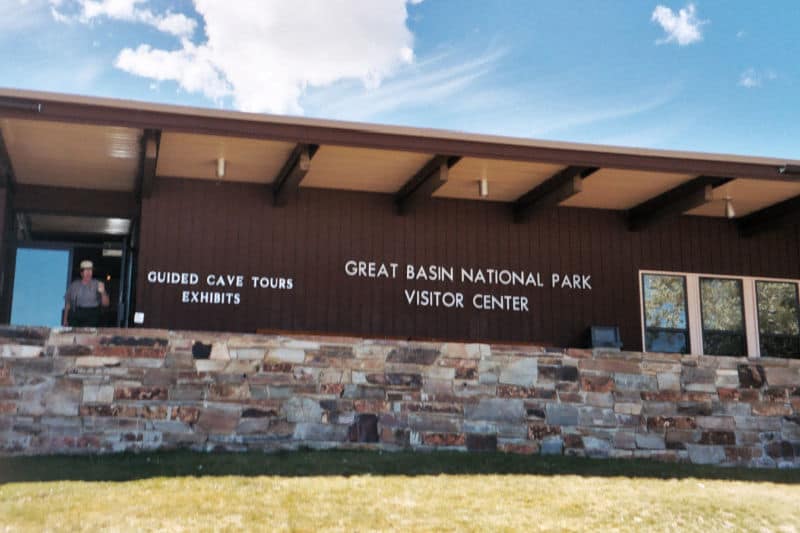 Visit Lehman Caves Visitor Center
The Lehman Caves Visitor Center is located 5.5 miles from Baker, Nevada. Here you can read interpretative displays, watch the park movie, and get tickets for Lehman Cave Tours.
This is a great time to get brochures and ask the rangers any last-minute questions you may have about weather forecasts, hiking trails, interpretative, night skies, and astronomy programs.
Inside the visitor center are a café and a gift shop. The café is open (May to mid-October) from 8:00 am to 3:00 pm (8 am - 3 pm Monday - Saturday), and closes for the winter. This is good to remember because there are limited services in the park as well as in Baker.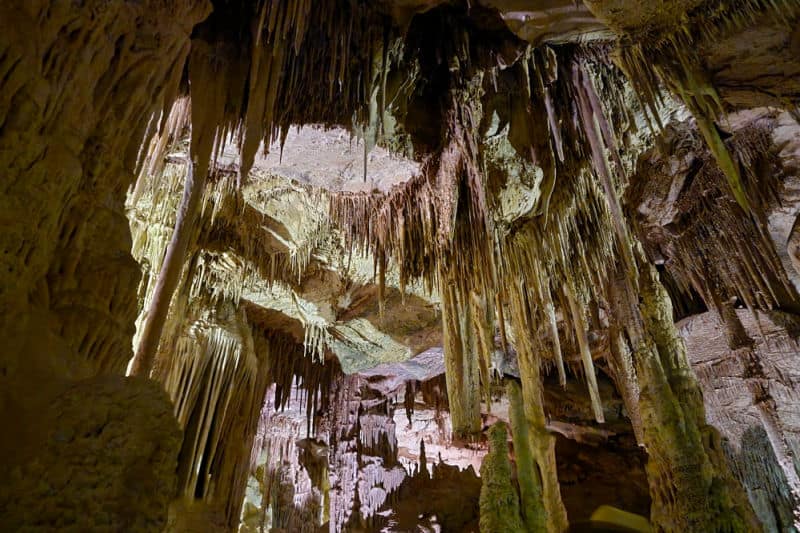 Lehman Cave Tours
Located directly behind the park's visitor center is the entrance to Lehman Cave. Be prepared as you can only enter this cave by a guided Lehman Caves tour and advance reservations are recommended. There is a small fee for the tour but I would highly recommend it for any first-time visitor.
There are three types of tours offered: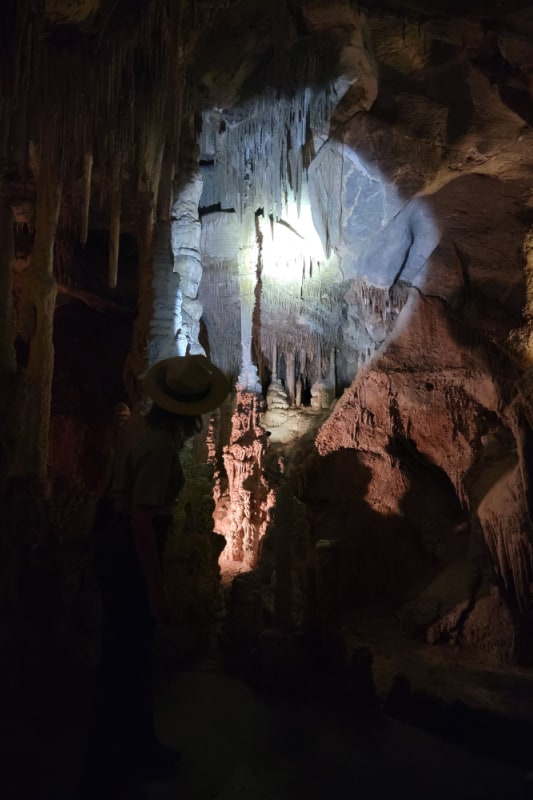 Gothic Palace-accessible.
This tour is 30 minutes, and .1 mile with no steps and is considered an accessible hike. This tour takes you into the first room of the cave (Gothic Palace) and is only 30 minutes of the regular Grand Palace Tour and is available for those unable to negotiate the stairs and narrow passageways of the tour route. It is limited to 5 individuals per tour. They cannot be booked in advance but please inquire about these at the Visitor Center.
Grand Palace Tour
The tour is 90 minutes, .54 miles long has 69 steps, and is considered a moderate hike. Park visitors will get to visit the Gothic Palace, the Music Room, the Lodge Room, the Inscription Room, and the Grand Palace sections of Lehman Caves, including a chance to view the famous Parachute Shield formation.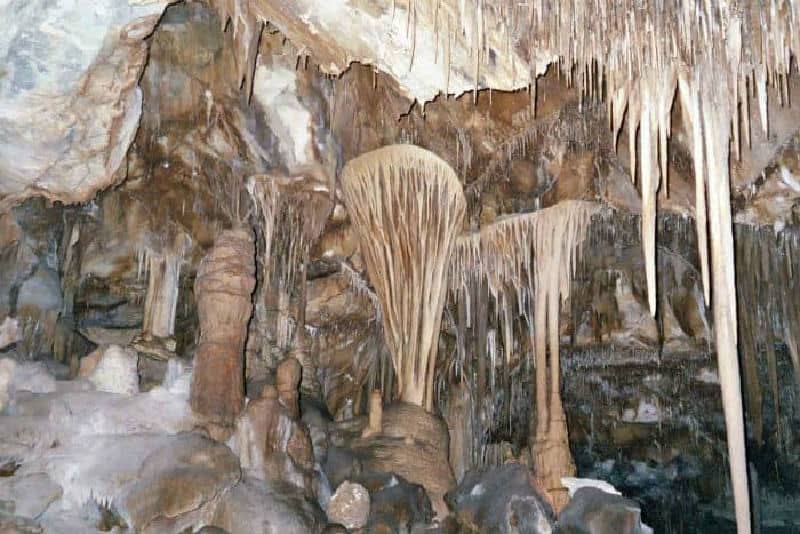 Lodge Room Tour
The tour is 60 minutes, .4 miles long has 69 steps, and is considered a moderate hike. This tour is ideal for families with young children. The Lodge Room Tour highlights the Gothic Palace, Music Room, and Lodge Room sections of Lehman Caves.
Lehman Caves has several formations including stalactites, stalagmites, helictites, flowstone, and popcorn. The real attraction is the 300-plus rare shield formations. Caves are very fragile ecosystems and visitors should not touch any of the formations and stay on designated paths. You will also be screened Park visitors will be screened for White Noise Syndrome which is a disease in bats that was only discovered in 2007.
The elevation at the cave entrance is 6,825 ft. The temperature in the cave stays a constant 50 degrees Fahrenheit year-round so a light jacket is recommended. It is recommended to wear shoes with good traction as trails may be wet and slippery. Children under 16 must be accompanied by an adult.
The only items visitors may bring in the cave with them are a hand-held camera, jacket, and flashlight. All other items, including purses, backpacks, strollers, tripods, camera bags, food, water, tobacco, gum, and pets are not allowed.
Park Ranger John Pro Tip
Did you know that Great Basin National Park has a cave system of 40 caves in the park? Great Basin has a Wild caving program where park visitors can, upon completion of a Wild Cave and Karst Management Plan, explore 7 wild caves that are open to recreational use in the Park under a permit system.
Make sure to check out the park's webpage for detailed information on the wild caving program.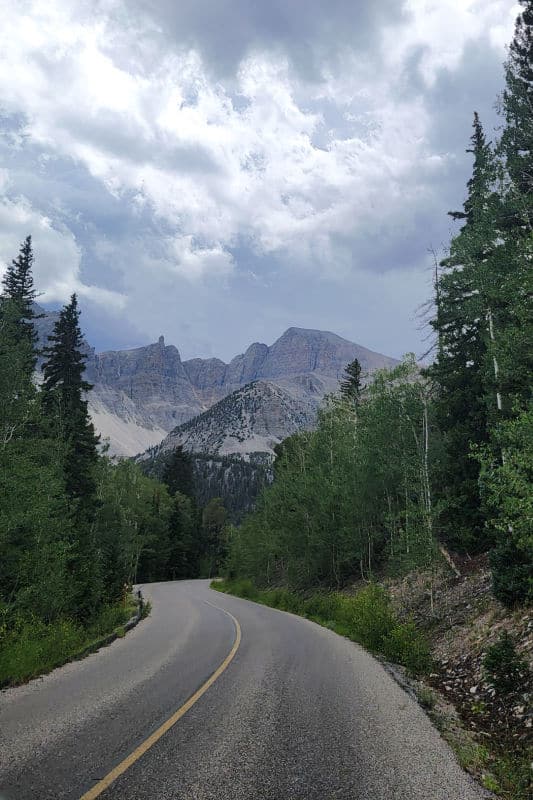 Wheeler Peak Scenic Drive
The Wheeler Peak Scenic Drive is a breathtaking 12-mile drive climbing 4,000 feet to the face of Wheeler peak at over 10,000 feet in elevation!
Along the way, you will have incredible views of the Great Basin, pass several plant communities, and potentially see lots of wildlife! I saw numerous mule deer, turkeys, and rabbits on my last trip up Wheeler Peak.
Don't miss the epic views from Wheeler Peak Overlook and Mather Overlook.
There are great interpretive signs at the overlooks that explain the diverse ecosystems within the park including alpine forest and how the trees and animals survive in such harsh conditions.
This scenic road is open seasonally depending on the amount of snow they receive. The road is typically open by Memorial Day Weekend. Vehicles and trailers over 24 feet in length are not permitted beyond the Upper Lehman Creek Campground (mile marker 3).
Explore the Great Basin National Park Night Sky
Not only is Great Basin an International Dark Sky Park, but it also has some of the darkest skies in the lower 48! This makes for excellent opportunities to go stargazing.
Many things can be seen with the naked eye or with a pair of binoculars including things like the Andromeda Galaxy, the milky way, stars, satellites, and more!
The reason for this is that the Great Basin area has some of the darkest night skies due to its low humidity, very little light pollution, and high elevation which creates an ideal opportunity to look into our universe.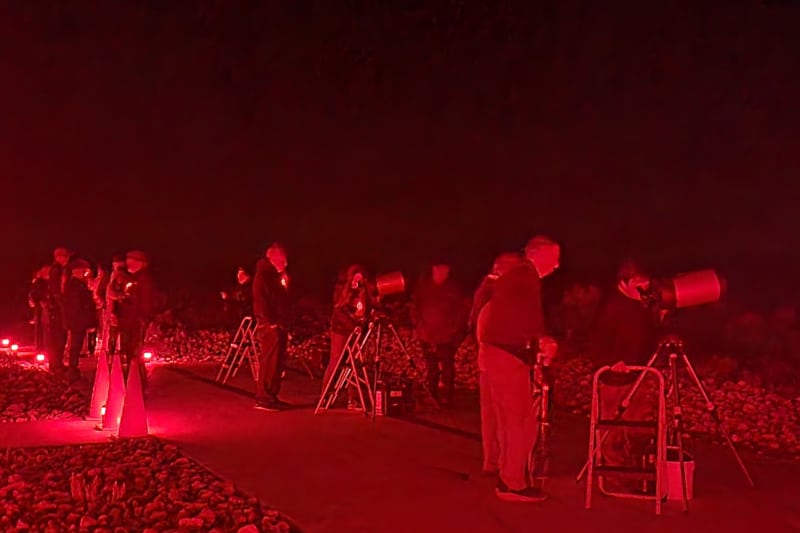 Ride the Great Basin Star Train
This is truly an unforgettable National Park Bucket List experience! The Star Train is located approximately one hour north of Great Basin National Park in the town of Ely Nevada.
The Nevada Northern Railway Museum operates several different train rides each year including a 90-minute train rides up toward the Ruth mine, pulled by a vintage locomotive, A Rock'n Rollin' Geology Train, A Haunted Ghost Train, Santa's reindeer flyer, the winter steam spectacular, and in cooperation with the National Park Service, the Star Train.
Once a month during the summer months, the Star Train takes off for an exclusive engagement where visitors get to talk with National Park Interpretative Rangers from Great Basin National Park about the night skies.
Rangers will test your knowledge of astronomy, and point out constellations, stars, planets, and even the milky way!
The highlight of the trip is stepping off the train onto a platform lit up with red lanterns with telescopes set up by the park rangers as visitors get to take their turn looking through them.
Before you know it, it will be time to board the train and head back to the Ely train station.
Check out our Great Basin Star Train trip report of our experience riding the train.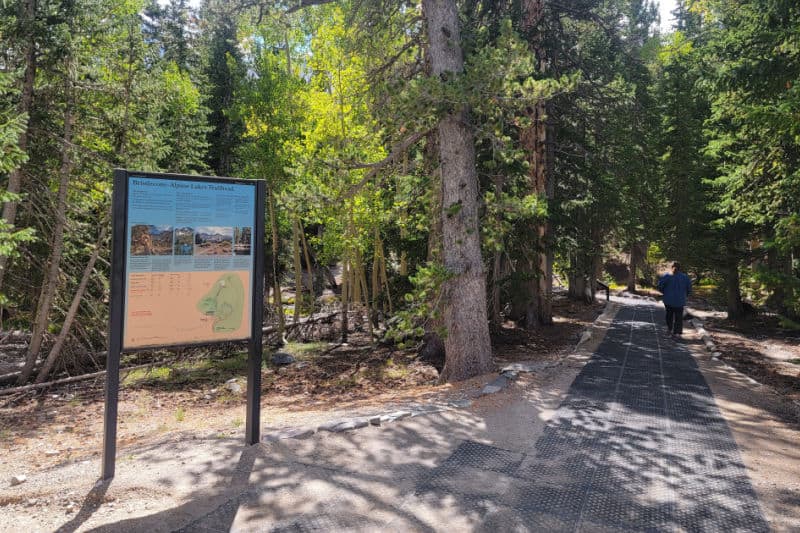 Great Basin National Park Hiking
There are several hiking trails to choose from in Great Basin National Park including the Mountain View Nature Tail, Sky Island Forest Trail, Alpine Lakes Loop, and Wheeler Peak.
Most of the hikes already start at higher elevations and visitors should take their time to avoid elevation sickness.
I decided to camp overnight to help myself get more acclimated to the elevation before taking on my personal favorite hike in the park, the Glacier Trail.
The Glacier Trail includes hiking to the Bristlecone Forest and offers so much of what Great Basin National Park has to offer!
On this hike, you get to see beautiful alpine lakes, ancient Bristlecone Pines (The major reason Great Basin became a National Park), incredible views of Great Basin, Teresa Lakes, and the only glacier in Nevada nestled below Wheeler Peak!
This hike is a 4.6 miles roundtrip out-and-back hike that starts off at 9800 feet in elevation and climbs 1,100 feet in elevation gain. This hike is not for the unprepared.
People in good physical condition will find this hike a challenge as elevation sickness is real and oxygen is harder to come by in high elevation. Be prepared to take extra breaks to catch your breath.
Enjoy the moment as the scenery is outstanding!
Bristlecone Pine trees are the oldest living things on earth living over 5000 years! They look tough, and rugged, and manage to live in some of the most severe living conditions in western forests between 5600'-11,200' in elevation.
You continue past the Bristlecone Pine forest to Nevada's only glacier at the base of Wheeler Peak. It is Nevada's second highest peak at 13063' and provides incredible views.
Make sure to bring plenty of water, check weather conditions, and be prepared for a high altitude hike!
Additional popular trails include the Stella Lake Trail, Baker Lake trail, Mountain View Nature Trail, and Sky Island Forest Trail.
Horseback Riding is allowed in the backcountry of Great Basin National Park. There are specific regulations for riding in the park including having certified weed-free hay.
Rock Climbing - the installation of climbing bolts, bolt hangers, pitons, and other permanent hardware is prohibited. Climbing is not permitted within 100 feet of any archeological, cultural, or historic site.
Make sure to check with the visitor center before heading out for current regulations.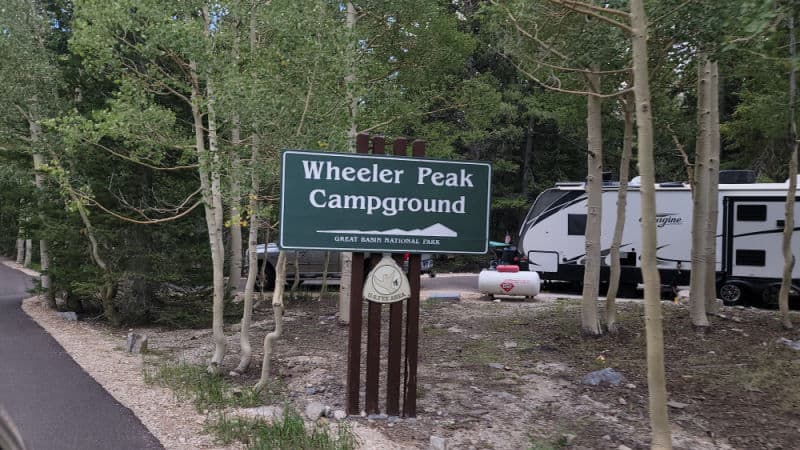 There are several campgrounds to choose from when you visit Great Basin National Park.
The Baker Creek Campground and the Grey Cliffs Campground (Group camping) are both located near the Lehman Caves Visitor Center.
There are also three campgrounds as you climb the 12-mile scenic Wheeler Peak Scenic Drive. including Lower Lehman Creek Campground, Upper Lehman Creek Campground, and Wheeler Peak Campground. I stayed at the Upper Lehman Creek Campground to help with acclimating to the elevation.
Picnic tables are available in each campsite. Camping in Great Basin is one of the best ways to truly experience this epic park!
For a fun adventure check out Escape Campervans. These campervans have built in beds, kitchen area with refrigerators, and more. You can have them fully set up with kitchen supplies, bedding, and other fun extras. They are painted with epic designs you can't miss!
Escape Campervans has offices in Vancouver, Seattle, Portland, San Francisco, Las Vegas, Los Angeles, Phoenix, Salt Lake City, Denver, Chicago, New York, and Orlando
Foraging for Pine Nuts
The singleaf pinyon (The only species of Pine Tree in the continent with single needles) is an abundant tree found in mixed stands with Utah juniper between 6,000 and 9,000 feet in elevation. The nuts produced by the singleleaf pinyons are amazing.
They have been an important staple for Native Americans and animals to survive. The pine nuts commonly purchased in gourmet food stores are typically those of the Colorado pinyon but the single-leaf pinyon nuts are just as good.
Fishing
Great Basin NP allows fishing but visitors must follow the fishing license requirements in accordance with the state of Nevada.
Popular fishing locations include Lehman Creek and Baker Creek. Fish include brook trout, brown trout, and rainbow trout.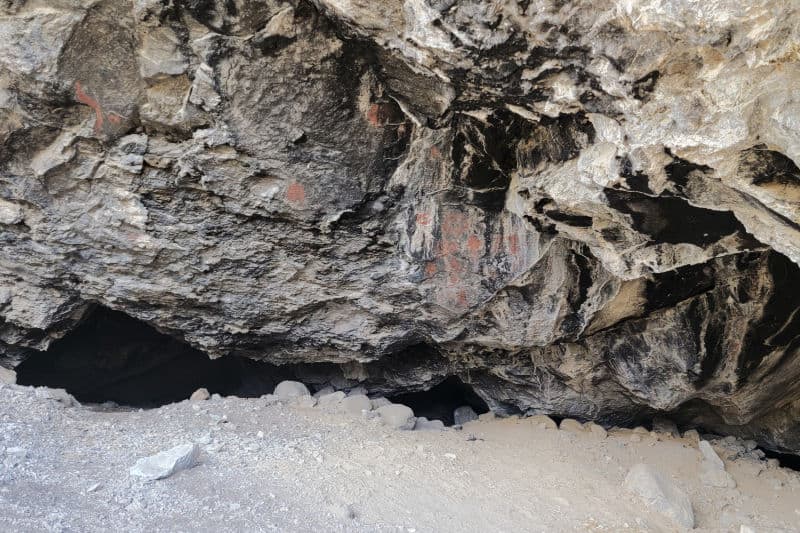 Great Basin Pictograph Caves
The Pictograph caves are easy to miss if you are not closely paying attention. To get there, leave the Leahman Caves Visitor Center and take a right onto Baker Creek Road (approximately ¼ mile past the visitor center).
Drive two miles until you see the sign for Grey Cliffs. Take a right, then another right when you come to the T in the road. The caves will be on the left-hand side of the road but you will need to pay attention and drive slowly.
Notice that you can walk up to the caves but are not allowed inside them. It's okay though, you can take good photographs standing outside the caves.
The pictographs depict people, animals, and abstract images. I have personally seen much nicer pictographs in the southwest so I wouldn't make this a priority on your trip unless you are really into rock art.
Where to stay when visiting Great Basin National Park
There are no National Park Lodges in Great Basin NP. There is lodging nearby in Baker, Nevada
The majority of lodging for Great Basin NP can be found in Ely, Nevada about an hour from the park.
La Quinta Inn & Suites by Wyndham Ely - We stayed in this hotel during our last visit to the park and it was great. Free continental breakfast, a free manager's reception, and a fireplace in the lobby. For some rest and relaxation, visit the hot tub. Stay connected with free in-room Wi-Fi, and guests can find other amenities such as a gym and a 24-hour business center.
Holiday Inn Express & Suites Ely - Free continental breakfast, laundry facilities, and a 24-hour gym are just a few of the amenities provided at Holiday Inn Express & Suites Ely, an IHG Hotel. Treat yourself to some rest and relaxation at Steam Room, the onsite spa. In addition to a 24-hour business center and a steam room, guests can connect to free in-room Wi-Fi.
Hotel Nevada - We stayed in this historic casino hotel during one of our trips to the park. It is definitely a historic hotel.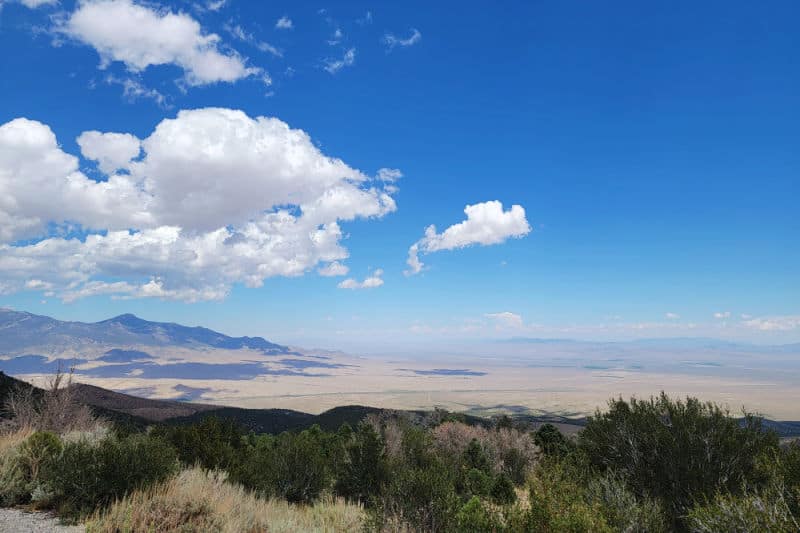 Additional information about Great Basin National Park
Great Basin National Park - Our epic guide includes everything you need to know to visit the best places in the park.
Great Basin National Park Camping Guide:
Great Basin Star Train
Great Basin is one of the least visited National Parks in the United States.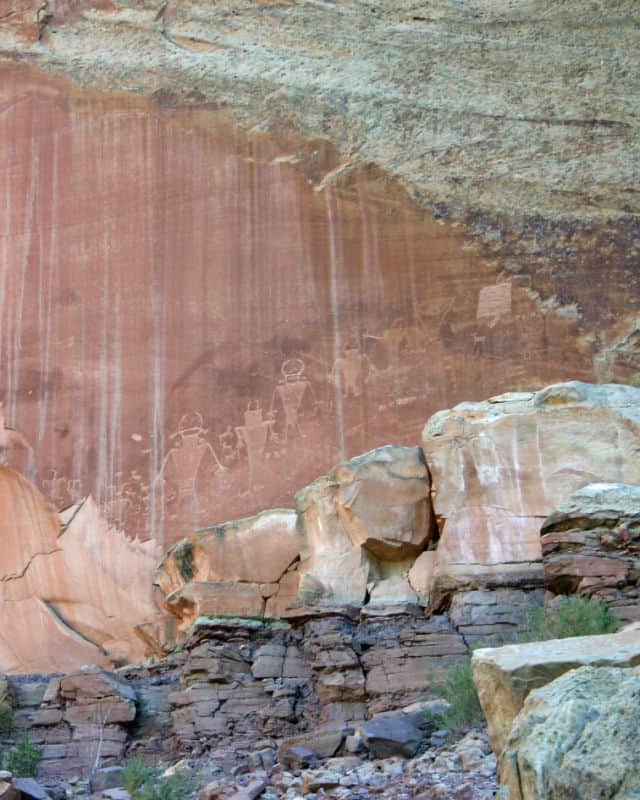 National Park sites near Great Basin National Park
Cedar Breaks National Monument (152 miles away)
Bryce Canyon National Park (188 miles away)
Zion National Park (196 miles away)
Timpanogos Cave National Monument (206 miles away)
Capitol Reef National Park (245 miles away)
Tule Springs Fossil Beds National Monument (319 miles away)
Lake Mead National Recreation Area (333 miles away)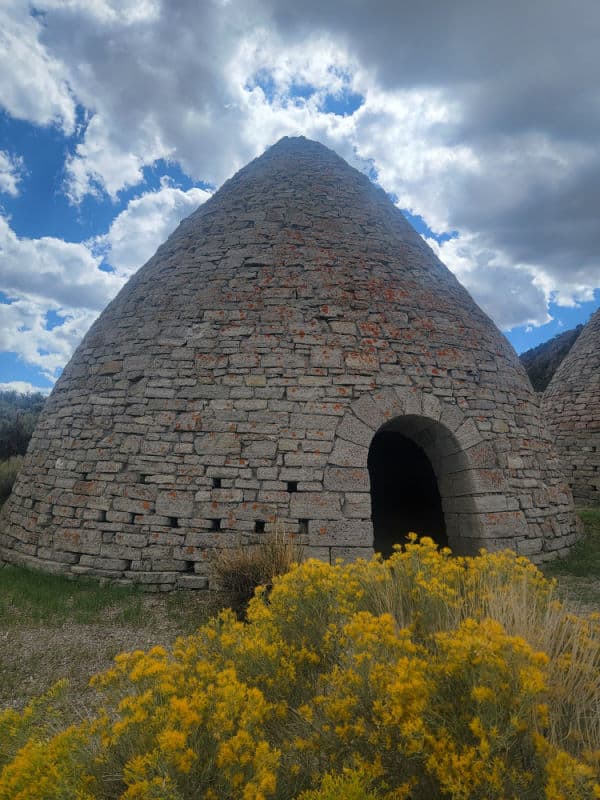 State Park Sites Near Great Basin National Park
Cave Lake State Park (Nevada) (62 miles)
Ward Charcoal Ovens State Historic Park (Nevada) (56 miles)
Antelope Island State Park (Utah) (286 miles)
Valley of Fire State Park (Nevada) (286 miles)
Goblin Valley State Park (Utah) (300 Miles)
Make sure to check out all of the Nevada National Parks along with neighboring National Parks in Oregon, National Parks in Idaho, Utah National Parks, California National Parks, and Arizona National Parks and make a National Park road trip!