The Silver Falls Loop Trail is an epic hike that takes you to the beautiful Silver Falls in the Ohanapecosh area of Mt. Rainier National Park, Washington.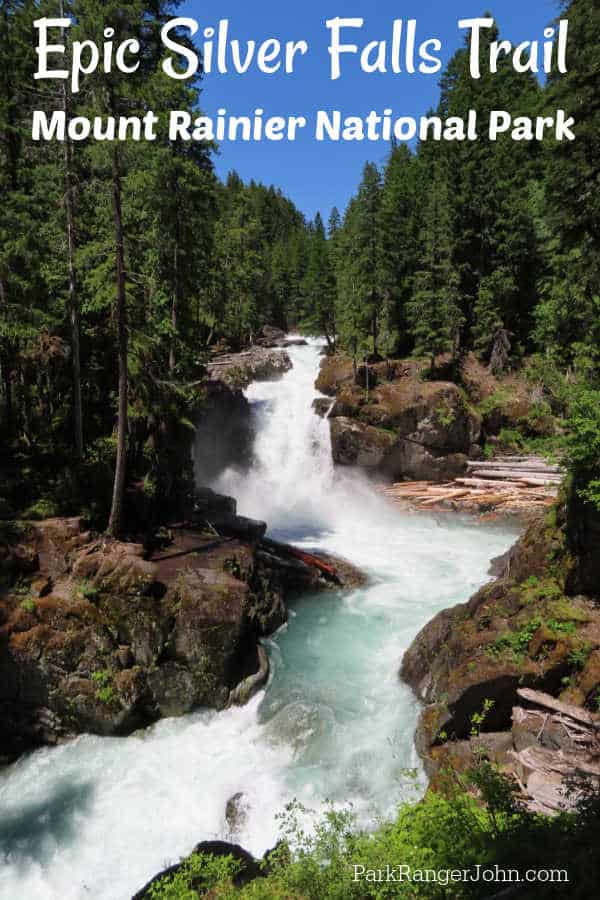 Silver Falls Loop Trail - Mount Rainier National Park
The views of Silver Falls are amazing, especially during June when the water level is high due to snowmelt.
This trail has the fun factor as there are several stops along the hike like the Ohanapecosh hot springs and crosses the Ohanapecosh River with a few bridges.
It is also very cool how many families make this hike together. If you need information or daily updates on the park, there is an Ohanapecosh Visitor Center before the trailhead.
I highly recommend this hike for someone looking to get adventurous and make some memories. It is one of our favorite Mt Rainier Hikes.
Planning a National Park vacation? America the Beautiful/National Park Pass covers entrance fees for an entire year to all US National Park Sites and over 2,000 Federal Recreation Fee Sites.
The park pass covers everyone in the car for per vehicle sites and for up to 4 adults for per-person sites.
Buy on REI.com and REI will donate 10% of pass proceeds to the National Forest Foundation, National Park Foundation and the U.S. Endowment for Forestry & Communities.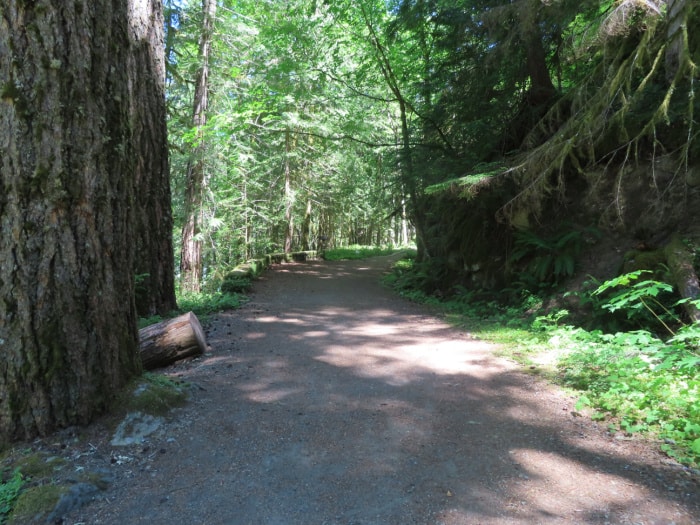 Where is Silver Falls Loop Trail?
If you are coming from the west, towards or from Packwood, Get on or continue on US Highway 12 towards the East. From Packwood continue East on US Highway 12 for about 8 miles then turn left onto Highway 123 then continue for about 3 miles until you see the sign for the Ohanapecosh Campground. Then turn left.
Coming from Yakima, travel on US Highway 12 West for about 67 miles. Then turn right on to State Route 123 and continue for about 3 miles. Then turn left into the Ohanapecosh Campground.

Hiking Silver Falls Loop Trail
Distance: 1.5 miles each way, 3.0 miles round trip, loop hike
Elevation Gain/Loss: Gain of 600 feet
Average Hiking Time: 90 minutes to 3 hours depending on the hiker's ability and photography choices.
Trail Difficulty: Medium, may be difficult for people with knee or back problems or other health conditions.
Restrooms Available at Trailhead: The Ohanapecosh campground and Visitor Center where the trailhead is does have restrooms.
ADA Accessibility: This trail is not ADA accessible
Pets Allowed?: Pets are not allowed on this trail or on any of the trails in Mt. Rainier National Park
Parking Area: There is a small parking lot at the trailhead in the Ohanapecosh Campground by the visitor Center. A second option is parking at the Grove of the Patriarchs Trail. To find the trail just cross Stevens Canyon Road and look for the trail leading into the forest. You will be on the East Side Trail, just follow for a ½ mile to get to the Silver Falls loop trail.
Best time to hike this trail: The best time to hike the Silver Falls Trail is between May and September when the snow is clear of the trail.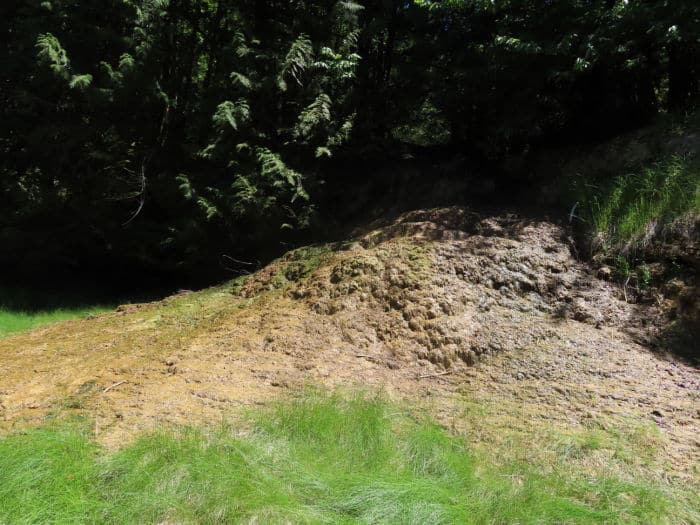 The first 1/10 mile is a self-guided interpretative trail with interpretative signs explaining Mount Rainier's ecosystem. A short distance afterward, the trail runs through a thermal area.
The first half of this trail is also slightly uphill most of the way but not too strenuous. This means the second half is downhill making for an easy second-half hike.
This trail has several places where the trail crosses a bridge to walk over streams feeding into the Ohanapecosh River. Several of these bridges make great photo opportunities!
There will be a fork in the trail when you get close to Silver Falls, make sure to take the trail to the right to the falls. If you accidentally take a left, you will end up on the Eastside trail and find yourself at the Grove of the Patriarchs Trailhead.
There are different distances depending on if you finish the whole loop or if you just travel to the falls and back. The whole loop is around 2.5 miles.
If you start from one side nearest to the ranger station it will be 1.1 miles to the falls. Leaving from the other trailhead on the other side of the bridge will be about 1.4 miles.
The second part of the river trail goes through beautiful large stands of old-growth forest including Douglas Fir, Western Red Cedar, and Western Hemlock making for a great hike through the forest.
There are other trails that the Silver Falls Trail connects to so keep an eye out for trail signs so you do not get on the wrong trail.
Silver Falls Loop Trail has some rigid inclines. It also includes many rocky spots and places with exposed roots.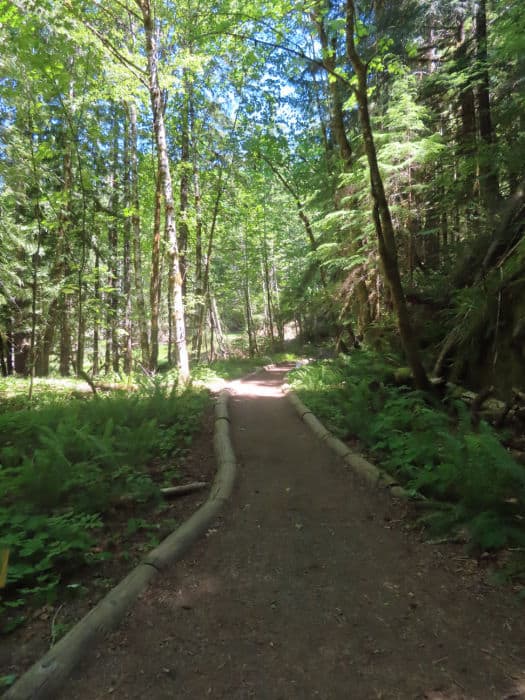 Trail Safety
Always keep an eye for wildlife while walking this trail. Bears, deer, and other wildlife live inside of Mt. Rainier so it is possible to run into one.
Always practice bear safety including making noise when hiking, don't hike alone, and carrying bear spray if possible. Make sure to watch your step since this trail is uneven in many places.
Stay off of the moss-covered rocks by the falls! They are extremely slippery and visitors have lost their lives on them, please do not risk your personal safety!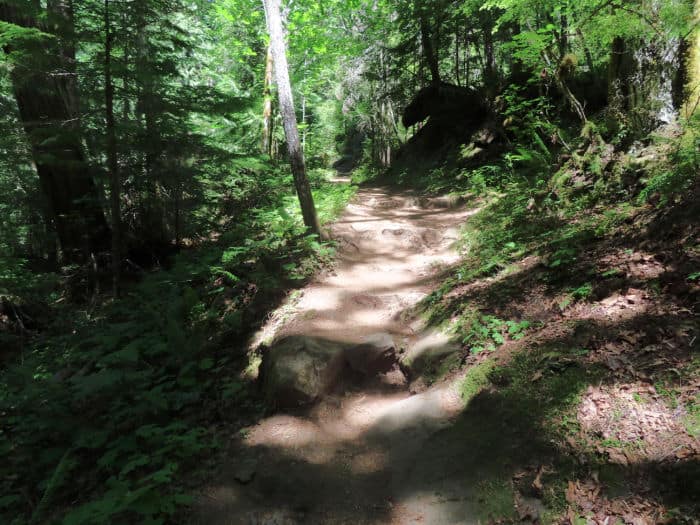 What to bring?
Water: you will need water to prevent dehydration. Always carry the Ten Essentials for Outdoor Survival with you when you are going for a hike outdoors.
Hiking poles: Hiking poles help reduce stress off of your joints like your knees when you hike the inclines on this hike. Hiking poles also give you extra stability whenever walking in poor trail conditions like around trails that can have moisture/mist on them like from waterfalls as rocks, sticks, etc. become very slippery when wet.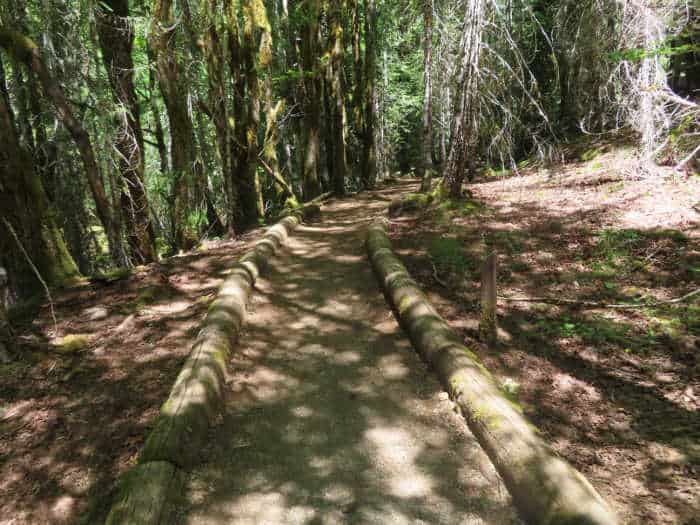 Nearby Attractions
There are several nearby attractions to Silver Falls and Ohanapecosh. First and foremost, make sure to hike the Grove of the Patriarchs! also if you have time, make sure to drive up to Tipsoo Lake. This short loop trail has incredible wildflowers in the summer as well as breathtaking views of Mount Rainier, something you can't see from the Silver Falls Trail.
Paradise is a visitor favorite! There is beautiful views along the way from Ohanapecosh, especially Reflection Lake. My experience has been the best time to see the reflection is early morning so set your alarm and arrive early! Trust me, it's worth getting up for.

Lodging in Mount Rainier
Lodging near Mount Rainier NP
Lodging near Mount Rainier can be found in Ashford, Packwood, and Buckley. Farther away from the park there is lodging in Enumclaw and Puyallup.
Alexander's Lodge - 3-star historic hotel in the mountains. Alexander's Lodge provides amenities like free continental breakfast and a garden. Stay connected with free in-room Wi-Fi.
Alta Crystal Resort - Enjoy a a firepit, an outdoor entertainment area, and a hot tub at Alta Crystal Resort. Guests can connect to free in-room Wi-Fi.
Packwood Lodge - amenities include a garden and a fireplace in the lobby. Guests can connect to free in-room Wi-Fi.
Nisqually Lodge - Nisqually Lodge provides amenities like free continental breakfast and laundry facilities. Guests can connect to free Wi-Fi in public areas.
Whittaker's Motel & Historic Bunkhouse - You can look forward to a terrace, a coffee shop/café, and a garden at Whittaker's Motel & Historic Bunkhouse. Stay connected with free in-room Wi-Fi.
Crest Trail Lodge - Crest Trail Lodge provides free breakfast and more. Guests can connect to free Wi-Fi in public areas.
Econo Lodge Buckley - Take advantage of a garden, a library, and laundry facilities at Econo Lodge Buckley. Free in-room Wi-Fi and a fireplace in the lobby are available to all guests.
Best Western Premier Plaza Hotel - Puyallup - Take advantage of free to-go breakfast, a grocery/convenience store, and a terrace at Best Western Premier Plaza Hotel & Conference Center. Free in-room Wi-Fi is available to all guests, along with dry cleaning/laundry services and a bar.
Click on the map below for additional vacation rental and lodging options near the park.

Campgrounds in Mount Rainier
For a fun adventure check out Escape Campervans. These campervans have built in beds, kitchen area with refrigerators, and more. You can have them fully set up with kitchen supplies, bedding, and other fun extras. They are painted with epic designs you can't miss!
Escape Campervans has offices in Vancouver, Seattle, Portland, San Francisco, Las Vegas, Los Angeles, Phoenix, Salt Lake City, Denver, Chicago, New York, and Orlando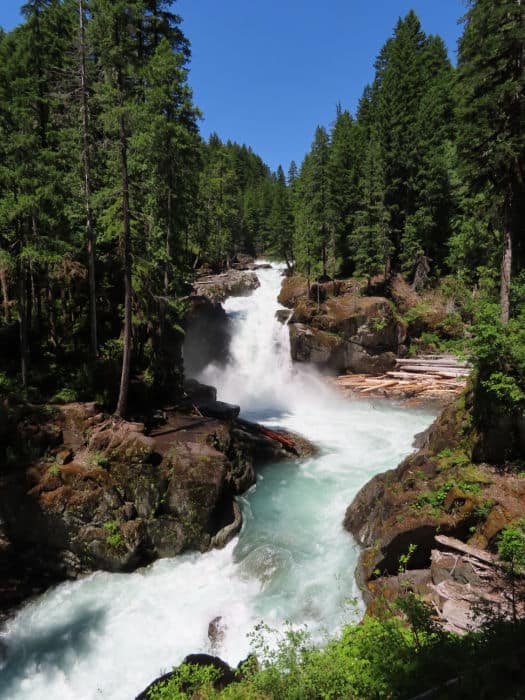 Additional Mount Rainier Resources
La Wis Wis Campground - Just outside Mount Rainier National Park near Ohanapecosh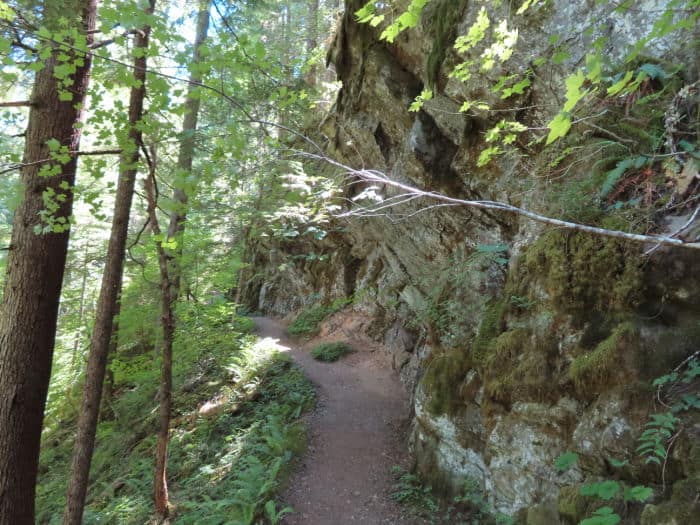 Check out all of the National Parks in Washington along with neighboring Oregon National Parks, and Idaho National Parks.