Epic Guide to Paradise, Mt Rainier National Park in Washington. Find out all of the places you will want to visit during a trip to Paradise!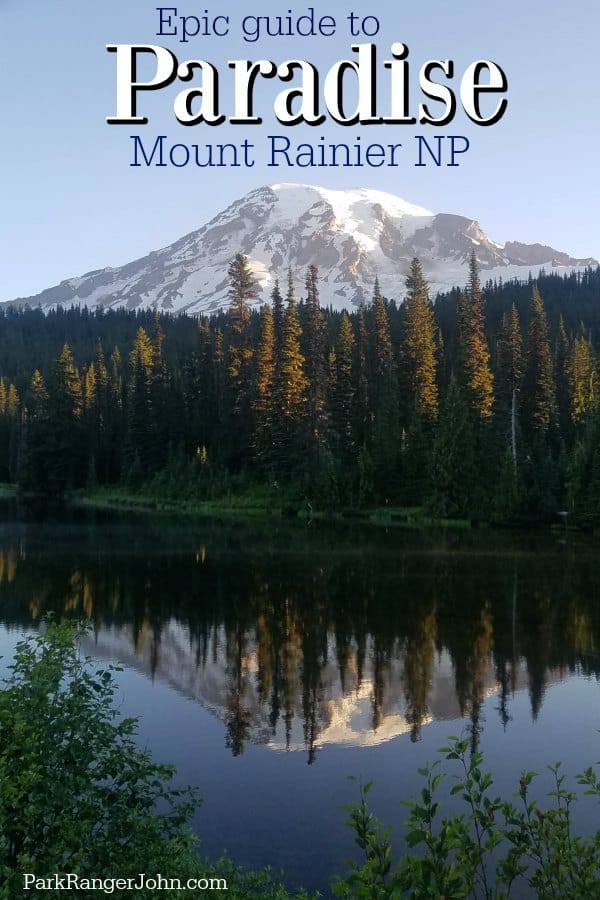 Epic Guide to Paradise - Mt Rainier National Park
Paradise is the most heavily visited area within the park for good reason. World-famous for its views and wildflower meadows.
In summer it can get a bit crazy to find a parking spot in this area. Be prepared to wait a bit or arrive early! There are great hiking options from this part of the park.
The main visitor center is located here and has a great view of the mountain.
Rising 14,410 feet above sea level, Mount Rainier, the king of the Cascade Range in western Washington, is a striking peak. Guarded by steep valleys and silt-filled rivers, the mighty volcano - with its sharp, pyramidal summit, broad snowfields, and deep glaciers - towers over a trackless and beautiful landscape.
Since 1899, Mount Rainier National Park, an enormous tract of 235,625 wild acres, has welcomed climbers, hikers, adventurers and tourists from around the world. According to National Park Service information, over 2.3 million people visit the park every year. Making it one of the most visited National Parks in the United States.
It's easy to explain this growing popularity: There's something for everyone at Mount Rainier. RV enthusiasts and car-campers choose from several front country campgrounds, while backpackers travel the park's extensive trail network in search of the perfect backcountry spot.
Sightseers gawk at the mighty peak from roadside pull-offs, day-hikers climb well-maintained trails to find an even better view, and for the photographer, Mount Rainier is a paradise unlike any other.
Park visitors can expect to find outdoor adventure, stunning scenery, and a wide variety of things to do.
Paradise is a National Historic Landmark District along with the Paradise Inn.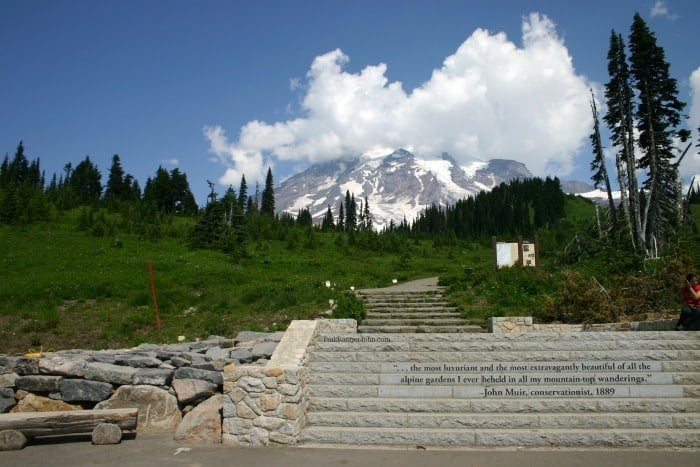 How high is paradise on Mt. Rainier?
Paradise sits at an elevation of 5,400 feet.
Where is Paradise - Mt. Rainier?
Paradise is located 19 miles (30 km) east of the Nisqually Entrance and 12 miles (19 km) east of Longmire.
How far is Seattle from Paradise, Mount Rainier?
Seattle is just over 100 miles from Paradise. You should plan for a minimum of a 2 and a half-hour drive if not more depending on traffic.
How far is Sea-Tac airport from Paradise?
Sea-Tac airport is about 100 miles from Paradise depending on which road you take to reach the park.
Plan for a minimum of 2.5 hours depending on traffic.
Fair warning Seattle/Tacoma traffic is not for the faint of heart. You could sail down I-5 or end up sitting for 4 hours it really just depends on the day.
How far is Portland, Oregon from Paradise?
Portland is approximately 156 miles from Paradise via I-5 and Highway 12.
You can plan for the drive to take a minimum of 3 hours.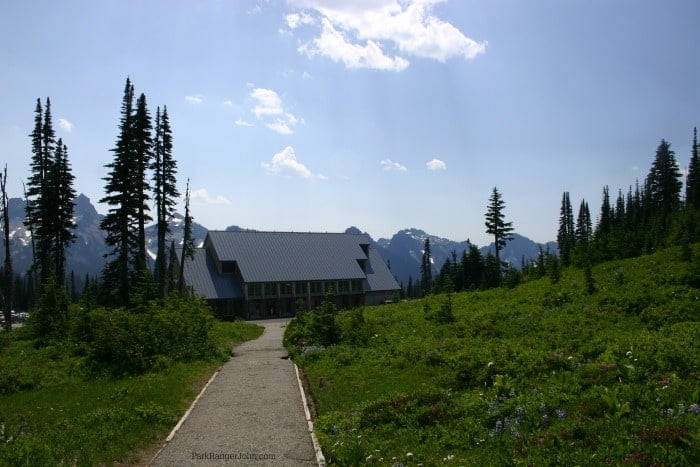 Mt Rainier Paradise Visitor Center
Henry M Jackson Memorial Visitor Center at Paradise opened in 2008 and is gorgeous! The visitor center has a great gift shop, a small theater that shows the park film, great geologic, and climbing exhibits.
The visitor center is usually open daily from May to early October.
From mid-October through April, it is usually open only on weekends and holidays.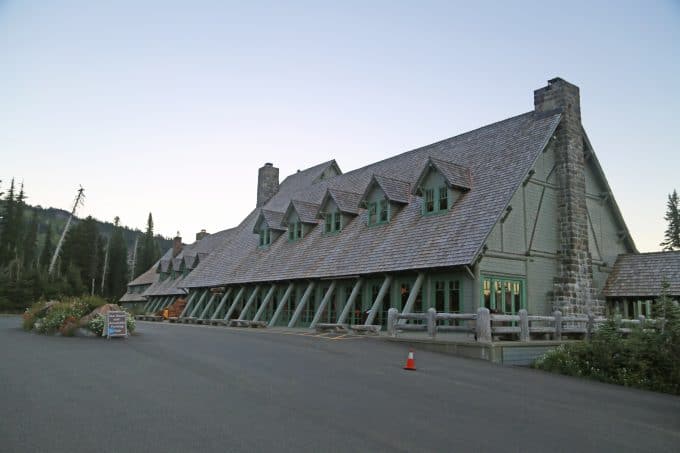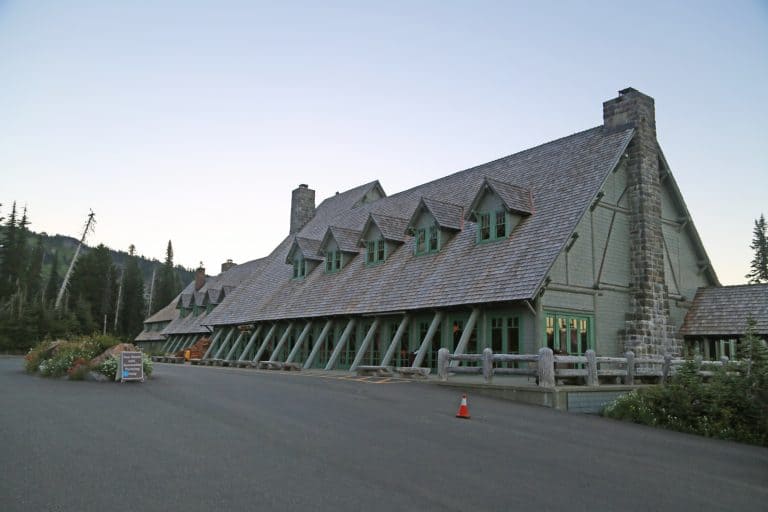 The historic Paradise Inn is located at Paradise Mt Rainier and offers the chance to wake up and walk right out to a trail. There is a great gift shop, restaurant, and amazing lobby within the lobby,
They offer amazing ranger programs in the lobby frequently during the summer.
The National Park Inn is located in the Longmire District near the Nisqually entrance.

Guide House
The Guide House houses the Paradise Climbing Information Center, where visitors can obtain climbing permits and hiking and backcountry camping information.
The Guide House was built in 1920. Most of the 10,000 people that hope to climb to the summit of Mount Rainier start their quest at the Guide House.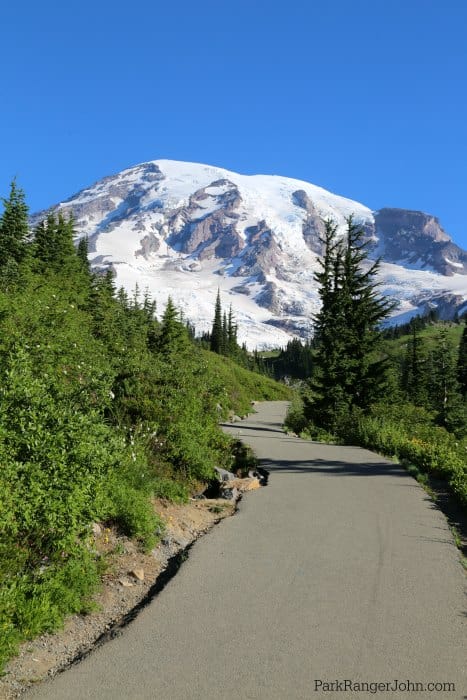 There are quite a few hiking trails near Paradise at Mount Rainier NP. One thing to know is bikes and pets are not allowed on any trails.
Depending on when you are planning your hiking trip you will want to be prepared for snow or to change plans depending on trail conditions. Even late in June many of the trails may be closed due to trail conditions.
Don't forget to bring the Ten Essentials with you.
Bench & Snow Lakes Trail (2.4 mi/3.7 km)
Pinnacle Peak (2.6 mi/4.2 km)
Nisqually Vista Trail (1.2 mi/1.9 km) - Views of the Nisqually Glacier. This great trail is a paved wheelchair-accessible trail.
Skyline Trail to Myrtle Falls (1 mi/1.6 km) - Wheelchair accessible with assistance.
Deadhorse Creek Trail & Morraine Trail (2.5 mi/4 km) - Glacier views.
Alta Vista Trail (1.7 mi/2.7 km) - Wildflower viewing.
Check out our Mt. Rainier Hiking Guide for more amazing hiking options.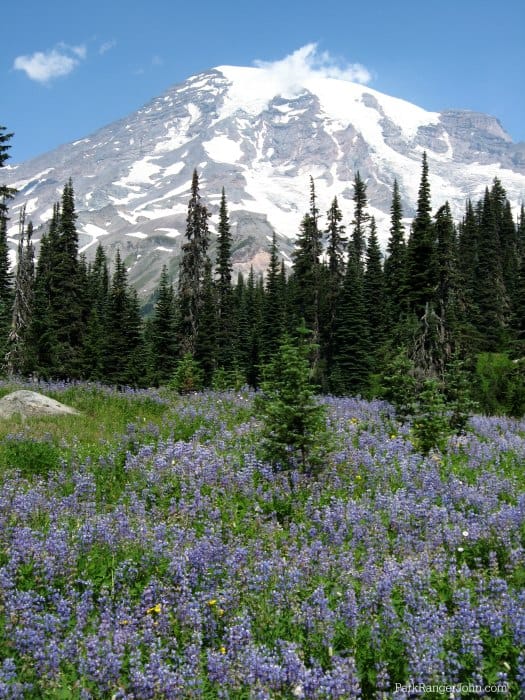 Wildflowers
Famous conservationist John Muir stated about Mt. Rainier National Park "The most luxuriant and the most extravagantly beautiful of all the alpine gardens I ever beheld in all my mountain-top wanderings."
It's easy to see why once you have seen the alpine meadows in full bloom with wildflowers everywhere after the snow has melted.
The best place to see these wildflowers is going to the Paradise Visitor Center. From here you can take several trails with wildflowers everywhere including Bear Grass, Avalanche Lilies, Indian Paintbrush, and my favorite Huckleberries just to name a few.
Paradise Visitor Center leads to one of the most memorable hikes I have ever taken. The Skyline trail is absolutely breathtaking!
There are waterfalls, wildflowers, incredible mountain views, streams, and on a clear day you can see Mt. Adams, Mt. St. Helens and Mt. Hood all at once! Hikers can also be seen on the snowmaking their way to Camp Muir and then towards the summit.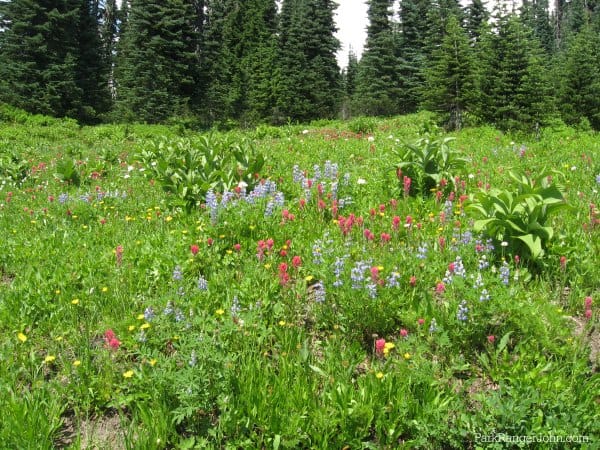 When do the wildflowers at Mount Rainier bloom?
Most years, many flowers will be blooming by mid-July, and by the first of August, the wildflower meadows should be very impressive.
We love this wildflower of Mt. Rainier book for identifying wildflowers.

One of the most famous views of Mt. Rainier is Reflection Lake. On a calm day, you can see the mountain as well as the reflection of the mountain on the lake hence its name. There are also nice hiking trails in this area with Huckleberries alongside!
For those not from the northwest and unfamiliar with huckleberries you need to find a local store and try them out. You can find ice cream, jellies, pies, and we even saw a huckleberry margarita!
Paradise to Reflection Lake - Drive 3 miles (4.8 km) east of Paradise on Stevens Canyon Road
Inspiration Point
Just east of Paradise Valley Road on Stevens Canyon Road, this large pullout offers spectacular views of Mount Rainier and the Tatoosh Range.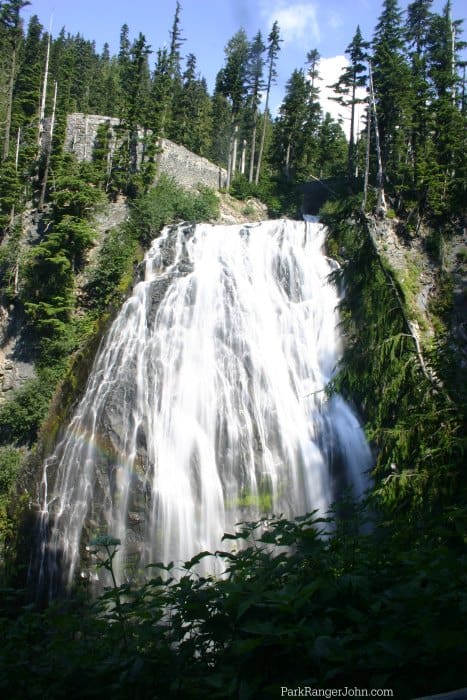 Narada Falls is located on the road from Longmire to Paradise, just one mile west of the entrance to the Paradise area.
The falls are 176 feet high and worth visiting. The trail can be wet so you want to be prepared for it to be slippery.
There are steps and some uneven portions of the trail so you may want hiking poles.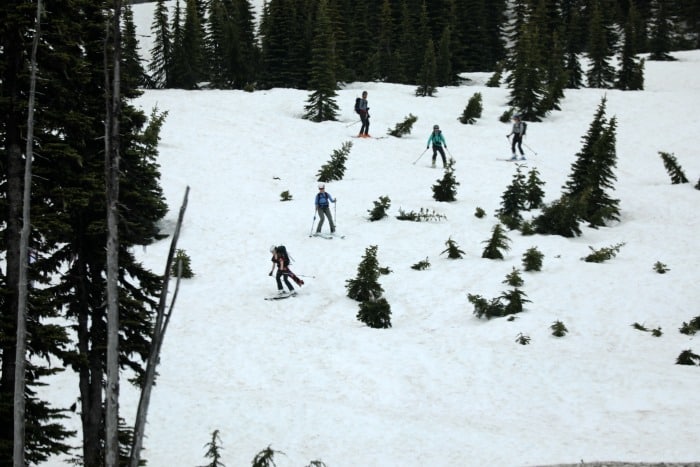 Winter at Paradise Mt. Rainier
Winter is no joke at Paradise! This area averages nearly 700 inches of snowfall per year. The road to Paradise from Longmire is open year-round. All drivers traveling the road from November 1 to May 1 are required to carry tire chains.
The road is occasionally closed due to heavy winter weather. You will want to check the current Road Status for updated information about park roads.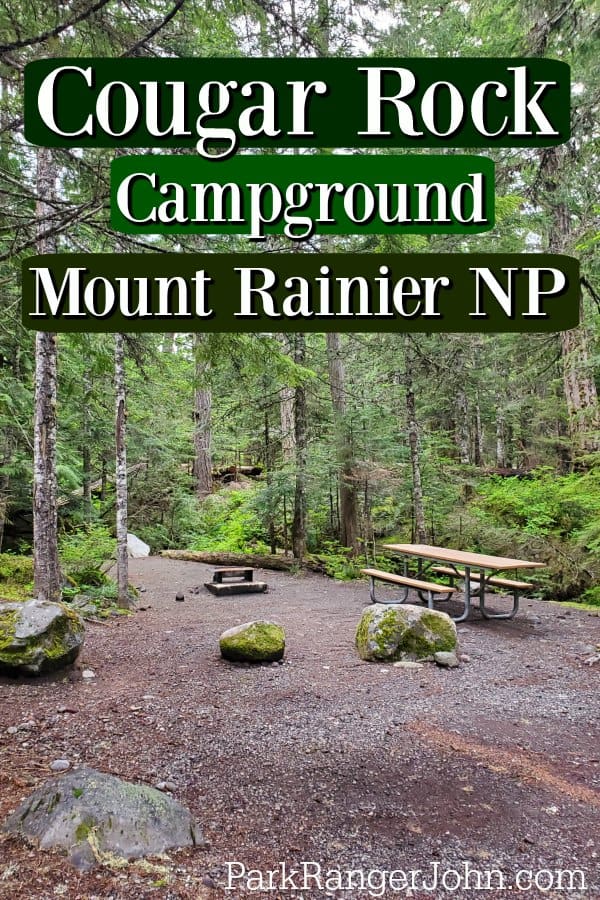 The park is only a couple of hours from Seattle and Portland, so Mount Rainier makes for an easy weekend camping trip. The nearest campground is located seven miles west at Cougar Rock Campground.
Check out our Mt. Rainier Camping Guide to see all of the camping options within the park.
Mount Rainier's myriad backcountry campsites are only accessible via a hiking trail. A permit is required for all backcountry sites; permits are available at Longmire, Paradise, Ohanapecosh, White River, Sunrise, and Carbon River.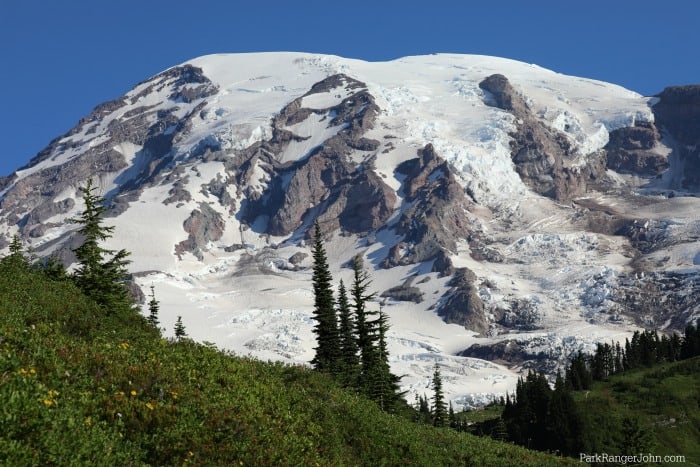 Paradise Webcam Mt. Rainier
You can check out the great Paradise Mt Rainier Webcams to have an idea of what the park looks like before you get there.
Paradise Area
Mountain
East
West
Visitor Center
Tatoosh
Air Quality
What to bring with you
Pack layers of clothes! You never know what the weather is going to do at Mt. Rainier.
Water Bottle
Snacks
Camera
Bug Spray - Especially if you plan to be near Reflection Lake or in a campground. We try to pre-spray our clothes with permethrin spray so we have bug spray always on.
Travel Tips
The park is open year-round via the Nisqually entrance for the most part. There are weather conditions that do close the park at times.
The closest airport access is Sea-Tac airport. You can also fly into Portland and drive into Washington but it is not quite as close.
Pets must be on a leash at all times. Pets are not permitted on trails, on the snow or in the wilderness.
Climbing permits are required for all climbs over 10,000 feet and all glacier hikes.
Be prepared for the weather at any time. The Pacific Northwest is known for rain for a reason. Most of the time the trails are snow-free from Mid-July to September but there is no guarantee it won't snow at any time during the year.
Cell phone service can be spotty in the park. Be prepared with a map and GPS so you don't have to rely on your phone service.
See the current Road Status for updated information about park roads.
Paradise Mt. Rainier Map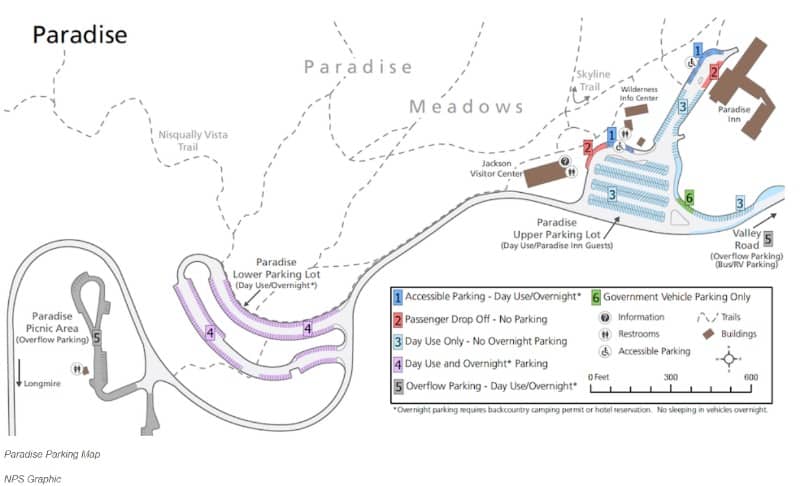 Additional Resources
Top things to do Mount Rainier National Park - All the things you don't want to miss while in the park.
National Parks in Washington - Check out all of the parks you can visit in Washington
Most Visited National Park Sites - Find out if Mount Rainier made it on the most visited national parks list.
National Park Bucket List - How many bucket list national park adventures have you taken?