The Narada Falls Trail is a short trail leading you to the beautiful, 170-foot falls in the Paradise area of Mt. Rainier National Park. In mid-June, you can see the falls plummeting due to all the snowmelt, which is the best time to go in my opinion.
The trail also has an amazing overlook view at the very bottom to be able to see and photograph the falls. There is also an upper overlook near the parking lot as well as the nearly 100-year-old bridge that crosses the river you can check out.
You are definitely going to want to stop by if you visit Mt. Rainier!! It is utterly amazing!!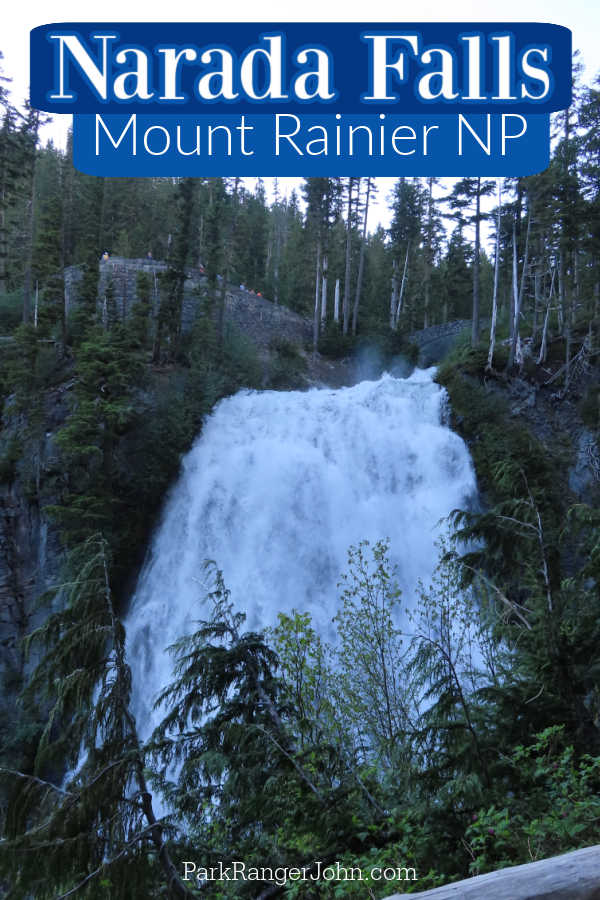 Narada Falls - Mount Rainier National Park
Distance: 0.4-mile round trip, In and out
The trail continues to the Wonderland Trail, Paradise River Camp, and Longmire
Elevation Gain/Loss: 200 feet
Time: 30 minutes – 1 hour depending on the skill level of the hiker or the time spent photographing.
Difficulty: Easy to medium for most people. Coming back is mostly all uphill. It all depends on the skill of the hiker and if the hiker has back knee, or other health conditions.
Restrooms: There are restrooms across the bridge where you begin the hike.
Accessibility: Not ADA Accessible
Pets: No pets are allowed on this trail or any other trails inside Mt. Rainier National Park.
Parking: Narada Falls Parking area/ Rest area and the upper falls pullout.
Water Source: Paradise River, The Paradise River plunges 168 feet over an andesite lava flow to the valley floor.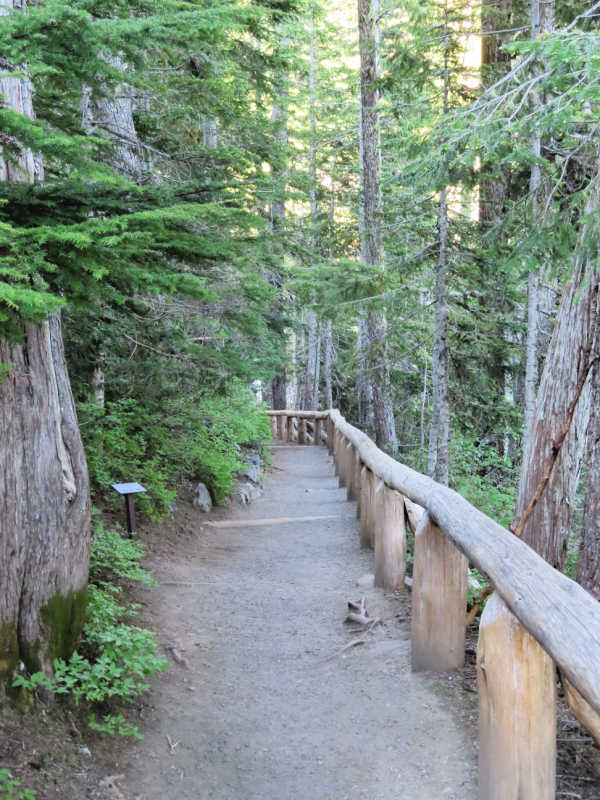 Where is Narada Falls?
Coming from the Nisqually Entrance, Follow Paradise Road East/Paradise Valley Road. From the entrance, it will be a 14.7-mile drive. Once you reach Rick Seeker Point you will be 2 miles away and Narada falls will be on your right.
From the Ohanapecosh Campground, take a right out of the campground and travel on State Route 123. Travel 1.8 miles and turn left onto Stevens Canyon Road. Once on Stevens Canyon Road, travel it for 19 miles passing by Reflection Lake on the way. After that, you will turn left onto Paradise Road East/Paradise Valley Road and travel it for 0.8 miles. Narada Falls will then be on your left.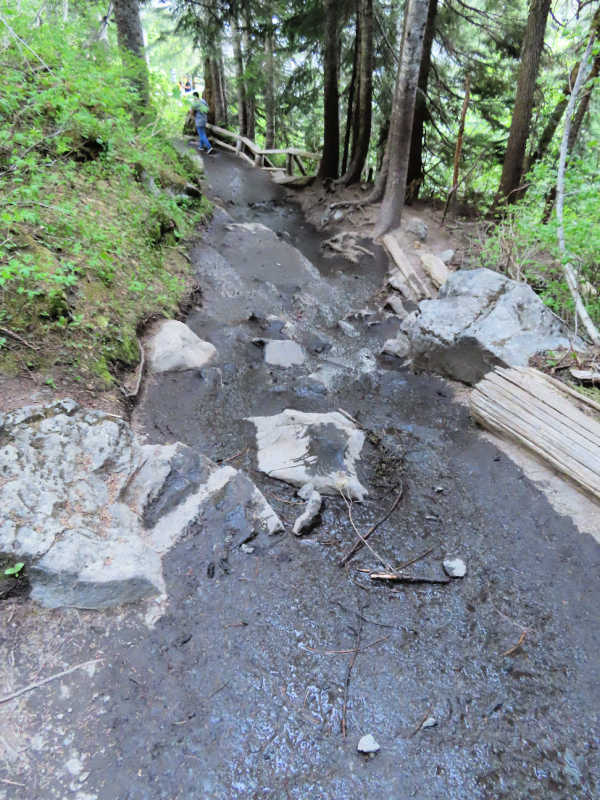 Hiking the Narada Falls
The Narada Falls Trail is a very short trail but it can be difficult for some people because the 0.2 miles back to the parking lot is mostly all uphill. You should also take note that sometimes snow and ice can still cover this trail in the early parts of summer.
You should avoid walking on this to avoid injury. The trail can also be wet and muddy due to the snowmelt so be aware of that. The view is definitely worth the hike though.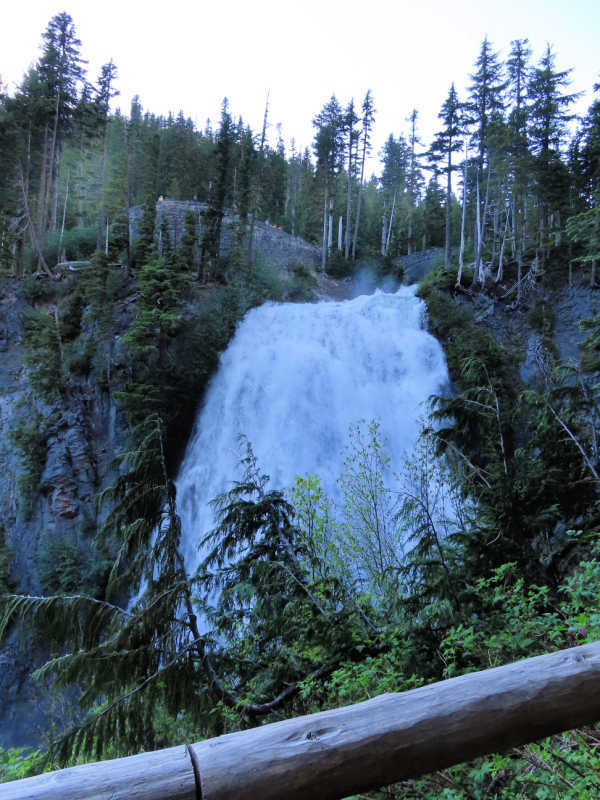 Trail Safety
To be safe on this trail, make sure you watch out for wildlife. Especially bears and make sure you know proper bear safety.
If you do not feel comfortable walking a steep trail with 200 feet elevation gain you can see views of the falls from the overlook or drive to a higher overlook for additional views.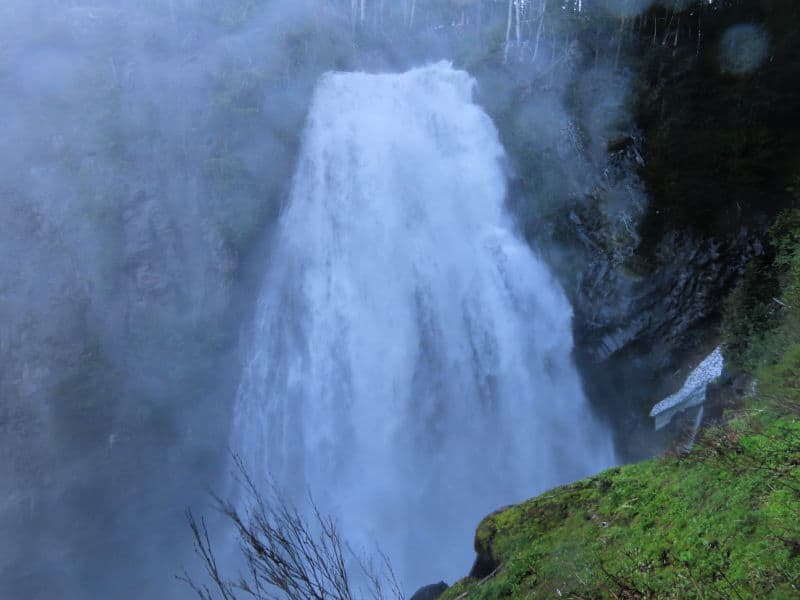 What to Bring
Water: It may not be a long hike, but it is strenuous so be prepared with water.
Closed Toe Shoes: Closed-toed shoes are recommended since there can be mud and water on the trail.
Things to know
Closest Mt Rainier Attractions- Paradise, Reflection Lake
Closest Campground- Cougar Rock Campground
Closest Lodging- Paradise Inn
Closest Visitor Center - Paradise Visitor Center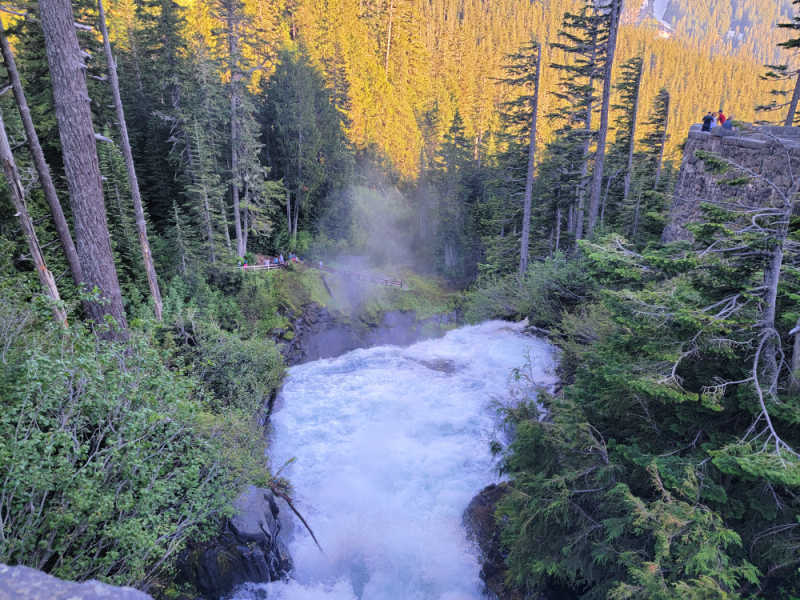 Additional Mount Rainier NP Resources
Mount Rainier Camping Guide - Complete guide to all of the campgrounds within the park.
Top things to do Mount Rainier National Park - All the things you don't want to miss while in the park.
Mount Rainier Hiking Trails - Check out the best trails in the park!
Most Visited National Park Sites - Find out if Mount Rainier made it on the most visited national parks list.
National Park Bucket List - How many bucket list national park adventures have you taken?
Paradise Mt. Rainier Guide - Check out all of the amazing things to see and do while visiting Paradise.
Check out all of the National Parks in Washington along with neighboring Oregon National Parks, and Idaho National Parks.