Cougar Rock Campground in Mount Rainier National Park is located in the perfect location for exploring this gorgeous Washington park.
The campground is less than two miles from the historic Longmire District and only five miles from Paradise. The southwest side of the park is the most popular part of Mt. Rainier.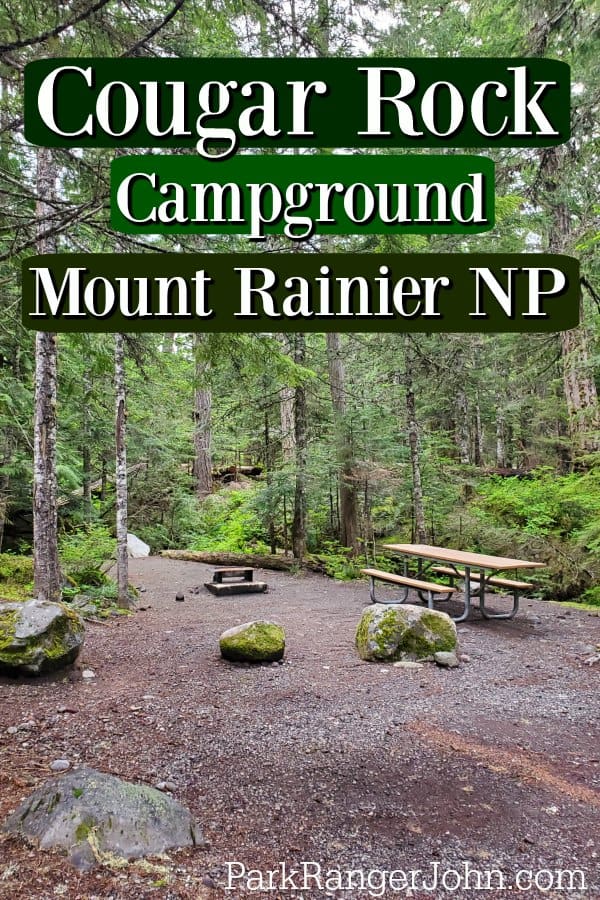 Cougar Rock Campground - Mount Rainier National Park
This campground is absolutely gorgeous! There is a ton of tree cover providing privacy between campsites.
The campground provides easy access to visitor centers, a quick drive to Paradise area, hiking trails including the Wonderland Trail.
The campground is adjacent to the Nisqually River.
Check out our complete Mt Rainier Camping Guide to learn about all the campgrounds in the park.
Number of Sites: 173
Season: Late May to late Sept.
Location in the park: Southwest area of the park on the road to Paradise.
Campsite Cost: $20
Camping fees do not include entrance to Mount Rainier National Park.
Senior/Access Camping Fee: Valid America the Beautiful Interagency Lifetime Access, Lifetime Senior, and Annual Senior passes qualify for discounted camping rates. Passes used for discounts must be verified at the campground upon arrival.
Reservations: Yes, Recreation.gov
Latitude/Longitude:
Latitude
46° 46' 1.9999" N
Longitude
121° 47' 39.9998" W
Elevation: 3,180 ft.
Accessible Sites
: A26
Pets Allowed: Dogs, cats, and other pets must be caged, on a leash (no longer than 6 feet) or otherwise under physical restraint at all times.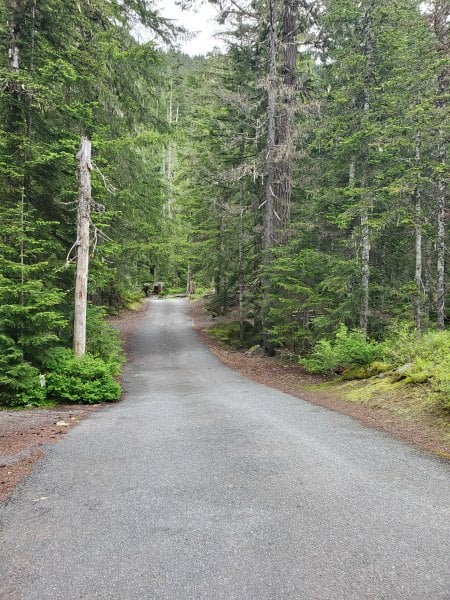 Campground Reservations
Are campground Reservations Available? Yes
Phone Number? (877) 444-6777
10 am – 6:30 pm (Eastern Time Zone)
Online? Recreation.gov
How Far Ahead can you make a reservation? individual sites are released on a 6-month rolling basis
First Come, First Served? Yes, during off-peak season.

Campground Amenities
Cougar Rock has picnic tables, fire pit, flush toilets, water, and a dump station.
Dump Station: RV dump station is available for your use at no cost.
Bear Boxes: Yes
Flush Toilets: Yes
Payphone: ?
Firewood: Depends on the time of year
Is wifi available? No
Is cellular Phone Service Available? No
Is camp host available on site? ?
Amenities at each campsite:
Fire ring in the site? Yes
Picnic Table in the site? Yes
Bear Box in site/area? Yes
Potable Water? Yes, You will want to have a water jug to bring water to your campsite.
Laundry and Showers: Laundry facilities are located outside the park in Ashford and Packwood. There are no public shower facilities in the park.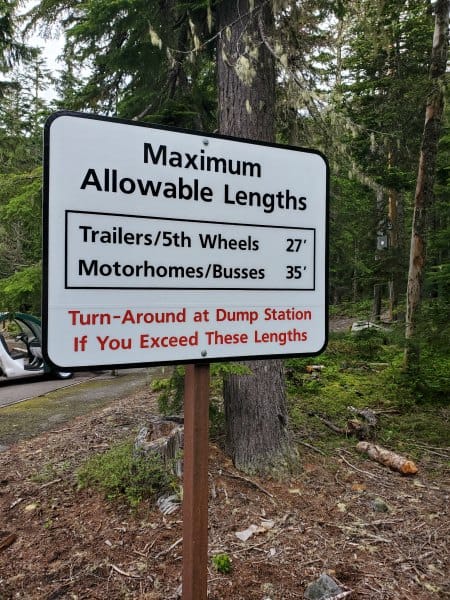 RV Camping at Cougar Rock Campground
There are no electrical, water, or grey water hookups. Turns on loop roads are tight and vehicle damage can occur.
Max RV Length: 35 feet
Max Trailer Length: 27 feet
Generators: Generators may only be used at the following times: 8 am to 10 am, noon to 2 pm, and 5 pm to 7 pm
Loop E is closed to generator use at all times.
Group Campground
If you plan to use the group campsites at Cougar Rock campground between Memorial Day weekend and Columbus Day, you must make reservations.
Site 1 has a maximum capacity of 30 people.
Site 2 has a maximum capacity of 40 people.
Sites 3, 4, and 5 have a maximum capacity of 25 people per site.
A maximum of 5 parking spaces is available at each group site. Additional vehicles must park in the picnic area.
Reserve a group site at the Cougar Rock Campground.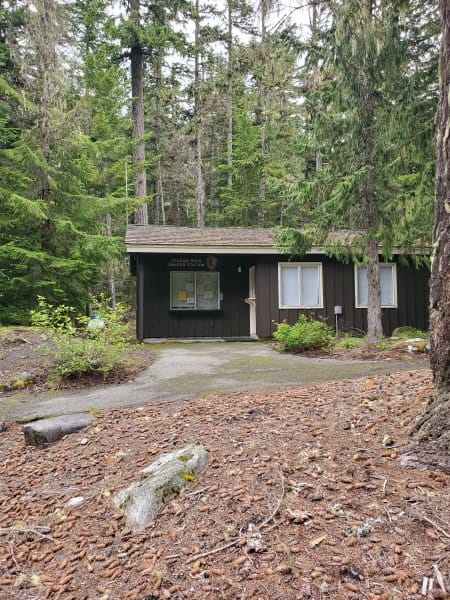 How to get to Cougar Rock Campground
The campground is located 14 miles east of Ashford, Washington, on State Route 706/Paradise Road.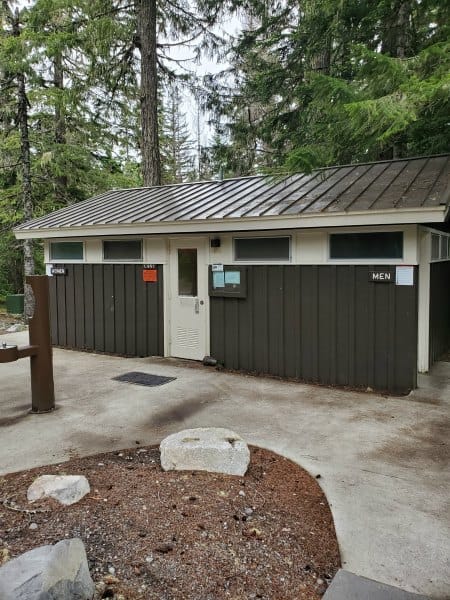 Campground Regulations
The maximum number of people in a campsite: Campsites are limited to a maximum of 6 persons (or immediate family) and two tents.
The number of cars per campsite:
Checkout time:
Quiet Hours: 9 pm and 7 am
Camping is limited to 14 consecutive days in any developed campground within the park and no more than 28 days total in any designated campground within the calendar year.
Hammocks must be hung within the footprint of the campsite over bare ground.
Cougar Rock Campground Map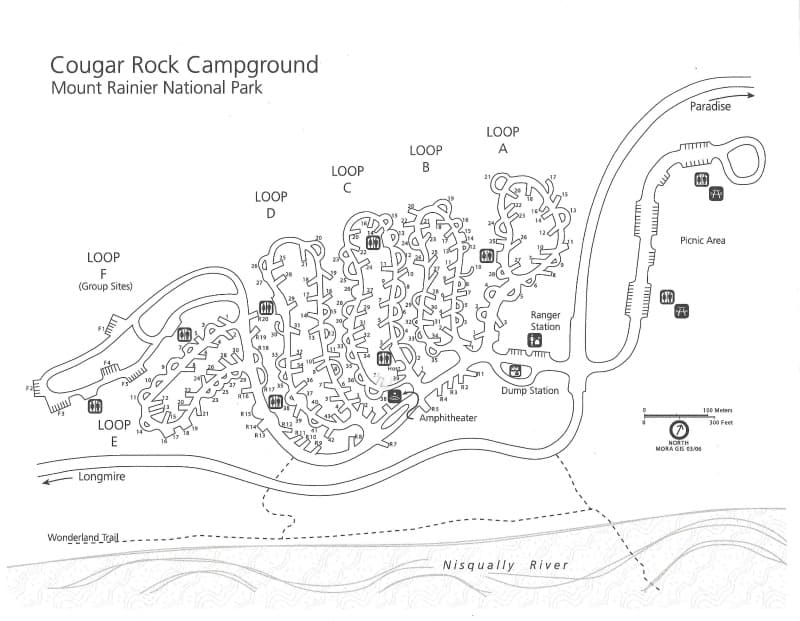 Photos of Campground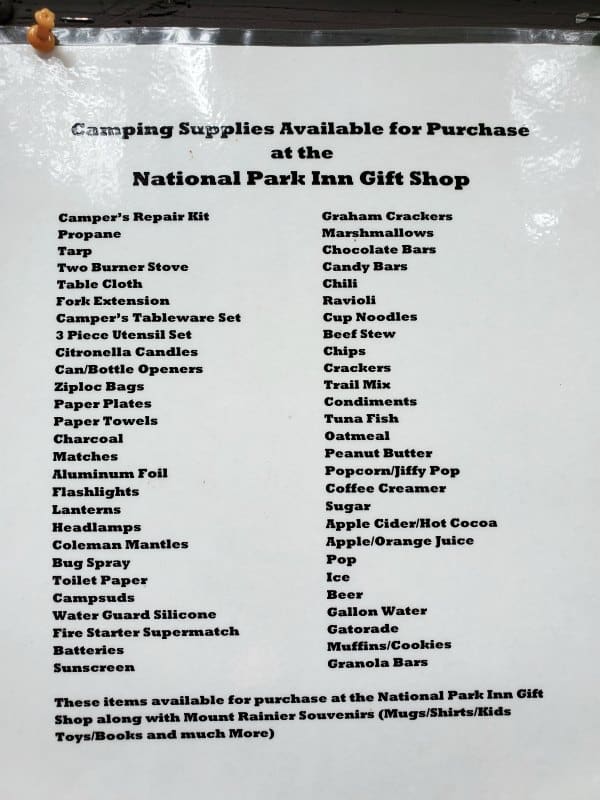 The National Park Inn gift shop has a lot of camping supplies if you forget anything.
We hope you have a great time camping at Cougar Rock Campground in Mount Rainier.
Please let us know your experience if you stay in the campground.
Additional Resources
Top things to do Mount Rainier National Park - All the things you don't want to miss while in the park.
Paradise Inn - Find out what it is like to stay in this epic National Park Lodge
National Parks in Washington - Check out all of the parks you can visit in Washington
Most Visited National Park Sites - Find out if Mount Rainier made it on the most visited national parks list.
National Park Bucket List - How many bucket list national park adventures have you taken?