The Grove of the Patriarchs Trail in Mount Rainier National Park is a must-see for visitors. This 1.3-mile trail gives you the opportunity to walk through an old-growth forest with trees that are over 300 feet tall and have lived for over 1,000 years.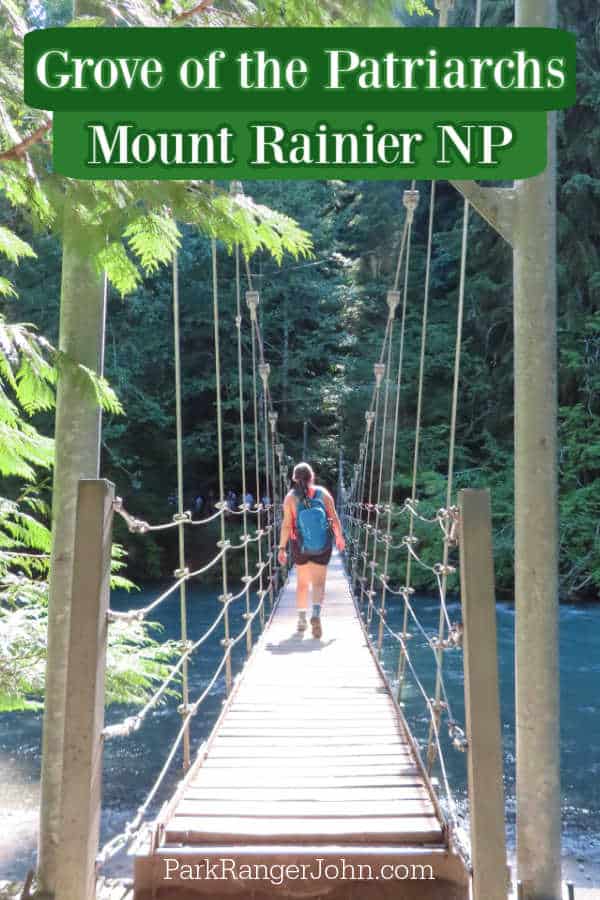 Grove of the Patriarchs Trail
The Grove of the Patriarchs is an island of old-growth trees in the middle of the Ohanapecosh River. To reach the big trees the trail leads you over a suspension bridge spanning the Ohanapecosh River.
The bridge leads you to the boardwalk that surrounds the Douglas Firs, Western Hemlocks, and Western Red Cedars that make up the Grove of Patriarchs.
You will want to be prepared for the trail to be muddy. As you walk the trail you can enjoy the many interpretive signs that share great information about not only the different types of trees but also the life cycle of old-growth forest groves of Mount Rainier National Park.
The Grove of the Patriarchs Trail is a beautiful trail going through the ancient forest of Mt. Rainier. Trees can date back to 1,000 years old and be massive! Some of their circumferences are over 25 feet!
You get to view huge Cedars, Douglas Firs, including the Twin Douglas Firs, and many more. It also has an incredible suspension bridge that crosses over a glacial river. It is a great hike for all levels of hikers and for the whole family. Be ready to have fun and be amazed!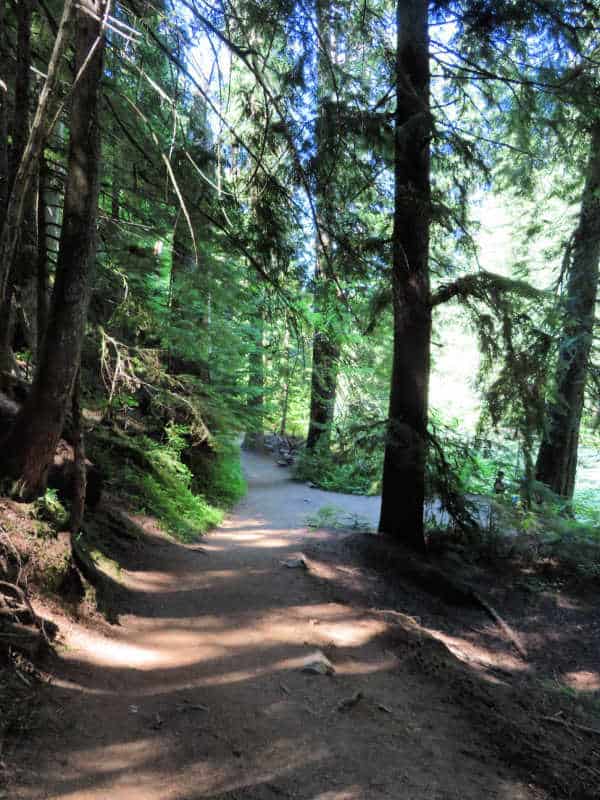 Distance - 1.3 miles
Difficulty Level - Easy to Moderate
Elevation gain - 100-foot elevation gain
Average hiking time - 45 minutes to 1 hour. Time can be from an hour all the way up to about 2 ½ hours. Mostly because only one person is allowed to cross the bridge at a time.
At busy times you can wait as long as 45 minutes to cross the bridge. The experience of the hiker and the amount of photography done can also be a factor for this time.
Trailhead - Parking area northwest of Stevens Canyon Entrance Station.
Season - Mid-June to October
Trail highlights - Old-growth Cedar, and Douglas fir trees at Mt. Rainier National Park. Some of the old-growth trees are over 300 feet tall and 1,000 years old.
Location in Mount Rainier - East side of the park near the Stevens Canyon Entrance Station.
Restrooms: There is a restroom at this trailhead.
Accessibility: Not ADA Accessible
Pets: No pets are allowed on this trail.
Parking: It is a very small parking lot for a popular trail so I recommend getting there early or be prepared to wait for parking.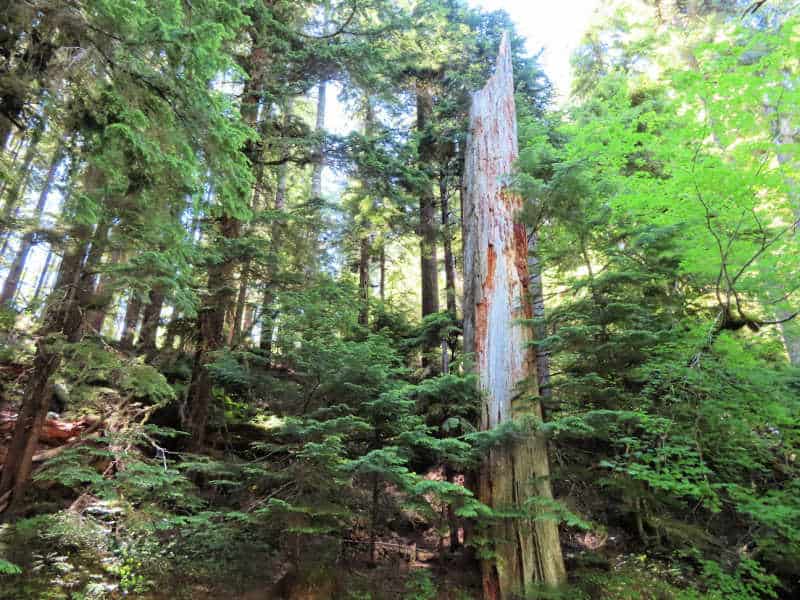 Where is the Grove of the Patriarchs Trail?
Coming From Packwood, travel East on US Highway 12 until you pass La Wis Wis Campground then turn left onto State Route 123. Travel on State Route 123 until you reach Stevens Canyon Road and turn left. You will pass over the Ohanapecosh River and the trail head will be on our right.
Coming from Nisqually Entrance, travel on Paradise Road East for 15.4 miles. You will reach Stevens Canyon Road and turn right. Once you are on Stevens Canyon Road, travel it for 18.8 miles and the trailhead will be on your left.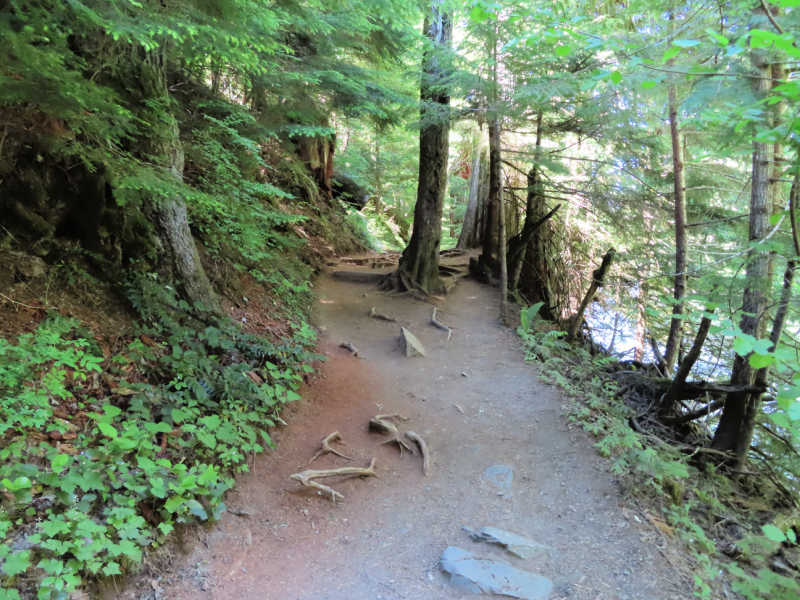 Hiking the Grove of the Patriarchs Trail
The Grove of the Patriarchs trail is a fairly easy trail for most people. There are not many inclines on the whole hike. The only ones are mostly on the way back. The bridge is extremely exciting to walk over.
If you do not have great balance though, hold on to the sides since it is very bouncy and wobbly. For the rest of the trail, it is mostly flat except for a few roots and rocky spots. It also has a boardwalk that takes you to the massive trees.
Take your time on this hike and really soak in the experience.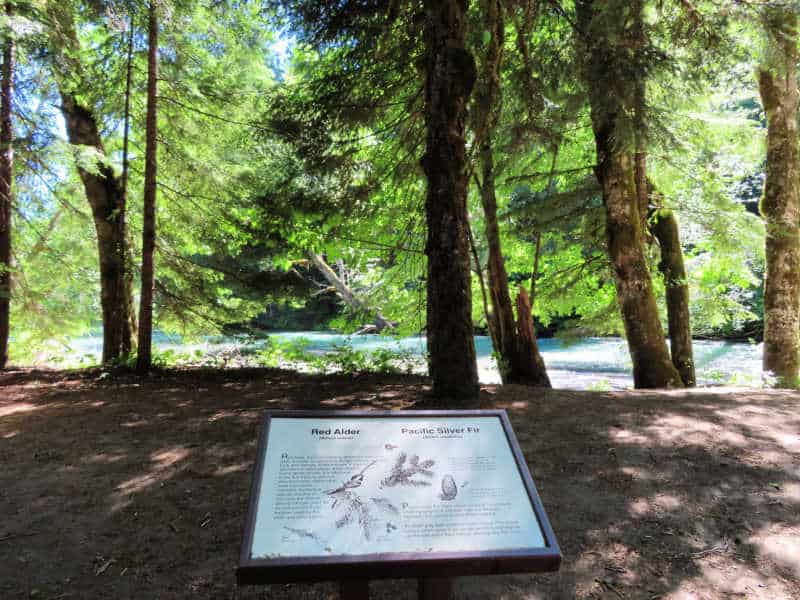 Trail Safety
For this trail and every other trail inside of Mt. Rainier National Park, You want to keep an eye out for bears. Always make sure you know the proper bear safety. Watch out for all other wildlife for they can all be dangerous.
Also, be careful on the bridge and do not get in the river!! The river is very cold and is moving extremely fast.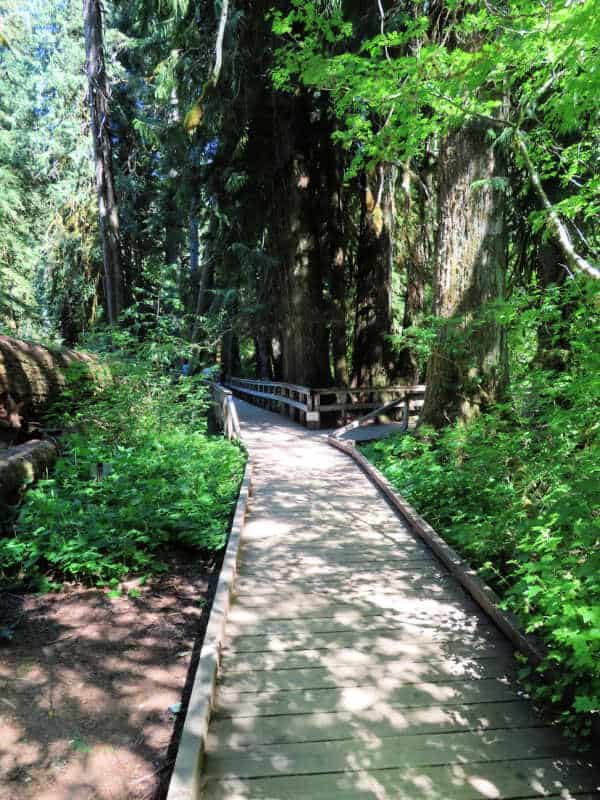 What to Bring
Water: Water is always a necessity when hiking to prevent dehydration and other heat illnesses.
Comfortable Shoes/Boots: I recommend a pair of shoes or boots you are comfortable walking in to prevent blisters and other foot sores.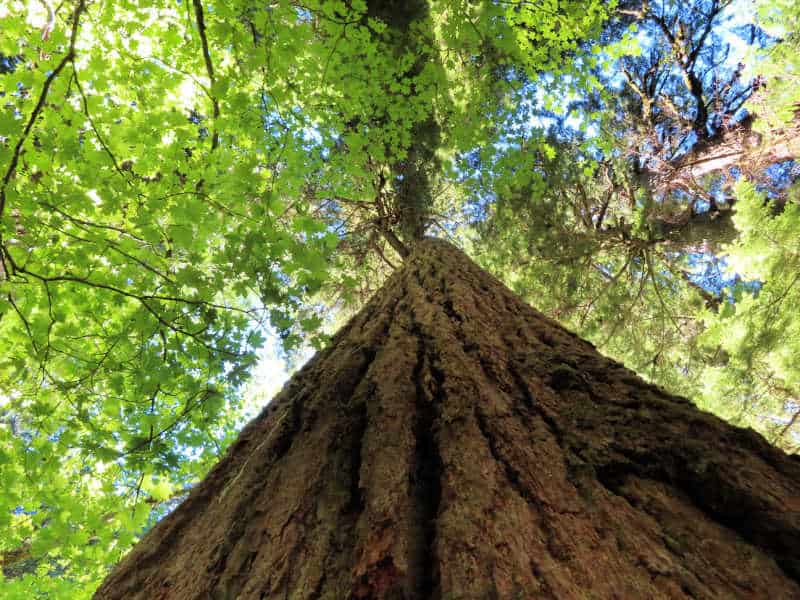 Additional Trail Information
Starting Point- 46.758056, -121.5575
Directions to the Grove of the Patriarchs Trailhead - From Packwood, drive east on HWY 12, cross the Ohanapecosh River and turn left onto SR 123.
Follow the road past the Ohanapecosh Visitors Center and turn left onto Stevens Canyon Rd.
Parking is available in the first area on the right, intersecting the Eastside Trail.
Closest Campground - Ohanapecosh Campground
Closest Visitor Center - Ohanapecosh Visitor Center
Closest Restroom - There is a restroom in the trail parking lot.
Entrance Fee - National Park Pass or day-use Mount Rainier Pass.
Closest Town - Packwood, Washington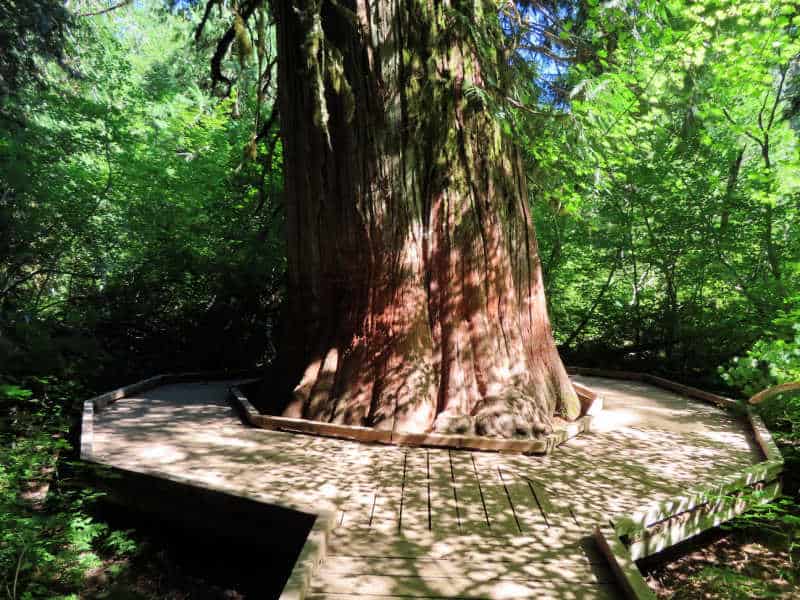 Additional Resources
Silver Falls Trail - Check out this epic waterfall hike in the park.
Paradise Inn - Find out what it is like to stay in this historic National Park lodge.
Top Things to do Mt. Rainier - All of the amazing things to do in the park you do not want to miss.
National Parks in Washington - Check out all of the amazing parks you can visit while in Washington.
National Park Free Days - Find out the specific days the National Park Service waives entrance fees.
Mt Rainier Trails Illustrated Map
Check out all of the National Parks in Washington along with neighboring Oregon National Parks, and Idaho National Parks.