Stonewall National Monument in Greenwich Village in New York City is a new National Park Site that is a park in progress. The park commemorates the Stonewall Uprising on June 28, 1969.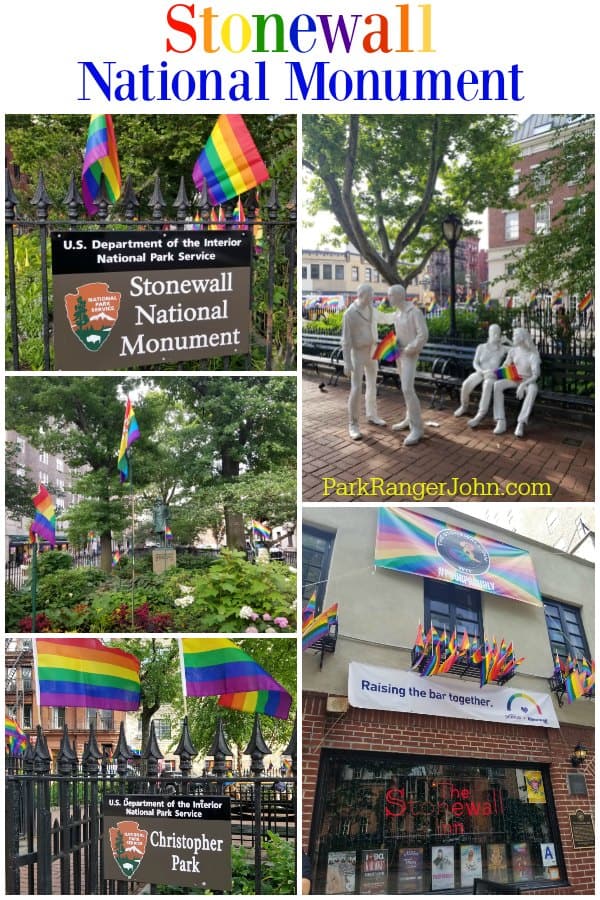 Stonewall National Monument
Stonewall NM is located in the historic Greenwich Village in New York City.
The park is the first National Park Service site dedicated to LGBTQ heritage.
Stonewall NM protects the area where a community uprising in response to a police raid sparked the modern LGBT civil rights movement in the United States on June 28, 1969.
"I'm designating the Stonewall National Monument as the newest addition to America's National Park System. Stonewall will be our first national monument to tell the story of the struggle for LGBT rights. I believe our national parks should reflect the full story of our country, the richness, and diversity, and uniquely American spirit that has always defined us. That we are stronger together. That out of many, we are one."
President Obama

About Stonewall National Monument
It is the first National Monument Honoring LGBT Rights!
Located at the birthplace of the modern lesbian, gay, bisexual, transgender, and queer civil rights movement.
The monument's boundary encompasses approximately 7.7 acres of land, including Christopher Park, the Stonewall Inn, and the surrounding streets and sidewalks that were the site of the 1969 Stonewall Uprising.
During the 1960's almost everything about living openly as an LGBTQ person was a violation of the law, rule, or policy.
NYC's rules against being LGTBQ were particularly harsh. LGBT People were arrested for wearing fewer than three pieces of clothes that matched their sex. It was illegal to serve alcohol to anyone who was LGBTQ.
On June 28, 1969, the Stonewall Inn, one of the most frequented LGBTQ bars in New York City, was raided by the NYC Police Department to enforce a law that made it illegal to sell alcoholic drinks to "homosexuals."
Customers and their friends/allies resisted the police by refusing to show identification or go into a bathroom so that a police officer could verify their sex, and a crowd gathered outside.
As word spread, the gathering grew in size and a riot ultimately ensued.
Within days, Stonewall galvanizes LGBTQ communities across the country, with LGBTQ activists organizing demonstrations to show support for LGBTQ rights in several cities.
These events, which are now often referred to as the Stonewall Uprising, are widely considered to be a watershed moment when the LGBTQ community across the nation demonstrated its power to join together and demand equality and respect.
A rainbow LGBT flag was raised at the monument in October 2017. This was the 1st officially maintained LGBT flag at a federal monument.
The park was established almost one year to the day from the 2015 landmark Supreme Court ruling granting the constitutional right to same-sex marriage.
Is Stonewall National Monument worth visiting?
Yes! While the site is still a park in progress we truly feel it is important to not only visit the park but learn about what happened at Stonewall Inn.
The rights of LGBTQ Americans are still being actively persecuted.
Check out this article on Why Pride Matters.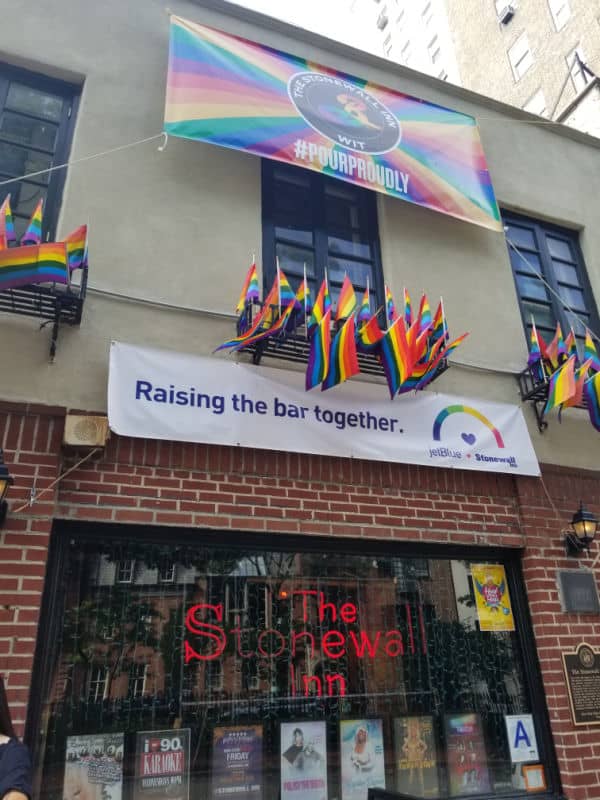 History of Stonewall National Monument
The events of June 28, 1969 at a bar in Greenwich Village, New York, was the catalyst for the organization of LGBT groups all over the country. By 1971, there were LGBT rights groups in place in almost every major city in the United States.
LGBT stands for lesbian, gay, bisexual, transgender individuals. In 1969, in many cities in America, there were strict laws prohibiting these individuals from living their lives freely. Homosexual acts were illegal in every state but Illinois.
On June 28, 1969, The Stonewall Inn was a popular bar for the gay and lesbian population in New York. New York City Police raids on gay and lesbian bars were common at the time, but this night was different, as it turned into a historic riot, followed by weeks-long protesting.
Undercover police officers entered The Stonewall on June 28th and detained bar employees and drag queens. In New York it was against the law to dress as a member of the opposite sex.
Chaos ensued and patrons who were not detained stepped outside the bar and became part of the crowd that kept growing outside. In a scene that began like others in history – it is not known for sure who started the violence.
Without video and because smart phones were not in existence, it cannot be proven how it began. Even experts looking at the event without biased have a hard time agreeing what happened.
It is thought that a small group of transgender women began throwing bottles, bricks, or stones at the police officers. Eventually, the NYPD ended up locked inside The Stonewall after some officers left to take prisoners to jail and the remaining officers could not hold the rioters back.
Fighting, firebombs, and destruction continued until 4am. Surprisingly, no one was killed or severely injured that night.
The next night at the bar became much the same as the night before. This time, police tear gassed patrons.
Over the next several nights, gay and lesbian supporters gathered in or near The Stonewall, in nearby Christopher Park, and on neighboring streets to raise awareness for LGBT rights.
Over the next few weeks, Village residents organized into groups who fought for gay and lesbian rights and even created newspapers for their cause. The local newspapers had been reporting on the events in the Village and using racial slurs that angered the protestors and group organizers.
Individuals who took part in the event prefer to call it a "rebellion" or "uprising." LGBT activism had been happening for many years before 1969.
Indeed, between 1955 and 1967, there were numerous recorded incidents around the country in which groups were fighting for LGBT rights. These happened in cities such as Baltimore, Los Angeles, San Francisco, and Milwaukee. Despite this fact, many pride organizations do credit the "Stonewall Uprising" as the fight needed to create a voice for their freedoms.
By the time of the uprising, Christopher Park, like The Stonewall, had become a popular hangout for those who felt shunned by society.
Homeless individuals, and those who were gay, lesbian, or would identify today as transgender, frequently spent their time at the park across the street from the bar.
At the peak of the protests in the weeks following the events at The Stonewall, several thousand people gathered at Christopher Park. Activists Marty Robinson and Martha Shelley were among the many who spoke during these gatherings.
On June 28, 1970, the first LGBT parades in the country took place in cities like Chicago, Los Angeles, New York, and San Francisco. Many LGBT pride events still take place in June in many cities every year. The events in Greenwich Village gave a voice to many individuals and eventually groups around the country and the world.
On the 10th anniversary of Stonewall, New York City announced a statue would be placed in Christopher Park commemorating the events and supporting the LGBT community. Due to backlash at the time, the statue was not installed until 1992.
In 2017, a rainbow flag was added to the eastern edge of Christopher Park.
June 2020 marked the 50th anniversary of LGBT pride parades, celebrations, and traditions in the United States.
Today, The Stonewall Inn is still in business at 53 Christopher St. in Greenwich. Stonewall was designated as a U.S. National Historic Monument on June 24, 2016. The Monument is located in Christopher Park and encompasses 7.7 acres.
It is located across the street from The Stonewall Inn. It is one of the newest Monuments dedicated by the National Park Service.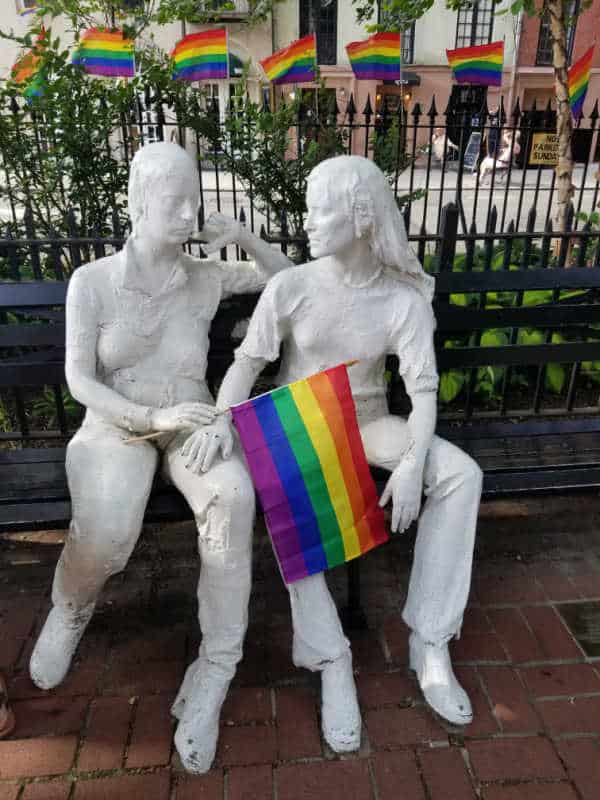 Things to know before your visit to Stonewall National Monument
Entrance fee
$0.00, there is no fee to visit this park
Planning a National Park vacation? America the Beautiful/National Park Pass covers entrance fees for an entire year to all US National Park Sites and over 2,000 Federal Recreation Fee Sites.
The park pass covers everyone in the car for per vehicle sites and for up to 4 adults for per-person sites.
Buy on REI.com and REI will donate 10% of pass proceeds to the National Forest Foundation, National Park Foundation and the U.S. Endowment for Forestry & Communities.
Learn more about National Park Passes for parks that have an entrance fee.
Free Entrance Days -Find the five free entrance days the National Park Service offers annually.
Time Zone
EST - Eastern Standard Time
Pets
The park is located in Greenwich Village. Be prepared to have your pet in the middle of a bustling NYC neighborhood.
Cell Service
We had great cell phone service in the park.
Park Hours
Christopher Park is open daily from approximately 9 am to dusk.
Wi-Fi
There is no free wi-fi within the park.
Insect Repellent
Insect repellent is always a great idea when outdoors, especially if you are around any body of water.
We use Permethrin Spray on our clothes before our park trips.
Water Bottle
Make sure to bring your own water bottle and plenty of water with you. Plastic water bottles are not sold in the park.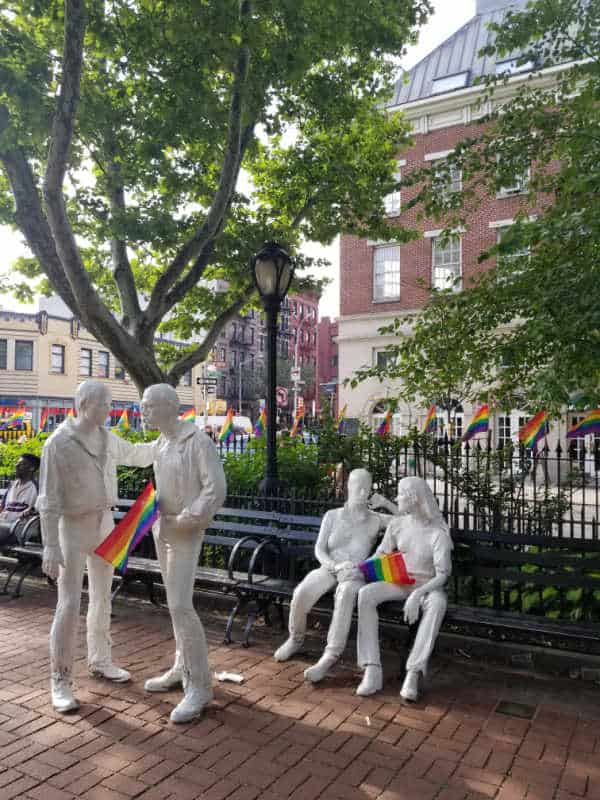 Parking
There are multiple pay parking garages near the park.
Food/Restaurants
The park does not have any food/restaurants.
There are tons of epic New York Restaurants easy to reach nearby.
Gas
There are no gas stations within the park.
Drones
Drones are not allowed to be flown within the National Park Service site.
Drones are not allowed in New York City for recreational and/or commercial use
National Park Passport Stamps
Passport Stamps for Stonewall National Monument can be obtained at:
Stonewall Inn is located at 51-53 Christopher Street. (must be 21)
Lesbian, Gay, Bisexual & Transgender Community Center located at 208 W 13th Street (Monday –Saturday 9:00 AM to 10:00 PM and Sundays 9:00 AM to 9:00 PM)
African Burial Ground National Monument
Federal Hall National Memorial
Castle Clinton National Monument
General Grant National Memorial
Make sure to bring your National Park Passport Book with you.
We like to bring these circle stickers with us to the parks so we don't have to carry our entire Passport Book.
Electric Vehicle Charging
There are multiple EV Charging Stations located near the park.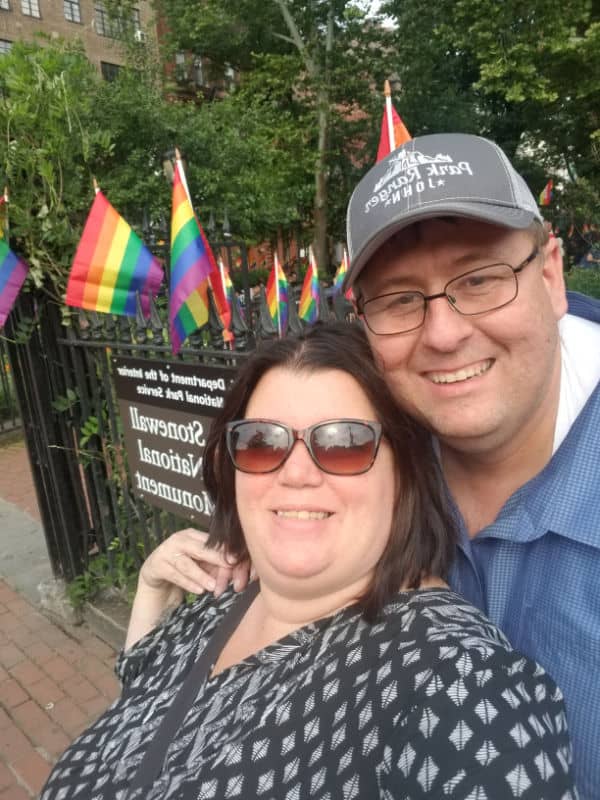 Details about Stonewall National Monument
Size - 7.7 Acres
See how the park compares to other National Parks by Size.
Date Established
June 28, 1999, designated a US National Register of Historic Places
February 16, 2000, designated a US National Historic Landmark
June 24, 2016, the park was established by President Barack Obama
Visitation
In 2021, Stonewall NM had 70,000 park visitors.
In 2020, Stonewall NM had 0 park visitors.
In 2019, Stonewall NM had 2,088,929 park visitors.
Learn more about the most visited and least visited National Parks in the US
National Park Address
The intersection of Christopher, Grove, and Fourth Streets.
New York, NY 10014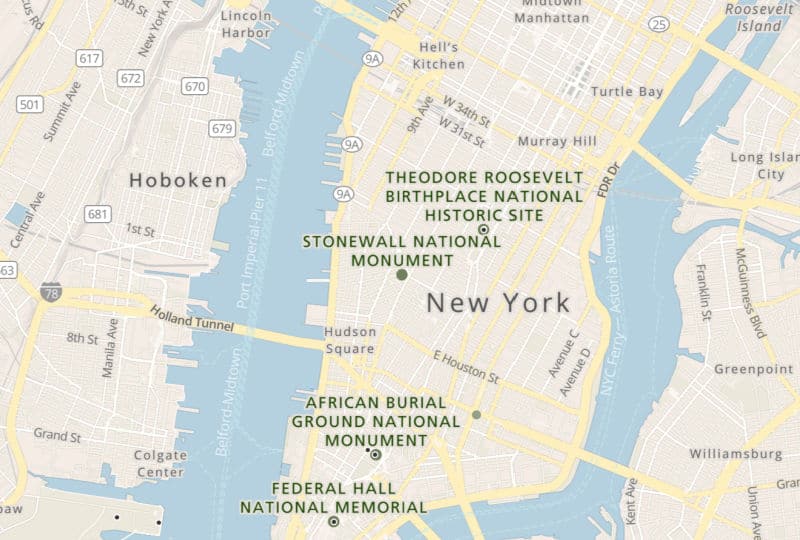 Where is Stonewall National Monument?
Stonewall NM is located in Greenwich Village in New York City, New York.
Estimated distance from major cities nearby
Newark, NJ - 15 miles
Philadelphia, PA - 97 miles
Baltimore, MD - 190 miles
Boston, MA - 213 miles
Washington DC - 228 miles
Virginia Beach, VA - 366 miles
Estimated Distance from nearby National Park
Acadia National Park - 483 miles
Shenandoah National Park - 304 miles
Cuyahoga Valley National Park - 443 miles
Indiana Dunes National Park - 750 miles
Congaree National Park - 703 miles
Where is the National Park Visitor Center?
Stonewall NM is a park in progress. There is currently no official visitor center or interpretive center to visit.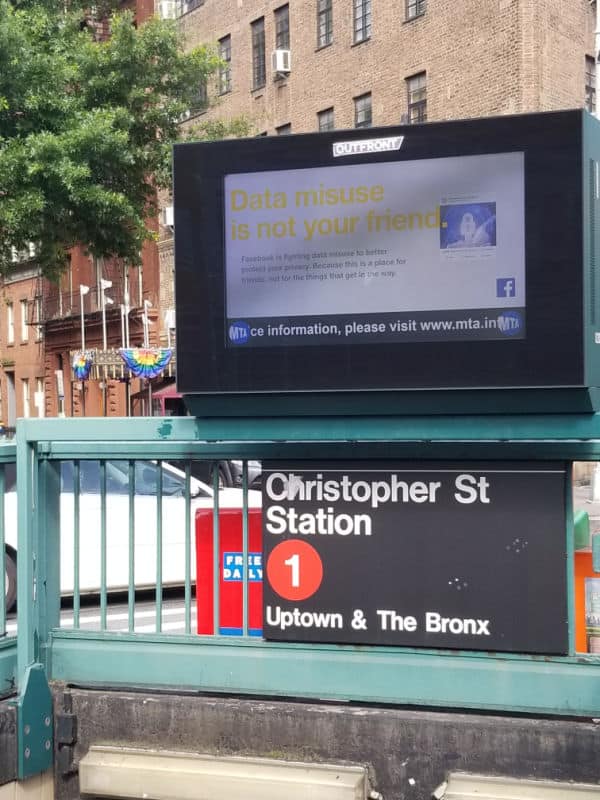 Getting to Stonewall National Monument
Closest Airports
LaGuardia Airport (LGA)
Newark Liberty International Airport (EWR)
Teterboro Airport (TEB)
JFK International Airport (JFK)
Morristown Municipal Airport (MMU)
Westchester County Airport (HPN)
Driving Directions
By subway: take the Broadway 1 Line - 7th Avenue local to Christopher Street-Sheridan Square Station; or via the 7th Avenue bus line on the M8 or M20.
From Jersey City: Take the Holland Tunnel to Ericsson Pl, via exit 3, then take the Avenue of the Americas north to Christopher Street.
From Brooklyn take the Manhattan Bridge to Canal Street, then take the Avenue of the Americas north to Christopher Street.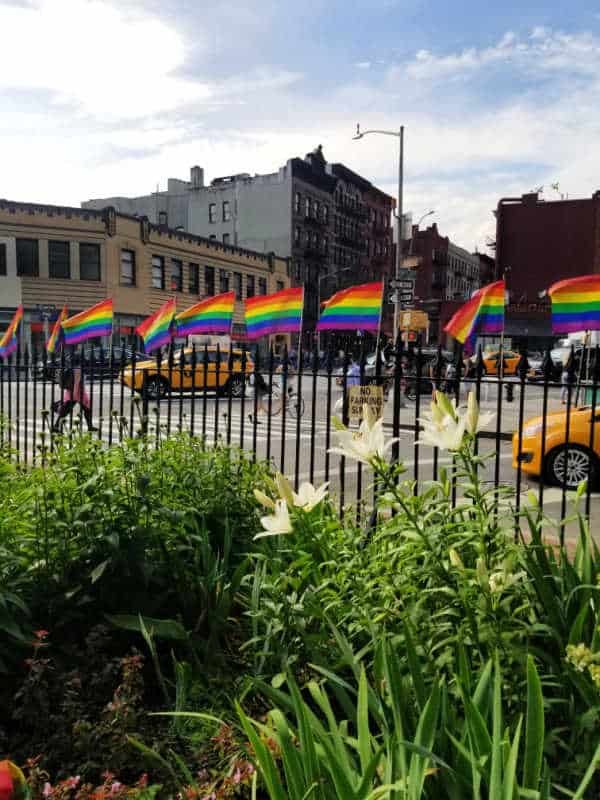 Best time to visit Stonewall National Monument
For a truly amazing experience we suggest visiting in June during Pride Month. Seeing Christopher Park decorated in Rainbow Pride Flags is truly an amazing experience.
When we visited the park there was so much joy and happiness. We had amazing conversations with locals and visitors about the uprising and the events that occurred at the Stonewall Inn.
New York Weather and Seasons
Summers are hot and humid in New York City especially during the middle of July.
Winters can be extremely cold and snowy depending on the year.
The warmest temperatures in NYC are from June 2 to September 16th when the average daily high is above 76 degrees F.
The coldest months are from December 3 to March 12 when the average daily temperature falls below 48 degree F.
January wins for the coldest month of the year .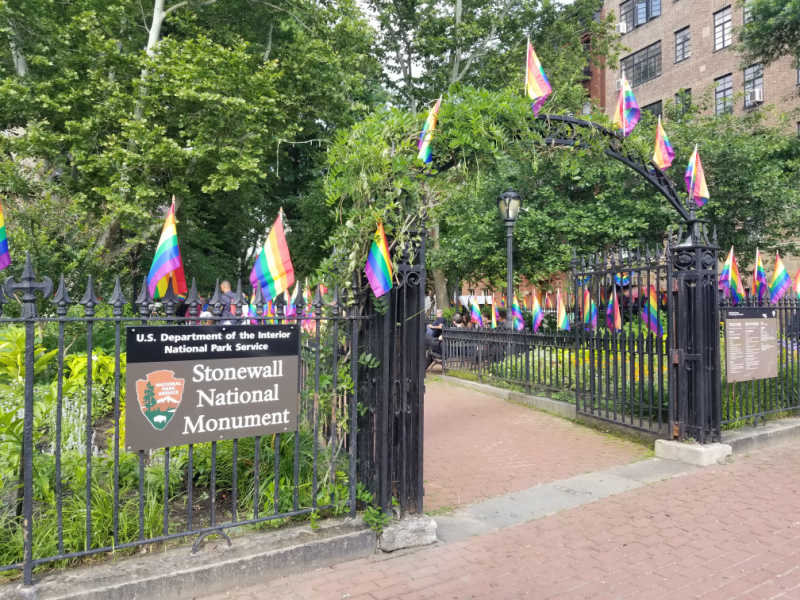 Best Things to do in Stonewall National Monument
One thing to remember when visiting Stonewall NM is the park is still a park in progress.
The National Park Service has limited services currently and will be adding additional programs as they work through the park plan.
Christopher Park
Within Christopher Park, you can see the amazing gardens, a couple of monuments and enjoy relaxing on a park bench.
Christopher Park is located across the street from the Stonewall Inn bar where the Stonewall rebellion took place in 1969.
The gardens within the park are maintained by the stewards of Christopher Park Alliance.
Within the park, there are three sculptures.
Gay Liberation
This sculpture by George Segal commemorates the gay rights movement that began at the Stonewall Inn.
The sculpture includes four figures, two standing males and two females seated on the bench.
There is a 2nd cast of this piece on the campus of Stanford University in Palo Alto, California.
The sculpture in Christopher Park was unveiled on June 23, 1992, by Mayor David N, Dinkins, and Parks Commissioner Betsy Gotbaum.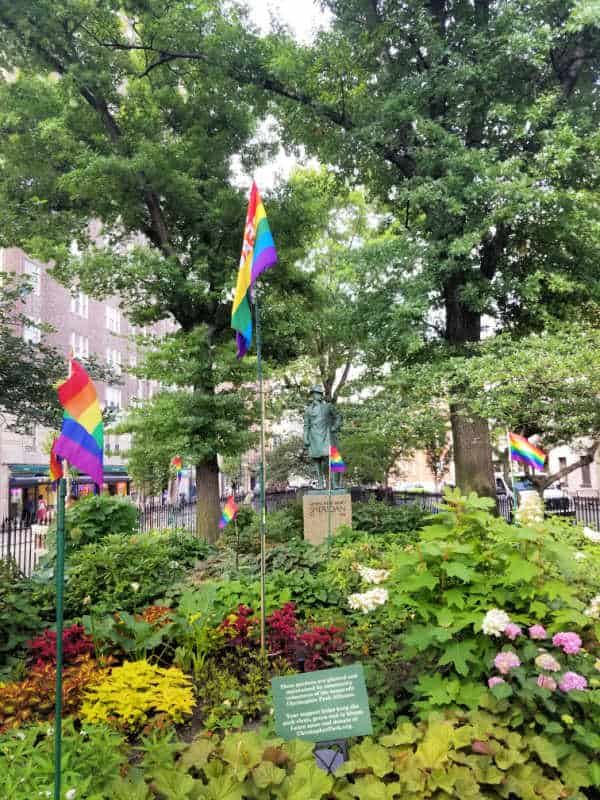 General Phillip H Sheridan Statue
The General Phillip H. Sheridan statue commemorates his Civil War victories. It was added to Christopher Park in 1935.
The General Sheridan sculpture is the work of Sculptor Joseph P. Polli.
The Flagpole
The flagpole was erected in 1936 to commemorate several of the 1861 Fire Zouaves. The elite Civil War unit wore uniforms styled after those worn by North African tribesmen.
Stonewall Inn
Must be 21 to enter! This is a working bar!
The Stonewall Inn was designated a National Historic Landmark in March 2020.
The Stonewall NM Junior Ranger program can be completed from home!
Download the booklet and work through it. Once you complete the booklet you can email the completed booklet to the park and they will mail you a Junior Ranger badge.
NYC LGBT Historic Sites Project Walking Tour
From Christopher Park, you can take a walking tour of the historic Greenwich Village.
The walking tour includes the site of New York's 1st Pride march, Oscar Wilde Bookshop, Washington Square Park, Fedora's, Snake Pit, Julius' Bar, The Duchess, Ridiculous Theatrical Co, Mattachine Society, Stonewall Inn, and Christopher Street.
There are 16 sites on the NYC LGBT Historic Sites walking tour. There is a
printable map
and guide available that leads you through the historic walk.
The guide explains what life was like in Greenwich Village pre-Stonewall for LGBT Americans.
Greenwich Village Tours
There are quite a few tours offered of Greenwich Village and surrounding areas of New York City.
Pride Walking Tour
- Learn about the most significant historical event in the LGBTQ movement, the Stonewall Uprising in 1969 in NYC. Visit famous LGBTQ sites, like the Stonewall Inn, on a 1 hour and 15-minute walking tour beginning at Christopher Park.
Greenwich Village 2-Hour Tour - Explore the counterculture of New York's Greenwich Village on a 2-hour walking tour, and discover where legendary artists, such as Jimi Hendrix, Bob Dylan, and Edgar Allan Poe used to hang out. Learn about the rise of gay rights, café society, and more.
New York City Streets Full Day Bike Tour - An exciting 7 hour journey on bikes from the lively and artsy Greenwich Village, to the bustling streets of the Financial District, across the Brooklyn Bridge to see beautiful architecture in Brooklyn Heights, and through the vibrant Chinatown.
Greenwich Village Tour
- Explore Greenwich Village on a 2-hour guided walk. Visit Washington Square Park and other sites that have played a role in recent American history.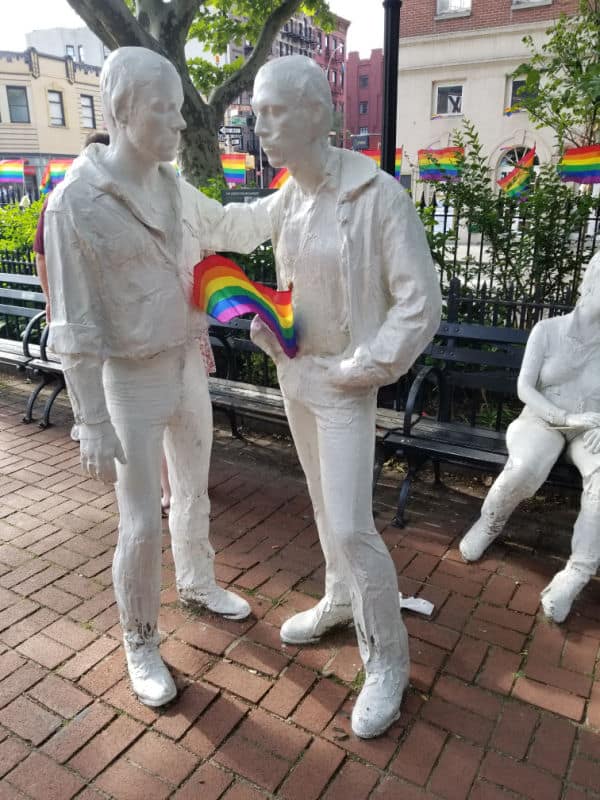 How to beat the crowds in Stonewall NM?
We did not experience a huge crowd and we were there during Pride month. Like most NYC attractions I would suggest checking to make sure there isn't a major event nearby or something huge happening in the city.
Where to stay when visiting Stonewall NM
There are no National Park Lodges within the park.
The Dominick - 5-star luxury hotel near One World Trade Center. All 391 rooms have comforts such as 24-hour room service and premium bedding, as well as perks like laptop-friendly workspaces and air conditioning.
Hard Rock Hotel New York - A short walk from Broadway and Times Square, Hard Rock Hotel New York provides a nightclub, a coffee shop/café, and dry cleaning/laundry services. Enjoy a meal at the two onsite restaurants. In addition to a bar and a gym, guests can connect to free in-room Wi-Fi.
Best Western Premier NYC Gateway Hotel - Look forward to a grocery/convenience store, dry cleaning/laundry services, and a gym at Best Western Premier NYC Gateway Hotel. In addition to a 24-hour business center and a snack bar/deli, guests can connect to free Wi-Fi in public areas, with speed of 100+ Mbps (good for 1–2 people or up to 6 devices).
The Bowery Hotel - 4-star hotel in the heart of Manhattan. The Bowery Hotel is located close to New York University, and provides a terrace, dry cleaning/laundry services, and a fireplace in the lobby. The onsite restaurant, Gemma Restaurant, features brunch. Stay connected with free in-room Wi-Fi, and guests can find other amenities such as a gym and babysitting.
Renaissance New York Times Square Hotel - 4-star hotel near Times Square. A short walk from Broadway and Rockefeller Center, Renaissance New York Times Square Hotel provides dry cleaning/laundry services, a bar, and a 24-hour gym. Free Wi-Fi in public areas is available to all guests, along with a business center and a restaurant.
Click on the map below to see current rates for hotels and Vacation Rentals in New York City.


National Park Camping
There is no designated campground for the park.
For a fun adventure check out Escape Campervans. These campervans have built in beds, kitchen area with refrigerators, and more. You can have them fully set up with kitchen supplies, bedding, and other fun extras. They are painted with epic designs you can't miss!
Escape Campervans has offices in Vancouver, Seattle, Portland, San Francisco, Las Vegas, Los Angeles, Phoenix, Salt Lake City, Denver, Chicago, New York, and Orlando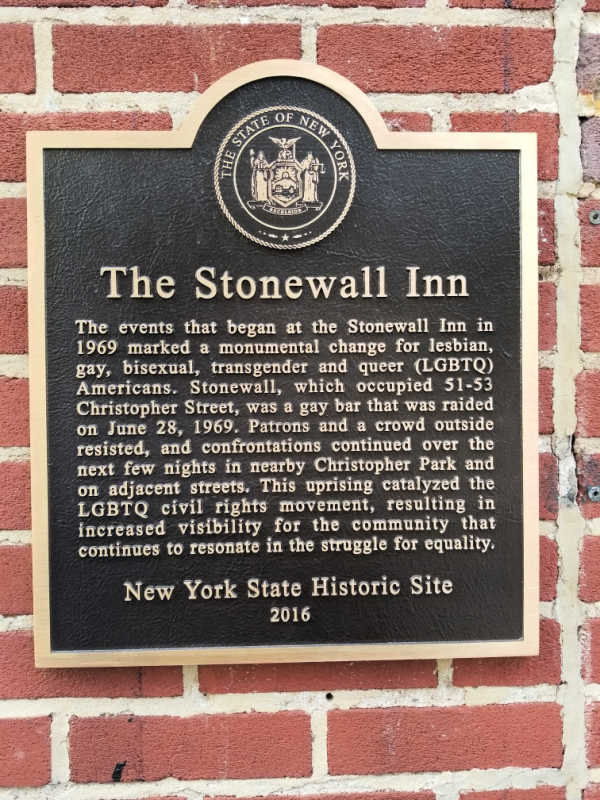 Additional Resources
Stonewall: The Definitive Story of the LGBT Rights Uprising that Changed America
Pride 50th Anniversary Stonewall 1969 Was A Riot LGBTQ T-Shirt
The Gay Liberation Movement: Before and After Stonewall (The History of the LGBTQ + Rights Movement)
History Comics: The Stonewall Riots: Making a Stand for LGBTQ Rights
Stonewall: The Riots That Sparked the Gay Revolution
Parks near Stonewall NM
General Grant National Memorial
Ellis Island
Hamilton Grange National Memorial
Theodore Roosevelt Birthplace National Historic Site
Castle Clinton National Monument
Federal Hall National Memorial
Governors Island National Monument
Check out all of the National Parks in New York along with neighboring National Parks in Connecticut, National Parks in Massachusetts, National Parks in New Jersey, National Parks in Pennsylvania, Rhode Island National Parks, and Vermont National Parks
National Park Service Website