Stonewall National Monument in Greenwich Village in New York City is a new park that is a park in progress. The park commemorates the Stonewall Uprising on June 28, 1969.
It is the first National Monument Honoring LGBT Rights!
The monument's boundary encompasses approximately 7.7 acres of land, including Christopher Park, the Stonewall Inn, and the surrounding streets and sidewalks that were the site of the 1969 Stonewall Uprising.
During the 1960's almost everything about living openly as a LGBTQ person was a violation of the law, rule or a policy.
NYC's rules against being LGTBQ were particularly harsh. People were arrested for wearing fewer than three pieces of clothes that matched their sex. It was illegal to serve alcohol to anyone who was LGBTQ.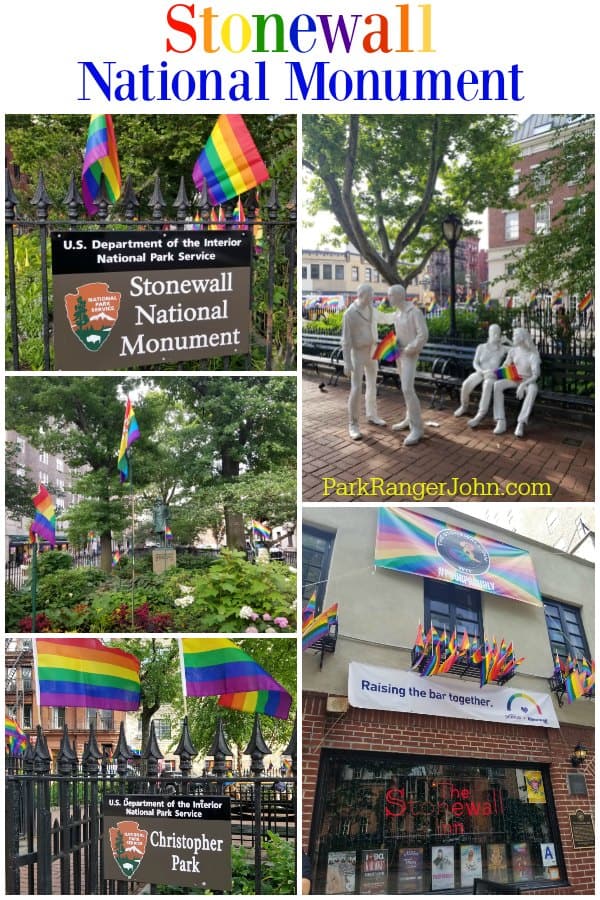 Stonewall National Monument
On June 28, 1969, the Stonewall Inn, one of the most frequented LGBTQ bars in New York City, was raided by the NYC Police Department to enforce a law that made it illegal to sell alcoholic drinks to "homosexuals."
Customers and their friends/allies resisted the police by refusing to show identification or go into a bathroom so that a police officer could verify their sex, and a crowd gathered outside.
As word spread, the gathering grew in size and a riot ultimately ensued.
Within days, Stonewall galvanizes LGBTQ communities across the country, with LGBTQ activists organizing demonstrations to show support for LGBTQ rights in several cities.
These events, which are now often referred to as the Stonewall Uprising, are widely considered to be a watershed moment when the LGBTQ community across the nation demonstrated its power to join together and demand equality and respect.
Top things to see at the Stonewall National Monument
Stonewall NM is a park in progress. There is currently no official visitor center or interpretive center to visit.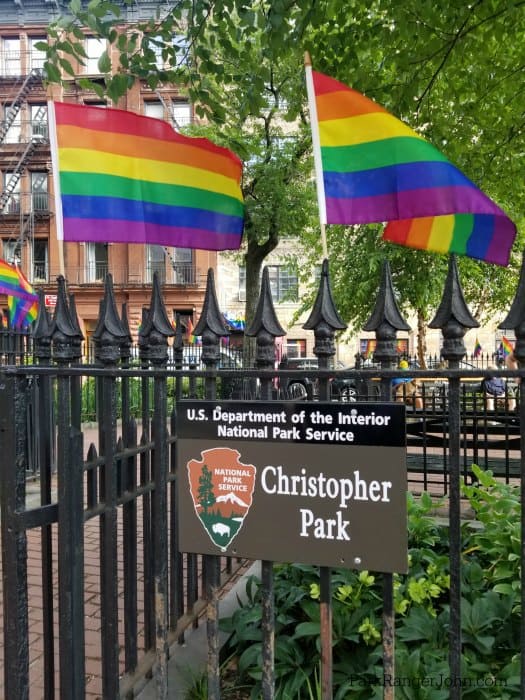 Christopher Park
Within Christopher Park, you can see the amazing gardens, a couple of monuments and enjoy relaxing on a park bench.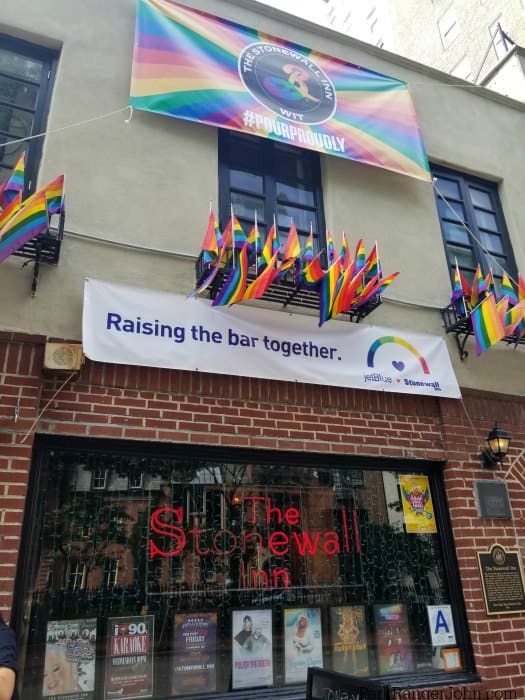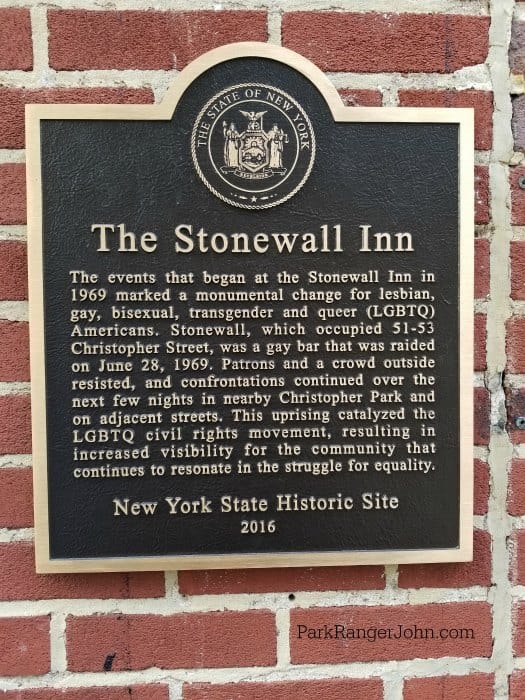 Stonewall Inn
Must be 21 to enter! This is a working bar!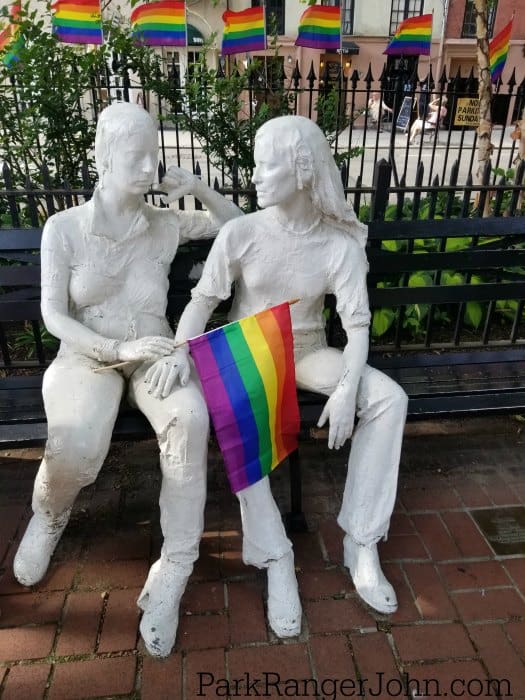 Explore Greenwich Village with the NYC LGBT Historic Sites Project Walking Tour.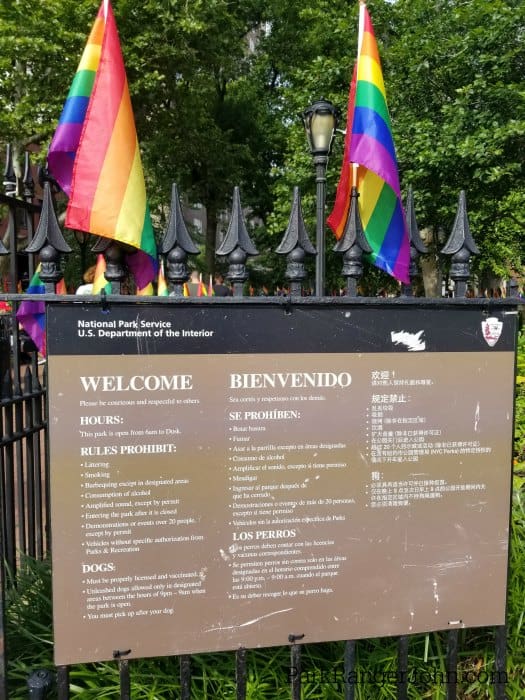 Things to know when planning a trip to Stonewall NM
Park Address: Intersection of Christopher, Grove, and Fourth Streets.
New York, NY 10014
By subway: take the Broadway 1 Line - 7th Avenue local to Christopher Street-Sheridan Square Station; or via the 7th Avenue bus line on the M8 or M20.
From Jersey City: take the Holland Tunnel to Ericsson Pl, via exit 3, then take the Avenue of the Americas north to Christopher Street.
From Brooklyn take the Manhattan Bridge to Canal Street, then take the Avenue of the Americas north to Christopher Street.
Park Hours: Christopher Park is open daily from approximately 9 am to dusk.
Entrance Fee: $0.00, there is no fee to visit this park
Passport Stamps for Stonewall National Monument can be obtained at:
Stonewall Inn located at 51-53 Christopher Street. (must be 21)
Lesbian, Gay, Bisexual &Transgender Community Center located at 208 W 13th Street (Monday –Saturday 9:00 AM to 10:00 PM and Sundays 9:00 AM to 9:00 PM)
African Burial Ground National Monument
Federal Hall National Memorial
Castle Clinton National Monument
General Grant National Memorial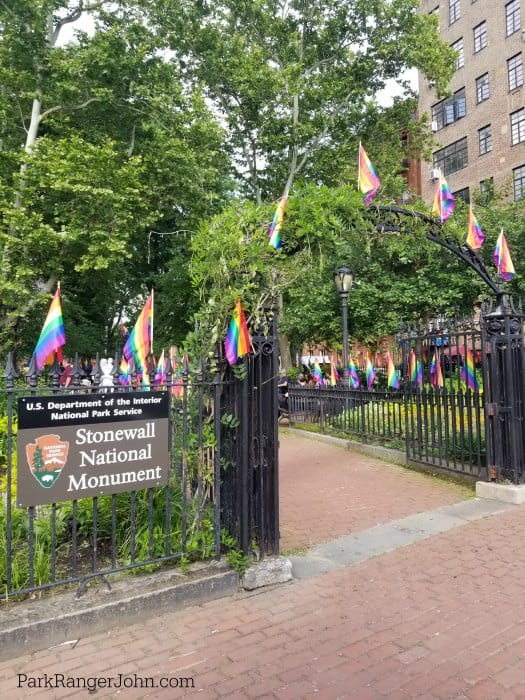 National Park Sites near Stonewall National Monument
General Grant National Memorial
Statue of Liberty
Ellis Island
Hamilton Grange National Memorial
Theodore Roosevelt Birthplace National Historic Site
Castle Clinton National Monument
Federal Hall National Memorial
Governors Island National Monument
Check out all of the New York National Parks and neighboring National Parks in New Jersey and National Parks in Pennsylvania