Cape Lookout National Seashore consists of 56 miles of beach and three undeveloped barrier islands (Shackleford Banks, South Core Banks, and North Core Banks) from Ocracoke Inlet on the northeast to Beaufort Inlet on the southeast.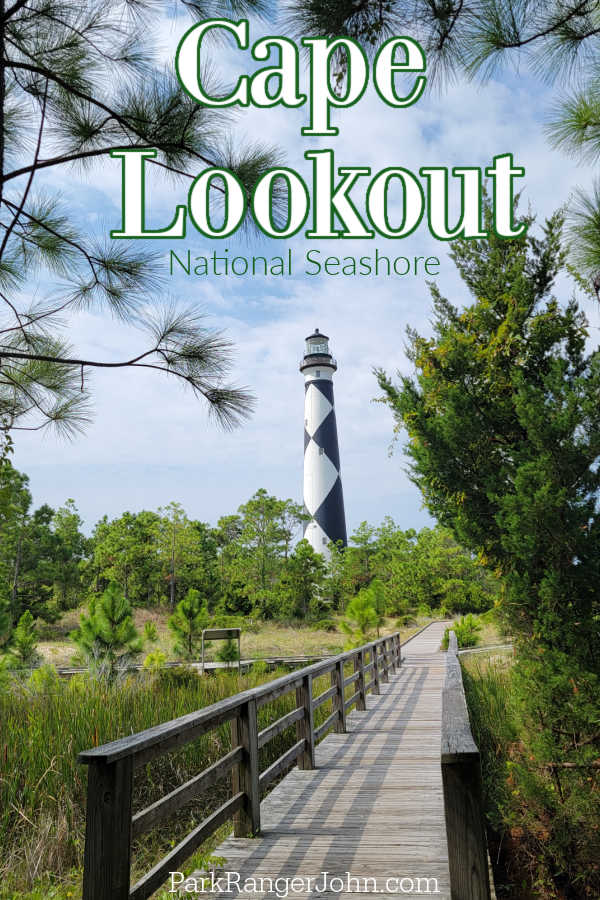 Cape Lookout National Seashore
Cape Lookout NS is located across Ocracoke Inlet south of Cape Hatteras National Seashore. You can only access the Harkers Island Visitor Center and the parks only two designated hiking trails without taking a boat or ferry.
The park can only be reached via a commercial ferry or on a private boat to one of the three islands (Shackleford Banks, South Core Banks, North Core Banks). There are no roads that reach the islands of Cape Lookout.
Cape Lookout stretches over 56 miles.
There are two park visitor centers that can be visited off of the islands, one at Harkers Island and one in the town of Beaufort, North Carolina.
The three islands are undeveloped except for the small areas surrounding the ferry landing areas.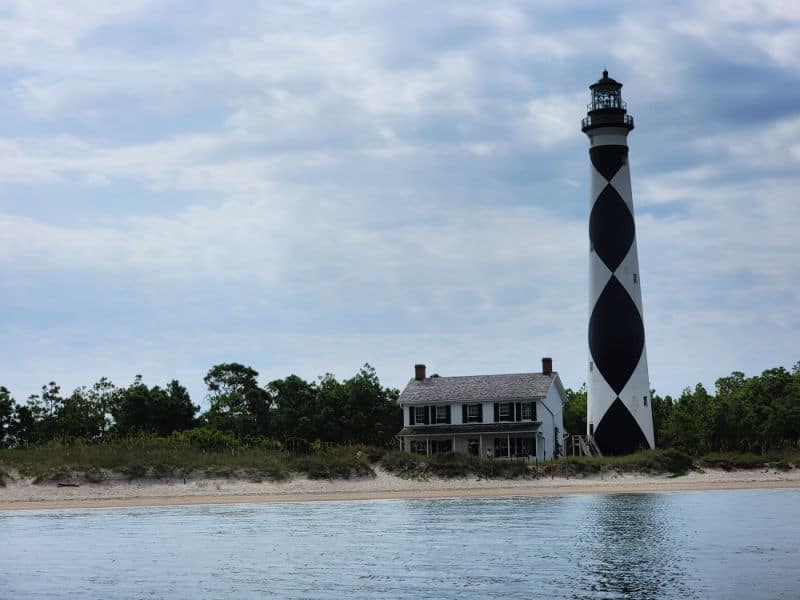 About Cape Lookout National Seashore
Cape Lookout is located in a very popular tourist destination called the Outer Banks of North Carolina.
Here you will find breathtaking beaches, lighthouses, shipwrecks to explore while diving, tons of great restaurants, and much more.
Once you arrive at Cape Lookout, you will find that the National Park Service maintains these islands as much in their natural state as possible.
These islands are not filled with man-made objects like resorts, roads, bridges, etc. They are what you would have seen over 100 years ago.
There is not a huge variety of wildlife on the island as the outer banks do get hit pretty hard with waves from the Atlantic Ocean. Mice, rabbits, and raccoons are the most common wildlife sightings outside the Shackleford Horses and the abundance of Birds.
Is Cape Lookout National Seashore worth visiting?
Do lighthouses, beach activities, surf fishing, and wildlife viewing like wild horses sound fun? If so then it's definitely a yes!
We absolutely loved our visit to Cape Lookout, Cape Hatteras, and the whole outer banks.
They are some of our favorite things to do in Outer Banks!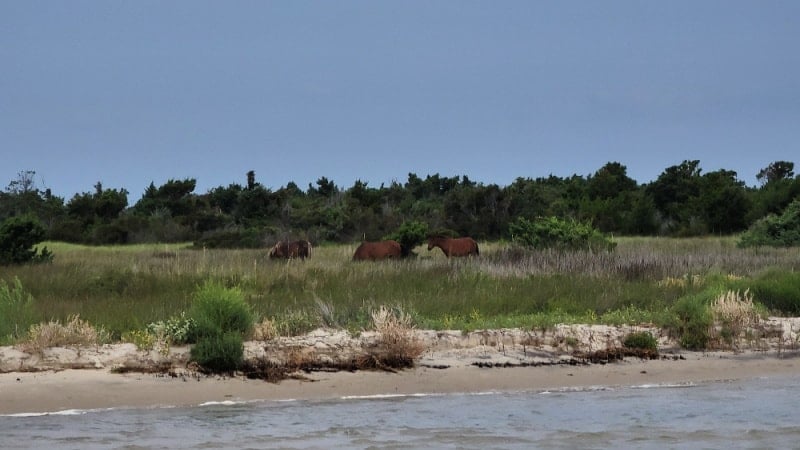 Shackleford Banks
Shackleford Banks is the closest barrier island from the Harkers Island Visitor Center.
You will have to take a ferry from the visitor center to get to the island unless you have a personal boat.
Today, there are more than 110 wild horses found on Shackleford Banks.
This is one of the few places in the Eastern United States where wild horses can be seen.
These horses have run wild on the island since the mid-nineteenth century without human interference as they are not fed, watered, or housed.
The Foundation for Shackleford Horses Inc. helps protect these beautiful horses.
The foundation conducts health and behavioral studies, genetic testing, maintains a horse registry, monitors their ecosystem, and more!
South Core Banks
You can access the Cape Lookout Lighthouse area from the Ferry departing Harkers Island Visitor Center. You can also access Great Island (seasonally) from Davis, NC.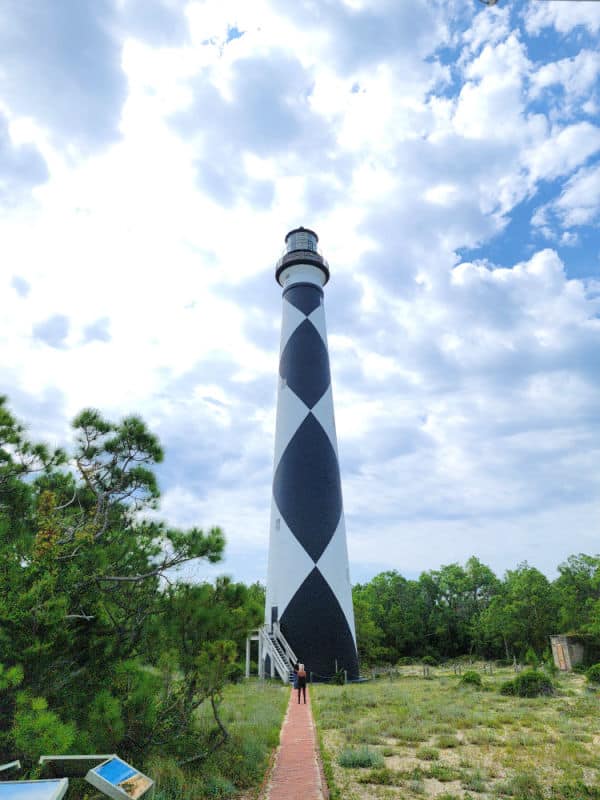 Cape Lookout Lighthouse
The Cape Lookout Lighthouse is a short ferry ride from the Harkers Island Visitor Center.
The first lighthouse was built in 1812 but was built too low for boats to see.
The second Lighthouse was built at 163 feet tall and became operational on November 1, 1859. This light is still used today and park visitors can visit this amazing structure.
Park Ranger John Pro Tip:
Did you know there are two different ways to identify a lighthouse? Better yet, why would you need to know what lighthouse you were looking at?
The first way to identify a lighthouse is by its daymarks. Daymarks are a painted pattern on the lighthouse unique to that lighthouse.
The second way to identify a lighthouse is by the light. Lights can either be fixed(steady) or flashing (Blinking),
They can also use white, red, or green plus they can use any combination of them to be unique to that particular light.
These characteristics help mariners tell which lighthouse they are looking at and help them know where they are.
North Core Banks
The North Core Banks can be accessed by ferry at Long Point (Open Seasonally) from the town of Atlantic, NC. and the Portsmouth village ferry (Open Seasonally) from Ocracoke, NC.
Here you can go tour the old town of Portsmouth Historic Villages and see what it was like to live here in the 1800s. There is also the opportunity to stay in the Long Point Cabins, and North Core Banks Cabins.
Long before Cape Lookout was a National Seashore, places like Portsmouth Village thrived for over a century.
Starting in the mid-1700s, The small port town of Portsmouth had Fishermen, Whalers, Stockmen, lighthouse keepers, and lighters who took cargo from larger ships and placed cargo on much smaller boats to take them to shore. claimed this place as home.
In 1846, a hurricane swept through the area opening up a new and much deeper inlet at Hatteras. This, along with improved railroads made cargo delivery much easier eliminated the need for lightermen.
Electrification of lighthouses also reduced the need for labor on the islands as they no longer needed oil to be carried up to keep the light running.
Progress was drastically reducing the need for workers and residents on the island.
The civil war brought change as residents moved mainland. The remaining residents became fishermen to survive as the population on the island continued to dwindle.
There were only 17 residents left on the island in 1956 and the last two residents moved back to the mainland in 1971.
History of Cape Lookout National Seashore
The history of Cape Lookout National Seashore is told through the historic places preserved within the boundaries of the park, and through the people who once lived there. The National Seashore was once home to whalers, fishermen, and surfmen, with settlements in the area dating back to the 1700s.
An important part of the history of Cape Lookout National Seashore is the shipwrecks that occurred in its waters, and the people whose job it was to rescue those in peril on the sea.
Although little physical evidence remains, the American Civil War had a profound impact on the people who once inhabited the islands that now form part of the Cape Lookout National Seashore. The Outer Banks was the scene of several Civil War battles, and much of the Outer Banks was under Union control by 1862.
Portsmouth Village
Portsmouth Village, established in 1753 by the North Carolina Assembly, was the first settlement in the area. The village quickly became one of the largest settlements in the Outer Banks. Portsmouth was a port town and a lightering village.
A lightering village was a village where the large sea-going ships traveling through the Ocracoke Inlet would dock and unload their cargo to be transferred to the mainland by smaller boats. The large cargo ships were too big to navigate through the challenging waterways of the Outer Banks. Portsmouth Village had docks and warehouses where the cargo could be stored.
Several men in Portsmouth were boat pilots, who helped the large vessels navigate through the Ocracoke Inlet safely to dock at Portsmouth Village.
Not all of the cargo the ships that anchored in the village were carrying was innocent, some ships had human cargo. Evidence suggests that several ships that docked at Portsmouth Village were part of the trans-Atlantic slave trade or triangular trade as it was known.
Additionally, Portsmouth Village was the site of the first hospital in North Carolina, the Portsmouth Marine Hospital, which was constructed in 1847.
Portsmouth During and After the American Civil War (1861 - 1865)
Portsmouth Village thrived until around 1846 when a hurricane opened an inlet by Hatteras Island. The ships began using the newer Inlet, and Portsmouth Village began to decline.
When the American Civil War broke out in 1861, the villagers fled to the mainland when the Union occupied the Outer Banks. The majority of residents did not return when the war ended. Those who returned made a living through fishing.
A United States Life-Saving Station was established in the town in 1894 and played an integral role in the community life of Portsmouth Village. The town survived until 1971 when the last two residents left their homes for good.
Life-Saving Stations and Shipwrecks
In the late 1800s, three U.S. Life-Saving Stations were built on Core Banks. These stations were built to help people who were onboard ships that were in distress in the waterways. The stations were manned by surfmen, who risked their lives performing daring rescues.
The surfmen patrolled the beaches day and night, keeping a lookout for ships in distress. There were three main methods used to rescue shipwreck victims, one involved the surfmen rowing to the wreckage in a small boat and transferring the victims that way. The other two involved securing a line between the shore and the wreck.
The surfmen of Cape Lookout Life-Saving Station were known for their timely rescues, answering the distress calls of ships in need promptly and efficiently. There are three rescues in particular that the surfmen on Cape Lookout Life-Saving Station are remembered for, the wreck of the Olive Thurlow, the wreck of the Vera Cruz II, and the rescue of Sarah D.J. Rawson.
Cape Lookout Light Station
In 1812 the first lighthouse and light station were completed on Cape Lookout. A light station refers to the structures that accompany a lighthouse, such as the home of the lighthouse keeper, storage sheds, and workshops.
The waters of the Outer Banks are notoriously difficult to navigate, which meant that many ships got into trouble in the waterways, and were often shipwrecked. It was for this reason that a light station was approved for Cape Lookout in 1804.
This first lighthouse was not well-liked by sailors, with several complaining that the lighthouse was too short and the light was not bright enough. An attempt was made to renovate the existing lighthouse, but it was unsuccessful, resulting in a second lighthouse being built in 1859.
The old lighthouse was used to house the lighthouse keeper until it was presumably dismantled sometime before 1893.
Cape Lookout Light Station During the American Civil War
During the American Civil War, the lens and light of the 1859 lighthouse were removed by the Confederates in June 1881. This was done to make sure the coastline was not illuminated. The lighthouse would remain dark until the end of the war.
The Union took control of the lighthouses at Cape Lookout in 1882. A year later, a group of Confederate soldiers tried to destroy the lighthouses but only succeeded in damaging the staircase of the 1859 lighthouse and destroying the oil supply.
Cape Lookout Village
Cape Lookout Village was situated between the Cape Lookout Lighthouse and the Cape Lookout Life-Saving Station. People started moving to the stretch of land after hurricanes in 1896 and 1899 forced the people who lived in settlements on Shackleford Banks to move.
The village consisted mainly of fishing families. By the early 20th century, 80 people lived in Cape Lookout Village, which had a school and a post office. The invention of motorized boats was the downfall of this small village because the area where the villagers fished was now accessible to others.
Cape Lookout Village became a tourist destination in the 1920s, by which point the majority of the villagers had abandoned their homes. In the 1940s the town was occupied by the U.S. military.
After World War II, fewer people lived at Cape Lookout Village permanently. Instead, the village became a tourist town with seasonal inhabitants.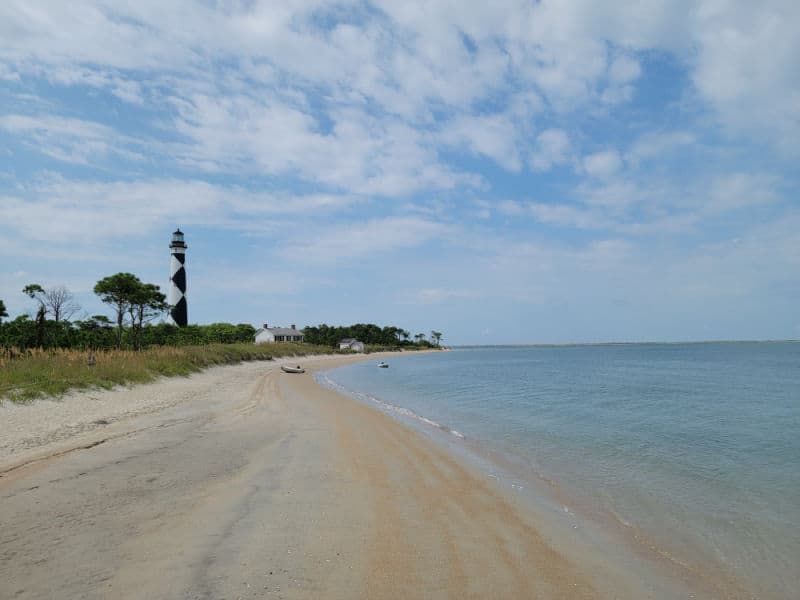 Things to know before your visit to Cape Lookout National Seashore
Entrance fee
$0.00, there is no fee to visit the park.
Planning a National Park vacation? America the Beautiful/National Park Pass covers entrance fees for an entire year to all US National Park Sites and over 2,000 Federal Recreation Fee Sites.
The park pass covers everyone in the car for per vehicle sites and for up to 4 adults for per-person sites.
Buy on REI.com and REI will donate 10% of pass proceeds to the National Forest Foundation, National Park Foundation and the U.S. Endowment for Forestry & Communities.
Learn more about National Park Passes for parks that have an entrance fee.
Free Entrance Days -Find the five free entrance days the National Park Service offers annually.
Time Zone
Eastern Standard Time (EST)
Pets
Pets are allowed on the beaches of Cape Lookout but must be on a leash less than 6 feet in length.
Cell Service
Cell service is generally available, even on the barrier islands, at varying signal strength. However, there are dead zones throughout the area.
Park Hours
The park is open 24 hours a day, 365 days a year.
Wi-Fi
There is no WIFI available at Cape Lookout, however cellular service is generally available in most places.
Insect Repellent
Insect repellent is always a great idea when outdoors, especially if you are around any body of water.
We treat our clothes with Permethrin Spray before we head out to the parks.
Water Bottle
Make sure to bring your own water bottle and plenty of water with you. Plastic water bottles are not sold in the park.
Parking
There is ample parking at the Harkers Island Visitor Center
Food/Restaurants
There are no restaurants, grocery stores, or camp stores in the park. The Light Station Visitor Center has bottled water and snacks for sale in season.
Gas
There are no gas stations in the park.
Drones
Drones are not permitted to be flown in the National Park
National Park Passport Stamps
Cape Lookout National Seashore participates in two passport programs: the Passport to Your National Parks and the US Lighthouse Society Passport.
National Park Passport stamps can be found in the visitor center. Make sure to bring your National Park Passport Book with you.
There are five (5) cancellation stamps for Cape Lookout:
Harkers Island, NC, available at the Harkers Island Visitor Center
Light Station Visitor Center near Cape Lookout Lighthouse on South Core Banks
Beaufort Visitor Information Center, available in Beaufort, NC
Portsmouth Village, the same stamp is available in both the Theodore and Annie Salter House and Visitor Center and the US Life-Saving Station at the other end of the village.
Great Island Cabin Office on South Core Banks
The stamp at the Harkers Island Visitor Center is available all year.
The stamps at the other locations are available seasonally--generally from about March to October/November.
Cape Lookout is part of the 2022 Passport Stamp Set!
We like to bring 1.5 inch circle stickers with us to the parks so we don't have to carry our entire Passport Book.
Electric Vehicle Charging
The closest EV Charging Stations are in Beaufort, Cape Carteret, and New Bern, North Carolina.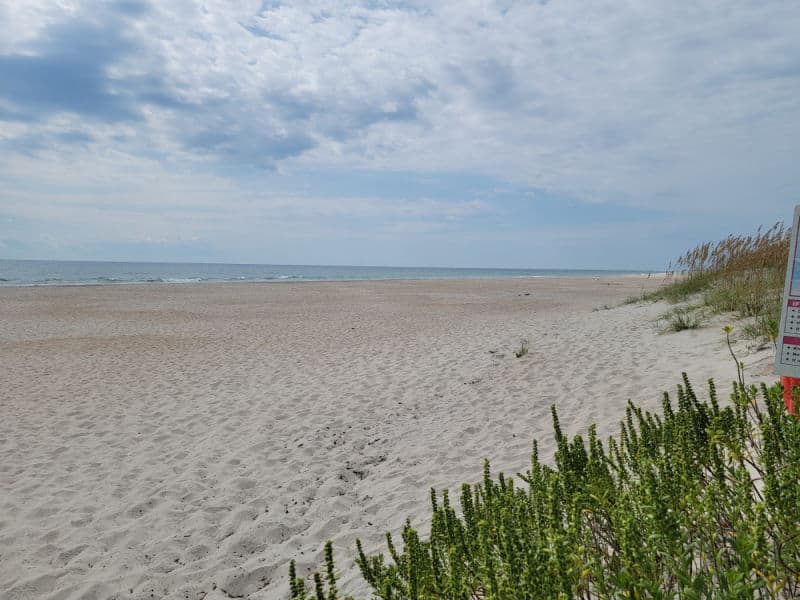 Details about Cape Lookout National Seashore
Size - 28,000 acres
Check out how Cape Lookout compares to the 63 National Parks by Size.
Date Established
March 10, 1966
Visitation
In 2021 Cape Lookout NS had 562,461 park visitors.
In 2020, Cape Lookout NS had 488,331 park visitors.
In 2019, Cape Lookout NS had 455,526 park visitors.
Learn more about the most visited and least visited National Parks in the US
Cape Lookout National Seashore Address
Cape Lookout National Seashore
131 Charles St.
Harkers Island, NC 28531
Cape Lookout National Seashore Map
Where is Cape Lookout National Seashore?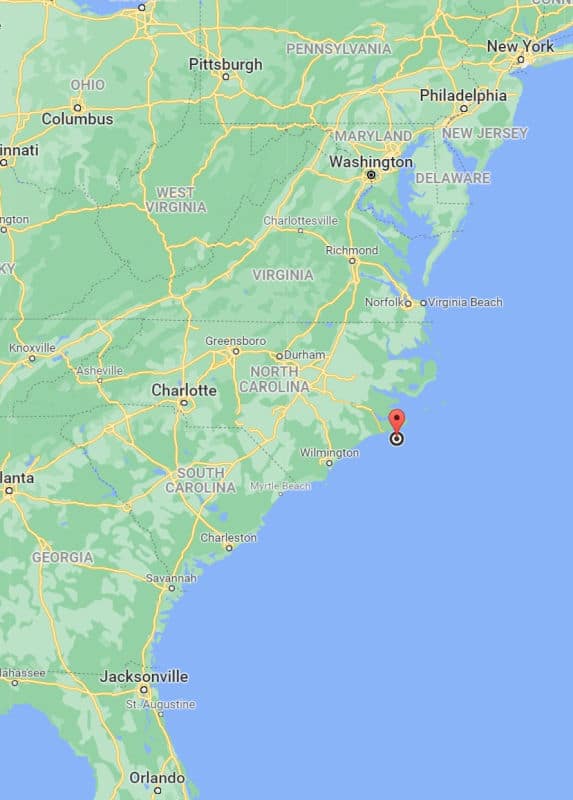 Cape Lookout is located three miles offshore on North Carolinas southern Outer Banks on the Crystal Coast
Estimated distance from major cities nearby
Estimated distance calculated from the Harkers Island Visitor Center.
Raleigh, North Carolina - 166 miles
Fayetteville, North Carolina - 169 miles
Myrtle Beach, South Carolina - 201 Miles (Check out the top thing to do in Myrtle Beach)
Charleston, South Carolina - 292 Miles
Norfolk, Virginia - 212 Miles
Savannah, Georgia - 412 Miles
Atlanta, Georgia - 526 Miles
Charlotte, North Carolina - 335 Miles
Nashville, Tennessee - 705 Miles
Estimated Distance from nearby National Park sites
Shenandoah National Park - 368 miles
Mammoth Cave National Park - 716 Miles
Congaree National Park - 317 Miles
New River Gorge National Park - 469 miles
Great Smoky Mountains National Park - 500 Miles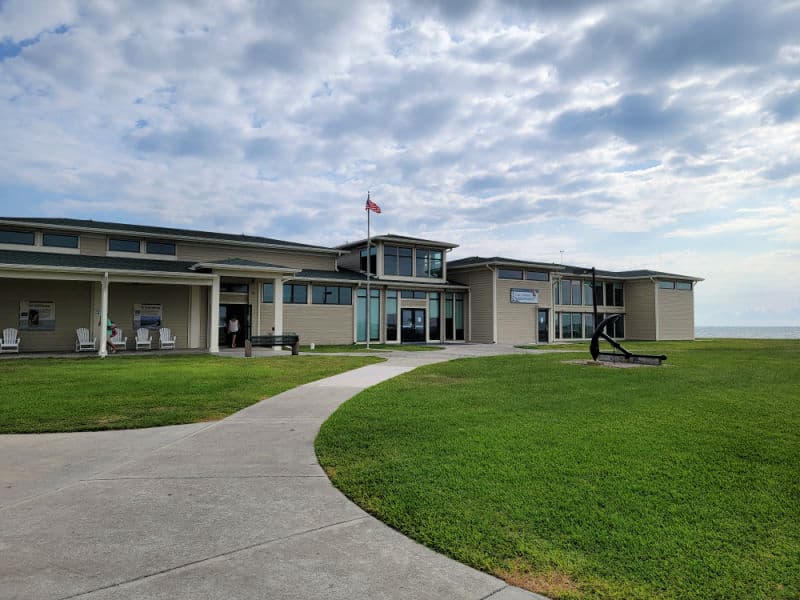 Where is the National Park Visitor Center?
Harkers Island Visitor Center
Location - 1800 Island Road, Harkers Island, NC 28531
Available facilities - Restrooms, ferry ticket booth, picnic area, and a kayak launch site
Beaufort Visitor Information Center
Location - First floor of the Beaufort Town Hall at 701 Front St, Beaufort, NC.
Available facilities - Information, maps, restrooms
Light Station Visitor Center
Location - On the boardwalk in the lighthouse area connected to the ferry dock. South Core Banks.
Available facilities - Restrooms, shade shelter, water fountain.
Great Island Cabin Office
Location - Great Island on South Core Banks, only accessible by park ferry or personal boat.
Available Facilities - Park passport stamp, free Jr Ranger booklet, beach wheelchair (free rental), recreation permits.
Portsmouth Visitor Center
Location - Historic Theodore & Annie Salter House (The first house on the right of the path from Haulover Dock) in Portsmouth Village on North Core Banks.
Available Facilities - Restrooms, park passport stamp; Exhibits on maritime history and village life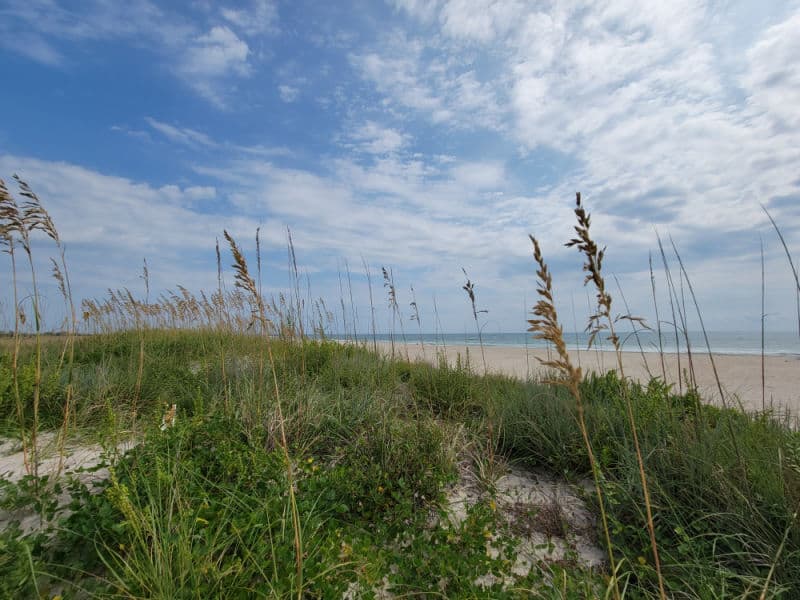 Getting to Cape Lookout National Seashore
Closest Airports
The closest major airport is Raleigh-Durham International Airport (RDU) - 180 Miles
Driving Directions
From Beaufort or Morehead City, simply follow US 70 East, then turn right onto Harkers Island Road until it ends at the Harkers Island Visitor Center.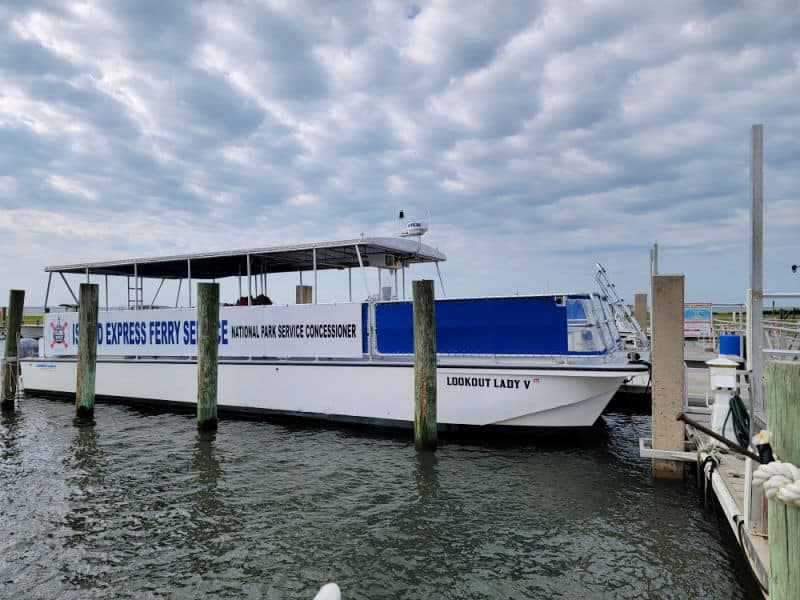 Authorized Ferry Services
In order to reach Cape Lookout NS, you will need to take a ferry to one of the islands.
It can be an adventure trying to figure out which ferry service to take to reach the park.
There are different types of boats and schedules depending on the day of the week.
You will need to make a ferry reservation with the company you choose to take to the islands.
Make sure when you book a ferry you know which island you want to go to and how much time you want to spend there.
Depending on which island you choose to visit will most likely dictate where you depart from.
We took the Island Express Ferry Service from the Harkers Island Visitor Center and it worked out great.
Visit this page for current ferry information and services.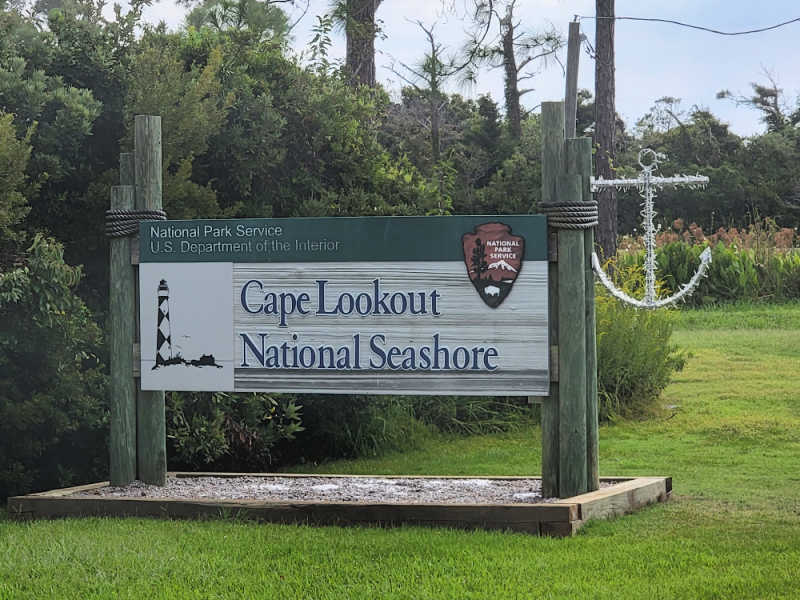 National Park Weather and Seasons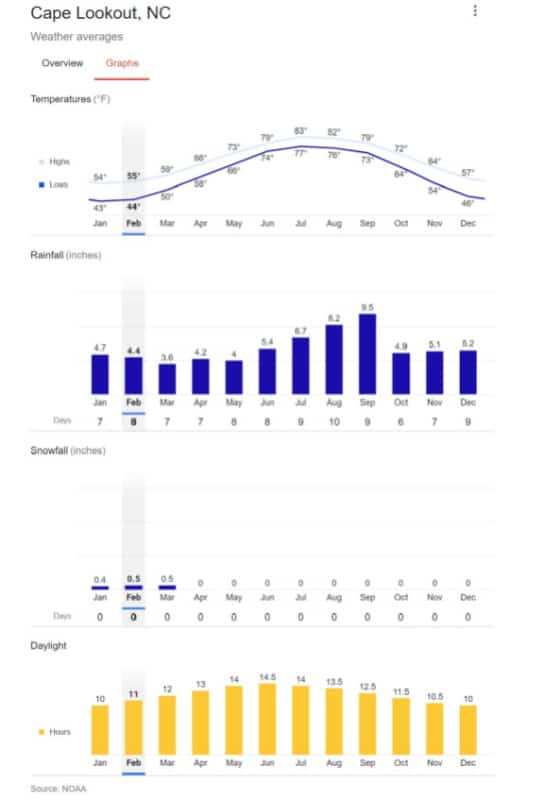 The weather on the islands of Cape Lookout NS can change quickly. There is little shelter on the islands so you want to make sure to check the weather forecast before heading out.
By Phone: Call the National Weather Service-Newport/Morehead City office at (252) 223-5737.
Online: Visit the National Weather Service's Harkers Island Weather page.
During the summer the temperature range from 80 degrees to 100 degrees plus high humidity! 80 to 90% humidity!
If you plan to visit the islands during the summer you want to make sure you have plenty of water, sunscreen, and sun shades.
During the Fall the temperatures drop down to a highs in the 70s and lows in the upper 40s.
During the winter the temperatures drop down to a highs near 50 degrees and lows around 32. Winds pick up during the winter so make sure to dress in layers.
Spring bring warmer temperatures ranging from 50 to 70 degrees. During the spring rain and wind is common.
Best Things to do in Cape Lookout National Seashore
Hike to the top of Cape Lookout Lighthouse
Currently, Cape Lookout Lighthouse is closed for repairs with an estimated back-in-service date of 2023.
During a safety, inspection engineers discovered structural concerns.
Visit the Portsmouth Village Historic District
Portsmouth Village is open seasonally. You can take a guided walking tour with a ranger or download the audio tour of Portsmouth and discover the town on your own. You will need to have a private boat or take a ferry to get here.
Passenger Ferry service departs Ocracoke, NC on Rudy Austin's Portsmouth Island boat tours. Walk-ons are welcome and you can make a reservation by calling (252)928-4361. Also call for a ferry schedule.
Wildlife viewing
Cape Lookout is a fantastic birding location with over 250 different species. Many visitors come to see the Shackleford Horses.
Watch the Shackleford Banks Horses
The only way that you can only reach this island is by private boat or by taking the ferry from the Visitor Center at Cape Lookout.
Visitors can make a stop here and go for a hike or tent camp but in reality, most come here to see and photograph the wild heard of Shackleford Horses.
The first thing to remember about the Shackleford Banks Horses is they are wild animals!
The wild Banker Horses of Shackleford Island are a unique legacy for North Carolina.
It is believed from historical research and blood typing that the horses are descended from a group of Spanish Horses from 400 years ago.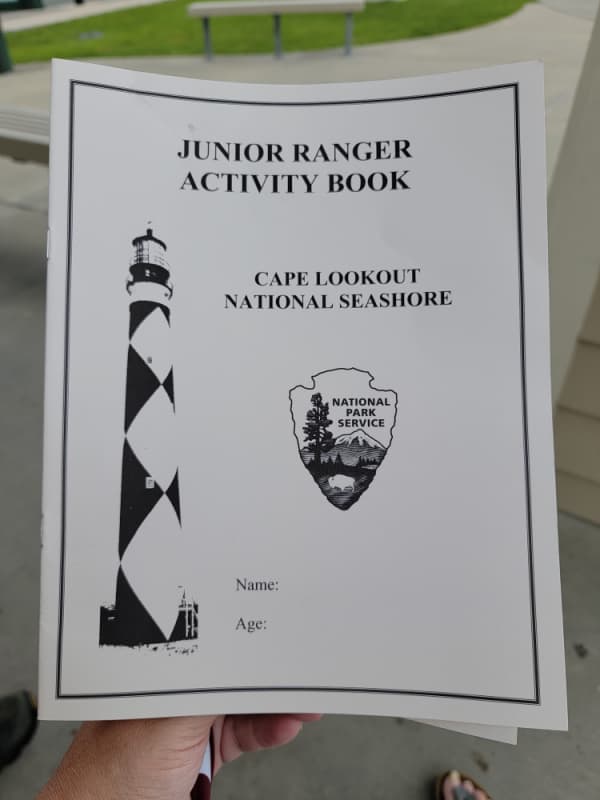 Ask for a free Junior Ranger booklet at one of the park's Visitor Centers or Cabin Camp Offices, the Harkers Island Visitor Center, the Light Station Visitor Center, Beaufort Visitor Information Center, or at a Cabin Camp office
During the summer you can also earn a Junior Ranger Patch by doing specific activities.
Beach Driving
Vehicles are allowed on two of the barrier islands that comprise Cape Lookout National Seashore: North Core Banks and South Core Banks.
Both of these islands can only be reached by ferry.
No vehicles can be driven over or on the dunes or the southside beach.
Make sure to check for current conditions before heading to the islands. During the year the beach may be closed to protect bird and turtle nests.
Park Rangers are NOT allowed to tow or pull vehicles out of the sand! You would have to hire a commercial towing service to come out to the island.
Dark Sky Park
Cape Lookout NS is the 1st certified Dark Sky Park in the National Park Service on the Eastern Atlantic Coast!
The night's skies above the seashore are some of the darkest skies along the East Coast.
The park partners with the Crystal Coast Stargazers to host astronomy nights at the Harkers Island Visitor Center.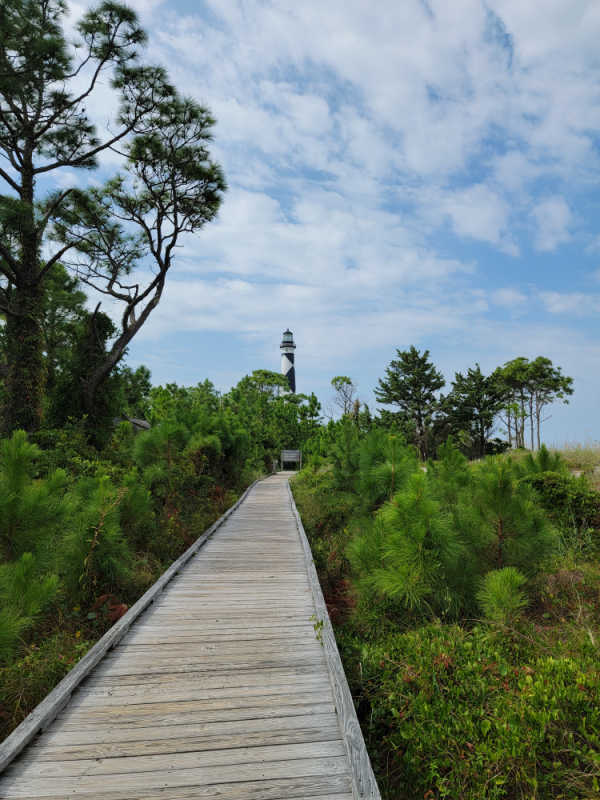 Hiking in Cape Lookout National Seashore
Always carry the 10 essentials for outdoor survival when exploring.
There are no trails on the barrier islands within the seashore. This does not stop visitors from taking their backpacks and hiking the islands!
There are only two designated hiking trails at Cape Lookout, both on Harkers Island near the visitor center.
The Southside Loop Trail is 8/10 miles long and winds through the maritime forest behind the visitor center.
The Willow Pond Trail is approximately 3/10 miles and circles the pond behind the Core Sound Waterfowl and Heritage museum.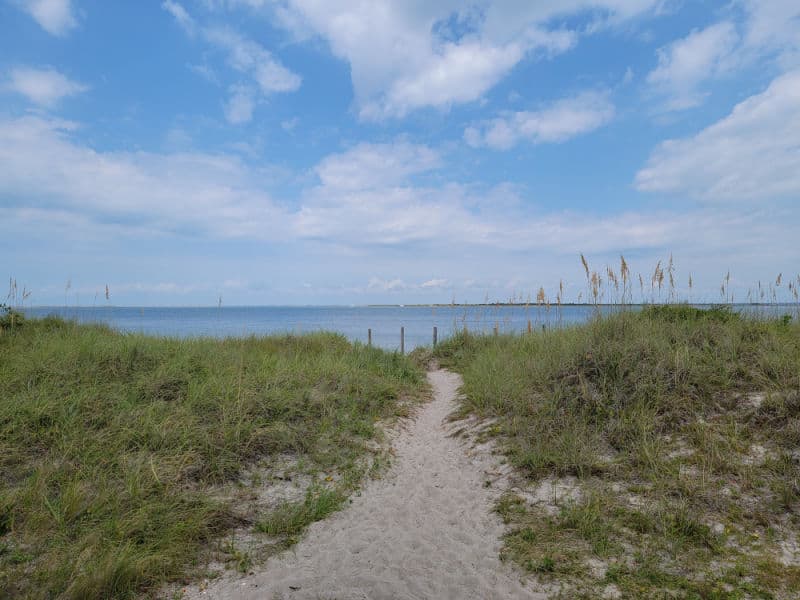 Where to stay when visiting Cape Lookout National Seashore
Basic cabins can be rented on North Core Banks and South Core Banks.
Sand Dollar Motel - Sand Dollar Motel provides everything you need. Guests can connect to free in-room Wi-Fi.
Sandpiper Motel - All guestrooms at Sandpiper Motel boast comforts such as air conditioning, in addition to amenities like free Wi-Fi.
Garnet Inn & Suites - free continental breakfast and more. Guests can connect to free in-room Wi-Fi.
Econo Lodge Crystal Coast - free continental breakfast and more. Guests can connect to free in-room Wi-Fi.
Hampton Inn Morehead City - take advantage of free to-go breakfast, dry cleaning/laundry services, and a gym. Stay connected with free in-room Wi-Fi, and guests can find other amenities such as a 24-hour business center.
Check out the map below to see the current rates for hotels and vacation rentals near Cape Lookout NS
Cape Lookout National Seashore Camping
Have you ever dreamt of camping on an island with breathtaking views? Like watching sunsets, spending time swimming, and living the beach life?
You are not alone! Here is what you need to know about camping at Cape Lookout as there are no established campgrounds.
Don't worry as there is primitive beach camping that is allowed on all three islands all year.
Vehicle camping is permitted on North Core Banks and South Core Banks (must have a 4-wheel drive) between March-November.
Permits are not generally required for camping.
Groups of 25 or more need a special use permit.
Camping is limited to 14 days in a row.
Camping is not allowed on Harkers Island, Portsmouth Village, Cape Lookout light station complex, and Cape Village.
Campsites must be at least 100 feet from wells, shade shelters, bulletin boards, docks or other structures and at least 100 yards from the lighthouse and from any cabin or house.
For a complete list of rules, make sure to read more on the Camping page for Cape Lookout.
For a fun adventure check out Escape Campervans. These campervans have built in beds, kitchen area with refrigerators, and more. You can have them fully set up with kitchen supplies, bedding, and other fun extras. They are painted with epic designs you can't miss!
Escape Campervans has offices in Vancouver, Seattle, Portland, San Francisco, Las Vegas, Los Angeles, Phoenix, Salt Lake City, Denver, Chicago, New York, and Orlando
Stay the night in one of the cabins
Long Point Cabins
Long Point Cabins are located on the North Core Banks. Long Point Cabin Camp offers 10 rustic, wooden beachfront duplex cabins on the Atlantic Coast for individuals and families or small groups.
Long Point Cabin Camp is located on North Core Banks within the beautiful Cape Lookout National Seashore just off the mainland of North Carolina. The historic camp has been a favorite of fishermen and beachgoers for many years.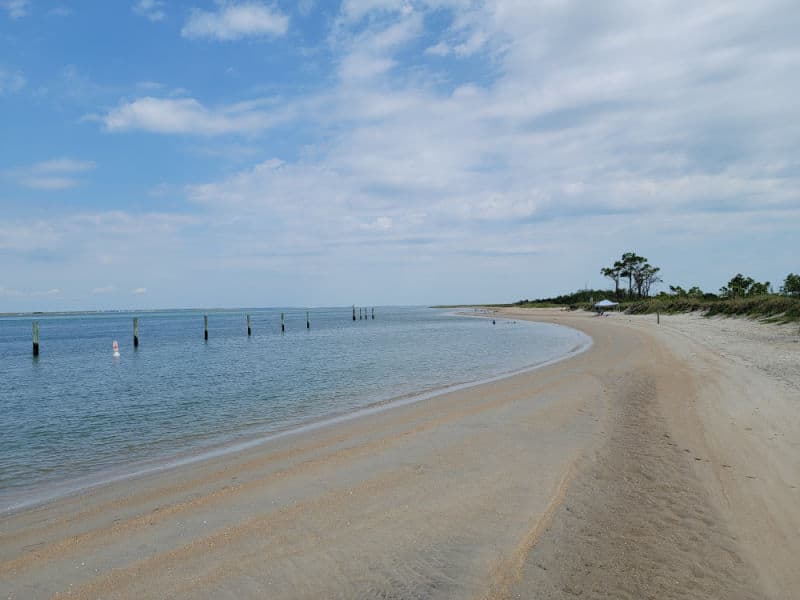 Parks near Cape Lookout National Seashore
Fort Macon State Park
Cape Hatteras National Seashore
Wright Brothers National Memorial
Fort Raleigh National Historic Site
Moores Creek National Battlefield
Check out all of the National Parks in North Carolina along with neighboring National Parks in Georgia, National Parks in South Carolina, Tennessee National Parks, and Virginia National Parks
Check out all of the National Seashores managed by the NPS
National Park Service Website