National Parks in Illinois include National Historic Trails, National Historic Sites, and a National Monument. Illinois National Parks receive over two hundred thousand visitors a year.
The state includes over 60 state parks including Ramsey Lake State Park, state forests, national forests, and state recreation areas that are all great to explore. Known as the land of Lincoln you can learn a lot about our 16th president of the United States.
Route 66 begins in Chicago and heads all the way to the west coast. Why not hope in the and check out these great road trip adventures.
The Lewis and Clark National Historic Trail which follows part of the Lewis and Clark expedition also passes through Illinois.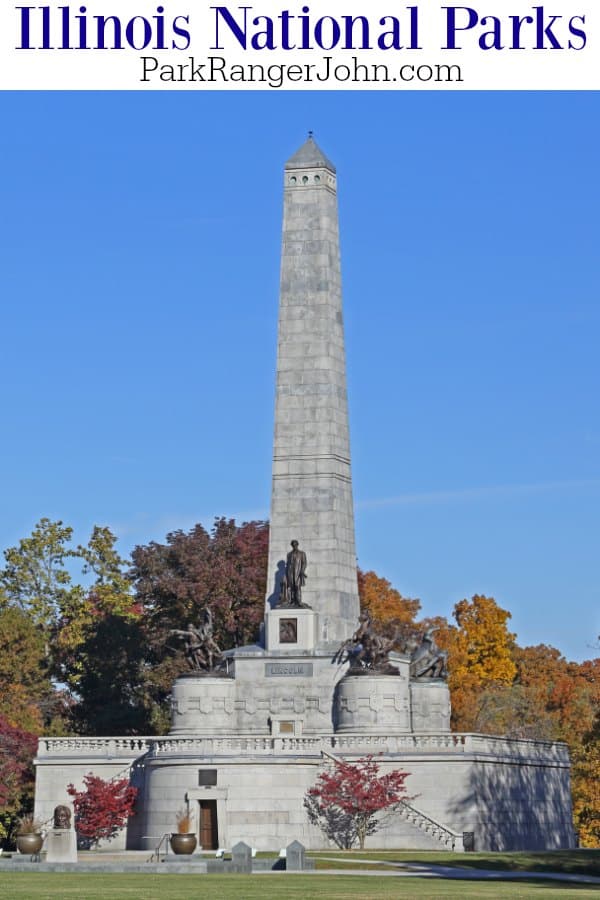 National Parks in Illinois
Located in Springfield, Illinois the Lincoln Home National Historic Site protects the home and area that Abraham Lincoln lived in from 1844 to 1861. The homes in the area have been restored to show what life was like when Lincoln lived in the area.
Abraham and Mary Todd Lincoln purchased a six-room cottage in Springfield, Illinois in 1844. They chose Springfield because Abraham Lincoln was practicing law.
In 1855 they doubled the house size to 12 rooms. By this time Mary Todd had given birth to four sons. They lived in this house when Abraham Lincoln was elected President in November 1860. This was the first and only house that Abraham Lincoln owned.
Today visitors can tour the restored home that looks like it did in the 1860s. Tours begin at the visitor center. Abraham Lincoln donated the house to the state in 1887 with the conditions that it always is free to visit.
New Philadelphia National Historic Site
This new National Historic Site was established on December 29, 2022. It is the 424th park in the National Park Service.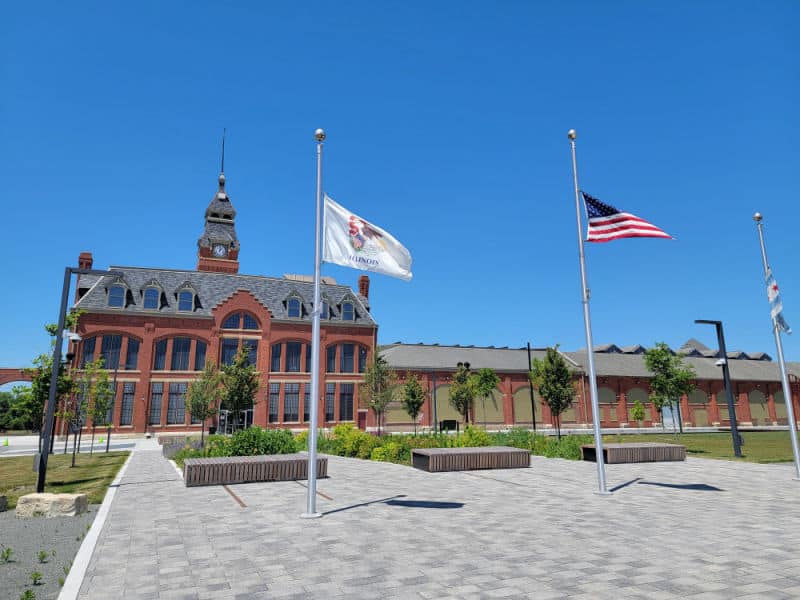 Pullman National Monument in Chicago, Illinois shares the lives of residents in a planned community. This was the first planned community not only in Chicago but the entire United States.
President Barack Obama designated Pullman as a National Monument on February 19, 2015. It became the first unit of the National Park Service in Chicago.
Railroads were turning into a major mode of transportation in the 1860s. George Pullman built a factory to begin manufacturing train sleeping cars on the south side of Chicago. Thes sleeping cars became synonymous with luxury travel.
In 1881, residents started moving into the planned town of Pullman. George Pullman dreamed of having a community for workers. Starting in 1894 the workers striked due to labor concerns.
Ths strike was a catalyst in the American labor movement. In the 1920's the African-American porters, waiters and maids who worked for Pullman banded together to form the Brotherhood of Sleeping Car Porters. This was the first labor union led by African Americans to receive a charter from the American Federation of Labor.
Lewis and Clark NHT is approximately 4,900 miles long crosses sixteen states following the Lewis and Clark Expedition. The Lewis & Clark National Historic Trail includes the Lewis & Clark State Historic Site in Hartford.
Additional stops along the trail include:
Shawnee National Forest
Cave In Rock and Tower Rock Recreation Areas
Rose Hotel Historic Site
Fort Massac State Historic Park
Fort Defiance Park
Fort Kaskaskia Historic Site
Lewis and Clark State Historic Site
List of Illinois National Park Sites
New Philadelphia National Historic Site
Affiliated Sites
Lewis and Clark National Historic Trail (ID, IL, IA, KS, MO, MT, NE, ND, OR, SD, WA)
Mormon Pioneer National Historic Trail (IL, IA, NE, UT, WY)
Trail of Tears National Historic Trail (AL, AR, GA, IL, KY, MO, NC, OK, TN)
There are 2 National Parks found in Illinois which receive over 203K visitors a year. These visitors provide an estimated $18 million dollar economic benefit.
Illinois National Parks include 2 National Heritage Areas, 1 wild and scenic river managed by the National Park Service, 1 National Trail managed by the park service, and 1,901 National Register of Historic Place Listings.
National Parks found in Illinois also includes 88 National Historic Landmarks, 18 National Natural Landmarks, 1 World Heritage Site (Cahokia Mounds State Historic Site) and 975 places recorded by the Heritage Documentation Program.
There are over 458K pieces in the National Park Museum Collection in Illinois along with over 20 Archeological Sites.
If you have dreamed of working in the National Parks make sure and check out our article on How to Become a Park Ranger. Working in the parks is one of the most amazing jobs you can find. There is just something special about waking up and knowing you are going to work in a beautiful park.
National Parks in neighboring states
For an entire list of US National Parks head over to our list of US National Parks in Alphabetical Order. We also have a printable checklist of all 419 National Park properties in the United States available.